KGI DAILY TRADING IDEAS – 22 October 2021
Singapore Trading Ideas | Hong Kong Trading Ideas | Market Movers | Trading Dashboard
SINGAPORE
ThaiBev (THBEV SP): Reopening play #1
BUY Entry – 0.70 Target – 0.80 Stop Loss – 0.65
ThaiBev is Thailand's largest and one of Southeast Asia's largest beverage companies. THBEV has a 28.5% stake in SGX-listed Fraser & Neave Ltd (FNN SP) and a 28.3% stake in Frasers Property Limited (FPL SP). It also has a 53.6% stake in Saigon Beer-Alcohol-Beverage Corporation (SABECO), Vietnam's largest beer company. ThaiBev has a 90% market share of Thailand's spirit market.
Resilient. Despite the impact from Covid-19, ThaiBev still managed to eke out earnings growth of 9% YoY in 1H FY2021. This was mainly due to a combination of resilient spirits/beer sales and tight cost control measures. The company even raised 1H2021 interim dividend to 0.15 Bhat from 0.10 Bhat in the prior-year period, indicating management's positive outlook.
Thailand reopening. As ThaiBev derives 75% of FY2020 revenue from Thailand, the recently announced plans to open up the country to travellers should be taken as a positive sign. It is estimated that Thailand lost about US$50bn in tourism revenue in 2020, with the economy suffering its deepest contraction in more than 20 years. There were only 70,000 visitors in the first 8 months of 2021, compared to 40mn visitors for the full year 2019.
Positive consensus estimates. Consensus has 19 BUYS and 1 HOLD on ThaiBev, with an average TP of S$0.82, implying a 30% upside potential from the last close price. Earnings are expected to recover 7-8% per annum over the next two years, which would bring its forward P/E down to 17x/15x/14x FY2021/22/23F. The resumption to list its BeerCo could provide a short-term upside catalyst.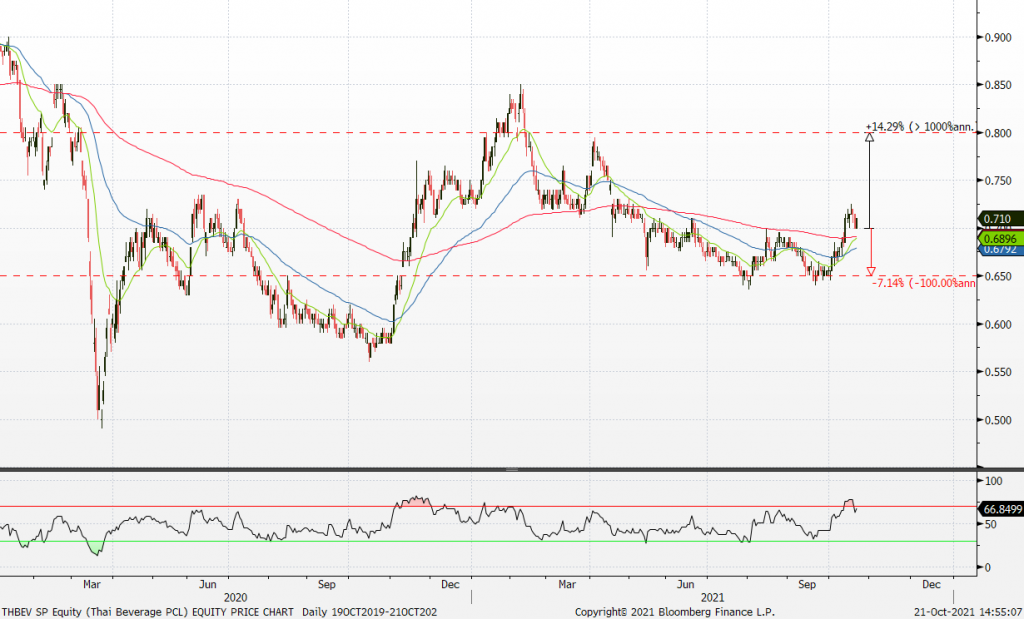 ---
Frencken Group (FRKN SP): Tech is back
REITERATE BUY Entry – 2.26 Target – 2.50 Stop Loss – 2.15
FRKN is a technology manufacturer providing end-to-end solutions to global clients including ASML (semiconductor), Philips (medical), Siemens (medical), FEI (analytical), Seagate (industrial automation) and ThermoFisher (analytical).
The force is strong. Based on the recent quarterly results and outlook commentary of semiconductor giant TSMC, the upstream segment of the sector is likely to benefit from positive tailwinds for at least another 2 years. TSMC commented that it is seeing booming demand for its products and services and that supplies will likely remain tight going into 2022. The second positive point is that TSMC will build a new plant in Japan, in a JV with Sony Corp. As a recap, TSMC plans to spend about US$100bn over the next three years to expand its manufacturing capacity and to support R&D.
Diversifying into aerospace. While the aerospace sector was hit hard by the Covid-19 pandemic, there are signs that it is turning around. It is in this context that Frencken has made a timely acquisition of Avimac Pte Ltd, an aerospace and semiconductor-focused company, for a total sum of S$14mn. The acquisition, while tiny relative to Frencken's current market cap, will help Frencken gain access to new customers and get a foot into the recovering aerospace sector.
Consensus estimates are positive. There are 5 BUYS and an average TP of S$2.59, implying a 14% potential upside. Valuations are still decent at 16x and 14x FY2021 and FY2022 EPS.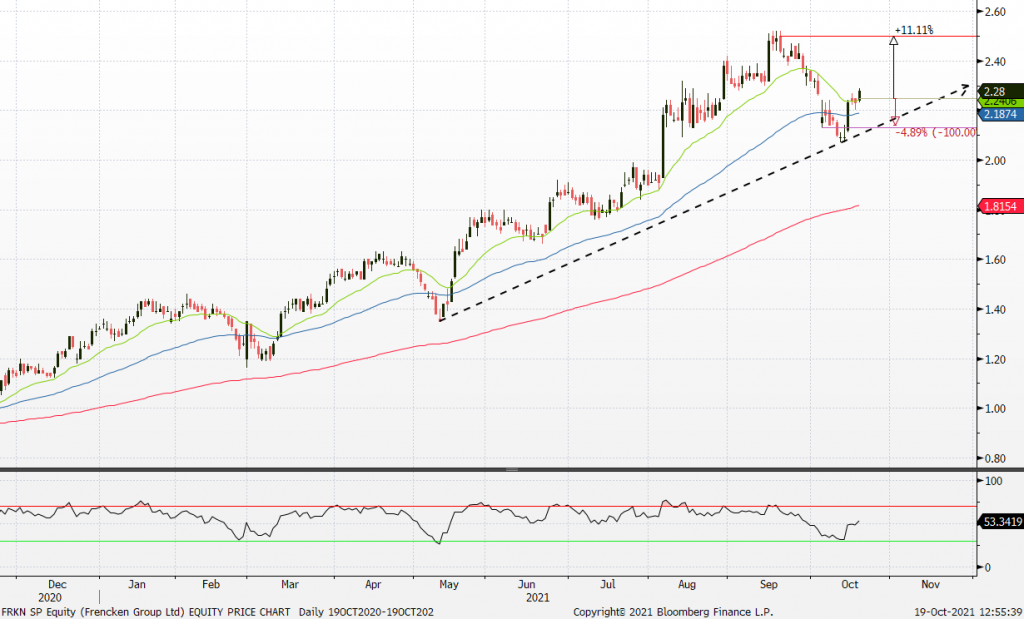 ---
HONG KONG
Ping An Insurance (Group) Company of China, Ltd. (2318 HK): Opportunities in a crisis
BUY Entry – 60.4 Target – 66.5 Stop Loss – 57.7
Ping An Insurance (Group) Company of China, Ltd. is a personal financial services provider. The Company provides insurance, banking, investment, and Internet finance products and services. The Company operates its businesses through four segments. The Insurance segment provides life insurance and property insurance, including term, whole-life, endowment, annuity, automobile and health insurance. The Banking segment is engaged in loan and intermediary businesses with corporate customers and retail business. The Assets management segment is engaged in security, trust and other assets management businesses, including investment, brokerage, trading and asset management services. The Internet Financing segment is engaged in the provision of Internet finance products and services.
Systematic risks are controllable and avoidable. As one of the largest blue chip stocks in HKEX, Ping An shares have halved from the peak of HK$99.7 in January. Recently it bottomed out from the low of HK$48.05. The sell-off was due to the concerns over China's real estate industry crisis as the authorities tightened the sector in every means from sales to financing. As of June, the company had RMB47bn in real estate investments. On 17th October, People's Bank of China (PBOC) governor Yi Gang said the authorities can contain risks posed to the Chinese economy and financial system from the struggles of China Evergrande Group. Although the central government will not bail out Evergrande Group, it will contain the spillover towards banking and other financial sectors, according to the signals hinted by the top governors.
Crisis is not over but sentiment has started to turn positive. The latest news was that Evergrande has won a more than three-month extension to the maturity of a US$260mn bond beyond 3rd October after agreeing to provide extra collateral. Ping An's shares had high trading volumes at the price level of the low 50s, implying institutional investors could have collected cheap shares. Meanwhile, the company will be announcing its 3Q21 results on 27th October. Investors are expecting the management to address the issues of its real estate investments.
Ping An is experiencing the HSBC moment. Investors should focus on the core business fundamentals of Ping An. Similar to HSBC whose shares were hammered during China-US trade tensions, Ping An's shares once plunged to below book value, which had never happened since its listing. Negative sentiment pushed prices down to oversold levels. Ping An's core business remains intact once the company writes off the impairments in poor real estate investments.
Updated market consensus of the estimated net profit growth in FY21/22/23 is -11.7%/21.9%/11.7% respectively, which translates to 7.2x/5.9x/5.3x forward PE. The current PE is 6.7x. Bloomberg consensus average 12-month target price is HK$91.02.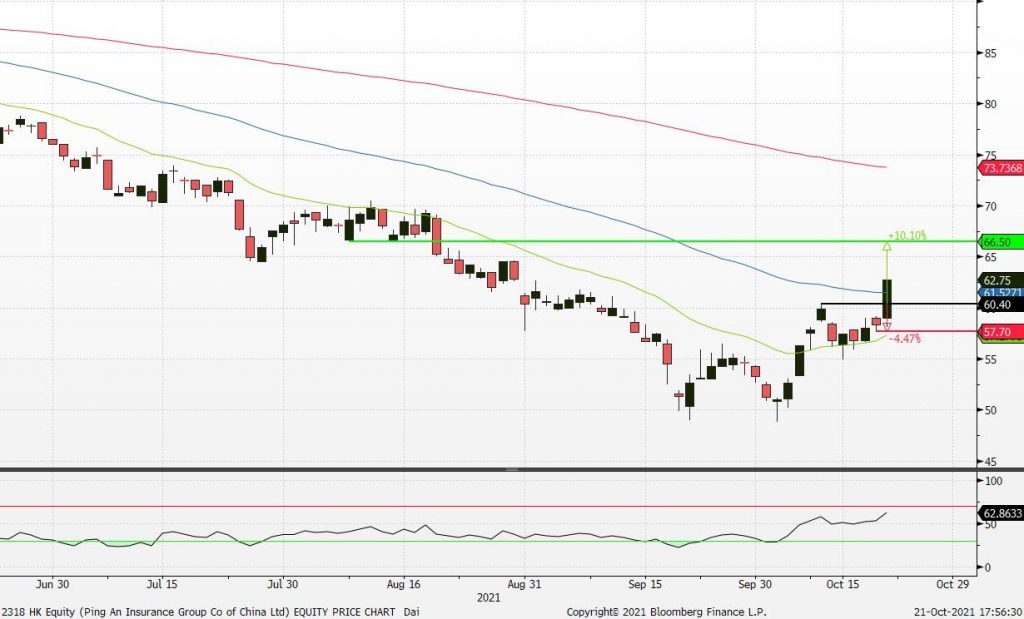 ---
Bosideng International Holdings Limited (3998 HK): A Winter Olympic trade
Buy Entry – 6.05 Target – 8.05 Stop Loss – 5.05
Bosideng International Holdings Limited is principally engaged in the research, design and development, raw materials procurement, outsourced manufacture, marketing and distribution of branded down apparel products, original equipment manufacturing (OEM) products and non-down apparel products in the People's Republic of China (the PRC). The Company operates its business through three segments. The Down Apparels segment is engaged in the sourcing and distribution of branded down apparels. The OEM Management segment is engaged in the sourcing and distribution of OEM products. The Non-down Apparels segment is engaged in the sourcing and distribution of non-seasonal apparels, including branded apparels of menswear, ladies wear and casual wear.
Key financial highlights:
| | | | |
| --- | --- | --- | --- |
| YE March (RMB mn) | 2H21 | 2H20 | YoY change |
| Revenue | 8,855.4 | 7,754.3 | 14.2% |
| Gross profit | 5,696.9 | 4,799.0 | 18.7% |
| GPM (%) | 64.3 | 61.9 | 2.4 ppt |
| Net profit | 1,223.5 | 860.5 | 42.2% |
| NPM (%) | 13.8 | 11.1 | 2.7 ppt |
Cold winter is coming. Beijing witnessed freezing temperatures on Sunday morning, 20 days earlier than the average of November 8, amid a cold wave that chilled eastern and central China in the past few days, perhaps foretelling a colder-than-average winter. The cold wave dragged temperatures in many places in the provinces of Hebei, Shandong, Henan, Anhui and Jiangsu down by 10 degree Celcius within 24 hours. Heat supply could be an issue due to skyrocketing coal prices. Hence, we believe people who live in the northern part of China could purchase more down apparel accordingly.
Olympic Games hype. The sportswear sector remains one of the few best-performing sectors in Hong Kong even though related stocks were sold off due to power shortages in China. The exceptionally good sales were mainly attributable to the postponed Summer Olympic Games in July because the Chinese supported the domestic brands such as Li Ning (2331 HK) and Anta (2020 HK). Within four months, the Winter Olympic Games is going to be held in Beijing. The company is another famous sportswear brand specialising in down apparel which is a perfect fit for the hype of the Winter Olympic Games.
The consensus estimate per the 12-month target price is HK$6.95. EPS is forecasted to grow at 26.0%/25.7%/18.5% for FY2022/23/24F, which would bring forward P/Es down to 26.1x/20.8x/17.5x FY2022/23/24F.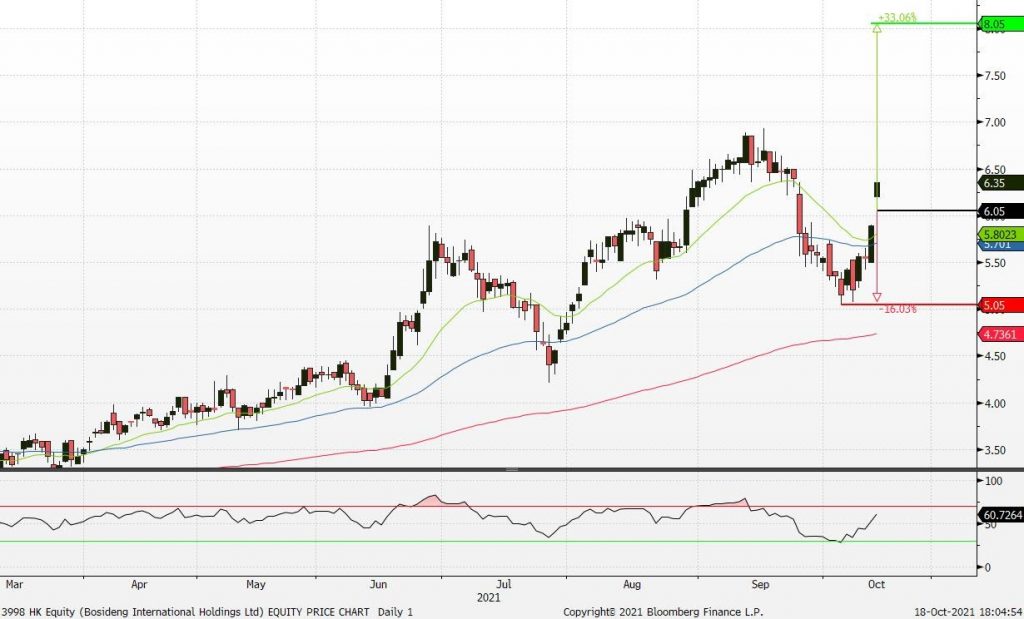 ---
Market Movers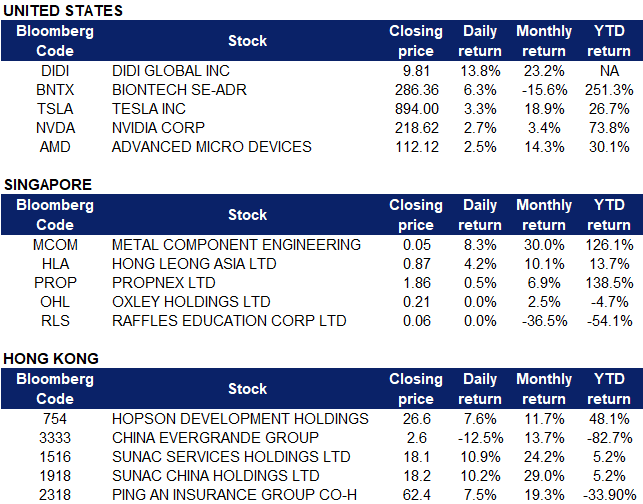 Tesla (TSLA US) shares rose 3.26% on Thursday after the company reported better-than-expected 3Q results. Revenue rose 57% YOY at $13.8 billion, attributed by a 73% jump in vehicle deliveries. Adjusted earnings per share came in at $1.86 which is a 146% increase YOY. Analysts were expecting $13.6 billion and $1.59 respectively. The company also reiterated its guidance for deliveries to grow at an annualized rate of more than 50% over a "multi-year horizon", but warned that the rate of growth is ultimately dependent on "the successful introduction of many new product and manufacturing technologies in new locations, ongoing supply chain related challenges and regional permitting."
DiDi Global (DIDI US) shares soared 13.81% after The Wall Street Journal reported that the Cyberspace Administration of China, the same Chinese regulators investigating the company since July, recently suggested that DiDi consider a Hong Kong listing of its shares. A listing in Hong Kong could also allow mainland Chinese investors to more easily invest and profit from the growth of these fast-expanding companies. U.S-listed firms like Alibaba Group Holding Ltd. and Baidu Inc. have pursued share offerings in the city in the past two years.
BioNTech (BNTX US) shares jumped 6.29% on Thursday trading after the company announced together with its partner Pfizer (PFE US) the results from a phase 3 study evaluating their COVID-19 vaccine booster. The companies reported an efficacy of 95.6% for a 30-microgram booster dose of their vaccine. The results could increase demand for the COVID-19 vaccine booster, now that the U.S. Food and Drug Administration has authorized mix-and-match boosters. BioNTech CEO Uğur Şahin also said in a press release that "These important data add to the body of evidence suggesting that a booster dose of our vaccine can help protect a broad population of people from this virus and its variants."
Nvidia (NVDA US) and Advanced Micro Devices (AMD US) shares rose 2.66% and 2.53% respectively after Nvidia unveiled a new high-end cloud video game streaming offering that will be powered by AMD's central processing units. Nvidia's GeForce NOW RTX 3080 cloud-gaming membership will charge $99.99 for six months, and allow users to stream games at up-to-1440p resolution at 120 frames per second on PCs and Macs. AMD's Ryzen Threadripper PRO processors will help support over 39 petaflops of graphics performance.
---
Singapore
Oxley Holdings (OHL SP) shares rose as much as 5% on Thursday trading. The company announced that it has provided a A$15.6 million loan to its wholly-owned Australian subsidiary Pindan Group to fully repay a secured loan to an Australian lender. The loan will be repaid by Pindan using the proceeds from the divestment of the mortgaged properties, which is expected to be completed within six months from the loan disbursement date.
Hong Leong Asia (HLA SP) shares rose 4.19% after it was announced that its heavy machinery manufacturing subsidiary China Yuchai has agreed to form a joint venture with Beijing Xing Shun Da to research and manufacture fuel cell powertrain systems. This technology will mainly be used for the Beijing, Tianjin and Hebei markets.
Metal Component Engineering Ltd (MCOM SP) shares rose 11.54%, adding to its 8.33% gain on Wednesday after it was announced that the company's subsidiary Gainhealth has signed a joint venture agreement (JVA) with MNR Food to establish a business developing and distributing clinical nutrition products through direct-to-consumer platform. The joint venture entity, Gain Foods, will be 60% owned by Gainhealth, with the remaining 40% owned by MNR. Gain Foods will be the marketer and distributor of products related to kids' nutrition, seniors and weight wellness sub-segments products in various countries in Asia.
Raffles Education (RLS SP) called for a trading halt on Tuesday morning, and trading of its shares remained halted. The company announced yesterday that the Monetary Authority of Singapore (MAS) and the Commercial Affairs Department (CAD) have requested documents relating to loan facilities extended to its subsidiaries. The stock plummeted 26% on Monday trading, and tycoon Oei Hong Leong previously submitted a letter to the company asking why REC's chief executive and founder Chew Hua Seng had caused the company to hire all "adult members of his family at high salaries". Raffles Education provided exact figures on compensation to refute these allegations made by Oei.
Shares of real estate agency Propnex (PROP SP) rose after the company said it will launch the collective sale of a 99-year leasehold residential redevelopment site, Lakepoint Condominium, through a public sale tender. The tender exercise starts with a reserve price of S$640 million, and will end on 22 December. PropNex's Head of investment and collective sales Tracy Goh commented that with "little or almost no fresh supply" of residential development in the immediate vicinity, the "rare site" should appeal well to developers who prefer to have more certainty over the potential and demand in the area.
---
Hong Kong
Hopson Development Holdings Ltd (754 HK), China Evergrande Group (3333 HK). Hopson Development's shares rose 7.6% while China Evergrande's shares plunged 12.5% yesterday. Heavily indebted Evergrande was in talks earlier this month to sell part of its services unit to Hopson, its smaller rival. However, Hopson announced yesterday that talks fell through to purchase a 50.1% stake in Evergrande Property Services. Evergrande confirmed the termination of the deal in a separate filing. The deal would have been worth HK$ 20.04bn, according to filings. The inverse share price movement for both companies was likely due to investors believing that Evergrande would drag Hopson down should the acquisition proceed.
Sunac Services Holdings Ltd (1516 HK), Sunac China Holdings Ltd (1918 HK). Property sector shares jumped yesterday, as China sought to allay fears of contagion, which spooked global markets earlier. Sunac Services' shares surged 10.9% while Sunac China's shares rose 10.2% yesterday. Since Friday, the People's Bank of China has said more than once that Evergrande is an individual, controllable case. In addition, central bank governor Yi Gang said on Wednesday that the first measure of response is to prevent Evergrande's risks from spreading to other real estate companies. In addition to reassuring the public of the property sector risk, Sunac Services announced positive 1H21 results yesterday. The company's net profit was RMB 606mn, a YoY increase of 154.62%, while operating income was RMB 3.319bn, a YoY increase of 85.32%. The company's total assets amounted to RMB 14.211bn, a YoY increase of 229.88%.
Ping An Insurance (2318 HK). Shares rose 7.5% yesterday, leading gains of the insurance sector as a whole. After markets closed on Wednesday, Ping An Insurance issued Ping An Bank's 3Q21 financial results. From January to September 2021, revenue maintained steady growth. The group achieved operating revenue of RMB 127.19bn, a YoY increase of 9.1% and achieved a net profit of RMB 29.135bn, a YoY of 30.1%. According to data from the report, net profit of the banking sector accounts for approximately 26% to Ping An Group.
---
Trading Dashboard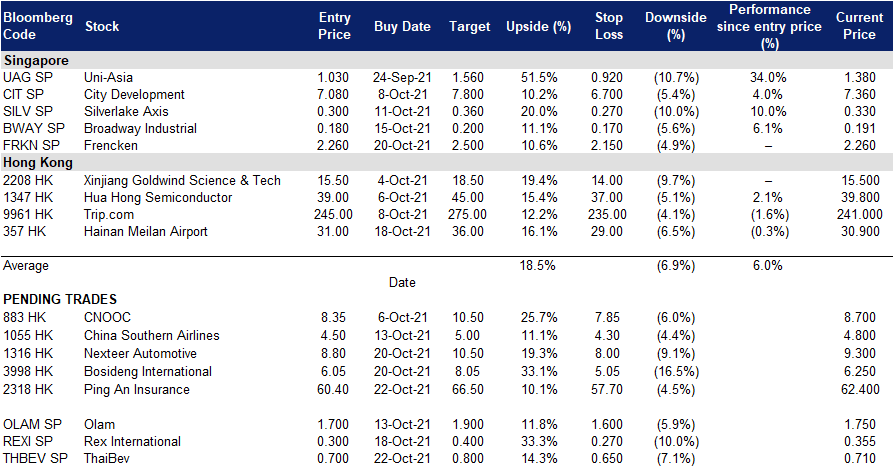 ---

---
Related Posts: