22 Nov 2021: Uni-Asia Group (UAG SP), PRADA SpA (1913 HK)
Singapore Trading Ideas | Hong Kong Trading Ideas | Market Movers | Trading Dashboard
SINGAPORE
Uni-Asia Group (UAG SP): Bumper year ahead for Handysize
BUY Entry – 1.30 Target –1.56 Stop Loss – 1.25
UAG is an alternative investment company that owns and manages bulk carriers, invests in Hong Kong commercial offices and develops residential properties in Japan. The group derives around 65% of its revenues from charter income generated by its fleet of bulk carriers. The remainder of its revenue is from the property projects in HK and Japan.
Still going strong. UAG provided a 9M21 business update. While no revenue and earnings were disclosed, the overall tone was positive. Industry trends for handysize dry bulk carriers remain supportive, even with the recent correction of the Baltic Dry Bulk indices. Meanwhile, HK's property market is expected to improve upon the reopening of borders with China.
Resilient demand for handysize. Six of UAG's wholly-owned dry bulks will renew in 2H2021, three will renew in 1H2022 and one in 2H2022. Charter rates in the market remain above US$25,000 per day vs UAG's average charter income of US$14,321 in 3Q2021, leaving more upside as we head into 2022 .We expect charter rates for handysizes to remain resilient at these levels, or even increase, amid historically low order book, rising scrap rates and further cuts in operating speeds.
Attractive valuations. Despite the 125% YTD rally of its shares, UAG's valuations are attractive amid the stronger-than-expected bulk carrier upcycle. Our TP implies a 0.7x FY2021F P/B, which is still a conservative 30% discount to int'l peers who are trading >1.0x P/B. Read our full report here.
---
Broadway Industrial (BWAY SP): The need for space
REITERATE BUY Entry – 0.215 Target – 0.240 Stop Loss – 0.205
Listed on the mainboard of SGX since 1994, the company is one of the leaders in the manufacture of precision components and assemblies. It is a key provider of actuator arms, assemblies and other related parts for the global hard disk drive (HDD) industry. Headquartered in Singapore, the company has 4 manufacturing facilities in China and Thailand and employs around 3,5000 people.
Need for space. Total HDD sector revenue is expected to increase at a 10% CAGR from 2020 to 2025, reaching total sales of US$32.9bn by 2025, according to forecasts by TRENDFOCUS. Growth will mainly be driven by enterprise demand for more storage. While the growth of cloud-based solutions has been highlighted as a key driver of higher storage demand, the market may still be overlooking the increasing trend of data-localisation measures. The number of localisation measures around the world has more than doubled over the last four years, with China being the most data-restrictive country, followed by Indonesia, Russia, and South America.
Strong outlook in 2H 2021. 1H2021 sales increased 11% YoY to S$211mn while net profit grew by 9% YoY to S$7mn. The better performance was driven primarily by higher shipment volume and higher average selling price of its HDD products as it shipped more high-performance enterprise products. Management commented that it expects demand for high-performance HDDs and personal storage HDDs to remain strong in 2H 2021. The company currently trades at an attractive 6.5x annualised 1H2021 P/E.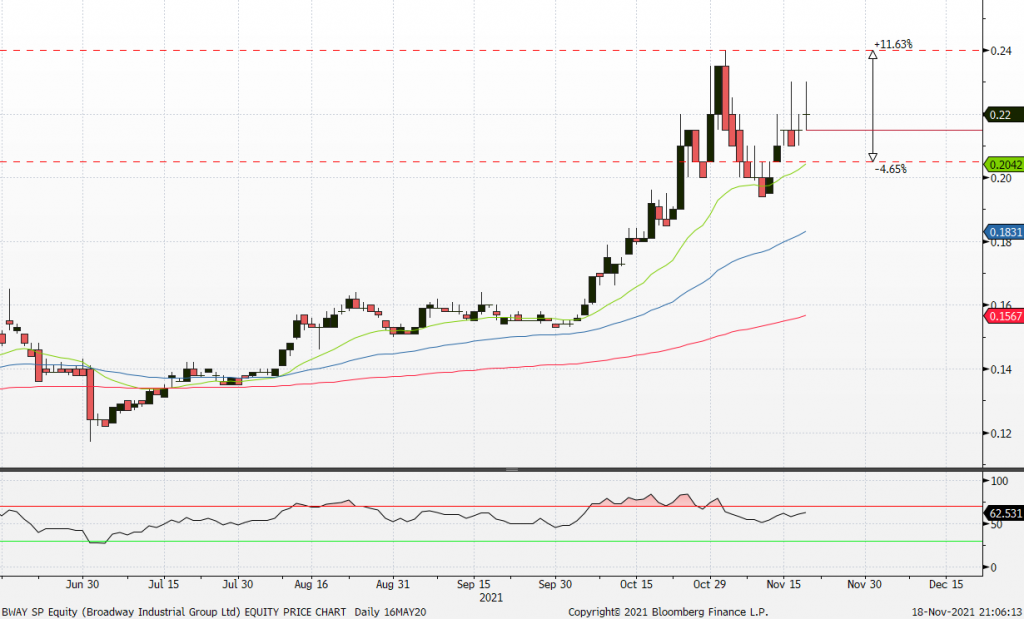 ---
HONG KONG
PRADA SpA (1913 HK): Shares are better than bags
Entry – 56 Target – 62 Stop Loss – 53
Prada SpA is an Italy-based company engaged in fashion industry. The Company is a parent of the Prada Group. The Company, along with its subsidiaries, is engaged in the design, production and distribution of leather goods, handbags, clothing, eyewear, fragrances, footwear and accessories. Prada SpA manufactures jackets, trousers, skirts, dresses, sweaters, blouses, as well as perfumes and watches, among others. The Company trades its products through several brands, such as Prada, Miu Miu, The Church and The Car Shoe. Prada SpA operates in approximately 70 countries through directly operated stores, franchise operated stores, a network of selected multi-brand stores and department stores. Prada Spa operates through a numerous subsidiaries, including Artisans Shoes Srl, Angelo Marchesi Srl, Prada Far East BV, Tannerie Megisserie Hervy SAS and Prada SA, among others.
3Q21 results update. 9M21 retail revenue was well above 9M19. Net revenues of the Prada brand EUR1.9bn (+52% at constant exchange rates against the same period of 9M20). The net revenues for the same period of 2019 were EUR1,8bn. Net revenues of the Miu Miu brand was EUR279mn (+32% at constant exchange rates against the same period of 9M20). The net revenues for the same period of 2019 were EUR321mn. Gross margin steadily was above 76% since 3Q21. EBIT margin was above 9M19 level.
Inflation hedge. The overall price appreciation does not just occur on durable goods, luxurious goods also benefit from the inflation. COVID-19 accelerated the income inequality. Asset (equities, properties, commodities, and cryptocurrencies) owners enjoyed price appreciation to various extents. According to Bain & Co, The personal luxurious expenditure experienced a V-shape recovery in 2021. The market grew by 29% at current exchange rates to hit EUR283bn, increasing the size of the market by 1% versus 2019 levels. It is expected to reach EUR360 to 380bn by 2025 with a sustained growth of 6-8% annually.
The updated market consensus of the estimated net profit growth in FY22 and FY23 is 50.9% and 28% respectively, which translates to 46.0x and 35.7x forward PE. The current PE is 74.9x. Bloomberg consensus average 12-month target price is HK$60.13.
---
TRIP.COM (9961 HK): Range bound trade
REITERATE Buy Entry – 220 Target – 250 Stop Loss – 205
Trip.com Group Limited, formerly Ctrip.com International, Ltd., is a travel service provider in China that provides accommodation booking, transportation ticketing, package tours and corporate travel management. The company aggregates hotel and transportation information to help leisure and business travellers make reservations. The company helps leisure travellers book travel packages and guided tours and helps corporate clients manage their travel needs. The company also offers a range of travel-related services to meet the different booking and travel needs of leisure and business travellers, including visitor reviews, attraction tickets, travel-related financial services, car services, travel insurance services and passport services. The company also offers package tours for independent leisure travellers, including tour groups, semi-tour groups and private groups, as well as package tours that require different transportation arrangements (such as cruise, buses or self-driving).
Speed bump again. Tourism and recreation sector is on a tortuous path of recovery. Countries who have 60% to 70% of vaccination rates gradually open the borders. However, China still strictly adopts the zero-infection policy domestically. Recently, there were rising infection cases in China, and related cities and districts were locked down again. This led to the sell-down of the stock, breaking the recovery of price. However, it is a buying opportunity now as the past performance showed a resiliency to such kind of news.
Promising recovery against COVID-19. Previously, the company announced 1H21 results. Total net revenue increased by 86% YoY and 43% QoQ to RMB10bn, driven by the strong recovery momentum of the China domestic market. Both domestic hotel and air-ticket GMV increased by about 150% YoY. Compared with the same pre-COVID period in 2019, both domestic hotel and air ticketing reservations achieved double-digit growth in 2Q21. Staycation travel continues to serve as a major driver of domestic recovery with local hotel reservations growing nearly 80% versus pre-COVID period in 2019. Revenues from corporate travel management grew 141% year over year and 26% compared with the pre-COVID period in 2019. In 1H21, the company reported a net profit of RMB 1bn compared to a net loss of RMB 5.8bn during the same period last year.
Best performance among all the e-commerce large-cap Chinese companies. The crackdown of multiple sectors hammered share prices of technology stocks. Currently, there is no obvious sign of turnaround. However, tourism is one of the few sectors that are relatively immune to policy risks. The price performance of the company showed positive signs of turnaround amidst the recent bearish market sentiment.
The updated market consensus of the estimated net profit growth in FY22 and FY23 is 383.1% and 51.6% respectively, which translates to 27.4x and 18.1x forward PE. Bloomberg consensus average 12-month target price is HK$286.36.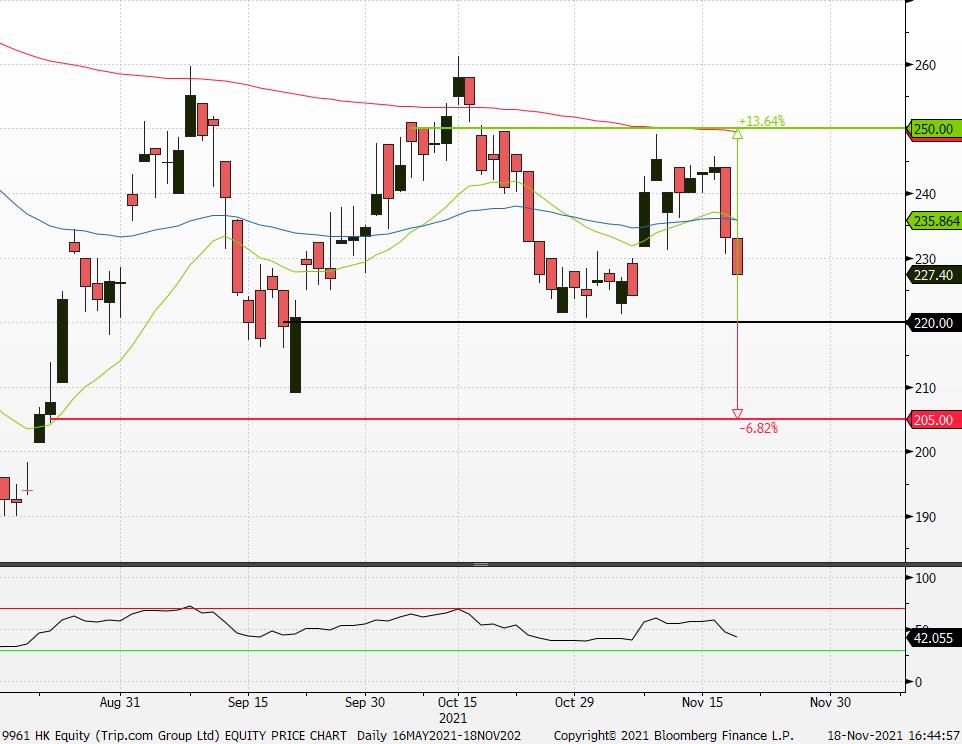 ---
Market Movers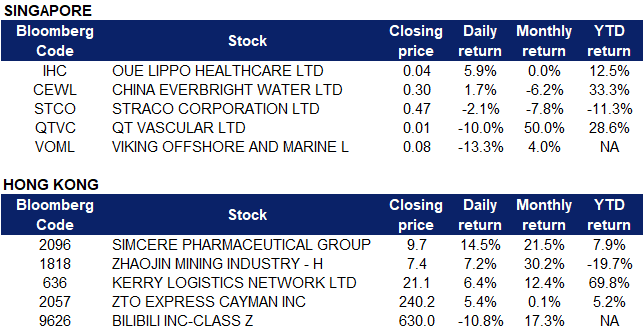 United States
Top Sector Gainers
Top Sector Losers
Micron (MU US) shares popped 7.8% on Friday on the back of Citigroup's commentary, saying that the price correction in DRAM is "drawing to a close". Citigroup analysts noted that higher demand for personal computers and servers is likely to boost demand for DRAM computer memory in Q4 2021 and into Q1 2022. They think this will be a "positive catalyst" for Micron stock and that Micron is a buy at today's prices.
Shares of Moderna (MRNA US) jumped 4.9% after the Food and Drug Administration (FDA) authorized Moderna and Pfizer's Covid vaccine booster shots for all U.S. adults. The CDC still has to authorize the distribution before people can start receiving the shots, which could start this weekend. Pfizer (PFE US) shares traded higher during the session but closed 1.2% lower.
Workday (WDAY US) shares declined as much as 7.3% in premarket trading before closing 4.2% lower. The company reported better-than-expected earnings, unveiled a proposed acquisition and named a new co-president and CFO. Earnings per share came in at $1.10 with revenue of $1.33 billion , beating estimates of $0.87 with revenue of $1.31 billion. The stock previously touched a 52-week high $307.81. Workday also added that the effects of the Covid-19 pandemic will weigh on growth in the coming year.
Applied Materials (AMAT US) shares lost 5.5% on Friday after the company reported earnings and sales that missed forecasts amid ongoing global supply chain woes. The company posted adjusted earnings of $1.94 a share on sales of $6.12 billion in the quarter ended 31 October, while analysts had expected Applied Materials to earn $1.96 a share on sales of $6.375 billion. Applied Materials previously closed at a record high of $158.74 last Thursday.
---
Singapore
China Everbright Water (CEWL SP) shares climbed 1.7% on Friday after it announced that it has secured a wastewater treatment plant public-private partnership project in the Hebei province in China with a total investment of approximately RMB208 million or $44.2 million.China Everbright Water holds a 95% interest in the project company, and will be responsible for the financing, operation and maintenance of the project for 30 years.
Straco Corporation Limited (STCO SP) shares lost 2.1% on Friday after the company reported lower net profit of $4.36 million in Q3, citing 'period resurgences' of COVID-19. Net profit declined 32.4% YOY from $6.45 million, which the group attributed to foreign exchange gain, with the Renminbi strengthening against the Singapore dollar, as well as efforts from the Singapore government's Job Support Scheme and land rental waiver for the quarter. The company also said its financial position remains strong with net cash holdings of S$173.1 million as at Sep 30.
Viking Offshore and Marine (VOML SP) shares plunged 13.33% on Friday. The company said that it has received an unconditional cash offer from a group of businessmen at $0.01 a share, for all of its issued and paid-up ordinary shares, following a change of control at that price. The offer price represents a 91.2% discount to the volume-weighted average price (VWAP) per share of $0.113 for the 3-month period and 87.2% discount to the VWAP per share of $0.078 for the 1-month period, up to and including the last trading date.
OUE Lippo Healthcare (IHC SP) shares popped 5.9% on Friday after the company said that Myanmar's Yoma Siloam Hospital Pun Hlaing (PHH), its joint venture with First Myanmar Investment, has become the first private hospital group to procure Sinopharm's COVID-19 vaccine. PHH received its first shipment of the vaccine on Thursday.
QT Vascular (QTVC SP) shares plummeted 10% on Friday. The company announced that Mission Wells has withdrawn its requisitioning notices to hold two extraordinary general meetings on 2 December without citing any reason. Additionally, QT Vascular released a clarification statement to refute Mission Well's claim that it was a long-term shareholder of the company. QT Vascular previously called for a trading halt on 16 November, and shares resumed trading on 19 November.
---
Hong Kong
Top Sector Gainers
Top Sector Losers
Kerry Logistics Network Ltd (636 HK). Shares jumped 17.1% on Friday, after Bank of America issued a research report giving Kerry Logistics a BUY rating with a target price of HK$24. According to the report, supply chain disruptions and high freight rates will last at least until the first half of next year, which is beneficial to flexible freight forwarders. In addition, on November 18, the State Post Bureau announced that according to date from this year's "Double 11" period (November 1-16), postal and express delivery companies across the country collected 6.8bn express parcels, an increase of 18.2% YoY, while 6.3bn express parcels were delivered, a YoY increase of 16.2%.
JD.com Inc (9618 HK). Shares rose 9.1% on Friday, after a couple of banks released research reports which were bullish on JD.com. Credit Suisse reiterated its OUTPERFORM rating on the company with a target price raised by 24.7% to HK$465, while Daiwa Securities raised its target price by 15% to HK$425. According to Credit Suisse, it is believed that JD.com, supported by the continuous growth of GMV, number of users and profit margins, will achieve a CAGR of about 30% in 2020-23 earnings, which will increase EPS in 2021-23. The bank expects JD.com's revenue in the fourth quarter to grow by 25% year-on-year, mainly due to the improvement of product mix and supply chain conditions. Daiwa Securities pointed out that the expansion of the franchisee (3P) category will support the acceleration of growth. Fourth quarter revenue is expected to increase by 24% YoY, which is a two-year CAGR of 27%, and there is huge room for APRU growth in 2022-23.
Sunac China Holdings Ltd (1918 HK), Logan Group Co Ltd (3380 HK). Property sector rebounded on Friday. Sunac China's shares and Logan Group's shares rose 8.9% and 8.2% respectively. On November 9th, the Interbank Market Dealers Association held a symposium with representatives of real estate companies, revealing plans regarding its debt financing instruments. According to Wind data, since November, the scale of debt financing instruments issued by the real estate industry between banks has reached RMB20.16bn, compared with RMB11.881bn in October. Bond types cover medium-term notes, ultra-short-term financing bonds and directional debt financing instruments.
Huabao International Holdings Ltd (336 HK). Shares rose 8.2% on Friday. Huabao and other tobacco concept stocks continued to strengthen recently, in anticipation of the national e-cigarette standard meeting. In addition, the company recently proposed to spin off its condiment business and list it on the main board of the Stock Exchange. After the proposed spin-off, the spin-off group will mainly engage in the production, sales, marketing and distribution of condiments in China.
Trading Dashboard Update: Take profit on Nexteer Automotive (1316 HK) at HK$10.50
---
Trading Dashboard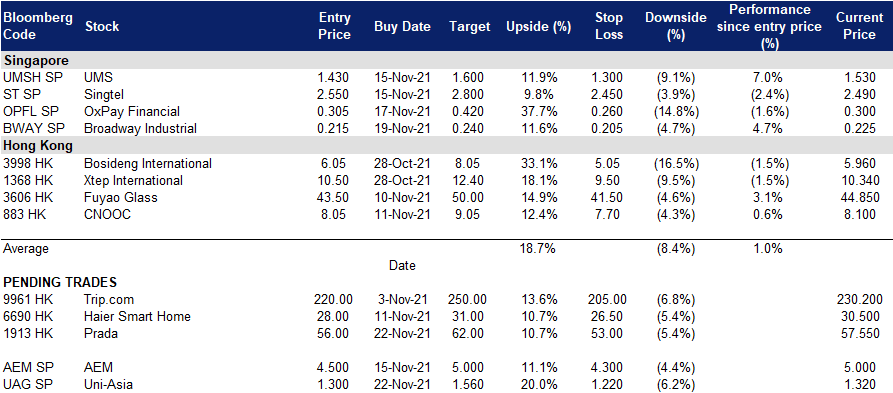 ---

---
Related Posts: