22 June 2022: UnUsUaL Ltd (UNU SP), Tongcheng Travel Holdings Limited (780 HK)
Singapore Trading Ideas | Hong Kong Trading Ideas | Market Movers | Trading Dashboard

UnUsUaL Ltd (UNU SP): Buying opportunity into an overlooked recovery trade
BUY Entry 0.143– Target – 0.184 Stop Loss – 0.134
UnUsUaL Group (UNU SP) is a producer and promoter of large-scale live events and concerts in Singapore and the region. Currently, UNU has presence across Singapore, Malaysia, Hong Kong, and is looking to expand further in the Asia Pacific region by leveraging on its major shareholder, mm2 Asia.
Strong US debut for associate artiste. According to American site, allkpop.com, a K-pop UNU-associated artiste, Kang Daniel, was given rave reviews for his performance of the song 'Parade' on American talk show, 'The Kelly Clarkson Show'. Kang was the show's first K-pop male soloist performance and marked the very first performance of the single. The artist is expected to expand his international activities and is scheduled to perform at Japan's largest music festival, 'Summer Sonic 2022' in August. UNU has currently not yet announced any concert for Kang Daniel, although it has been strongly marketing the artist's activities on social media.
Overlooked recovery trade to return to profitability. We expect UNU to return to profitability in FY23F with revenue/PATMI of S$45.6m/S$5.2m, a stunning turnaround from FY22A's S$3.6m/-S$4.2m. This would be driven by a resumption of concerts, with UNU producing and promoting at least 15 live events in FY23F. On blended ASPs, our starting point was S$160/ticket and built in a 4-year CAGR of 4.1%. On breakeven costs, we have assumed that core EBIT margins will turnaround in FY23F to 14.9% (FY22: -92.4%).
Profit taking post initiation bump. UNU saw some profit taking on 21 June after closing 14.1% above our initiation price. We believe this presents a clear and present buying opportunity for investors looking to garner exposure to an overlooked recovery trade. At S$0.143, UNU would be trading at an undemanding 13.7x FY24F P/E, substantially lower than peers' median of 22.8x.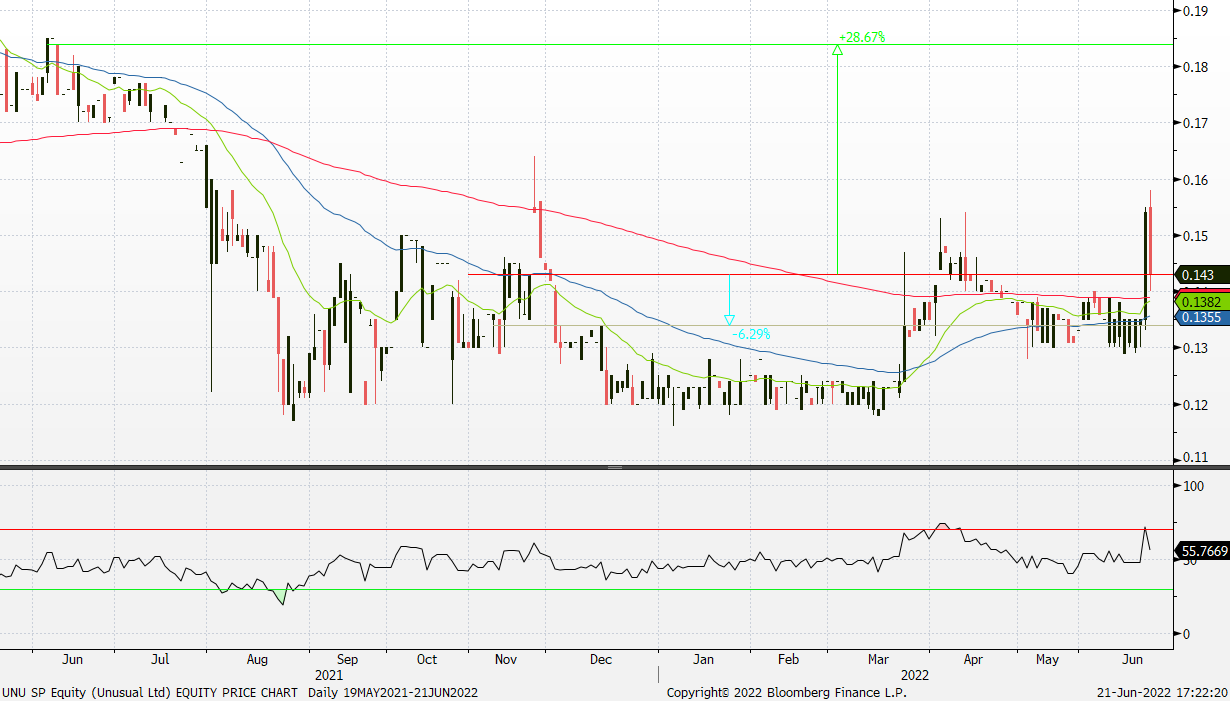 (Source: Bloomberg)
TOTM Technologies Ltd (TOTM SP): Joining hands with Presight to scale solutions
BUY Entry – 0.155 Target – 0.183 Stop Loss – 0.142
The Group is an integrated solutions and services provider in personnel identity management and biometric technology. Its solutions leverage platforms from strategic partners and are applied to public and private projects across North America, Europe, Middle East, Asia Pacific, Latin America, and Africa. It manages and maintains one of the largest biometrics National ID databases in the world with about 200m enrolled citizens.
Scaling up solutions in MENA and APAC. TOTM signed a strategic teaming agreement with Presight.AI, a G42 and Rafael Advanced Defense Systems JVCo, to develop and deploy proprietary technologies to deliver high performance biometric, AI capabilities and solutions to clients in MENA and Southeast Asia. Specifically, the partners will be looking to develop hardware-less eKYC authentication and build new systems that may not require internet connectivity for biometric authentication.
Starting to see revenue traction. As at last update in January 2022, TOTM was in the midst of ramping up its operations, with 1H22 revenue surging 263% YoY to S$10.1m mainly on virgin contributions of S$8m from its biometrics business. Importantly, we observed that c.97% of revenue was derived from recurring sources. Nonetheless, as part of its ramping up, TOTM remained loss making, extending losses to S$5.3m mainly on cost of sales of S$5.8m as well as general jump across salaries, legal and professional expenses.
Revenue traction to continue even as peers' growth tapers. There is currently no coverage on the stock. Looking across horizontally, listed biometrics companies in Asia are few, with the bulk listed in western markets. According to Bloomberg data, TOTM's western peers reported median YoY revenue growth of just 14.5%. Notably, sectoral ROEs are negative, with slightly more than half of our peer list recording positive historical ROE. The new agreement with Presight.AI will, in our view, surely help cement TOTM's revenue growth trajectory and place it in good steam to return to profitability.
(Source: Bloomberg)


Tongcheng Travel Holdings Limited (780 HK): Summer holiday to revive the domestic tourism
Buy Entry – 15.5 Target – 17.5 Stop Loss – 14.5
Tongcheng Travel Holdings Ltd, formerly Tongcheng-Elong Holdings Ltd, is a China-based holding company mainly providing online tourism products and services. The Company is mainly engaged in transportation ticketing services, accommodation reservation services and other services. The transportation ticketing services mainly include air ticket and train ticket booking, sales of tourism insurance and other transportation related services. The accommodation reservation services mainly provide accommodation booking services. Other services mainly include attraction ticketing, ancillary value-added user services and advertising services.
Resumption of inter-provincial group tours. At the beginning of June, more than ten Chinese localities moved to restart inter-provincial group tours, after the Ministry of Culture and Tourism (MCT) announced more targeted anti-epidemic measures in an effort to boost tourism. Accordingly, the tourism sector picked up during the three-day Dragon Boat Festival holiday.
Promising outlook of the upcoming summer holiday. According to the 2022 Summer Vacation Trend Forecast issued by Trip.com, as of 10th June, the air ticket bookings for summer vacation jumped by 162% WoW, tour group bookings jumped by 109% WoW, and hotel bookings jumped by more than 50% WoW. Meanwhile, the overall visitor traffic is expected to recover to 70% of the 2019 level during the same period.
1Q22 financials and operations review. Revenue grew by 6.5% YoY to RMB1.72bn. Adjusted net profit dropped by 18% YoY to RMB298.9mn. Average MAUs grew by 4.5% YoY to 234.2mn. Average MPUs grew by 16.1% YoY to 27.3mn.
The updated market consensus of the EPS growth in FY22/23 is 21.2%/63.8% YoY, respectively, translating to 34.1×/20.8x forward PE. The current PER is 46.0x. Bloomberg consensus average 12-month target price is HK$17.22.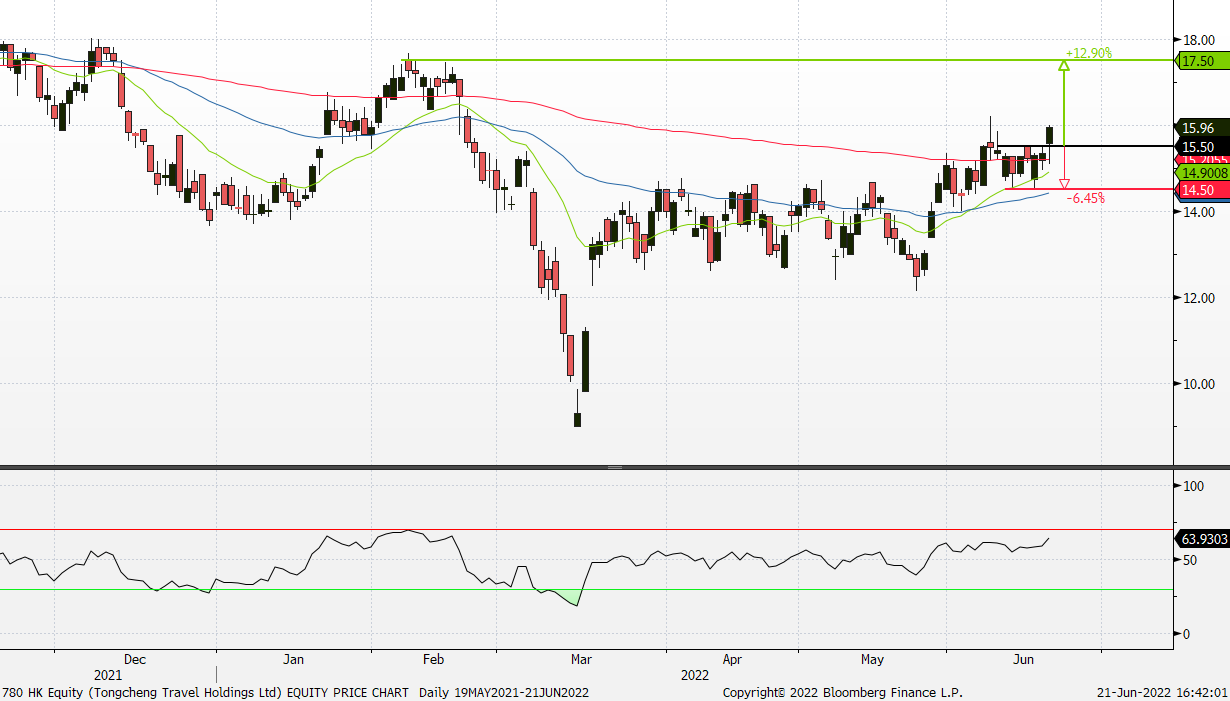 (Source: Bloomberg)

Hainan Meilan International Airport Co Ltd (357 HK): Tailwinds from the pent-up demand for travelling this summer
RE-ITERATE Buy Entry – 17.0 Target – 19.0 Stop Loss – 16.0
Hainan Meilan International Airport Company Limited, formerly Regal International Airport Group Company Limited, is a Hong Kong-based investment holding company principally engaged in aviation and related businesses. The Company operates through aeronautical businesses and non-aeronautical businesses. Its aeronautical businesses include the provision of terminal facilities, ground handling services and passenger services. Its non-aeronautical businesses include the leasing of commercial and retail spaces at Meilan Airport, airport-related businesses franchising, advertising spaces leasing, car parking businesses, cargo handling and the sales of consumable goods.
Major stimulus package to boost offshore duty-free sales. On 14th June, Hainan province's Department of Commerce issued an action plan on promoting the island's offshore duty-free sales to enhance its role as a magnet for overseas consumer spending. The action plan proposed various high-quality expos, events and festivals — such as the China International Consumer Goods Expo (also called the Hainan Expo) and the Hainan International Tourism Island Carnival. In addition, the plan specified that the island will hold no less than 10 large-scale duty-free shopping promotion activities this year, with provincial-level funding of no less than RMB 20 million (about USD 3 million) to be raised and distributed in the form of vouchers which can be redeemed against duty-free purchases across the island.
Recovery in May. Hainan province's total retail sales in May grew by 23.7% MoM to RMB19.2bn. Offshore duty-free retail sales in May grew by 66.1% MoM to RMB3.1bn. According to the 2022 Summer Vacation Trend Forecast issued by Trip.com, as of 10th June, the air ticket bookings for summer vacation jumped by 162% WoW, tour group bookings jumped by 109% WoW, and hotel bookings jumped by more than 50% WoW.
The updated market consensus of the EPS growth in FY22/23 is -67.9%/155.5% YoY, respectively, translating to 29.0×/11.4x forward PE. The current PER is 9.3x. Bloomberg consensus average 12-month target price is HK$26.5.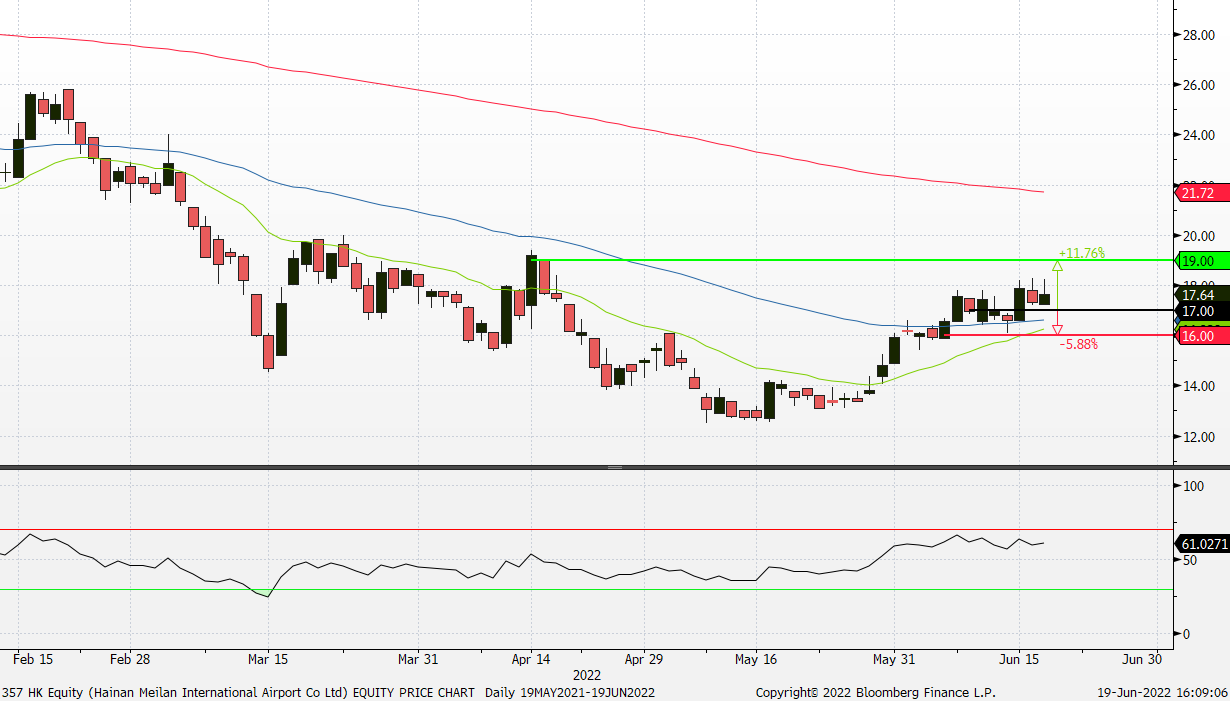 (Source: Bloomberg)




United States
Top Sector Gainers
Top Sector Losers
Tesla Inc (TSLA US) shares climbed 9.4% after CEO Elon Musk gave more clarity on planned job cuts that were announced earlier this month. Musk said the company will lay off 3.5% of the workforce, calling the amount "not super material."
Diamondback Energy Inc (FANG US) shares rose 8.2% after Diamondback's board approved an increase to its capital return program to at least 75% of free cash flow, from its previous commitment of at least 50% of free cash flow.
Spirit Airlines Inc (SAVE US) shares jumped 7.9% after JetBlue boosted its takeover offer for the company by $2 per share to $33.50 per share. Spirit is also fielding an offer from Frontier Airlines. The company has said it expects to decide on the proposal by June 30.
Exxon Mobil (XOM US) shares jumped 6.2% after Credit Suisse upgraded them to outperform from neutral and said they can jump another 45% from current levels. The oil and gas company's divergent corporate strategy sets it up well to capitalise on the jump in oil prices, the firm said.
Palantir Technologies (PLTR US) shares surged 5.7% after Bank of America initiated coverage of the defence tech company with a buy rating. The firm said investors are underestimating the demand for artificial intelligence that should boost Palantir's stock.
---
Singapore
Frencken Group Ltd (FRKN SP) shares rose 7.5% yesterday. RHB Group Research analyst Jarick Seet has upgraded Frencken to "buy" with an unchanged target price of $1.24 on attractive valuations. "Over the past month, Frencken has corrected [around] 20% and is now trading at just 8.5x FY2022 P/E, an attractive valuation, which we consider represents a good entry for a long-term investment," writes Seet in his June 21 report.
Golden Energy & Resources Ltd (GER SP) and Geo Energy Resources Ltd (GERL SP) shares rose 8.2% and 6.8% respectively yesterday. Newcastle coal futures, the benchmark for top consuming region Asia, were trading below the $400-per-tonne mark, a level not seen in more than a month, as surging inventories and weaker demand continued to pressure the market. Still, coal prices remained elevated, rallying to as high as $430 in late May, supported by a tightening market as Russia's invasion of Ukraine and the unprecedented economic sanctions, including the EU's ban on oil and coal imports from Russia, have thrown the global energy market into chaos.
Dyna-Mac Holdings Ltd (DMHL SP) and Rex International Holding (REXI SP) shares rose 14.3% and 5.2% respectively yesterday. WTI crude futures rose more than 2% toward $112 per barrel on Tuesday, recouping some losses from last week, as persistent concerns about tight oil supply outweighed fears that aggressive monetary tightening could lead to a global recession and demand slowdown. Oil prices have been supported by supply tightness spurred by the war in Ukraine and OPEC's failure to increase production, at a time demand has been recovering from the Covid slump. Meanwhile, a global push to raise interest rates amid surging inflation stoked fears of an economic slowdown, although the risk of demand destruction remains uncertain due to a robust recovery.

Hong Kong
Top Sector Gainers
Top Sector Losers
Innovent Biologics Inc (1801 HK) shares rose 13.5% yesterday. Innovent Biologics, Inc and Eli Lilly and Company today announced that the Centre for Drug Evaluation of China's National Medical Products Administration has approved the supplemental New Drug Application for TYVY (sintilimab injection) in combination with cisplatin plus paclitaxel or cisplatin plus 5-fluorouracil chemotherapy for the first-line treatment of unresectable, locally advanced, recurrent or metastatic esophageal squamous cell carcinoma.
Haichang Ocean Park Holdings Ltd (2255 HK) and Samsonite International S.A. (1910 HK) shares rose 8.6% and 8.2% respectively yesterday. Quarantine-free travel to mainland China will be a priority, the new Secretary for Health has promised. But Dr Lo Chung-mau emphasised any policy changes would be based on science. He added: "Opening the border with the mainland and the rest of the world is a livelihood and economic issue and also an issue that impacts different families. We will do our best."
Angelalign Technology Inc (6699 HK) shares rose 7.8% yesterday. GF Securities pointed out that the outpatient volume of medical institutions is expected to gradually recover in June. There is a large amount of delayed demand for related consumer medical projects. Huaxi Securities also stated that the resumption of work in brick and mortar stores has driven the overall valuation of the medical and aesthetic sector to improve.
MicroPort Scientific Corporation (0853 HK) shares rose 10.1% yesterday. MicroPort Scientific's neurovascular business passed its listing hearing with the Hong Kong bourse, paving the way for the spinoff to proceed, according to a post-hearing information pack filed on June 19. The medical device manufacturer is spinning off the unit that makes neurovascular devices for it to have a standalone fundraising platform in Hong Kong.


Trading Dashboard Update: No additions/deletions of stocks.

^ Back To Top