22 August 2022: Bumitama Agri Ltd (BAL SP), China Tourism Group Duty Free Corp Ltd (1880)
Singapore Trading Ideas | Hong Kong Trading Ideas | Market Movers | Trading Dashboard
Bumitama Agri Ltd (BAL SP): Short-term rebound of palm oil
BUY Entry – 0.64 Target – 0.68 Stop Loss – 0.62
Bumitama Agri Ltd is an Indonesia-based producer of crude palm oil and palm kernel with oil palm plantations and mills located in three provinces of Indonesia, namely Central Kalimantan, West Kalimantan and Riau. Its primary business activities are cultivating and harvesting oil palm trees, processing fresh palm fruit bunches from its oil palm plantations, plasma plantations and third parties into crude palm oil and palm kernel, and selling crude palm oil and palm kernel.
Palm oil prices recovered from a two-week low. Futures for November delivery climbed as much as 1.6% to RM4,250, before closing at RM4,200 in Kuala Lumpur. Soybean oil, palm's closest substitute, rose as much as 1% in Chicago to snap two days of losses. The recovery of prices was also driven by bargain hunting as some buyers wanted to take advantage of Indonesia's export levy waiver until the end of August. Indonesia reduced the additional exports levy from US$200/tonne to zero for shipments between mid-July and end-August.
Stellar 1H22 earnings. Revenue jumped by 64.9% YoY to IDR8,968,347 mn. Gross profit surged by 223.8% to IDR3,772,241mn. Gross profit margin was 42.1% in 1H22, compared to 21.4% in 1H21. Net profit attributable to the owners of the company soared by 350.1% YoY to IDR2,178,739mn. The stellar results were due mainly to an increase in the average CPO and PK sales price. CPO sales volume decreased by 6.5% YoY, resulting from delays in shipment arising from buyers' full tank capacity due to the export ban of cooking oil and its raw material imposed by Indonesia Government.
Updated market consensus of the EPS growth in FY22/23 is 76.8%/-31.3% YoY respectively, which translates to 4.0x/5.9x forward PE. Current PER is 3.6x. FY22F/23F dividend yield is 9.2%/6.6%. Bloomberg consensus average 12-month target price is S$0.83.
Crude palm oil prices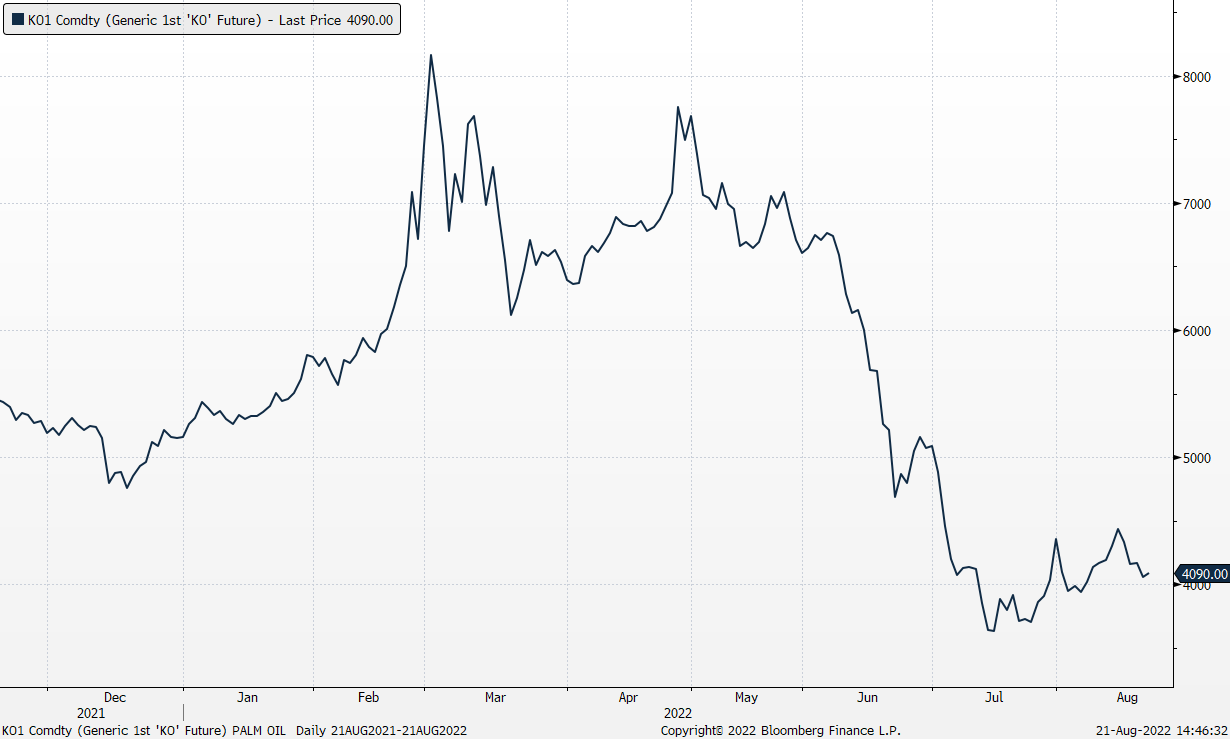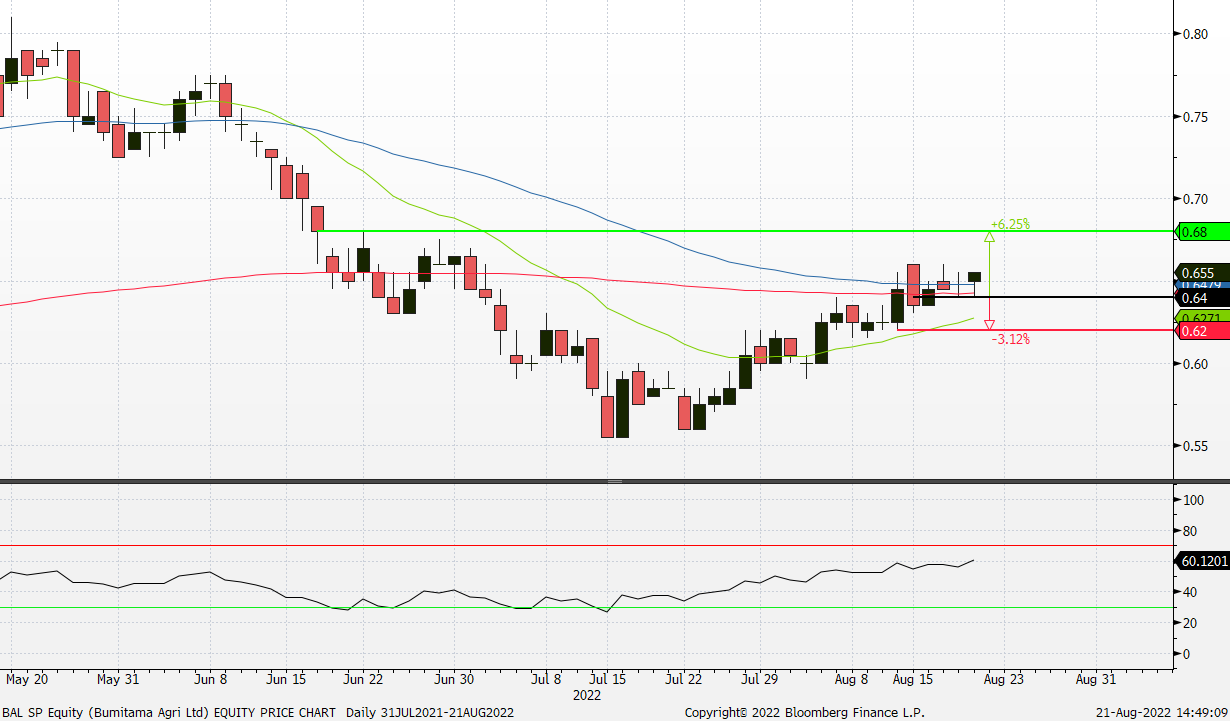 (Source: Bloomberg)

Sheng Siong Group (SSG SP): High inflation expectations to provide second tailwind
RE-ITERATE BUY Entry 1.60 – Target – 1.67 Stop Loss – 1.57
SSG operates the Sheng Siong groceries chain. Its stores are primarily located in retail locations in the heartlands of Singapore, and designed to provide customers with both "wet and dry" shopping options, including a wide assortment of live, fresh and chilled produce, such as seafood, meat and vegetables, in addition to processed, packaged and/or preserved food products as well as general merchandise such as toiletries and essential household products. The Group has also developed a selection of house brands to offer customers quality alternatives to national brands at substantial savings. To support its retail operations, the Group also has an extensive distribution network, food-processing facilities, and warehousing facilities.
Retail sales show turnaround for supermarkets. May 2022 retail sales for supermarkets & hypermarkets marked a turnaround with 0.6% MoM (April: -6.3%) growth. On YoY basis however, retail sales for the industry fell 10.3% (May 2021: +5.1%) mainly due to higher demand for groceries in the prior period as more people stayed home during the Phase 2 (Heightened Alert) period.
Inflation expectations to channel demand to house brands. SSG recently added more than 800 house brand items to price comparison app, Price Kaki. SSG has 23 house brand labels including Tasty Bites, Heritage Farm and Happy Family, spanning across seven product categories – groceries, frozen, dried food, seafood, meat, fruits and vegetables. It was also shared that its house brands are affordably priced at savings of approximately 5%-20% compared to other products. Given rising inflation expectations, we reckon that Singapore's large middle class will more likely than not shift their grocery spending towards cheaper alternatives. This is mainly so as other sources of inflation such as petrol prices, mortgage servicing are difficult to mitigate.
FY22F results to taper off after record FY21. The Street is positive on SSG's prospects with 6 BUY, 1 HOLD, and 0 SELL ratings, and an average 12M TP of S$1.79. The street is expecting FY22F EPS to decline 3.6% YoY after a record FY21. Thereafter, SSG is expected to grow its FY23F EPS by 4.7% YoY. While FY22F DPS is expected to remain flat at S$0.062/share, FY23F DPS should slightly drop to S$0.061/share (-1.9% YoY). SSG is currently trading at 19.1x and 18.2x FY22F/23F P/E and 3.8%/3.8% FY22F/23F dividend yield respectively.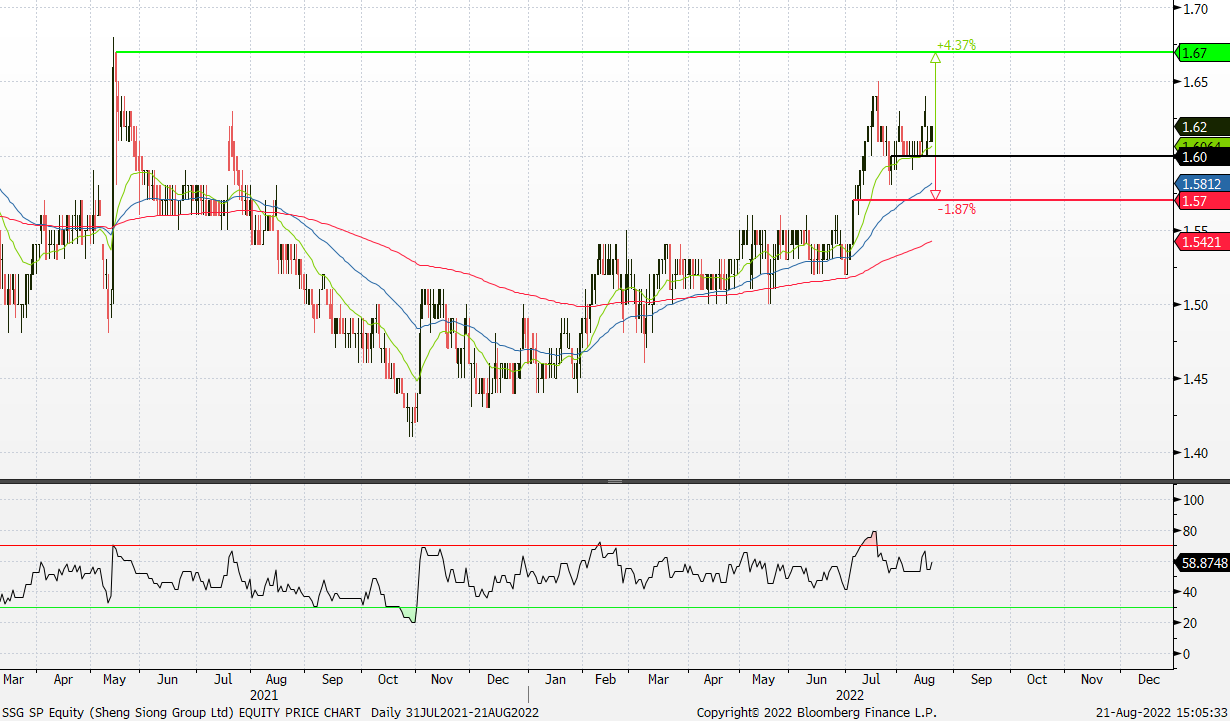 (Source: Bloomberg)


China Tourism Group Duty Free Corp Ltd (1880): A new largest IPO in Hong Kong YTD in 2022
IPO overview:

Sector: Consumer discretionary
Issued price: HK$158.0
Total new shares issued: 102.8mn
Initial market cap: HK$324.7bn
Subscription rate of the public tranche: undersubscribed
Sponsors: CICC, UBS
Listing date: 25th August Thursday

China Tourism Group Duty Free is the largest travel retail operator in the world focusing on sales of high-quality duty-free and duty-paid merchandise to travelers. Worldwide ranking by retail sales value has steadily over the past ten years, from the 19th in 2010 to the 12th in 2015, and further to the fourth in 2019 before reaching the first in 2020 and 2021, with 24.6% share of the global travel retail industry in 2021. The company is the only retail operator in China covering all duty-free sales channels (which include port stores, offshore stores, downtown stores, cruise stores, inflight stores and ship-supply stores). It has the most dutyfree stores in China. It operates 193 stores, including 184 stores in 100 cities across 28 provinces, municipalities and autonomous regions in China. It also operates 9 duty-free stores overseas in Hong Kong, Macau and Cambodia.
Financials overview over the past three years.

Use of proceeds. 48.8% of the proceed raised by China Tourism Group Duty Free's H-share listing is to reinforce domestic channels, and 22.5% of which is to expand overseas channels. The remaining 13.5%/10.0%/3.7%/1.5% is for supply chain efficiency improvement/working captial/marketing/information technology system upgrade respectively.
Valuations. According to Bloomberg, the consensus estimates of FY22/23 EPS growth is -1.54%/49.73%, translating to 38.9x/26.1x. The long-term average PER before COVID-19 occurred was 31.6x. Assuming FY22F net profit to be similar to the one in FY21. The fair valuation of the company will be RMB307.4bn, equivalent to HK$354.9bn based on the long-term average PER. Based on the listing price of HK$158, the initial market cap will be HK$324.7bn, and hence the potential upside is around 9.3%.
China Tourism Group Duty Free Corp Ltd (601888 CH) 10-year PER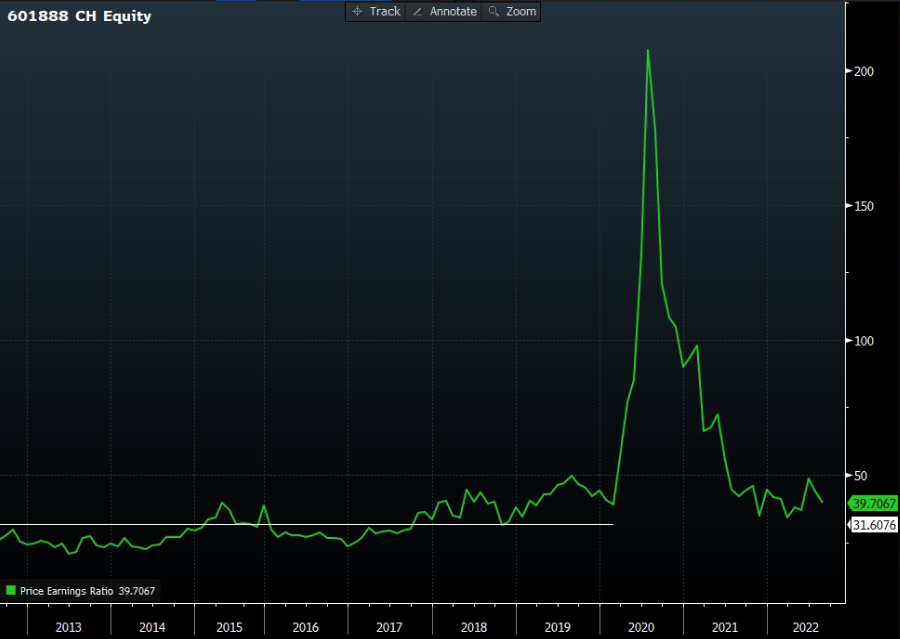 China Resources Power Holdings Company Limited (836 HK): Heat wave stikes
China Resources Power Holdings Company Limited is a Hong Kong-based investment holding company principally engaged in the investment, development and operation of power plants. The Company operates through three segments. Thermal Power segment is engaged in the investment, development, operation and management of coal-fired power plants and gas-fired power plants, as well as the sales of heat and electricity. Renewable Energy segment is engaged in wind power generation, hydroelectric power generation and photovoltaic power generation, as well as the sales of electricity. Coal Mining segment is engaged in the mining of coal mines, as well as the sales of coal. The Company mainly operates businesses in China.
Worse heat wave in 60 years. Temperatures in several provinces routinely reached 40°C (104°F). In Sichuan, a regional manufacturing powerhouse that is home to more than 80 million people, the record heat wave has exacerbated an ongoing drought, cutting water levels at hydropower reservoirs in half this month. It is expected that the domestic power supply shortage could haunt again as hydropower generation falls. Coal-fired power generation will surge accordingly.
Net generation of subsidiary power plants edged up in July. Total net generation of subsidiary power plants in July 2022 increased by 8.0% YoY to 17,396.8GWh, among which, subsidiary wind farms decreased by 6.9% YoY to 2,273.2GWh, subsidiary photovoltaic plants remained flat YoY to 120.0GWh.
1H22 earnings review. Profit attributable to owners of the company decreased by 22.5% YoY to HK$4.370bn. Basic earnings per share for the period amounted to HK$0.91, and the company declared an interim dividend of HK$0.21. As at 30 June, the group had an operational generation capacity of 64,610MW and an attributable operational generation capacity of 50,018MW, including the attributable operational generation capacity of thermal power of 33,716MW or 67.4%; and the combined attributable operational generation capacity of wind, photovoltaic and hydropower of 16,302MW or 32.6%.
Updated market consensus of the EPS growth in FY22/23 is 281.6%/29.4% YoY respectively, which translates to 8.5x/6.6x forward PE. Current PER is 91.2x. FY22F/23F dividend yield is 4.7%/6.6%. Bloomberg consensus average 12-month target price is HK$20.7.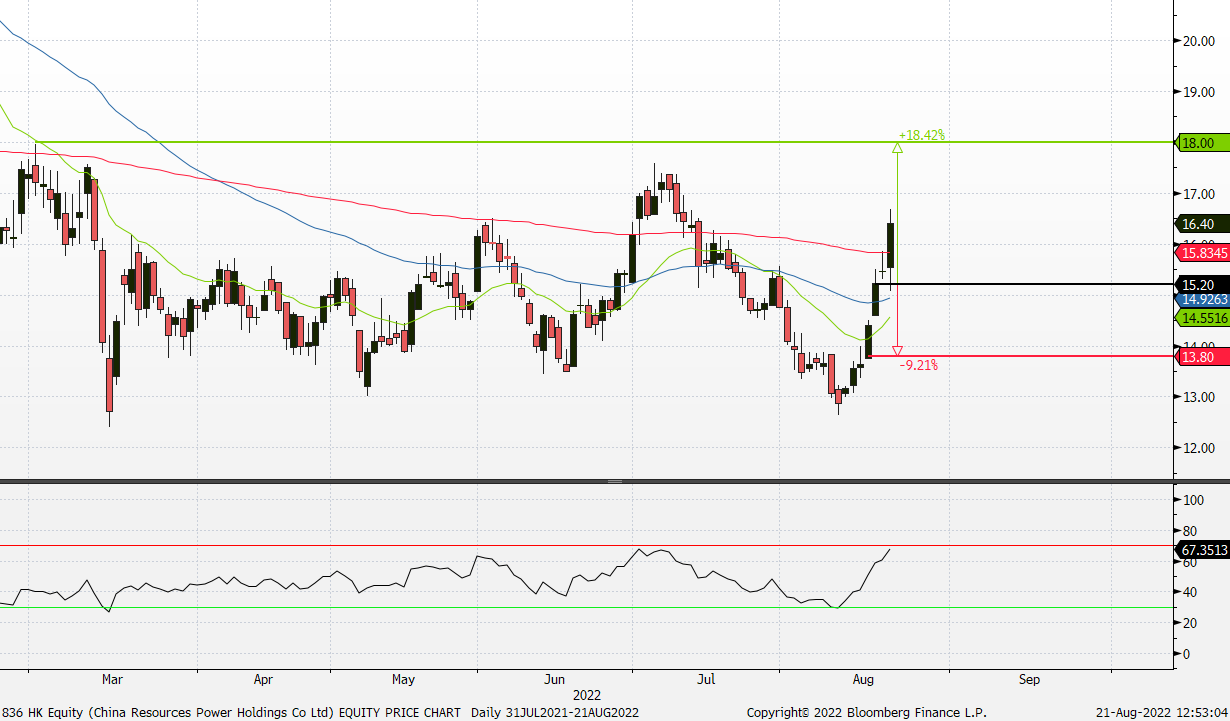 (Source: Bloomberg)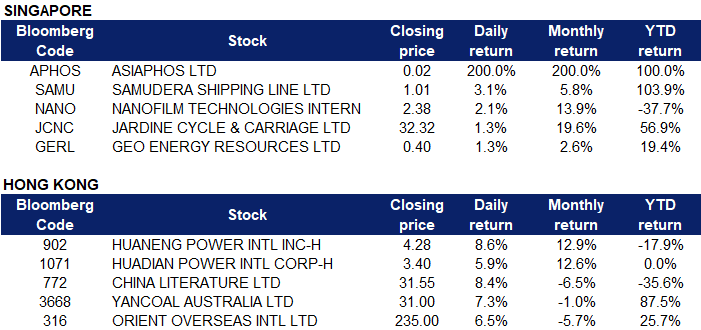 United States
Top Sector Gainers
Top Sector Losers
Bed Bath & Beyond Inc (BBBY US) plunged 40.5% after activist investor Ryan Cohen dumped his entire stake in the company. Bed Bath & Beyond had surged this month in a move reminiscent of the meme stock craze of 2021, with heavy trading volume and social media activity.
Foot Locker Inc (FL US) surged 20.0% after it appointed former Ulta Beauty head Mary Dillon as its chief executive officer, replacing Richard Johnson. Foot Locker also reported a smaller-than-expected drop in comparable sales for the second quarter and profit that was above estimates.
Wayfair Inc (W US) plunged 20.1% after Wayfair cut 870 jobs, or roughly 5% of its global workforce. Wayfair believes the $30 million to $40 million hit from the headcount reduction will hit in the third quarter.
Bill.com Holdings Inc (BILL US) soared 16.7% after the financial back-office software provider surpassed earnings expectations in its most recent quarter. Bill.com also issued strong guidance.
Coinbase Global Inc (COIN US) dropped 11.3% following a sudden overnight sell-off in bitcoin. Bitcoin is trading below $22,000, a more than three-week low.

Singapore
Asiaphos Ltd (APHOS SP) rose 200% on Friday. The Board of Directors of Asiaphos Limited together with its subsidiaries wishes to announce that the Company and its wholly owned subsidiary, Norwest Chemicals Pte Ltd have on 18 August 2022 received finalisation of its agreement with a US based Fund that will provide non-recourse funding in respect of the Group's pending international investment arbitration against the People's Republic of China.
Samudera Shipping Line Ltd (SAMU SP) rose 3.1%, it announced a change in shareholding interest of its Executive Director and CEO. A total of 15,300 ordinary shares, amounting to S$15,070.50 (S$0.985 per share) was received by the CEO.
Nanofilm Technologies International Ltd (NANO SP) rose 2.1% last Friday. Nanofilm, which provides its coating for parts using its proprietary technology, bought back a total of 271,800 shares between Aug 12 and Aug 17. The company paid between $2.09 and $2.29 for the shares. In addition, the company's founder and executive chairman Shi Xu, on Aug 15 acquired 500,000 shares via a vehicle he jointly owns with his wife Jin Xiao Qun. This brings Shi's total interest to nearly 337.1 million shares, equivalent to 51.07%, up from 50.99% previously.
Jardine Cycle & Carriage Ltd (JCNC SP) rose 1.3% on Friday. It had previously announced an interim one-tier tax exempt dividend of US$0.28 per share for the financial year ending 31 December 2022. The Interim Dividend will be paid on 29 September 2022.
Geo Energy Resources Ltd (GERL SP) rose 1.3% on Friday. It announced on Thursday evening, the payment of interim dividend amounting to S$0.02 per ordinary year for the financial year ending 31 December 2022, will be made on 2 September 2022.

Hong Kong
Top Sector Gainers
Top Sector Losers
The power sector continued to surge. Huaneng Power International Inc (0902 HK) and Huadian Power International Corp Ltd (1071 HK) rose 8.6% and 5.9% respectively last Friday. On the news, the Central Meteorological Observatory continued to issue a high temperature red warning on the 19th. Since July 21, the Central Meteorological Observatory has issued a high temperature warning for 30 consecutive days and a high temperature red warning for the 8th consecutive day. This round of high temperatures is expected to last until the 25th. Affected by the high temperature, the power supply in many places is tight. Recently, Sichuan, Anhui, Zhejiang, Jiangsu and other places have launched an orderly electricity consumption model. A number of listed companies have announced that they will temporarily suspend or reduce production due to the impact of electricity restrictions. Capital Securities pointed out that the Sichuan power cut incident once again aroused the market's attention to the tight power supply and demand. It is expected that although the power consumption situation in some regions is tense, there will be no large-scale "turn-off" phenomenon, but the "tight balance" between power supply and demand will continue in the future.
China Literature Ltd (0772 HK) rose 8.4%, it announced that the company's board of directors approved the proposed 10% share repurchase plan and plans to exercise the general mandate granted by the company's shareholders to the board of directors at the annual general meeting held on May 23, 2022, within the next 12 months. It is reported that the maximum number of shares that can be repurchased under the repurchase authorization is about 102 million shares, and the maximum total capital to be used is RMB 700 million. The Board believes that the shares traded in the market are undervalued and that the company's existing financial resources will allow it to execute the proposed share repurchase program while maintaining the company's financial health.
Yancoal Australia Ltd (3668 HK) rose 7.3% last Friday. In the first half of this year, the company achieved a year-on-year turnaround in after-tax profit. Morgan Stanley commented that taking into account an increase in coal prices and the delay in sales prices, in the second half of the year, the company's net profit is expected to increase by 48% month-on-month, reaching a new high.
Orient Overseas (International) Ltd (0316 HK) shares rose 6.5%, after it released its interim results last Friday. In the first half of this year, the company achieved a net profit of US$5.664 billion, a year-on-year increase of 101.5%; earnings per share were US$8.58, and a total dividend of US$6 was distributed. The company said that its ships are currently operating fully loaded on major long-haul routes, and it is expected to maintain the status quo in the next few weeks. Looking forward to the future, although it should be the peak season for traditional trans-Pacific routes, there is no significant increase in cargo volume during the peak season, and the Group will pay close attention to the relevant situation.


Trading Dashboard Update: Cut loss on United Hampshire US REIT (UHU SP) at S$0.60