21 September 2022: Singapore Airlines Ltd (SIA SP), WH Group Ltd (288 HK)
Singapore Trading Ideas | Hong Kong Trading Ideas | Market Movers | Trading Dashboard
Singapore Airlines Ltd (SIA SP): Robust tourism demand
BUY Entry 5.28 – Target – 5.50 Stop Loss – 5.17
The Singapore Airlines Group has over 20 subsidiaries, covering a range of airline-related services, from cargo to engine overhaul. Its subsidiaries also include SIA Engineering Company, Scoot, Tiger Airways, Singapore Flying College and Tradewinds Tours and Travel. Principal activities of the Group consist of air transportation, engineering services and other airline related activities.
Post-Covid boom. In 2022, according to statistics collated by Singapore Tourism Board, there has been an exponential increase in visitor arrivals since the reopening of our borders to vaccinated travellers without quarantine in April. Between January and August this year, there were a total of about 2.96 million visitors, a Y-o-Y increase of 1,833% as compared to the same period in 2021. In August alone, Singapore welcomed approximately 729 thousand visitors. However, visitor growth can be seen slowing as there was only a slight increase of 2000 visitors, from July to August.
Tailwinds. Since the gradual reopening of borders globally, travel has resumed. Singapore Airlines Limited has benefited from this with growth in passenger traffic. It more than doubled its monthly available seat kilometres and boosted the number of passengers it flew by more than ten-fold. With both business and leisure travellers increasing, the airline will have to manage resources and manning shortages well.
Travel growth. Aviation will continue to recover as we see more borders opening up and people take advantage of their freedom to travel. Additionally, with the upcoming events to be held in Singapore and the year-end holiday season coming up, we expect travel demand to remain robust for the rest of the year.
1Q23 results review. In1Q23 (YE March), net profit arrived at S$370 million, recovering from a S$409 million loss during the same period in 2021. This was a result of the sharp revival in travel demand after economies reopened their borders. Additionally, their operating statistics showed significant month-on-month passenger traffic growth since April, with August seeing a tapered increase.
Updated market consensus of the EPS in FY23/24 is S$0.333/S$0.365 respectively, which translates to 16.1x/14.6x forward PE. Bloomberg consensus average 12-month target price is S$5.86.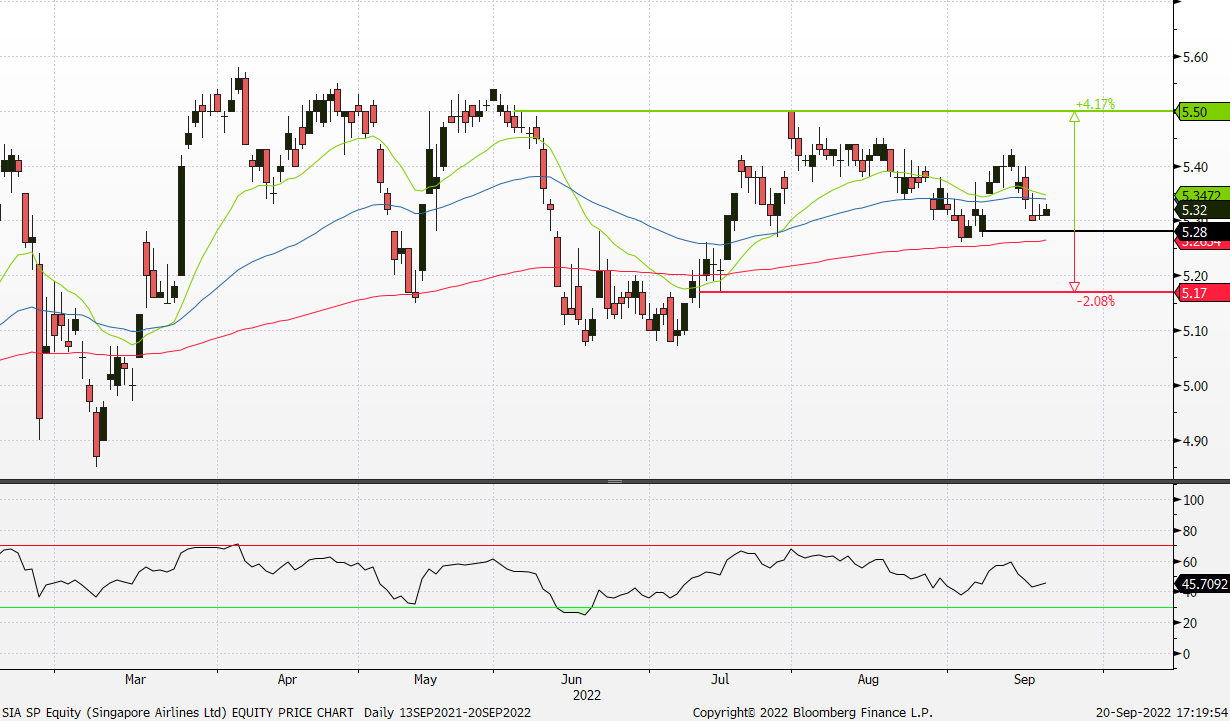 (Source: Bloomberg)

ComfortDelGro Corp Ltd (CD SP): Range-bound trade
RE-ITERATE BUY Entry 1.38 – Target – 1.50 Stop Loss – 1.33
ComfortDelGro is a publicly listed passenger land transport company, with a fleet of more than 38,700 vehicles worldwide. ComfortDelGro's businesses include taxi, bus, rail, car rental and leasing, automotive engineering and maintenance services, inspection, test and assessment services, learner drivers' instruction services, insurance brokerage services and outdoor advertising. SBS Transit Ltd and VICOM Ltd are subsidiaries listed on the Singapore Exchange. SBS Transit is Singapore's largest public bus transport operator with a fleet of more than 2,400 buses, as well as urban rail operation, serving more than 2 million passengers daily. VICOM provides inspection, test and assessment services. The Group is also Singapore's largest taxi operator with more than 17,000 taxis. The Group's overseas operations currently extend from the United Kingdom and Ireland to Vietnam and Malaysia, as well as across 12 cities in China, including Beijing, Shanghai, Guangzhou, Shenyang and Chengdu.
Growth drivers. CDG plans to drive future growth through rail, electrification, logistics, and non-emergency medical transportation segments, with acquisitions and partnerships. On 1 September, its subsidiary, Scottish Citylink Coaches Limited, had successfully acquired the businesses and business assets relating to the retail and customer services operations for the marketing and sale of coach journeys within the United Kingdom under the 'megabus' brand and between Plymouth and Bristol under the 'Falcon' brand.
1H22 results. With COVID-19 restrictions easing in countries where the group operates, the land transport giant has reported better financials for the first half of FY 2022. Revenue for the group inched up 6.7% year on year to S$1.86 billion. Net profit rose 30.4% year on year to S$118.7 million, boosted by a S$38.8 million net gain on the disposal of property. With Singapore contributing 72% to its operating profit. Public transport services made up close to 80% of CDG's group revenue and half of the group's operating profit. With more people riding on public transport, operating profit for the division inched up from S$82.5 million to S$85.6 million.
Disposal of property. CDG sold Alperton property in the UK for S$37.2 million. Resulting in the group's cash flow statement reflecting a nearly four-fold jump in proceeds from the disposal of fixed assets, from S$16.1 million to S$63.1 million.
Dividend distribution. CDG declared an interim dividend of S$0.0285, up 35.7% year on year from 1H2021's S$0.021. Together with the special dividend of S$0.0141, rewarding shareholders from the gains it made from the disposal of a London property, the total dividend announced this round came up to S$0.0426. Coupled with last year's final dividend of S$0.021, the trailing 12-month dividend stood at S$0.0636, giving CDG's shares a trailing dividend yield of 4.8%.
Updated market consensus of the EPS growth in FY23/24 is 49.5%/15.0% YoY respectively, which translates to 14.6x/13.5x forward PE. Bloomberg consensus average 12-month target price is S$1.75.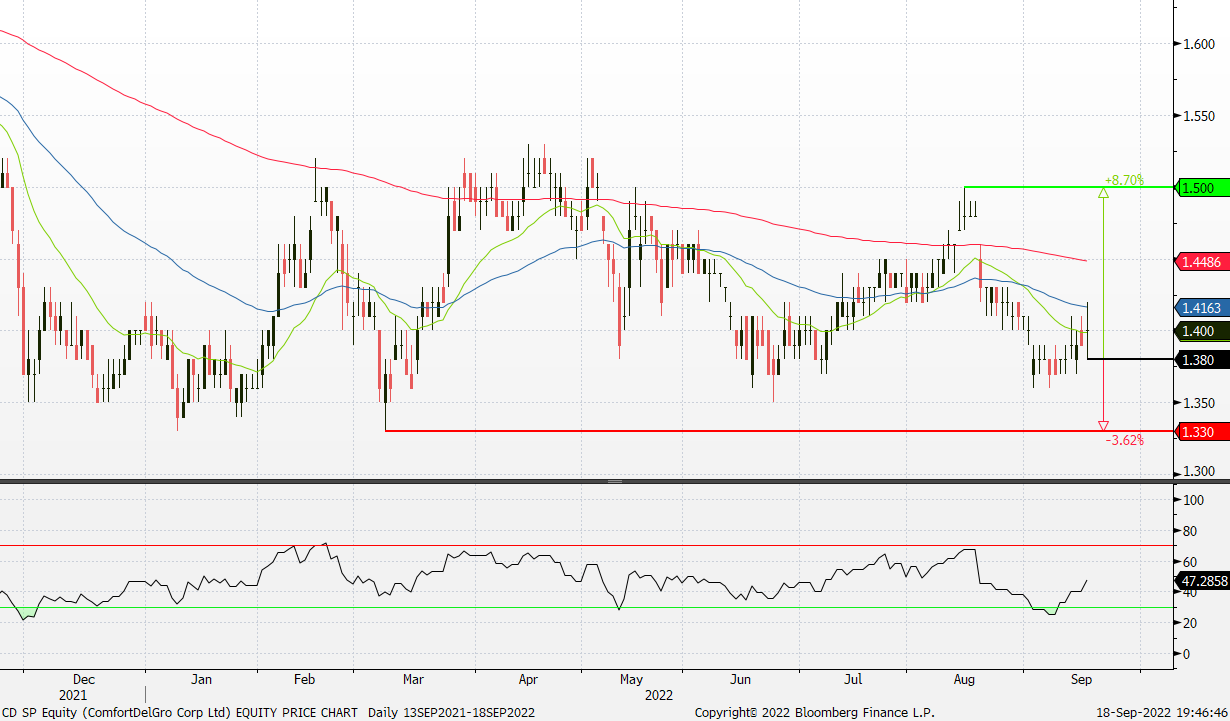 (Source: Bloomberg)


WH Group Ltd (288 HK): Record high pork price
Buy Entry – 5.35 Target – 6.00 Stop Loss – 5.05
WH Group Ltd is an investment holding company mainly engaged in the pork business. The Company operates its business through three segments. The Packaged Meats segment is engaged in the production, wholesale and retail of low temperature and high temperature meat products. The Pork segment is engaged in the slaughtering, wholesale and retail of fresh and frozen pork and hog farming businesses. The Others segment is engaged in the slaughtering and sales of poultry. The Segment is also engaged in the sales of ancillary products and services such as provision of logistics services, manufacturing of flavouring ingredients and natural casings, manufacture and sales of packaging materials, operating finance companies, property development companies, a chain of retail food stores, sales of biological pharmaceutical materials, trading of meat related products and others.
Live pig price reached a YTD high. As of 31st August, the average live pig price arrived at RMB22.76/kg, the highest level YTD. Meanwhile, pig meat prices rose 22.5% YoY in August, following price hikes of 25.6% YoY in July and 14.8% YoY in June. As pork prices rose to a record high in August, the government started to use the nation's meat reserves for the first time this year.
Pig price in China – Live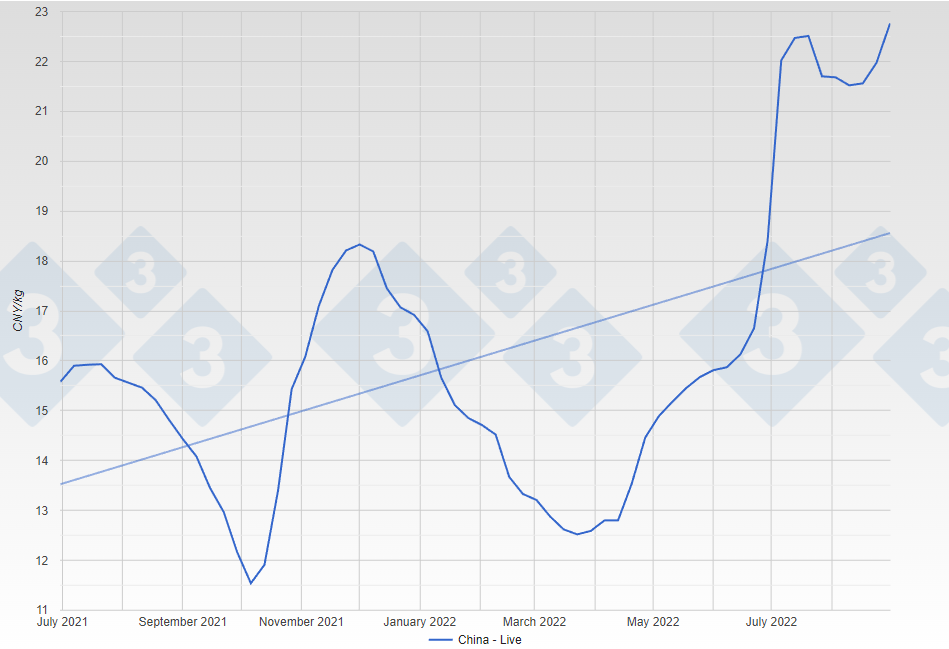 (Source: Pig333.com)
1H22 results review. Total operating income dropped by 19.9% YoY to RMB28.0bn. Net profit increased by 8.4% YoY to RMB2.8bn. The operating margin increased by 3.4ppts to 12.4%. Shuanghui Development's external sales volume of meat products decreased by 3.3% YoY to 1.53mn metric tonnes.
The updated market consensus of the EPS growth in FY22/23 is 43.9%/2.7%% YoY, respectively, translating to 6.3×/6.2x forward PE. The current PER is 7.7x. FY22F/23F dividend yield is 6.2%/6.4% respective. Bloomberg consensus average 12-month target price is HK$8.07.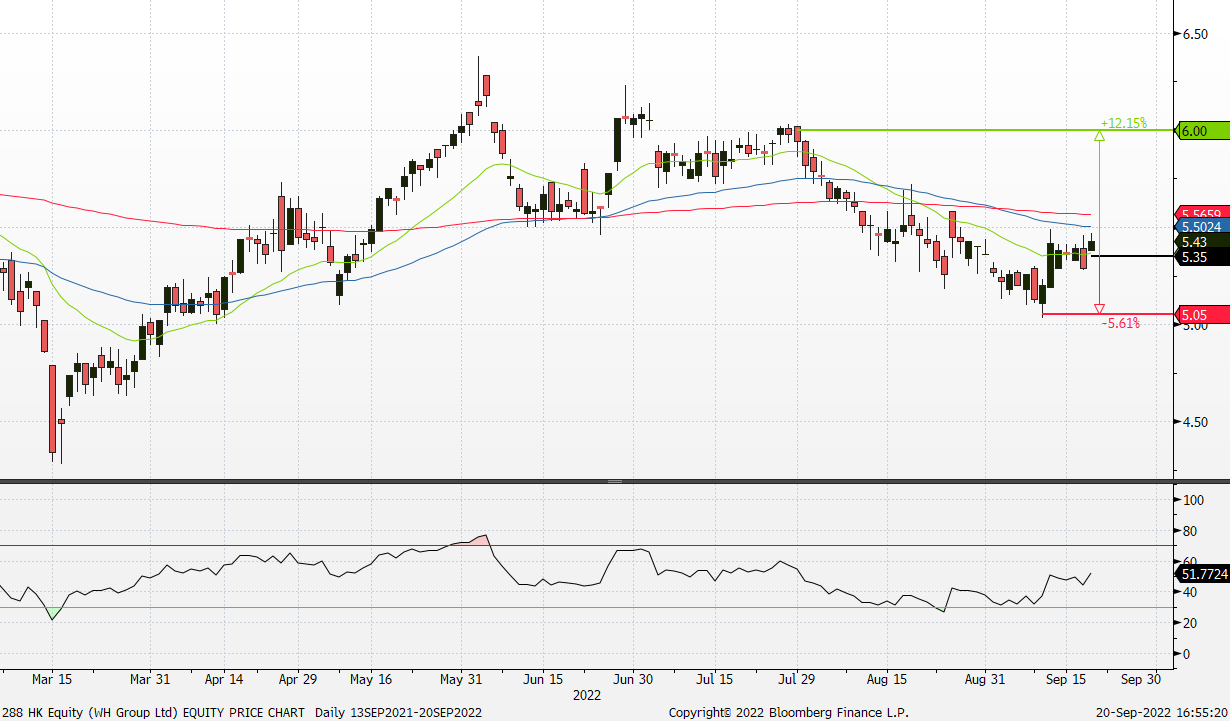 (Source: Bloomberg)
Tsingtao Brewery Company Limited (168 HK): A FIFA World Cup themed play
RE-ITERATE Buy Entry – 70 Target – 80 Stop Loss – 65
Tsingtao Brewery Company Limited, together with its subsidiaries, engages in the production, distribution, wholesale, and retail sale of beer products worldwide. The company sells its beer products primarily under the Tsingtaoand and Laoshan brand names. It also provides wealth management, and agency collection and payment services; and financing, construction, and logistics services, as well as technology promotion and application services.
FIFA World Cup Qatar 2022 in two months. The once in every four years FIFA World Cup is going to take place from November to December 2022. This is the global largest sports event after the Tokyo Olympic Games, and it is expected to attract a record high of spectators as most countries have eased COVID restrictions. Accordingly, it will stimulate sales of alcohol and other drinks. The beer feast will take place during the world cup period.
1H22 earnings review. Revenue grew by 5.4% YoY to RMB19.3bn. Gross profit dropped by 9.6% YoY to RMB7.3bn. GPM dropped by 6.3ppts to 38.1%. Net profit attributable to shareholders of the company grew by 18.1% YoY to RMB2.9bn. NPM increased by 1.3ppts to 14.8%. The growth of the bottom line was due mainly to the upgrade of the product mix and improvement of cost control.
The updated market consensus of the EPS growth in FY22/23 is 1.5%/17.1% YoY, respectively, translating to 27.4×/23.4x forward PE. The current PER is 24.4x. Bloomberg consensus average 12-month target price is HK$89.35.

(Source: Bloomberg)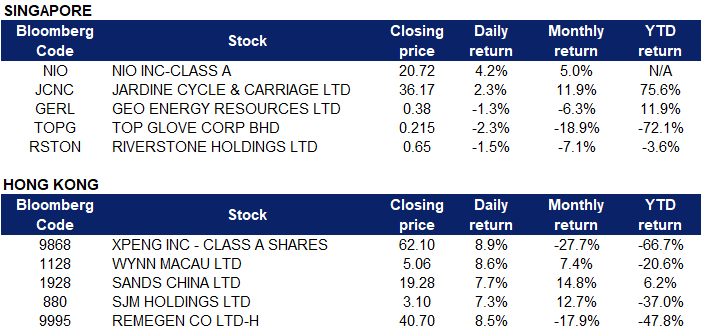 United States
Top Sector Gainers
Top Sector Losers
Ford Motor Co (F US) stock dropped 12.3% after the company told investors that its third-quarter costs were $1 billion more than expected due to inflation and supply chain issues. Ford's operations were also impacted by a dock worker strike in the UK that began Tuesday.
PayPal Holdings Inc (PYPL US) dropped 3.6% after Susquehanna downgraded PayPal to neutral from positive. Susquehanna said the growth of PayPal's Braintree unit is likely to hurt overall margins.
Change Healthcare Inc (CHNG US) jumped 6.4% after a federal judge said that UnitedHealth cannot take over the company. UnitedHealth slipped Tuesday on the news.
Nike Inc (NKE US) fell 4.5% after Barclays downgraded the stock to equal weight from overweight. The firm pointed out that Nike's continued volatility in China and demand erosion in North America and elsewhere could weigh on shares.
Cognex Corp (CGNX US) jumped 6.4% after the company raised its revenue outlook for the current quarter. The updated revenue comes after the company recovered faster than expected from a fire at one of its primary manufacturers.

Singapore
NIO Inc (NIO SP) rose 4.2% yesterday. NIO recently announced that the first battery swap station produced by the European factory of NIO Energy in Hungary was officially shipped to Germany on 16 September. This marked NIO's plan to expedite its deployment in the European energy market and provide more convenient power charging services to European users.
Jardine Cycle & Carriage Ltd (JCNC SP) rose 2.3% yesterday. There was no company specific news. Singapore shares were pulled into positive territory Tuesday (Sep 20), tracking a rebound in the US after stocks took a beating last week.
Geo Energy Resources Ltd (GERL SP) dropped 1.3% yesterday. China's coal imports rose in August, as power utilities in the world's biggest coal consumer sought overseas supplies to meet soaring demand in extreme hot weather. As severe drought and heatwave hit western and southern China from late July, coal-fired power plants geared up production to meet the spiking demand for air conditioning and the supply gap from hydropower stations. China brought in 15.82 million tonnes of the dirty fuel from its top supplier Indonesia in August, 35% higher from July, data showed. The increase of Indonesian coal purchases came as lucrative prices encouraged utilities to place more orders. In August, Indonesian 3,800 kcal thermal coal was about 170 yuan ($24.26) a tonne cheaper than the same quality Chinese coal, and 4,700 kcal coal was 140 yuan lower.
Top Glove Corp Bhd (TOPG SP) slumped 2.3% on Tuesday (Sep 20), after the world's largest rubber glove maker in terms of output capacity reported its first quarterly net loss since listing in 2001 on the Malaysian stock market. In a filing with Bursa Malaysia, the company said it posted a net loss of RM52.59 million for the fourth quarter ended Aug 31, 2022 (4QFY22) versus a net profit of RM447.4 million a year earlier. For the full FY22, net profit plunged to RM235.97 million from RM7.71 billion a year earlier as it capitalised on soaring demand for gloves during the Covid-19 pandemic. Riverstone Holdings Ltd (RSTON SP) fell 1.5%.

Hong Kong
Top Sector Gainers
Top Sector Losers
Xpeng Inc (9868 HK) rose 8.9% yesterday. Xpeng announced that it has launched the pilot program of City Navigation Guided Pilot in Guangzhou on 17 September, making it the first Chinese auto company to launch such high-level Advanced Driver Assistance System functions for complex urban driving scenarios. Additionally, it will launch its fourth production model, the flagship G9 SUV, on September 21, 2022.
Wynn Macau Ltd (1128 HK), Sands China Ltd (1928 HK) and SJM Holdings Ltd (0880 HK) rose 8.6%, 7.7% and 7.3% respectively yesterday. On the news, Huang Liuquan, deputy director of the Hong Kong and Macau Affairs Office of the State Council, said that the relevant central authorities will study and launch a series of policy measures to support the development of Macau's tourism industry and accelerate the construction of the Hengqin in-depth cooperation zone in accordance with the request of the Macau government. In addition, the Zhuhai-Macau Joint Prevention and Control Group stated on the evening of the 18th that from 6:00 on the 19th, the time span for the certificate of negative Covid test results for persons entering Zhuhai via the Zhuhai-Macau port will be relaxed from the original 24 hours to within 48 hours. Other epidemic prevention and control measures at the Zhuhai-Macau port remain unchanged.
Remegen Co Ltd (9995 HK) increased 8.5% yesterday. Industrial Securities issued a research report saying that it maintained the "prudent overweight" rating of Remegen with a target price of HK$73.26. Recently, the company announced the preliminary data of Phase 3 confirmatory clinical treatment of tacitcept in China for the treatment of systemic lupus erythematosus. The bank believes that the data of this phase 3 confirmatory clinical trial will, on the one hand, support the full approval of tetacept and further support the development of marketing activities, and on the other hand, will also promote the promotion of overseas phase 3 clinical trials And the promotion of overseas BD.


Trading Dashboard Update: No stock additions/deletions.