21 October 2022: Riverstone Holdings Ltd (RSTON SP), Dongfang Electric Corp Ltd. (1072 HK)
Singapore Trading Ideas | Hong Kong Trading Ideas | Market Movers | Trading Dashboard
Riverstone Holdings Ltd (RSTON SP): A Covid play for a short term bounce
RE-IETERATE BUY Entry – 0.590 Target – 0.630 Stop Loss – 0.570
Riverstone Holdings Limited produces, sells, and distributes clean-room products for use in highly controlled and critical environments. The Company's products include nitrate and natural rubber gloves and clean-room packaging materials and finger cots, as well as face masks, face pouches, hoods, caps, jumpsuits, and swabs. The Group's products are qualified and widely used by major global players in the electronic and healthcare industries. It exports more than 80% of the products to key customers in Asia, the Americas and Europe.
Rising covid cases in Singapore. In Singapore, there has been a recent increase in the number of Covid-19 cases emerging, a portion of which have been reinfected. The new wave of Covid-19 cases is driven by the predominant subvariant, XBB, circulating in the local communities. With the high number of infections expected, the government needs to ensure that there is enough protection provided for the healthcare workers taking care of the infected patients. To date, MOH said, the increase in hospitalised cases remains proportionate to the rise in overall local cases.
Increase in covid cases after the long holiday in China. Since the Golden Week holiday in China, there has been an outbreak in covid cases across the country. With the Communist Party congress ongoing, there has been tighter covid restrictions implemented as local cases soared to their highest since August. China has repeatedly quashed any speculation of a let-up in its tough counter-epidemic policies, which can range from locking down a local community to sealing an entire city, even though fatalities remain low by global standards and symptoms, if any, are mostly mild. Therefore, with the increase in covid cases, more testing will be done and more of such PPE will be needed for their frontline workers dispatched.
1H22 results review. On 11 August, Riverstone Holdings Limited reported earnings of RM208.9 million (S$64.3 million) for the first half ended June, sinking 79.9 percent from RM1.04 billion in the year-ago period. H1 revenue fell per cent to RM754.3 million, compared to RM2.02 billion in the corresponding 6-month period last year. This was due to the extensive investment in production expansion during the Covid highs resulting in the current oversupply of gloves and inventory.
Updated market consensus of the EPS growth in FY22/23 is -75.9%/-5.8% YoY respectively, which translates to 8.7x/9.2x forward PE. Current PER is 5.08x. Bloomberg consensus average 12-month target price is S$0.74.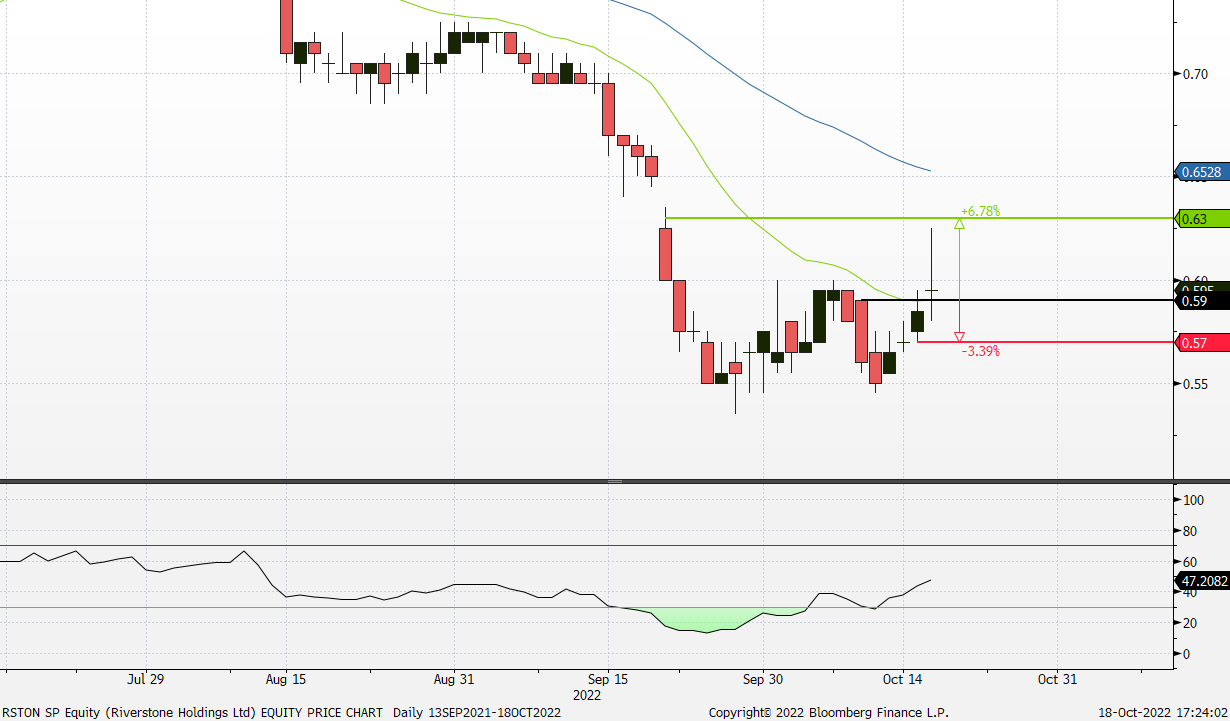 (Source: Bloomberg)

Genting Singapore (GENS SP): "Rooms" are hot
RE-ITERATE BUY Entry – 0.780 Target – 0.835 Stop Loss – 0.750
Genting Singapore is best known for its award-winning flagship project Resorts World Sentosa, one of the largest fully integrated destination resorts in South East Asia. Genting Singapore is one of the constituent stocks of the FTSE Straits Times Index.
Hotel prices hit a 10-year high. Singapore hotel room prices exceeded the pre-Covid level and hit a high in almost a decade in July 2022. As of July, the average room rate reached S$259/night, up c.70% YoY. The strong demand was driven by the increase in visitor arrivals amidst easing Covid-19 restrictions. Visitor arrivals in Singapore rose for the sixth straight month in July to 726,601, up from 543,733 in June, according to the tourism board.
Singapore hotel room price by tier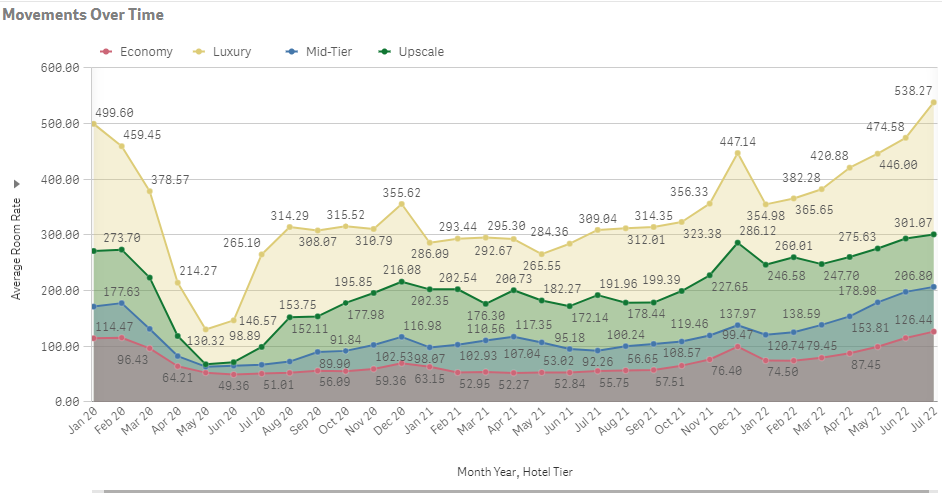 (Source: Singapore Tourism Analytics Network)
Upcoming high-profile events pushing hotel prices higher. This week, hundreds of chief executives, crypto investors and innovators, and even a Bollywood star are flying in for a series of high-profile Mice events. The Singapore Tourism Board mentioned that nearly 90,000 delegates would be expected to attend about 25 Mice events around this period, similar to the number of events held pre-Covid-19. Some of the events held this week include the crypto conference – Token2049, the 20th Forbes Global CEO Conference, the ninth annual Milken Institute Asia Summit and the inaugural edition of the Time100 Leadership Forum. A number of these events will be held concurrently with the Formula One Grand Prix, taking place between Friday to Sunday. The entertainment lineup this weekend includes performances by Marshmello, Westlife and Green Day. Other big names in entertainment coming to Singapore later this year include Justin Bieber, Maroon Five, Guns N' Roses and Jay Chou.
Updates of bid for the gaming concession in Macau. According to GGRAsia, the Macau Special Administrative Region is said to have unconditionally accepted Genting Malaysia Bhd's indirect subsidiary GMM SA's bid for the award of a new 10-year gaming concession involving casino operations.
Updated market consensus of the EPS growth in FY22/23 is 82.1%/60.7% YoY respectively, which translates to 28.2x/17.5x forward PE. Current PER is 53.1x. Bloomberg consensus average 12-month target price is S$0.95.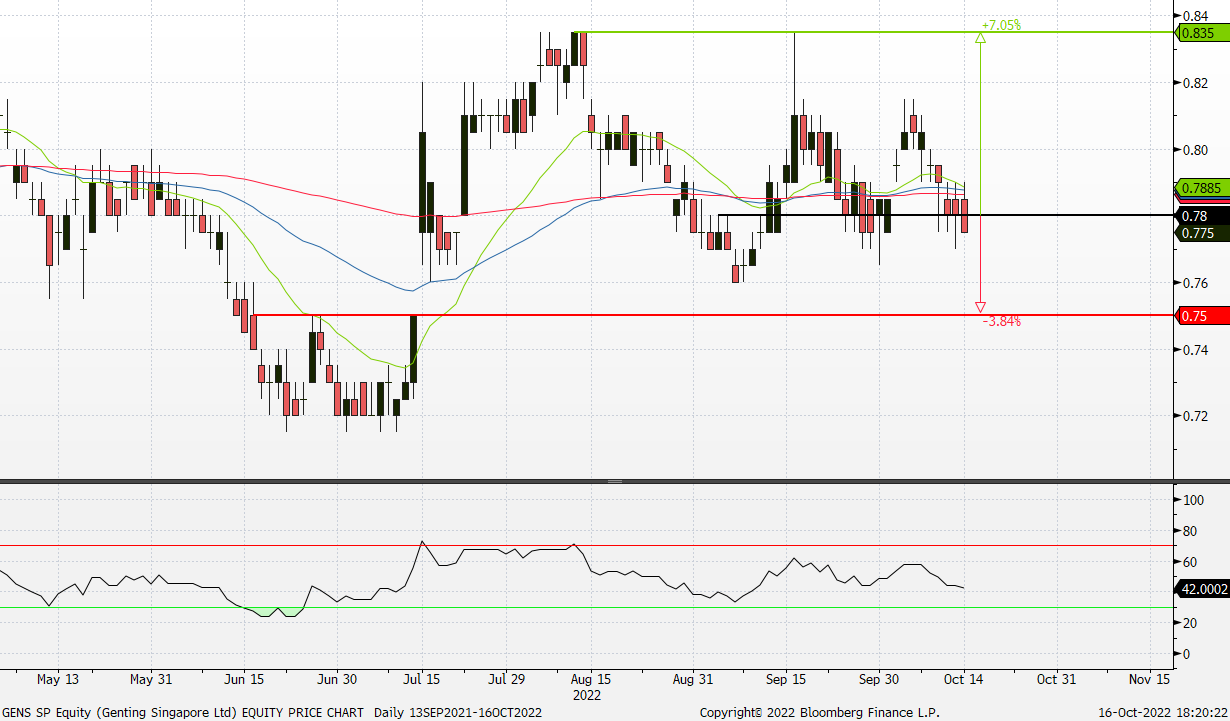 (Source: Bloomberg)


Dongfang Electric Corp Ltd. (1072 HK): 4Q22 more power-related projects to commence construction
RE-ITERATE Buy Entry – 11.5 Target –13.5 Stop Loss – 10.5
Dongfang Electric Corp Ltd is a China-based company mainly engaged in the manufacturing and sales of power generation equipment. The Company operates five major reporting segments: Clean and High-Efficiency Energy Equipment segment, Renewable Energy Equipment segment, Engineering and Trade segment, Modern Manufacturing Service Industry segment, and Emerging Growth Industry segment. The Company's main products include water turbine generator sets, steam turbine generators, wind turbine generator sets, power station steam turbines and power station boilers as well as gas turbines. he Company distributes its products within the domestic market and to overseas market.
Ongoing investment in power grid and power source infrastructure. As of August, the cumulative investment of power grid and power source infrastructure in 8M22 grew by 10.7% and 18.7% YoY to RMB266.7bn and RMB320.9bn respectively. In August, China's Power Grid announced that it planned to invest more than RMB150bn (US$22 billion) in the 2H22 in ultra-high voltage power transmission lines. Owing to the slowdown in economic growth in China, the central government has been pushing for infrastructure expansion. We expect more power projects to kickstart in 4Q22 as the authority tries to maintain full-year economic growth.
1H22 results review. Operating income grew by 23% YoY to RMB27.3bn, driven by the growth of thermal power, engineering contracting, international trade, wind power and other segments. Net profit attributable to shareholders of the company jumped by 31.6% YoY to RMB1.8bn. The new effective orders grew to RMB36.7bn. The company will announce its 3Q22 results on 28th October.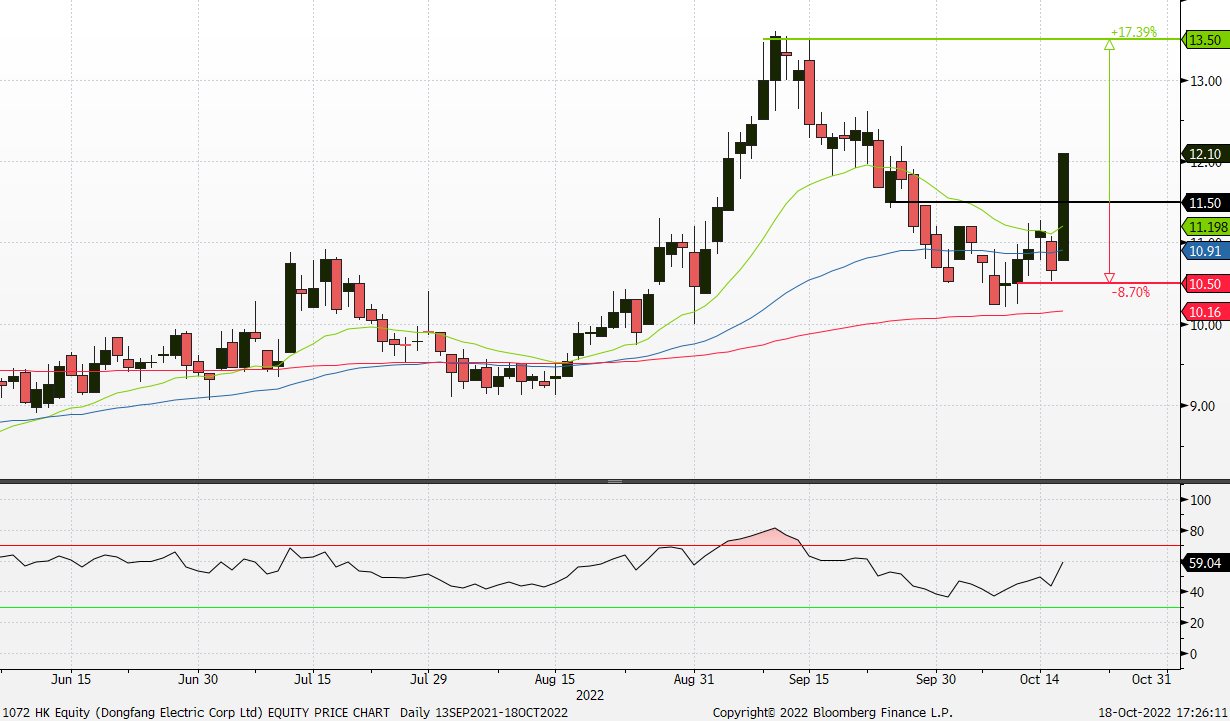 (Source: Bloomberg)
Sinopharm Group Co., Ltd. (1099 HK): A value and defensive counter amidst market sell-off
Sinopharm Group Co Ltd is a China-based company principally engaged in pharmaceutical and medical devices distribution business. The Company operates its business through four segments. Pharmaceutical Distribution segment is engaged in the distribution of pharmaceutical products to hospitals, other distributors, retail pharmacy stores and clinics. Medical Devices segment is engaged in the distribution of medical devices, as well as provides installation and maintenance services. Retail Pharmacy segment is engaged in the operation of chain pharmacy stores. Other Business segment is engaged in the distribution of laboratory supplies, manufacture and distribution of chemical reagents, production and sale of pharmaceutical products.
1H22 earnings review. 1H22 revenue grew by 8.9% YoY to RMB36.1bn. Net profit attributable to shareholders dropped by 9.1% YoY to RMB674mn. The decrease in profit was mainly attributable to the decline in the results of Sinopharm Accord's associates due to the impact of the scattered and frequent outbreaks of the Covid-19 pandemic, which resulted in a decline in the store traffic and a slowdown in the sales growthof the retail sector. In addition, the retail business segment opened new directly-operated stores in2021and the first half of 2022 with large initial investment in new stores, the benefits of which have not yet been realized, resulting in a decrease in the margin levels. At the same time, the performanceof Sinopharm Accord's associates declined, leading to a decrease in investment income. The company will announce its 3Q22 results on 26th October.
A defensive stock amidst a market downturn. The Hong Kong market has been hammered by both a slowdown in China's economy and geopolitical risks. Growth, value, and cyclical sectors, as well as other thematic stocks, have been sold off indiscriminately. However, this stock is relatively outperforming the rest as its business is largely immune to inflation and policy risks. The business driver is the distribution volume rather than profit margins. The growth in demand for medicines and medical devices is stable with low price sensitivity.
The updated market consensus of the EPS growth in FY22/23 is -3.0%/9.3% YoY respectively, which translates to 5.6x/5.1x forward PE. The current PER is 5.9x. The FY22F/23F dividend yield is 5.5%/6.0%. Bloomberg consensus average 12-month target price is HK$22.4.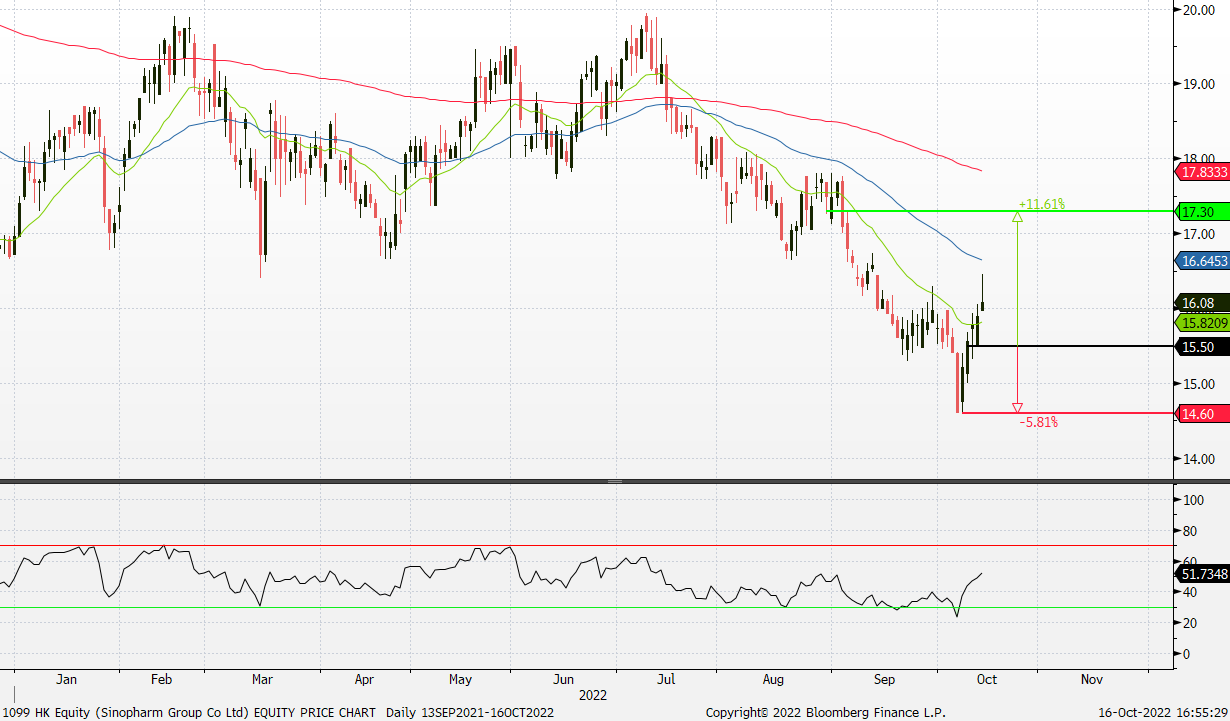 (Source: Bloomberg)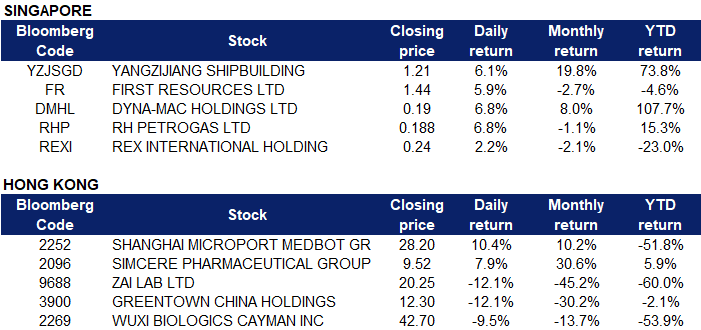 United States
Top Sector Gainers
Top Sector Losers
AT&T Inc (T US) jumped 7.72% after the company surpassed earnings and revenue estimates for the recent quarter. AT&T's wireless revenue rose 5.6%.
Allstate Corp (ALL US) fell 12.90% after the company said it would report a loss in the third quarter following Hurricane Ian, which struck in September and boosted catastrophe losses.
Tesla Inc (TSLA US) fell 6.65% Thursday, a day after the company reported third-quarter earnings that fell short of Wall Street's expectations for revenue. Tesla also warned of a bottleneck for deliveries in the final week of the quarter but said it's transitioning to a smoother delivery pace.
Las Vegas Sands Corp (LVS US) rose 5.59% after the company reported mixed third-quarter results, including a bigger-than-expected loss and revenue that beat analysts' forecasts, according to Refinitiv. China's Covid-19 policies have continued to put pressure on businesses in Macau.
International Business Machines Corp (IBM US) added 4.73% after beating top and bottom-line estimates for the recent quarter, posting adjusted earnings of $1.81 per share on $14.11 billion in revenue. IBM also upped its revenue growth outlook for the year.
Singapore
Yangzijiang Shipbuilding Holdings Ltd (YZJSGD SP) surged 6.1% yesterday. There was no company-specific news. The US dollar index (DXY) is hovering around the 113.00 level. The dollar hit the symbolic level of 150 yen on Thursday as the greenback was supported by Treasury yields trading at multi-year highs, keeping markets on high alert for any signs of intervention from Japanese authorities. It also pushed the Chinese offshore yuan to a record low in Asia of 7.2794 early in the session, it's weakest level since such data first became available in 2011.
First Resources Ltd (FR SP) climbed 5.9% yesterday. Malaysian palm oil futures extended a rally on Thursday to a fifth straight session, as heavy rains in Southeast Asia and Russia's threat to reject a Black Sea exports agreement stoked worries over global supply. The benchmark palm oil contract for January delivery on the Bursa Malaysia Derivatives Exchange gained 7 ringgit, or 0.17%, to 4,125 ringgit a tonne by the midday break, touching its highest level in seven weeks.
Dyna-Mac Holdings Ltd (DMHL SP), RH PetroGas Ltd (RHP SP) and Rex International Holding Ltd (REXI SP) climbed 6.8%, 6.8% and 2.2% respectively yesterday. Oil prices gained around $1 on Thursday as investor sentiment rose on news that China is considering a cut in the duration of quarantine for inbound visitors. China, the world's largest crude importer, has stuck to strict COVID-19 curbs this year, weighing heavily on business and economic activity which lowers the demand for fuel. Oil prices have seen support from a looming European Union ban on Russian crude and oil products, as well as the output cut from the Organization of the Petroleum Exporting Countries and other producers including Russia, known as OPEC+.

Hong Kong
Top Sector Gainers
Top Sector Losers
Shanghai MicroPort MedBot Group Co Ltd (2252 HK) Shares spiked 10.4% yesterday. Its self-developed Tumai® four-arm endoscopic surgical robot has completed 300 robot-assisted clinical verification operations. The latest comment from Zhejiang Merchants pointed out that the acceleration of equipment updates in the hospital is beneficial to related companies such as minimally invasive machines.
Simcere Pharmaceutical Group Ltd (2096 HK) Shares soared 7.9% yesterday. On October 19, the clinical trial application for anti-tumor bispecific antibody injection submitted by Simcere Pharmaceuticals was accepted by the State Food and Drug Administration, and it is planned to be used for the treatment of advanced malignant tumors.
Zai Lab Ltd (9688 HK) and Greentown China Holdings Ltd (3900 HK) Shares tumbled 12.1% and 12.1% respectively yesterday. Hong Kong stocks slumped to the lowest level in more than 13 years while the offshore yuan weakened to a multi-year low amid growing concerns about China's economic slowdown and faster rate increases in the US. The Hang Seng Index slipped 1.4 percent to 16,280.22 at the close of Thursday trading.
WuXi Biologics (Cayman) Inc (2269 HK) Shares fell 9.5% yesterday. Macquarie expects WuXi Biologics' sales to increase by 50% this year, and its revenue-based market share to quadruple from 2.4% in 2017 to 10.3% in 2021; more than 40% of the company's sales in the first half of this year come from large pharmaceutical companies, more than traditional small biotech customers, which account for 20% to 30% of its share. However, the bank said that the global overall contract manufacturing services sector performance was weak in the third quarter of this year. Hence, the target price is HK$45 and its investment rating is "neutral".


Trading Dashboard Update: Cut loss on Rex International (REXI SP) at S$0.225. Add Dongfang Electric (1072 HK) at HK$11.50.