21 January 2022: Wilmar International Ltd (WIL SP), Anta Sports Product Ltd (2020 HK)
Singapore Trading Ideas | Hong Kong Trading Ideas | Market Movers | Trading Dashboard
IPO PERFORMANCE
Vertex Tech (VTAC SP): Slow initial velocity
Singapore's first special purpose acquisition company (SPAC) started off on a soft note, gaining only 5 Sing cents to close at S$5.05.
We initially expected at least a 5% rise on the first day. However, we think the weak sentiment among US and SG technology stocks may have contributed to the weaker-than-expected performance. SG technology-related firms declined between 4-20% over the past 2 weeks due to rising rates that have significantly impacted growth stocks.
Next key SPAC. We will be watching the listing of Novo Tellus Alpha Acquisition (NTAA), which will launch its IPO offering at 8PM Thursday (20 Jan) and will close at noon on Tuesday (25 Jan). For those who may not know, Novo Tellus is the fund behind stocks such as AEM Holdings (+4,590% return since investment or +40% annualised), Grand Venture Technology (+300% total return or +1,390% annualised) and ISDN Holdings (+240% total return or +60% annualised).
---
SINGAPORE
Wilmar International Ltd (WIL SP): Palm oil prices are still going from strength to strength
BUY Entry – 4.30 Target – 4.58 Stop Loss – 4.16
Wilmar is Asia's leading agribusiness group that encompasses the entire value chain of the agricultural commodity business, from cultivation and milling of palm oil and sugarcane, to processing, branding and distribution of a wide range of edible food products in consumer, medium and bulk packaging, animal feeds and industrial agri-products such as oleochemicals and biodiesel.
Supply constraints. Indonesia, the world's largest producer and exporter of palm oil, recently required exporters to obtain permits for their shipments amid efforts to control soaring cooking oil prices. The policy will be imposed for six months. While the government has stated that it is not banning exports of palm oil, it goes to show the tight supply in the market at the moment which is supporting palm oil prices at near record levels.
Resilient palm oil prices expected in 2022. Palm oil prices are likely to remain above MYR 4,700 (US$1,124) per ton over the next six months, according to LMC International. In addition, it will still take another 12 months for Southeast Asia's palm oil production to recover to end-2019 levels, after supply from Indonesia and Malaysia declined in 2020 and 2021.
Aggressive share buy-backs. The company bought back S$57mn worth of shares in 4Q2021, bringing total share buybacks for the full-year 2021 to around S$131mn.
Positive consensus estimates. Wilmar currently has 13 BUY recommendations and an average 12M TP of S$5.90, implying a 37% upside potential from the last closing price.
Crude Palm Oil Futures – 3 years historical chart. Still trading near all-time highs due to supply constraints.
---
Jiutian Chemical (JIUC SP): Robust chemical prices
RE-ITERATE BUY Entry – 0.082 Target – 0.100 Stop Loss – 0.075
Jiutian is the second largest Dimethylformamide (DMF) producer in China, with a total annual capacity of 150,000 tons of DMF and methylamine (MA). Both these chemicals are important ingredients in industries as diverse as consumer goods, petrochemicals, electronics, pharmaceuticals and fertilisers. In addition, it now produces chemicals for fast growing sectors such as batteries that are used in electric vehicles.
Robust selling prices and declining raw material costs. DMF prices traded between RMB 14,500 and RMB 18,500 per tonne in 4Q2021, which is at least 48% higher than our base case of RMB 9,800 for the full-year 2021. Meanwhile, methanol prices, the main raw material used for the production of DMF, have declined almost 50% from the peak in October 2021.
Potentially strong 4Q2021. Jiutian reported 9M2021 PATMI of RMB 217mn, an increase of 147% from 9M2020 PATMI of RMB 88mn. The strong PATMI growth came amidst DMF/Methylamine volume in 3Q2021 that were down 8%/4% YoY due to severe flooding in Henan Province in early July 2021, as well as a scheduled maintenance shutdown for both plants in 3Q2021. Looking into the last quarter of 2021, market prices of DMF have risen between 7% and 37% from Jiutian's average selling prices in 3Q2021. Together with higher utilisation rates, it is likely that Jiutian will beat our 2021 full year forecast of RMB 290mn core PATMI by at least 20%.
Higher dividend even with impairment. The company may potentially have to recognise a RMB 145mn asset impairment due to a non-trade amount to an associate company (Anyang Jiujiu Chemical Technology) in 4Q2021. However, we note this will be non-cash and will likely not impact Jiutian's higher potential dividend payout for the full year. If we assume a 30% payout ratio based on the RMB 290mn core net profit, we arrive at a DPS of at least RMB4.7 cents or 1 Sing cents, an implied 12% yield based on the last close price of 8.2 Sing cents.
Trading at 2.6x FY2021F P/E. Jiutian currently trades at 2.6x FY2021F P/E based on our core PATMI forecast of RMB 290mn.
Earnings watch and catalyst. The company will report its 2021 full year earnings in the third week of February 2022. This is likely to be a catalyst given the buoyant spread between DMF prices and methanol.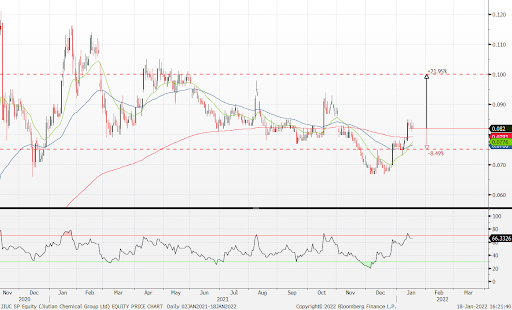 ---
HONG KONG
ANTA Sports Products Limited (2020 HK): Rate cut to boost domestic consumption
BUY Entry – 118 Target – 135 Stop Loss – 110
ANTA Sports Products Limited is principally engaged in the manufacture and trading of sporting goods, including footwear, apparel and accessories in the Mainland China. The Company focuses on sportswear market in China with a brand portfolio, including ANTA, ANTA KIDS, FILA, FILA KIDS and NBA. Through its subsidiaries, the Company is also engaged in the manufacture of shoe sole. The Company's subsidiaries include Anta Enterprise Group Limited, Motive Force Sports Products Limited and REEDO Sports Products Limited.
Rate cut in China to boost domestic demand. The People's Bank of China cut the one-year loan prime rate by 10 bps to 3.7%, and the five-year loan prime rate was lowered by 5bps to 4.6%. Compared to the global rate hike tide, China is adopting expansionary monetary policies as the economic recovery has slowed down due to a new wave of domestic omicron infections. We expect the loosened financial conditions to boost consumption in the coming months. More importantly, the rate cut is a signal to the market that the central government has started to ease the regulations on the key growth sectors such as property and technology.
Positive profit alert. The company recently announced that the FY21 profit attributable to equity shareholders of the company before/after taking into account the share of loss of a joint venture increased by no less than 35%/45% respectively.
Retail sales performance updates:

ANTA brand: mid-teens positive growth YoY in 4Q21 and 25% to 35% positive growth YoY in FY21.
FILA Brand: high-single digit positive growth YoY in 4Q21 and 25% to 35% positive growth YoY in FY21.
All other brands: 30-35% positive growth YoY in 4Q21 and 50-55% positive growth YoY in FY21.

The updated market consensus of the EPS growth in FY22/23 is 26.2%/24.8% YoY respectively, which translates to 27.3x/21.9x forward PE. Current PER is 35.8x. Bloomberg consensus average 12-month target price is HK$148.27.
---
Zijin Mining Group Company Limited (2899 HK): Round 2 of the commodities supercycle
RE-ITERATE BUY Entry – 9.5 Target – 11.0 Stop Loss – 8.8
Zijin Mining Group Company Limited is a China-based company principally engaged in the exploration, mining, smelting and sales of gold and other metal minerals. The Company's main products include gold products, copper products, lead and zinc products, iron products, silver products, among others. Its gold products mainly include the mineral gold, standard gold bullions, gold ingots and gold concentrates, among others. The Company is also involved in the geographic survey businesses through its subsidiaries.
Gold and copper performed well during the last rate hike cycle. The last rate hike cycle began in December 2015 and ended in July 2019. There were nine rate hikes lifting the fed fund rate (upper bound) from 25bps to 250bps. The first rate hike was in 2015 , followed by once in 2016, three times in 2017, and four times in 2018.

First year performance: Gold price surged by 30% from the low in December 2015 to the peak in July 2016. Copper jumped by 19% from the low in February 2016 to the peak in May 2016.
Full cycle performance: Gold was up 35%, and copper was up 29%.

Echoes of the commodity super cycle. Commodities prices saw a spectacular jump in 2021. Just right before the bullish cycle kick-started, the market had called a super cycle. Even though those prices have corrected from the peak in 3Q21, the cycle may not have ended as the post-pandemic recovery upholds demand which is outpacing supply. For gold, we see an inverse correlation with cryptocurrencies. The further selldown of crypto could push some funds back to the yellow metal. For copper, it peaked twice in 2021, one in May and the other in October, and has nicely consolidated at above US$9,000/tonne after March 2021. Recently, copper has regained some upward momentum probably due to inventory build before Chinese new year.
Updated market consensus of the EPS growth in FY22/23 are 34.5%/7.4% YoY respectively, which translates to 9.8x/9.2x forward PE. Current PER is 15.8x. FY22F/23F dividend yields are 4.3%/4.8% respectively. Bloomberg consensus average 12-month target price is HK$15.9.
---
MARKET MOVERS

---
United States
Top Sector Gainers
Top Sector Losers
JD.com Inc (JD US), Baidu Inc (BIDU US). Chinese tech shares collectively rose yesterday, after a set of key policy rates and lending benchmarks were cut to prop up a slowing economy, with investors pinning hopes on further easing in policies by Beijing. JD and Baidu shares rose 6.5% and 4.9% respectively yesterday. The one-year loan prime rate (LPR) was lowered by 10 basis points, and the five-year LPR was reduced by 5 basis points — the first reduction since April 2020.
Morgan Stanley (MS US) shares gained 4.3% yesterday, after the bank announced results which beat quarterly profit expectations as the Wall Street investment bank capitalised on a boom in mergers and acquisitions and generated robust fees from advising on deals. Profit rose to US$3.59bn, or US$2.01 per share, in the quarter ended Dec 31, from US$3.27bn, or US$1.81 per share, a year earlier. Dealmaking activity is expected to remain robust despite the prospect of debt becoming costlier, while Main Street lenders are expected to post healthier profits from consumer lending as interest rates are likely to rise later this year.
Peloton Interactive (PTON US) shares plunged 23.9% after the company announced that it is temporarily halting production of its connected fitness bikes and treadmills after a significant drop in demand. Late on Thursday, Peloton said it was taking "significant corrective actions" to improve its profitability and estimated second-quarter revenue to be about US$1.14bn, compared with its previous forecast of US$1.1bn to US$1.2bn.
AMD (AMD US), Nvidia Corp (NVDA US). US semicon shares declined collectively yesterday, as a surge in U.S. Treasury yields have dented the allure for high-flying growth shares. AMD and Nvidia shares lost 5% and 3.7% respectively. Yields have soared on the prospect that the Federal Reserve will deliver more than a quarter-percentage point rate hike in March to tame inflation. The benchmark 10-year U.S. Treasury yield topped 1.87% on Tuesday, its highest level since January 2020 before the coronavirus pandemic roiled markets. On Thursday, the 10-year yield slipped to 1.82%. Shares of U.S. tech companies have retreated in the new year as investors swap growth stocks for energy, financials and other cyclical shares that stand to benefit from improving economic growth and higher interest rates.
---
Singapore
Aztech Global Ltd (AZTECH SP) shares gained 4.7% yesterday. Recently, UOB Kay Hian analysts John Cheong and Clement Ho have maintained their "buy" call on Aztech Global, but with a lowered target price of $1.55 from $1.70 previously. In their report, Cheong and Ho think that Aztech's share price correction of over 30% since its IPO in March 2021 is "overdone." They note that Aztech's operations remain intact, with its facilities currently enjoying high utilisation rates and managing the component shortages well. "We continue to like Aztech as the proxy to high-growth IoT products, where we believe orders are just starting to ramp up in 2021 and would sustain into 2022," they add.
Del Monte Pacific Ltd (DELM SP) shares gained 1.3% yesterday, after PhillipCapital announced that it has replaced Thai Beverage Public Co with Del Monte Pacific in its current list of "Absolute 10 Model Portfolio". For analyst Vivian Ye, her pick of Del Monte Pacific is based on how the consumer foodstuff maker took a turn for the better as the result of a restructuring exercise. Back in 2014, Del Monte Pacific acquired its current US subsidiary, which focused mainly on producing low-margin canned food for the likes of Walmart or Costco. In 2018, a new management team chose to transform the business. They closed down loss-making operations and significant restructuring costs had to be booked till FY2020.
Rex International Holdings Ltd (REXI SP) and RH Petrogas Ltd (RHP SG) shares declined 2.9% and 1.6% respectively yesterday, likely due to profit-taking in tandem with minor price correction in oil futures. WTI crude futures were trading around US$85 per barrel yesterday while Brent crude futures were trading around US$87. However, strong demand and short-term supply disruptions continue to support prices close to their highest levels since late 2014. Supply concerns have mounted this week after Yemen's Houthi group attacked the United Arab Emirates, the third-largest producer in the Organization of the Petroleum Exporting Countries (OPEC). Meanwhile Russia, the world's second-largest oil producer, has built up a large troop presence near Ukraine's border, stoking fears of invasion and subsequent supply uncertainties.
Nanofilm Technologies International Ltd (NANO SP) shares lost 2.3% yesterday, after CGS-CIMB lowered its target price for the company to S$3.92 from S$4.02 on potential delayed revenue gains. CGS-CIMB maintained its "add" call on Nanofilm in acknowledgement of its long-term growth plans to accelerate the development of its core technologies and new product offerings. However, analyst William Tng reduced his projections of the company's earnings per share for FY2021 by 8.5%, FY2022 by 5.4% and FY2023 by 5%.
---
Hong Kong
Top Sector Gainers
Top Sector Losers
Country Garden Services Holdings Co Ltd (6098 HK), Sunac China Holdings Ltd (1918 HK). Property sector shares rose collectively yesterday with shares rising 15.8% and 15.2% respectively. Beijing unexpectedly lowered borrowing costs on its medium-term loans for the first time since April 2020, and cut its benchmark lending rates for corporate and household loans for a second straight month. China is also drafting nationwide rules to make it easier for property developers to access pre-sale funds held in escrow accounts, four people with knowledge of the matter said. They also stated that the new rules would help developers meet debt obligations, pay suppliers, and finance operations by letting them use the funds in escrow that are currently controlled by the municipal governments with no central oversight.
Meituan (3690 HK), Tencent Holdings Ltd (700 HK). Tech shares rose collectively yesterday after a set of key policy rates and lending benchmarks were cut to prop up a slowing economy, with investors pinning hopes on further easing in policies by Beijing. Meituan and Tencent shares rose 11% and 6.6% respectively yesterday. The one-year loan prime rate (LPR) was lowered by 10 basis points, and the five-year LPR was reduced by 5 basis points — the first reduction since April 2020.
Jiumaojiu International Holdings Ltd (9922 HK) shares gained 8.5% yesterday. At the beginning of this week, Goldman Sachs updated its outlook on catering stocks, emphasising that Jiumaojiu is still the first choice for the industry. The bank stated that the company has demonstrated solid execution and business resilience, expansion trajectory and emerging multi-brand portfolio. CICC also gave the company an "outperform" rating. It is expected that the net profit attributable to the parent in 2021 will increase 189% YoY to RMB 358mn. The bank also emphasised that the Taier model is stable and continues to expand stores rapidly, and the company has a high certainty of rapid growth in the future.
---
Trading Dashboard
Trading Dashboard Update: Cut loss on ISDN (ISDN SP) at S$0.68. Add Guangzhou Baiyunshan Pharma (874 HK) at HK$21.5
(Click to enlarge image)
---