21 February 2022: Broadway Industrial (BWAY SP), Ping An Insurance (Group) Company of China, Ltd. (2318 HK)
Singapore Trading Ideas | Hong Kong Trading Ideas | Market Movers | Trading Dashboard
SINGAPORE
Broadway Industrial (BWAY SP): Highest profit in 5 years
BUY Entry – 0.205 Target – 0.240 Stop Loss – 0.190
Listed on the mainboard of SGX since 1994, the company is one of the leaders in the manufacture of precision components and assemblies. It is a key provider of actuator arms, assemblies and other related parts for the global hard disk drive (HDD) industry. Headquartered in Singapore, the company has 4 manufacturing facilities in China and Thailand and employs around 3,5000 people.
Highest profit in 5 years. FY2021 net profit rose 8% YoY to S$15mn as revenue increased 18% YoY to S$471mn. Core net profit would have been higher at S$18mn if not for a S$2.4mn charge for impairment of goodwill. The company has proposed a final dividend of 0.5 Sing cents and a special dividend of 0.5 Sing cents, which, together with the interim dividend of 0.5 Sing cents, brings the total dividend for FY2021 to 1.5 Sing cents.
Outlook and diversification. BWAY remains cautiously optimistic on the HDD business as it expects near-term demand to remain strong. Trendfocus, in a 2 Feb 2022 report, projected a 11.4% CAGR in total HDD revenue for the period 2021 to 2026. In terms of diversification, BWAY acquired a 55% stake in China-based Beijing Ant Brothers Technology in 2022 to establish a Robotics Business unit. The group has commenced marketing activities for its robots in Singapore ,Thailand and the Philippines and expects revenue contribution
Attractive valuations. BWAY currently trades at only 5.2x core FY2021 P/E (excluding non-recurring losses), or 6.7x FY2021 P/E (headline EPS) a significant discount to SG-listed technology manufacturing peers.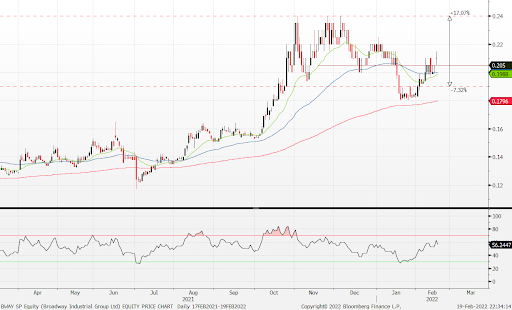 ---
The Hour Glass (HG SP): Time is money
RE-ITERATE BUY Entry – 2.02 Target – 2.32 Stop Loss – 1.85
The Hour Glass Limited is a specialty luxury watch retail group with multi-brand and standalone boutiques in the Asia Pacific Region. The group also owns Watches of Switzerland, a watch retail chain in Singapore that deals in mid-tier to high-end Swiss timepieces.
1H22 Financials: A strong start. Revenue rose 63% YoY to S$472mn for the half year ended 30 September 2021 (YE 31 March 2022) while net profit after tax surged 110% YoY to S$63.5mn in 1H22. This was mainly due to improved gross margins at 29.3% in 1H22 compared to the previous period at 26.2%. Bottom-line was boosted by an increase in share of results of associates which doubled to S$6.6mn in 1H22. As a results, basic and diluted EPS for 1H22 more than doubled to 8.95 Sing Cents compared to 4.22 Sing Cents in 1H21.
The pure desire for luxury goods. With travel and social gatherings still limited in many parts of the world, the shift from spending on experiences to goods is likely to stick around for another year. After growing 4% between 2019 and 2021, Bain & Company estimates luxury goods sales will increase from €283 billion (S$428 billion) in 2021 to between €300 billion (S$454 billion) and €310 billion (S$469 billion) in 2022.
Resilient industry shielded from inflation. The Hour Glass's retail trade business has largely been resilient in the face of inflation running the hottest in almost 40 years. Rising costs are easily passed down to consumers as demand for luxury items continues to remain strong.
We initiate The Hour Glass with an Outperform recommendation and a TP of S$2.32. Our TP is based on a discounted cash flow, taking into account a WACC rate of 10.5% and terminal growth rate of 2%.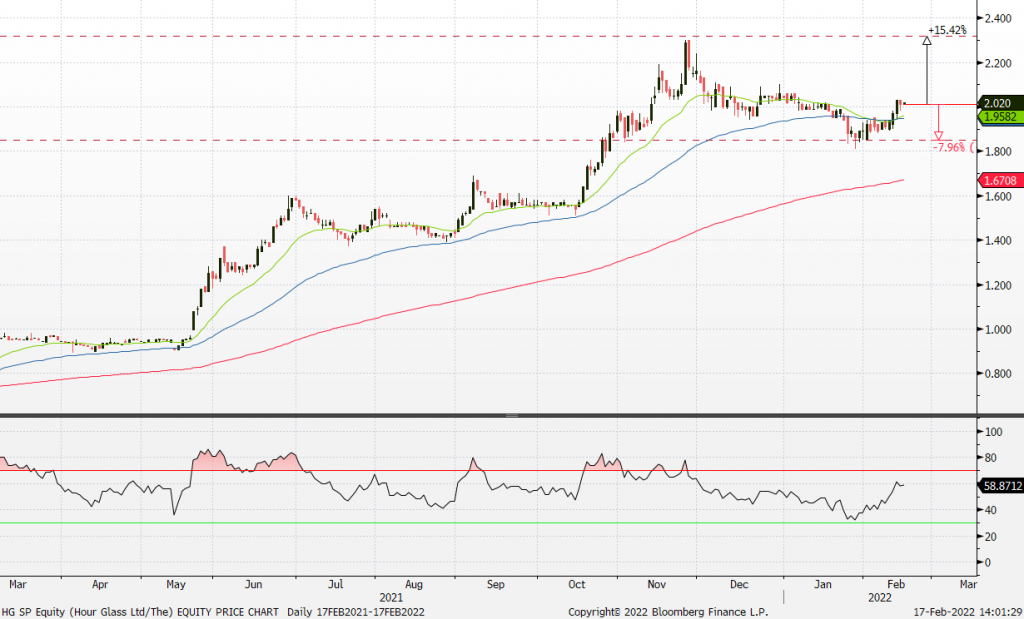 ---
HONG KONG
Ping An Insurance (Group) Company of China, Ltd. (2318 HK): Turnaround
BUY Entry – 64 Target – 72 Stop Loss – 60
Ping An Insurance (Group) Company of China, Ltd. is a personal financial services provider. The Company provides insurance, banking, investment, and Internet finance products and services. The Company operates its businesses through four segments. The Insurance segment provides life insurance and property insurance, including term, whole-life, endowment, annuity, automobile and health insurance. The Banking segment is engaged in loan and intermediary businesses with corporate customers and retail business. The Assets management segment is engaged in security, trust and other assets management businesses, including investment, brokerage, trading and asset management services. The Internet Financing segment is engaged in the provision of Internet finance products and services. 
Nightmare is gone. 2021 is the third worst year for the China insurance giant, following the 2008 global financial crisis and 2011 European debt crisis. The main reason for the sharp sell-off is due to the large investment exposure to the property sector which is overleveraged and hammered by regulations. However, authorities have started to ease the tightening measures on the property sector by the end of 2021. Entering 2022, China has adopted a counter-cycle monetary policy by further lowering key rates, which is totally opposite to the western countries' rate hike cycle. With the property sector, especially the market leaders' survival, Ping An's investment will recover gradually. 
Ping An was experiencing the HSBC moment. Investors should focus on the core business fundamentals of Ping An. Similar to HSBC whose shares were hammered during the China-US trade tensions, Ping An's shares once plunged to below book value, which has never happened since its listing. Negative sentiment pushed prices down to oversold levels. 
January gross insurance premium of the big five listed companies showed mixed signals.  Total gross premium amounted to RMB572bn, up 1.86% YoY in January 2022. Total casualty and property insurance premium income recovered evidently, of which Ping An's grew by 8.2% YoY to RMB32.8bn. However, total life insurance premium income continued its decline, of which Ping An's dropped by 0.6% YoY to RMB98.6bn. 
Updated market consensus of the estimated net profit growth in FY22/23 is 24.9%/12.4% respectively, which translates to 6.5x/5.8x forward PE. The current PE is 7.6x. The FY22/23 dividend yield is expected to be 4.7%/5.1% respectively. Bloomberg consensus average 12-month target price is HK$79.56.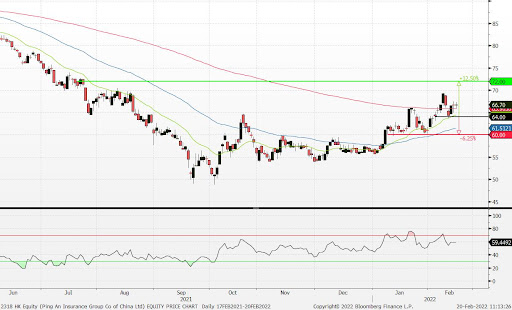 ---
Jiangxi Copper Co Ltd. (358 HK): Breakout of copper prices
RE-ITERATE BUY Entry – 14.1 Target – 16.0 Stop Loss – 13.2
Jiangxi Copper Company Limited is a China-based company, principally engaged in the mining, smelting and processing of copper. The Company is also engaged in the extraction and processing of precious metals and dissipated metals, sulfur chemical industry business, and financial and trading businesses. The company's products include cathode copper, gold, silver, sulfuric acid, copper rods, copper foils, selenium, tellurium, rhenium, bismuth and others. The Company mainly conducts its businesses within Mainland China and Hongkong.
Breakout signal has come. Copper prices have been consolidating after topping out in October 2021. The recent (core) CPI data in the US and Europe did not show any evident sign of inflation subsiding. Investors are still cautious of rising prices. Meanwhile, the ECB and Fed have pivoted to more hawkish moves to curb inflation. However, the expectation of declining liquidity has not pushed down commodity prices as the rise in prices is  more attributable to supply chain issues. On 9th February, copper prices broke out in the consolidation channel. Although prices pulled back a bit, the uptrend has been formed. Moving forward, the seasonal inventory restocking in March could further drive prices higher. 
Infrastructure is the only way for China to maintain economic growth amidst a soft landing. China's GDP growth dropped further to 4% YoY in 2021, down 90bps from 2020. The slowdown is not surprising as the second largest economy had been adopting the most draconian lockdown measures to maintain its zero-covid policy. Meanwhile, the authorities have aggressively demanded the real estate sector to de-leverage and have imposed a series of regulations upon the fast-growing sectors such as education and technology. Last year, the only driver that has prevented China from tipping into recession is its exports. However, Southeast Asia countries are expected to recover quickly in 2022, regaining market share of low-end production from China. Therefore, it is inevitable to see China's export growth slow down this year. Given the weak domestic consumption which is difficult to be pushed by administrative measures, China has to resort to the old measure, fixed asset investment. And the recent loose monetary policies have paved the way for it to push infrastructure expansion to maintain economic growth.
The updated market consensus of the EPS growth in FY22/23 is -0.87%/-8.37% YoY respectively, which translates to 7.3x/7.9x forward PE. Current PER is 7.8x. Bloomberg consensus average 12-month target price is HK$17.43.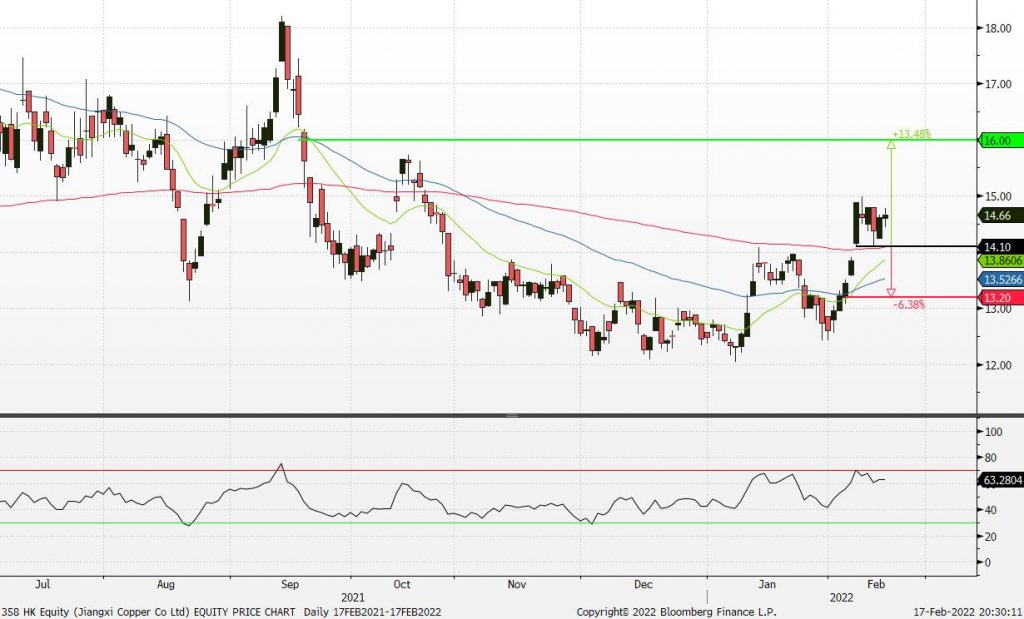 ---
MARKET MOVERS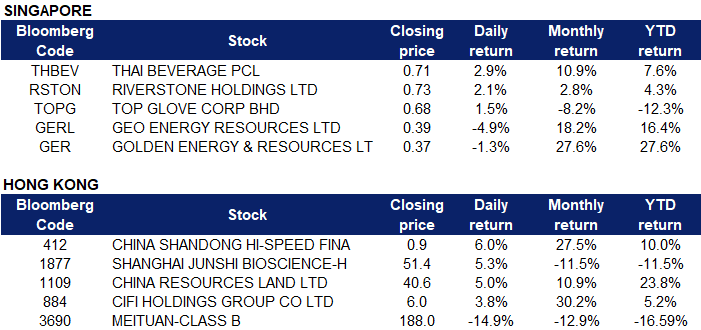 ---
United States
US Market will be closed on 21 February 2022 for Washington's Birthday.
---
Singapore
Thai Beverage PCL (THBEV SP) shares gained 2.9% on Friday. UOB Kay Hian analyst Llelleythan Tan maintained his "buy" recommendation on Thai Beverage after the beverage group released its business update for the 1QFY2022 ended December. "With Vietnam and Thailand reopening their international borders and easing more social restrictions, ThaiBev's beer segment is set to outperform from 2QFY2022 onwards," says Tan. To this end, Tan has raised his earnings estimates for the FY2022 to FY2024 by 2.8% (FY2022), 3.9% (FY2023) and 5.0% (FY2024) after accounting for better sales volume and margin assumptions for both the food and beer segments. He has also upped his target price to 90 cents from 85 cents previously due to his higher FY2022 beer and food EBITDA estimates.
Shares of glove makers, Top Glove Corp (TOPG SP) and Riverstone Holdings Ltd (RSTON SP) gained 1.5% and 2.1% respectively on Friday. It was announced on Friday that the BA.2 virus — a subvariant of the Omicron coronavirus variant — isn't just spreading faster than its distant cousin, it may also cause more severe disease and appears capable of thwarting some of the key weapons we have against Covid-19, new research suggests. BA.2 is also resistant to some treatments, including sotrovimab, the monoclonal antibody that's currently being used against Omicron. Kei Sato, a researcher at the University of Tokyo who conducted the study, argues that these findings prove that BA.2 should not be considered a type of Omicron and that it needs to be more closely monitored.
Geo Energy Resources Ltd (GERL SP) and Golden Energy & Resources Ltd (GER SP) shares lost 4.9% and 1.3% respectively on Friday, likely on profit-taking and following a slight correction in coal prices. Geo Energy's shares have rallied over the past month and gained approximately 28% before reaching overbought levels earlier this week. Newcastle coal futures were trading near $235 per tonne on Friday, after touching a four-month high of $245 per tonne earlier in the month, as major producers in China are being asked to sell the fuel below the market price, in an attempt to rein in rising fuel costs and boost the economy. The Chinese National Development Reform Commission stated last week that domestic coal prices will be considered stable below CNY 900/mt at ports, according to S&P Global Platts, and noted that efforts to raise output earlier led to a daily production of 12 million mt.
---
Hong Kong
Top Sector Gainers
Top Sector Losers
China Shandong Hi-Speed Financial Group Ltd (412 HK) shares gained 6% on Friday. Recently, a subsidiary of the company entered into a limited partnership with a total capital commitment of RMB 801mn. The funds of the limited partnership will be mainly used for investment in infrastructure construction and public service facilities construction industries, as well as equity or debt investment in projects with continuous and stable cash flow.
Shanghai Junshi Biosciences Co Ltd (1877 HK) shares gained 5.3% on Friday. AVIC Securities believes that in the short to medium term, the global spread of the Covid-19 epidemic will remain severe. As Paxlovid is approved for emergency use in the Mainland, it is recommended to continue to pay attention to the investment opportunities in the Covid-19 small molecule drug industry chain.
China Resources Land Ltd (1109 HK) and CIFI Holdings Group Co Ltd (884 HK) shares gained 5% and 3.8% respectively yesterday. Daiwa Research pointed out that policy and credit risks in the real estate industry have passed, but have not completely subsided. The bank maintains a neutral stance on the real estate industry and continues to favour financially strong developers such as Longfor Group (00960), China Resources Land (01109) and CIFI Holdings Group (00884). However, national home sales are expected to decline by 10% in 2022, and some developers may offer more discounts in the short term to boost sales; national housing starts are expected to decline by 15% year-on-year in 2022 as developers will remain cautious in land banking. In terms of industry policy, mortgage loans, bank financing and pre-sale funds will usher in marginal easing.
Meituan (3690 HK) shares plunged 14.9% on Friday after China issued new guidelines asking food delivery platforms to cut fees for restaurants to reduce business costs. Online food delivery platforms were also told to give preferential fees to restaurants in regions hit by the pandemic, according to a statement by the National Development and Reform Commission on Friday (Feb 18). "The knee-jerk reaction shows market fears over China's regulatory tightening haven't been completely eradicated," says Daniel So, a strategist at CMB International Securities.
---
Trading Dashboard
Trading Dashboard Update:  No additions or deletions to the trading dashboard.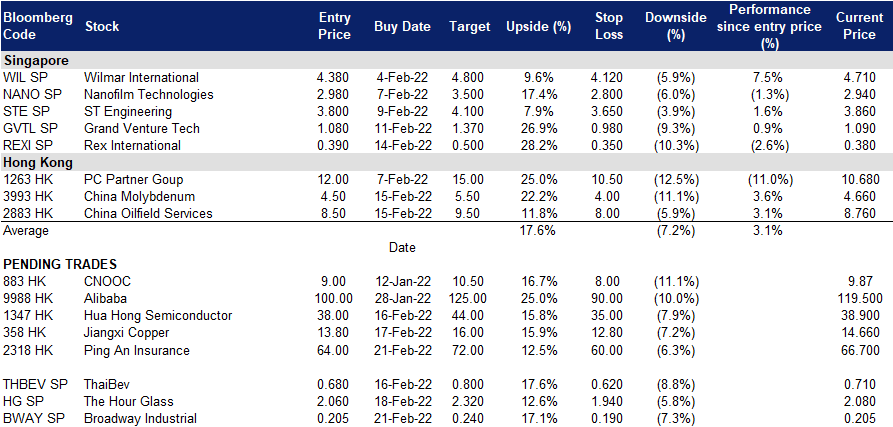 (Click to enlarge image)
---