KGI DAILY TRADING IDEAS – 20 September 2021
Singapore Trading Ideas | Hong Kong Trading Ideas | Market Movers | Trading Dashboard
SINGAPORE
Yangzijiang (YZJSGD SP): Stay calm and buy the dip
BUY Entry – 1.48 Target – 1.71 Stop Loss – 1.40
Broad-based market correction. Shares of Yangzijiang have corrected more than 11% over the past month on broad-based selling among China-based companies. We see this as a buying opportunity. Yangzijiang currently trades at S$1.48 vs its 5-year high of S$1.74, even though it's order book is at the highest since 2007.
China's largest private shipbuilder. Yangzijiang is China's largest private shipbuilder. The company builds a broad range of commercial vessels including containerships, bulk carriers and LNG vessels. Yangzijiang has been at the forefront of shipbuilding in China, receiving its first ever 24,000 TEU containership order in December 2020, the largest containership currently operating in the world.
Record order book. The company has secured a total of 118 effective shipbuilding contracts with an aggregate value of US$7bn, a new record for the group. Its previous record was US$5bn of new orders secured during the last supercycle in 2007. Furthermore, as delivery slots are already filling for the second half of 2023, Yangzijiang should be in a good position to negotiate for higher prices.
Upside catalyst from potential spin-off of investment portfolio. Yangzijiang is currently conducting a preliminary strategic review of its debt investment portfolio to focus on shipbuilding. The potential listing of Yangzijiang's debt securities portfolio, which makes up 50% of gross profit, could provide a rerating to its share price.
Positive consensus estimates. Valuations are still attractive at 9x/8x/7x FY21/22/23 PE, while trading at a 20% discount to historical book value. Cash & cash equivalents make up almost 80% of its current market cap. Consensus currently has 7 BUYS, 1 HOLD and 1 SELL, and a 12m TP of S$1.71.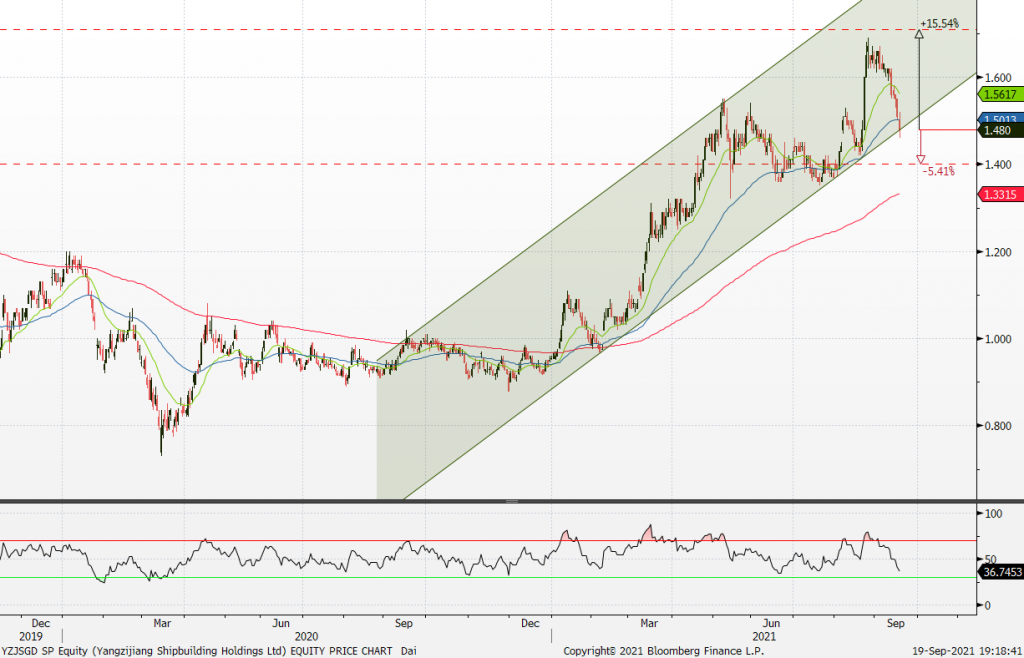 ---
China Sunsine Chemical (CSSC SP): Strong fundamentals to buffer upcoming price headwinds
RE-ITERATE BUY Entry – 0.50 Target – 0.68 Stop Loss – 0.46
CSSC is the largest producer of rubber accelerators in the world and the largest producer of insoluble sulphur in China.
Buoyant rubber chemical industry. As of July 2021, rubber chemicals prices have kept their upward momentum with growth of 30% to 40% YoY, extending the surge in 2Q21. Strong demand and abundant monetary liquidity have been key drivers keeping the positive momentum going.
Higher margins. Sunsine's 1H21 GPM and NPM regained the levels above 30% and 15% respectively, which was last seen in 2Q19. The jump in both average selling price and sales volumes were in line with the buoyant rubber chemicals market.
New capacity to offset any potential price weakness. Sunshine is expected to add 30,000 tonnes insoluble sulphur and 30,000 tonnes anti-oxidant TMQ capacity in 2H2021. To quantify, theoretical production volume of insoluble sulphur is expected to increase by 100% YoY in 2H21 and 50% YoY in FY21; production volume of anti-oxidant is expected to increase by 66.7% YoY in 2H21 and 33% YoY in FY21. Meanwhile, we believe the ASP in 2H21 will be comparable to 1H21 on a conservative assumption.
Outperform. We maintain OUTPERFORM with an unchanged TP of $0.68 as we expect the increase in sales volume in FY22 and FY23 to offset the potential downswing in ASPs. Read our full report here.
---
HONG KONG
AviChina Industry & Technology Company Limited (2357 HK): Defence is defensive amid the market downturn
Buy Entry – 5.2 Target – 6.0 Stop Loss – 4.85
AviChina Industry & Technology Company Limited is principally engaged in the research, development, manufacture and sale of civil aviation products. The company operates its business through two segments. The Aviation Entire Aircraft segment is engaged in the manufacture, assembly, sales and servicing of helicopters, trainers and other aircraft. The Aviation Parts and Components segment is engaged in the manufacture and sale of aviation parts and components.
Healthy growth in 1H21 results. Revenue grew by 33.06% YoY to RMB27.9bn. GPM increased by 0.97ppt to 39.3%. Net profit attributable to the owners of the parent company grew by 39.7% YoY to RMB1,199mn, which was due mainly to the growth craft segment and aviation ancillary system and related business segment. In 2H21, 5G communications and new energy vehicles are the two fields that the company sees as opportunities of business growth.
The recent catalyst for the stock could be the announcement of broadening the 2018 pilot program to allow Red-chip companies to make domestic listings. It has a higher potential to be dual-listed in mainland China. Meanwhile, market sentiment of the stock is positive as long as there are military tensions between China and countries such as Japan and the US.
Consensus estimates per the 12-month target price at HK$7.61, implying a 26% upside potential. EPS is forecasted to grow at 32.6%/17.5%/13.5% for FY2021/22/23F, which would bring forward P/Es down to 16x/13x/12x FY2021/22/23F.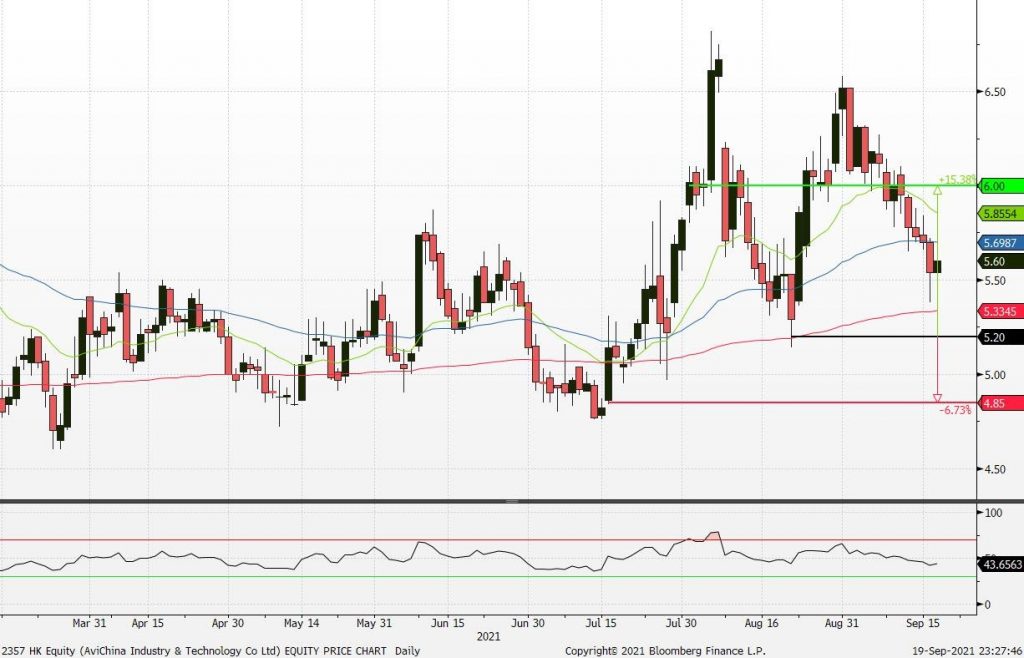 ---
Xtep International Holdings Limited (1368 HK): A relatively safe sector amidst full-blown crackdowns
BUY Entry – 12.3 Target – 14.5 Stop Loss – 11.2
Xtep International Holdings Limited is principally engaged in the design, development, manufacturing, sales, marketing and brand management of sportswear, including footwear, apparel and accessories. Its products are mainly sold under the self-owned brand of Xtep.
The sportswear sector has definitely been one of the best performing sectors YTD as demand has surged on the back of more people choosing to exercise during the pandemic and also due to the boycott against foreign brands. The Tokyo Olympics is expected to translate the pro-China sentiment into more consumption of domestic brands' sportswear.
Recently the State Council issued a national exercise plan from 2021 to 2025, to ensure the population's fitness and exercise demands. The plan vowed to increase the number of people who often participate in regular exercise by 38.5% and expand the scale of the nationwide sports industry to 5 trillion yuan ($773.69 billion) by 2025. This was the one of the few positive news for the market given the government initiated clamp-downs on the various sectors. Sports sector is now officially supported by the authorities. Hence, we expect fund flows to flow into it.
Based on the peers' comparison, we think the company still has upside potential to catch up with the market leaders such as Anta Sports and Li Ning.

Updated market consensus of the EPS growths in FY21/22/23 is 62.9%/27.4%/21.3% YoY respectively, which translates to 32.3x/25.4x/20.9x forward PE. Current PER is 39.4x. Bloomberg consensus average 12-month target price is HK$16.91.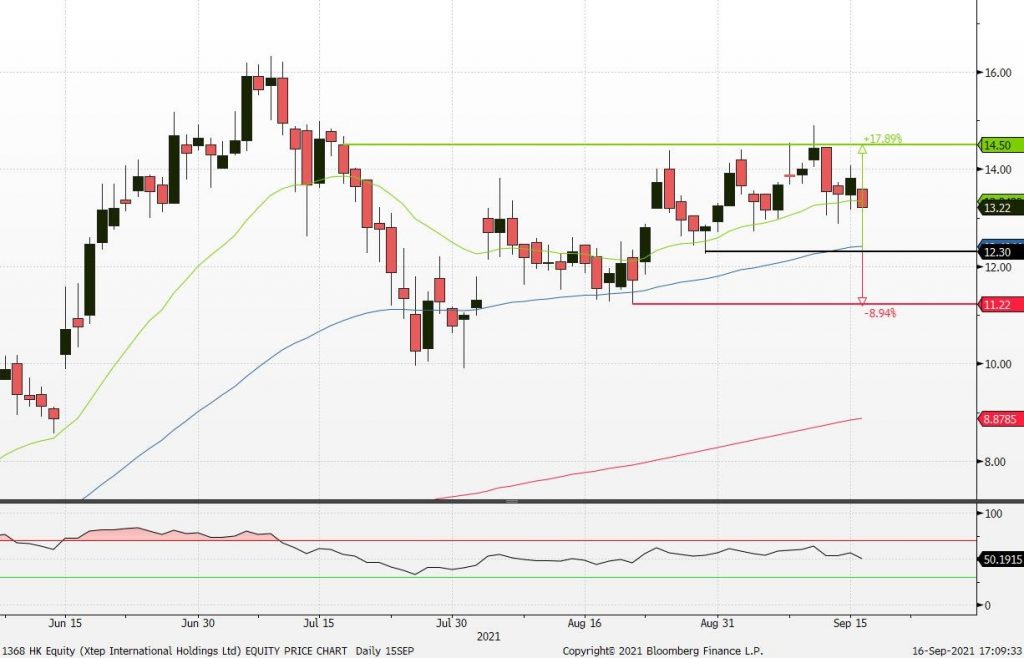 ---
Market Movers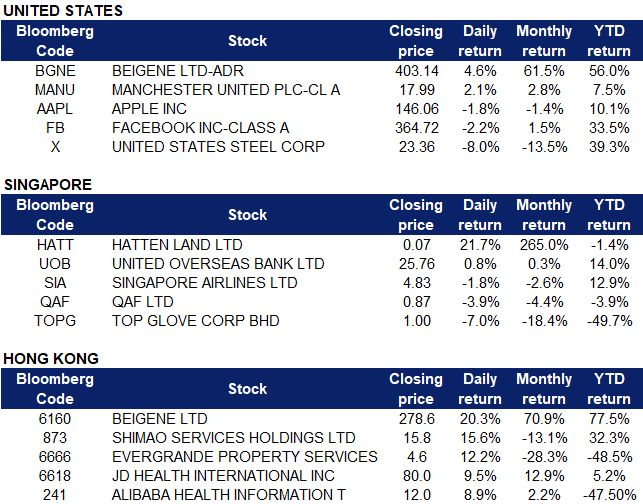 United States
BeiGene (BGNE US) shares rose 13.4% in premarket trading and closed 4.65% higher at $403.14 on Friday, after the company announced that it received a positive Committee for Medicinal Products for Human Use (CHMP) opinion for its lead oncology drug zanubrutinib for the treatment of Waldenström's macroglobulinemia. Additionally, Beigene CEO also reported the sale of 411,838 shares in a Form 4 filing on Thursday.
Apple (AAPL US) stocks declined 1.83% on Friday, after CNBC reported that holders of the Apple Card had difficulty placing orders for the iPhone 13 on the first day of preorders. The company did not respond to comments on social media nor issue an official statement on the situation, but instead uploaded a message on their system page to say "Some Apple Card customers are not able to make iPhone Upgrade Program purchases", which was updated to "Apple Card-Resolved Issue" later in the day.
Manchester United (MANU US) shares slipped 2% in premarket trading after the soccer team operator reported a narrower-than-expected loss amid a 15.9% increase in revenue. The company declined to provide current year guidance, noting that while the majority of remaining U.K. government-imposed restrictions have been lifted subsequent to the end of fiscal 2021 and Old Trafford stadium has welcomed back fans at full capacity, there is the possibility that government restrictions may be re-imposed.
Facebook (FB US) shares dropped another 2.24% as The Wall Street Journal published more and added to their multipart series 'The Facebook Files' that described problems at the social network. On Friday, WSJ published a new article that suggested "human traffickers" are using Facebook to "lure women into abusive employment situations" and that "armed groups" are using the social media network to "incite violence against ethnic minorities". WSJ also added that articles and issues happening on the platform such as these have elicited "inadequate" responses from Facebook or "nothing at all".
U.S. Steel (X US) shares declined 8% on Friday after the company unveiled plans to build a new U.S. steel mill that will start producing in 2024. The company said it expects adjusted current quarter profits of around $2 billion, a 50%-plus increase from the prior period, while launching site-selection process for a $3 billion greenfield electric-arc-furnace (EAF)-based mill that would likely increase its flat-rolled steel production by around 20%. Analysts suggest that with this move, current sites could be vulnerable to closure once the new facility is complete.
---
Singapore
Hatten Land (HATT SP) shares soared another 21.67% on Friday after Thursday's 140% surge after the company announced its plans to venture into cryptocurrency mining and solar energy. Additionally, the property developer announced on Friday that it has yet to receive a US$60 million payment from Singapore-based Tayrona Capital Group Corp for the proposed divestment of wholly owned Malaysian unit Gold Mart, a transaction that was approved by shareholders in November last year. Hatten Land's proposed divestment of the company to Tayrona Capital, and Tayrona Capital's additional investment in Gold Mart, would reduce Hatten Land's stake in Gold Mart from 100 per cent to 1 per cent. Hatten Land had intended to divest Gold Mart to raise funds amid the challenging Covid-19 situation.
UOB (UOB SP) shares climbed 0.78% higher on Friday after closing 0.2% lower the previous day. It was announced that the bank's China and Indonesia subsidiaries are now Appointed Cross-Currency Dealers (ACCDs) for yuan and rupiah in China and Indonesia, making UOB the first Singapore bank to hold the CNY/IDR ACCD status in both markets. UOB China is also the only Singapore-headquartered bank approved by the People's Bank of China (PBC) to be a CNY/IDR direct market maker.
Singapore Airlines (SIA SP) shares dropped 1.83% on Friday after the company said on Thursday that it had exhausted the S$8.8 billion in gross proceeds raised from its rights issue in June 2020. The last S$0.6 billion was used for aircraft and aircraft-related payments between 1 July and 1 September. The company said that it will remain prudent and proactive in managing its liquidity as international air travel continues to be affected by the Covid-19 pandemic.
Food company QAF Ltd (QAF SP) shares dropped 3.87% on Friday. The company announced on Thursday that Australia's competition regulator, the Australian Competition & Consumer Commission (ACCC), has raised concerns over Brazilian animal protein giant JBS' proposed acquisition of pork-processing plant Rivalea Holdings, which is a subsidiary of Singapore-listed food company QAF. The Business Times reported in an article that the ACCC expressed concerns that JBS could have the incentive to leverage its increased upstream presence to either directly or indirectly raise the costs of its downstream smallgoods or for its wholesaling rivals by frustrating or foreclosing their access to fresh pork. The company previously called for a trading halt on Thursday, before resuming trading on Friday.
Top Glove Corporation (TOPG SP) shares plunged 7.01% after the world's largest medical glove maker posted on Friday a 48 per cent drop in its 4Q earnings as the steady roll-out of Covid-19 vaccines worldwide pulled down the demand for gloves. Net profit was at RM607.9 million for the period of June-August, compared to RM1.17 billion a year ago, lagging behind the RM8.69 billion estimate by analysts. The company said that sales to the U.S. are expected to normalize by December 2021, after the previous year-long ban on imports to the U.S. was lifted in the previous week.
Trading Dashboard: Remove OCBC (OCBC SP) at S$11.60
---
Hong Kong
Beigene Ltd (6160 HK) Shares surged 20.3% last Friday and closed at an all-time high. BeiGene recently announced that it has been granted an accelerated approval by the FDA for Zebutinib, which is used for the treatment of relapses for patients who have received at least one anti-CD20 treatment or adult patients who are diagnosed with refractory (R/R) marginal zone lymphoma (MZL). At present, Zebutinib has obtained 12 approvals worldwide, involving 4 indications.
Shimao Services Holdings Ltd (0873 HK), Evergrande Property Services Group Ltd (6666 HK) Property sector stocks rebounded last Friday. Shimao Services and Evergrande Property shares gained 15.6% and 12.2% respectively. On Friday, The People's Bank of China injected RMB90bn (US$14bn) of funds on a net basis via seven-day and 14-day reverse repurchase agreements, the most since February. The operation comes as the crisis facing Evergrande fuels concern over the health of the nation's real estate and credit markets. Investors are likely bottom-fishing in hope that the government would step in and prevent the failure of Evergrande. There could also be some short covering which pushed share prices up on Friday. Evergrande Property Services Group (6666 HK) rose 12.2% on Friday while China Evergrande New Energy Vehicle Group Ltd (708 HK) declined 15.6%.
JD Health International Inc (6618 HK) Shares rose 9.5% last Friday as CICC issued a report on Thursday with an OUTPERFORM rating and a TP of HK$102.4. The bank believes that JD's establishment of an ecosystem-based business model has strong profit potential. It is estimated that this year's revenue will reach RMB27.6bn and will further increase to RMB38.8bn next year. The loss this year is expected to reach RMB500mn, while the company is expected to be profitable next year. Additionally, Goldman Sachs maintained a NEUTRAL rating on JD Health, revising its TP down to HK$94, which still represents an upside of 17.6% as of Friday's closing price of HK$79.95. According to the bank, the company is a one-stop health management platform. Supported by supply chain capabilities, parent company traffic, and investment in new growth areas, the group's retail pharmacy business has steady growth opportunities.
Alibaba Health Information Technology Ltd (241 HK) Shares gained 8.9% on Friday after Goldman Sachs issued a report with a BUY rating for the company with a TP of HK$17. The bank believes that the company's revenue growth in the next three years will be relatively rapid, mainly driven by the offline pharmacy under the trend of healthcare digitalization and the flow leverage brought by its parent company Alibaba Group Holding (09988). The bank pointed out that Alibaba Health will be potentially affected by the upcoming online drug sales regulations, and there are still uncertainties in profitability under the expansion of capital expenditure allocation. However, in the medium and long term, the company has a larger scale advantage.
Trading dashboard: Cut Sunny Optical (2382 HK) at HK$221. Add Hua Hong Semiconductor (1347 HK) at HK$39.
---
Trading Dashboard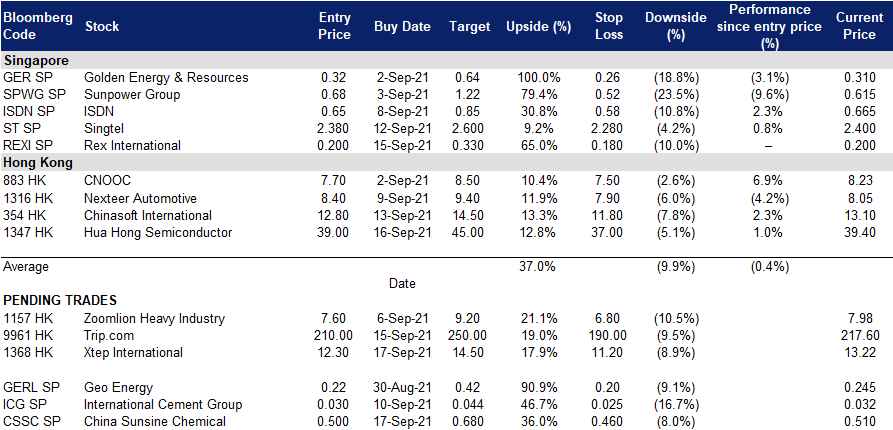 ---

---
Related Posts: