20 May 2022: SATS (SATS SP), Xinjiang Goldwind Science & Tech Co Ltd (2208 HK)
Singapore Trading Ideas | Hong Kong Trading Ideas | Market Movers | Trading Dashboard

SATS (SATS SP): Reopening theme still intact
BUY Entry – 4.40 Target – 4.64 Stop Loss – 4.28
SATS is Asia's leading provider of food solutions and gateway services with 13,000 employees in over 55 locations and 33 countries across the Asia Pacific, UK and the Middle East. SATS is part of the STI with a market cap of almost S$5bn as of 5 April 2022.
Singapore reopens. The Singapore government announced on 25 March 2022 that all vaccinated travellers can enter Singapore without quarantine from the first of April. Travellers will no longer be required to take only designated flights to enter Singapore quarantine-free, and will not have to take the antigen rapid test (ART) within 24 hours of arrival. This latest round of easing will make travelling as seamless as it was before the pandemic.
Twin engines of growth. SATS has a dominant 80% share of inflight catering and gateway services at Changi Airport and a strong presence in regional airport hubs in key Asian cities, and would thus benefit from the recovery of air travel. Furthermore, SATS has diversified into non-aviation businesses such as central kitchens, which should provide another venue of growth while its main business recovers from the pandemic-induced slump.
Inflection point. Overall international traffic in Asia Pacific so far remains at -88% of 2019 peaks, compared to -42% for North America and European international traffic. However, reopenings in the region (except for major countries like China and Japan) should start to accelerate going into 2Q2022 with more governments announcing relaxation of restrictions. According to a report by Pacific Asia Travel Association (PATA), international visitor arrivals into Asia is forecasted to jump by 100% between 2022 and 2023
Positive consensus estimates. There are 4 BUY/1 ADD/1 OUTPERFORM and an average 12m TP of S$4.84, implying a return of 9.7% from the last close price. SATS trades at 142.3x FY2022F P/E and 45.5x FY2023F P/E (YE March). While expensive on a headline P/E level, investors may accord a premium to SATS given the strong balance sheet and positive earnings growth going forward.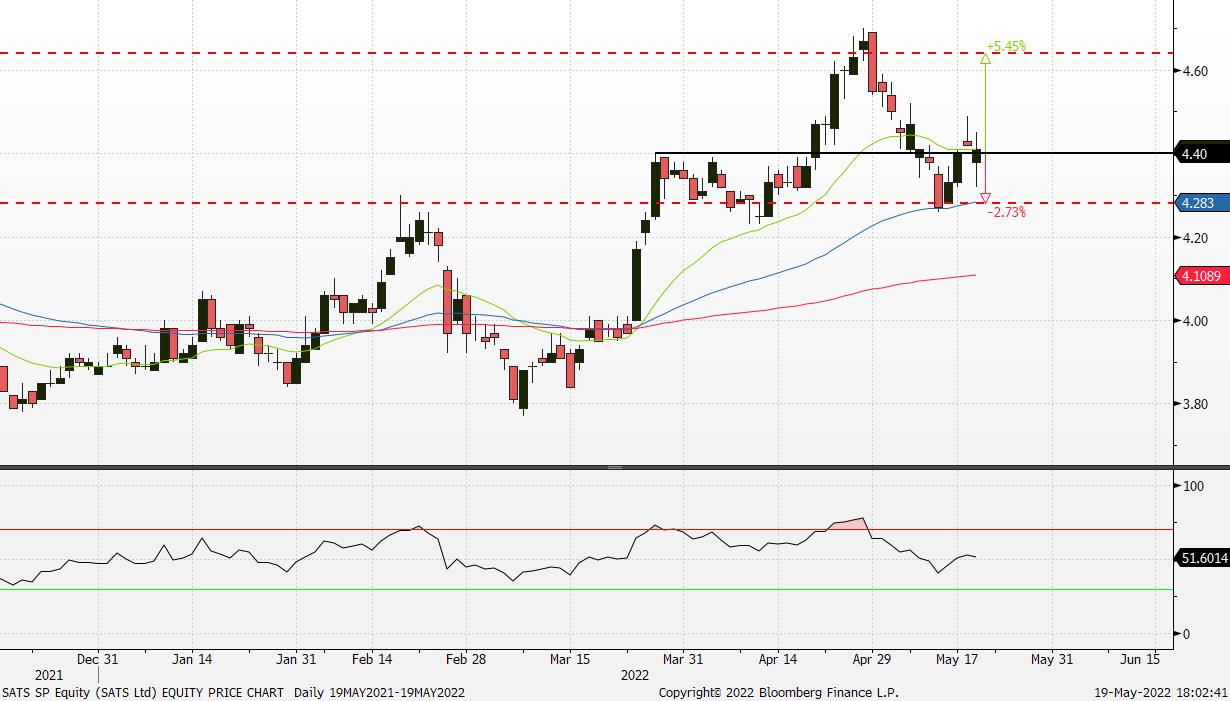 (Source: Bloomberg)

Jiutian Chemical Group Limited (C8R SP): Raise TP to S$0.245 and expect to see another record year in FY22
RE-ITERATE BUY Entry – 0.100 Target – 0.110 Stop Loss – 0.095
Jiutian is the second largest Dimethylformamide (DMF) producer in China, with a total annual capacity of 150,000 tons of DMF and methylamine (MA). Both these chemicals are important ingredients in industries as diverse as consumer goods, petrochemicals, electronics, pharmaceuticals and fertilisers. In addition, it now produces chemicals for fast growing sectors such as batteries that are used in electric vehicles.
Strong 1Q22 results despite a surge in COVID cases. 1Q22 revenue jumped by 76% YoY to RMB772mn. Net profit jumped by 123% YoY to RMB201mn. The sales volumes could be less than last year during the same period as China started to adopt certain restriction measures to contain COVID-19 spreads in March, affecting logistics. However, the average DMF prices ranged from RMB15,000/tonne to RMB16,000/tonne in 1Q22 compared to RMB9,000/tonne to RMB11,000/tonne in 1Q21. The cash and cash equivalents arrived at a record high of RMB1.02bn. Meanwhile, the company proposed an interim dividend of 0.75 SG cents (A dividend yield of 7.7% as of the closing price of S$0.097).
China Dimethylformamide (Industrial Grade) Monthly Average Price (RMB/tonne)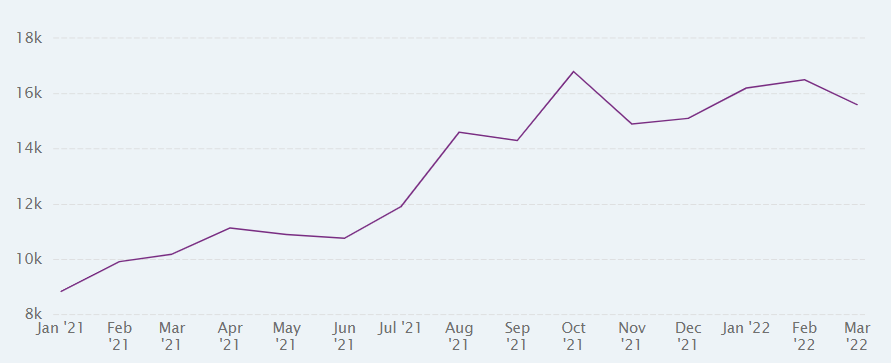 Source: CEIC
2H22 outlook to remain stable. In the near term, China will continue to persist in its zero-covid policy which stifles economic growth. However, China started to carry out the counter-cycle monetary policies by lowering the loan prime rate and required rate of reserve in 1Q22. Meanwhile, the National Development and Reform Commission is drafting a US$2.3tn infrastructure plan. Moving forward, the expansionary fiscal and monetary policies will uphold the rebound of the domestic economy in 2H22.
Technical TP of S$0.110; fundamental TP of S$0.245. While we have a Technical TP of S$0.110 based on short-term technical factors, we raised our fundamentals-based TP of S$10.245. Our fundamental TP is based on the upbeat outlook of its earnings and the average of peers' PE multiples. Read the full results updates report here.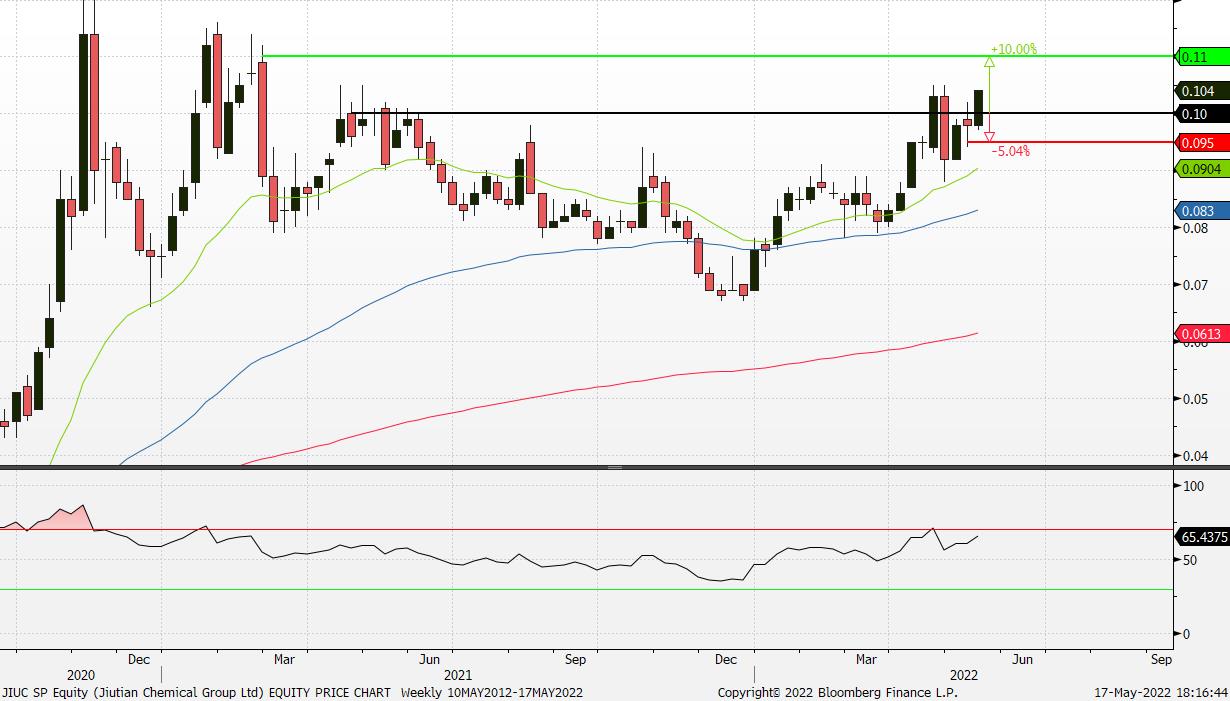 (Source: Bloomberg)


Xinjiang Goldwind Science & Tech Co Ltd (2208 HK): Slowly bottoming out
Xinjiang Goldwind Science & Tech Co Ltd is a China-based company, principally engaged in the manufacture and distribution of wind turbine generator sets and spare parts. The company is also engaged in the provision of wind power services, as well as the investment and development of wind farms. The company distributes its products within domestic and overseas markets.
Expecting bottom-out after the headwinds. China's economy will hit a speed bump in 2Q22 due to a surge in Covid infection in major cities and ensuing lockdowns. Domestic supply chains are disrupted, and manufacturing activities are halted. PBOC lowered the required reserve rate a week ago. To revive the economy, Chia will probably resort to infrastructure expansion, and clean energy projects will be one of key propellants. According to BloombergNEF, prices for turbines in China plummeted from about US$700,000 per megawatt in early 2020 to about US$470,000 at the end of 2021. Currently, the bid for new projects averages at about US$370,000. Xinjiang Goldwind's Chairman commented that the price of wind turbines had reached the bottom, and there was no room for further price declines.
FY21 financials and operations review. FY21 operating revenue dropped by 10.2% YoY to RMB50.4bn. Net profit attributable to owners of the company grew by 16.7% YoY to RMB3.4bn. The decline in revenue was due mainly to the offshore wind sector experiencing rush-to-installation and onshore wind sector entering the era of grid-parity. The company will announce its 1Q22 earnings on 26th April Tuesday.
Revenue breakdown

Operation breakdown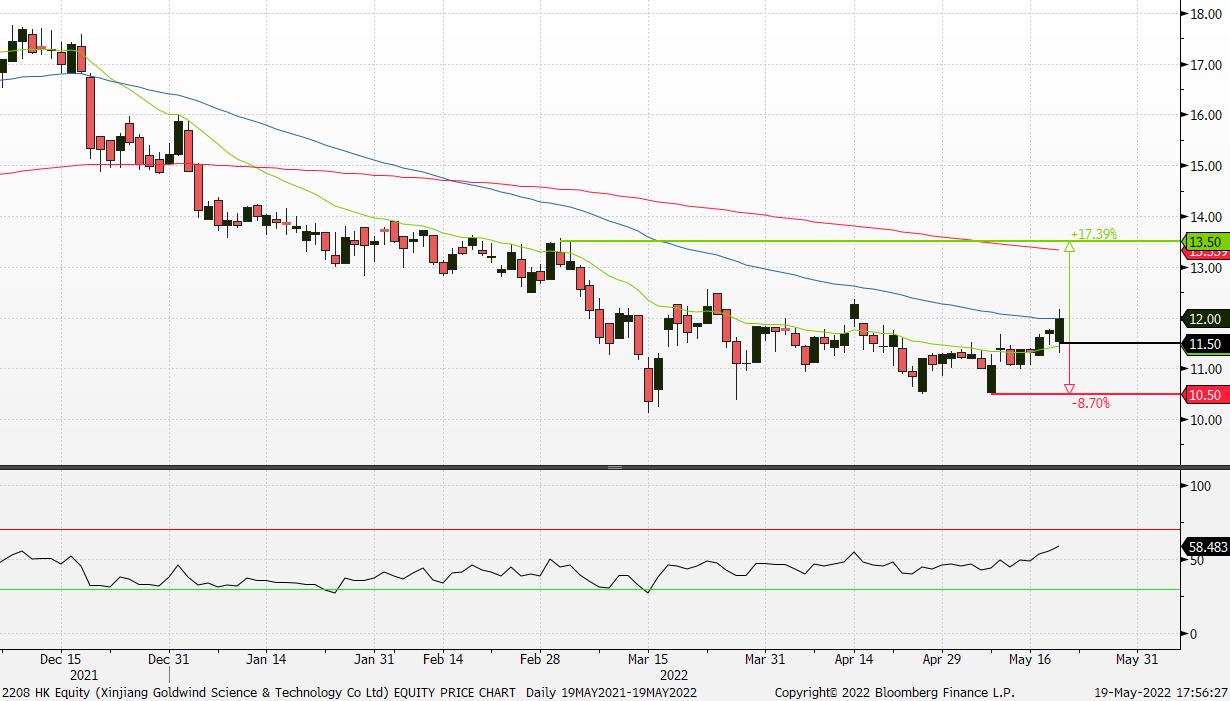 (Source: Bloomberg)

BYD Company Ltd (1211 HK): A bright spot in the EV market
RE-ITERATE BUY Entry 244.20 – Target – 277.80 Stop Loss – 226.60
BYD Company Ltd is a China-based company principally engaged in the manufacture and sales of transportation equipment. The Company is also engaged in the manufacture and sales of electronic parts and components and electronic devices for daily use. The Company's products include rechargeable batteries and photovoltaic products, mobile phone parts and assembly, and automobiles and related products. The Company mainly conducts its business in China, the United States and Europe.
The winner among all. China's overall vehicle sales for April plunged almost 48% from a year earlier as COVID-19 lockdowns hit factories and showrooms, but sales of electric vehicles surged and Chinese brands took share from global rivals. Retail sales of passenger cars alone dropped almost 36% in April, however, sales of EVs and plug-in hybrids were up 45% in April and more than doubled over the first four months of the year from 2021 levels. BYD reported Tuesday that its sales of electric vehicles and plug-in hybrids soared 313% in April YoY, while sales for all its vehicles jumped 423% in the first quarter of this year, according to preliminary figures released last month. It is the second largest carmaker in China in terms of pure-EV sales, just behind Tesla.
1Q22 performance review. Revenue from operations jumped by 63.0% YoY to RMB66.8bn. Net profit attributable to shareholders jumped by 240.6% YoY to RMB808.4mn. The stellar performance was due mainly to the growth of the industry of new energy vehicles.

Limited impact from supply chain constraints. Thanks to its vertically integrated supply chain, the company was less vulnerable to supply chain disruptions during China's ongoing lockdowns, while rivals had to cut back production because of chip and battery shortages. Nio said Sunday that it delivered only 5,074 vehicles in April, down 49% from March. In addition, Li Auto also recorded a 62% plunge in car deliveries for April, compared with March, citing "supply chain problems."
Positive consensus estimates. Currently, BYD has a consensus rating of 30 BUYS, 2 HOLDS and 1 SELL, and a 12M TP of HK$327.59, representing an upside of approximately 28.9% as of Tuesday's closing price.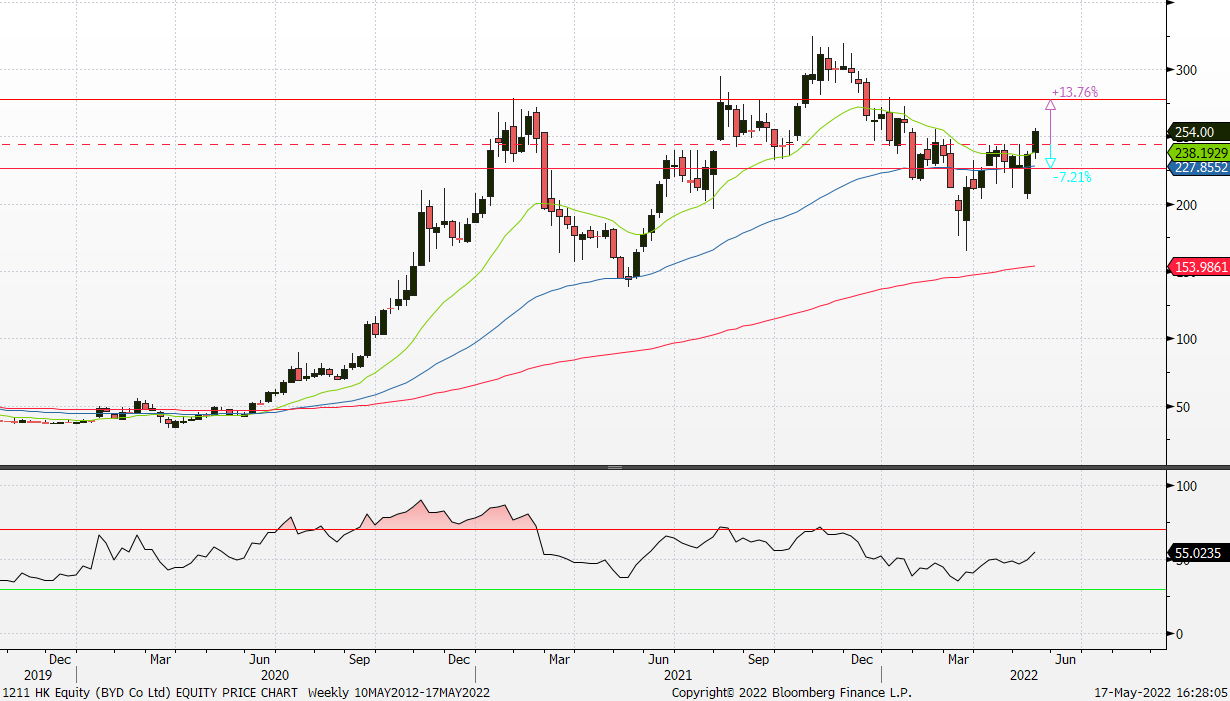 (Source: Bloomberg)





United States
Top Sector Gainers
Top Sector Losers
Cisco Systems Inc (CSCO US) shares dropped 13.7% after the firm said it generated lower quarterly revenue than analysts predicted and called for an unexpected sales decline in the current period. Cisco said it was impacted by the war between Russia and Ukraine as well as Covid-19 lockdowns in China.
Bath & Body Works Inc (BBIW US) shares slid 6.8% after the company cut its full-year earnings forecast due to inflationary factors as well as increased investments. Bath & Body Works did report better-than-expected profit and revenue for its latest quarter, however.
Harley-Davidson Inc (HOG US) shares fell 9.3% after the company said it's suspending most vehicle assembly and shipment for two weeks due to a parts issue related to a supplier. Its LiveWire division is excluded from the suspension.
Under Armour (UA US) shares sank 15.8% after CEO Patrik Frisk announced that he would be stepping down, effective June 1. Morgan Stanley downgraded Under Armour to equal weight from overweight following the news.
Target Corp (TGT US) shares extended their losses and declined 5.1% after the retailer reported disappointing quarterly results, citing high fuel costs and inventory troubles. Target posted an adjusted quarterly profit of $2.19 per share, below the $3.07 Refinitiv consensus estimate. The big-box retailer reported lower-than-expected sales of discretionary products.
---
Singapore
Acesian Partners Ltd (ACP SP) Shares rose 5.56% yesterday. There was no company-specific news. The price movement could be due to short covering after the shares tanked 28% on Wednesday.
Jiutian Chemical Group Ltd (JIUC SP) Shares rose 3.88% yesterday and closed at a 52-week high. There was no company-specific news. KGI released the 1Q22 results updates and raised TP to 0.245 SG cents. The brokerage house believed that the upcycle of average selling prices remains intact, and the higher ASP will offset the decline in sales volumes.
Hwa Hong Corporation Limited (HWAH SP) Shares rose 2.70% yesterday. There was no company-specific news. Previously, substantial shareholders had made a voluntary conditional cash offer of S$0.37 per share to take the company private.
RH Petrogas Limited (RHP SP) Shares fell 6.00% yesterday. Brent and WTI fell 2.91% and 3.77% on Wednesday night.
Frencken Group Limited (FRKN SP) Shares fell 8.73% yesterday and closed at a 52-week low. Previously, the company released its business updates for 1Q22. The profit attributable to equity shareholders dropped by 12.6% YoY to S$12.8mn due to higher selling and distribution, administrative and general expenses in the wake of supply chain challenges.
Hong Kong
Top Sector Gainers
Top Sector Losers
JS Global Lifestyle Co Ltd(1691 HK) Shares fell 9.18% yesterday. Techtronic Industries Co Ltd (669 HK) Shares fell 7.46% yesterday. There was no company-specific news for both companies. China's domestic home appliances sales dropped by 12.3% YoY to RMB154bn in 1Q22. The total export amount of home appliances dropped by 7.3% YoY to RMB137bn. The revenue from the core segment SharkNinja dipped in 1Q22. Institutions believed that their 1H22 revenue and net profit will be lower than the management's guidance.
Minth Group Limited (425 HK) Shares fell 8.22% yesterday. There was no company-specific news. The pullback in share prices followed the sell-off in the overnight US market. The stock jumped by 9.93% and 7.43% on Tuesday and Wednesday respectively.
Alibaba Group Holding Ltd (9988 HK) Shares fell 7.39% yesterday. There was no company-specific news. China's technology sector was hammered, following the sell-off in the overnight US market. Hang Seng Tech Index dropped 3.98% yesterday.
Prada S.p.A. (1913 HK) Shares fell 7.09% yesterday. There was no company-specific news. S&P Retail Select Industry Index (XRT US) dropped by 8.29% overnight.


Trading Dashboard Update: Take profit on Xinte Energy (1799 HK) at HK$18. Cut loss on Sintel (ST SP) at S$2.66 and Uni-Asia Group (UAG SP) at S$1.18. Add Jiutian Chemical (JIUC SP) at S$0.100.