20 June 2022: Hongkong Land Holdings Limited (HKL SP), Hainan Meilan International Airport Co Ltd (357 HK)
Singapore Trading Ideas | Hong Kong Trading Ideas | Market Movers | Trading Dashboard

Hongkong Land Holdings Limited (HKL SP): Hong Kong's reopening on track
BUY Entry – 4.8 Target – 5.2 Stop Loss – 4.6
Hongkong Land Holdings Limited operates as a property investment, development, and management company. The Company owns and manages prime offices and luxury retail properties in Asian gateway cities, principally in Hong Kong and Singapore. Hongkong Land serves customers in Asia.
Surg in arrivals to Hong Kong. Almost 9,000 mainland Chinese entered the city by plane last month, compared with just over 6,000 from March 2020 through April this year, according to the latest official immigration data. Hong Kong has lifted flight bans for quite a number of countries, reduced quarantine days requirement for vaccinated residents, and increased the supply of quarantine hotels in April and May. Last Wednesday, the city further loosened measures around Covid-19 testing in a bid to boost visitors.
Retail sales unexpectedly rebound. According to the Census and Statistics Department, Sales value rose 11.7% YoY in April, compared to a 13.8% plunge YoY in March. In April, sales volume increased 8.1% YoY, beating the 10.8% decline YoY forecast by economists.
Positive consensus estimates. Hongkong Land currently has a positive consensus estimate of 7 BUYS, 4 HOLDS and 2 SELLS, with a 12M TP of US$6.00. The updated market consensus of the EPS growth in FY22/23 is 1.2%/5.8% YoY, respectively, translating to 12.3×/11.6x forward PE. FY22F/23F dividend yield is 4.3%/4.3% respectively.
Hong Kong Passenger Traffic: China Mainland Visitors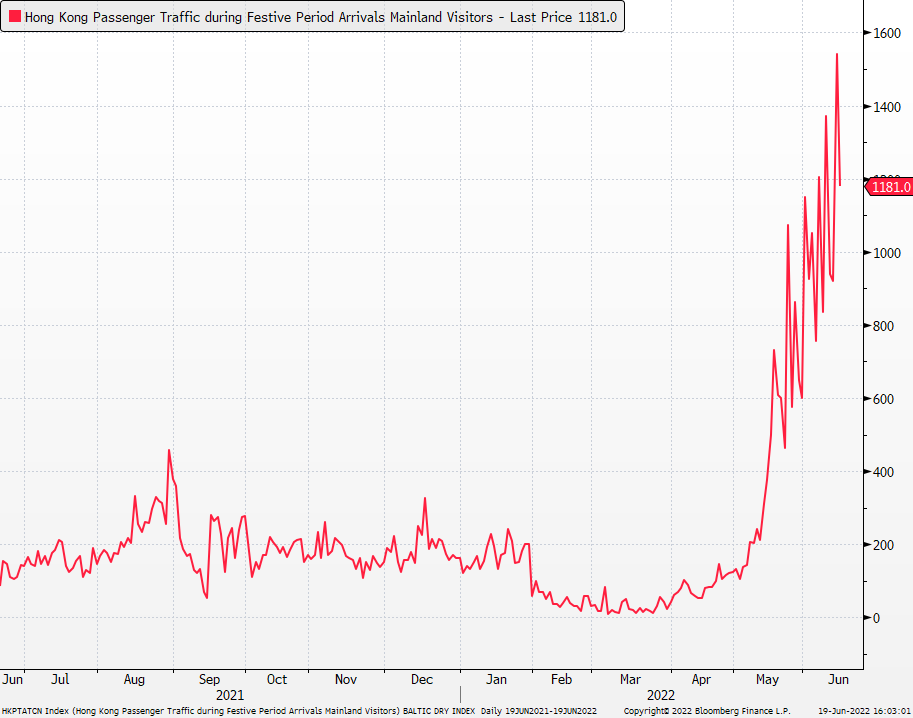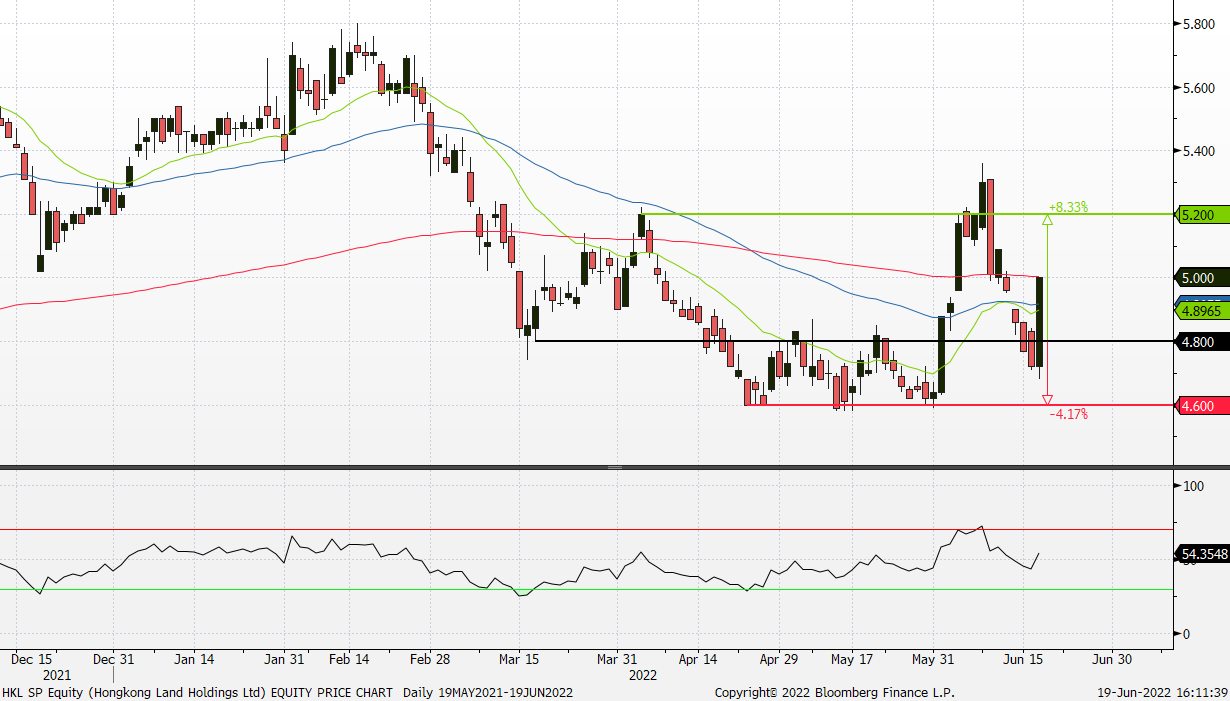 Tianjin Pharmaceutical Da Re Tang Group Corp Ltd (TIAN SP): Traditional Chinese Medicine play, a hedge against inflation
RE-ITERATE BUY Entry – 1.10 Target – 1.20 Stop Loss – 1.05
The Group's businesses cover a wide range of products including Chinese patent medicine, Chinese medicinal drinks, Chinese medicinal raw materials, biotechnology medicine, chemical raw material medicine and preparations, and nutritional and health products. It has over 800 medicinal products in over 20 types of formulations.
2021 and 1Q22 financials review. FY21 revenue rose 4.6% YoY to RMB 6.9bn while net profit after tax grew 15.8% YoY to RMB 786.9mn. Gross margins increased by 0.9ppts to 39% in FY21, compared to 38.1% in the previous year. Net profit margin also grew to 11.4% in FY21, compared to 10.3% in FY20. For 1Q22, revenue rose 3% YoY to RMB1.9bn, however net profit after tax declined 7% YoY to RMB 201.90mn.
Lagging A Shares. SG-listed shares are currently trading at a T12M P/E of 7.57x, while A-shares are trading at 24.35x, indicating a valuation lag for SG-listed shares. A- shares have also gained approximately 33% from its recent low as of 16 June 2022's closing price and are forming an upward parallel channel trend, while SG-listed shares just broke out of the consolidation levels yesterday, indicating potential upside.
Inflationary hedge against inflation. The US hot inflation report last Friday, showing the fastest pace of price increases since 1981, showed little sign of alleviating price pressures in the month of May. Combined with other economic data showing the worst reading of consumer confidence since the 1970s, the pessimistic outlook pushed the Fed to entertain the idea of abandoning its prior plan. The Federal Reserve on Wednesday raised interest rates by 0.75%, the largest move it has made in a single meeting since 1994. The central bank messaged that further interest rate hikes will come this year, as the Fed leans on higher borrowing costs to dampen demand and work to slow faster-than-expected inflation.
Equity Price Chart (A Shares): Tianjin Pharmaceutical Da Re Tang Group Corp Ltd (600329 CH)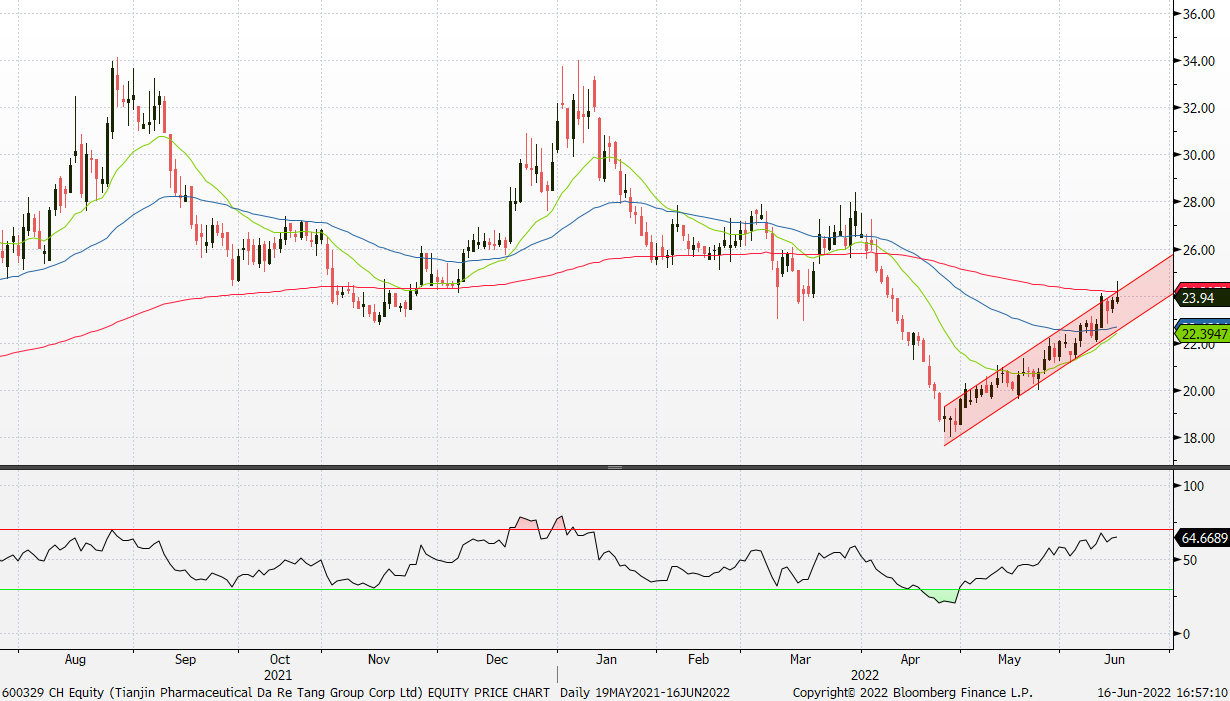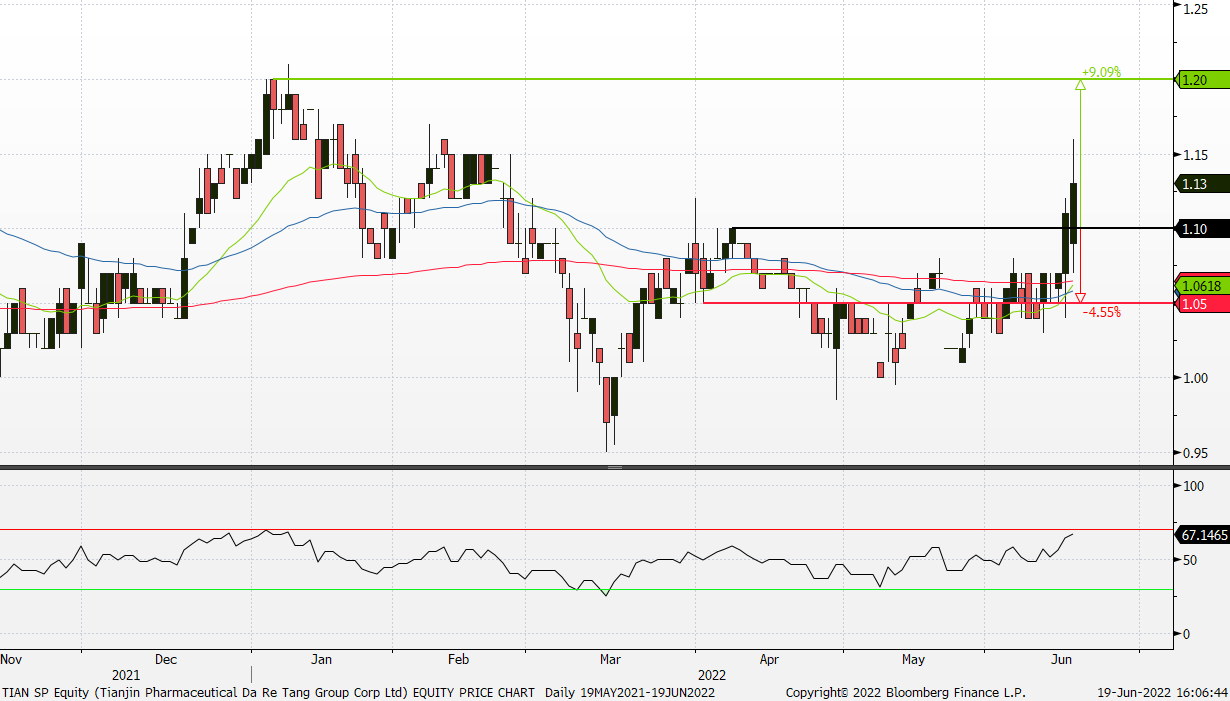 (Source: Bloomberg)


Hainan Meilan International Airport Co Ltd (357 HK): Tailwinds from the pent-up demand for travelling this summer
Buy Entry – 17.0 Target – 19.0 Stop Loss – 16.0
Hainan Meilan International Airport Company Limited, formerly Regal International Airport Group Company Limited, is a Hong Kong-based investment holding company principally engaged in aviation and related businesses. The Company operates through aeronautical businesses and non-aeronautical businesses. Its aeronautical businesses include the provision of terminal facilities, ground handling services and passenger services. Its non-aeronautical businesses include the leasing of commercial and retail spaces at Meilan Airport, airport-related businesses franchising, advertising spaces leasing, car parking businesses, cargo handling and the sales of consumable goods.
Major stimulus package to boost offshore duty-free sales. On 14th June, Hainan province's Department of Commerce issued an action plan on promoting the island's offshore duty-free sales to enhance its role as a magnet for overseas consumer spending. The action plan proposed various high-quality expos, events and festivals — such as the China International Consumer Goods Expo (also called the Hainan Expo) and the Hainan International Tourism Island Carnival. In addition, the plan specified that the island will hold no less than 10 large-scale duty-free shopping promotion activities this year, with provincial-level funding of no less than RMB 20 million (about USD 3 million) to be raised and distributed in the form of vouchers which can be redeemed against duty-free purchases across the island.
Recovery in May. Hainan province's total retail sales in May grew by 23.7% MoM to RMB19.2bn. Offshore duty-free retail sales in May grew by 66.1% MoM to RMB3.1bn. According to the 2022 Summer Vacation Trend Forecast issued by Trip.com, as of 10th June, the air ticket bookings for summer vacation jumped by 162% WoW, tour group bookings jumped by 109% WoW, and hotel bookings jumped by more than 50% WoW.
The updated market consensus of the EPS growth in FY22/23 is -67.9%/155.5% YoY, respectively, translating to 29.0×/11.4x forward PE. The current PER is 9.3x. Bloomberg consensus average 12-month target price is HK$26.5.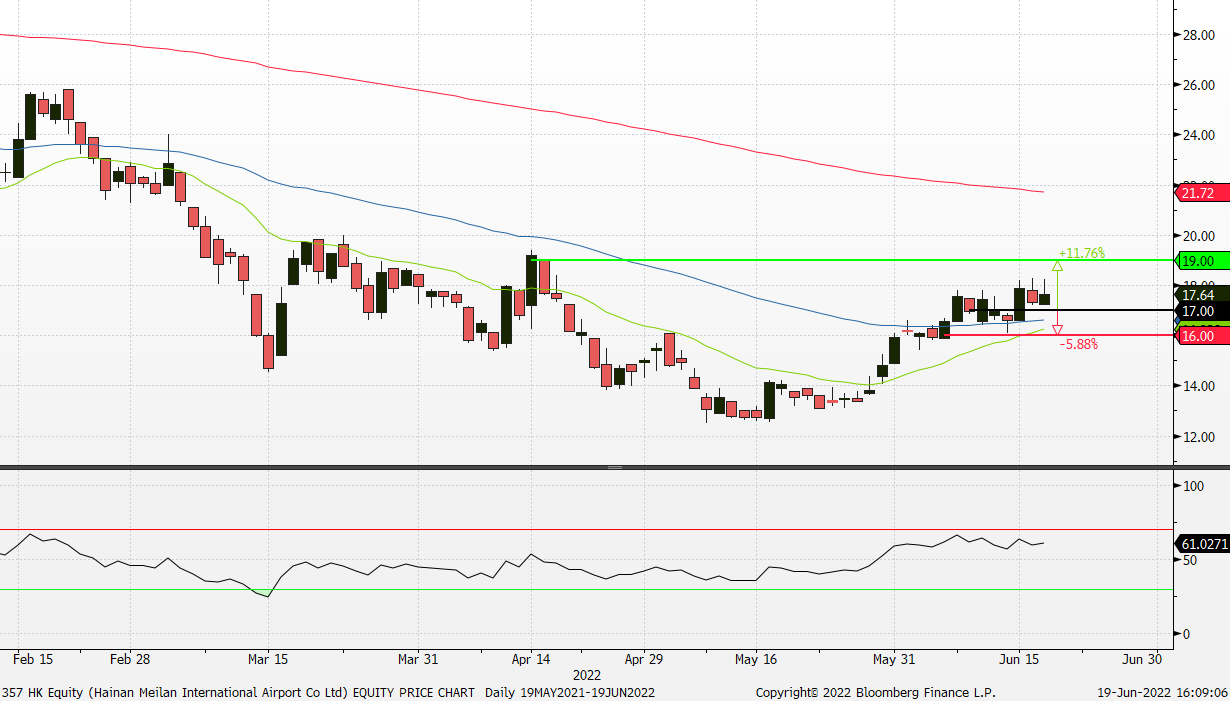 (Source: Bloomberg)

Sinopharm Group Co., Ltd. (1099 HK): A defensive counter amidst sell-off
RE-ITERATE BUY Entry – 17.5 Target – 19.5 Stop Loss – 16.5
Sinopharm Group Co Ltd is a China-based company principally engaged in pharmaceutical and medical devices distribution business. The Company operates its business through four segments. Pharmaceutical Distribution segment is engaged in the distribution of pharmaceutical products to hospitals, other distributors, retail pharmacy stores and clinics. Medical Devices segment is engaged in the distribution of medical devices, as well as provides installation and maintenance services. Retail Pharmacy segment is engaged in the operation of chain pharmacy stores. Other Business segment is engaged in the distribution of laboratory supplies, manufacture and distribution of chemical reagents, production and sale of pharmaceutical products.
1Q22 earnings review. 1Q22 revenue grew by 6.86% YoY to RMB17.15bn. Net profit attributable to shareholders dropped by 23.25% YoY to RMB252.36mn. The decrease in profit was mainly attributable to the decline in the results of Sinopharm Accord's associates due to the impact of the Covid-19 pandemic, which resulted in a corresponding decrease in investment income of Sinopharm Accord. At the same time, due to the impact of the pandemic, the retail sector has seen a decline in store traffic, and the new stores opened in 2021 cost a large initial investment, the benefits of which have not yet emerged, resulting in a decrease in the margin levels.
A defensive stock amidst market sell-off. The Hong Kong market has been hammered by both domestic crackdowns and unfavourable China-US tensions. Growth, value, and cyclical sectors, as well as other thematic stocks, have been sold off indiscriminately. However, this stock is relatively outperforming the rest as its business is largely immune to inflation and policy risks. The business driver is the distribution volume rather than profit margins. The growth in demand for medicines and medical devices is stable with low price sensitivity.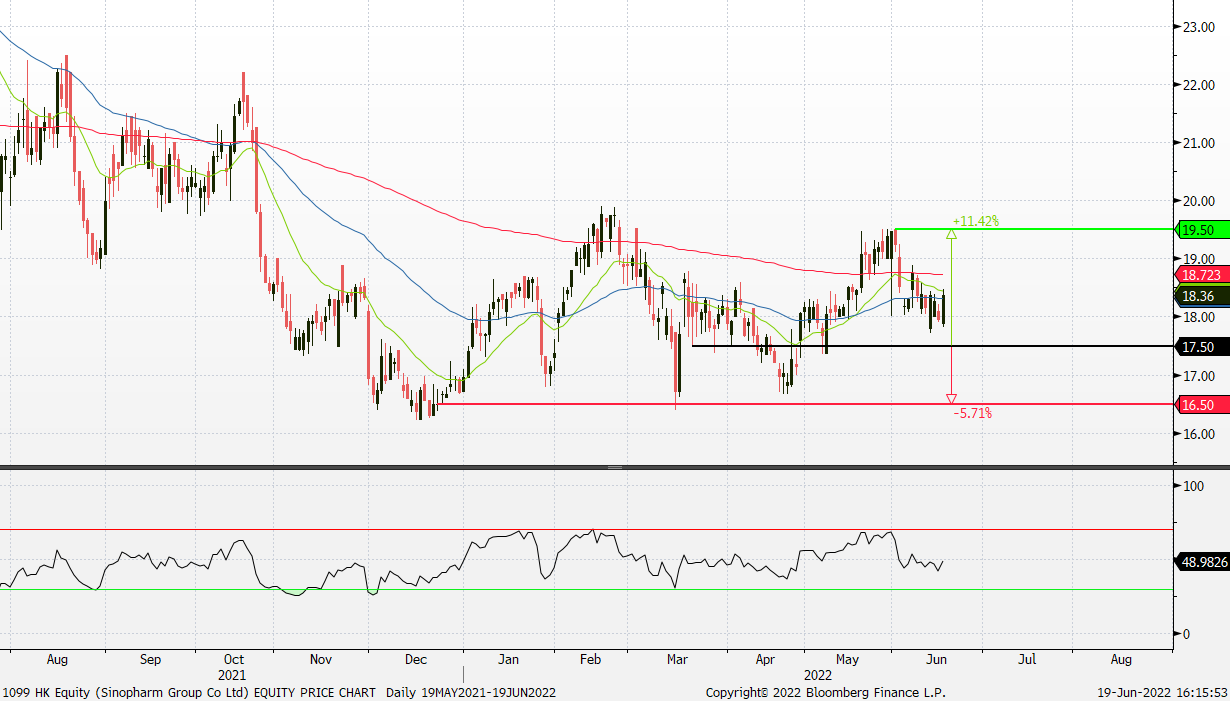 United States
The United States market is closed today in observance of a public holiday (Juneteenth National Independence Day Observed). Trading resumes on Tuesday, 21 June.

Singapore
Nio Inc (NIO SP) shares extended their rally and rose 3.3% on Friday. Nio will hold a product launch event on 15 June 8pm Singapore time, and although the company hasn't specified what product will hold the spotlight, it should be its ES7 SUV. Nio released a teaser video of the new model today, giving a sneak peek into its camera and lidar sensor system. It's an important event, as Nio has been postponing ES7's launch since April amid COVID-19 restrictions in China. ES7 will be Nio's sixth EV and is a mid-to-large-size five-seater SUV, between the ES6 and ES8.
First Resources Ltd (FR SP) and Bumitama Agri Ltd (BAL SP) shares lost 4.5% and 2.9% respectively on Friday. Malaysian palm oil bottomed below the MYR 5,500-per-tonne level, a level not seen since February, as Indonesia announced an export acceleration scheme to ship at least 1 million tonnes of crude palm oil and derivatives. The world's biggest exporter is also decreasing the maximum export tax rate and levy for crude palm oil to $488 per tonne from $575 per tonne to boost shipments.
Golden Energy & Resources Ltd (GER SP) and Geo Energy Resources Ltd (GERL SP) shares lost 5.2% and 1.4% respectively on Friday. Newcastle coal futures, the benchmark for top consuming region Asia, were trading below the $400-per-tonne mark, a level not seen in more than a month, as surging inventories and weaker demand continued to pressure the market. Still, coal prices remained elevated, rallying to as high as $430 in late May, supported by a tightening market as Russia's invasion of Ukraine and the unprecedented economic sanctions, including the EU's ban on oil and coal imports from Russia, have thrown the global energy market into chaos.

Hong Kong
Top Sector Gainers
Top Sector Losers
Angelalign Technology Inc (6699 HK) shares rose 11.8% on Friday. Recently, GF Securities pointed out that outpatient volume of medical institutions is expected to gradually recover from June 2022. There is a large amount of delayed demand for related consumer medical projects. Tooth extraction, implantation, orthodontics and other projects are all elective medical projects. It is recommended to pay attention to companies such as Times Angel (06699).
Shanghai Junshi Biosciences Co Ltd (1877 HK) shares rose 11.6% on Friday. Recently, Junshi Bio's VV116 (deuteroremidevir hydrobromide tablet) industrialization project was approved by Shanghai Zhangjiang Hi-Tech Park Management's committee.
China Resources Pharmaceutical Group Ltd (3320 HK) shares rose 9% on Friday. According to Morgan Stanley's Research Report, 2022 will be the year of China Resources Pharmaceutical's restructuring, and it is launching a series of state- owned enterprise reforms to stimulate the performance of its affiliated A-share listed companies, and ultimately stimulate the performance of the parent company, including distribution and retail businesses. Coupled with an improved outlook for the production business, and the continued low interest rate environment favourable for its distribution business, the view on earnings performance is even more positive.
Li Auto Inc (2015 HK) shares rose 7.7% on Friday. According to Goldman Sachs Research Report , Li Auto plans to release its second L9 model on June 21 and start delivery in the third quarter. The bank believes that the assisted driving function and in-vehicle entertainment system of the new model L9 is expected to distinguish it from competing products. The L9 offers a new 3D interactive experience designed to meet the needs of more home use cases, including keeping kids entertained on long drives, for example, all screens in the L9 support Nintendo Switch games. Fellow EV peer, Xpeng Inc (9868 HK) shares rose 5.5% on Friday.


Trading Dashboard Update: Cut loss on Yangzijiang Financial Holdings (YZJFH SP) at S$0.45, Rex International (REXI SP) at S$0.30. Add Tianjin Pharmaceutical Da Ren Tang (TIAN SP) at S$1.08 and take profit at S$1.16.