KGI DAILY TRADING IDEAS – 20 August 2021
Singapore Trading Ideas | Hong Kong Trading Ideas | Market Movers | Trading Dashboard
SINGAPORE
Riverstone Holdings (RSTON SP): Short-term play ahead of ex-dividend date
BUY Entry – 1.20 Target – 1.32 Stop Loss – 1.15
Riverstone Holdings Limited produces, sells, and distributes clean-room products for use in highly controlled and critical environments. The company's products include nitrite and natural rubber gloves and clean-room packaging materials and finger cots, as well as face masks, face pouches, hoods, caps, jumpsuits, and swabs.
Fundamental view. While the pandemic-induced demand for gloves in 2020 helped push Riverstone's share price to a high of S$2.35 (90% higher than its current share price of S$1.23), the company's business outlook is likely to be driven by production of cleanroom products, which are more sustainable and typically command higher margins. These products are primarily used in semiconductor, pharmaceuticals, biotech, life science, aerospace and military applications.
Technical view. Shares are currently consolidating between the S$1.18 and S$1.34 levels. We think it may continue to trade within this range given the lack of a strong catalyst to propel the stock price higher.
Short-term play ahead of ex-div date. Riverstone will be paying out a MYR 10 cents (equivalent to 3.2 Sing cents), ex-date will be on 19 September 2021, while payment will be on 6 October 2021. Riverstone's shares have historically tend to rally ahead of ex-div dates.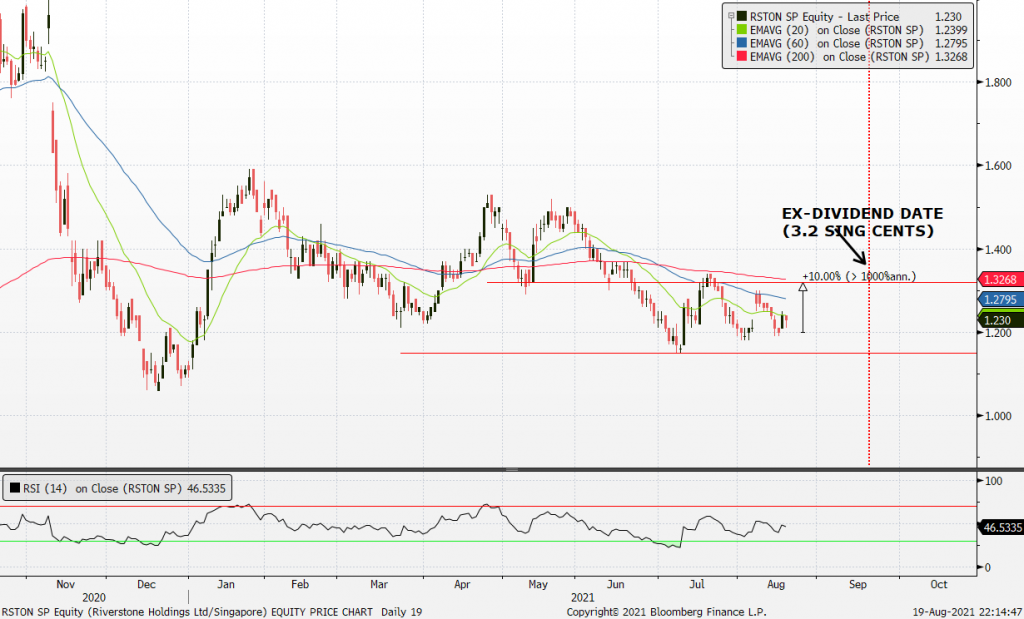 ---
Uni-Asia Group (UAG SP): Strong 1H2021 beat, even better year ahead
RE-ITERATE BUY Entry – 1.05 Target –1.56 Stop Loss – 0.92
UAG is an alternative investment company which owns and manages bulk carriers, invests in Hong Kong commercial offices and develops residential properties in Japan. The group derives around 65% of its revenues from charter income generated by its fleet of bulk carriers. The remainder of revenue is from its property projects in HK and Japan.
UAG reported a stellar 1H2021. UAG's bottom line reversed from a loss of US$3.9mn in 1H2020 to a US$7.0mn profit in 1H2021, driven mainly by its shipping segment. Charter income rose 46% YoY to US$20mn as average daily charter rose to about US$10,900 in 1H2021 compared to around US$7,000 in 1H2020. As a result, its shipping business reported a profit of US$9mn in 1H2021, vs a US$11mn loss in 1H2020. UAG's balance sheet continued to strengthen, with total debt declining to US$95mn as at the end of 1H2021. Given the stronger-than-expected results and positive outlook in 2H2021 and 2022, shareholders will be rewarded with a 2.0 Sing cents interim dividend.
UAG has right assets at the right time. The broad-based increase in commodity demand and the tight supply of vessels have pushed Baltic Freight rates to their highest in more than 10 years. The market for handysize, which UAG specialises in, is even more favourable as rates rise to their highest since 2008. Current charter rates are above US$25,000 per day. We expect charter rates to remain resilient at these levels, or even increase, amid historically low order book, rising scrap rates and further cuts in operating speeds. Six of UAG's wholly owned dry bulks will renew in 2H2021, three will renew in 1H2022 and one in 2H2022.
Maintain Outperform and raise our TP to S$1.56. Valuations are attractive amid the stronger-than-expected bulk carrier upcycle. Our TP implies a 0.7x FY2021F P/B, which is still a conservative 30% discount to international peers who are trading above 1.0x P/B.
Read our full report here.
Baltic Dry Index Handysize Index (2016-2021 YTD)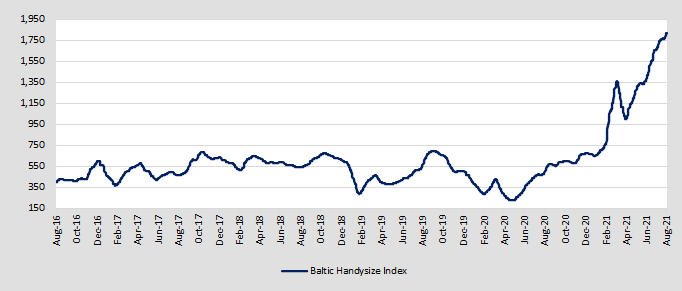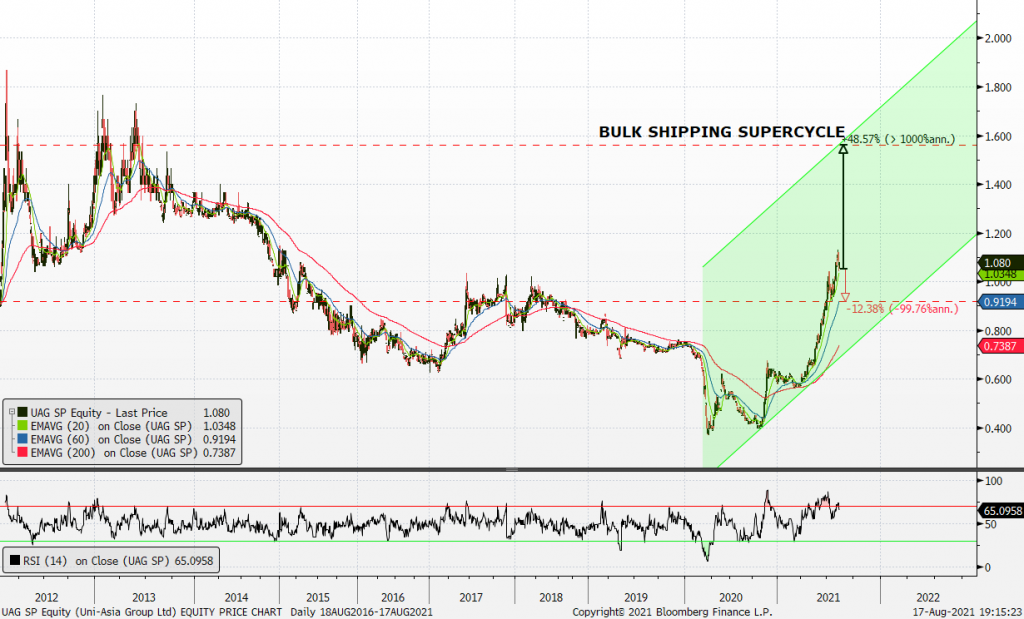 ---
HONG KONG
Geely Automobile Holdings Limited (175 HK): Relatively policy risk-free
Reiterate BUY Entry – 23.5 Target – 29 Stop Loss – 21.5
Geely Automobile Holdings Ltd is an investment holding company principally engaged in the production and sales of automobiles. The company mainly develops, manufactures and sells automobiles, including cars, sport utility vehicles (SUVs), new energy and electrified vehicles. The company's car types include home, travel and sports. The company's new energy and electrified vehicles include electric vehicles, battery electric vehicles, hybrid electric vehicles, mild hybrid electric vehicles and plug-in hybrid electric vehicles. In addition, the company produces and sells automobile parts and related automobile components.
The company just announced 1H21 interim results. Revenue grew by 22% YoY to HK$45bn. Profit attributable to the equity holders grew by 4% YoY to HK$2.4bn. Total automobile sales volume grew by 19% YoY, ranking it third place in China with a market share of 6.3%. The overseas sales volume jumped by 173% YoY to 53,422 units. EV sales jumped by 189% YoY. The 2021 deliverable orders of new model ZEEKR 001 were sold out.
The recent regulations have negatively impacted a lot of sectors. Investors are in a panic mood. However, the EV and automobile sector is one of the few sectors that the government favors as its development is in line with carbon neutrality and environmental protection.
Updated market consensus of the estimated growth of net profit in FY21 and FY22 are 53.5% and 33.9% respectively, which translates to 27.4x and 20.4x forward PE. The current PE is 51.2x. Bloomberg consensus average 12-month target price is HK$31.3.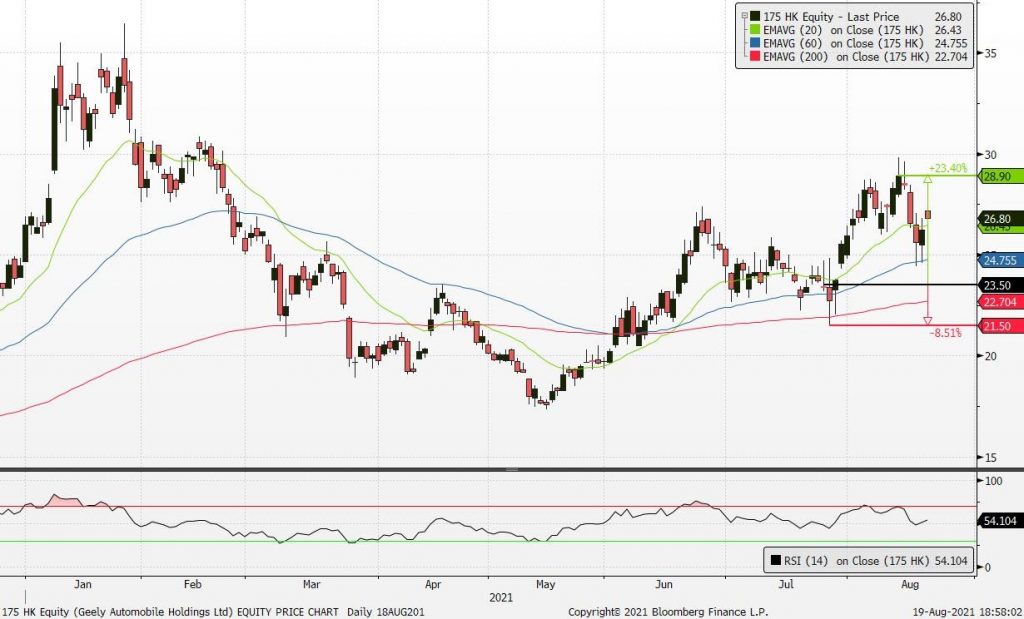 ---
Hua Hong Semiconductor Ltd (1347 HK): Pull back to the previous consolidation range
REITERATE Buy Entry – 39 Target – 44 Stop Loss – 37
Hua Hong Semiconductor Ltd is an investment holding company engaged in production and sales of semiconductor wafers. The company produces 200mm and 300mm-wafers. Its products are applied in general microcontroller (MCU), Type-C interface chips, image stabilization chips, touch control chips, and smart meter controller chips. The products also serve the Internet of Things (IoT), new energy vehicles, artificial intelligence and other markets.
1H21 results were better than market expectations. Revenue reached a record high of US$651mn, an increase of 52.0% YoY primarily due to increased wafer shipments and improved average selling price. Gross margin was 24.2%, an increase of 0.6ppts YoY, primarily driven by improved average selling price and capacity utilization, partially offset by increased depreciation expenses. Profit for the period attributable to owners of the parent was US$77.1 million, an increase of 102.3% YoY.
90nm eFlash, 90nm BCD, 55nm CIS, DT-SJ, and IGBT were mass produced in the 12-inch production lines, thereby better meeting the capacity needs of customers. The Company is the first Pure Play Foundry in the world to mass produce advanced FS-Trench IGBT on both 8-inch and 12-inch production lines at the same time.
The Company's simultaneous progress in its "8+12" production line technologies and its "IC + Discrete" technology platforms development strategy for the Embedded Non-Volatile Memory, Analog & Power Management, and Logic & RF IC device and Discrete device businesses will provide its customers with comprehensive and excellent technical support in foundry field.
Consensus estimates per the 12-month target price at HK$54.7, implying a 26% upside potential. EPS is forecasted to grow at 70%/25.6%/16.6% for FY2021/22/23F, which would bring forward P/Es down to 43x/34x/29x FY2021/22/23F.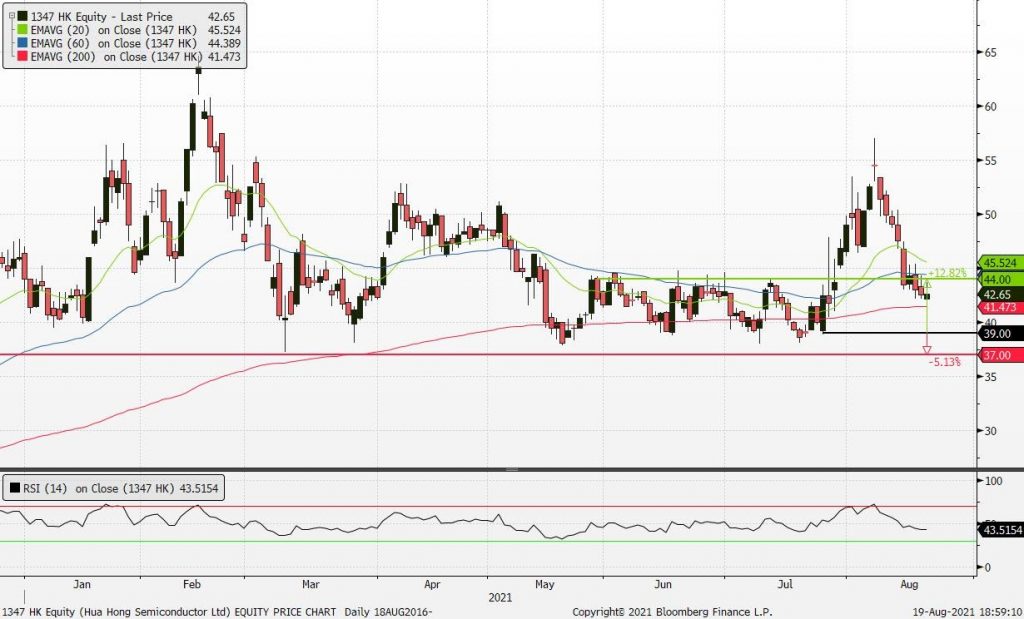 ---
Market Movers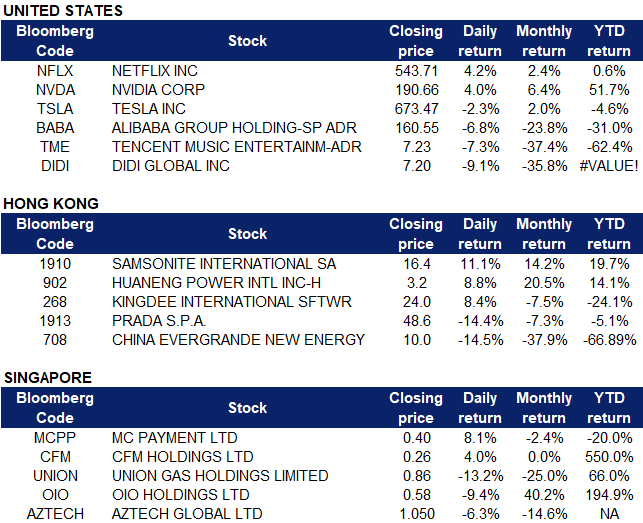 United States
Netflix (NFLX US) stocks were up 4.18% on Thursday. The company confirmed on Wednesday the launch of spatial audio support on Apple devices; however, this feature will not be rolled out immediately. This feature is currently available on competitor platforms HBO Max and Disney+. Netflix's shares have added about 1.6% since its last earnings report last month.
Nvidia (NVDA US) shares rose 3.98% after the semiconductor giant reported stellar second quarter financial results.Revenue surged 68% YOY to $6.5 billion, and sales in its data centre and gaming business increased 35% and 85% respectively. Adjusted operating income more than doubled to $3.1 billion. In turn, adjusted earnings per share rose 80% to $1.04. Management expects revenue to grow by roughly 44% YOY to $6.8 billion in Q3 2021.
Tesla (TSLA US) shares were down 2.25% on Thursday ahead of the company's AI Day event, which will be livestreamed on Friday, 20 August at 8pm EDT. AI Day will showcase the company's progress in the use of artificial intelligence. The National Highway Traffic Safety Administration (NHTSA) recently called for an investigation into the company's self-driving technology after several vehicle crashes, and two U.S. senators are also now asking the Federal Trade Commission to investigate if the company has properly represented its Autopilot and full self-driving technologies, as reported by CNBC. Many Tesla customers are also growing impatient over continually pushed back delivery dates, to which the electric vehicle maker has yet to comment on.
Chinese tech stocks took another tumble on Thursday after China's State Administration for Market Regulation unveiled new rules on Tuesday that will make it easier for start-ups and smaller online businesses to compete by making it more difficult for larger entities to leverage their market dominance. Alibaba Holdings (BABA US), Tencent Music (TME US) and DiDi Global (DIDI US) fell 6.9%, 7.3% and 9.9% respectively. The new limitations forbid concealing negative online reviews or algorithmically collecting rival companies' data relating to consumer sales. The China government also said that they were considering new rules that would protect the rights of drivers for ride-hailing companies like DiDi.
---
Singapore
Yanlord Land Group Limited (YLLG SP). Shares rose by 2.7% yesterday, even though there was no company specific news. Yanlord announced positive 1H21 earnings results on 12 August, where 1H2021 revenue rose by 44.7% YoY to RMB13.2mn while profit increased by 54.8% to RMB1.57bn. Total rental and hotel income of the group increased by 40.9% to RMB692mn, mainly attributable to the strong recovery of domestic business travel and tourism demand for hotels and serviced apartments in the PRC. Even though China's housing market eased in July as price gains slowed, investors could be less bearish on China's housing-related stocks as compared to other sectors, given that government intervention has merely resulted in a slight dip in home prices, as compared to significant declines in sectors such as big tech.
MC Payment Limited (MCPP SP). Shares continued to decline and closed at a one-month low, following the company's announcement of its half-yearly results on 14 August. Reported net loss was mainly due to one-time RTO expense of S$30.mn, of which S$26.4mn was a non-cash expense item relating to the write-off of "goodwill" for the reverse takeover of the Company. Disregarding this, the adjusted net profit was S$0.66mn, flat from 1H20's adjusted net profit of S$0.66mn. Read the full results here. Given stagnant profits, investors are likely liquidating their positions with a bearish outlook on the company's results moving forward.
Nanofilm Technologies International Limited (NANO SP). Shares continued to dip from Monday and closed at a YTD-low, after Nanofilm announced disappointing 1H21 results. 1H21's net profit fell by 2.3% to S$18.1mn. The company also announced that its Chief Operating Officer (COO) Ricky Tan has resigned to pursue other opportunities following the group's re-organisation. Additionally, in a news article published by The Edge yesterday, analysts from UOB Kay Hian, DBS and Jefferies downgraded Nanofilm to HOLD, with lowered target prices due to weak results and leadership uncertainty.
OIO Holdings Limited (OIO SP). Shares dropped by 6.8% yesterday as investors are likely taking profit after the price rally following OIO's positive 1H21 earnings results. Shares rose by 7.4% on Monday and closed at an all-time high. Even though losses widened by 68.7% YoY to S$638k, revenue surged by 142% YOY to S$1.6mn, backed by a 276% jump in blockchain business revenue. Gross profit margins also increased from 59.4% to 75.3% in 1H21. Losses were mainly attributable to promotional expenses, non-cash impairment due to the weaker crypto market in June and higher staff related costs.
Medtecs International Corporation Limited (MED SP). Shares continued to decline from Monday and closed at a 52-week low, after Medtecs announced disappointing 1H21 results. Revenue decreased by 47.5% YoY to US$85.3mn in 1H21, while net profit decreased by 52.4% to US$18.5 mn. This was due to reduced PPE demand in 1H2021 from customers that had already stocked up in FY2020, resulting in more stable market prices and supply chain situation. Investors are likely having a gloomy outlook on the company's results moving forwards, given that competitors are on the rise and masks are currently overstocked.
Trading Dashboard: Add Yangzijiang (YZJSGD SP) at S$1.43.
---
Hong Kong
Samsonite International SA (1910 HK). The company announced 1H21 interim results. Net sales slightly dipped by 0.4% YoY to US$799.5mn. Loss attributable to the equity holders narrowed by 85.4% YoY to US$142.5mn. Morgan Stanley maintained an OVERWEIGHT rating and a TP of HK$19.7. The bank believes the economic recovery in the US and Europe could improve its businesses in those areas.
Huaneng Power International Inc (902 HK). Shares closed at a 52-week high. China's power sector jumped as investors' moved away from growth sectors, especially the technology sector. Last month, NDRC announced plans to allow electricity prices to further rise by at least 20% during peak demand hours from current peak electricity prices.
Kingdee International Software Group Co. Ltd. (268 HK). The company announced 1H21 interim results. Revenue increased by approximately 35.0% YoY to RMB1.8bn. Loss attributable to owners of the Company expanded by 10.8% YoY to RMB248.1mn. UBS maintained a BUY rating with a TP of HK$34. The bank believes cloud services business will accelerate its growth. In 1H21, revenue from the cloud business (66% of the total revenue) increased by 55% YoY.
China Evergrande New Energy Vehicle Group Ltd. (708 HK). Shares closed at a 52-week low. Previously, the group's vice chairman sold 300mn shares of Evergrande New Energy Vehicle Group at the average price of HK$14.18.
PRADA S.p.A. (1913 HK). The Luxury brands sector plunged overnight. This could be due to China's authorities calling for wealth redistribution plans. Officials vowed to strengthen regulations and adjustment of high income, protect legal income, reasonably adjust excessive income, and encourage high-income groups and enterprises to give back to society.
---
Trading Dashboard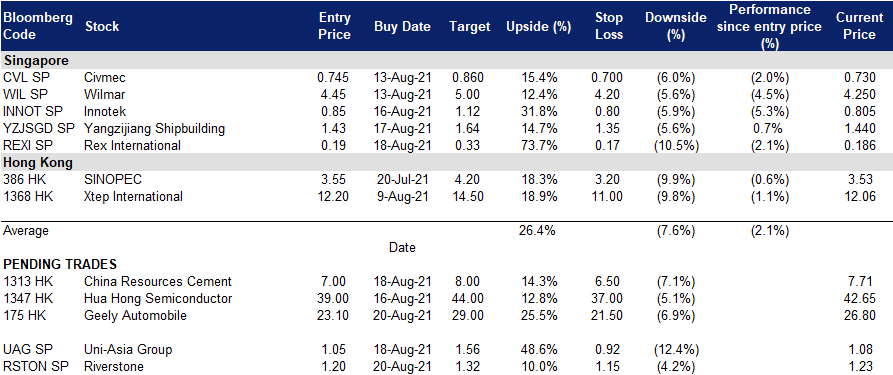 ---

---
Related Posts: