2 March 2022: Bumitama Agri (BAL SP), AviChina Industry & Technology Co Ltd (2357 HK)
Singapore Trading Ideas | Hong Kong Trading Ideas | Market Movers | Trading Dashboard
SINGAPORE
Bumitama Agri (BAL SP): It's getting crazy
BUY Entry – 0.74 Target – 0.92 Stop Loss – 0.66
A palm oil play. Bumitama Resources is a leading producer of palm oil and palm kernel in Indonesia. The group has a total planted area of 187,917 hectares and operates 14 CPO mills with a combined processing capacity of 6mn tonnes of fresh fruits bunches annually.
To the moon. Palm oil, the most consumed edible oil, surged to new all-time highs, topping RM8,000 a tonne, as sanctions against Russia increased worries over global shortages of essential commodities. Alternatives such as soybean oil also rose by 5% yesterday to the highest on record since 1959. The surge in palm oil and soybean oil comes amid disruption of sunflower oil, which is the world's third most traded vegetable oil. Ukraine is the world's largest producer and exporter of sunflower oil with a market share of 47% of global exports.
Earnings upside. Bumitama reported an 81% YoY surge in its 2H2021 net profit to S$117.5mn on the back of higher palm oil prices, despite sales volume dropping by 7% YoY. It was able to achieve a 40% YoY increase in average selling prices of crude palm oil. Earnings in 2022 is forecasted to reach the highest level since its IPO in 2012, as per Bloomberg consensus forecast.
Positive analysts rating. There are 4 BUY ratings and an average 12m TP of S$0.87, implying a 14.5% return from the last close price. However, shares could surprise on the upside given that Bumitama's 7.5x FY2022F P/E is the cheapest among the locally-listed palm oil companies.
Palm oil prices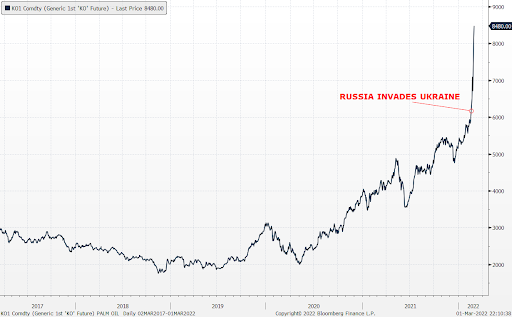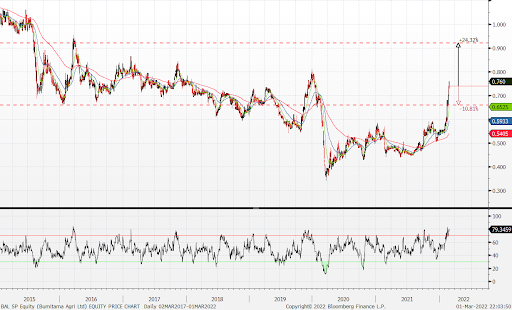 ---
Jiutian Chemical (JIUC SP): Stellar performance
RE-ITERATE BUY Entry – 0.084 Target – 0.105 Stop Loss – 0.075
Jiutian is the second largest Dimethylformamide (DMF) producer in China, with a total annual capacity of 150,000 tons of DMF and methylamine (MA). Both these chemicals are important ingredients in industries as diverse as consumer goods, petrochemicals, electronics, pharmaceuticals and fertilisers. In addition, it now produces chemicals for fast growing sectors such as batteries that are used in electric vehicles.
FY2021 net profit +79% YoY. JIUC reported a 79% YoY surge in net profit to RMB310mn, even when taking into account a RMB126mn impairment related to an associated company, Anyang Jiujiu Chemical Technology. This was on the back of strong average selling prices (ASP) of Dimethylformamide (DMF) and Methylamine. JIUC was able to achieve an ASP of RMB12,127 per tonne for DMF and RMB11,837 per tonne for Methylamine, an increase of 103% YoY and 57% YoY respectively. Overall sales volume increased 9-11% YoY.
Tight market riding on strong demand. Driven by the exceptionally high average selling prices, China DMF sector also recorded historically high profits which are estimated to be more than RMB7,000/tonne. The widening spread was mainly due to the relatively low cost of raw materials such as methanol and synthetic ammonia (trough-to-peak: up 55%) and the strong demand from Southeast Asia. The effective capacity of China's domestic DMF capacity in FY21 was 900,000 tonnes and the capacity utilisation rate averaged at 80%. In 2H21, market leader Hualu Hengsheng (600426 CH) had 150,000 tonnes of capacity overhaul, resulting in a shortage of DMF supply.
FY22 outlook remains upbeat. COVID-19 pandemic is expected to end in 2022 as the majority becomes vaccinated. With potential treatment pills released and the adoption of herd immunity policy, most countries will be fully opened by 2H22. The full normalisation of production activities will support demand for DMF and related products. Meanwhile, the domestic capacity will not see a substantial ramp-up this year. Therefore, the supply and demand dynamics will remain relatively tight. The raw material costs have little room to grow as methanol import is expected to resume to a normal level of 13mn tonnes, and the domestic methanol capacity is expected to be 70mn tonnes. Meanwhile, the domestic methanol demand is expected to be around 83mn tonnes.
Cheap valuations and higher dividends later. JIUC currently trades at only 2.7x FY2021 P/E. If we exclude the one-off impairment, JIUC will be trading at 1.9x FY2021 Core P/E. Assuming DMF prices of RMB10,000 per tonne in FY2022, which we believe is a very conservative assumption when compared to the current market price and the RMB12,127 ASP achieved in FY2021, JIUC will still be trading at only 3.8x FY2022F P/E. We understand that the S$0.0012 final dividend has not fully accounted for the stellar performance in FY2021 given the delay in cash transfer and we still expect that the company to be able to pay out at least S$0.011 based on a 25% payout ratio of its FY2021 net profit of RMB 310mn.
Jiutian's FY2021 Key financial highlights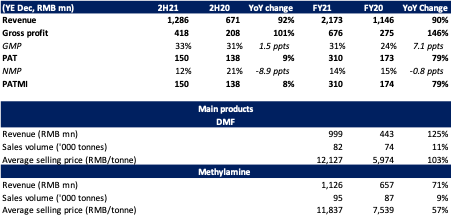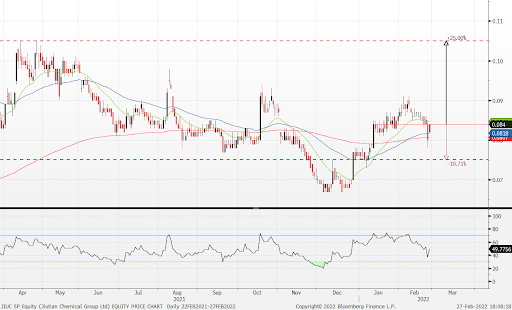 ---
HONG KONG
AviChina Industry & Technology Co Ltd (2357 HK): Arms race has begun
BUY Entry – 4.80 Target – 5.50 Stop Loss – 4.55
AviChina Industry & Technology Company Limited is principally engaged in the research, development, manufacture and sale of civil aviation products. The Company operates its business through two segments. The Aviation Entire Aircraft segment is engaged in the manufacture, assembly, sales and servicing of helicopters, trainers and other aircraft. The Aviation Parts and Components segment is engaged in the manufacture and sale of aviation parts and components.
Invasion marks the start of accelerating expansion of worldwide defence spending. The Russia-Ukraine conflict continued to escalate even though the peace talks ended on Monday night. Previously, Russia had raised nuclear threats by putting its nuclear forces on high alert on Sunday. Subsequently, Germany announced to commit EUR100bn (US$112.7bn) of the 2022 budget for the armed forces. Meanwhile, the EU agreed to give EUR500mn in arms to aid Ukraine. The ripple effect is expected to extend the arms race globally as the Middle East, South, Southeast and Northeast Asia have huge geographical disputes and ideological conflicts. China has been increasing its defence spending consistently. China's 2021 defence budget was RMB1.35tn, up 6.8% YoY. The world order which was built after WWII is being undermined, China is likely to budget more for 2022 defence expenditure to counter potential external unrest.
Preliminary FY21 earnings. Total operating revenue grew by 25.2% YoY to RMB12.9bn. Gross profits jumped by 34.9% YoY to RMB2.3bn. Net profits attributable to the shareholders excluding non-recurring gains and losses jumped by 38.4% YoY to RMB1.9bn.
The updated market consensus of the EPS growth in FY22/23 is 16.3%/13.5% YoY respectively, which translates to 11.1x/9.8x forward PE. The current PER is 13.4x. Bloomberg consensus average 12-month target price is HK$7.55.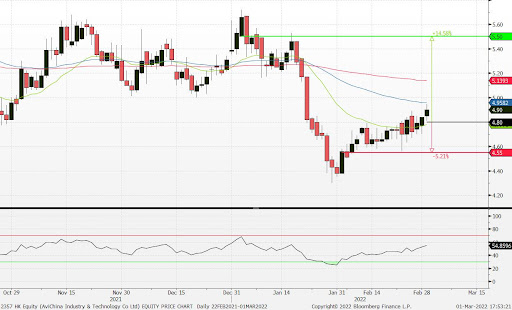 ---
Angang Steel Company Limited (347 HK): Butterfly effect benefits steel prices
RE-ITERATE BUY Entry – 3.75 Target – 4.20 Stop Loss – 3.50
Angang Steel Company Limited is a China-based company principally engaged in the production and distribution of steel. The Company's main products include hot-rolled steel sheet products, cold-rolled steel sheet products, medium and heavy sheets and other steel products. The Company distributes its products within the domestic market and to overseas markets.
A butterfly effect as a result of the invasion. Steel shipments from key exporter Ukraine have been halted following Russia's invasion of its neighbor early-Feb. Ukraine's steel accounts for 10% of Europe's import. The overhang of war could push steel prices higher in the near term.
Inflation concern is the next focus. The US, Europe, and China released their inflation data recently, showing that inflation pressure is still high. Commodities including oil and gas, metals, and agricultural products have been climbing with an increase in fund inflows. Hedging is necessary during the rising inflation cycle.
Positive profit alert for FY21. In January, the company announced a positive FY21 profit guidance. Net profit attributable to shareholders of the company jump by 256% YoY to RMB7.04bn. The strong earnings were due to higher selling prices and significant cost reduction.
The updated market consensus of the EPS growth in FY22/23 is -9.88%/1.72% YoY respectively, which translates to 3.8x/3.7x forward PE. Current PER is 3.6x. FY22F/23F dividend yield is 10.1%/10.6%. Bloomberg consensus average 12-month target price is HK$5.89.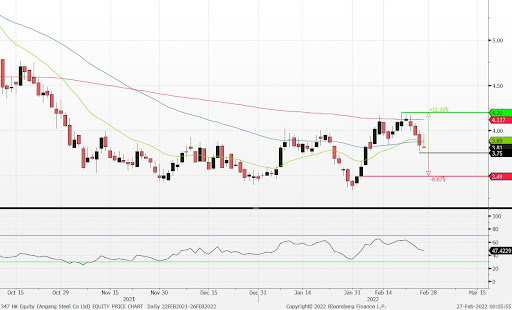 ---
MARKET MOVERS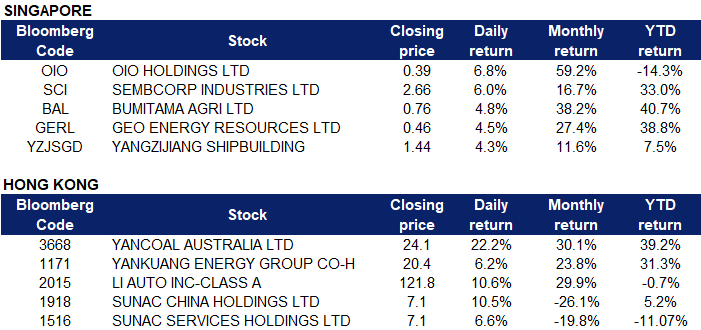 ---
United States
Top Sector Losers
Target Corp (TGT US) shares rose 9.8% yesterday after the company reported 9% sales growth in the fiscal fourth quarter, despite supply chain pressures, and said it's poised to keep that momentum going. The discounter said it expects sales to rise, even as shoppers see prices of food, fuel and other goods creep higher. It forecast revenue growth for the coming year in the low to mid single digits and projected adjusted earnings per share to rise by high single digits. Those are above analysts' expectations, according to Refinitiv.
Occidental Petroleum Corp (OXY US) shares jumped 7% yesterday. Oil prices surged Tuesday, with U.S. crude hitting its highest level since June 2014 as Russia bears down on Ukraine's capital. WTI crude futures, the U.S. oil benchmark, jumped 11.5% at the highs of the day to $106.78 per barrel, while Brent crude futures hit a high of $107.57 per barrel, a price last seen in July 2014. On Monday, Canada said it was banning Russian oil imports, but so far it's the only nation to target Russia's energy complex directly. The International Energy Agency agreed Tuesday to release 60 million barrels of oil from global reserves, in an effort to ease some of the current supply constraints.
Chevron Corp (CVX US) shares rose 4% yesterday. Chevron will ramp up share buybacks as it expects higher returns across the next four years, at a time when major oil companies have seen their stock prices boosted by crude prices at seven-year highs. Chevron said that it expected to continue to improve cost efficiency and deliver higher returns, at its annual investor day Tuesday. That includes as much as doubling its share buyback guidance range each year to $5 billion to $10 billion, up from a prior range of $3 billion to $5 billion. In addition, Bank of America reiterated its buy rating on the stock. The call came after Chevron said it was close to acquiring Renewable Energy Group.
Lucid Group Inc (LCID US) shares lost 13.8% yesterday after reporting a wider-than-expected loss of 64 cents per share, while analysts expected a loss of 25 cents per share, according to Refinitiv. Revenue came in at $26.4 million, below the forecast $36.7 million.
Zoom Video Communications Inc (ZM US) shares lost 7.4% yesterday after the video conferencing platform issued a weaker-than-expected first quarter and full-year guidance. The company beat earnings and revenue expectations for the fourth quarter. Zoom's revenue growth has slowed as employees started returning to the office and companies eased their purchases of software for remote work.
---
Singapore
OIO Holdings Ltd (OIO SP) shares gained 6.8% yesterday, after announcing record FY2021 revenue on Monday. 4Q2021 revenue jumped 161.2%, from S$0.5 million to S$1.4 million YoY. The increase was largely due to the S$1.3 million contribution from the staking business operated by Moonstake, which OIO acquired on 31 May 2021. mainly due to contributions from the blockchain business segment. With the added contribution from Moonstake, gross profit margin increased from -37.5% to 87.8% in 4Q FY2021. However, OIO recorded a net loss of S$1.3 million in 4Q2021 mainly because of the loss on disposal of crypto assets of S$0.6 million and impairment loss on crypto assets of S$0.9 million due to the relatively weak cryptocurrency market in December 2021.
Sembcorp Industries Ltd (SCI SP) shares gained 6% yesterday. Recently, it was announced that Sembcorp Industries and Keppel Group collectively inked 6 agreements with Vietnam to support the country's energy transition and sustainable development while President Nguyen Xuan Phuc is in Singapore on a state visit on Friday (Feb 25). Sembcorp's first agreement covers the commencement of the development of Vietnam Singapore Industrial Park (VSIP) Binh Duong (park III). The park will incorporate smart technology across its operations, including energy, water and waste use, as well as traffic and security management.
Bumitama Agri Ltd (BAL SP) shares rose 4.8% yesterday, after RHB Research upgraded its call on Bumitama Agri to "buy" from "neutral" while raising its target price to S$0.90 from S$0.56, based on an unchanged 8 times FY2022 earnings estimates. This comes after the Indonesian palm oil producer on Monday (Feb 28) beat the street's expectations with its FY2021 results. RHB also likes the stock for its inexpensive valuations versus its peers. At the share price of S$0.73, the stock is trading below -1 standard deviation from its 5-year mean of 7 times P/E – which is unwarranted, in the research house's view.
Geo Energy Resources Ltd (GERL SP) extended their rally and rose 4.5% yesterday. Geo Energy Resources reported a record 2021. Driven by the increase in sales volume and high ASP, Geo Energy achieved its highest ever revenue and net profits in FY2021. Revenue doubled YoY to US$641.9 million in 2021. Net profit from operations of US$179.1 million was a turnaround from the net loss from operations of US$11.5 million in 2020, excluding the gain on repurchases of USD bonds. Geo Energy rewarded shareholders with a final dividend of 5 cents, after paying out an interim dividend of 4 cents, taking the dividend payout ratio to 52%.
Yangzijiang Shipbuilding Holdings Ltd (YZJSGD SP) shares rose 4.3% yesterday. Yangzijiang Shipbuilding's net profit rose 54% to 2.06 billion yuan for the six months ended Dec 31, 2021, up from the 1.34 billion yuan it posted during the same period a year earlier. Revenue for the same period increased 55% to 10.17 billion yuan, up from 6.58 billion yuan the year before. The rise in revenue comes on the back of a rise in core shipbuilding revenue as the group shipped 27 vessels in the second half of the year, up from 17 vessels the previous year. Core shipbuilding revenue rose 80% to 8.42 billion yuan.
---
Hong Kong
Top Sector Gainers
Top Sector Losers
Yancoal Australia Ltd (3668 HK), Yankuang Energy Group Company Ltd (1171 HK). Coal sector shares rose collectively yesterday. Shares surged 22% yesterday and 6.2% respectively yesterday. Yancoal Australia announced its results for the year ended December 31, 2021 yesterday. The company achieved revenue of A$5.404 billion during the period, a Yoy increase of 55.6%, while profit attributable to owners of the company was A$791 million. Profit after tax of A$791 million was a significant improvement from the loss after tax of A$1,040 million in 2020. The increase in the group's revenue was mainly attributable to a 72% increase in coal prices, the announcement said. In addition, German Economy Minister Robert Habeck stated on February 27 that the use of coal may be expanded in the future to reduce dependence on Russian natural gas. German Chancellor Scholz also announced on Sunday plans to build two new liquefied natural gas (LNG) terminals, also aimed at expanding Germany's energy options.
Li Auto Inc (2015 HK) shares gained 10.6% yesterday. According to its unaudited earnings report published on Friday, Li Auto Inc returned to profitability in the fourth quarter of 2021, notching strong gains in deliveries despite a global shortage of microchips. For the three months ended December 2021, Li Auto posted a net profit of 295.5 million yuan, compared to a 21.5 million yuan net loss in the previous quarter and a 107.5 million yuan net profit in the same period in 2020. Yesterday, Macquarie released a research report and maintained its outperform rating on Li Auto with a target price of HK$151.
Sunac China Holdings Ltd (1918 HK) and Sunac Services Holdings Ltd (1516 HK) shares rose 10.5% and 6.6% respectively yesterday, after Sunac stated that all corporate bonds of the company were repaid on time and in full with principal and interest. In addition, Sunac China is in talks with four major Chinese asset managers including Cinda on project cooperations, a person with knowledge of the matter said on Monday. Each cooperation could be worth tens of billion yuan, the person added.
---
Trading Dashboard
Trading Dashboard Update: No additions/deletions to trading dashboard.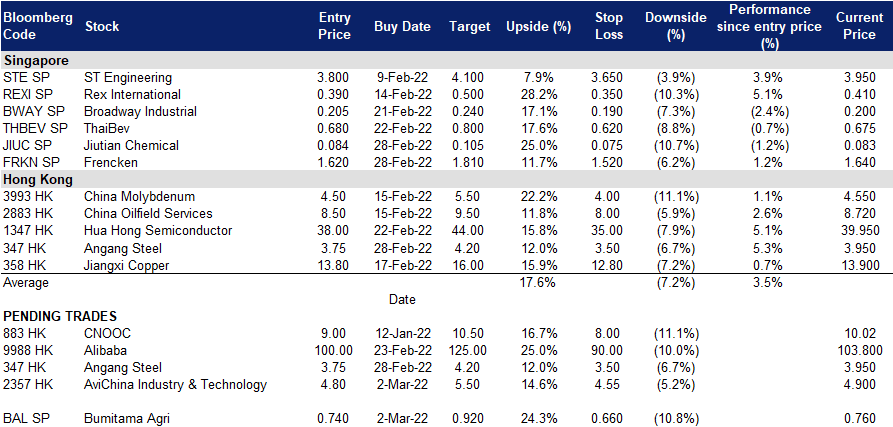 (Click to enlarge image)
---