KGI DAILY TRADING IDEAS – 2 August 2021
IPO Performance Review: Robinhood Markets (HOOD US) | Singapore Trading Ideas | Hong Kong Trading Ideas | Market Movers  | Trading Dashboard
IPO PERFORMANCE REVIEW
Robinhood (HOOD US): Not so merry after all
Not a merry first two days. Shares dipped by 8.4% and closed at US$34.82 on the first day of trading; rebounded slightly on Friday, closing at US$35.15, an increase of 1.0% but still 7.5% lower than its IPO price.
Possible reasons why the stock dipped: 1) Increased regulatory scrutiny over its business practices, 2) Close to one-third of offering sold to retail traders via its own app, which could have suppressed early trading since first-day pops are often driven by demand from retail investors' shut out of IPOs, and 3) Retail investors either shorting or selling their IPO allotment as "revenge" against Robinhood for January's trading halt of meme stocks.
Cathie Wood buying again. Investor Cathie Wood's ARK Invest acquired about 1.3mn shares on Robinhood's first day of public trading and another 1.85mn shares on Friday, bringing ARK's stake to more than 3mn shares.
SINGAPORE
Rex International (REXI SP): The only game in town
BUY Entry – 0.21 Target – 0.32 Stop Loss – 0.19
Rex International Holding (Rex) is a pure-play oil & gas exploration and production company (Independent). It owns and operates an oil-producing field in Oman and has a portfolio of exploration licenses in Norway. Its recent acquisition of the Norwegian Brage oil field will add another production asset to its portfolio. This is an accomplishment from its early days when it was listed on the SGX as a pure-play explorer.
Record free cash flows. Free cash flow generated by oil and gas companies are expected to break records this year with oil currently trading above US$70 per barrel. For Rex, the windfall will continue to strengthen its already strong balance sheet and give it opportunities to diversify.
The coming of age. Rex's value creation strategy is to leverage technology to identify and acquire assets that are near to relevant infrastructure. While it now has a portfolio of more than 10 licenses, including 3 discovery assets with commercial development potential, the group is currently in an excellent position to generate record free cash flows from its producing assets. Based on US$65 oil price, we forecast Rex's net cash position to surge to US$107mn by FY2022F. This is equivalent to S$144mn or 54% of the group's current market capitalisation.
Initiate with Outperform and TP of S$0.32. We initiate with an Outperform recommendation and a TP of S$0.32, based on discounted cash flows, taking into account a WACC of 11.0% and terminal growth rate of 3.0%. Rex's strong balance sheet, free cash flow generation and access to capital, differentiates it from many other E&P companies. Rex is the only game in town (at least on the SGX) for investors looking for direct exposure to the neglected O&G sector.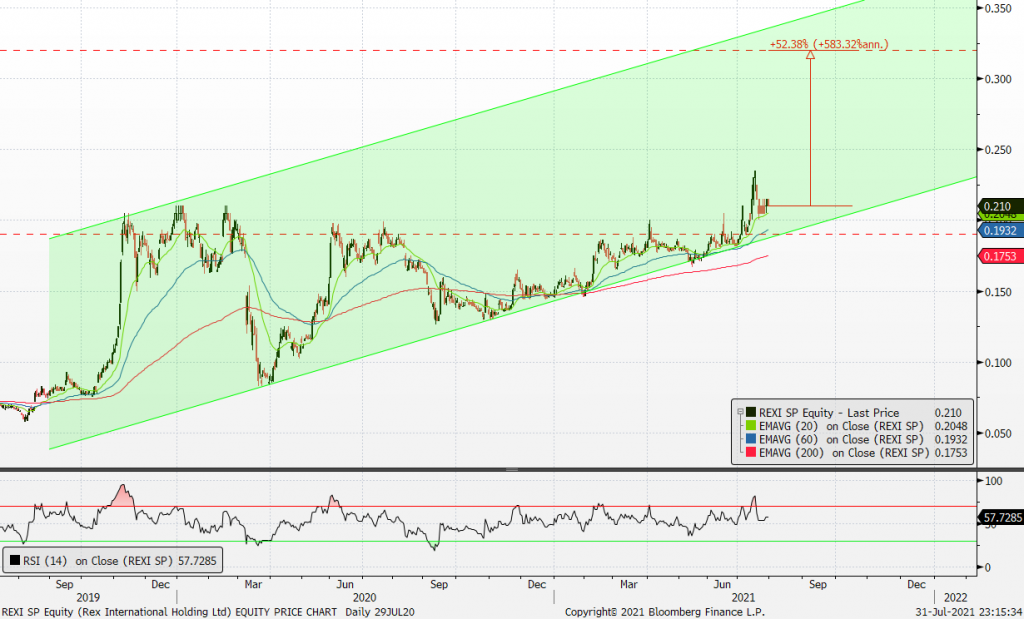 ---
Q&M Dental (QNM SP): Testing, testing and more testing
BUY Entry – 0.81 Target – 0.91 Stop Loss – 0.77
Q&M Dental Group (Q&M) is the largest private dental healthcare group in Singapore with more than 70 dental clinics islandwide. The group has more than 200 qualified and experienced dentists, about 40 are specialists or dentists who have undergone extensive post-graduate training either locally or from various established training institutions overseas.
Resilience amidst adversity. Q&M has remained resilient with its dental and medical services through Covid-19. It continues to be the bread and butter of the group, as its network of clinics dominate the private dental healthcare space.
Leading Covid-19 test provider. In 1Q21, the group generated S$4.6mn sales from its equipment and lab tests segment (from S$1.6mn in 1Q20), a significant part contributed from its investment in medical tech firm Acumen Diagnostics. Given the continued need for Covid-19 testing regardless of the availability of vaccines, we are confident on the outlook of Acumen Diagnostics in 2021 and 2022.
Street is bullish. Analysts are upbeat on the prospects of the company with 6 BUYS / 0 HOLD / 0 SELL and a 12-month target price of S$0.95 (+17% potential upside). Earnings per share is expected to increase by 62% YoY in FY2021 and 16% YoY in FY2022 respectively, which would bring its FY2022 P/E to 17x, a discount to other healthcare peers.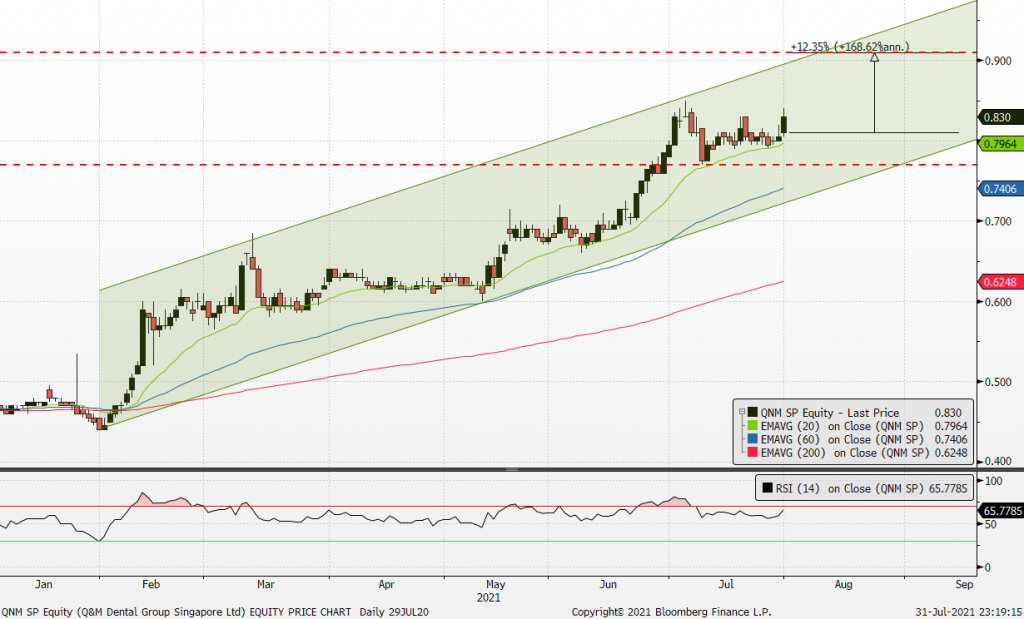 ---
HONG KONG
Xinjiang Goldwind Science & Tech Co Ltd (2208 HK): Go with the wind
Buy Entry – 13.8 Target – 15.9 Stop Loss – 12.8
Xinjiang Goldwind Science & Tech Co Ltd is a China-based company, principally engaged in the manufacture and distribution of wind turbine generator sets and spare parts. The company is also engaged in the provision of wind power services, as well as the investment and development of wind farms. The company distributes its products within domestic and overseas markets.
The recent overall market weakness resulted from the sell-down of the technology sector. The impact from regulation and policy risks are not expected to diminish in the near term. Investors are currently unsure of further policy risks and have turned risk-averse. However, several sectors or investment themes are relatively risk-free in terms of policy, namely semiconductor, electric vehicle, and clean energy.
China's wind power sector gained some positive momentum amid the market sell-down last week. According to the National Energy Administration's announcement on 28th July, China has increased utility-scale offshore wind electricity generation capacity to 11.13 GW, surpassing 10.4GW of installed capacity in the UK at the end of 2020. With a 3.63 GW increase in installed capacity in 1H21, China has overtaken the UK to be the world's largest operator of installed offshore wind capacity. In 1H21, wind power generation grew by 44.6% YoY to 344,180 GWh. Currently, China's overall wind power installed capacity is 292 GW.
Both onshore and offshore wind power installed capacity is expected to be 50 GW in 2021, 40 GW of which will be installed in 2H21. The overall wind power installed capacity during the 14th-Five-Year Plan period (2021-2025) is expected to be more than 300 GW.
Updated market consensus of the EPS growths in FY21 and FY22 are 26.1% YoY and 4.4% YoY respectively, which translates to 14.3x and 13.7x forward PE. Current PER is 17.6x. Bloomberg consensus average 12-month target price is HK$15.24.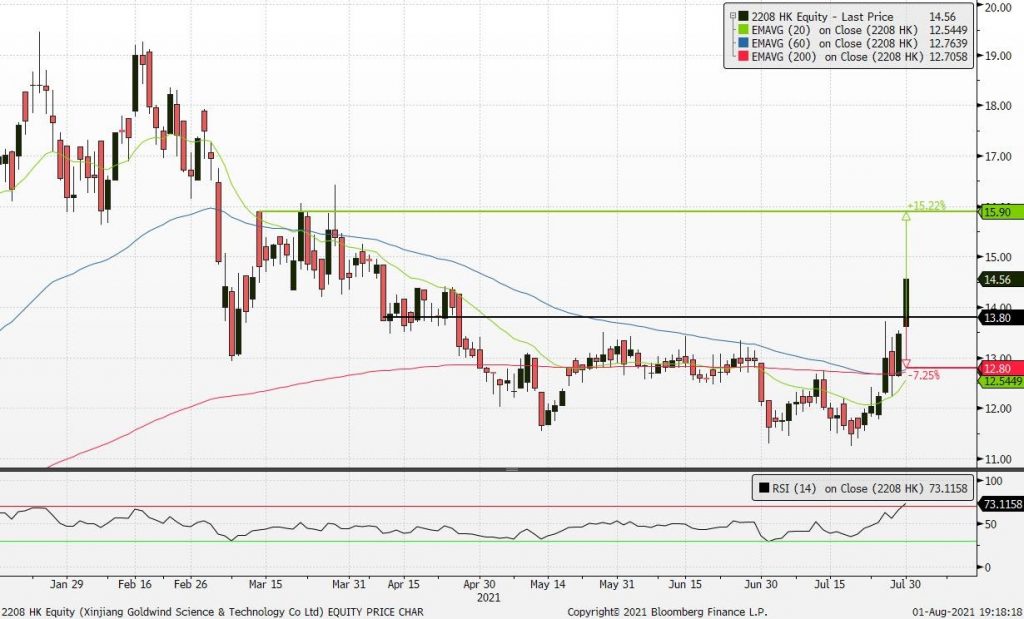 ---
Jiangxi Copper Company Limited (358 HK): Rest is over, the new run is starting
Reiterate BUY Entry – 15.8 Target – 17.9 Stop Loss – 14.8
Jiangxi Copper Company Limited is a China-based company, principally engaged in the mining, smelting and processing of copper. The company is also engaged in the extraction and processing of precious metals and dissipated metals, sulfur chemical industry business, and financial and trading businesses. The company's products include cathode copper, gold, silver, sulfuric acid, copper rods, copper foils, selenium, tellurium, rhenium, bismuth and others. The Company mainly conducts its businesses within Mainland China and Hongkong.
According to the Shanghai Futures Exchange, the copper inventory had been dropping substantially, from about 100,000 tonnes on 28th June to slightly above 50,000 tonnes on 23th July. A new wave of demand for copper kick-started in July.
COMEX copper futures closed at a one-month high of US$4.45/pound, breaking out the consolidating channel. The stock has relatively high copper beta (regression against copper futures). The market estimates of copper price average at US$9,138/tonne (US$4.14/pound) by 4Q21. Based on the regression model and the average estimates, the implied stock price is HK$16.
Updated market consensus of the EPS growths in FY21 and FY22 are 75.6% YoY and 8% YoY respectively, which translates to 9.5x and 8.8x forward PE. Current PER is 15.1x. Bloomberg consensus average 12-month target price is HK$19.68.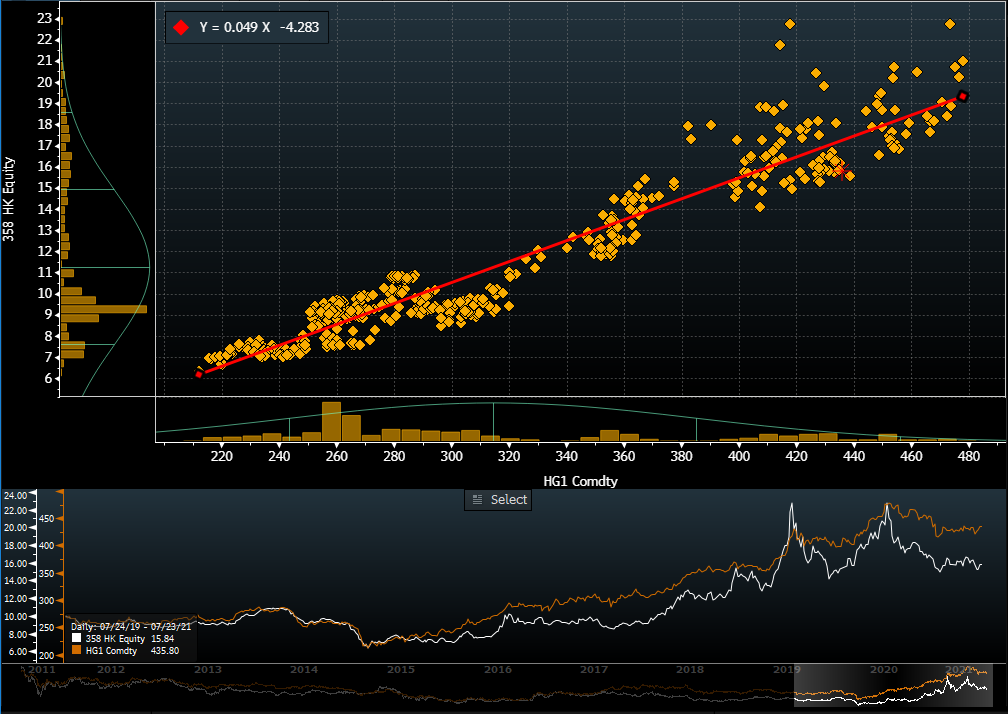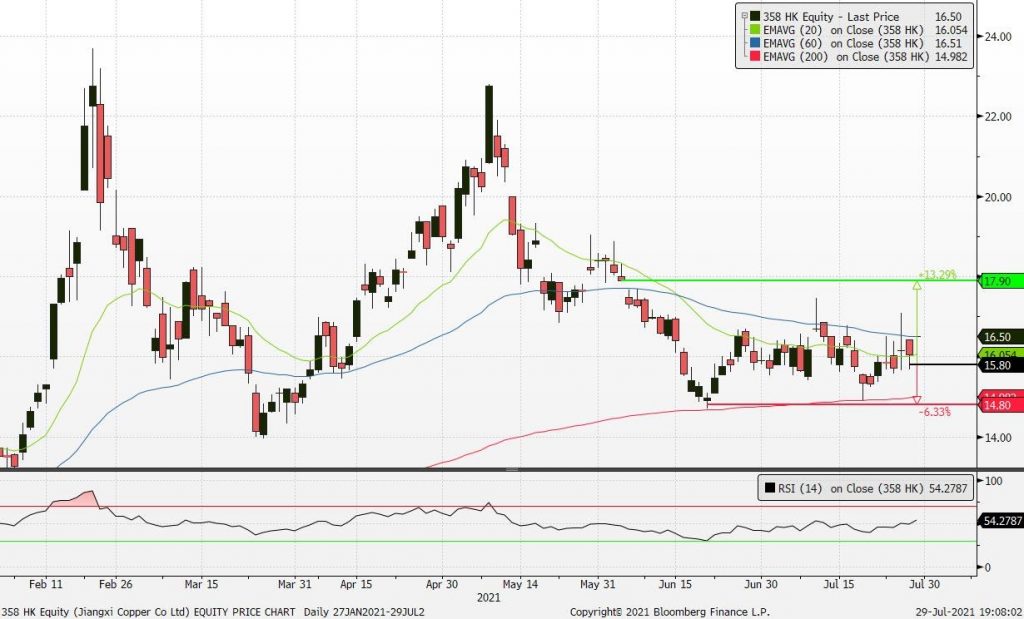 ---
Market Movers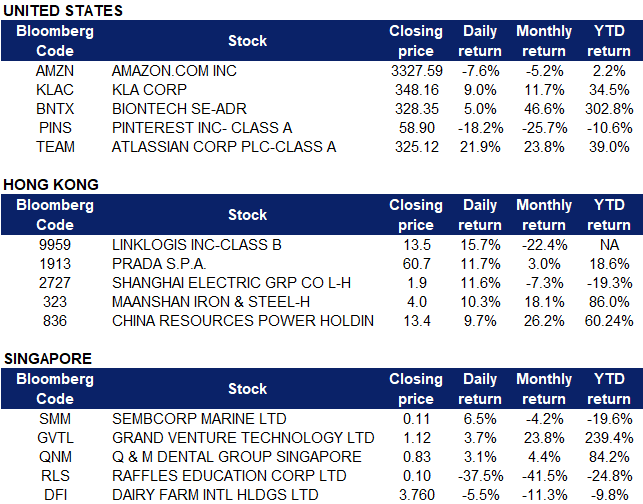 United States
Amazon (AMZN US) shares dropped 7.56% on Friday after the company lowered sales growth estimates. The world's largest e-commerce company has been facing logistics concerns, where they had to turn away stock shipments to its warehouses due to a lack of storage space and warehouse employees. Amazon also disclosed that Europe just levied a 746 million euro fine, or roughly $887 million, in its earnings filings with the Securities and Exchange Commission. The fine was imposed by the Luxembourg National Commission for Data Protection (CNPD), the top privacy regulator covering Amazon in the EU. On July 16, the CNPD determined that Amazon's processing of user data runs afoul of Europe's privacy regulations.
KLA Corporation (KLAC US) finished 8.99% higher on Friday, after reporting solid fiscal fourth quarter results amid favourable conditions in the semiconductor industry. Revenue was up 32% YOY at $1.93 billion, and adjusted earnings per share stood at $4.43, which beat analyst estimates.
BioNTech (BNTX US) shares rose 5.04% on Friday, ahead of its second quarter results that are to be released on 9 August 2021. BioNTech's partner, Pfizer (PFE US) increased its full-year sales guidance for the companies' COVID-19 vaccine from $26 billion to $33.5 billion. Both companies also provided a positive update from early testing of the vaccine's third booster dose. BioNTech also stands to receive half of the extra $7.5 billion in COVID-19 vaccine sales expected by Pfizer this year.
Pinterest (PINS US) reported disappointing second quarter results that led to its crash on Friday. The stock plunged 18.24% to $58.90. Despite reporting strong YOY growth, with revenue growing 125%, its lower-than-estimated monthly active users was what sent the shares crashing down. Economic reopening has led to users spending more time outside home and lesser time on Pinterest; MAU declined 24 million from Q1 to Q2.
Atlassian (TEAM US) skyrocketed as much as 31% on Friday before closing 21% higher at $325.12 following the release of its fourth quarter results. The Australian-based business-software reported that overall sales climbed 30% YOY, while subscription-based revenue jumped 50% YOY as a result of the company's pivot toward cloud-only installations. The stock has now gained 344% over the past three years.
---
Singapore
Sembcorp Marine Limited (SMM SP) Shares rose by 6.5% after the company announced its 1H21 results on 29 July. SembMarine posted a loss of S$647.2mn for H1 FY2021, widening from a loss of S$192.1mn in the same period a year before. However, company executives said that, barring unforeseen circumstances, they expect losses to narrow in the second half of the year. An article in The Straits Times earlier last week made the case for minority shareholders with the means to apply for excess hares to further average down their investment cost.
Grand Venture Technology Limited (GVTL SP) Shares rose by 3.7% and closed at an all-time high even though there was no company specific news on Friday. Grand Venture is a manufacturing solutions and services provider for the semiconductor, analytical life sciences, electronics and other industries. Investors could be bullish on the stock as AMD which operates in the semiconductor industry announced outstanding results on Friday, with share price reaching an all-time high. SAC Capital had earlier initiated with a BUY recommendation and a TP of S$1.18, representing a 5.4% upside from Friday's closing price of S$1.12. Grand Venture is due to report its 1H21 earnings by mid-August.
Q & M Dental Group (Singapore) Limited (QNM SP) Shares rose by 3.1% on Friday, as investors continued to buy in following an article published by The Edge on 28 July. DBS Group Research is keeping its BUY call on Q&M Dental Group with an increased TP of S$1.00 from S$0.84 previously, implying a potential upside of 25%. With Q&M entering the Covid-19 testing business, the research team believes that testing will be the new norm in an endemic world, because of the possibility of reinfections from new variants and asymptomatic transmission. Furthermore, testing will allow for the removal of quarantine measures which has been a showstopper for travel.
Raffles Education Limited (RLS SP) Shares dipped by 37.5% on Friday and closed at a one-year low, after the company announced its subsidiaries have been served writs and statement of claim filed by Affin Bank Berhad on 27 May 2021 in the High Court of Malaysia. The writs related to certain alleged non-repayments under the facility, and Affin Bank has sought an immediate repayment of the entire outstanding amounts of around RM 410 million.
Dairy Farm International Holdings Limited (DFI SP) Shares dropped 5.5% and closed at its lowest since June 2020 after the company announced a disappointing set of 1H2021 results. Sales decreased by 4% YoY to US$14bn and net profit decreased by 85% YoY to US$17mn. The Chairman of Dairy Farm mentioned that the ongoing pandemic-related restrictions have significantly affected trading in all markets, impacting the group's overall performance in the period. There remains significant uncertainty as to the future impact of the pandemic on Dairy Farm's businesses and trading conditions in the second half are likely to remain challenging.
Trading Dashboard Update: Add Del Monte Pacific (DELM SP) at S$0.42 and First Resources (FR SP) at S$1.34.
---
Hong Kong
Linklogis Inc (9959 HK) Company announced that it repurchased 139mn shares at a price range between HK$11.78 and HK$11.24 on 29th July.
PRADA SpA (1913 HK) Share closed at an 8-year high after it announced 1H21 results. Retail net sales jump by 60% YoY to EUR1.5bn. Gross margin edged up by 2.6ppts to 74.3%. Net income arrived at EUR96.9mn in 1H21 compared to EUR183.5mn losses in 1H20. UBS and JP Morgan upgraded TP to HK$64 and HK$58 respectively.
Shanghai Electric Group Co Ltd (2727 HK) Shares recovered from a 52-week low after it announced the proposed removal of Mr. Zheng Jianhua, director, chairman of the board, chairman of strategy committee and chief executive officer. For now, the company has made proper arrangements for related work, and the issue will not have a significant impact on the company's normal production and operation.
Maanshan Iron & Steel Co Ltd (323 HK) Steel sector jumped after China announced to raise export tariffs for pig iron and ferrochrome, and remove export tax rebates for 23 steel products from Aug. 1, the second adjustment in three months as it seeks to ensure domestic supply while controlling output to curb emissions. Export tariffs for high-purity pig iron will be lifted to 20% from 15%, and for ferrochrome will be increased to 40% from 20%. It will also cancel export tax rebates for 23 steel products, including some cold-rolled coils and silicon steel which have higher added-value compared with carbon steel.
China Resources Power Holdings Co Ltd (836 HK) Power sector jumped after the National Development and Reform Commission announced the electricity price during peak hours can be charged by 20% or higher than the previous peak hours prices.
---
Trading Dashboard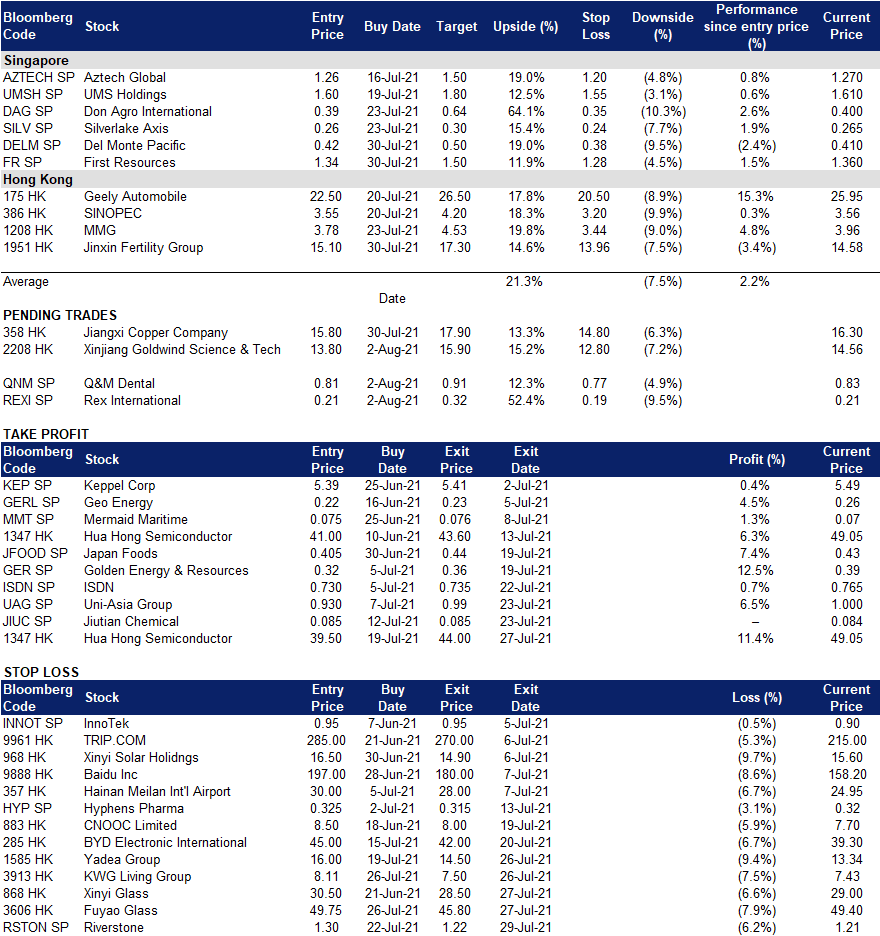 ---

---
Related Posts: