19 August 2022: Ascendas REIT (AREIT SP), China Tourism Group Duty Free Corp Ltd (1880)
Singapore Trading Ideas | Hong Kong Trading Ideas | Market Movers | Trading Dashboard
Ascendas REIT (AREIT SP): 1H22 results to see positive rental reversions and inorganic growth
RE-ITERATE BUY Entry 2.97 – Target – 3.17 Stop Loss – 2.86
Ascendas Reit (AREIT) is Singapore's first and largest listed Business Space and Industrial Real Estate Investment Trust (REIT). As at 31 March 2022, it owns 221 properties across three key segments, namely, 1) Business Space and Life Science, 2) Logistics and 3) Industrial and Data Centres. Ascendas Reit's multi-asset portfolio is anchored by well-located quality properties across developed markets. 95 properties are located in Singapore, 36 properties in Australia, 41 properties in the United States and 49 properties in the United Kingdom/Europe. These properties host a customer base of more than 1,600 international and local companies from a wide range of industries and activities, including data centres, information technology, engineering, logistics & supply chain management, biomedical sciences, financial services (backroom office support), electronics, government and other manufacturing and services industries.
JTC 2Q22 report implies continued strength in industrial rents. JTC's 2Q22 market report showed that prices (+1.5% QoQ, +5.2% YoY) and rents (+1.5% QoQ, +3.4% YoY) of Singapore industrial spaces continued to climb for a 7th straight quarter. This was further supported by a creeping up in occupancy rates (+0.2ppt QoQ, -0.2ppt YoY) after dipping in 1Q22. JTC noted that the strong manufacturing performance, particularly in electronics and precision engineering segments, helped to drive demand for factories during the period.
Stable rental reversions and acquisitions to mitigate divestments. AREIT's 1H22 results should be boosted by inorganic growth after it acquired ~S$2.4bn of assets since 2021 (completed acquisition of 2 Australian properties in 1Q22). The completion of S$23m of AEIs during the year should also see an uplift to performance. AREIT had reported positive rental reversions of 4.5% in 2021 and 4.6% in 1Q22 and could see such a trend continue for the rest of the year. Notably, management had guided for positive low single-digit reversion in 2022 during its 1Q22 business update. Nonetheless, growth could be pared by S$248m worth of divestments, which were completed in 2021.
Stable growth expected in FY22F financials, likely undervalued. The Street currently has 14/4/0 BUY/HOLD/SELL ratings and an average TP of S$3.23. Based on consensus estimates, FY22F gross revenue/NPI should pick up by 6.2%/6.2% YoY to S$1.3bn/S$977.8m respectively. In line with this, the street is expecting FY22F DPU to expand 3.9%YoY to 15.9¢ (FY21: 15.3¢) implying a fairly attractive yield of 5.4%. At current prices, AREIT would trade at 1.2x P/B almost 1sd away from its 2-year average of 1.3x.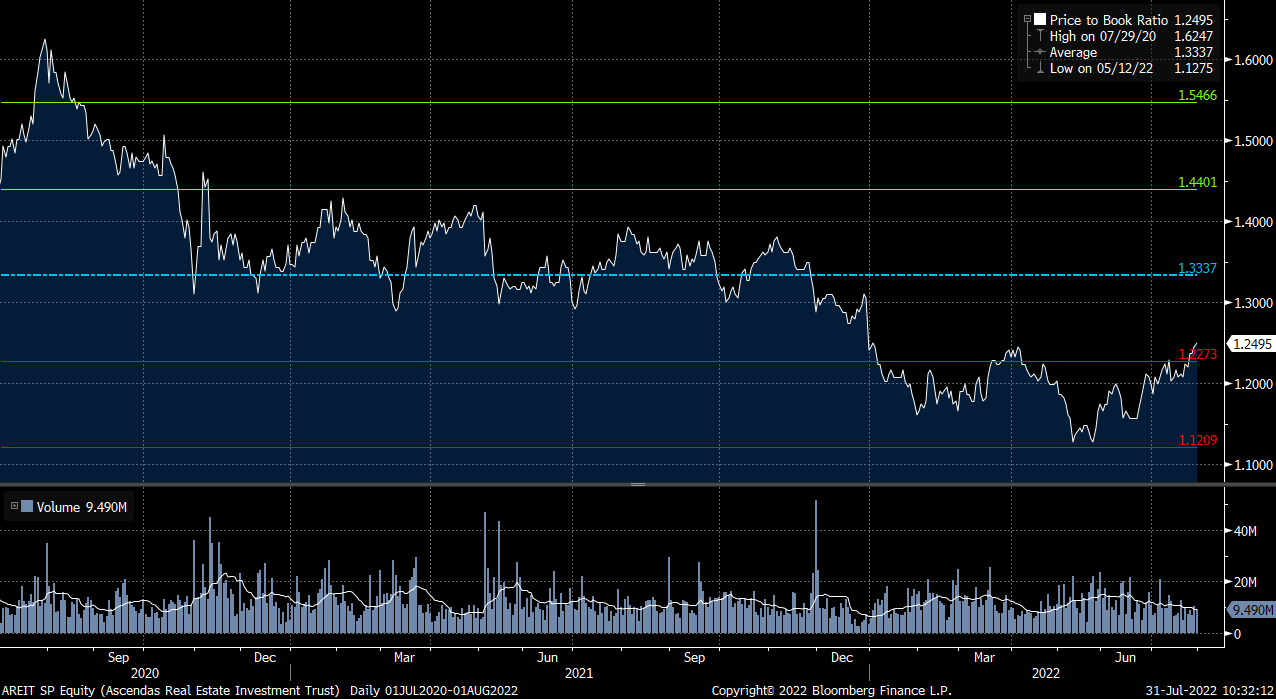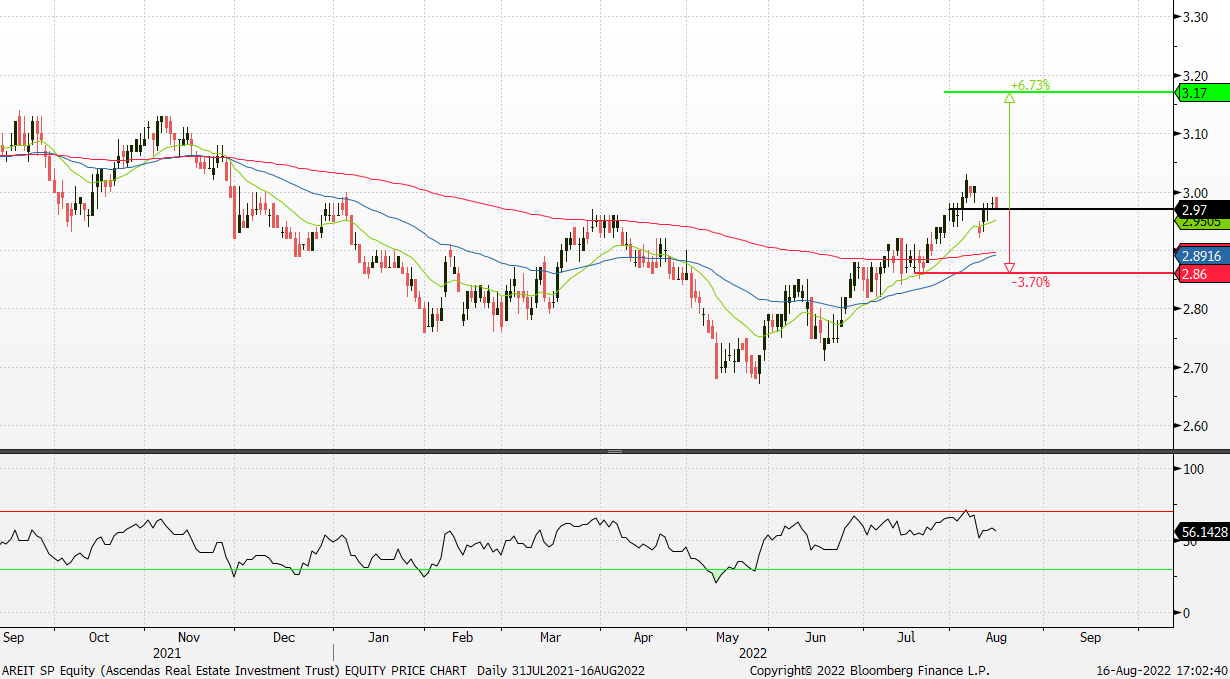 (Source: Bloomberg)

PropNex (PROP SP): Position for bumper FY23F despite weaker 1H22 results; DPS offers strong safety net
RE-ITERATE BUY Entry 1.67 – Target – 1.96 Stop Loss – 1.55
PropNex is an integrated real estate services group. Its core business consists of four business segments namely; i) real estate brokerage, ii) training, iii) property management, and iv) real estate consultancy. Its primary business is in the provision of real estate brokerage services comprising real estate agency and project marketing services. PROP operates its real estate agency through PropNex Realty which is supported by PropNex International in project marketing.
1H22 results were fairly muted due mainly to fewer marketing launches. PROP reported weaker 1H22 NPAT of S$28.3m (-17.7% YoY) on relatively stable revenue of S$472.3m (-1.8% YoY) as the property cooling measures in Dec21 tamed price growth in the private residential market in 2Q2022 to a more sustainable pace. Transaction volumes softened in 1H22 as compared to the same period in 2021 as buyers held back on property purchases to monitor the impact of the fresh cooling measures introduced in Dec21. Despite fewer project launches at the start of the year, PROP's performance was balanced by higher income from the other segments as more transactions were completed in 2Q2022.
FY23F could see a bumper crop of launches. During its earnings brief, management maintained a sanguine outlook on private property prices for the rest of FY22F. It sees private property prices in the OCR and RCR to grow from 2021 in light of tight supply in those regions. Further afield in FY22F, PROP notes that the continued growth in GLS prices (OCR: +12.2% YoY, RCR: +18.4% YoY) implies that launch prices in FY23F will likely have another leg up to go. Additionally, the successful GLS and enbloc transactions would point to heightened launch activity in 2023.
FY22F/23F yield of 6%/6.6% to provide strong support. The Street currently has 3/3/0 BUY/HOLD/SELL ratings and an average TP of S$1.96. Based on updated consensus estimates, FY23F revenue should slip by 3.4% YoY to S$742m, but margins may remain stable as PATMI holds pat at S$49.5m (-0.5% YoY). Nonetheless, FY23F DPU should expand by 10% YoY to S$0.11, implying a yield of 6.6%, higher than its 2-year average of 6%.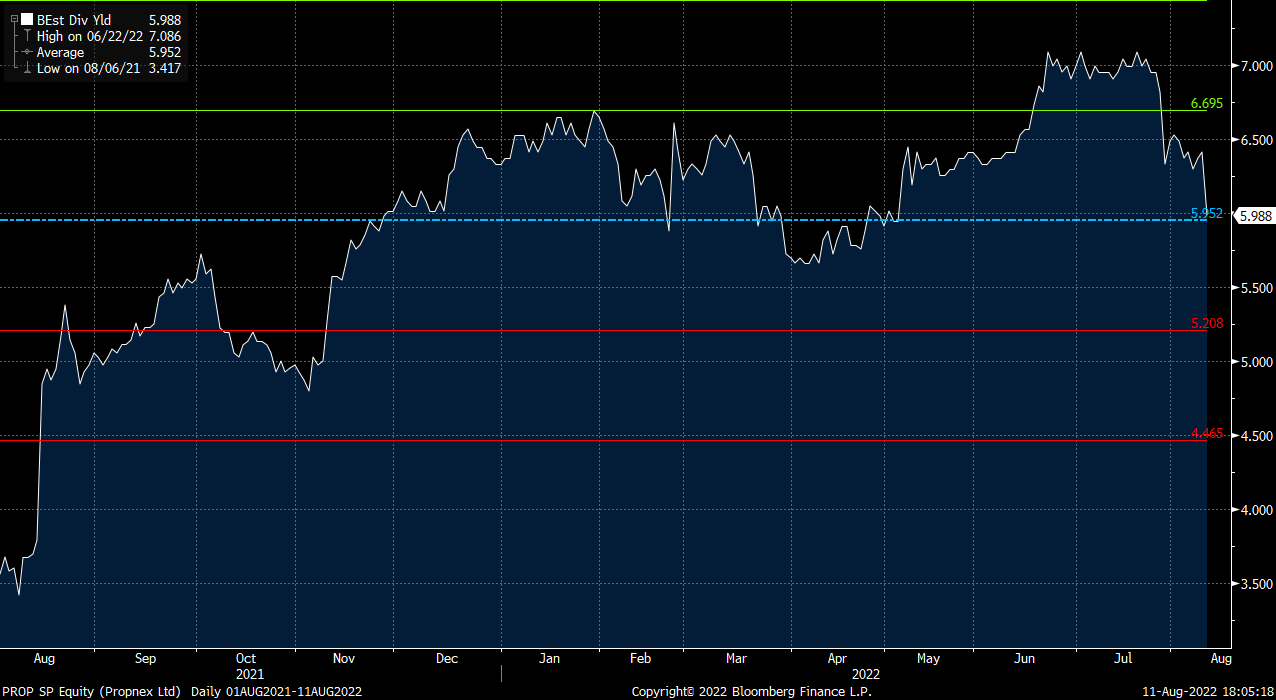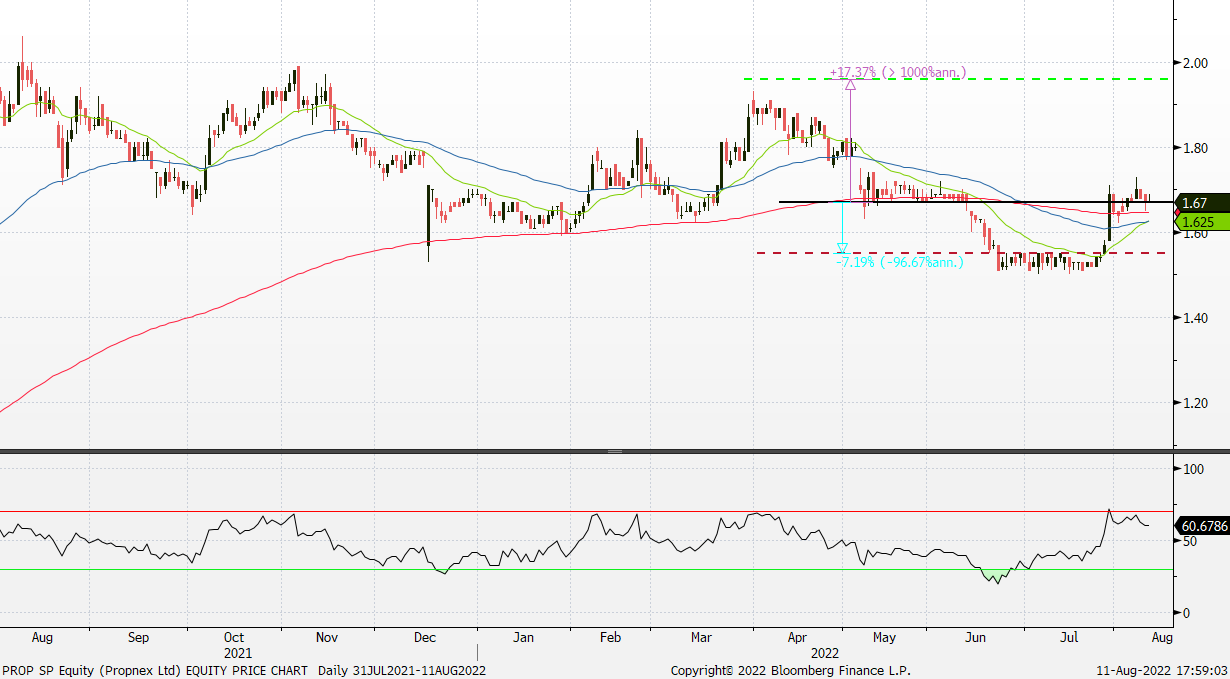 China Tourism Group Duty Free Corp Ltd (1880): A new largest IPO in Hong Kong YTD in 2022
IPO overview:

Sector: Consumer discretionary
Issued price: HK$143.5 – 165.5
Total new shares issued: 102.8mn
Initial market cap: HK$294.18 – 340.1bn
Sponsors: CICC, UBS
IPO deadline: 18th August Thursday

China Tourism Group Duty Free is the largest travel retail operator in the world focusing on sales of high-quality duty-free and duty-paid merchandise to travelers. Worldwide ranking by retail sales value has steadily over the past ten years, from the 19th in 2010 to the 12th in 2015, and further to the fourth in 2019 before reaching the first in 2020 and 2021, with 24.6% share of the global travel retail industry in 2021. The company is the only retail operator in China covering all duty-free sales channels (which include port stores, offshore stores, downtown stores, cruise stores, inflight stores and ship-supply stores). It has the most dutyfree stores in China. It operates 193 stores, including 184 stores in 100 cities across 28 provinces, municipalities and autonomous regions in China. It also operates 9 duty-free stores overseas in Hong Kong, Macau and Cambodia.
Financials overview over the past three years.

Use of proceeds. 48.8% of the proceed raised by China Tourism Group Duty Free's H-share listing is to reinforce domestic channels, and 22.5% of which is to expand overseas channels. The remaining 13.5%/10.0%/3.7%/1.5% is for supply chain efficiency improvement/working captial/marketing/information technology system upgrade respectively.
Valuations. According to Bloomberg, the consensus estimates of FY22/23 EPS growth is -1.54%/49.73%, translating to 38.9x/26.1x. The long-term average PER before COVID-19 occurred was at 31.6x. Assuming FY22F net profit to be similar to the one in FY21. The fair valuation of the company will be RMB307.4bn, equivalent to HK$354.9bn based on the long term average PER, implying an upside potential of 4.4% if the IPO pricing is set at HK$165.5.
China Tourism Group Duty Free Corp Ltd (601888 CH) 10-year PER
Xinte Energy Co Ltd (1799 HK): Polysilicon price reached a three-month high
Xinte Energy Co., Ltd. is an investment holding company principally engaged in the provision of solar energy and wind power solutions. The Company operates through seven segments. Polysilicon Production segment is engaged in the production and sales of polysilicon. Engineering and Construction Contracting (ECC) segment is engaged in the provision of ECC services for solar energy plants and wind power plants. Inverter Manufacturing segment is engaged in the manufacture of inverters. Sales of Electricity segment is engaged in the generation and sales of electricity. Photovoltaic (PV) Wafer and Module Manufacturing segment is engaged in the manufacture and sales of PV wafers and modules. Build-Own-Operate (BOO) segment is engaged in the building and operation of solar energy plants and wind power plants. Others segment is engaged in related trading businesses and the provision of design and logistics services.
Downstream demand for silicon remains strong, upholding selling prices. According to the Silicon Industry of China Nonferrous Metals Industry Association, the domestic output of polysilicon is expected to grow by 13% MoM to 66,000 tonnes this month. Together with 7,000 tonnes of import, the total domestic supply is expected to be 73,000 tonnes in August. However, selling prices continue to edge even though the supply marginally improves as downstream demand remains strong.
China Polysilicon Spot Price (RMB/tonne), First-class and solar grade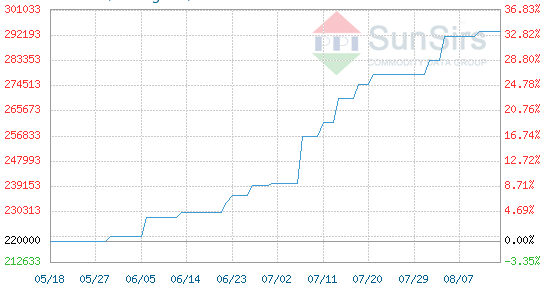 Positive 1H22 profit guidance. The unaudited net profit attributable to the shareholders is in the range of RMB5.5bn to RMB6.0bn in 1H22, representing a substantial increase over the corresponding period in 2021, due to an increase in both sales volume and average sales price of polysilicon products as well as an increase in profit from the construction and operation businesses of wind power and photovoltaic power plants.
Updated market consensus of the EPS growth in FY22/23 is 71.1%/-15.7% YoY respectively, which translates to 2.8x/3.3x forward PE. Current PER is 4.9x. FY22F/23F dividend yield is 9.0%/7.4%. Bloomberg consensus average 12-month target price is HK$28.62.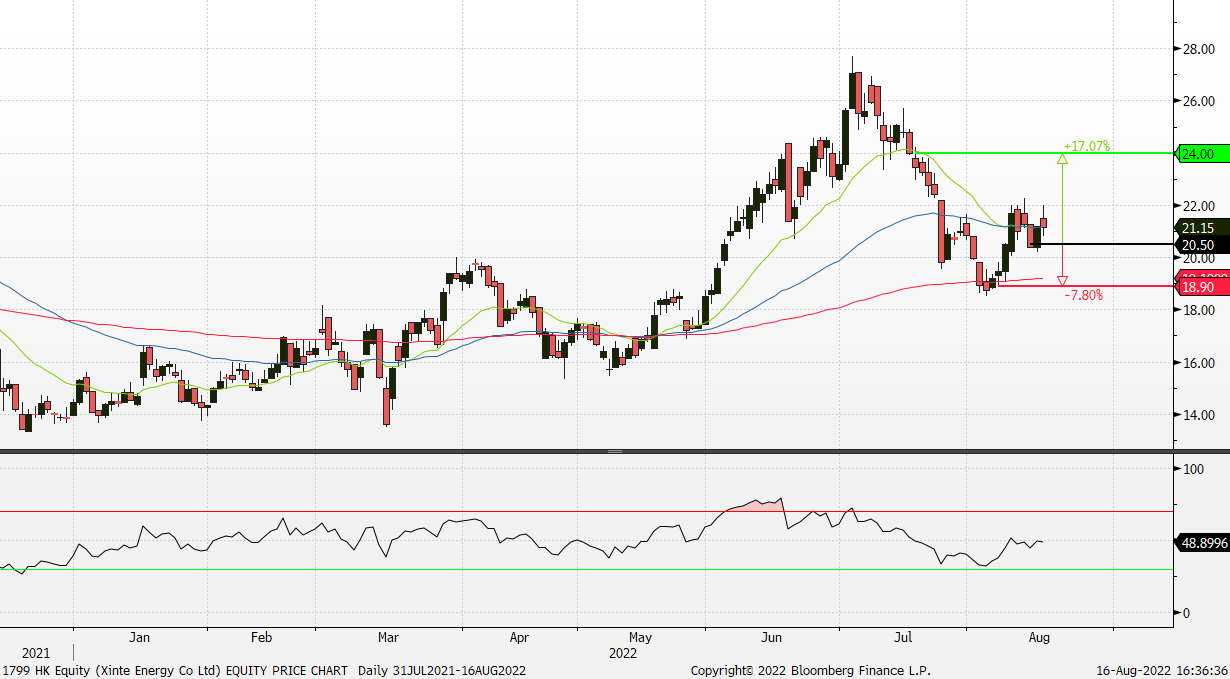 (Source: Bloomberg)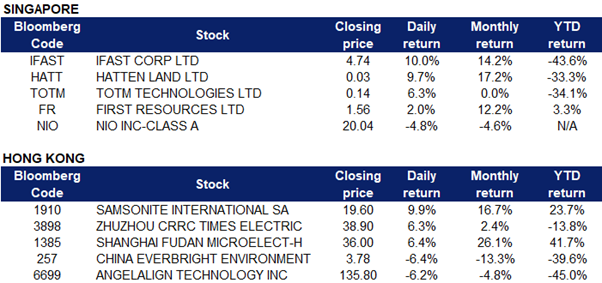 United States
Top Sector Gainers
Top Sector Losers
Bed Bath & Beyond Inc (BBBY US) which surged in August, dropped 19.6%. Investors appeared to be reacting to activist investor Ryan Cohen's filing that he intends to sell his entire stake in the company.
Kohl's Corp (KSS US) sank 7.7% after the retailer slashed its financial forecast for the year, citing inflation pressures on middle-income customers. The company expects net sales in fiscal 2022 down 5% to 6%, down from a prior range of flat to up 1%. However, Kohl's beat analysts' expectations for fiscal second-quarter profit and revenue.
Cisco Systems Inc (CSCO US) jumped 5.8%. The company reported earnings after the bell on Wednesday that beat estimates. Cisco also provided a better-than-expected forecast for 2023.
BJ's Wholesale Club Holdings Inc (BJ US) popped 7.2% on Thursday after BJ's reported better-than-expected results for the second quarter. The company generated $1.06 in adjusted earnings per share on $5.01 billion of revenue. Analysts surveyed by FactSet were expecting 80 cents per share on $4.67 billion of revenue. The company's comparable sales rose 7.6% year over year, excluding gasoline. BJ's was also upgraded by Bank of America to a buy from neutral.
Wolfspeed Inc (WOLF US) surged 31.9% after the semiconductor company surpassed expectations in its most recent earnings report. Wolfspeed CEO Gregg Lowe said he remains "very encouraged about the industry's prospects for future growth and the activity we are seeing across our end-markets."

Singapore
iFAST Corp Ltd (IFAST SP) rose 10.0% yesterday. There was no company specific news that prompted the increase.
Hatten Land Ltd (HATT SP) rose 9.7%, it signed a partnership agreement with Moonton Games on Aug 18. Under the agreement, both parties will jointly develop and launch the world's first Mobile Legends: Bang Bang Integrated Esports Hub in Melaka at Hatten Land's Element X mall. In addition, the partnership agreement will see both companies promote Mobile Legends: Bang Bang in Malaysia and across the region via marketing campaigns, esports tournaments and branding events. Developed by Moonton Games, Mobile Legends: Bang Bang has more than one billion downloads globally with a consistent player base of 100 million monthly active users. The game is the top multiplayer online battle arena game in Southeast Asia.
Totm Technologies Ltd (TOTM SP) rose 6.3% yesterday. On August 17, the company had completed the allotment and issuance of all 33,400 placement shares and proposed placement. With the allotment and issuance of the 33,400,000 placement shares, the share capital of the company has increased from 849,303,716 shares to 882,703,716 shares. Listing of the 33,400,000 Placement Shares is expected to take place on 18 August 2022.
First Resources Ltd (FR SP) rose 2.0% yesterday, with RHB Group Research analysts maintaining their "neutral" call on First Resources. In the report, they explained that the company has an inventory build up of 131,000 tonnes in 2QFY2022 — much higher than 1HFY2021's 20,000 tonnes. This was due to the export ban impact and export permit issues in May and June. "First Resources is maintaining its FFB growth guidance, as it has seen production picking up strongly in 3Q. Meanwhile, the slight labour shortage issue faced in 1HFY2022 has been relatively resolved. We keep our FY2022-FY2023 growth assumptions at 2%-5%," the analysts add.
NIO Inc (NIO SP) dipped 4.8% lower as continued weakness in the Chinese economy is weighing on the ADR sectors. It seems as though the Chinese economy might be in worse shape than first realised. Nio investors were clearly still feeling the effects of a disappointing earnings report from rival Li Auto. On Monday, Beijing cut interest rates for the country as July economic data showed that the economy regressed last month, most likely due to the aforementioned COVID-lockdowns.

Hong Kong
Top Sector Gainers
Top Sector Losers
Samsonite International SA (1910 HK) rose 9.9%, it announced its first-half results on Wednesday (August 17) evening. During the period, it achieved net sales of US$1.27 billion, a year-on-year increase. 58.9%; the profit attributable to equity holders was US$56.3 million, while the loss attributable to equity holders was US$143 million in the same period last year, turning losses into profits year-on-year. Samsonite said that due to the continuous introduction of effective vaccines in the market, and the further relaxation of social distancing, travel and other restrictions by many governments, the tourism industry continued to recover, and the impact of the epidemic on the company's product demand was alleviated. The company's comprehensive net sales showed continued improvement in the first half of 2022. The chairman of the company believes that the strong rebound in tourism this summer, and as countries increasingly ease restrictions, he expects the tourism industry to continue to expand globally, driving continued recovery of business.
Zhuzhou CRRC Times Electric Co Ltd (3898 HK) rose 6.3% yesterday. The company said that the current IGBT vehicle specification product guidelines have been revised up to 1.2 million, and the price has also been raised since June, achieving both volume and price increases. Recently, Guosen Securities commented that they are optimistic about the company's leading technology of high-voltage IGBT, silicon carbide and other power devices and the advanced manufacturing capacity of core equipment. It is estimated that the company's net profit attributable to the parent in 22-24 is 22/2.5/2.8 billion yuan (YoY+9%/12%/14%), and a "buy" rating is given.
Shanghai Fudan Microelectronics Group Co Ltd (1385 HK) shares rose 6.4%, after recently announcing that in the first half of the year the group achieved operating income of 1.702 billion yuan, a year-on-year increase of 50.83%; net profit attributable to shareholders of listed companies was 531 million yuan, a year-on-year increase of 172.99%. Everbright Overseas released a research report saying that the company, as the earliest domestic manufacturer to launch 100 million-gate FPGA products, has effectively filled the gap of domestic high-end FPGAs. In the past two years, it had sped up its mass production. Under the wave of localization substitution, it effectively seized the domestic market. Shanghai Fudan has started the research and development process of 1 billion gate-level FPGA products with 14/16nm process, which will further widen the gap with competitors. In the future, FPGA chips will become its main driving force for revenue growth. Furthermore, FPGA chips have higher gross profit margins due to higher technical barriers, Shanghai Fudan is expected to see its overall profitability increase as the proportion of FPGA revenue increases.
China Everbright Environment Group Ltd (0257 HK) shares plunged 6.4% after releasing its interim results, with revenue during the period of approximately HK$21.449 billion, a year-on-year decrease of 19%. Profit attributable to equity holders of the company was HK$2.811 billion, a year-on-year decrease of 28%. During the period, the Group's environmental protection energy, green environmental protection and environmental protection water projects had a total revenue of HK$20.845 billion.
Angelalign Technology Inc (6699 HK) shares continued to fall 6.2% yesterday. The National Medical Insurance Bureau has decided to comprehensively carry out the investigation and registration of dental implant charges and medical service prices. In the future, the cost adjustment of implant systems, crowns and other materials and the standardisation of medical service fees in the national implant collection plan may be promoted simultaneously. Furthermore, Angelalign recently issued an interim profit warning. CITIC Securities commented that the company's 2022H1 performance was under pressure, and it is expected to resume healthy growth in the post-epidemic period. It is expected that there will be a lag in the demand of patients, and benign growth is expected to gradually resume in the second half of the year


Trading Dashboard Update: Cut loss on Hua Hong Semiconductor (1347 HK) at HK$24.0