18 May 2022: Jiutian Chemical Group Limited (C8R SP), BYD Company Ltd (1211 HK)
Singapore Trading Ideas | Hong Kong Trading Ideas | Market Movers | Trading Dashboard

Jiutian Chemical Group Limited (C8R SP): Raise TP to S$0.245 and expect to see another record year in FY22
BUY Entry – 0.100 Target – 0.110 Stop Loss – 0.095
Jiutian is the second largest Dimethylformamide (DMF) producer in China, with a total annual capacity of 150,000 tons of DMF and methylamine (MA). Both these chemicals are important ingredients in industries as diverse as consumer goods, petrochemicals, electronics, pharmaceuticals and fertilisers. In addition, it now produces chemicals for fast growing sectors such as batteries that are used in electric vehicles.
Strong 1Q22 results despite a surge in COVID cases. 1Q22 revenue jumped by 76% YoY to RMB772mn. Net profit jumped by 123% YoY to RMB201mn. The sales volumes could be less than last year during the same period as China started to adopt certain restriction measures to contain COVID-19 spreads in March, affecting logistics. However, the average DMF prices ranged from RMB15,000/tonne to RMB16,000/tonne in 1Q22 compared to RMB9,000/tonne to RMB11,000/tonne in 1Q21. The cash and cash equivalents arrived at a record high of RMB1.02bn. Meanwhile, the company proposed an interim dividend of 0.75 SG cents (A dividend yield of 7.7% as of the closing price of S$0.097).
China Dimethylformamide (Industrial Grade) Monthly Average Price (RMB/tonne)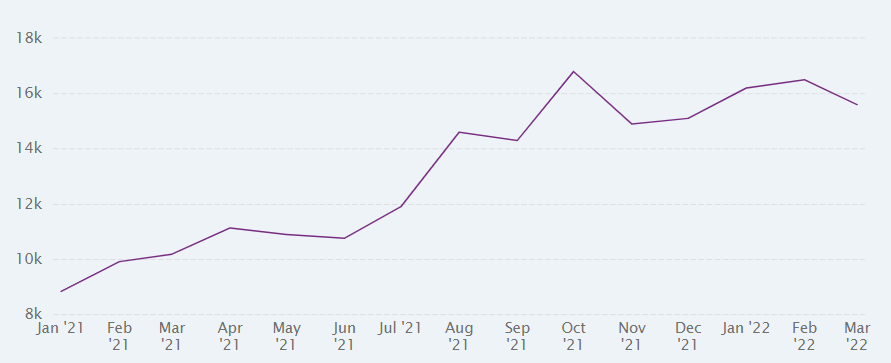 Source: CEIC
2H22 outlook to remain stable. In the near term, China will continue to persist in its zero-covid policy which stifles economic growth. However, China started to carry out the counter-cycle monetary policies by lowering the loan prime rate and required rate of reserve in 1Q22. Meanwhile, the National Development and Reform Commission is drafting a US$2.3tn infrastructure plan. Moving forward, the expansionary fiscal and monetary policies will uphold the rebound of the domestic economy in 2H22.
Technical TP of S$0.110; fundamental TP of S$0.245. While we have a Technical TP of S$0.110 based on short-term technical factors, we raised our fundamentals-based TP of S$10.245. Our fundamental TP is based on the upbeat outlook of its earnings and the average of peers' PE multiples. Read the full results updates report here.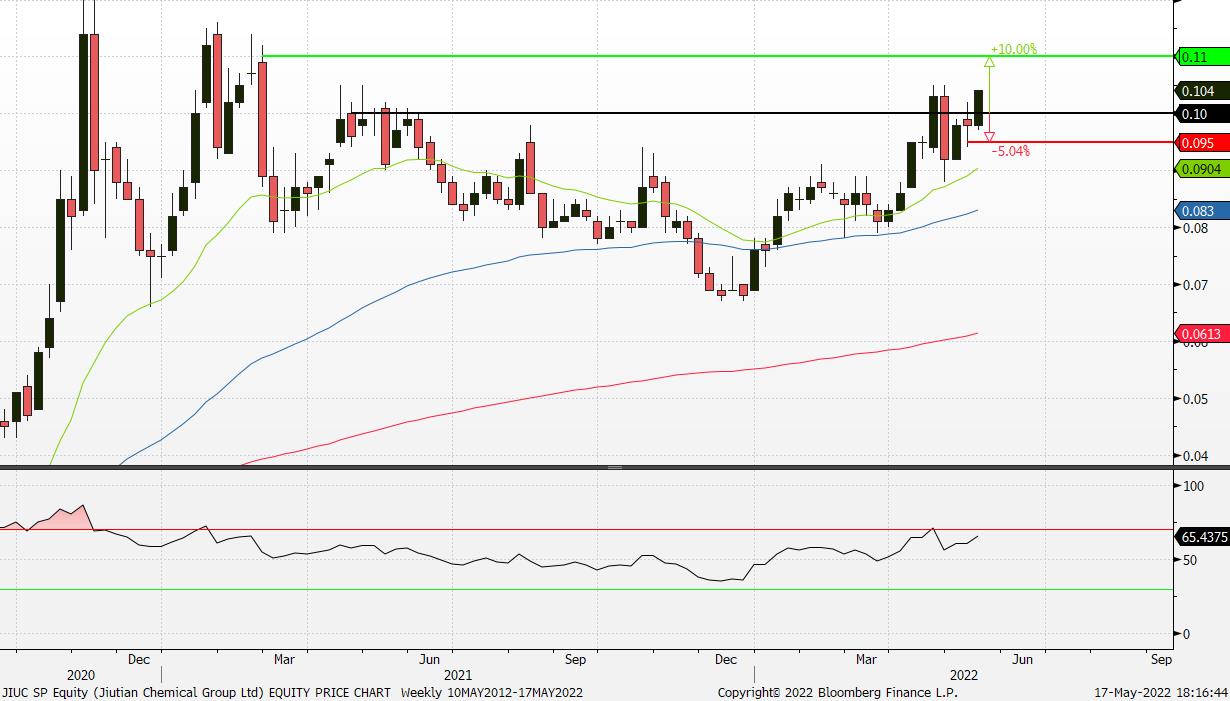 (Source: Bloomberg)

Singtel Ltd (ST SP): Breaking the 52-week high
RE-ITERATE BUY Entry – 2.75 Target – 2.95 Stop Loss – 2.66
Singtel provides an extensive range of telecommunications and digital services to consumers and businesses across Asia, Australia, Africa and the US. It serves over 753 million mobile customers in 21 countries, including Singapore, Australia (via wholly-owned subsidiary Singtel Optus) and the emerging markets of India, Indonesia, the Philippines, Thailand and Africa.
Headwinds are easing. Singtel is forecasted to post mid-single digit EBITDA growth in FY2022, a turnaround from the 16% decline in the prior year financial period. Stabilising Singapore average revenue per user (ARPU) and higher Optus ARPU may drive EBITDA growth higher. Furthermore, dividends from associates, which make up more than 25% of operating cash flow, may finally be turning around, driven mainly by the easing of competition of associate Bharti Airtel.
Defensive play against inflation. US consumer prices rose at an annual pace of 8.3% last month, more than economists' expectations and staying at a four-decade high, underscoring the urgency of the Federal Reserve's push to stamp out inflation. The Fed has increased its efforts to contain price pressures, implementing its first half-point rate rise in more than two decades this month. The Fed's reduction of its $9tn balance sheet will also commence in June, the second of two levers it is using to cool the economy.
Latest acquisition: Axicom. Earlier this month, Singtel announced that its associate, Australia Tower Network Pty Ltd (ATN), has completed the acquisition of Axicom, a provider of telecommunications tower infrastructure in Australia. Meanwhile, ATN owns mobile networks and rooftop sites in Australia, and also operates telecommunications towers for Singtel's Australian telco subsidiary Optus. AustralianSuper head of infrastructure Nik Kemp said Axicom is complementary to its existing digital infrastructure portfolio and the combination of the 2 businesses will "result in the creation of a provider with a truly national footprint".
Earnings date. Singtel will be releasing its results for the second half and financial year ended 31 March 2022 on 27 May 2022, before trading hours.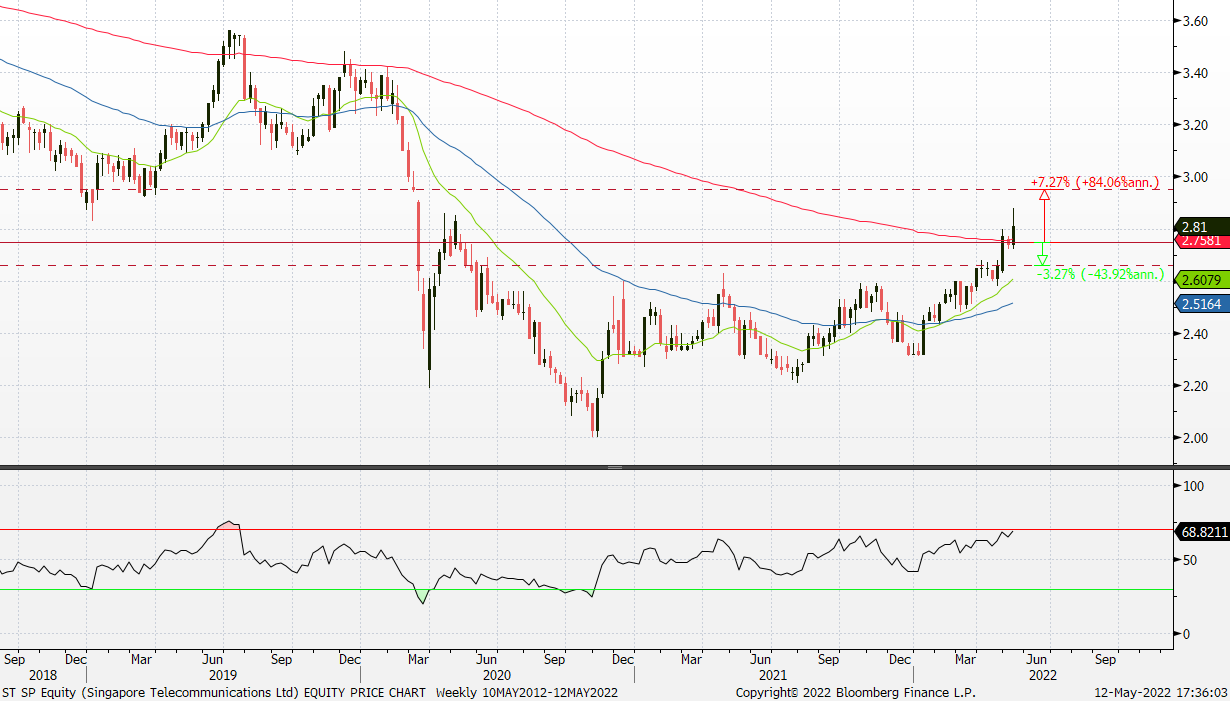 (Source: Bloomberg)


BYD Company Ltd (1211 HK): A bright spot in the EV market
BUY Entry 244.20 – Target – 277.80 Stop Loss – 226.60
BYD Company Ltd is a China-based company principally engaged in the manufacture and sales of transportation equipment. The Company is also engaged in the manufacture and sales of electronic parts and components and electronic devices for daily use. The Company's products include rechargeable batteries and photovoltaic products, mobile phone parts and assembly, and automobiles and related products. The Company mainly conducts its businesses in China, the United States and Europe.
The winner among all. China's overall vehicle sales for April plunged almost 48% from a year earlier as COVID-19 lockdowns hit factories and showrooms, but sales of electric vehicles surged and Chinese brands took share from global rivals. Retail sales of passenger cars alone dropped almost 36% in April, however, sales of EVs and plug-in hybrids were up 45% in April and more than doubled over the first four months of the year from 2021 levels. BYD reported Tuesday that its sales of electric vehicles and plug-in hybrids soared 313% in April YoY, while sales for all its vehicles jumped 423% in the first quarter of this year, according to preliminary figures released last month. It is the second largest carmaker in China in terms of pure-EV sales, just behind Tesla.
1Q22 performance review. Revenue from operations jumped by 63.0% YoY to RMB66.8bn. Net profit attributable to shareholders jumped by 240.6% YoY to RMB808.4mn. The stellar performance was due mainly to the growth of the industry of new energy vehicles.

Limited impact from supply chain constraints. Thanks to its vertically integrated supply chain, the company was less vulnerable to supply chain disruptions during China's ongoing lockdowns, while rivals had to cut back production because of chip and battery shortages. Nio said Sunday that it delivered only 5,074 vehicles in April, down 49% from March. In addition, Li Auto also recorded a 62% plunge in car deliveries for April, compared with March, citing "supply chain problems."
Positive consensus estimates. Currently, BYD has a consensus rating of 30 BUYS, 2 HOLDS and 1 SELL, and a 12M TP of HK$327.59, representing an upside of approximately 28.9% as of Tuesday's closing price.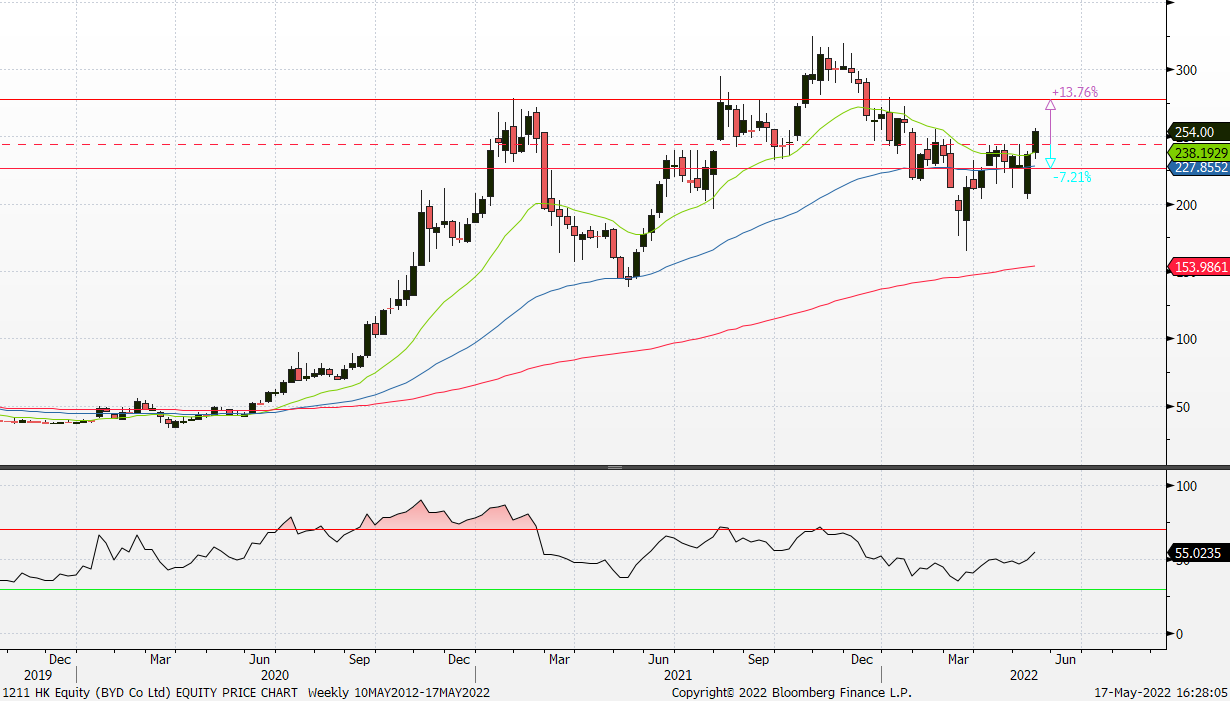 (Source: Bloomberg)

Fuyao Glass Industry Group Co Ltd (3606 HK): Short–term headwinds are priced in
Fuyao Glass Industry Group Co Ltd is a China-based company, principally engaged in the manufacture and distribution of float glasses and automobile glasses. The company's products portfolio consist of automobile glasses, such as coating glasses and others, which are applied in passenger cars, buses, limousines and others, and float glasses. The company distributes its products within domestic markets and to overseas markets.
1Q22 earnings review. Operating revenue grew by 14.75% YoY to RMB6.5bn. Net profit attributable to company shareholders grew by 1.86% YoY to RMB871.2mn. Three negatives resulted in mediocre results, including appreciation of RMB, high raw material costs, and high freight rates. The appreciation of RMB led to a decrease of RMB50.4mn in the gross profit. The high material costs and freight rates led to a decrease of RMB 70.2mn and RMB53.1mn in total profit respectively. The company announced a final dividend of RMB10 (tax inclusive) (equivalent to HK$11.6) in cash per 10 shares.
Headwinds are priced in. Rising covid cases and ensuing lockdowns of cities in China, rising materials costs resulting from Russia-Ukraine conflicts and ongoing supply chain disruptions have been factored in the previous sell-off. We believe the next catalysts such as lifting lockdown measures and reopening ports will provide a short-term relief rally as automobile sales are expected to rebound, and supply chain issues will be mitigated.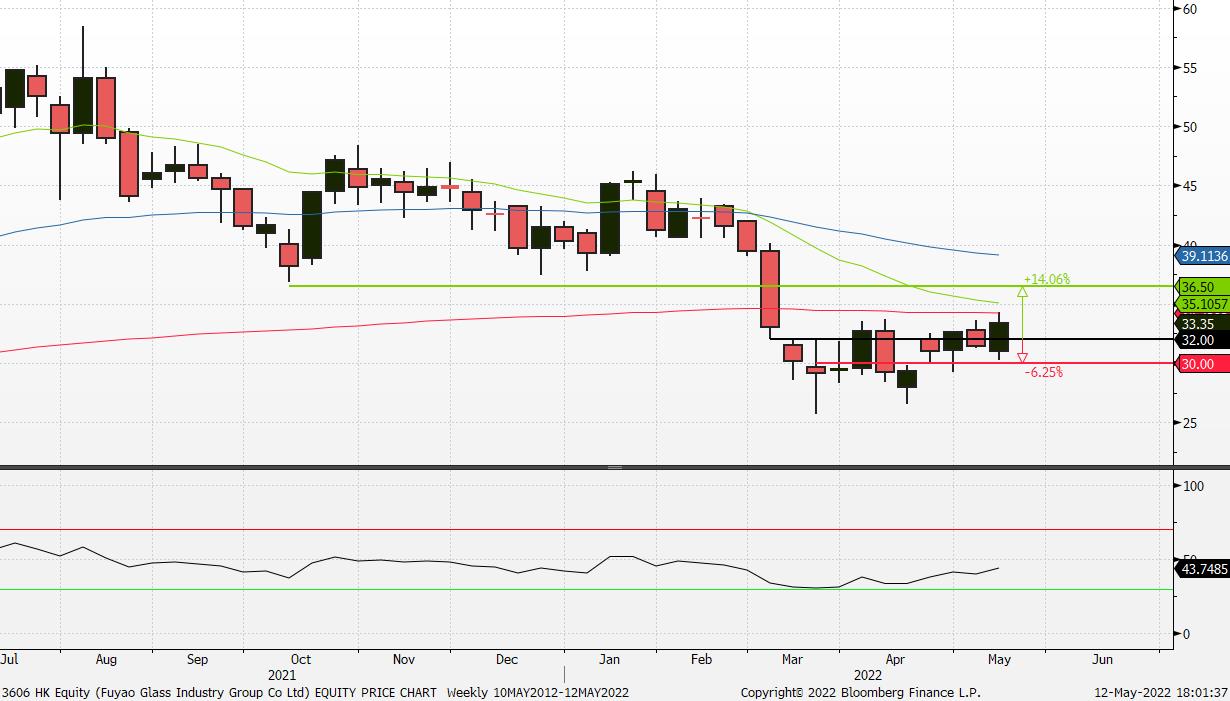 (Source: Bloomberg)




United States
Top Sector Gainers
Top Sector Losers
Take-Two Interactive Software (TTWO US) shares surged 11.8% despite light guidance and a miss on a bookings metric from the video game company. Analysts are expecting a better outlook after the company closes a pending acquisition of Zynga.
AMD (AMD US) shares of the semiconductor stock jumped 8.7% after Piper Sandler upgraded Advanced Micro Devices to overweight from neutral and said shares could rally nearly 50% after dipping this year.
Citigroup (C US) stock rallied 7.6% the day after a regulatory filing revealed that Warren Buffett's Berkshire Hathaway added more than 55 million shares to build a stake worth $2.95 billion in the first quarter. Shares of Citi have been underperforming the financial sector over the past 12 months and are still down 15% this year.
JD.com (JD US) shares gained 4.2% after the company beat revenue estimates for its most recent quarter, despite seeing a slowdown in growth as Covid-19 lockdowns weighed on consumer spending. Revenue came in at 239.7 billion Chinese yuan, an 18% increase from the previous year, compared with expectations of 236.6 billion yuan, according to Refinitiv.
Walmart (WMT US) shares dropped 11.4% after the big-box retailer reported quarterly earnings that significantly missed Wall Street's expectations. Walmart posted adjusted first-quarter earnings of $1.30 per share on revenue of $141.57 billion. Analysts had expected a profit of $1.48 per share on revenue of $138.94 billion, according to Refinitiv consensus estimates. Walmart cited cost pressures from rising fuel prices, higher inventory levels and overstaffing.
---
Singapore
Rex International Holding Ltd (REXI SP) shares rose 9.09% yesterday. RH Petrogas Limited (RHP SP) shares rose 8.33% yesterday. There was no company-specific news for both companies. Both Brent and WTI extended the gains on Monday, reaching at above US$114/bbl.News that Shanghai was seeing a strong recovery from COVID cases, with plans in place to ease lockdown restrictions beginning this week, outweighed a litany of bearish news for oil. Authorities in Shanghai on Monday said restrictions would finally ease, in stages, after nearly six weeks of lockdowns that have shaken the Chinese economy and disrupted global supply chains.
Jiutian Chemical Group Ltd (JIUC SP) shares rose 6.12% yesterday. There was no company specific news. KGI released the 1Q22 results updates and raised TP to 0.245 SG cents. The brokerage house believed that the upcycle of average selling prices remains intact, and the higher ASP will offset the decline in sales volumes.
Bumitama Agri Ltd (BAL SP) shares rose 6.08% yesterday. Previously, the company reported earnings of IDR873bn (S$87.3 million) for the 1Q22 ended March, 424% higher than earnings of IDR167bn in the corresponding period the year before. Revenue for the quarter increased by 69%YoY to IDR3.9tn. The higher figures were attributable to sales from both crude palm oil and palm kernel, which enjoyed higher average selling prices.
Comfortdelgro Corporation Ltd (CD SP) share rose 4.26% yesterday. Last Friday, the company reported a 3.9% uptick in revenue to S$895.9mn in 1Q22, compared with S$862.1mn in 1Q21. Overseas revenue contribution from the UK and Ireland, Australia, China, Vietnam and Malaysia made up about 43.2% of the top line, down a tad from 45.6% in 1Q21. By segment, public transportation services accounted for about 79.5% or S$712mn of total revenue in 1Q21. That is more than the 77.9% or S$671.4mn a year ago.
Hong Kong
Top Sector Gainers
Top Sector Losers
Sunny Optical Technology (Group) Co. Ltd (2382 HK) shares rose 13.1% yesterday. Recently, the company disclosed the shipment data of its main products in April and most brokerages kept the company's profit forecast unchanged. Sunny Optical also said that the current internal production and operations of the company's factories have not been affected and emphasised that the company's outlook on the mobile phone and automotive optics industry have not changed.
Nio Inc (9866 HK), Li Auto Inc (2015 HK) and Xpeng Inc (9868 HK) shares rose 10.7%, 9.5% and 6.7% respectively yesterday. Auto sector stocks rose collectively yesterday on news that Shanghai aims to return to normal life from June 1 as Covid-19 lockdowns cool the economy. In addition, CICC released a research report yesterday saying that car companies which have reduced production significantly since the end of April have made good progress in resuming production and are expected to gradually restore full production capacity by the end of May. Policies to promote automobile consumption have also been introduced in many places to stabilise the expected increase in automobile demand.
United Energy Group Ltd (467 HK) shares rose 8.7% yesterday. WTI crude futures held around $114 per barrel on Tuesday after rising for four straight days to the highest close since March 23, as traders tracked developments around a proposed EU ban on Russian oil, a move that would tighten global supply further. On Monday, EU foreign ministers failed to pressure Hungary to lift its veto of a proposed oil embargo on Russia, with Lithuania saying the bloc was being "held hostage by one member state." The US oil benchmark has also been rising at a faster pace than Brent in recent sessions, as US gasoline prices surged to record highs on rising demand coupled with restrained refining capacity.


Trading Dashboard Update: Add Singtel (ST SP) at S$2.75. Cut loss on LHN Ltd (LHN SP) at S$0.31.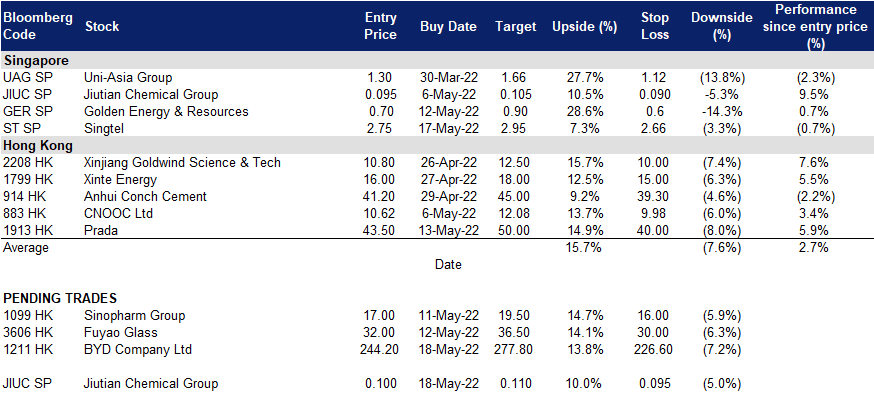 ^ Back To Top