18 March 2022: Golden Energy and Resources Ltd (GER SP), Hua Hong Semiconductor Ltd (1347 HK)
Singapore Trading Ideas | Hong Kong Trading Ideas | Market Movers | Trading Dashboard
SINGAPORE
Golden Energy and Resources (GER SP): Fastest growing diversified miner in Asia
BUY Entry – 0.40 Target – 0.50 Stop Loss – 0.35
KGI Securities (Singapore) was the placement agent for Golden Energy and Resources' S$86.9mn private placement that was completed on 7 March 2022.
Diversified resources play. GEAR is a diversified mining and natural resources investment company. Having its roots as one of Indonesia's largest coal miners, the group is on track to become the dominant metallurgical coal player in Australia with the acquisition of Mitsui Coal Pty Ltd (BMC) from BHP Group (BHP AU). GEAR will further diversify into base metals that will be utilised for clean energy uses such as copper, cobalt, zinc and nickel.
Transformational year. Golden Energy & Resources (GEAR) is on track to significantly expand its production capacity and profits with the acquisition of BHP Mitsui Coal Pty Ltd (BMC). The acquisition will cement GEAR, through its ASX-listed Stanmore subsidiary, as a major metallurgical coal (coking coal) provider in the region. Metallurgical coal is the key ingredient in the steel industry, whose demand is driven by China now and India in the future.
Metallurgical and thermal coal are hot. Coal prices have surged through the roof given the need from importing countries to source non-Russian coal. Australian and Indonesian coal miners are expected to be key beneficiaries.
Gold's back. GEAR, through 50% owned Ravenswood Gold (Ravenswood), is on track to increase production capacity to around 200koz of gold per annum in 1H2022. Timing could not be better given the recent return of demand for the precious metal.
Technical TP of S$0.50; fundamental TP of S$1.29. While we have a Technical TP of S$0.50 based on short-term technical factors, we raised our fundamentals-based TP to S$1.29 after we factor in the game-changing acquisition of BMC. Our fundamental TP is based on the SOTP valuation of its majority stakes in Stanmore Resources (metallurgical coal), PT Golden Energy Mines (thermal coal) and Ravenswood Gold (gold). Stanmore will increasingly drive GEAR's valuations, which currently makes up 48% of GEAR's fair value, while GEMS drops to 42% of our fair value, down from 85% in our initiation report (25 Aug 2021). Read the full fundamentals-based report here.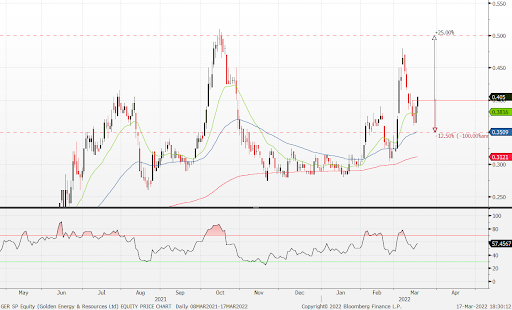 ---
The Hour Glass (HG SP): Time is money
BUY Entry – 2.06 Target – 2.30 Stop Loss – 1.94
The Hour Glass Limited is a specialty luxury watch retail group with multi-brand and standalone boutiques in the Asia Pacific Region. The group also owns Watches of Switzerland, a watch retail chain in Singapore that deals in mid-tier to high-end Swiss timepieces.
1H22 Financials: A strong start. Revenue rose 63% YoY to S$472mn for the half year ended 30 September 2021 (YE 31 March 2022) while net profit after tax surged 110% YoY to S$63.5mn in 1H22. This was mainly due to improved gross margins at 29.3% in 1H22 compared to the previous period at 26.2%. Bottom-line was boosted by an increase in share of results of associates which doubled to S$6.6mn in 1H22. As a result, basic and diluted EPS for 1H22 more than doubled to 8.95 Sing Cents compared to 4.22 Sing Cents in 1H21.
The pure desire for luxury goods. Among the trend forecasts for 2022, experts predict that luxury goods spending will hit record levels and surpass pre-pandemic levels, while price hikes for luxury products will continue to occur, with some hitting double-digit increases. After growing 4% between 2019 and 2021, Bain & Company estimates luxury goods sales will increase from €283 billion (S$428 billion) in 2021 to between €300 billion (S$454 billion) and €310 billion (S$469 billion) in 2022.
Asia's road to recovery. Geographically, Southeast Asia and Oceania (Australia and New Zealand) contribute over 80% to the company's total revenue. Singapore registered strong growth in consumer spending power despite the ongoing pandemic, evident from the retail sales index for watches and jewellery reaching a 5-year high in December 2021. Thailand and Malaysia on the other hand, are expected to catch up in 2022 with the reopening of foreign borders.
Outperformance of MSCI Apparel & Luxury Index. Starting from September 2020, The MSCI Apparel & Luxury Index has significantly outperformed the S&P 500 Index. Albeit some price corrections in the market recently, the index is still approximately 2.3% higher than the S&P 500 Index as of early February 2022, signifying the strength in the retail sector it might just be the beginning of another sector rotation into cyclical stocks in light of the upcoming rate hike in March 2022.
We have a technical buy TP of S$2.30 and a fundamental outperform rating with a TP of S$2.32. Our TP is based on a discounted cash flow, taking into account a WACC rate of 10.5% and terminal growth rate of 2%. Read our fundamental report here.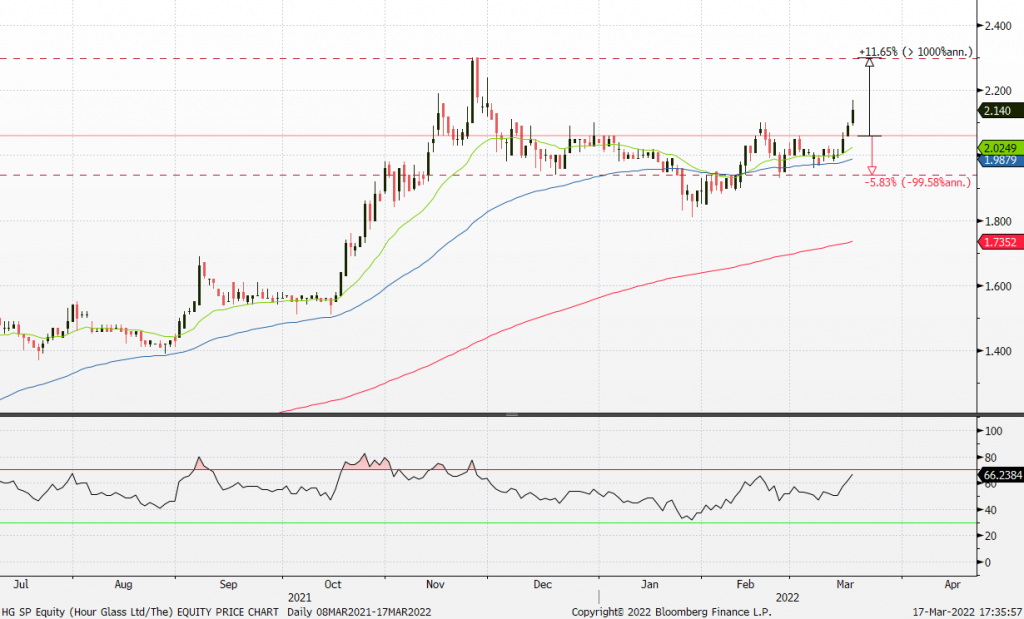 ---
HONG KONG
Hua Hong Semiconductor Ltd (1347 HK): Be greedy when others are fearful
BUY Entry – 32.0 Target – 37.5 Stop Loss – 29.5
Hua Hong Semiconductor Ltd is an investment holding company engaged in production and sales of semiconductor wafers. The Company produces 200mm and 300mm-wafers. Its products are applied in general microcontroller (MCU), Type-C interface chips, image stabilization chips, touch control chips, and smart meter controller chips. The products also serve Internet of Things (IoT), new energy vehicles, artificial intelligence and other markets. The Company operates its businesses through its subsidiaries.
Another record high quarter in 4Q21. Revenue hit an all-time high of US$528.3 million, up 88.6% YoY and 17.0% QoQ. Gross margin was 29.3%, up 3.5 ppts YoY and 2.2 ppts QoQ. Net profit attributable to shareholders of the parent company was US$84.1 million, up 92.9% YoY and 65.6%. 1Q22 guidance remains upbeat. Revenue is expected to be approximately US$560 million. Gross margin is expected to be in the range of 28% to 29%.
Most bearish sentiment has been released. Since the Russian invasion started on 24th February, the Hong Kong market had been selling off, and the panic selling happened early this week. However, the retaliatory rebound started after China's authority vowed support for economic growth and capital markets. Meanwhile, the Fed rate hike decision, balance reduction and economic growth projection aligned with market expectations. Lastly, the peace talks between Russia and Ukraine saw positive progress. After the sharp fall in the market along with heavy short selling, short- covering and potential squeeze will ensue. After all, valuations are the anchors of the prices.
Prolonged chip shortage. Sanctions on Russia and China's current lockdown will deter the normalisation of the supply chain. And the shortage of chips has been proved to be a benefit for semiconductors during the 2-year COVID pandemic, as elevated selling prices translate to higher profit margins. Therefore, Huahong will continue to ride on the tailwinds.
Updated market consensus of the EPS growth in FY22/23 is 41.9%/6.8% YoY respectively, which translates to18.6x/17.2x forward PE. Current PER is 26.4x. Bloomberg consensus average 12-month target price is HK$51.55.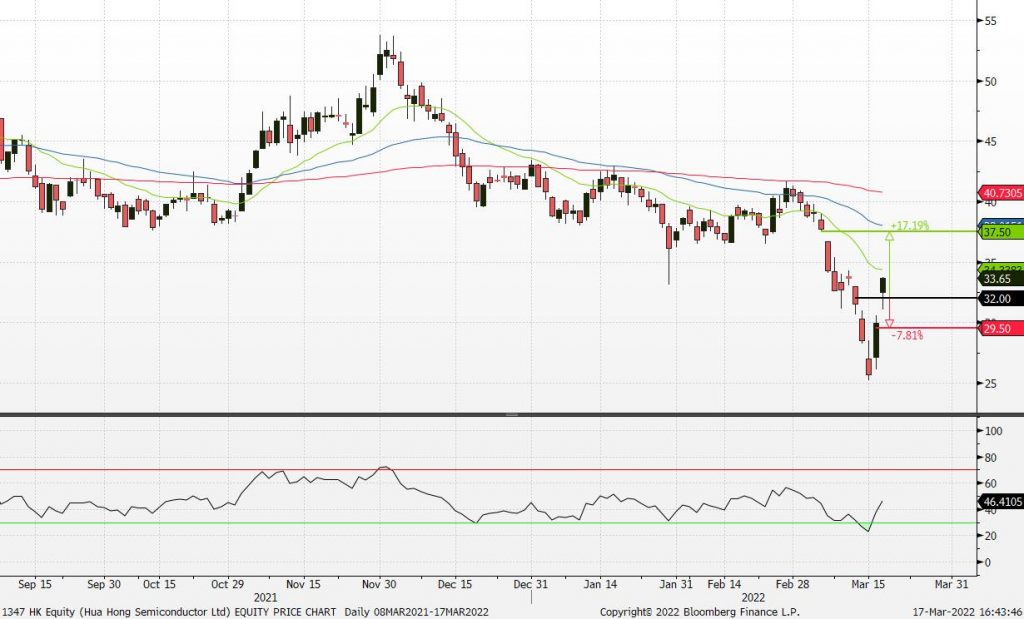 ---
CNOOC Limited (883 HK):Oil's bull run halts but does not end
BUY Entry – 9.0 Target – 10.0 Stop Loss – 8.5
CNOOC Limited is a Hong Kong-based investment holding company principally engaged in the exploration, production and trading of oil and gas. Its businesses include conventional oil and gas businesses, shale oil and gas businesses, oil sands businesses and other unconventional oil and gas businesses. The company mainly operates businesses through three segments. The Exploration and Production segment is engaged in the exploration, development and production of crude oil, natural gas and other petroleum products. The Trading segment is engaged in the trading of crude oil, natural gas and other petroleum products. The company mainly operates businesses in China, Canada, the United Kingdom, Nigeria, Indonesia and Brazil, among others.
Not easy to fill the supply gap. Oil prices have corrected from the highs of US$130+/bbl due to the recent China's surge in COVID cases, wiping out most of the gains driven by the Russian invasion. However, the crude oil market needs to source 4mn bbls/d of supply which was approximately Russia's export before the sanctions, from other countries to substitute the Russian oil. Iran and Venezuela are the probable alternatives. But it will take several quarters to ramp up production and reschedule the route of shipping. China is expected to contain the spread in a short period of time given the draconian lockdown measures. Therefore, the demand recovery will outpace the ramp-up in supply. Oil prices will remain at above US$100/bbl in the near term.
Warren buffet bought more oil. Berkshire Hathaway (BRK.A US) continued to add to its large stake in Occidental Petroleum (OXY US) in recent days and now holds a $7.2 billion interest in the big energy company, according to a filing late Wednesday.
Upbeat announcement. The company announced the production target in 2022 and the dividend plan. The company proposes that the dividend payout ratio will be no less than 40% from 2022 to 2024. The annual absolute dividend is expected to be no less than HK$0.70/share regardless of the operational results. Meanwhile, the company plans to pay a 20th anniversary special dividend in addition to the 2021 year-end regular dividend. In 2022, the company will appropriately implement the share buybacks subject to the authorization granted at the general meeting of shareholders.
The updated market consensus of the EPS growth in FY22/23 is 23.7%/-1.30% YoY respectively, which translates to 3.8x/3.9x forward PE. Current PER is 7.2x. FY22F/23F dividend yield is 10.75%/10.4%. Bloomberg consensus average 12-month target price is HK$13.32.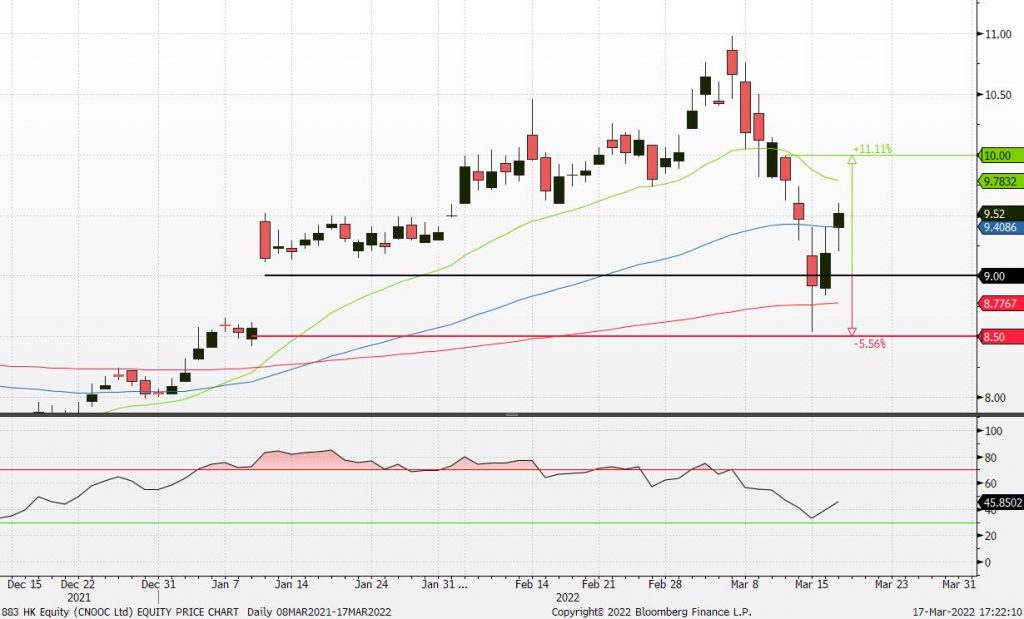 ---
MARKET MOVERS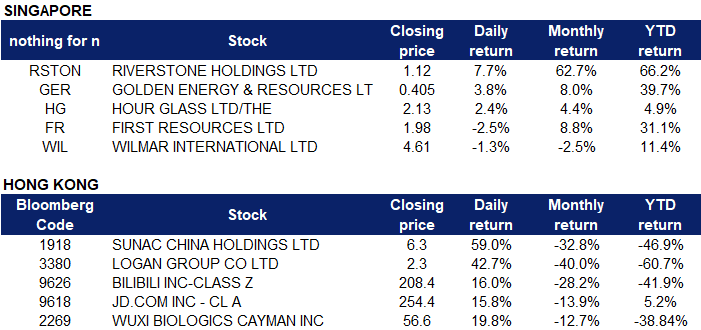 ---
United States
Top Sector Gainers
Top Sector Losers
Occidental Petroleum Corp (OXY US) and Marathon Oil Corp (MRO US) shares rose 9.5% and 6.9% respectively yesterday. WTI crude futures jumped more than 9% to above 104 per barrel on Thursday after falling for three straight sessions, after a Kremlin spokesman denied reports of major progress in talks over Ukraine and the IEA warned that Russia's oil output may decline by about a quarter next month. Meanwhile, the latest EIA data showed US crude stockpiles climbed 4.3 million barrels last week, defying analysts' expectations for a decline of 1.4 million barrels. In addition, Warren Buffett's Berkshire Hathaway purchased an additional 18.1 million shares of Occidental. A filing with the Securities and Exchange Commission on Wednesday shows it paid a weighted average of $54.41 per share, a total of $985 million for the new shares.
Crowdstrike Holdings Inc (CRWD US) shares rose 7.6% yesterday, after Crowdstrike's CEO commented that the financial sector is 'on high alert' for cyberattacks amidst the Russian-Ukraine conflict. CrowdStrike has increased diligence with its customers, CEO George Kurtz said, and overall kept a close eye on events occurring outside the U.S. that could affect consumer safety.
Guess Inc (GES US) shares gained 9.3% yesterday after the company's quarterly report. Guess posted adjusted quarterly earnings of $1.14 per share, one cent below the Refinitiv consensus, while revenue also fell short of forecasts. However, profit margins were better than anticipated. The company has also increased its share repurchase authorization by $100M, leaving a new capacity of $249M under the buyback program.
Revolve Group Inc (RVLV US) shares rose 6.5% after Needham initiated coverage of the company with a buy rating. As consumers return to in-person events, Revolve is an "ultimate reopening play" that will continue to leverage data to capture market share, analysts wrote.
---
Singapore
Riverstone Holdings Ltd (RSTON SP) shares gained 7.7% yesterday ahead of its ex-div date on 4 May 2022 for MYR 0.28 dividend per share. The company recently paid out MYR 0.1 dividend per share on 14 March 2022. Recently, RHB upgraded Riverstone to "neutral" from "sell" and raised its target price to S$0.74 from S$0.65, while noting that the glove maker's current valuation is fair. Riverstone is trading at 16 times the brokerage's estimates for FY2023 earnings, in line with its historical average and pre-pandemic 5-year mean, RHB said in a research note. Meanwhile, DBS Group Research has lowered its target price on the counter to S$0.97 from S$1.20, after cutting its FY2022 and FY2023 earnings forecast by 31 per cent and 16 per cent respectively.ahead of its ex-div date.
Golden Energy & Resources Ltd (GER SP) shares rose 3.9% yesterday. We issued a company update on Golden Energy yesterday, maintaining our Outperform recommendation and raised our TP to S$1.29, taking into account the acquisition of BMC. Golden Energy & Resources is on track to significantly expand its production capacity and profits with the acquisition of BHP Mitsui Coal Pty Ltd (BMC). The acquisition will cement GEAR, through its ASX-listed Stanmore subsidiary, as a major metallurgical coal (coking coal) provider in the region. Metallurgical coal is the key ingredient in the steel industry, whose demand is driven by China now and India in the future. Read our full report here.
Hour Glass Ltd (HG SP) shares rose 2.4% yesterday. Recently, DBS Group Research commenced coverage on the luxury watch retailer with a "buy" rating and a target price of S$2.62 over the next 12 months. In a report released on Tuesday, analyst Paul Yong said that he expects the company to post record earnings for FY2022, riding on its strong financial performance for the first half of the financial year. Yong said that consumer sentiment was driven by a bullish stock market last year, as well as a shift in domestic spending from travel towards luxury goods. He also expects this trend to continue in the second half of the financial year. We have also previously initiated on Hour Glass, with an Outperform recommendation and a 12M TP of S$2.32. Read the full report here.
First Resources Ltd (FR SP) and Wilmar International Ltd (WIL SP) shares lost 2.5% and 1.3% respectively yesterday. Malaysian palm oil futures were trading around MYR 6,000 per tonne, the lowest in nearly three weeks and is more than 15% below the record high of MYR 7,268, on expectations of lower demand and recovery in supply. The consumption in China is set to slow down as another wave of coronavirus infections resulted in new lockdowns. Meanwhile, The MPOB report showed that inventories at the end of February were down much less than market expectations, while exports declined over 5% to 1.1 million tonnes. Still, output in the world's second-largest palm oil producer plunged 9.3% to 1.14 million tonnes, a level not seen in a year, hit by labour shortages and flooding.
---
Hong Kong
Top Sector Gainers
Top Sector Losers
Sunac China Holdings Ltd (1918 HK), Logan Group Co Ltd (3380 HK). Property sector shares soared yesterday, as the market cheered pledges by Beijing's top economic leaders to shore up the battered real estate sector amid growing pressures at home and abroad. Vice Premier Liu He, China's economic tsar, said on Wednesday the government needs to reduce risks in the industry and proposed measures to facilitate a new development model for the sector. In the meeting of the Financial Stability and Development Committee, a regulatory body under the State Council, Liu urged the roll-out of market-friendly policies to support the economy. Liu's pledge received widespread support from other top institutions, including the central bank and securities and currency regulators.
Bilibili (9626 HK), JD.com Inc (9618 HK). Chinese tech stocks in Hong Kong extended their gains, after a Chinese state media report signalled support for Chinese stocks. US and Chinese regulators are progressing toward a cooperation plan on US-listed Chinese stocks, the report said, citing a financial stability meeting Wednesday chaired by Vice Premier Liu He. The report said Beijing supported Chinese stock listings overseas, and would work towards stability in Hong Kong's financial market as well as the struggling real estate sector. Hong Kong's Hang Seng index closed 9.08% higher at 20,087.50, while the Hang Seng Tech index surged 22.2% to 4,243.39.
WuXi Biologics (Cayman) Inc (2269 HK) shares rose 19.8% yesterday. CMB International recently issued a research report stating that the top CXO companies such as WuXi PharmaTech, Tigermed and Asymchem recently disclosed strong operating data for the months January-February 2022, and expects 1Q22 revenue to increase. At the same time, the P/E valuation level of the top CXO companies, both in absolute value and relative to the foreign CXO industry, has reached the lowest point in history.
---
Trading Dashboard
Trading Dashboard Update: Take profit on UOB (UOB SP) at S$32.60

(Click to enlarge image)
---