18 July 2022: CapitaLand Integrated Commercial Trust (CICT SP), Nexteer Automotive Group Ltd (1316 HK)
Singapore Trading Ideas | Hong Kong Trading Ideas | Market Movers | Trading Dashboard

CapitaLand Integrated Commercial Trust (CICT SP): Position for strong set of results on 28 July
BUY Entry 2.10 – Target – 2.30 Stop Loss – 2.00
CICT owns and invests in quality income-producing assets primarily used for commercial (including retail and/ or office) purposes, located predominantly in Singapore. As the largest proxy for Singapore commercial real estate, CICT's portfolio comprises 21 properties in Singapore and two in Frankfurt, Germany, with a total property value of S$22.5bn as of 31 December 2021. CICT is managed by CapitaLand Integrated Commercial Trust Management Limited, a wholly-owned subsidiary of CapitaLand Investment Limited (CLI), a leading global real estate investment manager with a strong Asia foothold.
Easing of pandemic restrictions from April 2022 to bolster office portfolio. We reckon that the substantial easing of pandemic restrictions in Singapore would provide significant tailwinds to CICT's office properties. On its office portfolio, anecdotal evidence suggests that the large crowds seen in the core central region on weekdays implies that the return to office community has swelled (22 April 2022: 47%), and should result in greater leasing traction and in turn rental reversions. In addition, we believe that the acquisition of a 70%-stake in CapitaSky on 27 April 2022 will reap immediate benefits to this segment.
Return of the tourist dollar on eased travel restrictions. According to STB, Singapore clocked 1.5m visitor arrivals in 1H22, more than 12x more on a YoY basis. Meanwhile, 1Q22 tourist dollars climbed to S$1.33bn (+213% YoY) driven by feeder markets such as Indonesia and India. Nonetheless, this is still a far cry from pre-pandemic spending of S$6.6bn in 1Q19. Moving forward, there is increasing optimism that global travel will start to pick up pace and the agency believes that Singapore can expect to receive between 4 to 6 million visitors this year, which would fuel tourism spending particularly along the downtown Orchard road belt.
FY22 results to be fueled by M&As. Recall that in1Q22, CICT already started to see a recovery across its portfolio and reported strong office rental reversion of 9.3%, while its retail rental reversions saw a slight 1.2% increase after excluding Raffles City Singapore's AEI. The Street is thus overall bullish on CICT's prospects, with 16/3/1 BUY/HOLD/SELL ratings and an average TP of S$2.45. Based on consensus estimates, FY22F gross revenue and NPI should swell 7.0/8.3% YoY, while distributable income would grow at a faster 12.5% pace. FY22F DPU should come in at 9.3% YoY to S$0.114 apiece due mainly to a larger unit base. We believe that CICT is slightly undervalued now considering that it is currently trading ~1sd away from its post-merger mean of ~1.04x P/B. At current prices, CICT would trade at an attractive 5.4%/5.7% FY22F/23F yield.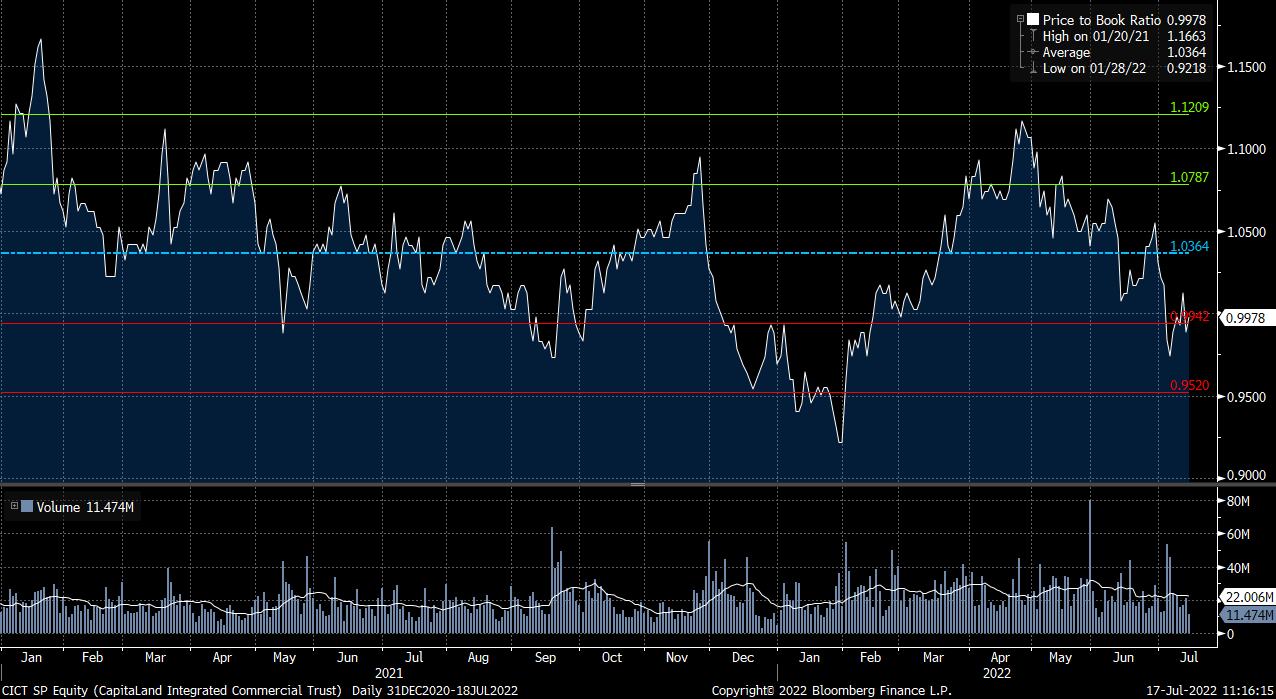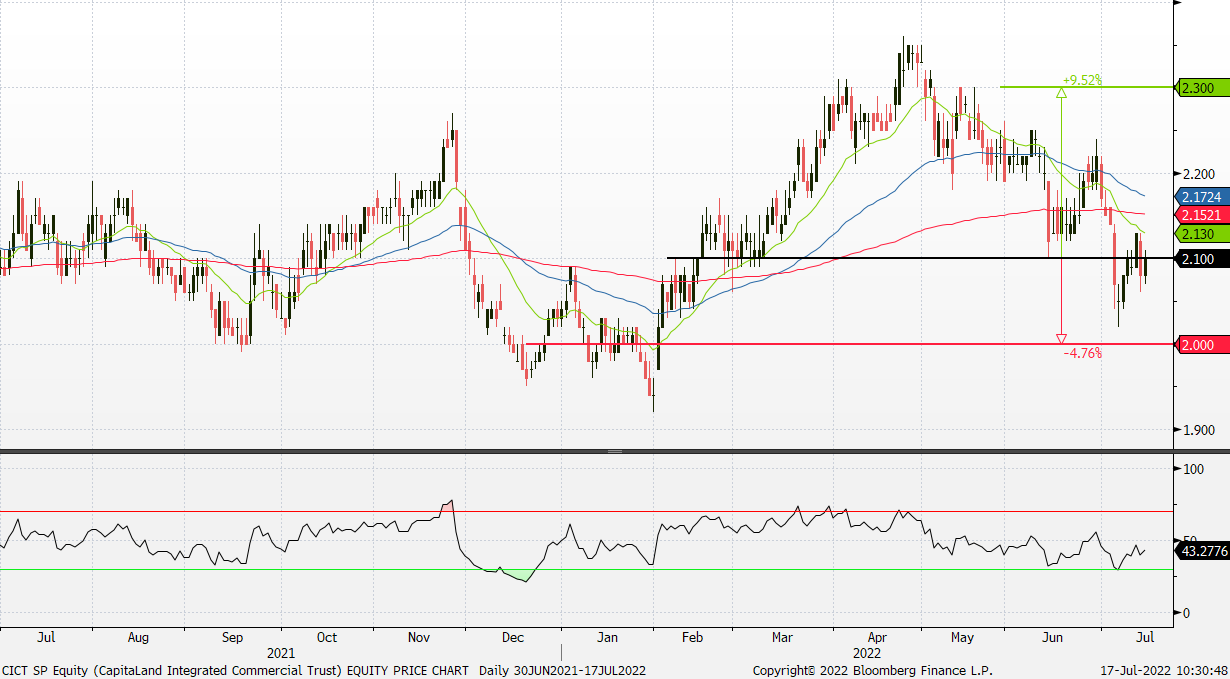 iX Biopharma (IXBIO SP): Placing out shares at 13.7m new shares at S$0.20 apiece for geographical expansion
RE-ITERATE BUY Entry 0.180 – Target – 0.200 Stop Loss – 0.172
iX Biopharma Ltd is a specialty pharmaceutical and nutraceutical company, operating a fully integrated business model from drug development to manufacturing and supply, with facilities in Australia. iX Biopharma focuses on the development and commercialisation of therapies for diseases of the central nervous system using its novel, patent-protected platform sublingual drug delivery technology, WaferiX.
Expects to place out 13.7m new shares at 11% premium to last close. IXBIO recently inked an agreement with C2C Biopharma to place out 13.7m new shares or 1.8% of its enlarged share capital at S$.20 apiece to raise S$2.7m. The subscription price was at a 15% premium to the VWAP of S$0.1743/share at the point of announcement, indicating substantial bullishness from the placee's perspective. IXBIO intends to use 60% of the net proceeds to develop, manufacture and market its cannabis business into new markets such as the US. The remaining 40% will be used for general working capital.
IXBIO's track record of partnerships has been fairly positive. IXBIO believes that C2C Biopharma will be able to help it generate new opportunities both in the US and Cambodia, given its >20 years of experience in both countries. Its track record of partnerships has been decent, with the previous out-licensing agreement of Wafermine to Seelos Therapeutics back in November 2021 bearing fruit and contributing to its strong turnaround to profitability. The sole house covering the stock noted that the agreement then was a significant breakthrough in the monetisation of its Wafermine drug.
Turnaround story to gather pace as Wafermine in a nascent stage. 1H22 results saw a stunning turnaround to profitability of S$4.5m after IXBIO recognised S$9m in revenue from Seelos. Looking at FY21's net loss of S$8.2m, we believe that IXBIO's FY22F financials will likely remain profitable even as its various other drug platforms gain more sales traction.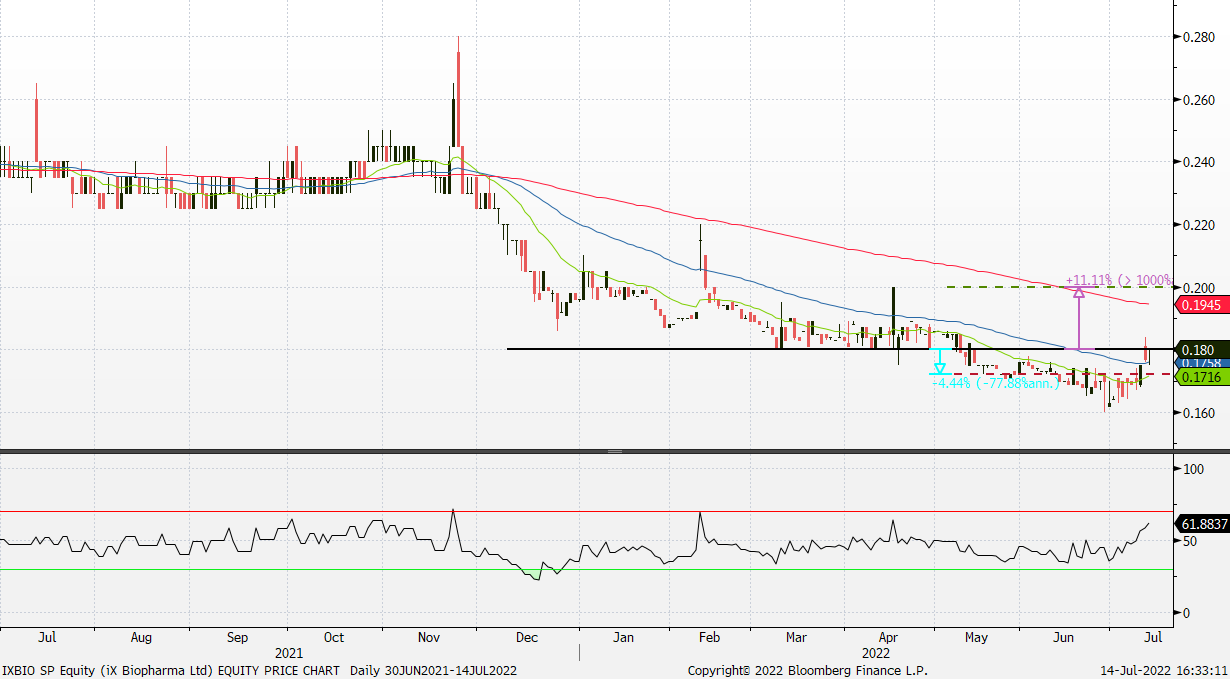 Nexteer Automotive Group Ltd (1316 HK): Riding on the auto sector recovery
Buy Entry – 5.50 Target – 6.35 Stop Loss – 5.10
Nexteer Automotive Group Limited is an investment holding company. The Company through its subsidiaries are primarily engaged in the design and manufacture of steering and driveline systems, advanced driver assistance systems (ADAS) and automated driving (AD) and components for automobile manufacturers and other automotive-related companies. Its operations are in the United States of America (USA), Mexico, Poland and the People's Republic of China (China). The principal markets for the Company's products are North America, Europe, South America, China and India. The Company has approximately 27 manufacturing plants, one global technical center, over two regional technical centers, one software service center and approximately 13 customer service centers. Its subsidiaries include Nexteer US Holding I LLC, Rhodes I LLC, Steering Solutions IP Holding Corporation, Chongqing Nexteer Steering Systems Co., Ltd., CNXMotion, LLC and Dongfeng Nexteer Steering Systems (Wuhan) Co., Ltd.
Auto sales recovered in June. Automobile sales in China expanded 23.8% YoY to 2.5 mn units in June of 2022, boosted by government incentives to support the industry and a recovery in production, particularly in coronavirus lockdown-hit Shanghai, according to the China Association of Automobile Manufacturers. The auto part manufacturer sector also followed the recovery, but we still think the upside potential is bigger.
New orders to uphold the growth. In 1Q22, the total value of new order signed amounted to US$2.73bn, four times of the total value signed in 1Q21. With the recovery in the auto markets in Europe and Asia Pacific, the oder book is expected to grow healthily in FY22.
Updated market consensus of the EPS growth in FY22/23 is 19.4%/52.5% YoY respectively, which translates to 12.3x/8.1x forward PE. The current PER is 15.6x. Bloomberg consensus average 12-month target price is HK$6.67.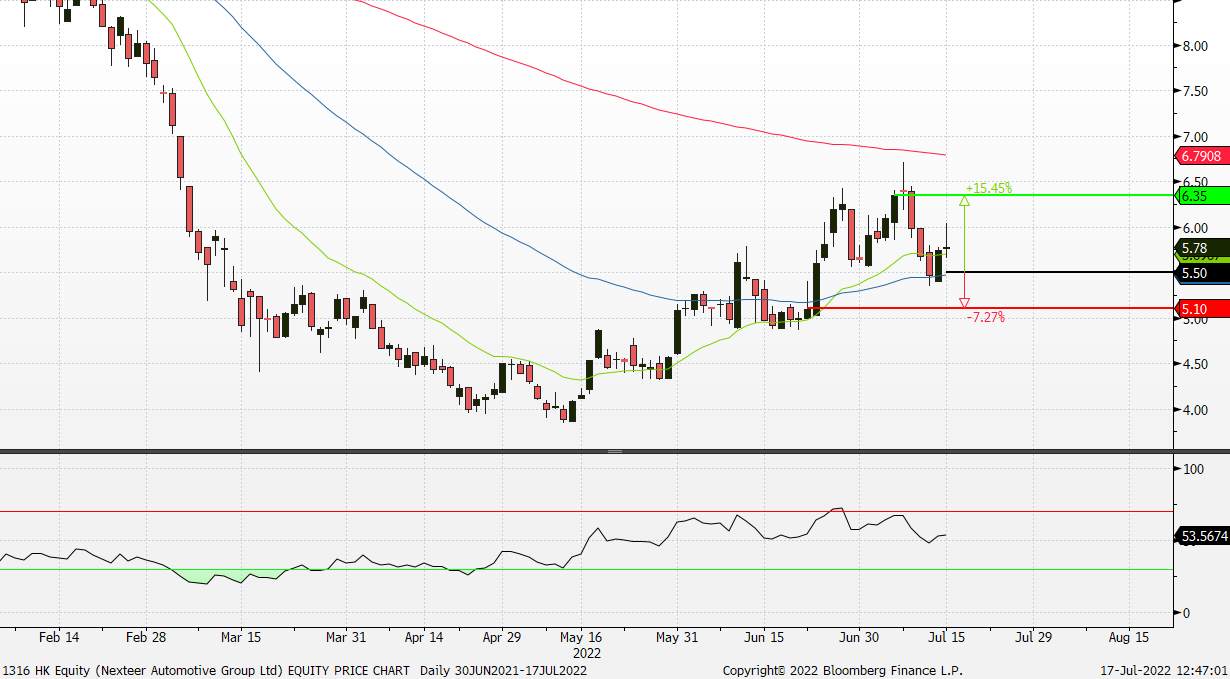 (Source: Bloomberg)

Fuyao Glass Industry Group Co Ltd (3606 HK): Good time to accumulate
RE-ITERATE Buy Entry – 38.5 Target – 42.0 Stop Loss – 36.8
Fuyao Glass Industry Group Co Ltd is a China-based company, principally engaged in the manufacture and distribution of float glasses and automobile glasses. The company's products portfolio consist of automobile glasses, such as coating glasses and others, which are applied in passenger cars, buses, limousines and others, and float glasses. The company distributes its products within domestic markets and to overseas markets.
1Q22 earnings review. Operating revenue grew by 14.75% YoY to RMB6.5bn. Net profit attributable to company shareholders grew by 1.86% YoY to RMB871.2mn. Three negatives resulted in mediocre results, including appreciation of RMB, high raw material costs, and high freight rates. The appreciation of RMB led to a decrease of RMB50.4mn in the gross profit. The high material costs and freight rates led to a decrease of RMB70.2mn and RMB53.1mn in total profit respectively. The company announced a final dividend of RMB10 (tax inclusive) (equivalent to HK$11.6) in cash per 10 shares.
Auto sales recovered in June. Automobile sales in China expanded 23.8% YoY to 2.5 mn units in June of 2022, boosted by government incentives to support the industry and a recovery in production, particularly in coronavirus lockdown-hit Shanghai, according to the China Association of Automobile Manufacturers. The auto part manufacturer sector also followed the recovery, but we still think the upside potential is bigger. Fuyao Glass has another key segment, float glasses which exposes to the photovoltaic sector. Recently, the central government announced stimulus plans to uphold the sector, supporting the ASP of float glasses.
Consensus estimates per the 12-month target price are at HK$45.45. EPS is forecasted to grow at 26.2%/24.5% for FY22F/23F, which would bring forward P/Es down to 22.8x/17.5x for FY22F/23F. The current PER is 27.5x.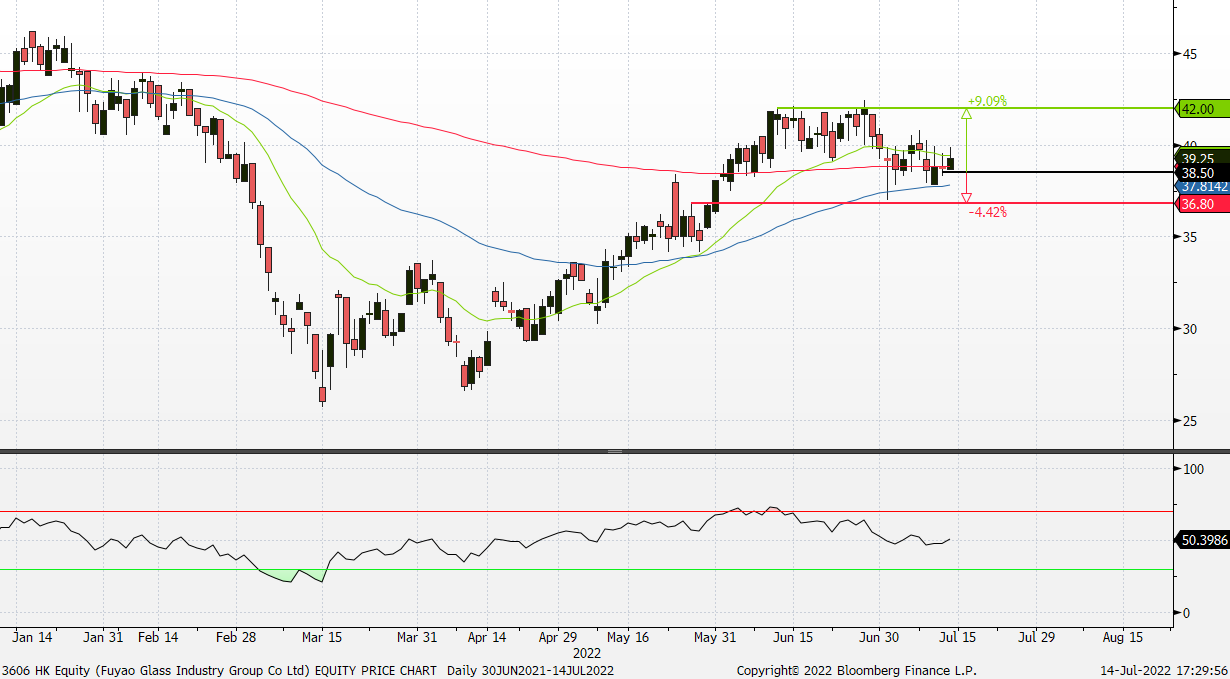 (Source: Bloomberg)




United States
Top Sector Gainers
Top Sector Losers
Pinterest Inc (PINS US) surged 16.2% on a report from the Wall Street Journal that Elliott Management has acquired a more than 9% stake.
Citigroup Inc (C US) rallied 13.2% after second-quarter earnings beat on the top and bottom lines. Citigroup was the only one of the four major banks that reported earnings this week to surpass expectations on revenue.
Wells Fargo & Co (WFC US) surged 6.2% after the bank reported quarterly earnings Friday morning. The bank missed analysts' revenue estimates but beat on adjusted earnings per share, coming in at 82 cents versus 80 cents expected. Higher interest rates helped the bank during the quarter as net interest income climbed 16% on the year — which should help the bank offset further pressure on its mortgage unit and other operations going forward.
State Street Corp (STT US) jumped 9.7% after the financial services fiduciary reported a beat on earnings per share estimates. State Street reported earnings of $1.94 per share on revenue of $2.95 billion. Analysts polled by Refinitiv were expecting earnings of $1.73 per share on revenue of $2.99 billion.
Bank of New York Mellon Corp (BK US) jumped 7.3% after a beat on revenue in its second-quarter earnings. Bank of New York Mellon reported revenue of $4.25 billion, compared with Refinitiv consensus estimates of $4.17 billion.

Singapore
Nanofilm Technologies International Ltd (NANO SP) shares fell 4.2% on Friday. Analysts have lowered their target prices on mainboard-listed in view of the expected slowdown in demand, which will weaken its earnings prospects in the near term. However, CGS-CIMB and DBS have maintained their "add" and "buy" calls respectively, remaining positive on Nanofilm's long-term growth prospects. Overall, CGS-CIMB cut its FY22-24 earnings per share forecasts by 12.8 to 15 per cent.
Golden Agri-Resources Ltd (GGR SP) shares fell 2.0% on Friday. Indonesia's palm oil industry is urging authorities to ease export restrictions and taxes so it can sell produce that risks going to waste, as an upcoming harvest season is likely to keep inventories at full capacity. Easing export restrictions by the world's biggest palm oil producer will further depress prices which have dropped nearly half since late April to their lowest in over a year. New rules on mandatory local sales – known as domestic market obligation (DMO) – have since kept produce at home and forced the closure of mills unable to process oil with storage full. The harvest season will only exacerbate the problem.
Genting Singapore Ltd (GENS SP) shares rose 7.3% on Friday. Shares in Genting Singapore Ltd. jumped after Bloomberg News reported that the city-state's casino operator is attracting takeover interest, as tourists start coming back to the Asian travel hub. US rival MGM Resorts International recently approached the firm's controlling shareholder, the billionaire Lim family, to express its interest in a deal, people with knowledge of the matter said. While those discussions didn't lead to an agreement, other potential suitors have also been in the preliminary stages of studying Genting Singapore.
Thai Beverage PCL (THBEV SP) shares rose 3.1% on Friday. Alcoholic beverage stocks are consumer staples, often thought of as defensive plays to hold in weak stock markets.
Chip Eng Seng Corp Ltd (CHIP SP) shares rose 4.2% on Friday. Singapore's economy grew 4.8 per cent year-on-year in the second quarter of 2022, according to advance estimates released by the Ministry of Trade and Industry on Thursday. The construction sector grew by 3.8 per cent year-on-year in the second quarter, faster than the 1.8 per cent growth in the previous quarter. Construction activity picked up in the second quarter, supported in part by the relaxation of border restrictions on the inflow of migrant workers. In absolute terms, the value-added of the construction sector remained below pre-pandemic levels due to continued labour shortages as the inflow of workers takes time to recover, said MTI.

Hong Kong
Top Sector Gainers
Top Sector Losers
CIFI Holdings (Group) Co Ltd (0884 HK) shares fell 14.3% on Friday. CIFI Holdings Group announced that the company has further obtained a total of 500,000 shares of the company in the open market by Lin Feng, the company's executive director and controlling shareholder, through contacts on July 14, 2022. Increasing its stake in the company to approximately HK$1.364 million. Immediately after the above-mentioned increase in the shareholding of the Company, the executive directors and controlling shareholders of the Company, Lin Zhong, Lin Wei and Lin Feng, were interested in a total of 5,083,643,385 shares, representing approximately 55.60% of the total issued shares on 14 July 2022. The Board was informed by various senior management and employees of the Group that they would purchase at least 8.55 million shares in the open market from July 7, 2022 to July 14, 2022.
Pop Mart International Group Ltd (9992 HK) shares fell 9.2% on Friday. Bubble Mart (09992) announced that it expects that the Group's revenue for the six months ended June 30, 2022 may increase by no less than 30% compared to the six months ended June 30, 2021; It is expected that the Group's profit for the current period will decrease by no more than 35% compared with the same period of last year. The fluctuations in performance are mainly due to the following reasons: In the first half of 2022 due to the repeated outbreak of the coronavirus, the Group followed the guidelines and requirements of local governments and suspended the operation of certain offline stores and robot stores in some areas. In addition, due to the increase in expenses with the expansion of the Group, it is expected that the Group's profit for the current period will decline compared with the same period last year.
Country Garden Holdings Co Ltd (2007 HK) shares fell 8.6% on Friday. On July 14, Country Garden announced that its subsidiary, Foshan Shunde District Zhouhua Investment Consulting Co Ltd intends to purchase its subsidiary Country Garden Real Estate Group Co Ltd in the domestic secondary market in a market-oriented manner in accordance with the trading rules of the trading venue. The first tranche of corporate bonds issued shall not exceed RMB 1 billion.
Greentown Service Group Co Ltd (2869 HK) shares fell 8.1% on Friday. CICC's latest mid-term forecast report stated that the company's net profit attributable to the parent company in the first half of the year is expected to drop by 16% year-on-year, and the overall performance is lower than market expectations. CICC lowered the company's full-year 2022 and 2023 net profit forecasts attributable to the parent by 14% and 19%, respectively. At the same time, it lowered its target price by 24% to HK$8.5, maintaining the "Outperform" rating.
Zoomlion Heavy Industry Science and Technology Co Ltd (1157 HK) shares fell 7.5% on Friday. Zoomlion released a performance forecast, predicting a profit of 1.606 billion yuan to 1.806 billion yuan from January to June 2022, a year-on-year decrease of 62.76% to 66.88%. Reasons for the changes in performance include: the repeated epidemics in many places have impacted the construction of infrastructure and real estate projects and the sales volume of the construction machinery industry, and adversely impacted the transportation of domestic products and overseas logistics; the prices of raw materials such as steel and crude oil remained unchanged in the first half of the year. The competition in the construction machinery industry has also intensified, leading to the decline of the company's product gross profit margin year-on-year.


Trading Dashboard Update: Add Ho Bee Land (HOBEE SP) at S$2.76 and iX Biopharma (IXBIO SP) at $0.180.