18 April 2022: Golden Energy and Resources (AUE SP), China National Building Material Company Limited (3323 HK)
Singapore Trading Ideas | Hong Kong Trading Ideas | Market Movers | Trading Dashboard
SINGAPORE
Golden Energy and Resources (AUE SP): Higher highs
BUY Entry – 0.61 Target – 0.71 Stop Loss – 0.56
Disclaimer: KGI Securities (Singapore) was the placement agent for Golden Energy and Resources' S$86.9mn private placement that was completed on 7 March 2022.
Diversified resources play. GEAR is a diversified mining and natural resources investment company. Having its roots as one of Indonesia's largest coal miners, the group is on track to become the dominant metallurgical coal player in Australia with the acquisition of Mitsui Coal Pty Ltd (BMC) from BHP Group (BHP AU). GEAR will further diversify into base metals that will be utilised for clean energy uses such as copper, cobalt, zinc and nickel.
Transformational year. Golden Energy & Resources (GEAR) is on track to significantly expand its production capacity and profits with the acquisition of BHP Mitsui Coal Pty Ltd (BMC). The acquisition will cement GEAR, through its ASX-listed Stanmore subsidiary, as a major metallurgical coal (coking coal) provider in the region. Metallurgical coal is the key ingredient in the steel industry, whose demand is driven by China now and India in the future.
Primary beneficiary of Russia coal ban. Last week, the European Union, UK and Japan announced plans to phase out imports of coal from Russia, leaving power utilities to source from other countries such as Indonesia and Australia. Russia is the world's third largest exporter of thermal coal, with the EU, UK, Japan and South Korea taking about 55% of those deliveries in 2020, according to data provided by BloombergNEF.
Technical TP of S$0.71; fundamental TP of S$1.29. While we have a Technical TP of S$0.71 based on short-term technical factors, we maintain our fundamentals-based TP of S$1.29. Our fundamental TP is based on the SOTP valuation of its majority stakes in Stanmore Resources (metallurgical coal), PT Golden Energy Mines (thermal coal) and Ravenswood Gold (gold). Stanmore will increasingly drive GEAR's valuations, which currently makes up 48% of GEAR's fair value, while GEMS drops to 42% of our fair value, down from 85% in our initiation report (25 Aug 2021). Read the full fundamentals-based report here.
Golden Energy and Resources (AUE SP) (Source: Bloomberg)
---
Yangzijiang Shipbuilding (BS6 SP): Enhancing shareholder value
RE-ITERATE BUY Entry – 1.58 Target – 1.70 Stop Loss – 1.52
China's largest private shipbuilder. Yangzijiang is China's largest private shipbuilder. The company builds a broad range of commercial vessels including containerships, bulk carriers and LNG vessels. Yangzijiang has been at the forefront of shipbuilding in China.
Spin-off of investment business. The group will spin off its investment business into a separate entity, Yangzijiang Financial Holdings (YZJFH), and will list it on the Mainboard of the Singapore Exchange. YZJFH will place a strong focus on expansion into fund and wealth management, and diversify into fast-growing sectors and new asset classes including private debt and mezzanine financing. YZJFH will set up its headquarters in Singapore, with the aim of becoming a leading investment manager in Asia.
A record year for orderbook. In 2021, the group secured record order wins for 124 vessels with a total contract value of US$7.41 billion. The group has focused on building containerships and clean energy vessels which typically demand higher margins given their higher value-add over dry bulkers and tankers. As at the end of 2021, Yangzijiang had an orderbook of US$8.5bn for 157 vessels, with containerships accounting for >US$7bn or 83% of total existing contract value.
Positive consensus estimates. There are 7 BUYS and 2 HOLDs, with a 12m average TP of S$1.81, or an implied 13% total return from the last close price. Yangzijiang trades at an attractive 7.8x and 6.5x FY2022F and FY2023F P/E, and offers a dividend yield of around 3.0% per annum.
Yangzijiang Shipbuilding (BS6 SP) (Source: Bloomberg)
---
HONG KONG
China National Building Material Company Limited (3323 HK): Infrastructure expansion to boost the weak economy
BUY Entry 10.4 – Target – 11.5 Stop Loss – 9.8
China National Building Material Company Limited is an investment holding company. The Company operates its business through four segments. The Cement segment is mainly engaged in the production and sale New Suspension Preheater (NSP) cement and commercial concrete. The Lightweight Building Materials segment is mainly engaged in the production and sale of dry wall and ceiling system. The Glass Fiber and Composite Materials segment is engaged in the production and sale of rotor blades, glass fiber and composite materials. The Engineering Services segment is engaged in the provision of engineering services to glass and cement manufacturers, as well as equipment procurement business.
A new round of loosening monetary policy. On April 15th, PBOC lowered the requirement reserve ratio by 25bps but kept the one-year loan prime rate at 2.85%. There will be RMB530bn (US$83.25bn) in long term liquidities released in the banking system, buffering the slowdown in the economy due to lockdowns in main cities. Previously, China's central government drew up lists of infrastructure projects totalled at US$2.3tn. It is evident that China will resort to government spending to boost the economy in the near term.
Plan to restructure subsidiaries' businesses. The 84.5%-owned A-share listed subsidiary Xinjiang Tianshan Cement Co., Ltd (000877 CH) has announced that it is planning on certain restructuring which, if implemented, would involve asset acquisition, but would not be expected to constitute material asset restructuring of Tianshan Cement. The 49.3%-owned A-share listed subsidiary Ningxia Building Materials Group Co., Limited (600449 CH) has announced that it is planning on certain restructuring which, if implemented, would involve the issuance of shares by Ningxia Building Materials, and may constitute material asset restructuring of Ningxia Building Material.
The updated market consensus of the EPS growth in FY22/23 is 10.9%/9.5% YoY, respectively, translating to 4.1×/3.7x forward PE. The current PER is 4.5x. FY22F/23F dividend yield is 8.5%/9.5%. Bloomberg consensus average 12-month target price is HK$14.61.
China National Building Material Company Limited (3323 HK) (Source: Bloomberg)
---
Ganfeng Lithium Co Ltd (1772 HK): Range bound trade
RE-ITERATE BUY Entry 90 – Target – 110 Stop Loss – 80
GANFENG LITHIUM CO., LTD. is a China-based company principally engaged in the research, development, production and sales of deeply processed lithium products. The Company's main products include lithium compounds, lithium metal and lithium batteries. The Company's products are mainly used in electrical vehicles, chemicals and pharmaceuticals. The Company distributes its products in the domestic market and to overseas markets.
Ramp-up in capacity. The company announced that it and its partner Mineral Resources Limited agreed to upgrade the ore processing capacity of Mt Marion spodumene project of the joint venture Reed Industrial Minerals Pty Ltd (RIM). According to the test work results, it is estimated that the spodumene concentrate capacity of Mt Marion spodumene project will increase from 450,000 tonnes per annum to 600,000 tonnes per annum by April 2022. Meanwhile, RIM is planning the second stage of capacity expansion, which plans to expand the current spodumene concentrate capacity to 900,000 tonnes per annum, which is expected to be completed by the end of 2022.
Stellar FY21 earnings. FY21 Revenue jumped by 103.4% YoY to RMB11.1bn. Gross profit jumped by 282.5% YoY to RMB4.4bn. GPM jumped by 18.6ppts to 39.8%. Net profit attributable to the owners of the company jumped by 409.7% YoY to RMB5.4bn. NPM jumped by 21.6ppts to 49%. The stellar performance was due mainly to the 49% and 14.1% surge in the average selling price of the respective lithium series products and lithium batteries series products. Meanwhile, the company proposed a cash dividend of RMB3 for every 10 shares.
Lithium carbonate price maintains at a record high. Lithium carbonate prices in China stayed at RMB496,500/tonne as of 11th April due to high global demand and tight supplies. Prices have jumped more than 85% YTD. China is expected to double the EV sales in 2022 to more than 5mn units. Meanwhile, battery producers rush to secure long-term supply contracts with lithium mining companies. The recent sanction on Russia pushed oil prices back to more than US$100/bbl. The outlook for oil is still very bullish. Accordingly, the demand for petroleum vehicles will be further suppressed. On the contrary, the demand for EVs, especially in Europe and the US will be further propelled. As a result, lithium, the main raw material for batteries, is expected to see stronger demands.
The updated market consensus of the EPS growth in FY22/23 is 58.7%/16.0% YoY, respectively, translating to 13.4×/11.5x forward PE. The current PER is 21.4x. Bloomberg consensus average 12-month target price is HK$198.29.
Ganfeng Lithium Co Ltd (1772 HK) (Source: Bloomberg)
---
MARKET MOVERS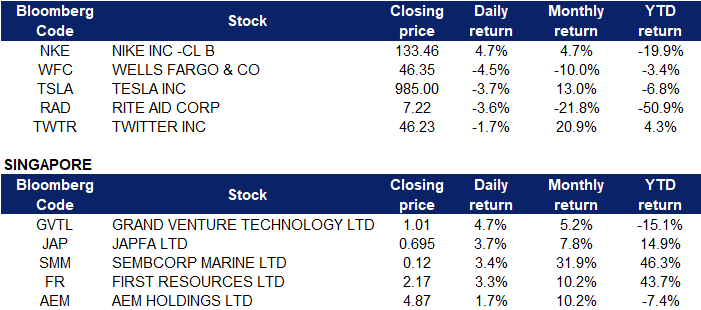 ---
Singapore
Grand Venture Technology Ltd (GVTL SP) shares rose 4.7% on Thursday. DBS Group Research's Ling Lee Keng and the Singapore research team has initiated coverage on Grand Venture Technology with a "buy" call and $1.50 target price, calling the company a "promising high growth venture". In their April 14 report, the team, led by Ling, writes that GVT rides on a positive industry outlook, highlighting that its expansion into the front-end semiconductor space is a key growth driver. The semiconductor industry, which contributed 71.1% to GVT's revenue in FY2021, remains positive, with a revenue CAGR of 39.3% during 2017-2021.
Japfa Ltd (JAP SP) shares rose 3.7% on Thursday. On March 29, the company announced plans to spin off its dairy operations in China for its own listing in Hong Kong. If the listing of AustAsia Investment Holdings (AIH) goes ahead, Japfa shareholders will get to enjoy a distribution in specie of AIH shares, which can potentially result in Japfa shareholders holding shares worth more than what they are trading at now.
Sembcorp Marine Ltd (SMM SP) shares extended their gains and rose 3.4% on Thursday. Sembmarine and Keppel Corporation said more time and deliberation were needed to advance the proposed combination of Keppel Offshore & Marine (Keppel O&M) and Sembmarine, although "significant progress" has been made. Keppel Corp's proposed deal to merge its offshore and marine business with Sembcorp Marine is not tied to short term movement of oil prices. "The decision to pursue the proposed transactions was taken considering the dramatic, long-term changes in the global offshore and marine engineering and energy sectors and the global energy transition away from oil," says Keppel. Keppel was responding to shareholders' questions ahead of its AGM to be held on April 22, how given rising oil prices, if Keppel would review its decision on the proposed merger.
First Resources Ltd (FR SP) shares rose 3.3% on Thursday. Malaysian palm oil futures touched a 4-week high of 6465 MYR a tonne, booked an over 9% gain for the week, the biggest weekly jump in more than six months, buoyed by worries over tight supply and strong demand from top buyers India and China. The shortage of sunflower and rapeseed oils, which Russia and Ukraine account for nearly 75% of the global exports, is forcing major importers to look for alternatives including palm oil from Malaysia and Indonesia.
AEM Holdings Ltd (AEM SP) shares rose 1.7% on Thursday. Temasek Holdings, the largest shareholder of AEM Holdings, has increased its stake in the semiconductor testing services provider. On April 7, Temasek, via a subsidiary Venezio, paid $1.63 million for 344,100 AEM shares, which works out to an average of $4.74 each. This brings Temasek's total stake to just over 37.2 million shares, or 12.03%, up from 11.91% earlier.
---
Hong Kong
The Hong Kong market is closed today in observance of a public holiday (Easter Monday). Trading resumes tomorrow, 19 April.
---
Trading Dashboard
Trading Dashboard Update: No additions or deletions to trading dashboard.
---