16 September 2022: Genting Singapore (GENS SP), Ganfeng Lithium Co Ltd (1772 HK)
Singapore Trading Ideas | Hong Kong Trading Ideas | Market Movers | Trading Dashboard
Genting Singapore (GENS SP): "Rooms" are hot
BUY Entry – 0.780 Target – 0.835 Stop Loss – 0.750
Genting Singapore is best known for its award-winning flagship project Resorts World Sentosa, one of the largest fully integrated destination resorts in South East Asia. Genting Singapore is one of the constituent stocks of the FTSE Straits Times Index.
Hotel prices hit a 10-year high. Singapore hotel room prices exceeded the pre-Covid level and hit a high in almost a decade in July 2022. As of July, the average room rate reached S$259/night, up c.70% YoY. The strong demand was driven by the increase in visitor arrivals amidst easing Covid-19 restrictions. Visitor arrivals in Singapore rose for the sixth straight month in July to 726,601, up from 543,733 in June, according to the tourism board.
Singapore hotel room price by tier

(Source: Singapore Tourism Analytics Network)
Upcoming high-profile events to push hotel prices higher. SuperReturn Asia 2022, a leading Private Equity and Venture Capital conference will be held on 19th-22nd September. Formula One Grand Prix will be held on 30th September-2nd October. Singapore will also host the Milken Institute Asia Summit, Forbes Global CEO Conference and several crypto events in September, followed by gamescom asia in October. Besides, the entertainment lineup includes performances by Westlife and Green Day. Other big names in entertainment coming to Singapore later this year include Justin Bieber, Maroon Five and Guns N' Roses.
Updated market consensus of the EPS growth in FY22/23 is 82.1%/60.7% YoY respectively, which translates to 28.0x/17.4x forward PE. Current PER is 52.7x. Bloomberg consensus average 12-month target price is S$0.95.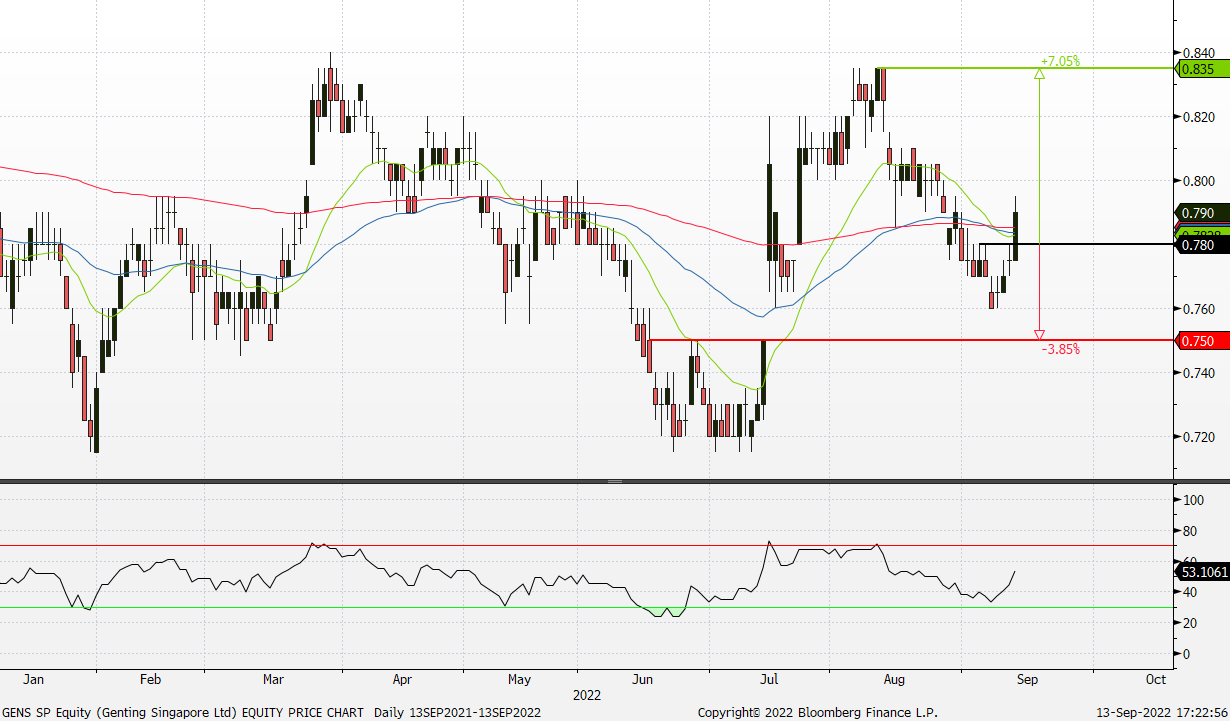 (Source: Bloomberg)
Singtel Ltd (ST SP): A new business development
RE-ITERATE BUY Entry 2.68 – Target – 2.86 Stop Loss – 2.56
Singtel provides an extensive range of telecommunications and digital services to consumers and businesses across Asia, Australia, Africa and the US. It serves over 753 million mobile customers in 21 countries, including Singapore, Australia (via wholly-owned subsidiary Singtel Optus) and the emerging markets of India, Indonesia, the Philippines, Thailand and Africa.
Offloading stakes in Airtel. According to NSE block deal data, Singtel entities were believed to have sold 1.76% stakes of Bharti Airtel through block deals, aggregating to around INR7,148 crore. A bulk of these shares has been acquired by Bharti Telecom Ltd (BTL), a key promoter company of the Indian telco. Two weeks ago, Singtel announced that its affiliates have entered into an agreement to transfer approximately 3.33 % shares to BTL for an aggregate amount of approximately S$2.25bn, leaving direct shareholding of Singtel and Bharti in Airtel at around 10% and 6%, respectively.
Singtel-Intel collaboration launched a 5G programme. Singtel and Intel jointly launched a multi-access edge compute 5G incubator that will enable enterprises to adopt 5G seamlessly, deploy applications that need low latency processing at the edge, and drive innovation. Through the incubator, enterprises can tap into Singtel and Intel's ecosystem to deliver their 5G use cases, including ready-to-deploy applications for rapid trials and proof of concepts for research and development.
1Q23 (YE March) results review. The improvement of the bottom line was driven by improved operational performance and exceptional gains from Airtel and dilution of the Group's effective shareholding in Australia Tower Network.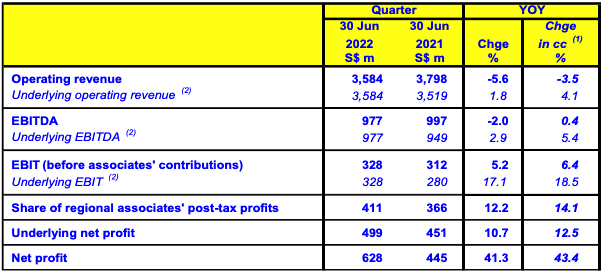 Updated market consensus of the EPS growth in FY23/24 is 26.1%/17.2% YoY respectively, which translates to 18.3x/15.6x forward PE. Current PER is 23.1x. Bloomberg consensus average 12-month target price is S$3.24.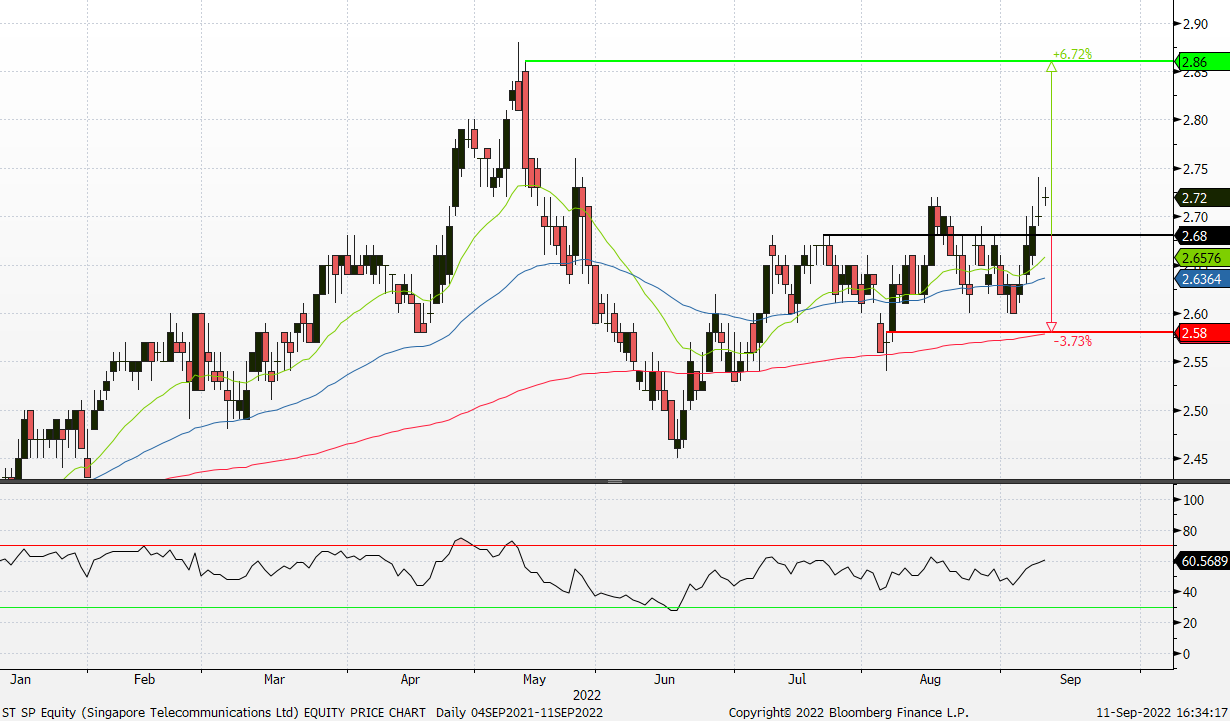 Ganfeng Lithium Co Ltd (1772 HK): Lithium carbonate prices climb up again
Buy Entry – 65 Target – 75 Stop Loss – 60
GANFENG LITHIUM CO., LTD. is a China-based company principally engaged in the research, development, production and sales of deeply processed lithium products. The Company's main products include lithium compounds, lithium metal and lithium batteries. The Company's products are mainly used in electrical vehicles, chemicals and pharmaceuticals. The Company distributes its products in the domestic market and to overseas markets.
Lithium carbonate prices back to near a record high. Lithium carbonate prices in China climbed to RMB497,500/tonne as of 12th September, remaining near the record-high of RMB500,000/tonne from March. Data from the Shanghai Metals Markets pointed to a 108% surge in carbonate imports in China, as the rebound in economic activity renewed demand for new energy vehicles.
1H22 earnings review. Revenue jumped by 255.8% YoY to RMB14.3bn. Gross profit jumped by 516.1% YoY. GPM jumped by 25.6ppts to 60.5%. PATMI jumped by 403.1% YoY to RMB7.4bn. The stellar performance was driven by the increase in the unit selling prices and sales volume of products.
Downstream integration. Ganfeng Lithium has begun construction of a solid-state battery production facility, which the company says will be the largest of its kind in China to date. Once completed, the factory in Chongqing will offer annual capacities of 10 GWh each for the production of battery cells as well as battery packs. The project in Chongqing is not Ganfeng's first battery factory. The company already has a battery production facility in Xinyu, Jiangxi province. Since the commissioning of the expansion stage there in January, up to 2 GWh of solid-state batteries per year and up to 7 GWh of LFP battery cells can be produced.
The updated market consensus of the EPS growth in FY22/23 is 205.2%/-9.2% YoY, respectively, translating to 7.3×/8.1x forward PE. The current PER is 10.9x. Bloomberg consensus average 12-month target price is HK$98.55.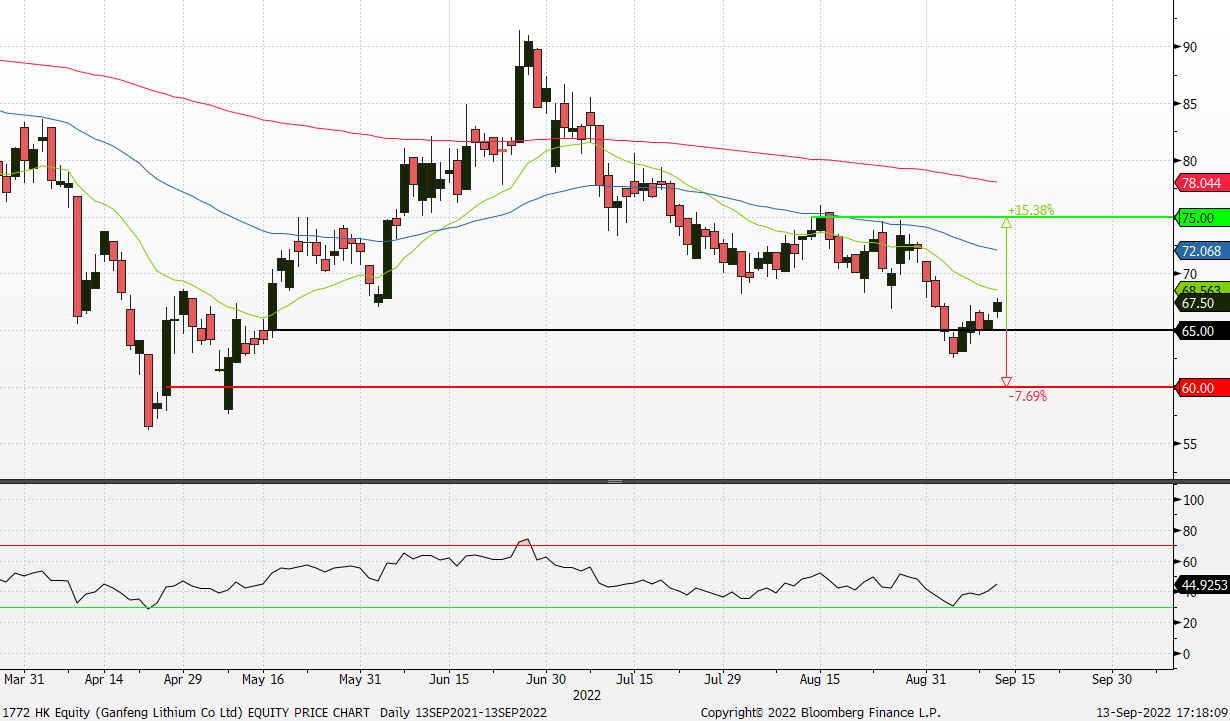 TRIP.COM (9961 HK): A Mid-autumn festival holiday-themed trade
RE-ITERATE Buy Entry – 190 Target – 210 Stop Loss – 180
Trip.com Group Limited, formerly Ctrip.com International, Ltd., is a travel service provider in China that provides accommodation booking, transportation ticketing, package tours and corporate travel management. The company aggregates hotel and transportation information to help leisure and business travellers make reservations. The company helps leisure travellers book travel packages and guided tours and helps corporate clients manage their travel needs. The company also offers a range of travel-related services to meet the different booking and travel needs of leisure and business travellers, including visitor reviews, attraction tickets, travel-related financial services, car services, travel insurance services and passport services. The company also offers package tours for independent leisure travellers, including tour groups, semi-tour groups and private groups, as well as package tours that require different transportation arrangements (such as cruise, buses or self-driving).
Mid-autumn Festival holiday bookings surged. As of 30th August, according to the company's 2022 Mid-autumn festival and autumn holiday booking statistics report, the overal bookings for the upcoming Mid-autumn festival holiday surged by 137% compared to the previous Dragon Boat Festival holiday. This year's Mid-Autumn Festival local travel, peripheral travel, long-distance travel orders accounted for 23%, 24%, 53%, long-distance travel compared with the same period this year Dragon Boat Festival accounted for nearly 30% of the increase. Mid-Autumn Festival is expected to become the best short holiday for this year's tourism market recovery.
1Q22 earnings review. Revenue remained flat at RMB4.1bn. Gross profit dropped by 1% YoY to RMB3.0bn. GPM fell 0.8ppt to 74%. Net loss narrowed to RMB149mn compared to RMB676mn during the same period last year.
Updated market consensus of the EPS in FY22/23 is US$0.253/US$1.096 respectively, which translates to 101.0x/23.3x forward PE. Bloomberg consensus average 12-month target price is HK$253.04.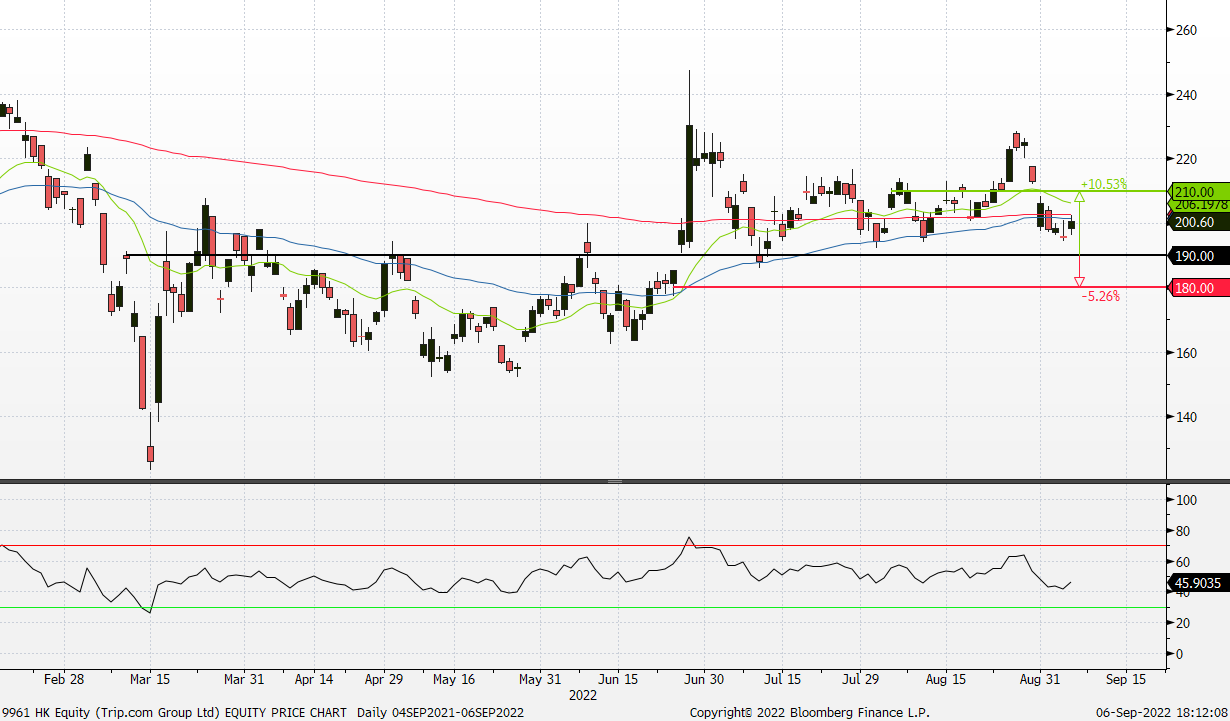 United States
Top Sector Gainers
Top Sector Losers
Adobe Inc (ADBE US) shares slumped 16.8% on news that it's acquiring a design software firm known as Figma for roughly $20 billion in cash and stock. The company beat earnings estimates for the period but shares mixed guidance for the current quarter.
Wynn Resorts Ltd (WYNN US) jumped 7.5% after Credit Suisse upgraded Wynn Resorts to outperform, saying the casino stock could nearly double after its hotel convention centre expansion in Las Vegas.
Arconic Corp (ARNC US) tumbled 16.6% after Arconic cut its full-year forecast amid higher energy costs in Europe and declining demand.
NextEra Energy Inc (NEE US) ticked 3.2% lower the day after the alternative energy company said it plans to sell $2 billion in equity units.
Humana Inc (HUM US) shares climbed 8.4% after upping its earnings guidance for the fiscal year. The health insurance company also announced a new addition to its board of directors.

Singapore
Beng Kuang Marine Ltd (BKM SP) rose 19.7% yesterday. There was no company specific news. On Sep 7, the executive chairman Chua Beng Yong acquired 2.4 million shares at an average price of 5.3 cents per share. This took his direct interest in the company from 3.18 per cent to 4.38 per cent. On Aug 12, Beng Kuang Group reported that its H1 2022 gross profit surged 46.8 per cent to S$4.3 million.
Jardine Matheson Holdings Ltd (JM SP) climbed 5.1% yesterday. There was no company specific news. Singapore stocks were pulled into positive territory on Thursday (Sep 15) after US equities finished higher overnight despite lingering concerns over inflation.
Chip Eng Seng Corp Ltd (CHIP SP) rose 3.5% yesterday. On Wednesday (Sep 7) said that Celine Tang, its non-executive chairman and non-independent and non-executive director, is considering a possible transaction involving the group's shares. However, there is no certainty that any possible transaction will materialise at this junction, Chip Eng Seng noted in a bourse filing. Last month, Chip Eng Seng posted a sharp increase in net profit for the 6 months ended June 2022, amid a rise in revenue. Net profit jumped to S$38.5 million for the period, from S$99,000 in H1 2021.
Golden Energy & Resources Ltd (GER SP) and Geo Energy Resources Ltd (GERL SP) rose 3.9% and 1.3% respectively yesterday. Indonesian coal miners are racing to boost production amid record prices and rising demand from Europe ahead of winter following a ban on the fuel from Russia. The European Union prohibition on coal from Russia, which took effect in August, and that country's shutdown of some gas supplies to the continent amid the war in Ukraine have left European buyers scrambling for coal from as far away as Indonesia and Australia. Benchmark Newcastle coal futures skyrocketed to a record high of around $460 per tonne in early September, triple the price at the beginning of the year, amid rising demand and tight supplies due to the Russia-Ukraine war and wet weather in Australia, another top coal producer. Fears are growing in European countries ahead of the northern hemisphere winter over the need to find substitutes for gas to meet home heating requirements.

Hong Kong
Top Sector Gainers
Top Sector Losers
Fosun International Ltd (0656 HK) rose 9.6% yesterday. Since September 6th, Fosun International has entered the market and repurchased shares four times, accumulatively repurchasing 15.8 million shares at a cost of about HK$73.63 million. According to information on Fosun's official website, on September 14, Zhu Wenkui, vice president of Fosun International, called on relevant leaders of the Beijing Municipal State-owned Assets Supervision and Administration Commission. The two parties conducted in-depth exchanges on the long-term cooperation between Fosun and Beijing state-owned enterprises and their participation in the progress of mixed-ownership reform of state-owned enterprises, and discussed strengthening cooperation in the future and promoting the accelerated implementation of projects in Beijing.
Country Garden Holdings Co Ltd (2007 HK) rose 8.7% yesterday. Chinese property stocks recovered collectively. On September 14, the spokesperson of the Ministry of Housing and Urban-Rural Development stated that it will continue to do a solid job in promoting the stable and healthy development of the real estate market with relevant departments. Including striving to achieve the goal of stabilising land prices, housing prices, and expectations. Improve the linkage mechanism of the four elements of people, housing, land and money. Guosheng Securities commented that the year-on-year decline in new home sales in August narrowed slightly. Considering the decline in the base in the second half of last year, it is expected that the year-on-year decline from September to December will continue to narrow, promoting a slight recovery in sales.
Wuxi Biologics Cayman Inc (2269 HK) increased 6.6% yesterday. Haitong International believes that the U.S. Biomanufacturing Act will have limited impact on WuXi Biologics in the short and medium term. The bank said that WuXi Biologics will maintain rapid growth in revenue and profits in 2022-2023. Revenue growth is expected to be 47% and 37%, respectively, and profit growth is expected to be 47% and 38%, respectively. The company has advantages in emerging technology fields including double antibody and ADC, and the number and proportion of projects have increased. The company's Wuxi plant has been substantially unaffected by UVL.
Xinte Energy Co Ltd (1799 HK) declined 8.8% yesterday. Shanxi Securities Research Report shows that the recovery of Sichuan power and the completion of the new production capacity ramp up one after another. It is expected that the production of silicon materials in September will have the opportunity to exceed the order of 80,000 tons, and the month-on-month increase is large. However, from the perspective of supply and demand, the supply of silicon materials and the delivery of production scheduling are still tight in mid-to-early September, and it is expected that the effect of increasing supply will gradually appear in mid-October. An analyst in the photovoltaic industry, said that the centralised maintenance of the large silicon material factory in June this year, as well as the high temperature and power cuts in summer, all had a certain impact on the expansion of silicon material production.
Flat Glass Group Co Ltd (6865 HK) fell 7.2% yesterday. Monita said that according to the latest industry grassroots research, the output of leading integrated module companies in August decreased month-on-month, and the production schedule of leading module companies in September increased month-on-month. In terms of domestic market demand, the current average price of 182mm single-sided single-glass modules is 1.98 yuan/Wh, and the demand for household, industrial and commercial distributed projects is still strong. The current module price has suppressed the start-up of domestic ground-based power plants. It is judged that the release of upstream silicon material production capacity in the fourth quarter will be conducive to its start-up and grid connection.


Trading Dashboard Update: Add Ganfeng Lithium (1772 HK) at HK$65. Take profit on Xinte Energy (1799 HK) at HK$24 and Samsonite International (1910 HK) at HK$20.6.