16 February 2022: ThaiBev (THBEV SP), Hua Hong Semiconductor Ltd (1347 HK)
Singapore Trading Ideas | Hong Kong Trading Ideas | Market Movers | Trading Dashboard
SINGAPORE
Rex International Holdings Ltd (REXI SP): Upside bias for oil prices
RE-ITERATE BUY Entry – 0.39 Target – 0.50 Stop Loss – 0.35
Rex International Holding Limited operates as an independent oil exploration and production company. It operates through Oil and Gas, and Non-Oil and Gas segments. The company offers Rex Virtual Drilling, a liquid hydrocarbon indicator, which uses seismic data to search for oil. The company is involved in the oil and gas exploration and production activities with a focus in Oman and Norway.
Joining the big guys. The company announced on 26 Jan 2022 that it has obtained approval-in-principle from SGX for the transfer of listing from the Catalist Board to the Mainboard. The board believes that the Mainboard Listing would provide the company with a wider platform to reach out to a larger investor base. This could potentially facilitate greater access to equity and debt markets, if applicable, to maximise the group's growth potential.
Geopolitical risks are a boost to oil prices. Both Brent and WTI rose around 3% last Friday to US$94.44 and US$93.10 respectively, closing at their highest levels since Sep 2014, after a senior White House official warned that Russia could invade Ukraine very soon. Even without the prospect of war, oil supply challenges among exporting countries still threaten to increase the tightness in oil markets and may continue to push prices higher, according to the International Energy Agency.
Earnings watch. Rex is due to report its full year results on Friday, 25 February 2022. This set of earnings will be closely watched as it will include contributions from the Brage Field in Norway that Rex acquired in 2021.
Oil prices are at the highest since 2014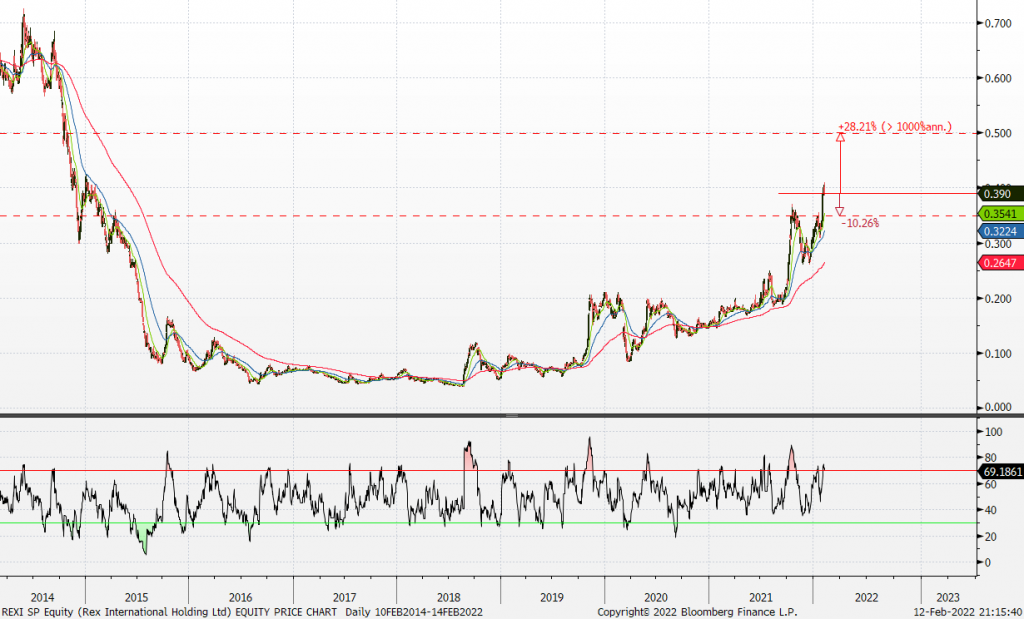 ---
ThaiBev (THBEV SP): Reopening and laggard play
BUY Entry – 0.68 Target – 0.80 Stop Loss – 0.62
ThaiBev is Thailand's largest and one of Southeast Asia's largest beverage companies. THBEV has a 28.5% stake in SGX-listed Fraser & Neave Ltd (FNN SP) and a 28.3% stake in Frasers Property Limited (FPL SP). It also has a 53.6% stake in Saigon Beer-Alcohol-Beverage Corporation (SABECO), Vietnam's largest beer company. ThaiBev has a 90% market share of Thailand's spirit market.
Resilient 1QFY2022 performance. ThaiBev yesterday provided a 1QFY2022 (YE Sep) business update. Revenue in the quarter increased 7.4% YoY while EBITDA rose 1.6% YoY. The stronger growth was driven by the recovery in the beer (+10% YoY sales) and food (+21% YoY sales) segments. Balance sheet also improved with net gearing dropping to 0.75x as at end Dec-2021 vs 0.86x as at end Sep-2021.
Lagging its peers in the STI. Despite the resilient financial performance, shares of ThaiBev have underperformed its fellow peers in the STI over the past one year. ThaiBev was the third worst performing component, declining 13% over the past one year and only outperforming Keppel DC REIT (-26%) and DairyFarm (-34%). In comparison, the STI increased 16% over the past one year.
Positive consensus estimates. Consensus has 17 BUYS and 1 HOLD on ThaiBev, with an average TP of S$0.87, implying a 26% upside potential from the last close price. Earnings are expected to recover 7-11% per annum over the three two years, which would bring its forward P/E down to 15x/14x/13x FY2022/23/24F (YE Sep).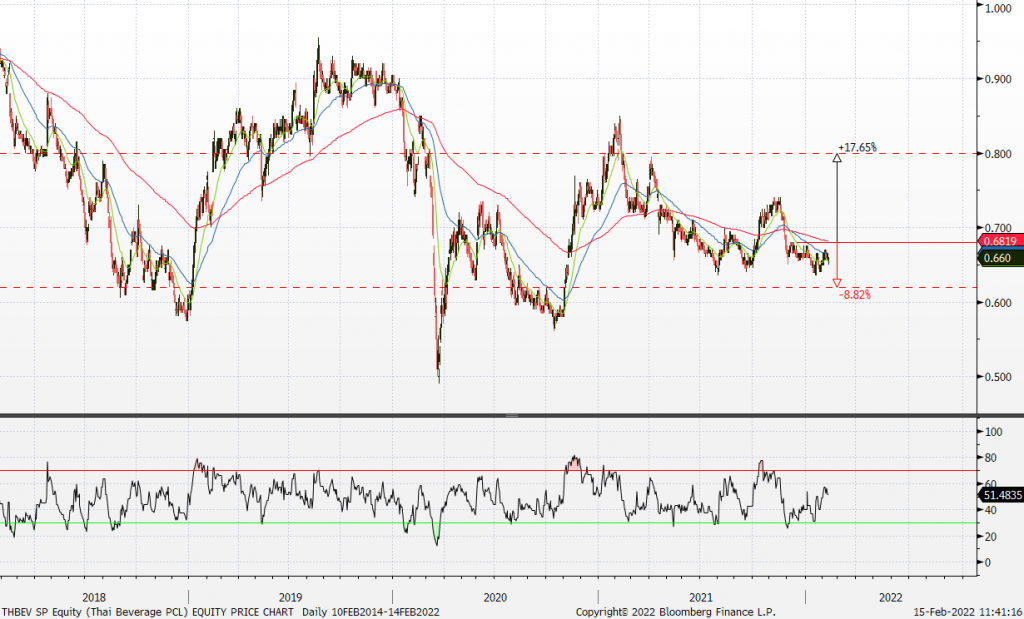 ---
HONG KONG
Hua Hong Semiconductor Ltd (1347 HK): Rate hike impact is about done
Buy Entry – 38 Target – 44 Stop Loss – 35
Hua Hong Semiconductor Ltd is an investment holding company engaged in production and sales of semiconductor wafers. The Company produces 200mm and 300mm-wafers. Its products are applied in general microcontroller (MCU), Type-C interface chips, image stabilization chips, touch control chips, and smart meter controller chips. The products also serve Internet of Things (IoT), new energy vehicles, artificial intelligence and other markets. The Company operates its businesses through its subsidiaries.
Another record high quarter in 4Q21. Revenue hit an all-time high of US$528.3 million, up 88.6% YoY and 17.0% QoQ. Gross margin was 29.3%, up 3.5 ppts YoY and 2.2 ppts QoQ. Net profit attributable to shareholders of the parent company was US$84.1 million, up 92.9% YoY and 65.6%. 1Q22 guidance remains upbeat. Revenue is expected to be approximately US$560 million. Gross margin is expected to be in the range of 28% to 29%.
More or less priced in rate hike. Semiconductor sector performed poorly YTD due mainly to the expectations of rate hike and Fed balance sheet reduction. However, market leaders such as Taiwan Semiconductor Mfg. Co. Ltd. (TSM US) and Advanced Micro Devices, Inc. (AMD US) provided positive guidance for FY22 after they delivered strong 4Q21 results. The strong fundamentals are expected to offset the rate hike impact in the near term. Chip shortage will last longer than expected as demand growth outpaces the ramp-up in production.
Consensus estimates. Updated market consensus of the estimated net profit growth in FY22/23 is 39.7%/12.3% respectively, which translates to 23.3x/20.7x forward PE. The current PE is 37.7x. Bloomberg consensus average 12-month target price is HK$53.08.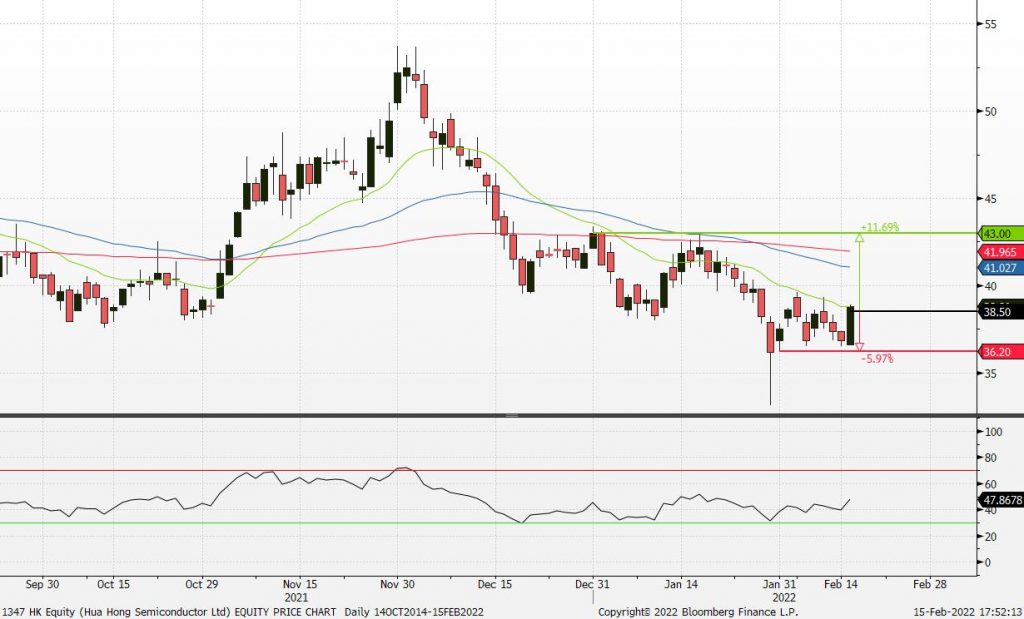 ---
China Oilfield Services Limited (2883 HK): About to see three-digit oil prices
RE-ITERATE Buy Entry – 8.5 Target – 9.5 Stop Loss – 8.09
Oil prices are about to reach US$100/bbl. Both Brent and WTI had surged to another new high since 2014, driven by the concerns over escalating tensions between Russia and Ukraine. Even though omicron infection cases are still rising, and some lockdowns in several countries remain, the demand for oil has not tapered substantially. The recent decision from OPEC+ to hike output by 400,000 bbls/d failed to bring prices down as the supply-demand gap is narrower than expected. More importantly, the underinvestment in exploration and production will leave limited room for further output hike. Accordingly, the market is projecting oil prices to reach US$100/bbl this year.
We may not see inflation subside in the near term. The US, Europe, and China released their inflation data recently, showing that inflation pressure is still high. Oil and gas is a good hedge against inflation or stagflation amidst the rate hike cycle. The buoyant oil price will gradually pull some investments back in the sector given that clean energy investment is overheated at the moment.
The updated market consensus of the EPS growth in FY22/23 is 42.2%/19.3% YoY respectively, which translates to 10.2x/8.6x forward PE. Current PER is 16.5x. Bloomberg consensus average 12-month target price is HK$9.73.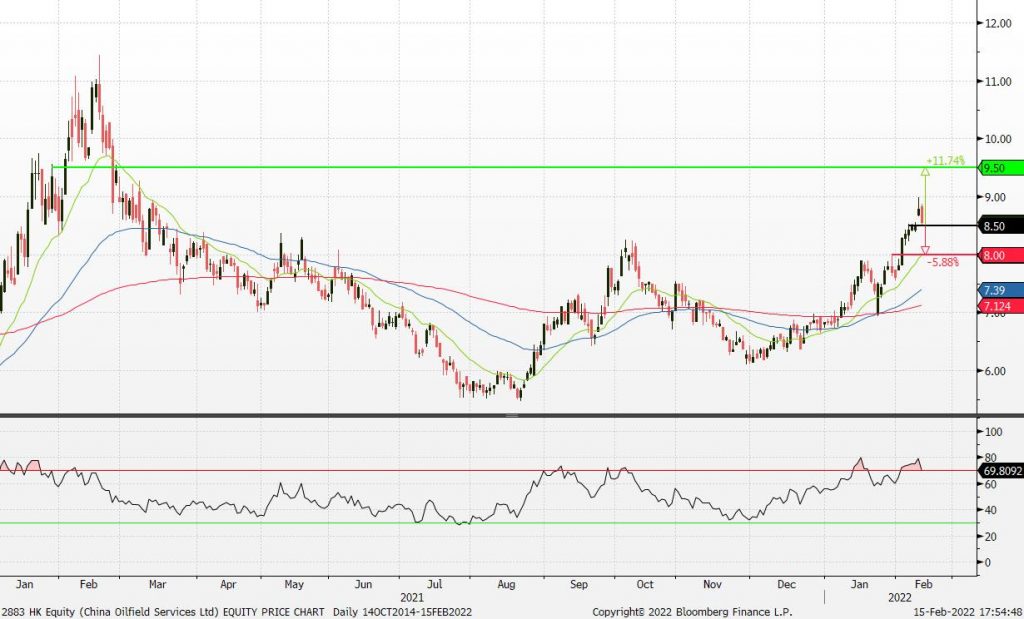 ---
MARKET MOVERS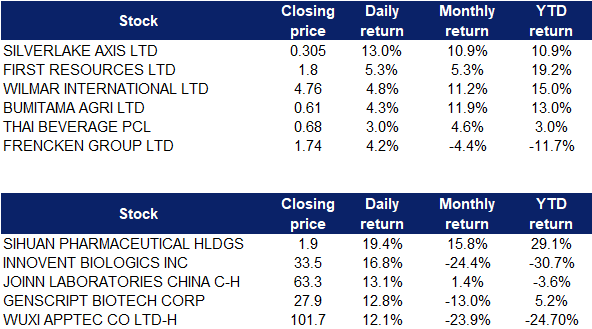 ---
United States
Top Sector Gainers
Top Sector Losers
Monolithic Power Systems Inc (MPWR US) NVIDIA Corp (NVDA US) Both shares led the gains amidst the rebound in semiconductor sector. Previously, Monolithic Power Systems (MPS) announced the 4Q21 results. ThenNon-GAAP EPS arrived at US$2.12, beating estimates by US$0.24. Revenue of US$336.5mn beat estimates by US$14.73. MPS's strong financial performance in 2021 was largely due to a 40 percent increase in fab and assembly capacity. For 1Q22, the company expects revenue to be in the range of US$354mn to US$366mn, compared to the consensus of US$322.01mn. GAAP gross margin is expected to be between 57.4% and 58.0%, and Non-GAAP gross margin is estimated to be between 57.7% and 58.3%. NVIDIA is going to announced the 4Q21 results on 16th February. Investors have strong expectations that the largest graphic card maker to deliver better than expected earnings. 
American Airlines Group Inc (AAL US) United Airlines Holdings Inc (UAL US) Airlines stocks jumped after Russia said on Tuesday that some of its military units were returning to their bases after exercises near Ukraine, following days of United States and British warnings that Moscow might invade its neighbour at any time.
Expedia Group Inc (EXPE US) Tourism stocks jumped as the Russia-Ukraine tensions eased off on Tuesday. Last Friday, Expedia reported adjusted earnings of $1.06 a share on revenue of $2.3 billion. Analysts expected Expedia to report earnings of 60 cents a share on revenue of $2.3 billion.
---
Singapore
Silverlake Axis (SILV SP) surged 13% after the company reported a 72% YoY rise in 2Q profit as revenue increased 29% YoY, driven by strong growth in project related revenue segments. The company noted that there was continued robust growth in its recurring revenue segments, which made up more than 75% of the total group's revenue in the first half. Management provided an upbeat outlook for the next half of FY2022 and beyond. The strong gains in Silverlake Axis spilled over into the broader Singapore technology sector, with oversold counters such as Frencken (FRKN SP) and AEM (AEM SP) gaining 3-4% yesterday.
Palm oil counters Wilmar International (WIL SP), First Resources (FR SP) Bumitama Agri (BAL SP) all gained 4-5% yesterday after palm oil futures rose to an all-time high, tracking stronger petroleum and soybean oil prices. The gains in palm oil futures was triggered by India's move to cut a tax on imports that is seen as boosting demand from the world's largest buyer. India lowered the agriculture infrastructure and development tax on the crude variety of palm oil to 5.0% from 7.5%, according to a finance ministry notification.
ThaiBev (THBEV SP) shares rose 3% on Tuesday after it reported that 1QFY2022 (YE Sep) sales and EBITDA rose 7% and 2% YoY respectively. The better performance was driven by improvement in its beer, non-alcoholic and food businesses. The group's balance sheet improved with total assets rising to 472bn Thai baht while total liabilities fell 2% YoY to 257bn Thai baht.
---
Hong Kong
Top Sector Gainers
Top Sector Losers
Sihuan Pharmaceutical Holdings Group Ltd. (460 HK) Shares closed at a 3-month high. On 11 February 2022, CBC Group announced that the Hugel Acquisition has been completed, upon which CBC Group has become the single largest shareholder and actual controller of Hugel, controlling approximately 42.90% shareholding in Hugel.
Innovent Biologics Inc (1801 HK) Shares rebounded from a 52-week low, driven by the jump in the biotech sector. The TP of the stock was slashed by several banks. Goldman Sachs cut TP by 28.8% to HK$60.3. UBS cut TP by 7.7% to HK$60. Bank of America cut TP by 43.3% to HK$39.5. Previously, The U.S. Food and Drug Administration hosted an Oncologic Drugs Advisory Committee for the Biologic License Application of sintilimab, which is under review for the first-line treatment of people with non-squamous non-small cell lung cancer based on the ORIENT-11 trial conducted in China. On the single voting question, the Committee voted that additional clinical trial(s) should be required to demonstrate applicability to the U.S. population and medical practice prior to a final regulatory decision. Sintilimab is a novel PD-1 inhibitor being developed and commercialised under a collaboration agreement between the company and Eli Lilly.
Joinn Laboratories China Co Ltd (6127 HK) and WuXi AppTec Co., Ltd. (2359 HK) There was no company-specific news. The overall biotech sector jumped due to several pieces of positive news.
Genscript Biotech Corp (1548 HK) Previously, the company announced that Legend achieved two milestones under its collaboration agreement with Janssen for cilta-cel, resulting in aggregate payments to Legend of US$50 million. Cilta-cel is a B-cell maturation antigen (BCMA)-directed chimeric antigen receptor T-cell (CAR-T) therapy.
---
Trading Dashboard
Trading Dashboard Update: Add China Molybdenum Co Ltd (3993 HK) at HK$4.5 and China Oilfield Services Limited (2883 HK) at HK$8.5. Add Rex International (REXI SP) at S$0.39. Take profit on Jiutian Chemical (JIUC SP) at S$0.086.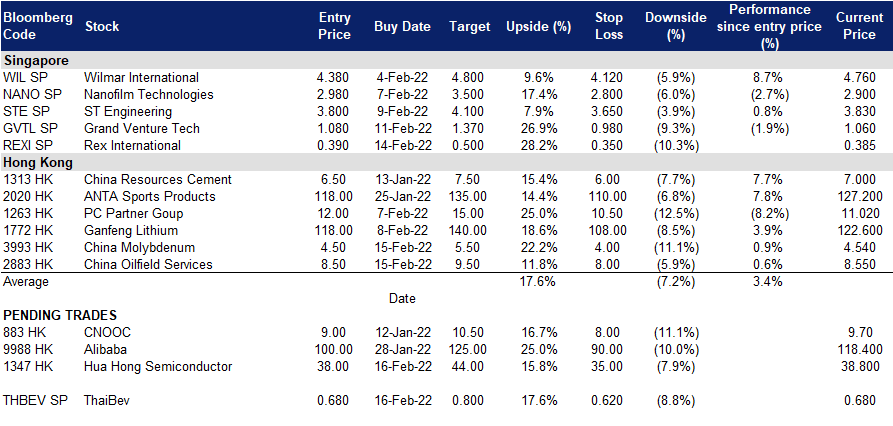 (Click to enlarge image)
---