15 Nov 2021: UMS Holdings (UMSH SP), JD.com (9618 HK)
Singapore Trading Ideas | Hong Kong Trading Ideas | Market Movers | Trading Dashboard
SINGAPORE
UMS Holdings (UMSH SP): Record after record
BUY Entry – 1.38 (BUY STOP) Target –1.60 Stop Loss – 1.30
UMS engages in manufacturing of high precision components, complex assembly and final testing for semiconductor equipment manufacturers. Its key customer is US-listed Applied Materials (AMAT US). UMS Is headquartered in Singapore and has production facilities in Singapore, Malaysia and China, as well as offices in the US.
Record breaking 9M2021 performance. Last Friday(12 Nov), UMS reported a stellar set of 3Q2021 results. UMS 3Q2021 revenue surged 50% YoY to S$67.6mn while net profit rose 25% YoY to S$16.1mn. It has proposed a higher dividend of 1.0 Sing cents vs 0.5 Sing cents in the prior quarter. The strong performance was on the back of strong growth in the global semiconductor industry and from the consolidation of JEP Holdings.
A potentially another record year ahead. Global equipment investments for front end fabs in 2022 are expected to reach nearly US$100bn, after topping a projected US$90bn of investments in 2021. Riding on this strong trend, UMS will be increasing its production capacity by doubling its capex in FY2022. UMS' new Penang factory is scheduled for completion in 3QFY2022.
Positive street outlook. Consensus has 6 BUYS / 1 HOLD and a 12m TP of S$1.62, an implied 17% upside potential from the last close price. UMS currently trades at 15x and 13x FY2021 and FY2022 P/E.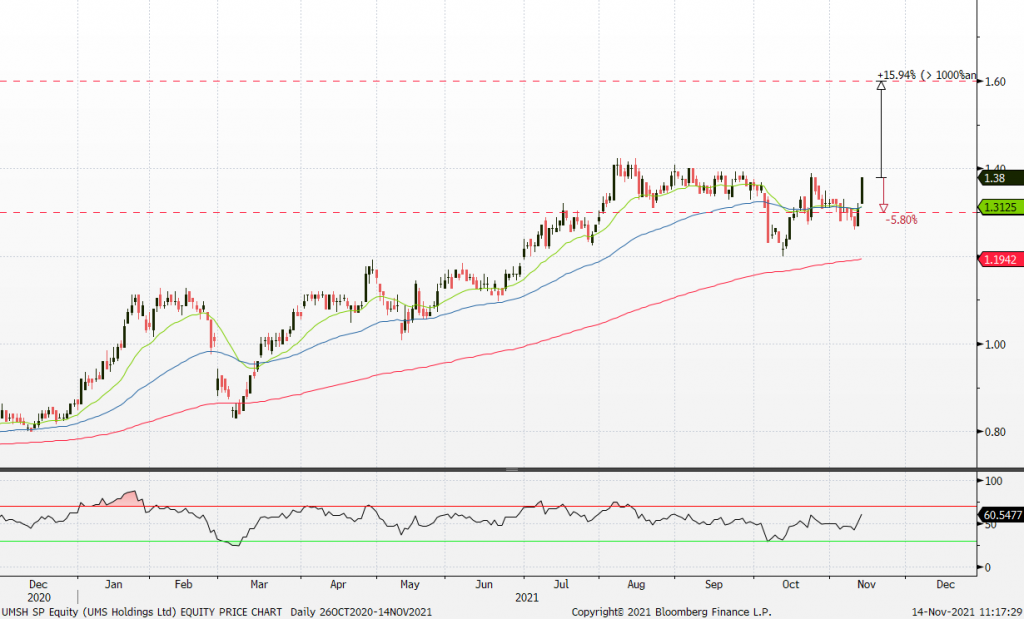 ---
AEM Holdings Ltd (AEM SP): Riding the semicon wave
REITERATE BUY Entry – 4.50 Target –5.00 Stop Loss – 4.30
AEM Holdings Limited is a Singapore-based company, which offers application specific-intelligent system test and handling solutions for semiconductor and electronics companies serving computing, fifth generation (5G) and artificial intelligence (AI) markets. Its segments include Equipment systems solutions (ESS), System Level Test & Inspection (SLT-i), Micro-Electro-Mechanical Systems (MEMS), Test and Measurement Solutions (TMS) and Others.
Raised full year guidance. Yesterday, AEM reported revenue of S$338.5mn and profit before tax of S$63.3mn for 9M21. Top and bottom line was lower compared to 9M20 as AEM's key customer was preparing to phase over to the company's next generation test platforms. QoQ revenue increased from S$112mn in 2Q21 to S$146.2mn in 3Q21. The company also raised FY21 revenue guidance to between S$525mn and S$550mn.
Positive momentum to follow through 4Q21 and beyond. QoQ revenue growth was mainly due to the volume ramp up for AEM's next gen System Level Testing (SLT) handlers, primarily driven by Intel's logic chips . The company expects the ramp to continue through 4Q21 and into FY22.
Strong demand for semicon continues. Amidst the semicon shortage, front-end industry leaders such as TSMC are heavily investing in building more chip plants to meet the strong demand. TSMC recently announced that it would be setting up a new chip factory in Taiwan's Kaohsiung City and will be teaming up with Sony to open a chip plant in Japan. As supply chain issues are alleviated, upstream to downstream flows are expected to normalise. Coupled with increased end user demand, would lead to increased SLT, benefitting AEM in the future.
Positive consensus forecast. According to Bloomberg consensus estimates, AEM currently has 4 BUYS, 0 HOLD and 0 SELL, with a 12M TP of S$5.53, representing an upside of 26.3% as of yesterday's closing price.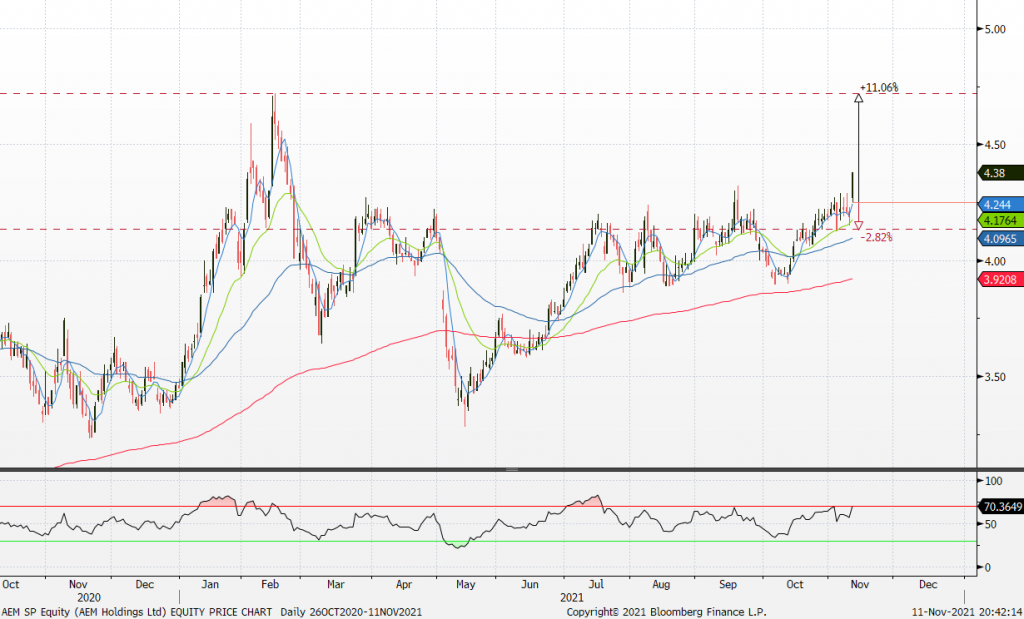 ---
HONG KONG
JD.com (9618 HK): Booster from "Double 11"
BUY Entry – 310 Target – 350 Stop Loss – 290
JD.com Inc is a holding company mainly engaged in e-commerce business. The Company operates two segments. JD Retail segment consists of online retail, online marketplace and marketing services in China. The Company offers electronics products, home appliances and other general merchandise categories. The Company has its own online platform, which third-party merchants offer products on it. The Company provides marketing and display advertising services to third-party merchants, suppliers and other business partners on its website channels. New Businesses segment includes logistics services provided to third parties, overseas business, technology initiatives, as well as asset management services to logistics property investors and sale of development properties. It offers comprehensive supply chain solutions to third parties through JD Logistics, including warehousing, transportation, delivery and after-sales service. The Company mainly conducts its businesses in the China market.
New "Double 11" sales record. The annual sales festival in China started in November, during which e-commerce companies' shares benefit from this seasonal booster. The household appliance sales jumped by 50% YoY to more than RMB349bn on 11th November. More than 50mn customers placed orders on JD.
Arduous recovery. Both market sentiment and confidence in Chinese tech giants have been negatively impacted since July when authorities initiated rounds of clampdown. It is likely that regulations will never be over. Investors should recognise that this is the new normal for Chinese tech firms. Fundamentals such as the operating environment and domestic economic prospects have been transformed. Tech companies' valuations are being re-rated based on decent growth instead of high growth. JD is relatively less vulnerable from policies and regulations as it is more concentrated on its core business, e-commerce and logistics, instead of diversification. From the share price performance, it is likely waking out of the woods.
Eye on the upcoming results. JD will be announcing 3Q21 results on 18th November. EPS estimate is US$0.32, down 36% YoY from US$0.5 in 3Q20. The fall in earnings may already be priced in the last quarter.
Positive consensus forecast. Updated market consensus of the estimated EPS growth in FY22/23 are 40.8%/64.0% respectively, which translates to 39.2x/23.9x forward PE. The current PE is 55.2x. Bloomberg consensus average 12-month target price is HK$387.91.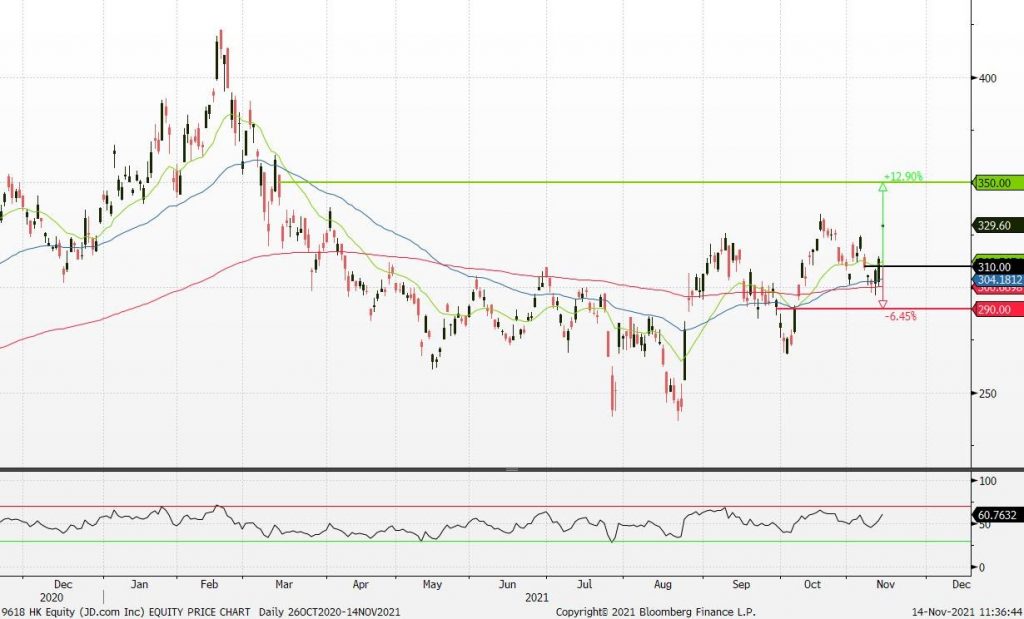 ---
Haier Smart Home Co., Ltd., (6690 HK): Walking out of the woods
REITERATE Buy Entry – 28 Target – 31 Stop Loss – 26.5
Haier Smart Home Co., Ltd., formerly QINGDAO HAIER CO., LTD., is a China-based company principally engaged in the research, development, manufacture and sales of household electrical appliances. The Company's main products include refrigerators/freezers, washing machines, air-conditioners, water heaters, kitchen appliances products, small home appliances and U-home smart home products. The Company also provides the customers with integrated smart home solutions. The Company is also involved in channel integration service business, including logistics, as well as the distribution of home appliances and other products. The Company distributes its products in the domestic market and overseas.
3Q21 financial results update. Revenue slightly dipped by 0.58% YoY to RMB58.3bn. Net profit attributable to the company shareholders dropped by 12.4% YoY to RMB3.1bn. The unfavourable performance was due to the impact from Delta variant and high material costs.
Boost from "Double 11". The "Double 11" sales figures were quite promising. According to Tmall, Haier recorded RMB800mn sales for the first 30 mins. It ranked the top on Tmall and JD.com among other household appliance brands in terms of sales as of 1am 11th November.
Headwinds tapered. Material prices started to top out in 3Q21 as the government has proactively clamped down on commodity prices. Meanwhile, overseas countries have started to open borders, easing supply chain disruptions.
Positive consensus forecast. Updated market consensus of the estimated EPS growth in FY22/23 are 19.7%/15.2% respectively, which translates to 14x/12x forward PE. The current PE is 17.8x. The FY21F/22F/23F dividend yield is expected to be 2.1%/2.7%/3.2% respectively. Bloomberg consensus average 12-month target price is HK$40.16.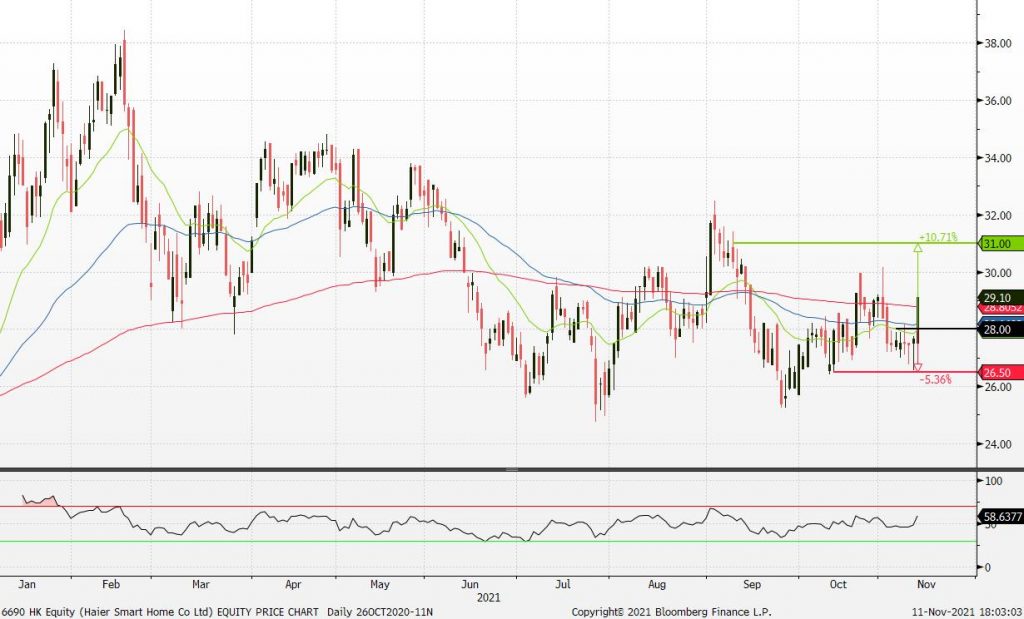 ---
Market Movers


---
United States
Top Sector Gainers
Top Sector Losers
Boeing Company (The) (BA US) Shares gained 5.5% yesterday, after China signalled that it may be close to recertifying the 737 MAX, nearly a year after the passenger jet was cleared to fly in the United States. Previously, China was the first nation to ground the MAX, following crashes in 2018 and 2019, and has not allowed the jet to fly since. Diplomatic tensions between the US and China have added to the uncertainty surrounding the return of the plane, a key American export and Boeing's main source of revenue. However, there are signs of a thaw, with presidents Biden and Xi slated to talk for the first time.
Wynn Resorts Ltd (WYNN US), Las Vegas Sands Corp (LVS US). Casino sector shares rose collectively yesterday, with Wynn Resorts gaining 4.4% and Las Vegas Sands gaining 4.1%. While casino operators continue to warn that travel restrictions will hold back near-term traffic, they note that pent-up demand is ready to be unleashed and the general outlook for the gaming license renewal process in 2022 is looking more positive.
Crowdstrike Holdings Inc (CRWD US). Shares declined 10.6% yesterday, after Morgan Stanley initiated coverage on CrowdStrike with an underweight rating and a $247 price target. The report highlighted that the potential for decelerating revenue growth and the stock's valuation of approximately 26x its 2023 sales creates an unfavorable risk-reward. Furthermore, CrowdStrike's first-mover advantages appear to be fading as its rivals' next-generation endpoint detection and response offerings catch up to it in terms of capability — and as its peers offer those services to customers for at least 15% to 20% less.
Tesla Inc (TSLA US). Shares declined 1.9% yesterday, extending to 3 consecutive days of losses. Shares tumbled after Elon Musk asked his followers on a Twitter pole whether he should sell some of his shares in the company, followed by news of him unloading stock worth about US$ 7bn after. Shares may have faced additional pressures from the blockbuster trading debut of Rivian Automotive (RIVN US), which gained a total of 91% since its IPO last Wednesday.
---
Singapore
AEM Holdings (AEM SP) shares jumped on Friday. The company released its third quarter results last Wednesday, recording revenue of $146.2 million in 3QFY2021 ended September, up 9.7% YOY from $112.0 million in 2QFY2021. AEM also raised FY2021 revenue guidance to between $525 million and $550 million. CGS-CIMB increased its target price on the stock to $5.84 from $5.59 as a result of a lowered price-to-earnings ratio of 14.92 times from 15.30 times. Analyst William Tng believes that potential re-rating catalysts are stronger-than-expected orders from AEM's major customer and earlier-than-expected success in securing orders from other prospective customers. Read our trading idea note on AEM here.
Trans-China Automotive (TCAH SP) made its trading debut on the Catalist board on Thursday and closed 6.5% higher above its IPO price of $0.23. It extended its gains on Friday, adding another 2%. The IPO of TCA's 85 million shares was made up of 2.9 million shares under the Singapore public offer which was 8 times subscribed. All 82.1 million placement shares were validly subscribed for., and the offering had a subscription rate of 1.2 times.
ComfortDelgro (CD SP) shares extended its losses on Friday, dropping another 3.2% after it posted its third quarter results. Revenue was 7.4% higher at $880.3 million, boosted by higher revenue from public transport services and automotive engineering services. Revenue for its public transport services rose 10.3% to $710.6 million due in part to higher revenue in Singapore. Operating profit declined 8% to $40.3 million due to higher operating costs and lower government relief. ComfortDelgro previously announced that it is no longer pursuing an IPO for its wholly-owned Australian subsidiary ComfortDelGro Corporation Australia on the Australian Stock Exchange.
Singapore Airlines (SIA SP) shares declined 2% on Friday after the company reported half yearly results, posting a smaller net loss of $427.6 million for the second quarter to September, citing a rise in passenger traffic amid the launch of vaccinated travel lanes (VTLs). Revenue doubled in the second quarter to S$1.53 billion due to strong cargo demand and a four-fold rise in passenger numbers from a very low base.
Kimly (KMLY SP) shares declined 2.7% on Friday after it was announced that two of the company's directors were charged over disclosure offences. Former executive chairman Lim Hee Liat and former executive director Chia Cher Khiang resigned on Thursday after they were each charged for an offence under the Securities and Futures Act, in relation to the company's failure to notify the Singapore Exchange that its acquisition of Asian Story Corporation (ASC) was an interested person transaction. The police said that the acquisition was an interested person transaction, which should have been disclosed under the SGX Catalist Rules.
---
Hong Kong
Top Sector Gainers
Top Sector Losers
Razer Inc (1337 HK). Shares rose 13.9% on Friday. According to data from JD.com regarding its Double 11 sales, only 10 minutes from 8 pm on the 10th, the turnover of e-sports routers increased by 5 times YoY, and the turnover of e-sports monitors increased by 110% YoY. Sales achieved breakthrough growth and the turnover of high-performance graphics cards increased by 110% YoY. Razer is a world-renowned gaming peripherals manufacturer and its latest mid-year report shows that the company's peripherals and computers account for 90% of its revenue.
Shanghai MicroPort MedBot Group Co Ltd (2252 HK). Shares rose 10.9% on Friday, gaining a total of 55.3% since its IPO on 2 November. The company is a subsidiary of MicroPort Scientific Corporation (853 HK). It was reported that the company is actively carrying out strategic cooperation on a global scale, establishing partnerships with many top international surgical robot companies and accelerating the deployment of R&D centers in many overseas countries and regions such as Singapore. According to Frost & Sullivan's report, the global surgical robot market has increased from USD 3bn in 2015 to USD 8.3bn in 2020, and may reach USD 33.6bn in 2026.
Xpeng Inc (9868 HK). Shares rose 10.9% on Friday after Citigroup issued a research report with a BUY rating on Xpeng and raised its target price from HK$207.5 to HK$338. According to the report, the bank expects new energy vehicle manufacturers to perform well in the race to achieve autonomous driving technology as they have a competitive advantage in the development of advanced driver assistance systems (ADAS). Citigroup has increased the company's annual vehicle sales from 71,000, 120,000 and 170,000 vehicles to 94,000, 160,000 and 240,000 vehicles from 2021-2023. It also increased R&D costs to RMB 4.2bn, RMB 4.7bn, and RMB 5.4bn respectively from 2021-2023, taking into account the higher investment in the research and development of advanced driver assistance systems.
China Evergrande Group (3333 HK). Shares rose 9.9% on Friday on news that several bondholders have received coupon payments from the company. Chinese media outlet Cailianshe earlier reported that several bondholders have received interest payments for the three bond tranches maturing in 2022, 2023 and April 2024. The total bond interest exceeds US$ 148mn and was due last month, but had a 30-day grace period which ended last Wednesday. Regulators and government think tanks have held meetings with developers in the past few weeks, and the market is expecting some easing in credit and housing policies to prevent a hard landing of the sector.
GCL-Poly Energy Holdings Ltd (3800 HK). Shares rose 8.8% on Friday. On Thursday, GCL-Poly issued an announcement that its subsidiary, Jiangsu Zhongneng Silicon Technology Development Co Ltd. added 20,000 tons of silane fluidized bed (FBR) granular silicon production capacity. The infrastructure will be completed at the end of October this year, and after rigorous equipment testing and related system debugging, it will be officially put into production on 10 November .FBR granular silicon, with multiple advantages such as low cost, high efficiency and excellent carbon footprint, will have a profound impact on the future development of the photovoltaic industry and the clean energy revolution.
Trading dashboard: Add CNOOC (883 HK) at HK$8.05. Add PC Partner (1263 HK) at HK$12.5.
---
Trading Dashboard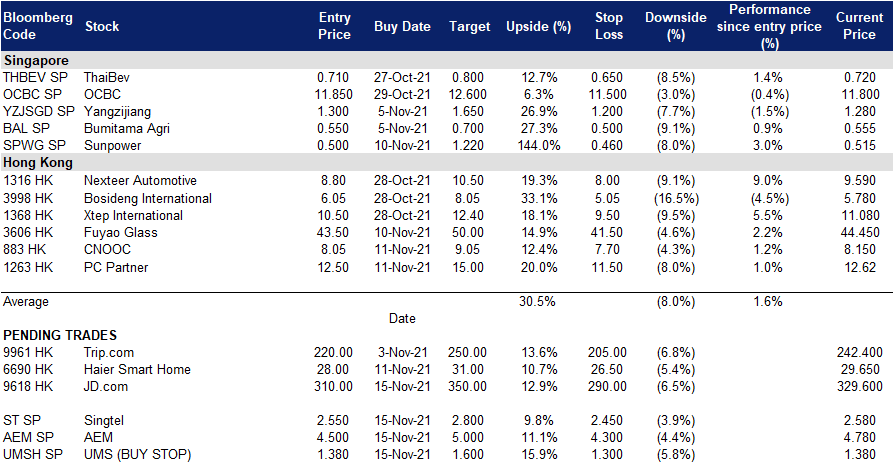 ---

---
Related Posts: