15 July 2022: iX Biopharma (IXBIO SP), Fuyao Glass Industry Group Co Ltd (3606 HK)
Singapore Trading Ideas | Hong Kong Trading Ideas | Market Movers | Trading Dashboard

iX Biopharma (IXBIO SP): Placing out shares at 13.7m new shares at S$0.20 apiece for geographical expansion
BUY Entry 0.180 – Target – 0.200 Stop Loss – 0.172
iX Biopharma Ltd is a specialty pharmaceutical and nutraceutical company, operating a fully integrated business model from drug development to manufacturing and supply, with facilities in Australia. iX Biopharma focuses on the development and commercialisation of therapies for diseases of the central nervous system using its novel, patent-protected platform sublingual drug delivery technology, WaferiX.
Expects to place out 13.7m new shares at 11% premium to last close. IXBIO recently inked an agreement with C2C Biopharma to place out 13.7m new shares or 1.8% of its enlarged share capital at S$.20 apiece to raise S$2.7m. The subscription price was at a 15% premium to the VWAP of S$0.1743/share at the point of announcement, indicating substantial bullishness from the placee's perspective. IXBIO intends to use 60% of the net proceeds to develop, manufacture and market its cannabis business into new markets such as the US. The remaining 40% will be used for general working capital.
IXBIO's track record of partnerships has been fairly positive. IXBIO believes that C2C Biopharma will be able to help it generate new opportunities both in the US and Cambodia, given its >20 years of experience in both countries. Its track record of partnerships has been decent, with the previous out-licensing agreement of Wafermine to Seelos Therapeutics back in November 2021 bearing fruit and contributing to its strong turnaround to profitability. The sole house covering the stock noted that the agreement then was a significant breakthrough in the monetisation of its Wafermine drug.
Turnaround story to gather pace as Wafermine in a nascent stage. 1H22 results saw a stunning turnaround to profitability of S$4.5m after IXBIO recognised S$9m in revenue from Seelos. Looking at FY21's net loss of S$8.2m, we believe that IXBIO's FY22F financials will likely remain profitable even as its various other drug platforms gain more sales traction.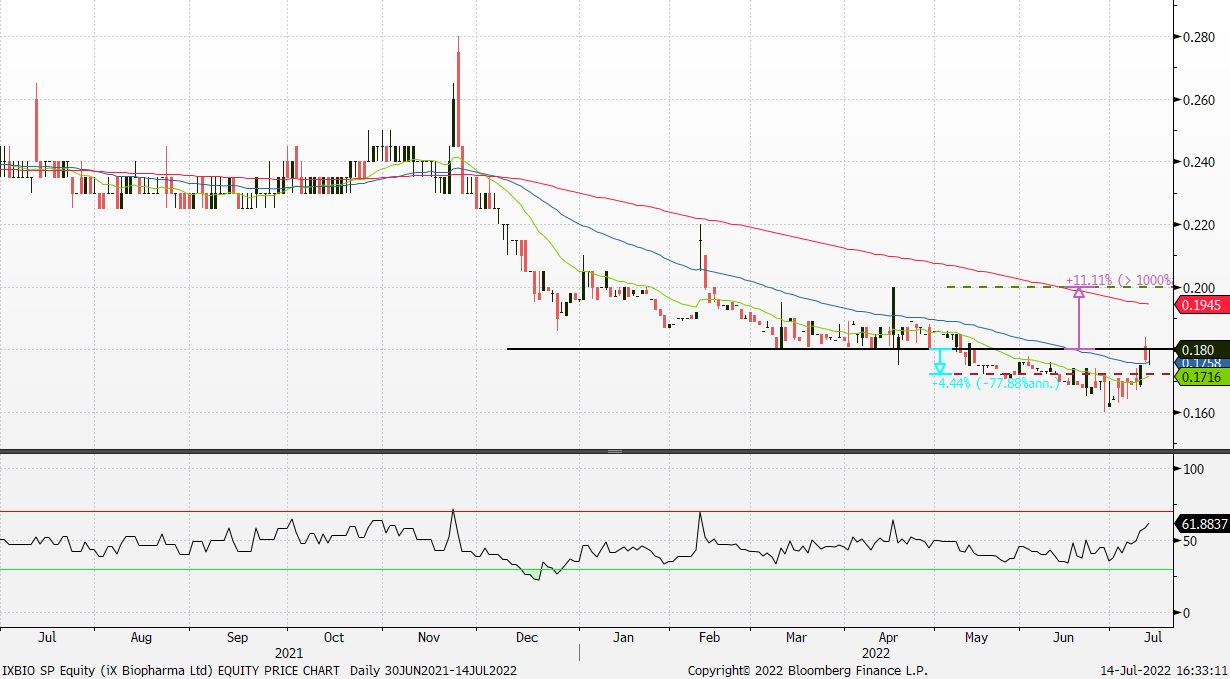 Ho Bee Land (HOBEE SP): Sees strong sales traction for Sentosa Cove project
RE-ITERATE BUY Entry 2.76 – Target – 2.99 Stop Loss – 2.66
HOBEE has a portfolio that covers many quality residential, commercial and high-tech industrial projects since its establishment in 1987. It is a developer of luxury homes in Sentosa Cove including Cape Royale. Its portfolio of investment properties includes a 1.08m sft of lettable commercial space in The Metropolis, situated at the gateway to the vibrant precinct of one-north. Headquartered in Singapore, HOBEE also has a presence in Australia, China and the United Kingdom.
Moved ~50% of units put up for sale, almost a decade after completion. HOBEE recently sold about 25 out of 50 units at Sentosa Cove's 302-unit Cape Royale that were put up for sale on its first day of bookings last week. Prices for the apartments (with tenancy) hit S$2,103 psf. This compares with Seascape, and Residences at W, which sold at median prices of S$2,680 psf, and S$2,816psf respectively during their launches in March 2010. This comes almost 10 years after the project was completed in 2013 when both HOBEE and partner, IOI Properties, felt that prices were weak after 2 rounds of cooling measures.
Share price corrected after initial spurt following insider acquisition. HOBEE's share price has corrected 9.4% from its YTD high of S$3.08 after Ng Noi Hinoy, the spouse of HOBEE's executive chairman, Chua Thian Poh, acquired 280,400 shares for S$801,905 or S$2.86 apiece. The acquisition increased Chua's interest in HOBEE to 75.6% from 75.5%, and consequently free float down to ~25%, triggering perceptions that a buyout was in the pipes.
Stable income and dividends akin to REITs. There is a single BUY rating on HOBEE, with TP of S$3.80. More than 90% of HOBEE's revenue is generated from rental income, enabling HOBEE to pay out DPS of at least S$0.10 apiece over the last 4 years. At current prices, this represents a forward yield of about 3.6%. With an RNAV of S$6.28/share, HOBEE is attractively priced at 0.44x P/RNAV.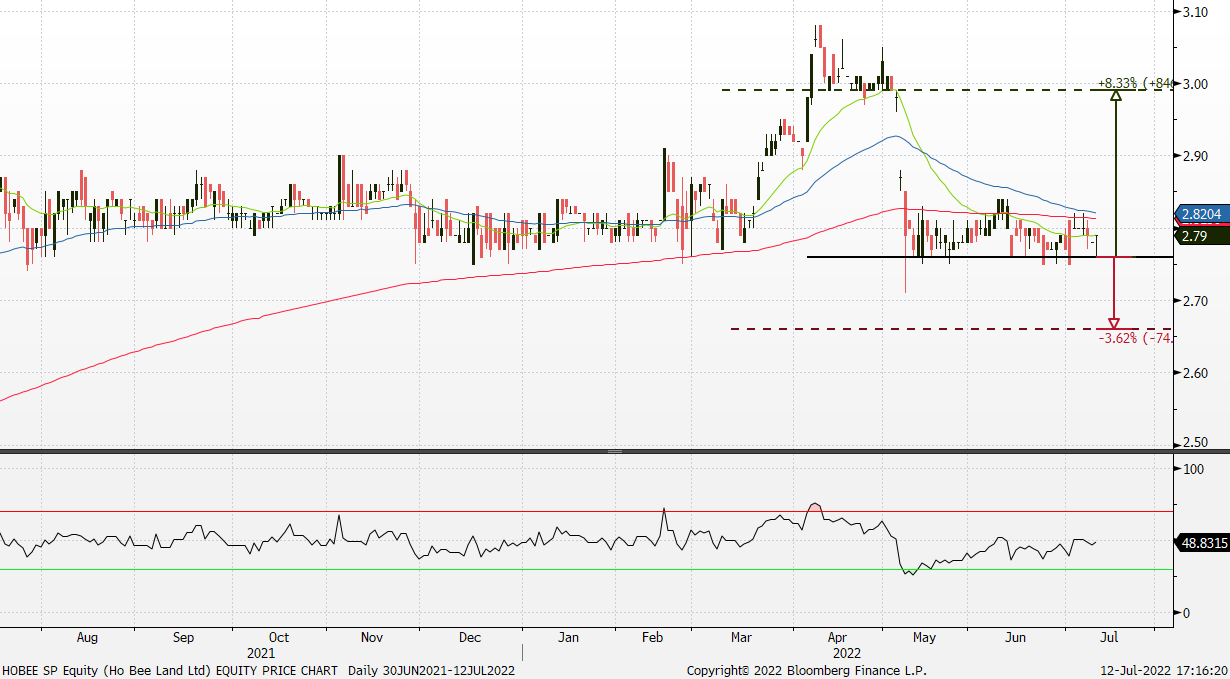 (Source: Bloomberg)


Fuyao Glass Industry Group Co Ltd (3606 HK): Good time to accumulate
Buy Entry – 38.5 Target – 42.0 Stop Loss – 36.8
Fuyao Glass Industry Group Co Ltd is a China-based company, principally engaged in the manufacture and distribution of float glasses and automobile glasses. The company's products portfolio consist of automobile glasses, such as coating glasses and others, which are applied in passenger cars, buses, limousines and others, and float glasses. The company distributes its products within domestic markets and to overseas markets.
1Q22 earnings review. Operating revenue grew by 14.75% YoY to RMB6.5bn. Net profit attributable to company shareholders grew by 1.86% YoY to RMB871.2mn. Three negatives resulted in mediocre results, including appreciation of RMB, high raw material costs, and high freight rates. The appreciation of RMB led to a decrease of RMB50.4mn in the gross profit. The high material costs and freight rates led to a decrease of RMB70.2mn and RMB53.1mn in total profit respectively. The company announced a final dividend of RMB10 (tax inclusive) (equivalent to HK$11.6) in cash per 10 shares.
Auto sales recovered in June. Automobile sales in China expanded 23.8% YoY to 2.5 mn units in June of 2022, boosted by government incentives to support the industry and a recovery in production, particularly in coronavirus lockdown-hit Shanghai, according to the China Association of Automobile Manufacturers. The auto part manufacturer sector also followed the recovery, but we still think the upside potential is bigger. Fuyao Glass has another key segment, float glasses which exposes to the photovoltaic sector. Recently, the central government announced stimulus plans to uphold the sector, supporting the ASP of float glasses.
Consensus estimates per the 12-month target price are at HK$45.45. EPS is forecasted to grow at 26.2%/24.5% for FY22F/23F, which would bring forward P/Es down to 22.8x/17.5x for FY22F/23F. The current PER is 27.5x.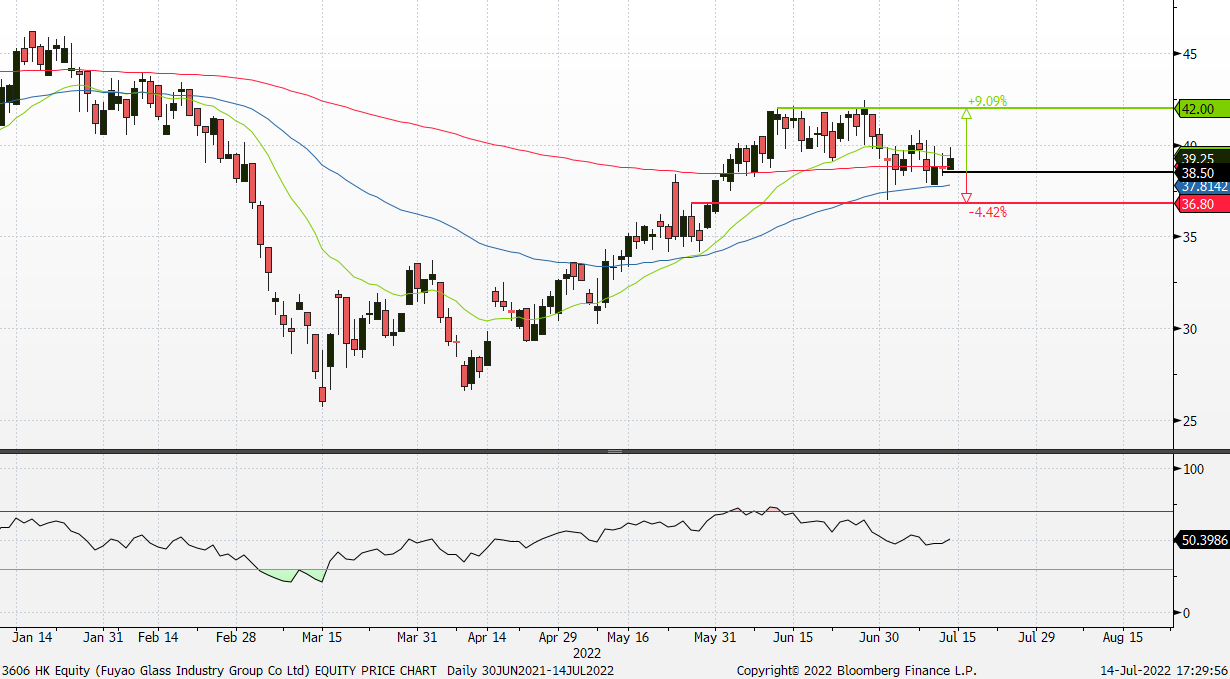 (Source: Bloomberg)
Tianqi Lithium Corporation (9696 HK): Largest IPO in Hong Kong YTD in 2022
IPO overview:

Sector: Mining and materials
Issued price: HK$82 (upper bound)
Total new shares issued: 164.12mn
Initial market cap: HK$13.458bn
Subscription rate of the public tranche: 9.3x
Sponsors: Morgan Stanley, CICC, CMBI
Listing date: 13th July Wednesday

RE-ITERATE Buy Entry – 76.0 Target – 91.6 Stop Loss – 68.5
Tianqi Lithium is a lithium producer in China and around the world and is listed on the Shenzhen Stock Exchange (002466 CH). The company owns and mines lithium minerals in Australia and produces lithium compounds and derivatives in China. Tianqi is the only lithium producer in China that is 100% self-sufficient and fully vertically integrated with a stable supply of lithium concentrate. Tianqi engages in two core businesses: sales of lithium compounds and mining of lithium mines.
Financials overview over the past three years.
Use of proceeds. 73.7% of the proceed raised by Tianqi's H-share listing is to repay the debt of Sociedad Quimica y Minera de Chile (SQM US) which is a listed company registered and established in Chile with a focus on mining lithium. In 2018, Tianqi acquired a 23.77% stake in SQM for a total consideration of US4.07bn. Tianqi is financing from the syndicate for this deal, with a total loan of US3.5bn. The current H-share listing is used to repay the remaining US1.13bn principal.
Valuations. The peer Ganfeng Lithium is dual-listed. Ganfeng's A-share (002460 CH) is currently trading at a respective 14.9x/13.3x FY22F/23F PER, and its H-share is trading at a respective 9.8x/9.2x FY22F/23F PER. The H-share PER has an average 32.5% discount on its A-share. Tianqi's A-share retraced by 14% from last week's 52-week high of RMB148.57 to RMB127.8 as of Tuesday. Bloomberg consensus of FY22F/23F EPS growth is 529.4%/4.3%, translating to a respective PER of 14.4x/13.8x. Based on the initial listing price of HK$82, Tianqi's H-share will be trading at a respective 8.6x/8.3x FY22F/23F PER. Therefore, assuming Tianqi's H-share will be trading at 9.5x FY22F PER or a 32.5% discount on its A-share PER, we derive a TP of HK$91.6, an average of HK$90.6 and HK$92.7.




United States
Top Sector Gainers
Top Sector Losers
JPMorgan Chase & Co (JPM US) sunk 3.5% and hit a 52-week low after the bank reported quarterly earnings that missed analyst expectations, as the bank built reserves for bad loans. CEO Jamie Dimon said that high inflation, waning consumer confidence and geopolitical tension are likely to hurt the global economy going forward. The bank also announced it would temporarily suspend share buybacks.
Goldman Sachs Group Inc (GS US) fell 3.0% following disappointing earnings from JPMorgan and Morgan Stanley. The bank is scheduled to report its own quarterly earnings on Monday.
Conagra Brands Inc (CAG US) stock sank 7.2% after Conagra's quarterly results revealed the company's sales volume declined. In other words, revenue growth came from sales mix and price increases. Conagra's earnings and revenue for the previous quarter came in close to analyst expectations.
First Republic Bank (FRC US) shares rose 1.8% after the bank reported earnings that surpassed expectations on the top and bottom lines. First Republic Bank posted earnings of $2.16 per share on revenue of $1.5 billion. Analysts were expecting earnings of $2.09 per share on revenue of $1.47 billion, according to consensus estimates from FactSet.
Costco Wholesale Corp (COST US) jumped 4.0% after Deutsche Bank upgraded the stock to buy and increasing its price target to $575 from $525. Deutsche said Costco is "is one of the most consistent operators in our group, and its steady traffic gains and high membership renewal rates serve as key differentiators in an increasingly uncertain backdrop."

Singapore
Genting Singapore Ltd (GENS SP) shares rose 2.7% yesterday. Singapore Tourism Board (STB) said on Thursday the city-state expected at least a two-thirds increase in the number of foreign visitors in the second half of the year, compared to the 1.5 million welcomed in the first six months. It anticipates "between 4 and 6 million" international visitor arrivals for the whole of 2022, with its tourism market recovering to pre-Covid-19 level "by the mid-2020s".
Samudera Shipping Line Ltd (SAMU SP) shares rose 4.3% yesterday. Oil prices fell on Thursday as investors weighed tight supplies against the prospect of a large U.S. rate hike that could stem inflation and curb crude demand. Oil prices have tumbled in the past two weeks on recession concerns despite a drop in crude and refined products exports from Russia amid Western sanctions and supply disruption in Libya. Worries of COVID-19 curbs in multiple Chinese cities to rein in new cases of a highly infectious subvariant have also kept a lid on oil prices.
Chip Eng Seng Corp Ltd (CHIP SP) shares rose 3.5% yesterday. Singapore's economy grew 4.8 per cent year-on-year in the second quarter of 2022, according to advance estimates released by the Ministry of Trade and Industry on Thursday. The construction sector grew by 3.8 per cent year-on-year in the second quarter, faster than the 1.8 per cent growth in the previous quarter. Construction activity picked up in the second quarter, supported in part by the relaxation of border restrictions on the inflow of migrant workers. In absolute terms, the value-added of the construction sector remained below pre-pandemic levels due to continued labour shortages as the inflow of workers takes time to recover, said MTI.
Golden Energy & Resources Ltd (GER SP) and Geo Energy Resources Ltd (GERL SP) shares rose 2.3.% and 4.3% respectively yesterday, after a Chinese news site said that talk of China ending its unofficial ban on imports of Australian coal, in place since October 2020, had recently intensified. The rumours gained currency after China's foreign minister, Wang Yi, met his Australian counterpart, Penny Wong, last week during the summit of Group of 20 economies on the Indonesian resort island of Bali. Commenting on Wong's request for China to lift its "trade ban", the commerce ministry said on Thursday, "China hopes Australia can take pragmatic actions to create favourable conditions for bilateral trade relations."

Hong Kong
Top Sector Gainers
Top Sector Losers
Huaneng Power International Inc (0902 HK) shares fell 6.8% yesterday. On the news, the Economic Daily published an article stating that China is currently in an important stage of ensuring sufficient energy supply during summer. With the continuous usage of air conditioning in summer, the power supply and demand will show a "tight balance" during the peak period of electricity consumption. Additionally, there will be more pressure on the power due to the high coal prices with the cost of coal fired power generation higher than the on-grid power price. New energy power generation is needed to meet the adjusted load-side capacity demands during peak summer. It is vital that the government arranges and implements measures regarding electricity consumption.
Yancoal Australia Ltd (3668 HK) shares rose 9.5% yesterday. It was reported on July 6 that according to the Australian railway operator the main railway line transporting coal to the Australian port of Newcastle had been closed on Tuesday due to the heavy rain. The Australian Office of the Chief Economist warned in its quarterly resources and energy report that torrential rains in eastern Australia could reduce coal production. It was also reported that the coal exported from Australia's Newcastle port is mainly supplied to Asia, and its spot price exceeded US$400 per ton for the first time in June.
Joinn Laboratories China Co Ltd (6127 HK) shares rose 8.9% yesterday. According to Xiangcai Securities, in June, the global biopharmaceutical investment and financing showed a recovery trend. A total of 85 financing events occurred in a single month (excluding IPOs, private placements, etc.), and the total disclosed financing was about 3.443 billion US dollars (22.38 billion yuan), an increase of about 23% from the previous month. The financing rounds are mainly concentrated in the A round, the seed round/angel round, and the B round, which together account for nearly 66% of the total number of financing events, indicating investors optimism.
Microport Scientific Corp (0853 HK) shares rose 8.9% yesterday. On the news, MicroPort NeuroTech Ltd (2172 HK), announced the results of its IPO. The offer price per share was set at HK$24.64, and the Hong Kong public offering was oversubscribed by about 44.27 times. The stock will be listed on the 15th. At the same time, in terms of subscription, the Hong Kong public offering received 9,320 valid applications, which were oversubscribed by more than 44.27 times; the international offering was slightly oversubscribed by 1.14 times.
Yadea Group Holdings Ltd (1585 HK) shares rose 8.0% yesterday. CICC maintains the "Outperform" rating of Yadea Holdings. The breakthrough of GN 3 and overseas sales is expected to drive the ASP increase, and the target price is raised by 25% to HK$20. The bank believes that the comprehensive performance of the product is outstanding, and it is expected to gradually increase the volume in the second half of the year, and the proportion of the Guanneng series in the whole year is expected to increase to about 50%.


Trading Dashboard Update: Cut loss on China Longyuan Power (916 HK) at HK$14.5 and Tianjin Pharmaceutical Da Ren Tang Group (TIAN SP) at S$1.05.