15 August 2022: PropNex (PROP SP), Ganfeng Lithium Co Ltd (1772 HK)
Singapore Trading Ideas | Hong Kong Trading Ideas | Market Movers | Trading Dashboard
PropNex (PROP SP): Position for bumper FY23F despite weaker 1H22 results; DPS offers strong safety net
BUY Entry 1.67 – Target – 1.96 Stop Loss – 1.55
PropNex is an integrated real estate services group. Its core business consists of four business segments namely; i) real estate brokerage, ii) training, iii) property management, and iv) real estate consultancy. Its primary business is in the provision of real estate brokerage services comprising real estate agency and project marketing services. PROP operates its real estate agency through PropNex Realty which is supported by PropNex International in project marketing.
1H22 results were fairly muted due mainly to fewer marketing launches. PROP reported weaker 1H22 NPAT of S$28.3m (-17.7% YoY) on relatively stable revenue of S$472.3m (-1.8% YoY) as the property cooling measures in Dec21 tamed price growth in the private residential market in 2Q2022 to a more sustainable pace. Transaction volumes softened in 1H22 as compared to the same period in 2021 as buyers held back on property purchases to monitor the impact of the fresh cooling measures introduced in Dec21. Despite fewer project launches at the start of the year, PROP's performance was balanced by higher income from the other segments as more transactions were completed in 2Q2022.
FY23F could see a bumper crop of launches. During its earnings brief, management maintained a sanguine outlook on private property prices for the rest of FY22F. It sees private property prices in the OCR and RCR to grow from 2021 in light of tight supply in those regions. Further afield in FY22F, PROP notes that the continued growth in GLS prices (OCR: +12.2% YoY, RCR: +18.4% YoY) implies that launch prices in FY23F will likely have another leg up to go. Additionally, the successful GLS and enbloc transactions would point to heightened launch activity in 2023.
FY22F/23F yield of 6%/6.6% to provide strong support. The Street currently has 3/3/0 BUY/HOLD/SELL ratings and an average TP of S$1.96. Based on updated consensus estimates, FY23F revenue should slip by 3.4% YoY to S$742m, but margins may remain stable as PATMI holds pat at S$49.5m (-0.5% YoY). Nonetheless, FY23F DPU should expand by 10% YoY to S$0.11, implying a yield of 6.6%, higher than its 2-year average of 6%.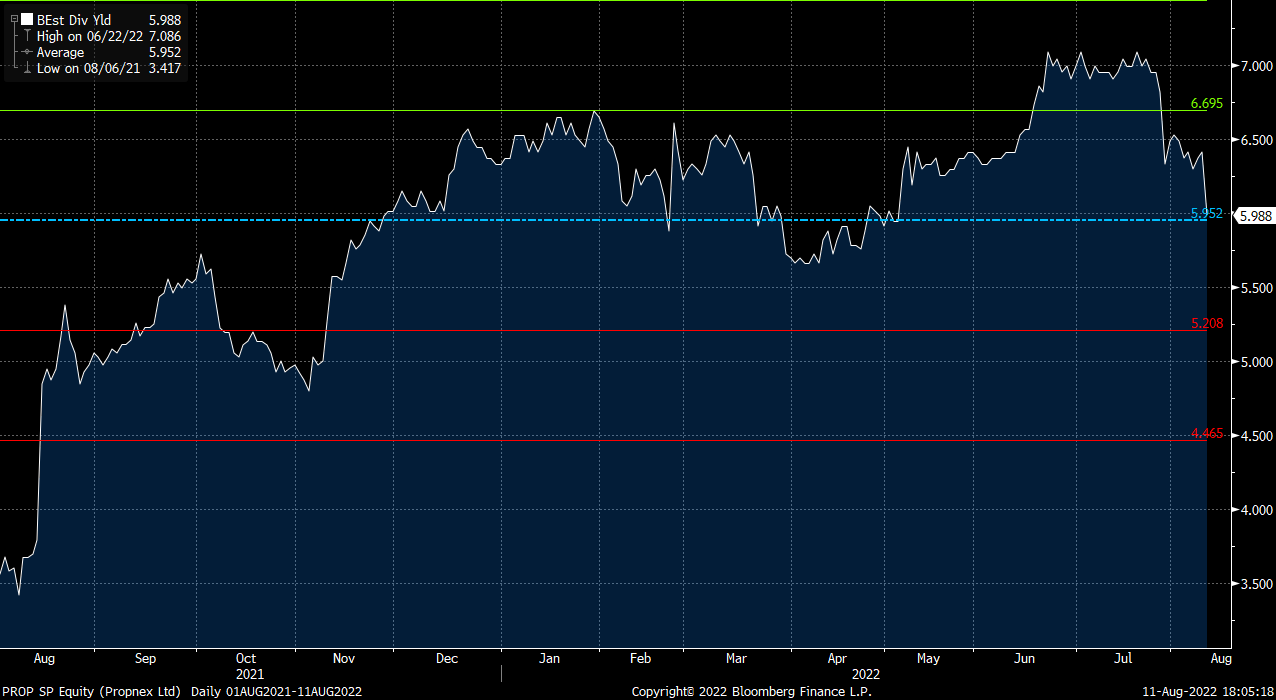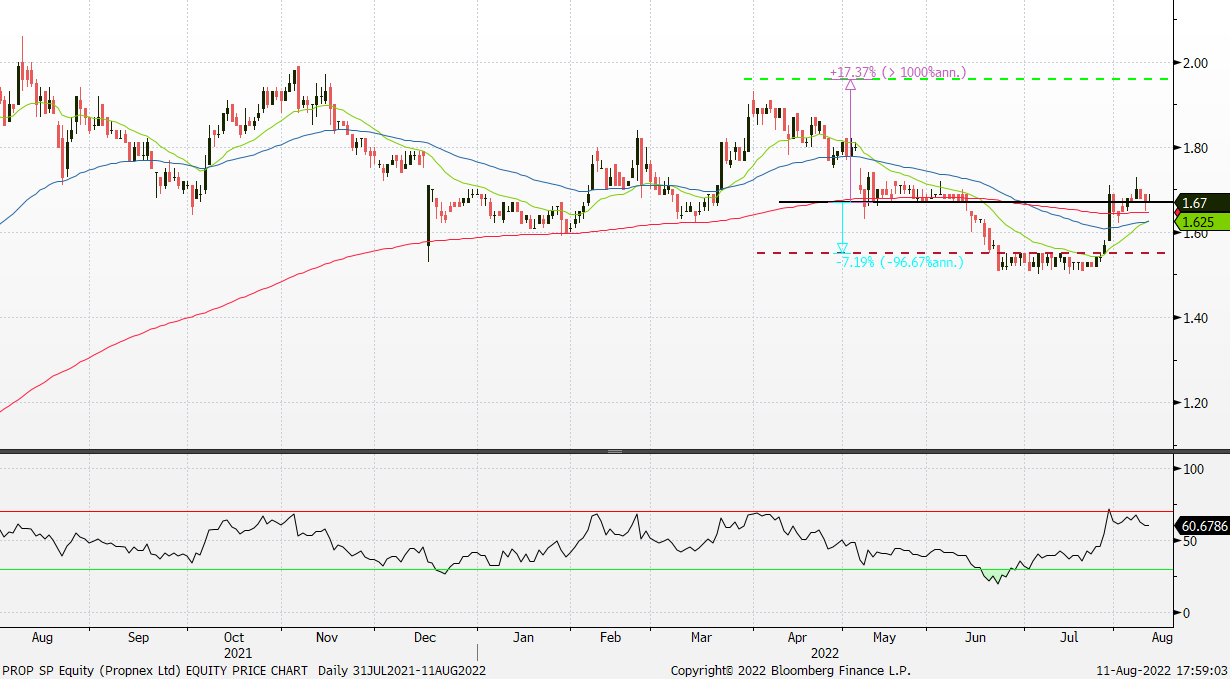 Ganfeng Lithium Co Ltd (1772 HK): Accumulate amidst consolidation
RE-ITERATE Buy Entry – 70 Target – 80 Stop Loss – 65
GANFENG LITHIUM CO., LTD. is a China-based company principally engaged in the research, development, production and sales of deeply processed lithium products. The Company's main products include lithium compounds, lithium metal and lithium batteries. The Company's products are mainly used in electrical vehicles, chemicals and pharmaceuticals. The Company distributes its products in the domestic market and to overseas markets.
Downstream integration. Ganfeng Lithium has begun construction of a solid-state battery production facility, which the company says will be the largest of its kind in China to date. Once completed, the factory in Chongqing will offer annual capacities of 10 GWh each for the production of battery cells as well as battery packs. The project in Chongqing is not Ganfeng's first battery factory. The company already has a battery production facility in Xinyu, Jiangxi province. Since the commissioning of the expansion stage there in January, up to 2 GWh of solid-state batteries per year and up to 7 GWh of LFP battery cells can be produced.
Stellar 1H22 profit guidance. 1H22 net profit attributable to company shareholders is expected to soar by 408.2% – 535.3% YoY to RMB7.2bn – 9bn. 2Q22 net profit attributable to company shareholders is expected to soar by 290.7% – 482.1% YoY to RMB3.7bn – 5.5bn.
Lithium carbonate prices stay afloat. Lithium carbonate prices in China rose slightly to RMB476,500/tonne in the end of July, remaining near the record-high of RMB500,000/tonne from March and 430% higher YoY amid high demand and tight supply.
The updated market consensus of the EPS growth in FY22/23 is 160.7%/5.9% YoY, respectively, translating to 9.0×/8.5x forward PE. The current PER is 15.1x. Bloomberg consensus average 12-month target price is HK$97.46.
China lithium carbonate price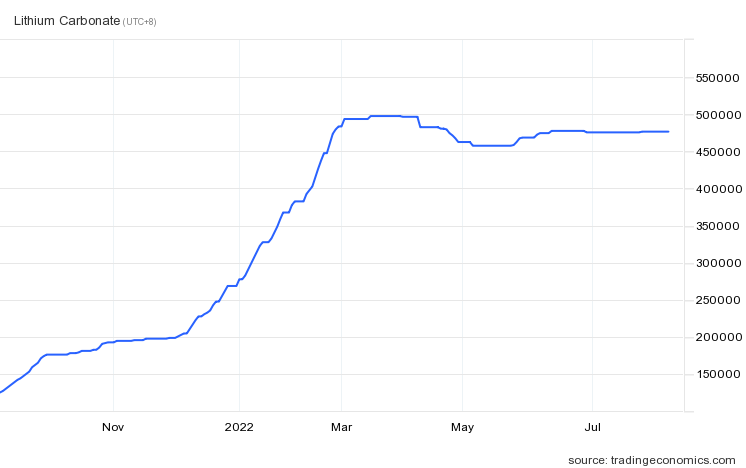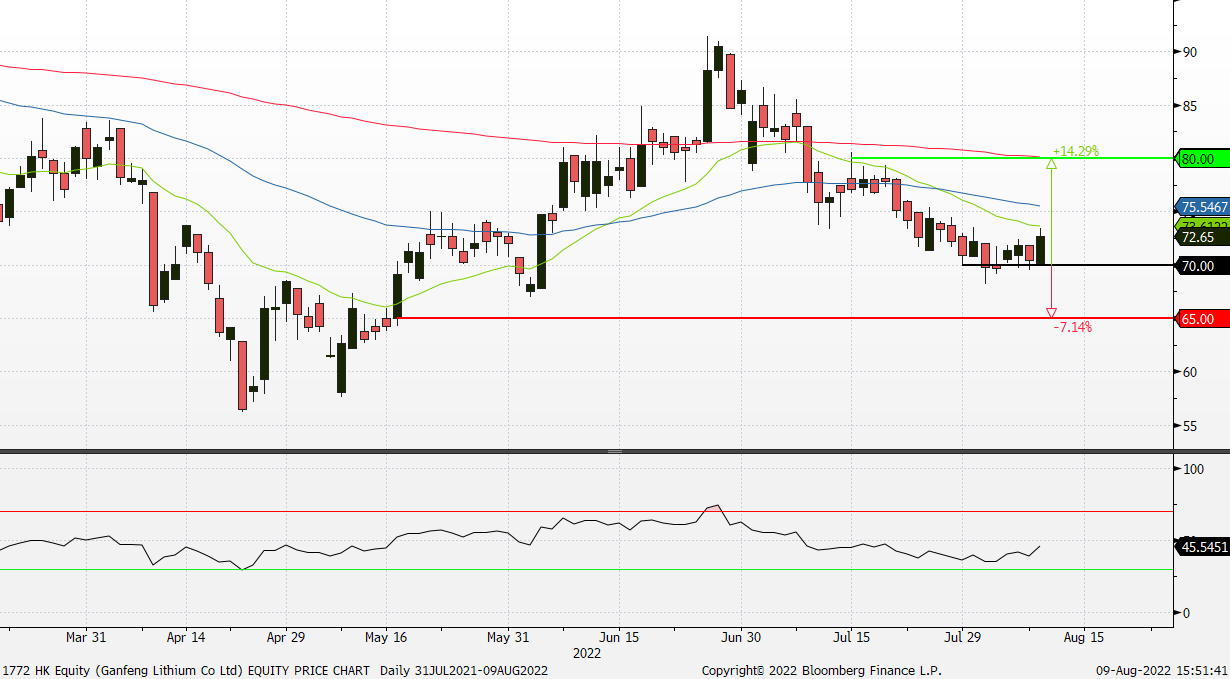 (Source: Bloomberg)
Hua Hong Semiconductor Ltd (1347 HK): Tailwinds to boost the bottom-out
RE-ITERATE BUY Entry – 26 Target – 30 Stop Loss – 24
Hua Hong Semiconductor Ltd is an investment holding company engaged in production and sales of semiconductor wafers. The Company produces 200mm and 300mm-wafers. Its products are applied in general microcontroller (MCU), Type-C interface chips, image stabilization chips, touch control chips, and smart meter controller chips. The products also serve Internet of Things (IoT), new energy vehicles, artificial intelligence and other markets. The Company operates its businesses through its subsidiaries.
1H22 results review. Revenue reached an all-time high of US$1,215.5mn, an increase of 86.7% YoY, due to the increase in wafer shipments and improved average selling price. GPM was 30.3%, an increase of 6.1ppts YoY due to improved average selling price and product mix, partially offset by increased depreciation and labor costs. Profit for the period attributable to owners of the parent was US$186.9mn, an increase of 142.3% YoY.
Semiconductor confrontation reignites. There were two key recent events attracting investors to relook at the semiconductor sector. last week as House of Representatives Speaker Nancy Pelosi's visit to Taiwan heightened tensions between China and the US, driving patriotic bets on a sector Beijing sees as key to its rivalry with Washington. Meanwhile, the US has passed the Chips and Science Act which includes more than US$52bn for U.S. companies producing computer chips, as well as billions more in tax credits to encourage investment in chip manufacturing. It also provides tens of billions of dollars to fund scientific research and development and to spur the innovation and development of other US technologies. It is expected that China will accelerate semiconductor localization moving forward.
Someone's loss is another's gain. Infineon has reportedly discovered a serious defect in its insulated gate bipolar transistor (IGBT) chips produced between early April and early June 2022 and discarded all of them. Hyundai Motor Co. may suffer a disruption in the production of its electric vehicle IONIQ 5 due to a problem with chips supplied by Germany's Infineon Technologies. The auto chip shortage issues last year caught China's attention, and accordingly, several companies ramped up the capacity of IGBT. China is expected to gradually gain more market shares.
The updated market consensus of the EPS growth in FY22/23 is 59.3%/3.4% YoY, respectively, translating to 12.8×/12.4x forward PE. The current PER is 13.5x. Bloomberg consensus average 12-month target price is HK$38.92.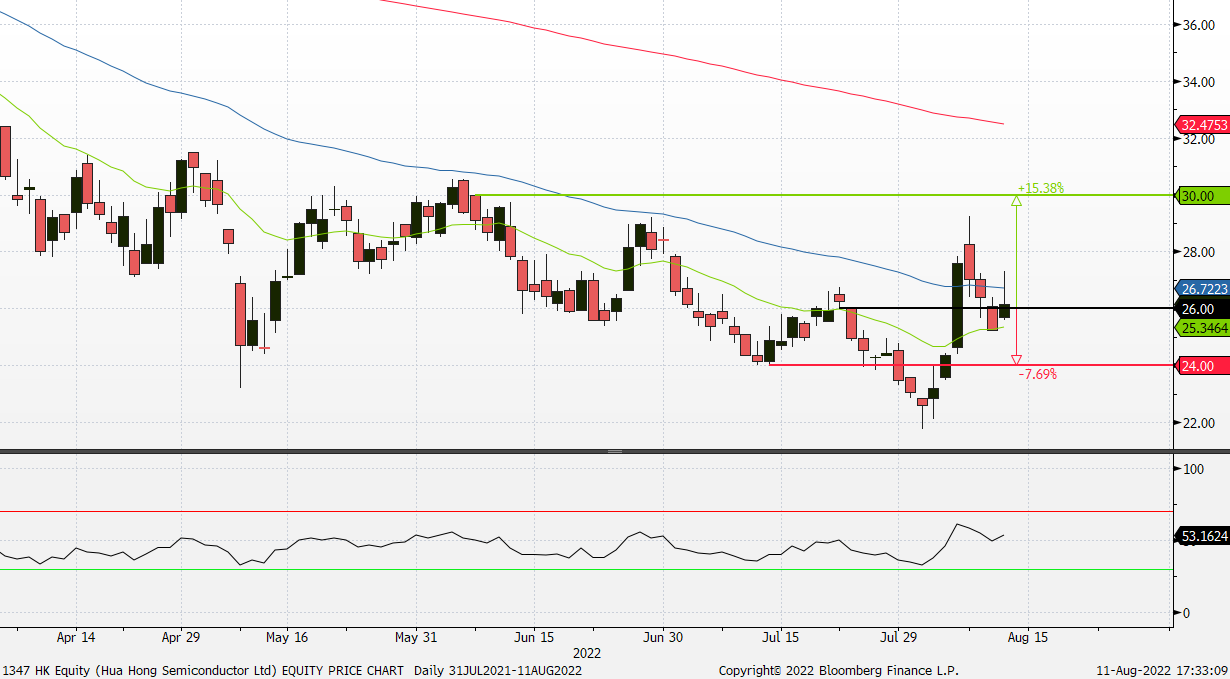 (Source: Bloomberg)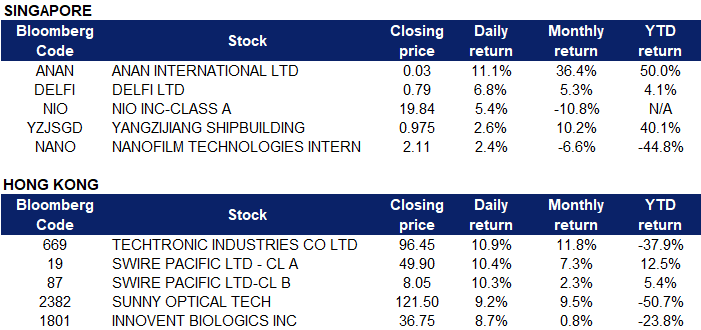 United States
Top Sector Gainers
Top Sector Losers
Six Flags Entertainment Corp (SIX US) started to recover an 18.7% loss on Thursday, up 13.9% on Friday. Six Flags posted second-quarter earnings that sharply missed expectations Thursday and was downgraded by Keybanc on Friday to sector weight from overweight.
Poshmark Inc (POSH US) saw its shares tumble 8.4% after issuing weaker-than-expected revenue guidance for the current quarter. While it reported a loss in the second quarter, sales beat analyst expectations.
Peloton Interactive Inc (PTON US) jumped 13.6% after the company told employees it was cutting about 780 jobs, raising prices on some equipment and closing a number of retail stores.
New York Times Co/The (NYT US) fell 3.7%, retreating from a near 11% rally in the previous session. Thursday's rally came after activist investor ValueAct Capital took a 6.7% stake, pushing the publisher to charge more for subscriber-only content.
Illumina Inc (ILMN US) the gene-sequencing technology company dropped 8.4% after reporting lower-than-expected second-quarter profit and revenue. Illumina also issued an outlook that fell short of analyst estimates.

Singapore
First Resources Ltd (FR SP) gained 7.0% on Friday as it posted net attributable profit of US$128 million for the 6 months ended June 2022, rising 293.1 per cent from US$32.6 million from H1 FY2021 on the back of higher average selling prices. Earnings per share (EPS) stood at 8.11 US cents, nearly 4 times of the group's EPS of 2.06 cents the previous year. It declared an interim dividend of 2.5 Singapore cents per share, doubling that from last year. The group said it believes stockpiles in Indonesia should normalise in the coming months as the government continues its bid to boost palm oil exports through the easing of its Domestic Market Obligation policy and reduction in export taxes.
Nanofilm Technologies International Ltd (NANO SP) jumped 5.7% on Friday after posting a 5.1 per cent year-on-year increase in first-half net profit to $18.8 million from $17.9 million previously, according to its results filing on Thursday, Aug 11. It has proposed an interim dividend of 1.1 cents per share after considering its well-capitalised balance sheet and cash-generating operations. Nanofilm noted that despite the challenging operating environment caused by Shanghai's Covid-19 lockdown, the group was still able to grow its revenue and profit, underscoring its unique deep-technologies reach in multiple growth avenues across vast industries and its strong business foundations put in place by management.
NIO Inc (NIO SP) continued to climb 4.8% on Friday. Global fund managers holding U.S.-listed Chinese stocks are steadily shifting towards their Hong Kong-traded peers, even as they remain hopeful Beijing and Washington will eventually resolve an audit dispute to keep Chinese firms on American exchanges. The pace of migration will likely accelerate, as more Chinese firms listed in New York are expected to follow technology giant Alibaba's (9988 HK), intent to launch so-called primary listings in Hong Kong, potentially boosting liquidity there to smooth the transition.
Bumitama Agri Ltd (BAL SP) rose by 3.2% on Friday, reporting a net profit of 2.2 trillion rupiah (S$205.5 million) for the first half of the year ended June, up from earnings of 484 billion rupiah in the corresponding year-ago period. The board of directors has declared an interim cash dividend of S$0.0125 per share, up from S$0.0045 per share in H1 last year. Shareholders can expect to receive the dividend on Sep 16. Looking ahead, the group said CPO prices are expected to trend downward for H2 this year from the average of H1, as Indonesia reintegrates into the global export market, and the industry heads into a higher production season.
Hong Fok Corp Ltd (HFC SP) rose by 2.0% on Friday, its net profit rose 80 per cent to S$9.1 million for the first half of the fiscal year ending Jun 30, 2022, from S$5.1 million in the year-ago period. Revenue rose 30 per cent to S$55.6 million from S$42.8 million previously. The property developer attributed the increase in revenue to increases in sales of the residential units of Concourse Skyline, net increase in rental income of its properties mainly from the hotel, Yotel Singapore Orchard Road. However, these increases were partially offset by a decrease in property management income.
Hong Kong
Top Sector Gainers
Top Sector Losers
China Shandong Hi-Speed Financial Group Ltd (0412 HK) and China Shandong Hi-Speed Financial Group Ltd (2947 HK) rose 11.9% and 10.4% respectively on Friday. Hong Kong stocks advanced, adding to Thursday's hefty jump from before reports next week signalling better growth momentum in China's economy. The Hang Seng Index added 0.5 per cent to 20,175.62 at the close of Friday trading, reversing an earlier loss. The benchmark rose 2.4 per cent a day earlier, the most in three weeks. Government reports next week may show industrial production growing 4.4 per cent in July versus a 3.9 per cent in June, according to economists tracked by Bloomberg. Growth in retail sales probably quickened to 5 per cent from 3.1 per cent, according to market consensus.
Yue Yuen Industrial (Holdings) Ltd (0551 HK) shares rose 8.1% on Friday. It announced its first-half results, with revenue of US$4.71 billion in the first six months, a year-on-year decrease of 2%; net profit attributable to shareholders was US$175 million, a slight increase of 2.8%, with an interim dividend of HK$0.40. The financial report shows that during the period, the company's manufacturing business maintained rapid growth, with revenue up 14.4% year-on-year, and net profit attributable to the parent company of the manufacturing business soaring 58.9% year-on-year to US$173 million. It is understood that the retail business was weak mainly due to the 97.3% drop in net profit attributable to shareholders of Pou Sheng International (3813 HK), a subsidiary of the company, to only RMB 17.4 million
China Power International Development Ltd (2380 HK) shares rose 5.9% along with Hong Kong power stocks on Friday. In early July, the National Development and Reform Commission held a video conference on re-signing of medium and long-term contracts for thermal coal, proposing that coal power must achieve 100% signing, performance, and implementation of the contracts price policy. Since there is limited room for increased demand in the thermal coal market, the country's policy of increasing production, stabilising prices and ensuring supply of resources will not change. It is expected that in the second half of the year thermal coal prices will stabilise. As of the end of July, the transaction price of thermal coal has fallen to the price limit, and the marginal profit of thermal power is expected to improve. Additionally on August 1, 2022, the Guangdong Electric Power Trading Centre issued a notice to suspend the implementation of the clauses that set the upper limit of spot electricity quotations and secondary price limits by type, and this cancellation is expected to generate more accurate electricity price signals and settlement, thereby freeing up room for electricity price increases.
Swire Pacific Ltd (0087 HK) shares continued to rise 5.7% on Friday. Swire Pacific PLC (0019 HK and 0087 HK) recently announced that the company's board of directors has approved a plan to repurchase the company's ordinary A shares and B shares through the open market, up to a maximum of HK$4 billion. This share repurchase program will be funded from the company's available capital and cash reserves.


Trading Dashboard Update: Cut loss on Q & M Dental Group (QNM SP) at S$0.45 and StarHub (STH SP) at S$1.22. Add PropNex (PROP SP) at S$1.67.