14 September 2022: Genting Singapore (GENS SP), Ganfeng Lithium Co Ltd (1772 HK)
Singapore Trading Ideas | Hong Kong Trading Ideas | Market Movers | Trading Dashboard
Genting Singapore (GENS SP): "Rooms" are hot
BUY Entry – 0.780 Target – 0.835 Stop Loss – 0.750
Genting Singapore is best known for its award-winning flagship project Resorts World Sentosa, one of the largest fully integrated destination resorts in South East Asia. Genting Singapore is one of the constituent stocks of the FTSE Straits Times Index.
Hotel prices hit a 10-year high. Singapore hotel room prices exceeded the pre-Covid level and hit a high in almost a decade in July 2022. As of July, the average room rate reached S$259/night, up c.70% YoY. The strong demand was driven by the increase in visitor arrivals amidst easing Covid-19 restrictions. Visitor arrivals in Singapore rose for the sixth straight month in July to 726,601, up from 543,733 in June, according to the tourism board.
Singapore hotel room price by tier

(Source: Singapore Tourism Analytics Network)
Upcoming high-profile events to push hotel prices higher. SuperReturn Asia 2022, a leading Private Equity and Venture Capital conference will be held on 19th-22nd September. Formula One Grand Prix will be held on 30th September-2nd October. Singapore will also host the Milken Institute Asia Summit, Forbes Global CEO Conference and several crypto events in September, followed by gamescom asia in October. Besides, the entertainment lineup includes performances by Westlife and Green Day. Other big names in entertainment coming to Singapore later this year include Justin Bieber, Maroon Five and Guns N' Roses.
Updated market consensus of the EPS growth in FY22/23 is 82.1%/60.7% YoY respectively, which translates to 28.0x/17.4x forward PE. Current PER is 52.7x. Bloomberg consensus average 12-month target price is S$0.95.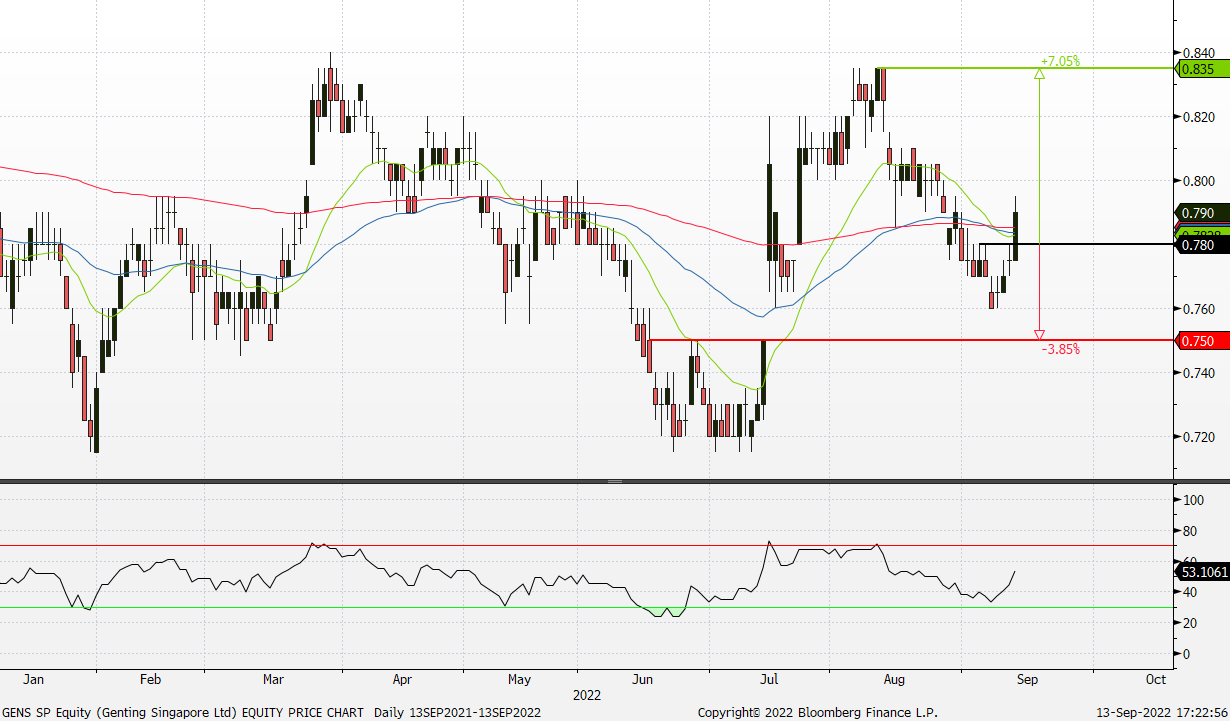 (Source: Bloomberg)
Singtel Ltd (ST SP): A new business development
RE-ITERATE BUY Entry 2.68 – Target – 2.86 Stop Loss – 2.56
Singtel provides an extensive range of telecommunications and digital services to consumers and businesses across Asia, Australia, Africa and the US. It serves over 753 million mobile customers in 21 countries, including Singapore, Australia (via wholly-owned subsidiary Singtel Optus) and the emerging markets of India, Indonesia, the Philippines, Thailand and Africa.
Offloading stakes in Airtel. According to NSE block deal data, Singtel entities were believed to have sold 1.76% stakes of Bharti Airtel through block deals, aggregating to around INR7,148 crore. A bulk of these shares has been acquired by Bharti Telecom Ltd (BTL), a key promoter company of the Indian telco. Two weeks ago, Singtel announced that its affiliates have entered into an agreement to transfer approximately 3.33 % shares to BTL for an aggregate amount of approximately S$2.25bn, leaving direct shareholding of Singtel and Bharti in Airtel at around 10% and 6%, respectively.
Singtel-Intel collaboration launched a 5G programme. Singtel and Intel jointly launched a multi-access edge compute 5G incubator that will enable enterprises to adopt 5G seamlessly, deploy applications that need low latency processing at the edge, and drive innovation. Through the incubator, enterprises can tap into Singtel and Intel's ecosystem to deliver their 5G use cases, including ready-to-deploy applications for rapid trials and proof of concepts for research and development.
1Q23 (YE March) results review. The improvement of the bottom line was driven by improved operational performance and exceptional gains from Airtel and dilution of the Group's effective shareholding in Australia Tower Network.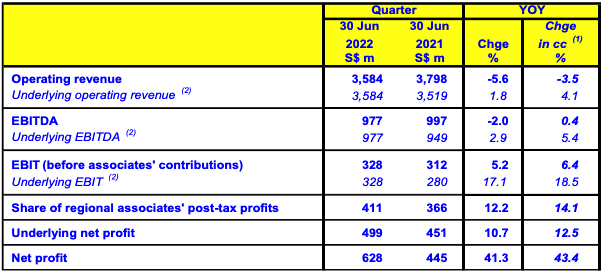 Updated market consensus of the EPS growth in FY23/24 is 26.1%/17.2% YoY respectively, which translates to 18.3x/15.6x forward PE. Current PER is 23.1x. Bloomberg consensus average 12-month target price is S$3.24.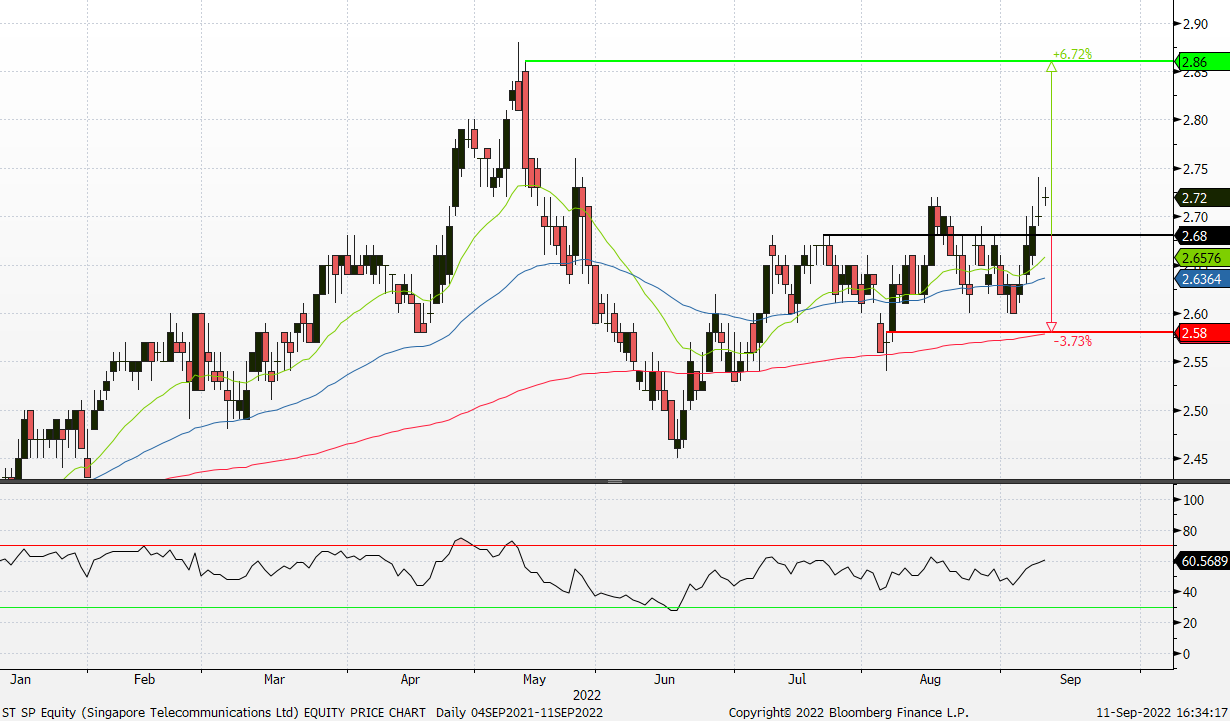 Ganfeng Lithium Co Ltd (1772 HK): Lithium carbonate prices climb up again
Buy Entry – 65 Target – 75 Stop Loss – 60
GANFENG LITHIUM CO., LTD. is a China-based company principally engaged in the research, development, production and sales of deeply processed lithium products. The Company's main products include lithium compounds, lithium metal and lithium batteries. The Company's products are mainly used in electrical vehicles, chemicals and pharmaceuticals. The Company distributes its products in the domestic market and to overseas markets.
Lithium carbonate prices back to near a record high. Lithium carbonate prices in China climbed to RMB497,500/tonne as of 12th September, remaining near the record-high of RMB500,000/tonne from March. Data from the Shanghai Metals Markets pointed to a 108% surge in carbonate imports in China, as the rebound in economic activity renewed demand for new energy vehicles.
1H22 earnings review. Revenue jumped by 255.8% YoY to RMB14.3bn. Gross profit jumped by 516.1% YoY. GPM jumped by 25.6ppts to 60.5%. PATMI jumped by 403.1% YoY to RMB7.4bn. The stellar performance was driven by the increase in the unit selling prices and sales volume of products.
Downstream integration. Ganfeng Lithium has begun construction of a solid-state battery production facility, which the company says will be the largest of its kind in China to date. Once completed, the factory in Chongqing will offer annual capacities of 10 GWh each for the production of battery cells as well as battery packs. The project in Chongqing is not Ganfeng's first battery factory. The company already has a battery production facility in Xinyu, Jiangxi province. Since the commissioning of the expansion stage there in January, up to 2 GWh of solid-state batteries per year and up to 7 GWh of LFP battery cells can be produced.
The updated market consensus of the EPS growth in FY22/23 is 205.2%/-9.2% YoY, respectively, translating to 7.3×/8.1x forward PE. The current PER is 10.9x. Bloomberg consensus average 12-month target price is HK$98.55.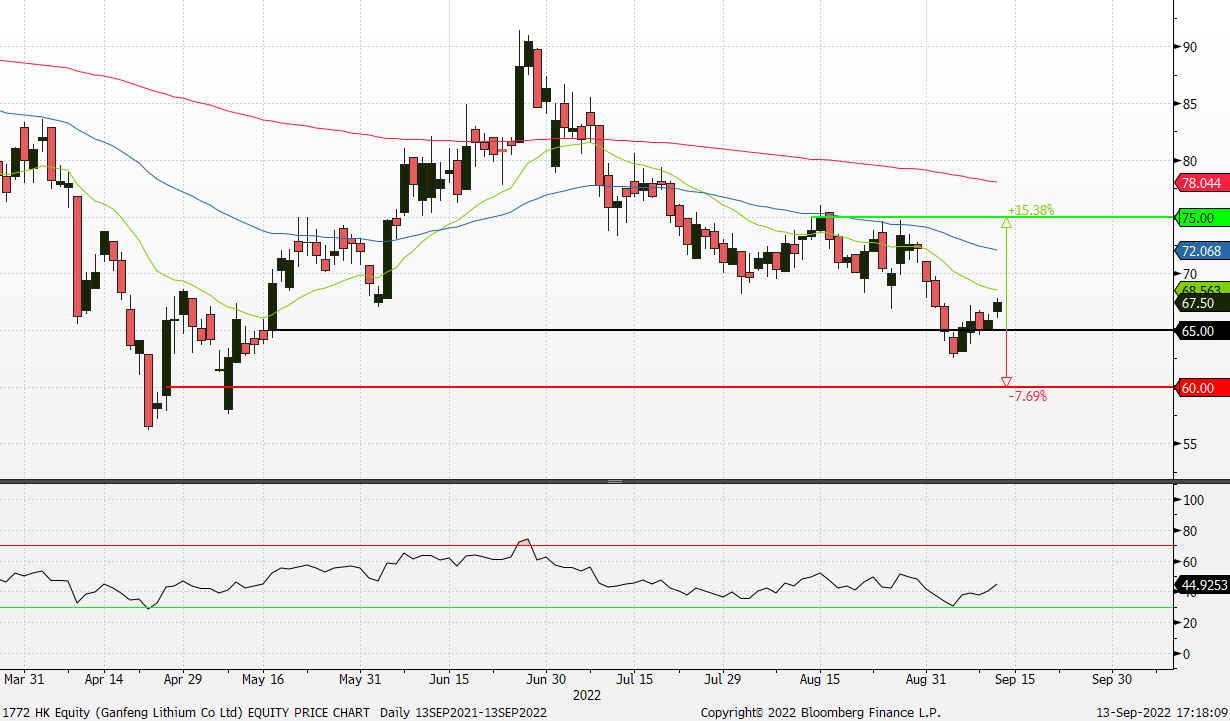 TRIP.COM (9961 HK): A Mid-autumn festival holiday-themed trade
RE-ITERATE Buy Entry – 190 Target – 210 Stop Loss – 180
Trip.com Group Limited, formerly Ctrip.com International, Ltd., is a travel service provider in China that provides accommodation booking, transportation ticketing, package tours and corporate travel management. The company aggregates hotel and transportation information to help leisure and business travellers make reservations. The company helps leisure travellers book travel packages and guided tours and helps corporate clients manage their travel needs. The company also offers a range of travel-related services to meet the different booking and travel needs of leisure and business travellers, including visitor reviews, attraction tickets, travel-related financial services, car services, travel insurance services and passport services. The company also offers package tours for independent leisure travellers, including tour groups, semi-tour groups and private groups, as well as package tours that require different transportation arrangements (such as cruise, buses or self-driving).
Mid-autumn Festival holiday bookings surged. As of 30th August, according to the company's 2022 Mid-autumn festival and autumn holiday booking statistics report, the overal bookings for the upcoming Mid-autumn festival holiday surged by 137% compared to the previous Dragon Boat Festival holiday. This year's Mid-Autumn Festival local travel, peripheral travel, long-distance travel orders accounted for 23%, 24%, 53%, long-distance travel compared with the same period this year Dragon Boat Festival accounted for nearly 30% of the increase. Mid-Autumn Festival is expected to become the best short holiday for this year's tourism market recovery.
1Q22 earnings review. Revenue remained flat at RMB4.1bn. Gross profit dropped by 1% YoY to RMB3.0bn. GPM fell 0.8ppt to 74%. Net loss narrowed to RMB149mn compared to RMB676mn during the same period last year.
Updated market consensus of the EPS in FY22/23 is US$0.253/US$1.096 respectively, which translates to 101.0x/23.3x forward PE. Bloomberg consensus average 12-month target price is HK$253.04.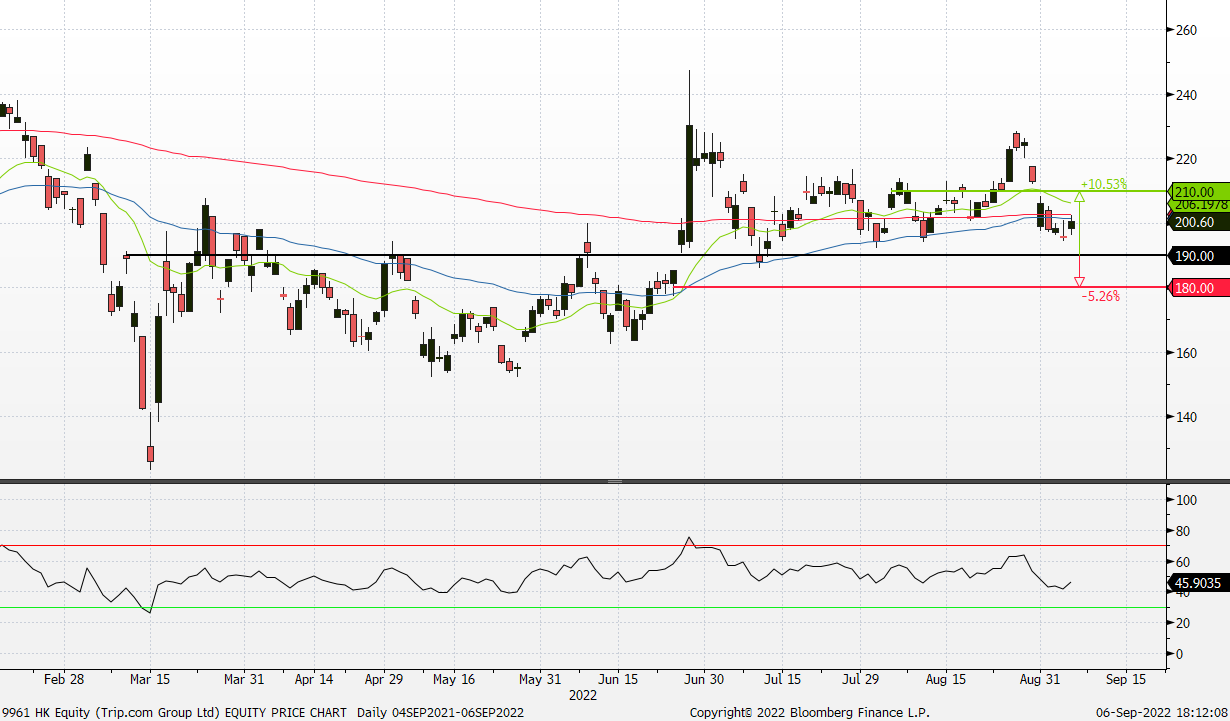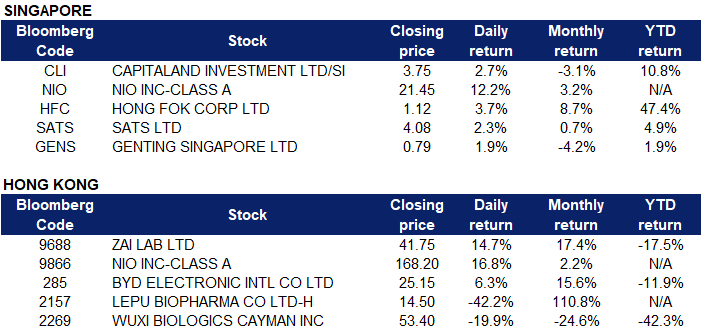 United States
Top Sector Losers
Meta Platforms Inc (META US) slid 9.4% as the overall market fell Tuesday. The company's bet on Reels is facing hurdles — Instagram users are spending less than one-tenth of the 197.8 million hours TikTok users spend each day on the platform, The Wall Street Journal reported Monday. Meanwhile, Morgan Stanley reiterated its overweight rating on the stock Tuesday, saying investors should wait for more information on declining user engagement trends during the next earnings call.
Rent the Runway Inc (RENT US) plunged 38.74% after releasing disappointing second-quarter results showing slowed subscriber growth. In addition, Credit Suisse downgraded shares of the company to neutral from outperform after the earnings report.
Carvana Co (CVNA US) slipped 12.9% a day after the company surged 15% on an upgrade from Piper Sandler. The firm said that the company is too cheap to ignore in a Sunday note.
Oatly Group AB (OTLY US) sank 7.3% after Credit Suisse downgraded the beverage company to neutral from outperform and cut its price target, citing greater consumer risk in Europe and Asia.
Braze Inc (BRZE US) plunged 19.3% even though Braze reported earnings that beat Wall Street's expectations. Still, analysts are worried about the company's future sales. Cloud stocks in general fell during the market rout.

Singapore
Capitaland Investment Ltd/Singapore (CLI SP) rose 2.7% yesterday. Capitaland Investment recently posted its revenue for 1H2022 which rose 22% Y-o-Y to S$1,354 million and a PATMI growth of 31% to S$346 million. It is also holding its BofA Securities 2022 global real estate conference from 13-14 September.
NIO Inc (NIO SP) rose 12.2% yesterday. Chinese economic data revealed consumer prices and producer costs both slowed during the month of August. The August CPI rose by 2.5%, which was slower than the 2.7% for July and well below the 2.8% that was widely forecasted by analysts. The results were the first sign that the Chinese economy could be recovering despite the ongoing COVID lockdowns. Nio in particular had mentioned that higher costs were eating into their margins in the previous quarter, so lower production costs will likely lead to higher profits.
Hong Fok Corp Ltd (HFC SP) rose 3.7% yesterday. Singapore stocks on Tuesday (Sept 13) had more gainers than losers as investors extended the optimism seen in the US and European markets. There was no company specific news. On 29 August, Hong Fok purchased 250,000 shares to be held as treasury shares at SGD 257,797.86, with price per share of between SGD 1.02 and SGD 1.03.
SATS Ltd (SATS SP) climbed 2.3% yesterday. The company announced on 7 September the the disposal of 49% interest in the capital of Brahim's SATS Investment Holdings Sdn Bhd has been completed. Following the completion, BSIH has ceased to be an associated company of SIPL and an indirectly associated company of the Company. Accordingly, the Company has ceased to have any interest in BSIH and its subsidiary, BSFS.
Genting Singapore Ltd (GENS SP) rose 1.9% yesterday. The Straits Times Index rose 0.5 per cent or 15.36 points to close at 3,290.08 points on Tuesday (Sep 13), tracking gains on Wall Street overnight as US equities extended the bear market bounce for the fourth day. Performance was mixed across key Asian markets, amid uncertainty ahead of the release of Consumer Price Index (CPI) data in the US. There was no company specific news. Genting Singapore was the most actively traded counter on the index, with 27.7 million shares changing hands. The counter ended up 1.9 per cent or S$0.015 to S$0.79.

Hong Kong
Top Sector Gainers
Top Sector Losers
Zai Lab Ltd (9688 HK) continued rising 14.7% yesterday. Recently, Northeast Securities released an evaluation report saying that in the first half of this year, Zai Lab's product Zele led the continuous growth of sales revenue, and the product pipeline reached an important milestone. In the face of severe challenges in the operating environment, the company's overall operations remained resilient. It is estimated that the revenue in 2022-2024 will be 1.613/2.697/6.081 billion yuan. Earlier, Zhongtai Securities commented that the company has a rich pipeline of innovative drugs, strong product development capabilities, and has the potential to grow into a large global innovative pharmaceutical company. 4.45 billion yuan, a year-on-year increase of 87.6%, 54%, and 67.5% respectively, maintaining the "buy" rating.
NIO Inc (9866 HK) rose 16.8% yesterday. Nio recently released its results. Its revenue in the second quarter was 10.29 billion yuan, a year-on-year increase of 21.8% and a month-on-month increase of 3.9%, exceeding market expectations of 9.667 billion yuan. The delivery guidance given by the company's management on the conference call is that the total delivery volume in the third quarter is 31,000-33,000 vehicles, that is, the delivery guidance in September is 10,271 to 12,271 vehicles.
BYD Electronic International Co Ltd (0285 HK) rose 6.3%. Morgan Stanley issued a research report on September 13 that the success of BYD Electronics' parent company BYD in 2022 will drive the company's growth potential. Morgan Stanley raised the rating of BYD Electronics from "in sync with the market" to "overweight", and the target price was raised by 64.71% from HK$17 to HK$28. The bank pointed out that BYD Electronics' component portfolio is diversified, and its sales growth and average selling price are likely to increase.
Lepu Biopharma Co Ltd (2157 HK) and WuXi Biologics (Cayman) Inc (2269 HK) fell 42.2% and 19.9% respectively yesterday. President Joe Biden is launching a new initiative to encourage biotech production and research in the U.S., the latest move by the White House to boost domestic industry. Biden on Monday signed an executive order implementing the initiative and later, in remarks at the John F. Kennedy Presidential Library in Boston, will address how biotech can help fight cancer. The official said that the administration was aiming to expand domestic biomanufacturing capacity and that other countries, especially China, have been aggressively investing in the sector, posing risks to U.S. leadership and competitiveness.


Trading Dashboard Update: No stocks additions/deletions.