14 March 2022: Rex International (REXI SP), CSOP Hang Seng TECH Index Daily (-2x) Inverse Product (7552 HK)
Singapore Trading Ideas | Hong Kong Trading Ideas | Market Movers | Trading Dashboard
SINGAPORE
Rex International (REXI SP): Rolling like the good old times
BUY Entry – 0.38 Target – 0.45 Stop Loss – 0.35
Rex International Holding Limited operates as an independent oil exploration and production company. It operates through Oil and Gas, and Non-Oil and Gas segments. The company offers Rex Virtual Drilling, a liquid hydrocarbon indicator, which uses seismic data to search for oil. The company is involved in the oil and gas exploration and production activities with a focus in Oman and Norway.
Harvest time for oil & gas companies. On 28 Feb, Rex reported FY2021 net profit of US$78.9mn, a significant turnaround from the US$15.2mn loss in FY2020. This was on the back of US$67 per barrel average realised oil price in FY2021, almost double compared to US$34 it realised in FY2020.
It's the good old times again. Brent oil price surged to more than US$130 in the last two weeks as the effects of the international sanctions on Russia disrupted global supply chains. Brent is now trading at the levels when oil & gas companies were partying like there was no tomorrow, in 2012 to 2014. The price of oil when demand destruction starts to set in is quite varied, with market estimates ranging from US$120 to US$150. In our view, we think US$90-110 is the sweet spot to maintain healthy dynamics in the sector.
While we have a technical buy TP of S$0.45, we have a fundamental outperform rating and TP of S$0.54 based on DCF-backed valuations. Read our fundamental report here.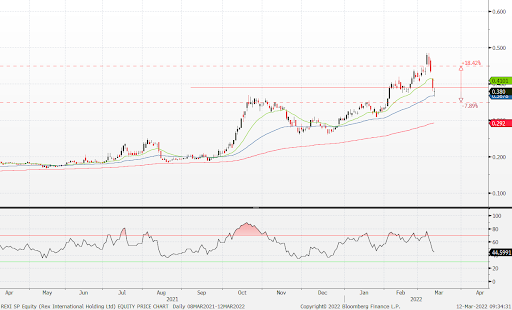 ---
Civmec (CVL SP): A value stock with strong fundamentals and growth opportunities
BUY Entry – 0.63 Target – 0.70 Stop Loss – 0.60
Civmec is an integrated, multi-disciplinary construction and engineering service provider to the Oil & Gas, Metals & Minerals and Defence & Infrastructure sectors. The group provides services in Australia and its manufacturing facilities are located in Western Australia and New South Wales.
Outstanding 1H22 results. Civmec's revenue rose 27.4% YoY to A$389.3mn in 1H22, while net profit after tax jumped 50.4% YoY to A$22.6mn. Even though gross margin declined slightly by 0.5ppts to 10.8% in 1H22, the overall strength in bottom-line was due to prudent cost spending, with admin expenses decreasing slightly by 0.4% to A$9.2mn, and other expenses declining 93% to A$0.1mn in 1H22.
All engines fired up and ready to go. All of Civmec's three business divisions are set to benefit from higher commodity prices and increased government spending in Australia. The group expects its maintenance and capital works division to be the growth driver in the short to medium term. Meanwhile, it is set to benefit from public infrastructure and defence spending as the Australian government is investing $110bn over 10 years in land transport. In the commodities space, the decarbonisation drive and supply-chain disruptions due to the Russian war is driving demand for Australian-sourced metals such as aluminum, copper and lithium.
Attractive valuations and strong balance sheet. Civmec currently trades at 8x FY2022F P/E and 1.0x P/B against 13% FY2022-23F ROE and a strong balance sheet.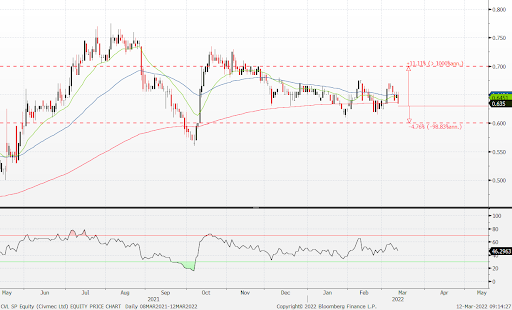 ---
HONG KONG
CSOP Hang Seng TECH Index Daily (-2x) Inverse Product (7552 HK): A fire insurance amidst burning houses
BUY Entry – 15.2 Target – 17.5 Stop Loss – 14.0
The investment objective of the Product is to provide investment results that, before fees and expenses,closely correspond to the two times inverse (-2x) of the Daily performance of the Hang Seng TECH Index
Sell-off accelerates. The U.S. Securities and Exchange Commission identified five Chinese firms last week that could be subject to delisting if they failed to comply with specific auditing requirements. Driven by the renewed regulatory risk, Chinese stocks with dual listings in the US and Hong Kong experienced further sell-off last Friday. Meanwhile, the geopolitical risks could escalate, spilling over to Chinese companies as China's stance over the Russia-Ukraine conflict tilts to Russia. Chinese companies, especially those that are listed in the US could be the scapegoats.
Key week to decide the market direction. The US Fed is expected to hike 25bps for the Fed fund rate, the first-rate hike since 2018 at the FOMC meeting. Meanwhile, investors are eyeing the Fed's economic outlook, balance sheet reduction guidance, and interest rate projections. This Friday is the quadruple witching day with the trillions worth of options expiring, resulting in a surge in volatilities.
Commodities crisis. The sanctions on Russia has led to the Russian commodities being unwanted by western countries. As the bulk of the collaterals of commodities is Russian goods, brokers are forced to increase margins and resort to non-Russian commodities. The direct impact is that the commodities market is draining liquidity from the broader market, contributing to the further sell-off in emerging markets.
FRA-OIS 3M Spread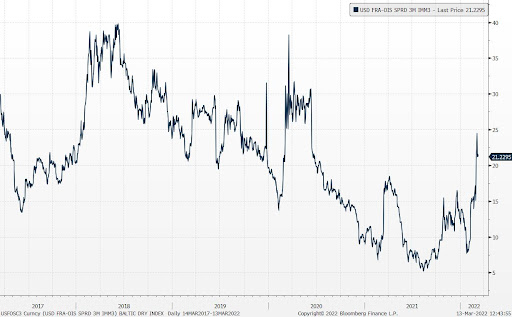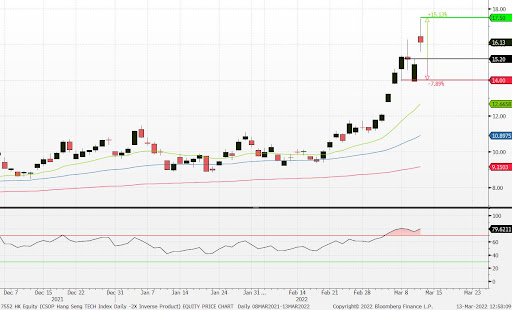 ---
Xinte Energy Co., Ltd. (1799 HK): Substitution effect in play
RE-ITERATE BUY Entry – 16.5 Target – 18.5 Stop Loss – 15.5
Xinte Energy Co., Ltd. is an investment holding company principally engaged in the provision of solar energy and wind power solutions. The Company operates through seven segments. Polysilicon Production segment is engaged in the production and sales of polysilicon. Engineering and Construction Contracting (ECC) segment is engaged in the provision of ECC services for solar energy plants and wind power plants. Inverter Manufacturing segment is engaged in the manufacture of inverters. Sales of Electricity segment is engaged in the generation and sales of electricity. Photovoltaic (PV) Wafer and Module Manufacturing segment is engaged in the manufacture and sales of PV wafers and modules. Build-Own-Operate (BOO) segment is engaged in the building and operation of solar energy plants and wind power plants. Others segment is engaged in related trading businesses and the provision of design and logistics services.
High oil prices are tailwins for renewable energy. The Russia-Ukraine conflict results in unprecedented sanctions on Russia which is a main crude oil exporter. The unexpected widening supply gap of 4mn bbl/d boosted oil prices to 2014 highs. Europe and the US are rushing to secure alternative sources of supply and ramp up domestic oil output amidst the looming energy crisis. Meanwhile, the situation will also accelerate the deployment of renewable energy supply, especially solar. Photovoltaic sector is expected to revive after months of correction. The concerns over potential sanctions on China photovoltaic companies should be relieved as the US priorities reining in inflation by increasing energy supplies at the moment.
Positive FY21 earnings alert. Net profit attributable to shareholders of the company is expected to be no less than RMB5.0bn compared to RMB0.7bn in FY20. The increase in the Group's profit is mainly due to the increase in sales volume of polysilicon products, the significant increase in the sales price of polysilicon products, as well as the increase in the scale and power generation volume of the group's self-operated wind power and photovoltaic power plants.
Updated market consensus of the EPS growth in FY22/23 is 8.6%/-18.6% YoY respectively, which translates to 3.4x/4.2x forward PE. Current PER is 8.7x. FY22F/23F dividend yield is 5.1%/3.1%. Bloomberg consensus average 12-month target price is HK$21.2.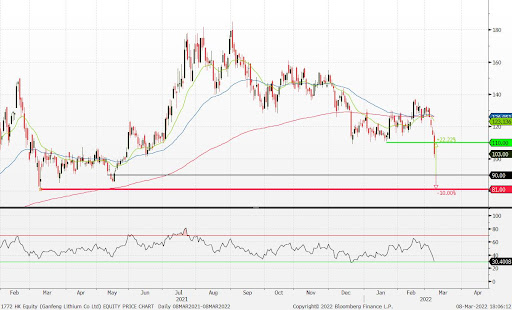 ---
MARKET MOVERS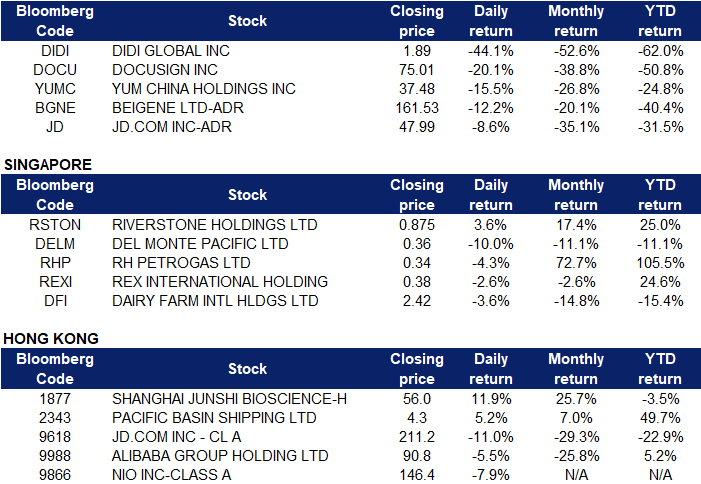 ---
United States
Top Sector Gainers
Top Sector Losers
Didi Global Inc (DIDI US) shares plunged 44.1% on Friday, on a report that the ride-hailing firm had suspended preparations for its Hong Kong listing due to its failure to meet China's conditions on handling sensitive user data. The Cyberspace Administration of China (CAC) told Didi executives that their proposals to prevent security and data leaks had fallen short, Bloomberg reported, citing people familiar with the matter.
Docusign Inc (DOCU US) shares plunged 20.1% on Friday, after the e-signature software maker released softer-than-expected guidance for its fiscal 2023. The company said Thursday evening that it expects full-year revenue to be between $2.47 billion to $2.48 billion, lower than the $2.61 billion that analysts surveyed by FactSet had been expecting. The company also said it expects subscription revenue growth to slow, forecasting a range of $2.39 billion to $2.41 billion. The company warned in December that its growth would likely be hampered as people returned to more normalised working and buying patterns as the pandemic faded.
Yum China Holdings Inc (YUMC US) and Beigene Ltd (BGNE US) shares lost 15.5% and 12.2% respectively on Friday. The Securities and Exchange Commission has identified five U.S.-listed American depositary receipts of Chinese companies (Yum China, BeiGene, Zai Lab, ACM Research and HUTCHMED) for failing to adhere to the Holding Foreign Companies Accountable Act (HFCAA). The act, which was passed in 2020, permits the SEC to ban companies from trading and be delisted from U.S. exchanges if American regulators are not able to review company audits for three consecutive years. These are the first China ADRs to be identified as failing to adhere to the HFCAA. These five companies are on the list because they recently filed their annual reports with the SEC.
JD.com Inc (JD US) shares fell 8.6% on Friday, after posting a quarterly loss on Thursday as its operational costs surged, and reported its weakest revenue growth in six quarters amid slowing consumer spending. Net revenue rose about 23% to 275.9 billion yuan ($43.64 billion) in the fourth quarter, while analysts had expected revenue of 274.45 billion yuan, according to IBES data from Refinitiv. Net loss attributable to shareholders for the fourth quarter was 5.2 billion yuan, compared to a profit of 24.3 billion yuan last year. Last month, rival Alibaba posted its slowest revenue growth for the same period since going public in 2014.
---
Singapore
Riverstone Holdings Ltd (RSTON SP) shares extended their gains and rose 3.6% yesterday. Recently, RHB upgraded Riverstone to "neutral" from "sell" and raised its target price to S$0.74 from S$0.65, while noting that the glove maker's current valuation is fair. Riverstone is trading at 16 times the brokerage's estimates for FY2023 earnings, in line with its historical average and pre-pandemic 5-year mean, RHB said in a research note. Meanwhile, DBS Group Research has lowered its target price on the counter to S$0.97 from S$1.20, after cutting its FY2022 and FY2023 earnings forecast by 31 per cent and 16 per cent respectively.
Del Monte Pacific Ltd (DELM SP) shares plunged 10% on Friday. The company reported earnings of US$25.9 million for the 3QFY2022 ended January, 14.0% lower than earnings of US$30.2 million in the corresponding period the year before. Revenue during the quarter increased by 4.9% y-o-y to US$659.4 million, driven by higher sales in the US across almost all major categories. The higher manufacturing cost was mainly attributable to commodity headwinds, weather-related events and freight headwinds particularly ocean freight on co-pack products.
RH Petrogas Ltd (RHP SP) and Rex International Holding Ltd (REXI SP) shares lost 4.3% and 2.6% respectively on Friday, likely due to profit-taking. Crude oil futures ended Friday's session 3.1% percent higher at slightly above $109 per barrel, but posted a 5.7% decline on the week, the biggest weekly drop since November. Brent crude futures traded near $111 per barrel on Friday and were also on track for their biggest weekly drop since November. Investors weighed efforts to bring more supply to the market against fears of an imminent Russia embargo. It was announced that Europe would not join its allies in banning Russian oil and on potential supply additions from Iran, Venezuela and the UAE. Meanwhile, analysts warned that other members of OPEC+ will unlikely be able to fill the supply gaps from the oil ban against Russia.
Dairy Farm International Holdings ltd (DFI SP) shares lost 3.6% on Friday. As the latest Covid-19 variant Omicron continues to spread through the key operating markets of Dairy Farm International, RHB Research has downgraded its rating on the mainboard-listed retail group to "neutral" from "buy". The move comes after DFI posted a 62 per cent decline in net profit on the back of lower revenue amid the pandemic, which constrained the group's normal store operations and reduced traffic.
---
Hong Kong
Top Sector Gainers
Top Sector Losers
Shanghai Junshi Biosciences Co Ltd (1877 HK) shares rose 11.9% on Friday. The company recently announced that the State Drug Administration approved its drug, JS107. JS107 is a recombinant humanised anti-Claudin18.2 monoclonal antibody MMAE coupling agent for injection independently developed by the company. It is an antibody-drug conjugate targeting tumour-related protein Claudin18.2. For the treatment of advanced malignant tumours such as gastric cancer and pancreatic cancer, JS107 can bind to Claudin18.2 on the surface of tumour cells, enter into tumour cells through endocytosis, and release the small molecule toxin MMAE, which has a strong lethality to tumour cells.
Pacific Basin Shipping Ltd (2343 HK) shares rose 5.2% on Friday after Daiwa reiterated its "buy" rating. According to Daiwa's research report , Pacific Ocean Shipping headed towards a good start due to the strong recovery of the dry bulk market after the Lunar New Year holiday and the high year-on-year time charter equivalent income in the first quarter of this year. The company currently has limited exposure to Russia and Ukraine. The bank said the company's 2022 commitments for capital expenditures are low due to the lack of purchases of newbuildings, and it expects a dividend yield with 15% upside in 2022.
JD.com Inc (9618 HK) and Alibaba Group Holding Ltd (9988 HK) shares fell 11% and 5.5% on Friday as Chinese companies faced renewed regulatory risks in the US. Ceasefire talks between Russia and Ukraine stalled. In addition, JD.com posted a quarterly loss on Thursday as its operational costs surged, and reported its weakest revenue growth in six quarters amid slowing consumer spending. Net revenue rose about 23% to 275.9 billion yuan ($43.64 billion) in the fourth quarter, while analysts had expected revenue of 274.45 billion yuan, according to IBES data from Refinitiv. Net loss attributable to shareholders for the fourth quarter was 5.2 billion yuan, compared to a profit of 24.3 billion yuan last year. Last month, rival Alibaba posted its slowest revenue growth for the same period since going public in 2014.
Nio Inc (9866 HK) shares lost 7.9% on Friday. Shares of Chinese electric-vehicle maker Nio began trading on Hong Kong's exchange on Thursday, after the company chose a shortcut path to listing that didn't involve raising new funds. Nio joins a growing list of U.S.-traded Chinese companies that have chosen to list on Hong Kong's exchange in recent months, seen as a way to hedge against the risk of being delisted from U.S. exchanges amid growing U.S.-China tensions.
---
Trading Dashboard
Trading Dashboard Update: Add UOB (UOB SP) at S$29.80.

(Click to enlarge image)
---