14 February 2022: Rex International (REXI SP), China Oilfield Services Limited (2883 HK)
Singapore Trading Ideas | Hong Kong Trading Ideas | Market Movers | Trading Dashboard
SINGAPORE
Rex International Holdings Ltd (REXI SP): Upside bias for oil prices
BUY Entry – 0.39 Target – 0.50 Stop Loss – 0.35
Rex International Holding Limited operates as an independent oil exploration and production company. It operates through Oil and Gas, and Non-Oil and Gas segments. The company offers Rex Virtual Drilling, a liquid hydrocarbon indicator, which uses seismic data to search for oil. The company is involved in the oil and gas exploration and production activities with a focus in Oman and Norway.
Joining the big guys. The company announced on 26 Jan 2022 that it has obtained approval-in-principle from SGX for the transfer of listing from the Catalist Board to the Mainboard. The board believes that the Mainboard Listing would provide the company with a wider platform to reach out to a larger investor base. This could potentially facilitate greater access to equity and debt markets, if applicable, to maximise the group's growth potential.
Geopolitical risks are a boost to oil prices. Both Brent and WTI rose around 3% last Friday to US$94.44 and US$93.10 respectively, closing at their highest levels since Sep 2014, after a senior White House official warned that Russia could invade Ukraine very soon. Even without the prospect of war, oil supply challenges among exporting countries still threaten to increase the tightness in oil markets and may continue to push prices higher, according to the International Energy Agency.
Earnings watch. Rex is due to report its full year results on Friday, 25 February 2022. This set of earnings will be closely watched as it will include contributions from the Brage Field in Norway that Rex acquired in 2021.
Oil prices are at the highest since 2014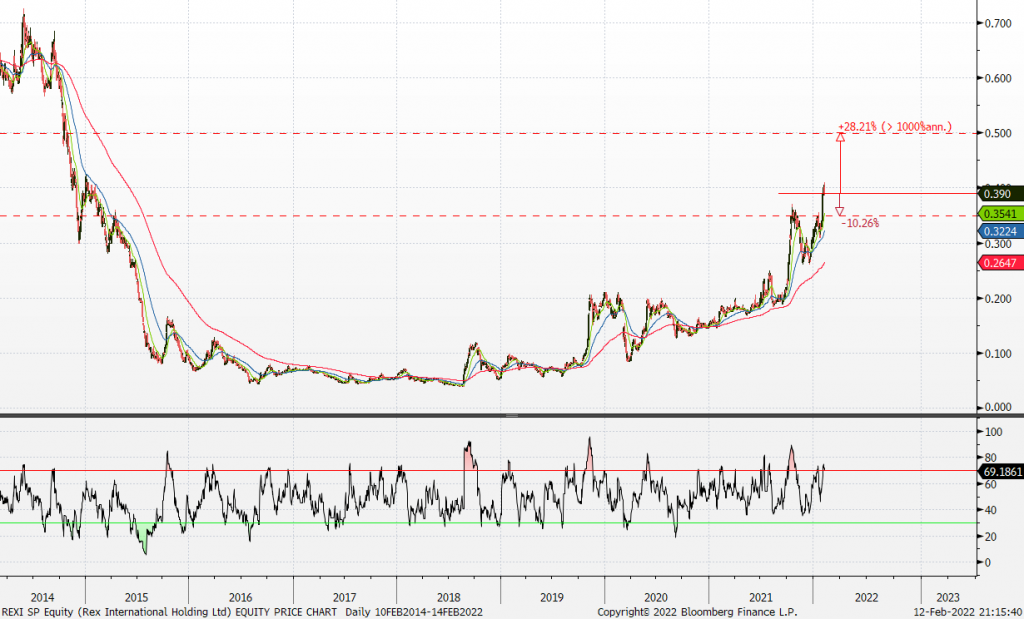 ---
Grand Venture Technology (GVTL SP): Booster shot from acquisitions
Reiterate BUY Entry – 1.08 Target – 1.37 Stop Loss – 0.98
Grand Venture Technology (GVTL) provides engineering, assembly, testing and product lifecycle management services for the manufacture of complex precision machining and sheet metal components and modules. Its clients are mainly in the semiconductor, analytical life sciences and electronics sectors, and includes multinationals such as Teradyne and BE Semiconductor Industries.
Flying into aerospace and diving into medical diagnostics. GVTL in December 2021 announced the S$20mn acquisition of two homegrown companies. The acquisitions are expected to be completed by 1Q2022 and will augment the group's capabilities in China and Malaysia, and help GVTL gain access to clients in the aerospace, medical and semiconductor industries.
Street consensus has 2 BUYS and 1 HOLD, with a 12m average TP of S$1.71 (+56% upside from last close price). FY2021F and 22F EPS is forecasted to grow 124% YoY and 80% YoY, respectively, bringing down forward P/Es to 22x and 12x.
Currently trading below placement price. GVTL is currently trading just slightly below the S$1.14 placement price where it raised gross proceeds of S$39mn back in September 2021.
Upcoming results. Full-year results will likely be announced on Friday, 25 February 2022. This could provide a much-needed catalyst for its shares after having corrected by as much as 30% from the peak.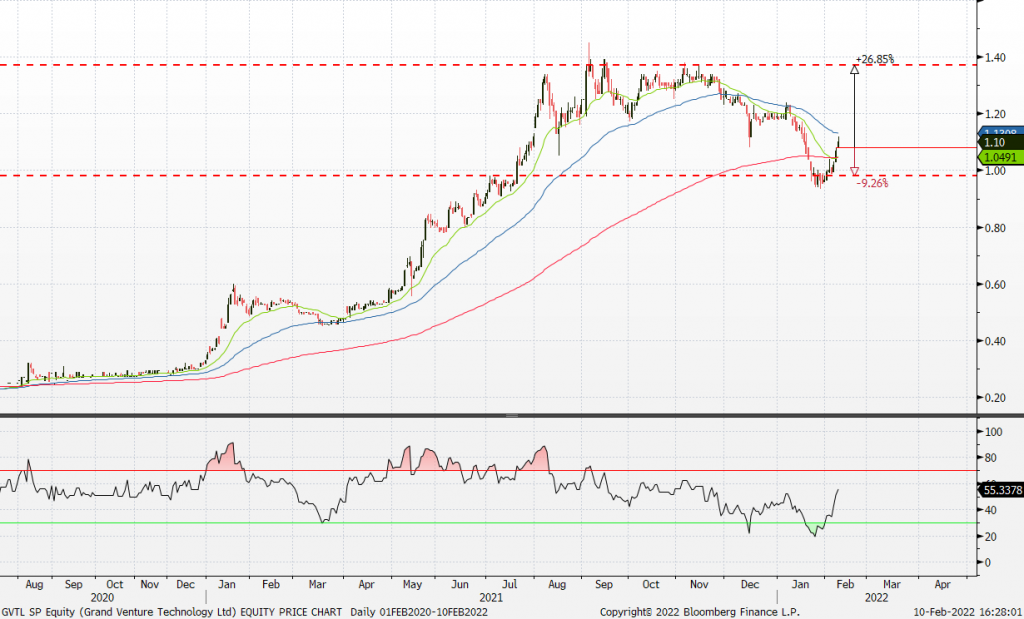 ---
HONG KONG
China Molybdenum Co Ltd (3993 HK): Reignite the fire
BUY Entry – 4.5 Target – 5.5 Stop Loss – 4.0
China Molybdenum Co., Ltd. is a China-based company, principally engaged in the mining, smelting, processing and trading of metals, such as molybdenum, tungsten and copper. The Company operates its businesses through five segments. Its Molybdenum, Tungsten and Related Products segment is mainly engaged in the mining of molybdenum and tungsten. Its Copper, Gold and Related Products segment is mainly engaged in the mining of copper and gold. The Niobium and Related Products segment is engaged in niobium manufacturing business. The Phosphorus segment is engaged in phosphate manufacturing business. The Copper and Cobalt segment is engaged in the production of Copper and Cobalt. The Company conducts its businesses mainly in China, Australia, Brazil and Congo.
Basic metals' new year rally. Aluminum reached a new record high of US$3,313/tonne. Copper broke out of consolidation and reached a high of US$783/tonne since October 2021. Iron ore continued the uptrend and reached a high of US$151/tonne since September 2021. Basic metals regained the upward momentum due to the seasonal restocking period after the Chinese New Year. Meanwhile, the zero-covid policy in China continued to restrict the ramp-up in production. The supply and demand dynamics are tightening.
High Inflation is expected to last throughout 2022. Federal Reserves had turned hawkish regarding monetary policies in 2022 and 2023. However, global hard commodities such as oil, coal, and basic metals are edging up regardless of the rate hike and balance sheet reduction. As long as China sticks to its draconian lockdown measures, global supply chain disruptions will remain status quo. Therefore, liquidity contraction will not solve the problem completely. The decisive factor is that demand growth will outpace supply growth.
Updated market consensus of the estimated net profit growth in FY22/23 is 17.5%/6.8% respectively, which translates to 13.6x/12.8x forward PE. The current PE is 19.3x. Bloomberg consensus average 12-month target price is HK$6.19.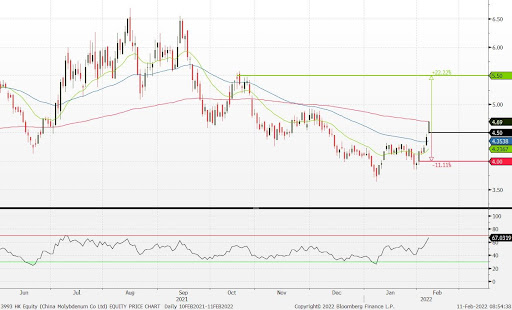 ---
China Oilfield Services Limited (2883 HK): About to see three-digit oil prices
Buy Entry – 8.5 Target – 9.5 Stop Loss – 8.09
Oil prices are about to reach US$100/bbl. Both Brent and WTI had surged to another new high since 2014, driven by the concerns over escalating tensions between Russia and Ukraine. Even though omicron infection cases are still rising, and some lockdowns in several countries remain, the demand for oil has not tapered substantially. The recent decision from OPEC+ to hike output by 400,000 bbls/d failed to bring prices down as the supply-demand gap is narrower than expected. More importantly, the underinvestment in exploration and production will leave limited room for further output hike. Accordingly, the market is projecting oil prices to reach US$100/bbl this year.
We may not see inflation subside in the near term. The US, Europe, and China released their inflation data recently, showing that inflation pressure is still high. Oil and gas is a good hedge against inflation or stagflation amidst the rate hike cycle. The buoyant oil price will gradually pull some investments back in the sector given that clean energy investment is overheated at the moment.
The updated market consensus of the EPS growth in FY22/23 is 42.2%/19.3% YoY respectively, which translates to 10.2x/8.6x forward PE. Current PER is 16.5x. Bloomberg consensus average 12-month target price is HK$9.73.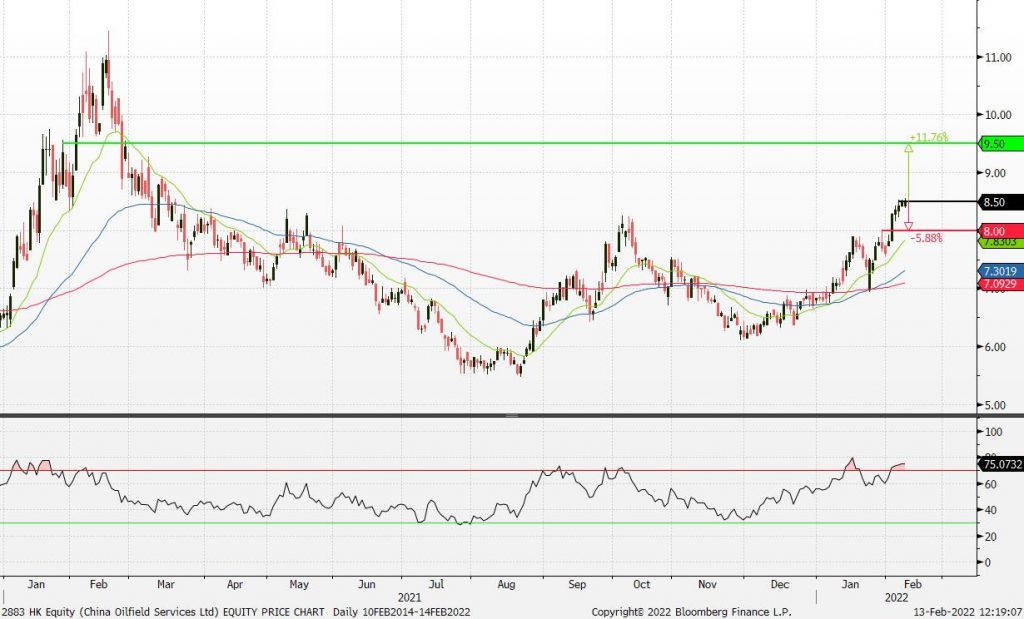 ---
MARKET MOVERS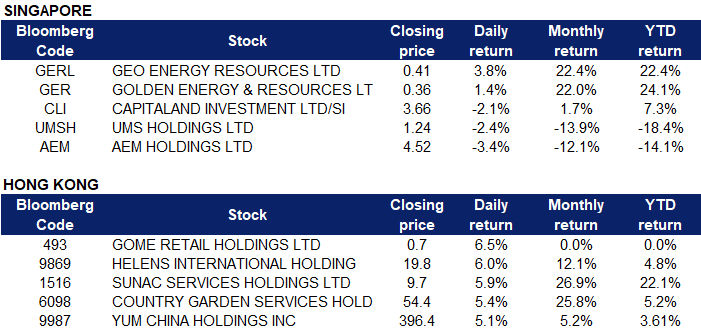 ---
United States
Top Sector Gainers
Top Sector Losers
Newell Brands Inc (NWL US) shares gained 11.1% on Friday. Net sales were $2.8 billion, an increase of 4.3% compared with the prior year period, during which the company experienced elevated demand across many of its categories. In addition, six of eight business units and every major region increased core sales compared with the prior year period. Chris Peterson, Chief Financial Officer and President, Business Operations said that effective cost management, decisive actions to mitigate the impact of inflation, and stronger top line drove upside to expectations on operating profit.
Occidental Petroleum Corp (OXY US) and Exxon Mobil Corp (XOM US) shares gained 5.7% and 2.5% respectively on Friday. WTI crude futures surged more than 4.5% to almost hit $94 per barrel on Friday afternoon, while Brent crude futures climbed 4% to hit $95, its highest since 2014 after the White House said that Russia could invade Ukraine at any time. The upward pressure on prices was already present earlier after the IEA said supply tensions will rise if the persistent gap between OPEC+ output and its target levels continues. The IEA also pointed out that Saudi Arabia and the United Arab Emirates could pump more oil as they still have spare capacity.
Under Armour Inc (UAA US) shares plunged 12.5% on Friday after the company posted strong fiscal fourth-quarter earnings, but said supply-chain issues could have a bigger impact than previously expected. Under Armour posted revenue of $1.5 billion for the quarter ended Dec. 31, up 8% from last year, narrowly beating the FactSet consensus estimate of $1.46 billion. Adjusted diluted earnings per share were 14 cents, beating the FactSet consensus of 6 cents. However, the pricing and restructuring changes that helped drive higher revenue could be offset by headwinds from increased freight costs, an unfavourable product mix, and increased labour costs, among other factors, said Susan Anderson, an analyst at B. Riley Securities.
AMD Inc (AMD US) and Nvidia Corp (NVDA) shares lost 10% and 7.3% respectively on Friday. Recently, it was announced that the consumer price index had risen 7.5% in January from a year earlier, the fastest pace of US inflation in 40 years. As a result, the US 10-year Treasury yield on Thursday climbed to 2% for the first time since August 2019, as investors ditched government debt on the latest evidence of stubbornly high inflation. Nvidia, AMD, and other semiconductor companies could also be down due to the uncertainties affecting the market, primarily driven by recent headlines focusing on the tension transpiring with Russia and Ukraine. The semiconductor industry continues to be heavily impacted by the unbalance in supply and demand. Most semiconductor companies are working at full capacity and have no room for error. Investors might be worried that the tensions between Ukraine and Russia can heavily impact the semiconductor supply chain.
---
Singapore
Geo Energy Resources Ltd (GERL SP) and Golden Energy & Resources Ltd (GER SP) shares rose 3.8% and 1.4% respectively on Friday. Coal futures were trading around $240 per tonne on Friday, a level not seen since October 2021 and just $30 shy of its record peak, as international energy crunch and supply woes persisted. Indonesia has already lifted a ban on coal exports, citing improving conditions of coal supply for local power plants. Still, only exporters that fulfil their domestic market obligation will resume shipments in February, which could continue to limit output. Meanwhile, the French government has allowed electricity producers to burn more coal during January and February, saying it was necessary to ensure a secure electricity supply.
AEM Holdings Ltd (AEM SP) and UMS Holdings Ltd (UMSH SP) shares declined 3.4% and 2.4% respectively. The overall decline in the semicon sector was likely influenced by US peers, after it was announced that the consumer price index had risen 7.5% in January from a year earlier, the fastest pace of US inflation in 40 years. As a result, the US 10-year Treasury yield on Thursday climbed to 2% for the first time since August 2019, as investors ditched government debt on the latest evidence of stubbornly high inflation.
Capitaland Investment Ltd (CLI SP) shares lost 2.1% on Friday, likely due to profit taking. Shares rallied for 6 consecutive days and gained approximately 8%, almost reaching oversold levels. UOB Kay Hian and Maybank Securities both initiated coverage with buy calls and target prices of S$4.02 and S$4.03 respectively. It was also announced previously that Ascott Reit, through wholly owned subsidiaries, had entered into two conditional sale and purchase agreements to acquire four student accommodation properties. On 30 December 2021, the Managers announced the completion of the acquisition of three of the Properties. Yesterday, the Managers announced that the acquisition of the fourth property, the Kent Property, has been completed.
---
Hong Kong
Top Sector Gainers
Top Sector Losers
GOME Retail HoldingsLtd (493 HK) shares gained 6.5% on Friday. Recently, the company disclosed in a conference call that its sales volume in January increased by more than 40% YoY. The number of SKUs was nearly 2 million, while the monthly active users of Really Happy in January reached 70 million and the average daily usage was about 3.5 million. The company also expects to serve 50 million to 100 million households in 2022. By December this year, it is expected that each family will spend an average of 8 to 10 hours a month in entertainment and consumption in the GOME ecosystem, and the consumption scale of all family members will reach RMB 360 billion to RMB 1.2 trillion.
Helens International Holdings Co Ltd (9869 HK) shares rose 6% on Friday. Helens announced that Wuhan Catering, a wholly-owned subsidiary of the company, entered into a property acquisition agreement with Changjiang Industrial Park for an office property at a total consideration of RMB 223 million. It is reported that the office property is a newly built 17-storey building located in Building B2, Changjiang Digital Cultural Center, Gaoxin Road, Donghu New District, Wuhan, China. The office property has a total gross floor area of ​​approximately 17,198.8 square metres and is approved for commercial office use. As of the announcement date, the construction of the office property has been completed and the office business is ready for commencement The office property was delivered in a vacant state upon completion.
Sunac Services Holdings Ltd (1516 HK), Country Garden Services Holdings Co Ltd (6098 HK) shares gained 5.9% and 5.4% respectively on Friday. The People's Bank of China said in a statement on Tuesday that bank loans to fund low-cost rental projects will no longer be subject to regulatory curbs. The move is one of the clearest signs yet that Chinese policy makers are easing up on a clampdown on leverage in the property sector that's slowing growth in the world's second-largest economy. The latest easing comes after banks were recently urged to lend more to developers and speed up mortgage approvals. Authorities have also made it easier for companies to obtain financing to buy assets from weaker real estate firms by excluding such debt from regulatory limits on borrowing.
Yum China Holdings Inc (9987 HK) shares gained 5.2% on Friday. CITIC Securities released a research report saying that it maintained the "overweight" rating of Yum China, with a 30x PE in 2023 and a target price of HK$468. It is expected that the epidemic disturbance will still have some pressure on performance in the short term, and the adjusted EPS forecast for 2022/23 is lowered to US$1.73/2.2 (original forecast is US$2.28/2.64), and the adjusted EPS forecast for 2024 is US$2.46. However, in the long run, the company's supply chain capabilities have clear advantages. The core business has certainty for steady growth, and the contributions from coffee and new retail will support the company's long-term stable development.
---
Trading Dashboard
Trading Dashboard Update: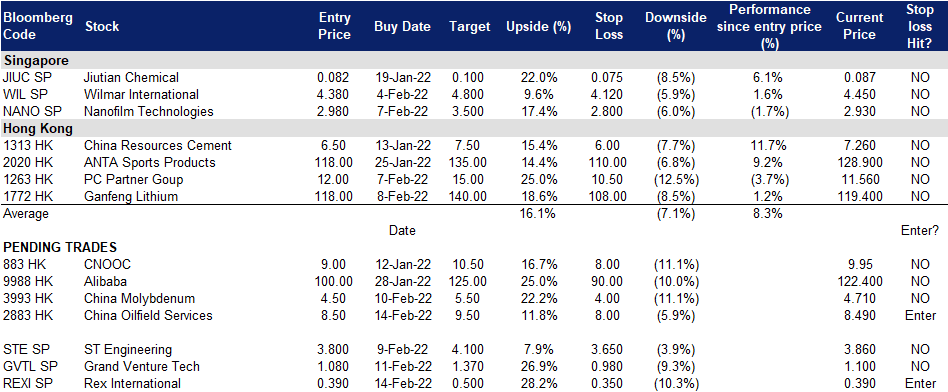 (Click to enlarge image)
---