13 June 2022: Capitaland Integrated Commercial Trust (CICT SP), Nexteer Automotive Group Ltd (1316 HK)
Singapore Trading Ideas | Hong Kong Trading Ideas | Market Movers | Trading Dashboard

Capitaland Integrated Commercial Trust (CICT SP): Further ease of restriction measures of nightlife
BUY Entry – 2.20 Target – 2.35 Stop Loss – 2.13
CapitaLand Integrated Commercial Trust (CICT) is the first and largest real estate investment trust (REIT) listed on Singapore Exchange Securities Trading Limited (SGX-ST). CICT owns and invests in quality income-producing assets primarily used for commercial (including retail and/ or office) purposes, located predominantly in Singapore.
1Q22 financials and businesses review. CICT recorded gross revenue of S$339.7mn and net property income of S$248.3mn in 1Q22, an increase of 1.5% and 0.5% YoY respectively. As of 1Q22, CICT's aggregate leverage was 39.1%, well below MAS' regulatory limit of 45% to 50%. The average cost of debt was stable at 2.3% per annum. The respective occupancy rate of the retail/office/integrated department was 96.6%/91.4%/97.6% in 1Q22, and the occupancy rate of the overall portfolio was 93.6%.
Reopening play. Nightlife establishments with dancing among patrons will no longer be subjected to a capacity limit from 14th June. Patrons will also no longer need to obtain a negative antigen rapid test (ART) result to enter the venue, said the Ministry of Health (MOH) on 10th June. The expiry of leases in Clarke Quay resulted in a slight drop in the occupancy rate of the retail segment in 1Q22, and it is expected to recover in 2H22.
Inflationary hedge. Out of CICT's total borrowings of S$8.8bn as of 1Q22, 85% are on fixed interest rates, which is able to shield the impact of interest rate hikes. In addition, because rents and property value tend to increase amidst the increase in overall prices, the REITs whose properties are able to capitalise on that can provide an inflation hedge.
Positive consensus estimates. Currently, CICT has a consensus rating of 17 BUYS, 3 HOLDS and 0 SELL, and a 12M TP of S$2.47.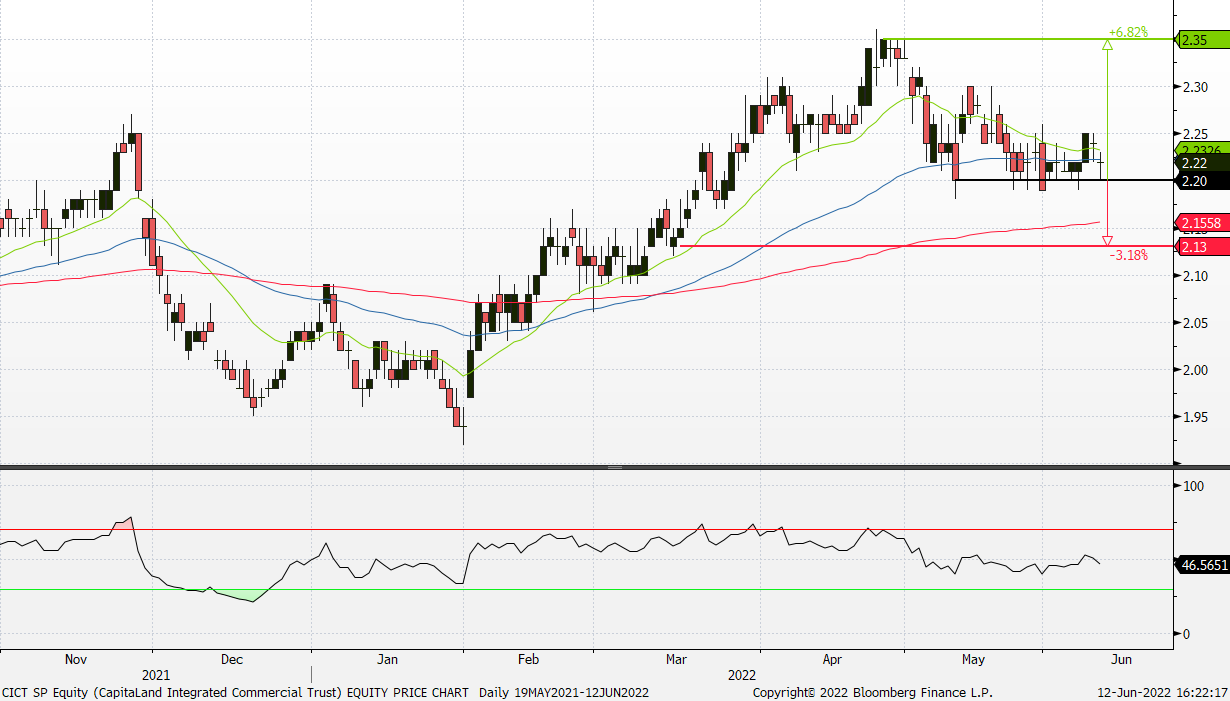 (Source: Bloomberg)

Rex International Holding Ltd (REXI SP): Upbeat Chinese trade data
RE-ITEREATE BUY Entry – 0.36 Target – 0.40 Stop Loss – 0.34
Rex International Holding Limited operates as an independent oil exploration and production company. It operates through Oil and Gas, and Non-Oil and Gas segments. The company offers Rex Virtual Drilling, a liquid hydrocarbon indicator, which uses seismic data to search for oil. The company is involved in the oil and gas exploration and production activities with a focus in Oman and Norway.
Recovery in China's demand for oil. China, the world's top crude oil buyer, imported 45.83 million tonnes last month, data from the General Administration of Customs showed on Thursday, equivalent to 10.79 million barrels per day (bpd). That compares to 10.5 million bpd in April and to a 2021 average of 10.3 million bpd. Meanwhile, China's May exports jumped 16.9% from a year earlier as easing COVID curbs allowed some factories to restart, the fastest growth since January this year and more than double analysts' expectations.
Supply remains tight. Iran removing two International Atomic Energy Agency surveillance cameras at a uranium enrichment facility raised tensions with the United States and other countries negotiating with Iran over its nuclear program, and will likely keep sanctions in place and Iranian oil out of the global market for longer. Efforts by the Organization of the Petroleum Exporting Countries and their allies, including Russia, a group known as OPEC+, to boost output are "not encouraging", United Arab Emirates' Energy Minister Suhail al-Mazrouei said, noting the group was currently 2.6 million bpd short of its target.
Positive consensus estimates. According to Bloomberg consensus estimates, the company currently has a rating of 3 BUYS, 0 HOLD and 0 SELL, with a 12M TP of S$0.58, representing approximately a 98.4% potential upside as of 9 June 2022.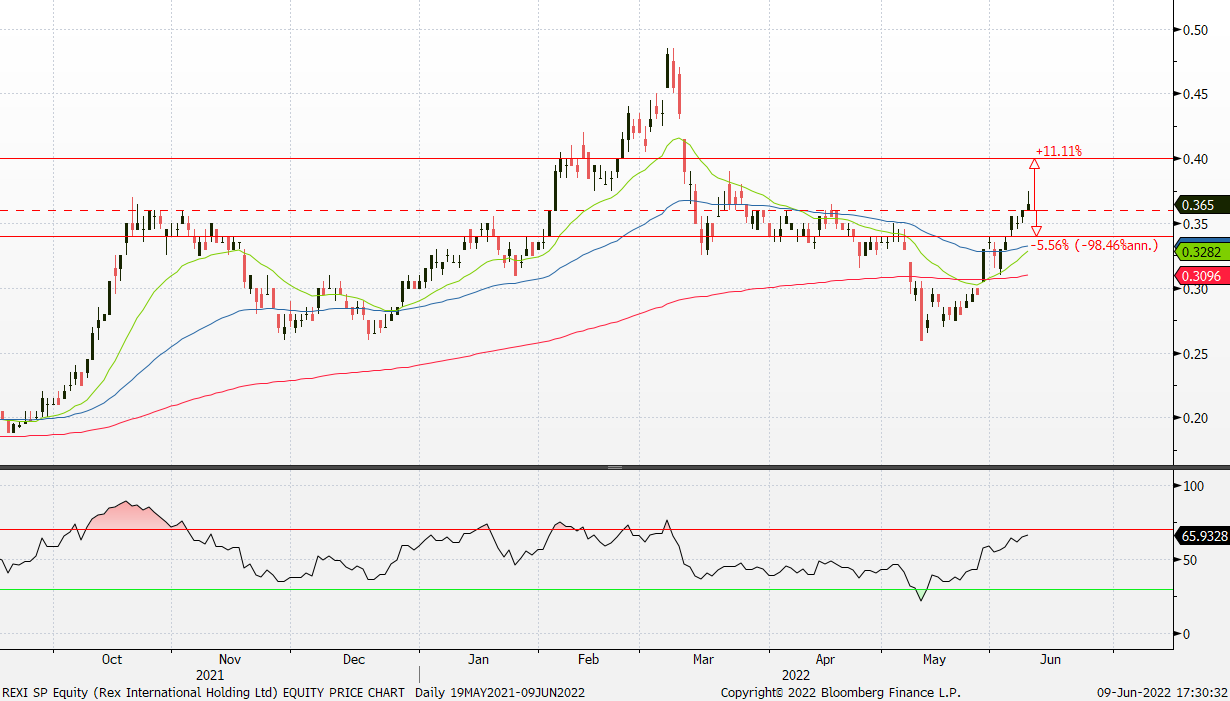 (Source: Bloomberg)


Nexteer Automotive Group Ltd (1316 HK): Riding on the auto sector recovery
Buy Entry – 5.3 Target – 6.0 Stop Loss – 4.9
Nexteer Automotive Group Limited is an investment holding company. The Company through its subsidiaries are primarily engaged in the design and manufacture of steering and driveline systems, advanced driver assistance systems (ADAS) and automated driving (AD) and components for automobile manufacturers and other automotive-related companies. Its operations are in the United States of America (USA), Mexico, Poland and the People's Republic of China (China). The principal markets for the Company's products are North America, Europe, South America, China and India. The Company has approximately 27 manufacturing plants, one global technical center, over two regional technical centers, one software service center and approximately 13 customer service centers. Its subsidiaries include Nexteer US Holding I LLC, Rhodes I LLC, Steering Solutions IP Holding Corporation, Chongqing Nexteer Steering Systems Co., Ltd., CNXMotion, LLC and Dongfeng Nexteer Steering Systems (Wuhan) Co., Ltd.
Automobile production to accelerate from June onwards. Previously, the authority announced an auto purchase tax cut, and major cities started to ease the lockdown measures. The expected improving demand for automobiles will drive producers to accelerate production as supply chain disruptions mitigate. The global EV leader, Tesla planned to manufacture more than 71,000 units of both Model 3 and Model Y in June. Due to Shanghai's lockdown from March to May, Tesla's Shanghai factory halted production for three weeks, and its daily production was 1,000 units in 2HApril. Therefore, Tesla has boosted its capacity utilization rate to 100% since the lockdown measures were lifted. Auto part manufacturers are expected to benefit from the turnaround of the sales and production of the sector.
New orders to uphold the growth. In 1Q22, the total value of new order signed amounted to US$2.73bn, four times of the total value signed in 1Q21. With the recovery in the auto markets in Europe and Asia Pacific, the oder book is expected to grow healthily in FY22.
Updated market consensus of the EPS growth in FY22/23 is 21.9%/51.4% YoY respectively, which translates to 11.7x/7.8x forward PE. The current PER is 15.2x. Bloomberg consensus average 12-month target price is HK$6.75.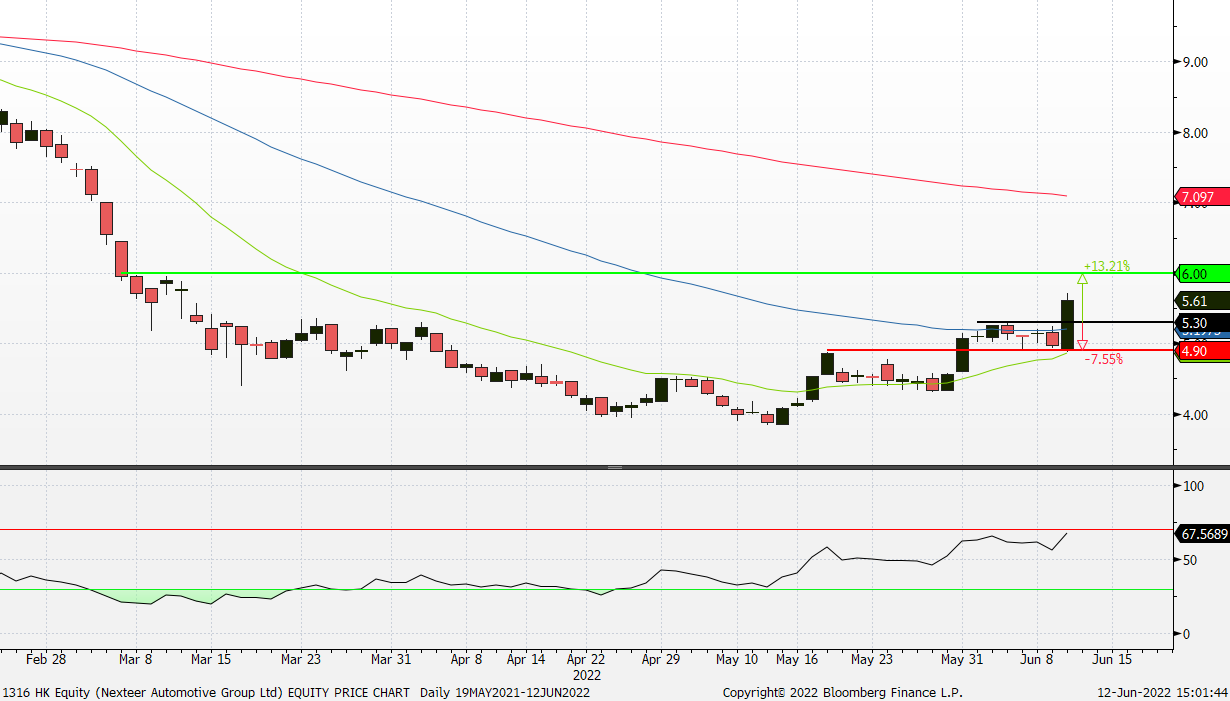 (Source: Bloomberg)
China Oilfield Services Limited (2883 HK): Hit a 52-week high
RE-ITERATE Buy Entry – 9.5 Target – 10.9 Stop Loss – 8.8
China Oilfield Services Limited is a comprehensive oilfield service provider. The Company mainly operates through four business segments. The Drilling Services segment is mainly engaged in the provision of oilfield drilling services. The Oil Field Technical Services segment is mainly engaged in the provision of oilfield technical services, including the logging, drilling fluids and directional drilling services. The Geophysical and Engineering Exploration Services segment is mainly engaged in the provision of seismic prospecting and engineering exploration services. The Marine Support Services segment is engaged in the transportation of supplies, including the delivery of crude oil, as well as refined oil and gas products. The Company mainly operates its businesses in domestic and overseas markets.
Oil to hit a new high this year. With the ease of COVID lockdown measures in China's major cities, the domestic economic and production activities gradually normalise. Accordingly, the demand for petroleum in China will recover. Previously, Saudi Arabia raised the July official selling price (OSP) for its flagship Arab light crude to Asia by $2.10 from June to a $6.50 premium, the highest since May, when prices hit all-time highs due to worries of disruption in supplies from Russia. The price increase followed a decision last week by the OPEC+ to boost output for July and August by 648,000 bbls/day. Goldman Sachs economists have predicted oil prices will surge to $140 a barrel this summer, with a drop in Russian production and a gradual recovery in Chinese demand adding to the pressure on already low supplies.
1Q22 results review. Gross revenue grew by 15.2% YoY to RMB6.8bn. Gross profit grew by 10.8% YoY to RMB733.7mn. Net profit attributable to shareholders of the company jumped by 67.7% YoY RMB303.8mn. Net profit excluding non-recurring gain and loss attributable to shareholders of the company jumped by 76.5% YoY to RMB266.7mn.
Key operations highlights.
| | | | |
| --- | --- | --- | --- |
| Drilling Services | 1Q22 | 1Q21 | YoY Change (%) |
| Operating days | 3,922 | 3,291 | 19.2 |
| Jack-up Drilling Rigs | 3,239 | 2,568 | 26.1 |
| Semi-submersible Drilling Rigs | 683 | 723 | -5.5 |
| Utilisation rate (Available Day) | 84.2% | 69.8% | +14.4 ppts |
| Jack-up Drilling Rigs | 89.4% | 70.2% | +19.2 ppts |
| Semi-submersible Drilling Rigs | 66.1% | 68.3% | -2.2 ppts |
| Utilization Rate (Calendar Day) | 75.9% | 65.8% | 10.1 ppts |
| Jack-up Drilling Rigs | 83.0% | 67.0% | +16.0 ppts |
| Semi-submersible Drilling Rigs | 54.2% | 61.8% | -7.6 ppts |
Mean reversion of capex. During 2020/21, the global integrated oil companies trimmed the capex of the exploration and production substantially. According to Bloomberg, the capex of oilfield services and equipment is expected to jump by 40% YoY to US$5.1bn in 2022. The performance of the exploration sector still lags behind the production sector currently, but it will catch up eventually.
Updated market consensus of the EPS growth in FY22/23 is 852.7%/22.1% YoY respectively, which translates to 13.4x/11.0x forward PE. The current PER is 92.3x. Bloomberg consensus average 12-month target price is HK$10.98.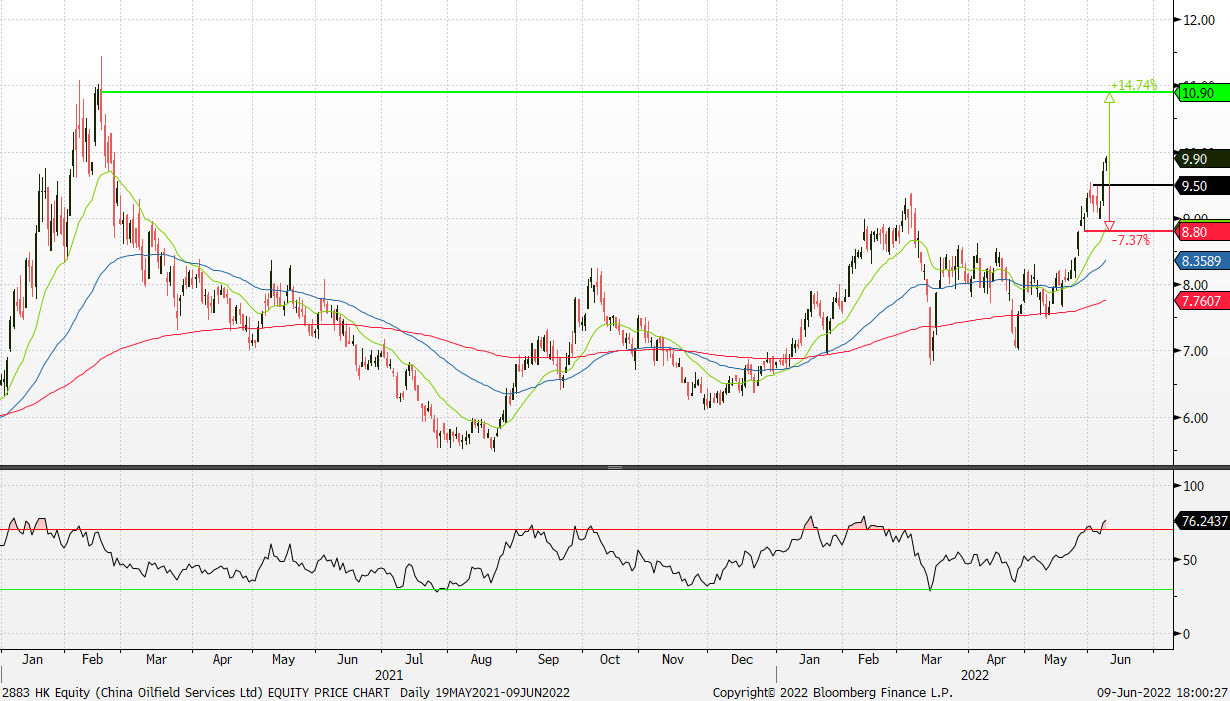 United States
Top Sector Gainers
Top Sector Losers
DocuSign Inc (DOCU US) shares dropped 24.5% after the company reported weaker-than-expected earnings in its fiscal first quarter. Both earnings per share and revenue for the quarter missed analysts' expectations per Refinitiv. DocuSign delivered 25% revenue growth from a year earlier, but investors are increasingly concerned with profitability. The company also got hit by three downgrades from Wall Street analysts.
Illumina Inc (ILMN US) stock dropped 9% after Illumina announced that its chief financial officer will leave next month. The current CFO, Sam Samad, is leaving for a similar role at Quest Diagnostics.
Roblox Corp (RBLX US) shares fell 9% after Goldman Sachs downgraded Roblox to sell from neutral. "We have increasing concerns around the post-pandemic environment and expect a continuation of slowing growth, tough comps, & normalisation of margins in the near-term," Goldman said.
eBay Inc (EBAY US) shares fell 5.2% after Goldman Sachs downgraded the stock to sell from neutral. The Wall Street firm said it sees revenue growth risk with the global consumer environment under pressure. Goldman also cited eBay's overexposure to international markets and its growth initiatives that have not scaled.
Netflix Inc (NFLX US) shares slipped 5.1% on a downgrade to "sell" by Goldman Sachs. The bank cited rising competition and a looming recession as major near-term threats to Netflix.
---
Singapore
mm2 Asia Ltd (MM2 SP) shares rose 5.4% on Friday. With growing immunity to Covid-19, recovery is on track for mm2 Asia, say UOB Kay Hian Research analysts Llelleythan Tan and John Cheong. In a June 10 note, Tan and Cheong are maintaining "buy" on mm2 Asia with an unchanged target price of 11.5 cents. This represents a 104.8% upside. "The cinema and concert segments have reached inflection points where business is ramping up while the core production business experiences growing demand. The group is exploring options to refinance its maturing debt which may include an IPO or divestment of its Cathay cinema business," write Tan and Cheong.
Olam Group Ltd (OLG SP) shares rose 2.5% on Friday. Sunny George Verghese, co-founder and group CEO of Olam Group, has increased his stake in the agri-commodities player. On May 27, Verghese acquired 500,000 shares at about $1.47 each. On May 31, he acquired another 500,000 shares at $1.53 each. The acquisitions bring his direct stake in the company to nearly 164.52 million shares or 4.281%, up from 4.255% previously. Olam recently completed the re-organisation of itself into three distinct parts to unlock value for shareholders. The first unit Olam Food Ingredients (OFI) will focus on the growing demand for plant-based, sustainably-sourced and fully-traceable food ingredients. OFI is eyeing its own listing in London before a secondary listing in Singapore.
Top Glove Corp (TOPG SP) shares lost 6.5% on Friday. Top Glove, the world's largest medical glove maker, posted a 98.6% drop in quarterly profit due to weaker demand for its products and higher production costs. The Malaysian firm, which saw profits and demand surge during the COVID-19 pandemic, has also deferred and reduced its capital expenditure for the near term due to moderating demand. Fellow glove maker peers, UG Healthcare Corp Ltd (UGHC SP) shares lost 4.4% on Friday.
Nio Inc (NIO SP) shares fell 4.3% following the Chinese electric vehicle maker's recent quarterly earnings report. The company struggled during China's Covid-19 lockdowns and is facing a margin squeeze unlikely to begin recovering until the third quarter, said CEO William Bin Li during an earnings call.

Hong Kong
Top Sector Gainers
Top Sector Losers
BYD Electronic International Co Ltd (285 HK), Great Wall Motor Co Ltd (2333 HK) and Geely Automobile Holdings Ltd (175 HK). EV sector stocks rose on Friday. Shares gained 12.1%, 9.1% and 5.5% respectively. China's auto sales fell 12.6% in May from a year earlier, data showed on Friday, but the extent of the decline improved from April's falls as authorities rolled out stimulus to support a market depressed by the country's COVID-19 lockdowns. May sales of new energy vehicles, which include battery-powered electric vehicles, plug-in petrol-electric hybrids and hydrogen fuel-cell vehicles, rose 49.6% month-on-month.
NetDragon Websoft Holdings Ltd (777 HK) and Kingsoft Corporation Ltd (3888 HK) shares rose 11.6% and 10.3% respectively on Friday. China has approved the release of dozens of new video games, boosting investors' hopes that a long-running and painful crackdown on the sector is easing. China's National Press and Publication Administration said Tuesday it had approved 60 new games, following the year's first batch of approvals in April. Titles from Tencent or rival NetEase were not among the latest approvals, but they did include games from Perfect World and miHoYo – developer of the international hit Genshin Impact.


Trading Dashboard Update: Cut loss on ThaiBev (THBEV SP) at S$0.665. Add Hongkong Land (HKL SP) at S$5.1, Rex International (REXI SP) at S$0.36, and Samsonite International (1910 HK) at HK$17.3.