13 July 2022: Ho Bee Land (HOBEE SP), Tianqi Lithium Corporation (9696 HK)
Singapore Trading Ideas | Hong Kong Trading Ideas | Market Movers | Trading Dashboard

Ho Bee Land (HOBEE SP): Sees strong sales traction for Sentosa Cove project
BUY Entry 2.76 – Target – 2.99 Stop Loss – 2.66
HOBEE has a portfolio that covers many quality residential, commercial and high-tech industrial projects since its establishment in 1987. It is a developer of luxury homes in Sentosa Cove including Cape Royale. Its portfolio of investment properties includes a 1.08m sft of lettable commercial space in The Metropolis, situated at the gateway to the vibrant precinct of one-north. Headquartered in Singapore, HOBEE also has a presence in Australia, China and the United Kingdom.
Moved ~50% of units put up for sale, almost a decade after completion. HOBEE recently sold about 25 out of 50 units at Sentosa Cove's 302-unit Cape Royale that were put up for sale on its first day of bookings last week. Prices for the apartments (with tenancy) hit S$2,103 psf. This compares with Seascape, and Residences at W, which sold at median prices of S$2,680 psf, and S$2,816psf respectively during their launches in March 2010. This comes almost 10 years after the project was completed in 2013 when both HOBEE and partner, IOI Properties, felt that prices were weak after 2 rounds of cooling measures.
Share price corrected after initial spurt following insider acquisition. HOBEE's share price has corrected 9.4% from its YTD high of S$3.08 after Ng Noi Hinoy, the spouse of HOBEE's executive chairman, Chua Thian Poh, acquired 280,400 shares for S$801,905 or S$2.86 apiece. The acquisition increased Chua's interest in HOBEE to 75.6% from 75.5%, and consequently free float down to ~25%, triggering perceptions that a buyout was in the pipes.
Stable income and dividends akin to REITs. There is a single BUY rating on HOBEE, with TP of S$3.80. More than 90% of HOBEE's revenue is generated from rental income, enabling HOBEE to pay out DPS of at least S$0.10 apiece over the last 4 years. At current prices, this represents a forward yield of about 3.6%. With an RNAV of S$6.28/share, HOBEE is attractively priced at 0.44x P/RNAV.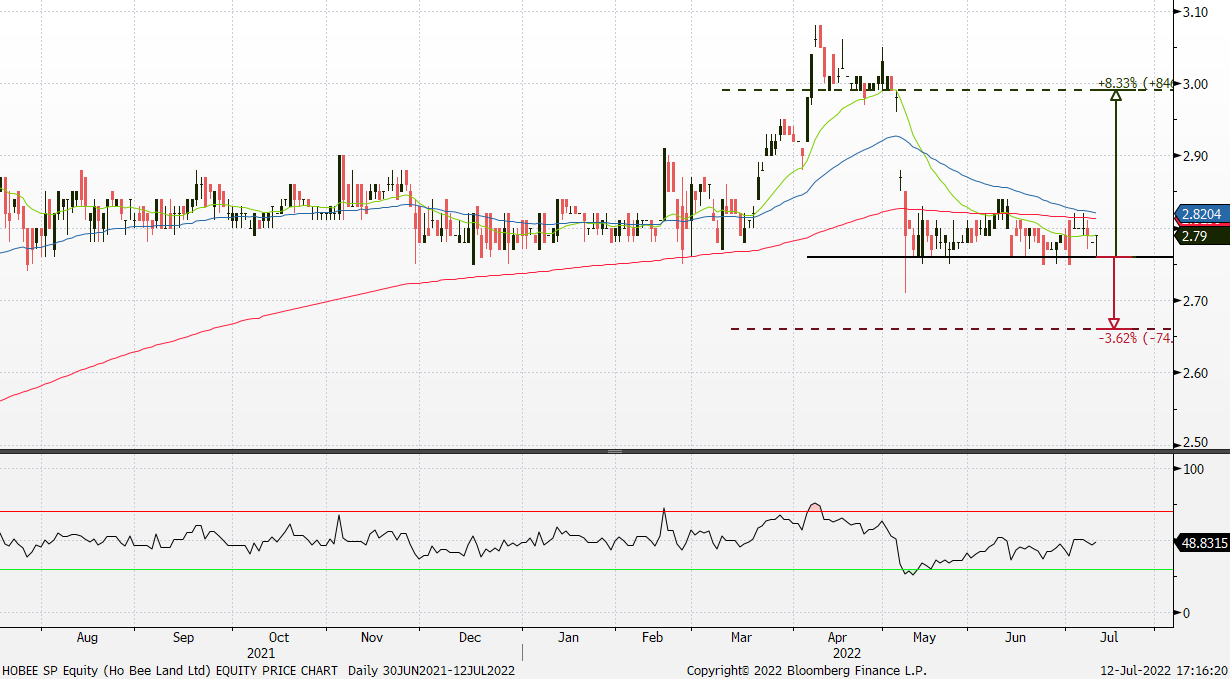 Yangzijiang Shipbuilding (YZJSGD SP): Grows YTD order wins to US$990m
RE-ITERATE BUY Entry 0.915 – Target – 1.03 Stop Loss – 0.845
Yangzijiang (YZJ) produces a range of commercial vessels, including mini bulk carriers, bulk carriers, multi-purpose cargo vessels, containerships, chemical tankers, offshore supply vessels, rescue and salvage vessels and lifting vessels. It operates two shipyards, with the older yard located in Jiangyin city. The yard spans about 800 m of deep-water coastline and covers an area of about 200,000 sqm (excluding the coastal area). YZJ's newer yard is located in Jingjiang city. The yard has 1,940 m of deep-water coastline, production area of 1,508,857 sqm, a drydock that can accommodate two 100,000 dwt vessels and two half 100,000 dwt vessels at one time.
Chinese yards working round the clock to meet rising global orders. Chinese state media reported that industry analysts are expecting the Chinese shipbuilding sector to reclaim its top position in 2H22 as shipbuilders there ramp up to meet demand. According to Clarksons Research, 5M22 global new ship orders stood at 16.25m compensated gross tons, with China attaining a global market share of 44.1%. As port congestion in the US and Europe persists, as well as the geopolitical situation in Europe, global demand for new ships will grow, offering a large market for both China and South Korea.
Secures additional orders for green vessels. YZJ announced that it clinched orders for four 8,000 TEU LNG dual-fuel containerships by repeat customer PIL and will be progressively delivered in 2025. The vessels will be equipped with a membrane containment tank system that was co-developed in-house, and demonstrates its focus on moving up the value chain to more complex LNG vessels. The orders bring total new orders secured YTD to USD990m for 16 vessels. As at writing, YZJ has a total order book value of US$8.15bn for 137 vessels, which is expected to keep its yard facilities at a healthy utilisation rate till mid-2025.
Undemanding valuations with an expected surge in DPS. The Street is fairly bullish on YZJ's prospects with 7 BUY, and only 1 HOLD ratings, and an average 12M TP of S$1.41. The street expects FY22F EPS to decline 27.5% YoY after a strong FY21. Thereafter, YZJ is expected to grow its FY23F EPS by 17.9% YoY. Notwithstanding, the street is expecting FY22F DPS to surge 5.9x to S$0.053/share and FY23F DPS to grow at a more steady 11.3% YoY to S$0.059/share. YZJ is currently trading at an undemanding 6.3x and 5.4x FY22F/23F P/E and 5.8%/6.4% FY22F/23F dividend yield respectively.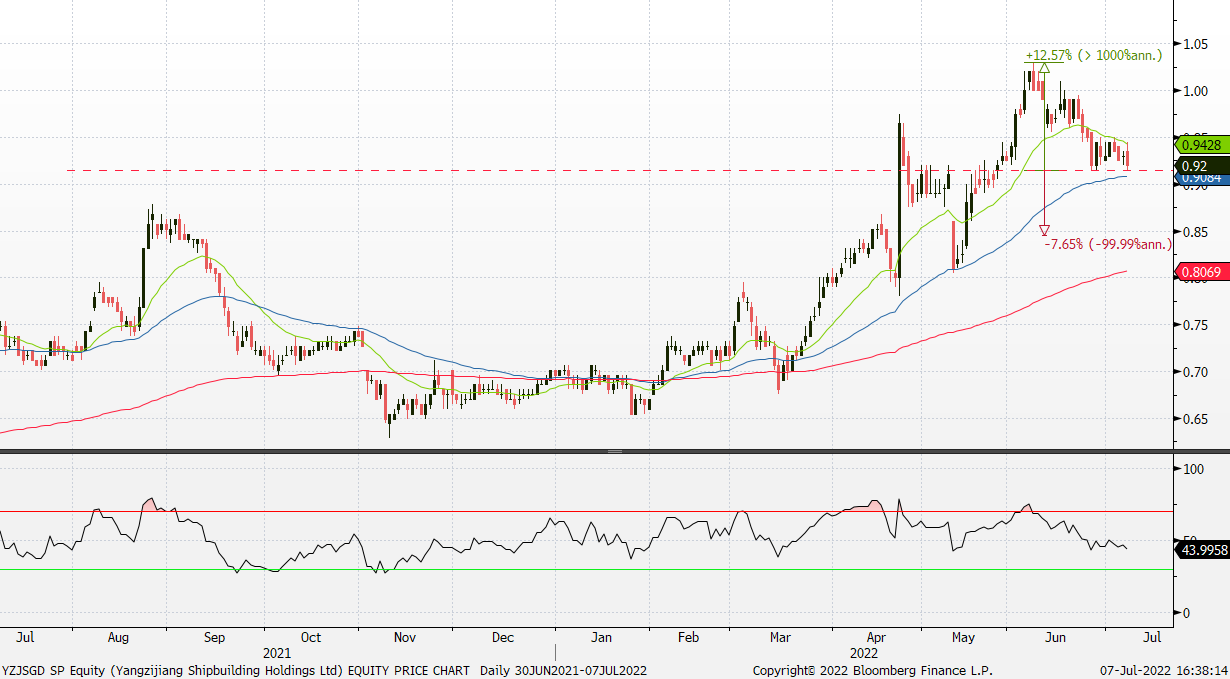 Tianqi Lithium Corporation (9696 HK): Largest IPO in Hong Kong YTD in 2022
IPO overview:

Sector: Mining and materials
Issued price: HK$82 (upper bound)
Total new shares issued: 164.12mn
Initial market cap: HK$13.458bn
Subscription rate of the public tranche: 9.3x
Sponsors: Morgan Stanley, CICC, CMBI
Listing date: 13th July Wednesday

Buy Entry – 76.0 Target – 91.6 Stop Loss – 68.5
Tianqi Lithium is a lithium producer in China and around the world and is listed on the Shenzhen Stock Exchange (002466 CH). The company owns and mines lithium minerals in Australia and produces lithium compounds and derivatives in China. Tianqi is the only lithium producer in China that is 100% self-sufficient and fully vertically integrated with a stable supply of lithium concentrate. Tianqi engages in two core businesses: sales of lithium compounds and mining of lithium mines.
Financials overview over the past three years.
Use of proceeds. 73.7% of the proceed raised by Tianqi's H-share listing is to repay the debt of Sociedad Quimica y Minera de Chile (SQM US) which is a listed company registered and established in Chile with a focus on mining lithium. In 2018, Tianqi acquired a 23.77% stake in SQM for a total consideration of US4.07bn. Tianqi is financing from the syndicate for this deal, with a total loan of US3.5bn. The current H-share listing is used to repay the remaining US1.13bn principal.
Valuations. The peer Ganfeng Lithium is dual-listed. Ganfeng's A-share (002460 CH) is currently trading at a respective 14.9x/13.3x FY22F/23F PER, and its H-share is trading at a respective 9.8x/9.2x FY22F/23F PER. The H-share PER has an average 32.5% discount on its A-share. Tianqi's A-share retraced by 14% from last week's 52-week high of RMB148.57 to RMB127.8 as of Tuesday. Bloomberg consensus of FY22F/23F EPS growth is 529.4%/4.3%, translating to a respective PER of 14.4x/13.8x. Based on the initial listing price of HK$82, Tianqi's H-share will be trading at a respective 8.6x/8.3x FY22F/23F PER. Therefore, assuming Tianqi's H-share will be trading at 9.5x FY22F PER or a 32.5% discount on its A-share PER, we derive a TP of HK$91.6, an average of HK$90.6 and HK$92.7.

China Longyuan Power Group Corp Ltd (916 HK): A lagging wind power play
RE-ITERATE Buy Entry – 15.2 Target – 17.0 Stop Loss – 14.5
China Longyuan Power Group Corp Ltd is a China-based company mainly engaged in power sales business. The company operates three segments. Wind Power segment constructs, manages and operates wind power plants and produces electricity and sells it to grid companies. Coal Power segment constructs, manages and operates coal-fired power plants and produces electricity and sells it to power grid companies. All Others segment is mainly engaged in manufacturing and selling power generation equipment, providing consulting services, providing maintenance and training services to wind power enterprises and other renewable energy power generation and sales.
Growth of Wind power remained upbeat. According to the National Energy Administration, the total national installed capacity grew by 7.9% YoY to 2,420 GW in May, out of which, wind power installed capacity grew by 17.6% YoY to 340 GW. In 5M22, wind power installed capacity jumped by 39.1% YoY to 10.8 GW.
Favourable policy support. In June 2022, the National Development and Reform Commission and other nine administrations co-issued the 14-Five-Year plan of renewable energy development. China targets renewables to supply 33% of national power consumption by 2025, and for non-hydro renewables to contribute 18%; the two consumption quota targets are 4.3 ppts and 3.6 ppts higher than 2021 levels, respectively. Wind power generation will double by 2025. Meanwhile, the Ministry of Finance announced the subsidies for renewable energy projects, and of which wind power and solar projects were allocated RMB1.47bn RMB1.25bn respectively.
Operation updates in May. The power generation on a consolidated basis grew by 5.06% YoY to 6,003.6 GWh. Wind power generation increased by 5.42% YoY, coal power generation decreased by 8.75% YoY and other renewable energy power generation increased by 124.50% YoY. In 5M22, total power generation grew by 7.71% YoY to 30,821.4 GWh. Wind power generation increased by 8.02%YoY, coal power generation decreased by 0.01% YoY, and other renewable energy power increased by 81.09% YoY.
The updated market consensus of the EPS growth in FY22/23 is 19.1%/18.6% YoY respectively, which translates to 14.6x/12.3x forward PE. The current PER is 17.3x. Bloomberg consensus average 12-month target price is HK$22.37.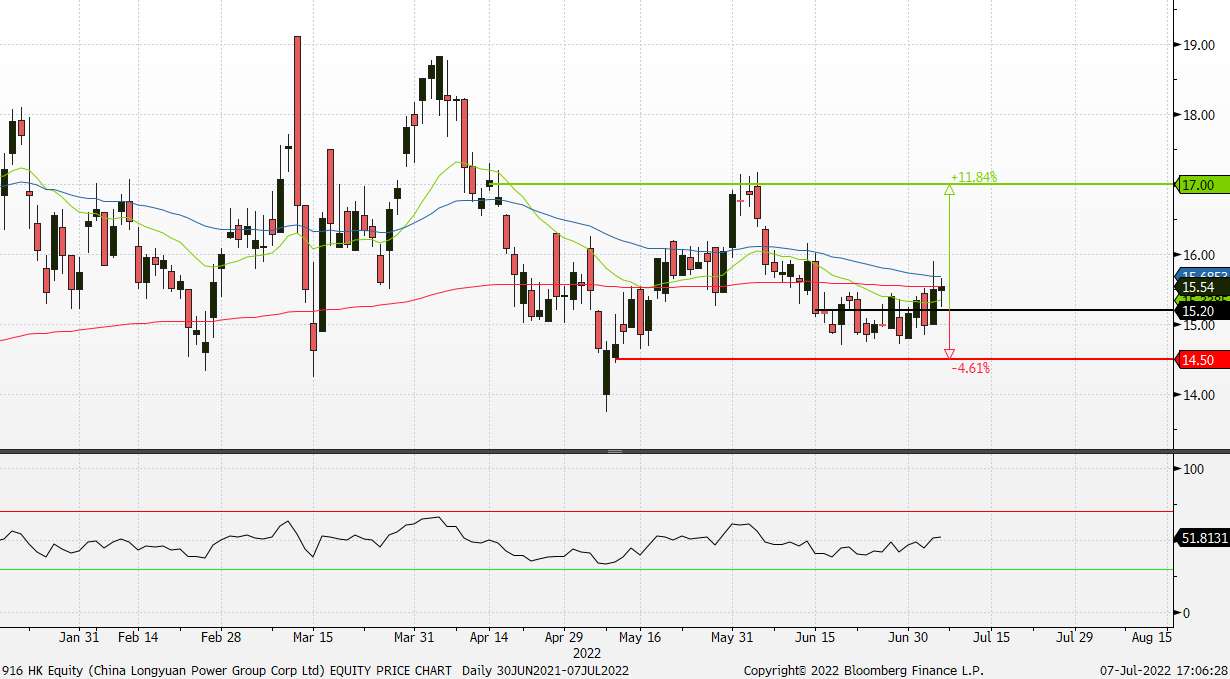 (Source: Bloomberg)



United States
Top Sector Gainers
Top Sector Losers
Twitter Inc (TWTR US) shares rebounded 4.3% following a 11% decline in the previous session. Twitter said Monday in a letter that Elon Musk's bid to terminate his proposed $44 billion acquisition of the social media company is "invalid and wrongful."
Boeing Co (BA US) shares jumped 7.4% after it reported that its deliveries have reached their highest monthly level since March 2019. Boeing delivered 51 airplanes in June, totaling 216 jets during the first half.
Shares of American Airlines Group Inc (AAL US) jumped 10.0% after the company updated its second-quarter guidance, expecting total revenue to rise by 12% compared to the same period in 2019. Delta Air Lines Inc (DAL US) gained 6.1% ahead of its earnings, which are scheduled for Wednesday.
Shares of EV maker Canoo Inc (GOEV US) surged 53.2% after Walmart agreed to purchase at least 4,500 of its upcoming electric delivery vans. Through the agreement, Walmart may purchase up to 10,000 of the electric vans.
Singapore
First Resources Ltd (FR SP) and Golden Agri-Resources Ltd (GGR SP) shares fell 1.3% and 1.9% respectively yesterday. Palm oil prices dropped as global supply increased. Top palm oil producer Indonesia increased its export quota and now allows palm oil producers to export seven times the amount it sold domestically, up from five times previously, to reduce high domestic inventories. The world's largest palm oil producer also plans to implement a 35% palm oil mix in biodiesel by the end of July and is considering cutting its palm oil export levy to encourage more shipments.
NIO Inc (NIO SP) shares fell 8.6% yesterday. The report that NIO is forming an independent committee to investigate prior allegations made by a short-seller invoked a negative reaction from investors. There is also pressure on Nio shares today from another COVID-19 increase in China, hitting Chinese automaker stocks as they have only recently ramped production back up from previous lockdowns that hurt both production and sales.
Golden Energy & Resources Ltd (GER SP) shares rose 5.7% yesterday. Coal prices have shot to record territory as the global energy crisis and the European Union's impending Russian coal ban drive European power customers to seek out imports.
Top Glove Corp Bhd (TOPG SP) shares rose 3.2% yesterday. Covid-19 is again spreading fast across Asia and the rest of the world, as the Omicron variant of the coronavirus mutates into even more infectious subvariants.

Hong Kong
Top Sector Gainers
Top Sector Losers
BYD Co Ltd (1211 HK) shares sank 11.9% yesterday, the most in nearly two years after a stake matching the size of Berkshire Hathaway Inc.'s position in the Chinese electric-car giant appeared in Hong Kong's clearing system, fueling speculation that Warren Buffett's company may be adjusting its holdings.
Pop Mart International Group Ltd (9992 HK) shares fell 9.4% yesterday, declining for its seventh-straight day. Third-party data shows that in June, the company's Tmall platform sales fell 35% year-on-year. Even with the recovery of the blind box industry, Huachuang Securities pointed out that consumer confidence is still low, Tmall sales have fallen sharply without the emergence of explosive products and an increase in average price will not lessen the pressure on its sales.
Shanghai MicroPort MedBot Group Co Ltd (2252 HK), Shanghai Junshi Biosciences Co Ltd (1877 HK) and Microport Scientific Corp (0853 HK) shares fell 10.1%, 7.4% and 6.3% respectively yesterday. These stocks were affected by news of China's Covid-19 cases rising at the fastest pace since late May, unnerving investors wary of a repeat of Shanghai's two-month lockdown, which snarled global supply chains and sank hopes that the country would reach Beijing's economic-growth targets. More than 2,300 locally transmitted cases have been reported nationwide in the past seven days, with infections again on the rise in the commercial and manufacturing powerhouse of Shanghai, albeit from a low base.


Trading Dashboard Update: Cut loss on Hainan Meilan International Airport (357 HK) at HK$20.2.