12 August 2022: PropNex (PROP SP), Ganfeng Lithium Co Ltd (1772 HK)
Singapore Trading Ideas | Hong Kong Trading Ideas | Market Movers | Trading Dashboard
PropNex (PROP SP): Position for bumper FY23F despite weaker 1H22 results; DPS offers strong safety net
BUY Entry 1.67 – Target – 1.96 Stop Loss – 1.55
PropNex is an integrated real estate services group. Its core business consists of four business segments namely; i) real estate brokerage, ii) training, iii) property management, and iv) real estate consultancy. Its primary business is in the provision of real estate brokerage services comprising real estate agency and project marketing services. PROP operates its real estate agency through PropNex Realty which is supported by PropNex International in project marketing.
1H22 results were fairly muted due mainly to fewer marketing launches. PROP reported weaker 1H22 NPAT of S$28.3m (-17.7% YoY) on relatively stable revenue of S$472.3m (-1.8% YoY) as the property cooling measures in Dec21 tamed price growth in the private residential market in 2Q2022 to a more sustainable pace. Transaction volumes softened in 1H22 as compared to the same period in 2021 as buyers held back on property purchases to monitor the impact of the fresh cooling measures introduced in Dec21. Despite fewer project launches at the start of the year, PROP's performance was balanced by higher income from the other segments as more transactions were completed in 2Q2022.
FY23F could see a bumper crop of launches. During its earnings brief, management maintained a sanguine outlook on private property prices for the rest of FY22F. It sees private property prices in the OCR and RCR to grow from 2021 in light of tight supply in those regions. Further afield in FY22F, PROP notes that the continued growth in GLS prices (OCR: +12.2% YoY, RCR: +18.4% YoY) implies that launch prices in FY23F will likely have another leg up to go. Additionally, the successful GLS and enbloc transactions would point to heightened launch activity in 2023.
FY22F/23F yield of 6%/6.6% to provide strong support. The Street currently has 3/3/0 BUY/HOLD/SELL ratings and an average TP of S$1.96. Based on updated consensus estimates, FY23F revenue should slip by 3.4% YoY to S$742m, but margins may remain stable as PATMI holds pat at S$49.5m (-0.5% YoY). Nonetheless, FY23F DPU should expand by 10% YoY to S$0.11, implying a yield of 6.6%, higher than its 2-year average of 6%.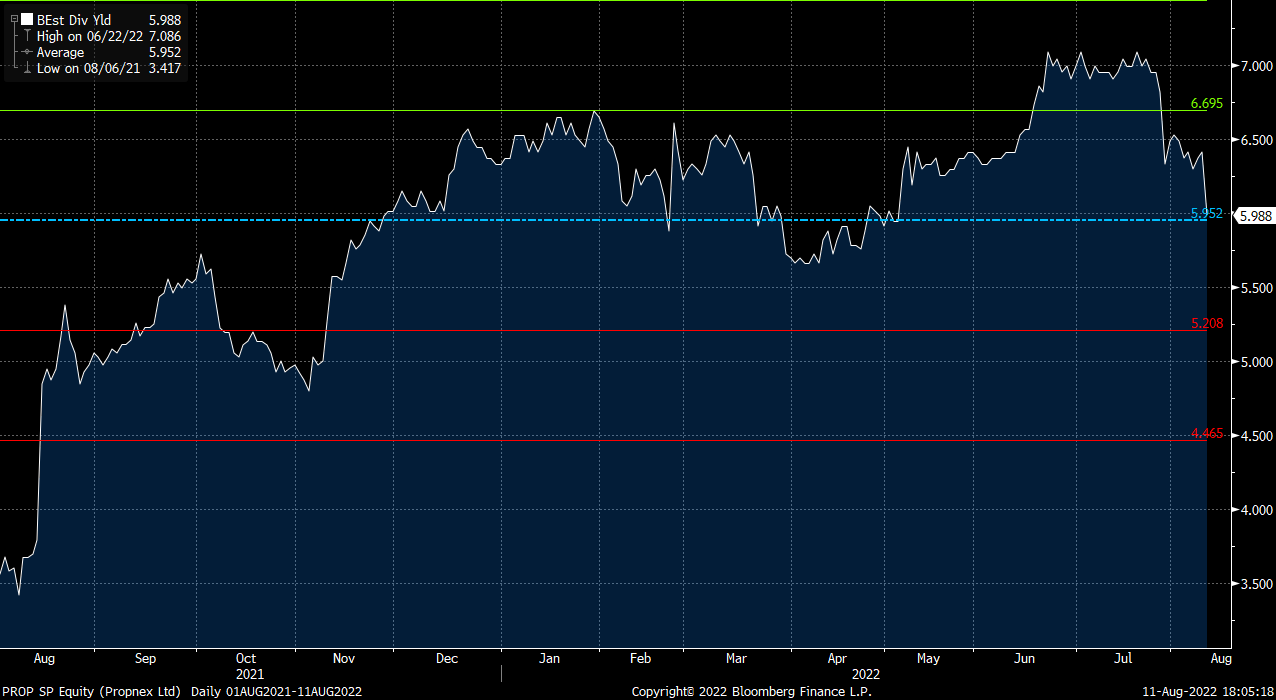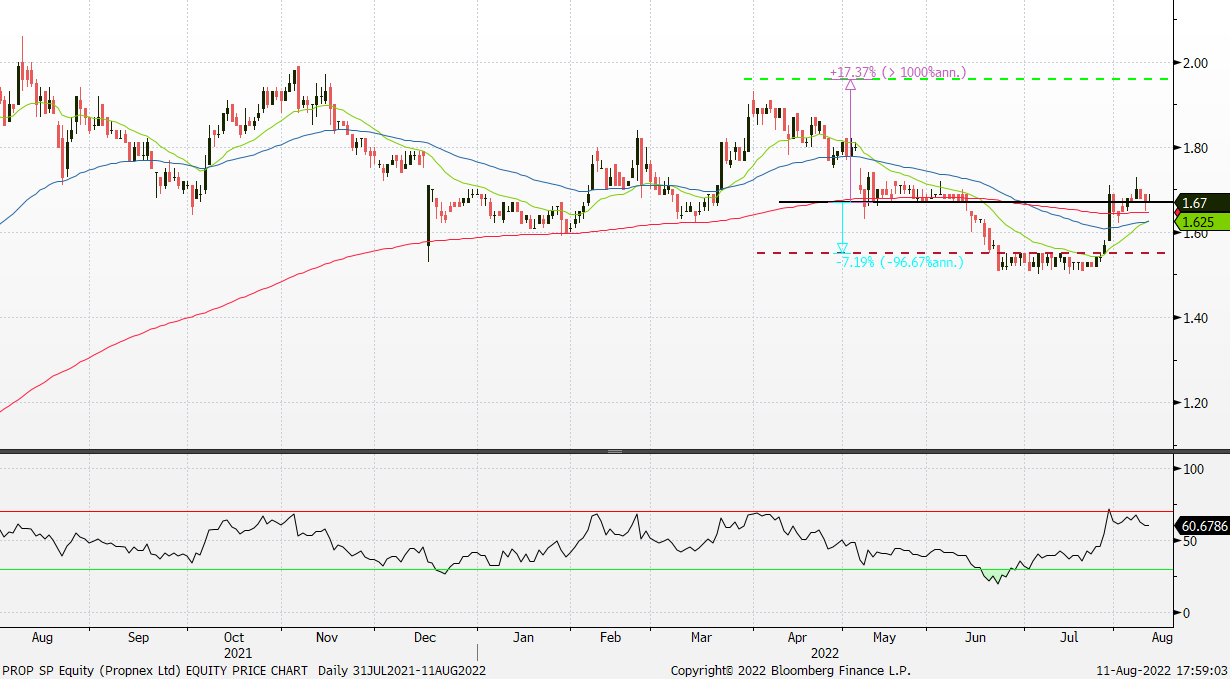 Q&M Dental Group (QNM SP): A recovery trade in the midst of ongoing volatility
RE-ITERATE BUY Entry 0.475 – Target – 0.550 Stop Loss – 0.440
Q&M Dental (QNM) is a private dental healthcare group with 36 dental clinics and a mobile dental clinic with 105 dentists, nine oral health therapists and 302 dental surgery assistants. QNM has treated more than 300,000 patients island-wide from December 2005 and provides dental healthcare services including general dental treatment, endodontics, orthodontics, periodontics, prosthodontics, paedodontics, oral surgery, dental implants and aesthetic dentistry. QNM has a dental laboratory which fabricates dental prosthesis such as crowns, bridges, dentures and retainers.
Lifting of pandemic restrictions to see resumption of strong revenue growth. Recall QNM's 1Q22 revenue saw a 5% YoY gain due mainly to higher revenue from medical laboratory and dental equipment & supplies (+80% YoY). Revenue from dental & medical clinics saw a marginal 2% YoY decline, which should reverse in 2Q22 after the lifting of pandemic restrictions in April. After a slow clinic opening in FY22F, we should see management kick network expansion into second gear. This should also help to grow revenue inorganically.
Acumen listing on NASDAQ to unlock shareholder value. Additionally, the proposed listing of its 51%-owned Acumen Diagnostics on the NASDAQ could help unlock shareholder value. Announced in January 2022, QNM has since brought in the services of UOBKH to further its listing plans. The laboratory currently operates clinical labs that process PCR tests for Covid-19 and the proposed listing would help it enhance its corporate profile as it seeks to expand its business.
FY22F earnings to moderate after stellar FY21 The Street currently has 5/0/0 BUY/HOLD/SELL ratings and an average TP of S$0.72. Based on consensus estimates, FY22F revenue/net profit should moderate by 3.9%/2.6% YoY to S$197.7m/S$29.7m after a record year in FY21. QNM is then expected to recover in FY23F, with revenue/net profit jumping 12.1%/19.2% YoY. In line with the weaker FY22F earnings, DPS should fall to 2.2¢ (FY21: 6¢), implying a still fairly attractive yield of 4.6%. At current prices, QNM would trade at 15.8x forward P/E, in-line with its 2-year average of 15.9x but far below other healthcare plays of 21.7x.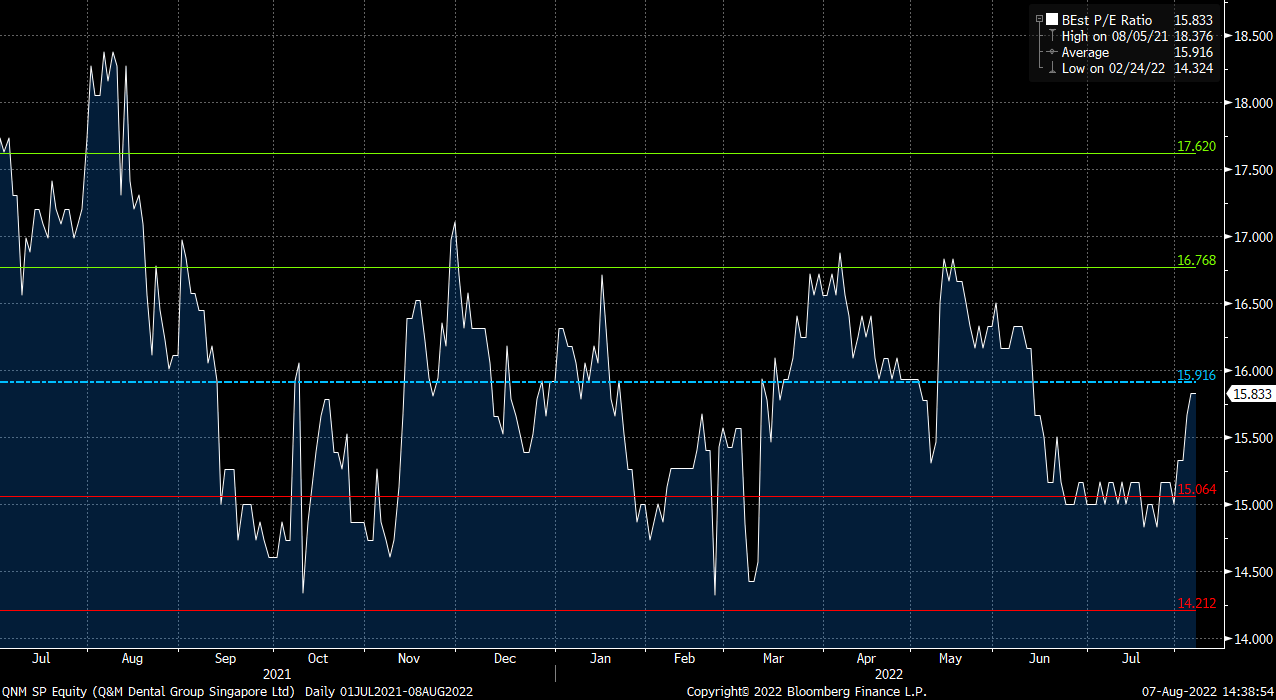 (Source: Bloomberg)


Ganfeng Lithium Co Ltd (1772 HK): Accumulate amidst consolidation
RE-ITERATE Buy Entry – 70 Target – 80 Stop Loss – 65
GANFENG LITHIUM CO., LTD. is a China-based company principally engaged in the research, development, production and sales of deeply processed lithium products. The Company's main products include lithium compounds, lithium metal and lithium batteries. The Company's products are mainly used in electrical vehicles, chemicals and pharmaceuticals. The Company distributes its products in the domestic market and to overseas markets.
Downstream integration. Ganfeng Lithium has begun construction of a solid-state battery production facility, which the company says will be the largest of its kind in China to date. Once completed, the factory in Chongqing will offer annual capacities of 10 GWh each for the production of battery cells as well as battery packs. The project in Chongqing is not Ganfeng's first battery factory. The company already has a battery production facility in Xinyu, Jiangxi province. Since the commissioning of the expansion stage there in January, up to 2 GWh of solid-state batteries per year and up to 7 GWh of LFP battery cells can be produced.
Stellar 1H22 profit guidance. 1H22 net profit attributable to company shareholders is expected to soar by 408.2% – 535.3% YoY to RMB7.2bn – 9bn. 2Q22 net profit attributable to company shareholders is expected to soar by 290.7% – 482.1% YoY to RMB3.7bn – 5.5bn.
Lithium carbonate prices stay afloat. Lithium carbonate prices in China rose slightly to RMB476,500/tonne in the end of July, remaining near the record-high of RMB500,000/tonne from March and 430% higher YoY amid high demand and tight supply.
The updated market consensus of the EPS growth in FY22/23 is 160.7%/5.9% YoY, respectively, translating to 9.0×/8.5x forward PE. The current PER is 15.1x. Bloomberg consensus average 12-month target price is HK$97.46.
China lithium carbonate price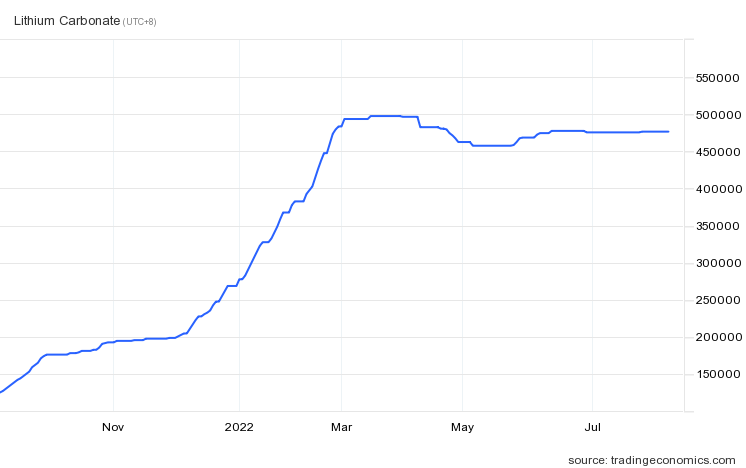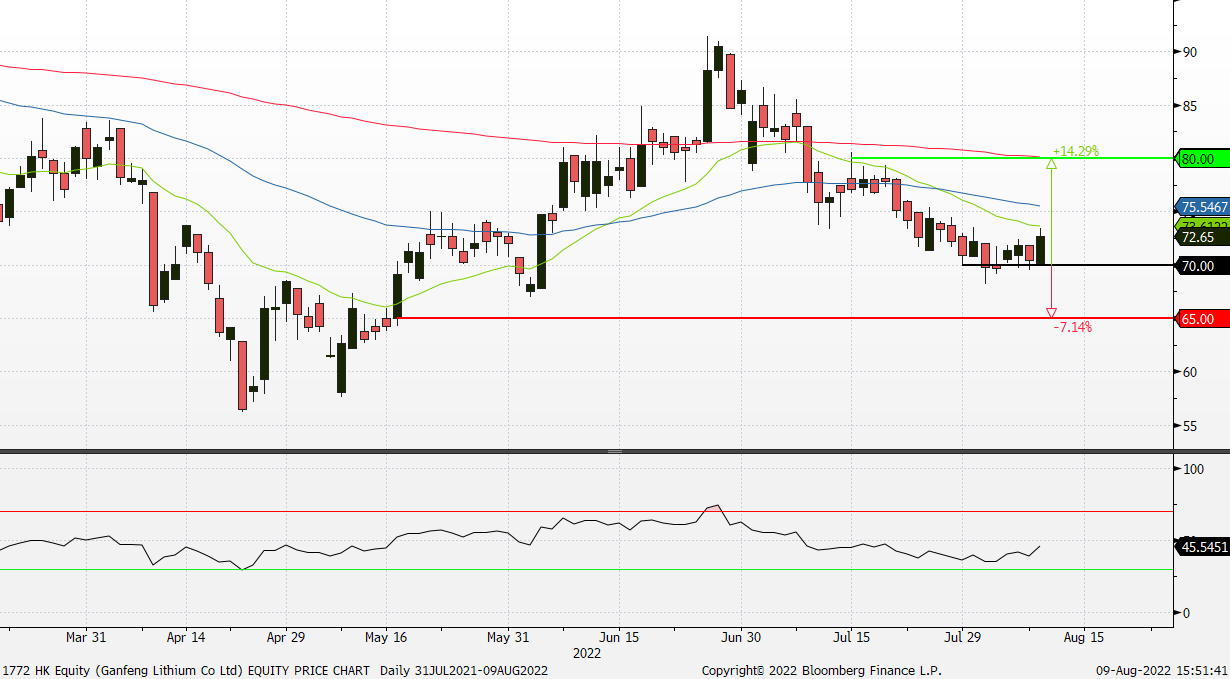 (Source: Bloomberg)
Hua Hong Semiconductor Ltd (1347 HK): Tailwinds to boost the bottom-out
RE-ITERATE BUY Entry – 26 Target – 30 Stop Loss – 24
Hua Hong Semiconductor Ltd is an investment holding company engaged in production and sales of semiconductor wafers. The Company produces 200mm and 300mm-wafers. Its products are applied in general microcontroller (MCU), Type-C interface chips, image stabilization chips, touch control chips, and smart meter controller chips. The products also serve Internet of Things (IoT), new energy vehicles, artificial intelligence and other markets. The Company operates its businesses through its subsidiaries.
1H22 results review. Revenue reached an all-time high of US$1,215.5mn, an increase of 86.7% YoY, due to the increase in wafer shipments and improved average selling price. GPM was 30.3%, an increase of 6.1ppts YoY due to improved average selling price and product mix, partially offset by increased depreciation and labor costs. Profit for the period attributable to owners of the parent was US$186.9mn, an increase of 142.3% YoY.
Semiconductor confrontation reignites. There were two key recent events attracting investors to relook at the semiconductor sector. last week as House of Representatives Speaker Nancy Pelosi's visit to Taiwan heightened tensions between China and the US, driving patriotic bets on a sector Beijing sees as key to its rivalry with Washington. Meanwhile, the US has passed the Chips and Science Act which includes more than US$52bn for U.S. companies producing computer chips, as well as billions more in tax credits to encourage investment in chip manufacturing. It also provides tens of billions of dollars to fund scientific research and development and to spur the innovation and development of other US technologies. It is expected that China will accelerate semiconductor localization moving forward.
Someone's loss is another's gain. Infineon has reportedly discovered a serious defect in its insulated gate bipolar transistor (IGBT) chips produced between early April and early June 2022 and discarded all of them. Hyundai Motor Co. may suffer a disruption in the production of its electric vehicle IONIQ 5 due to a problem with chips supplied by Germany's Infineon Technologies. The auto chip shortage issues last year caught China's attention, and accordingly, several companies ramped up the capacity of IGBT. China is expected to gradually gain more market shares.
The updated market consensus of the EPS growth in FY22/23 is 59.3%/3.4% YoY, respectively, translating to 12.8×/12.4x forward PE. The current PER is 13.5x. Bloomberg consensus average 12-month target price is HK$38.92.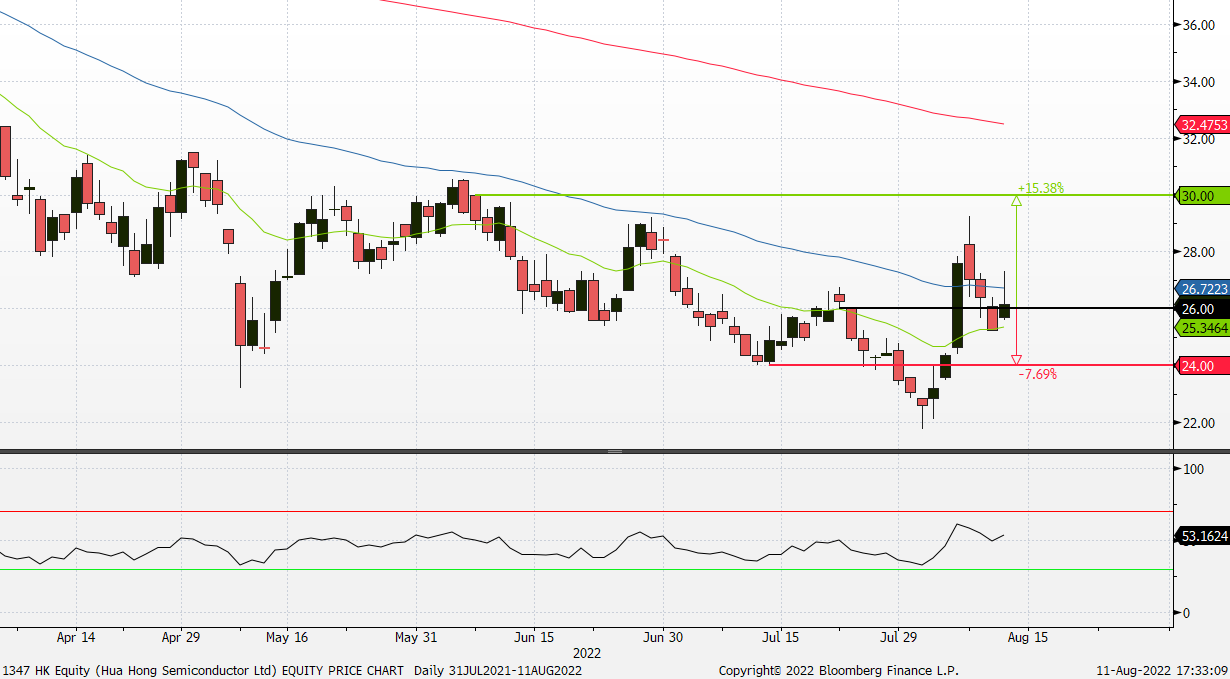 (Source: Bloomberg)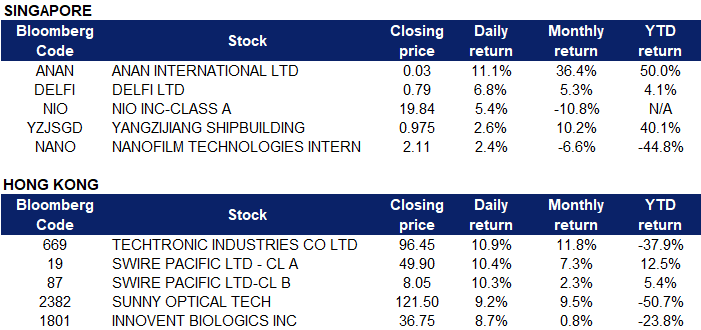 United States
Top Sector Gainers
Top Sector Losers
Six Flags Entertainment Corp (SIX US) dropped 18.2% after the theme park company sharply missed second-quarter earnings expectations. Six Flags reported earnings of 53 cents per share on revenue of $435 million. Analysts surveyed by Refinitiv forecast earnings of $1.01 per share on revenue of $519 million. The theme park operator attributed the miss to weak attendance, or a 22% drop in visitors.
Walt Disney Co/The (DIS US) jumped 4.7% after the company posted better-than-expected results for the quarter on the top and bottom lines, helped by strong attendance at its theme parks and better-than-expected streaming numbers. The company also revealed a new pricing structure for its streaming service that includes an ad-supported tier.
Oil and energy companies led the S&P 500 on Thursday, supported by a jump in crude futures. Devon Energy Corp (DVN US) jumped 7.3%, notching the best performance in the index midday.
Shares of Pfizer Inc (PFE US) and GSK PLC (GSK US) slipped 3.3% and 6.7% respectively as investors watched ongoing litigation around Zantac, a recalled heartburn medication. The drug was pulled from shelves in 2020 after the Food and Drug Administration found an impurity in Sanfoli's version that could cause cancer.

Singapore
Anan International Ltd (ANAN SP) gained 11.1% as it released its half yearly results on 10 August. Anan's financial statement showed US$5.1 million of quarterly profit attributable and a quarterly revenue of US$858.8 million.
Delfi Ltd (DELFI SP) rose by 6.8% as it reported earnings of US$19.4 million ($26.6 million) for the 1HFY2022 ended June, 57.6% higher y-o-y. During the period, revenue increased by 17.0% y-o-y to US$246.3 million, surpassing the company's pre-Covid-19 levels. The improved topline was driven by double-digit revenue growth in Indonesia and regional markets as restrictions eased and consumer sentiment improved. Delfi also announced that they will be paying out an interim dividend, $0.0218 per share on 7 September 2022.
NIO Inc (NIO SP) rose by 5.4% yesterday. Yi Wei, former senior vice president of Meitu's mobile unit, joined NIO's handset team to head the software department. Asia-Pacific markets climbed on Thursday after a better-than-expected inflation report in the U.S. sent stocks spiralling higher.
Yangzijiang Shipbuilding (YZJSGD SP) rose by 2.6%. It recently posted a 32 per cent increase in net profit from continuing operations to nearly 1.2 billion yuan (S$244.7 million) for the first half ended June, from the year-ago figure of 884.6 million yuan. The annualised return on equity rose to 14 per cent in H1 2022 from 9 per cent in H1 2021.
Nanofilm Technologies International Ltd (NANO SP) jumped 2.4% after Apple informed suppliers that it's now expecting the iPhone 14 lineup to sell better than it originally thought, increasing the number of devices it will produce and ship to 95 million rather than 90 million.
Hong Kong
Top Sector Gainers
Top Sector Losers
Techtronic Industries Co Ltd (0669 HK) shares rose 10.9% yesterday. The company announced its results for the first half of the year on August 10, achieving operating income of US$7.034 billion, a year-on-year increase of 10%; profit attributable to shareholders of US$578 million, a year-on-year increase of 10.4%, both exceeding market expectations. Gross profit margin increased for the first half of the year to 39.1%. During the reporting period, the company's main business sales of power tool products increased by 14.9% year-on-year to US$6.6 billion.
Swire Pacific Ltd – A (0019 HK) and Swire Pacific Ltd – B (0087 HK) rose 10.4% and 10.3% respectively, it announced that the company's board of directors has approved a plan to repurchase the company's ordinary A shares and B shares through the open market, up to a maximum of HK$4 billion. The share repurchase program will be funded from the company's available capital and cash reserves. The Board of Directors believes that the implementation of the share repurchase program is in the best interests of the company and its shareholders as a whole. They also believe that the company's existing financial resources are sufficient to implement the share repurchase and maintain a healthy financial position.
Sunny Optical Technology Group Co Ltd (2382 HK) shares rose 9.2%. On the news, it recently released major shipments of optical lenses in July. In addition, Morgan Stanley issued a research report giving Sunny Optical Technology an "overweight" rating with a target price of HK$150. After seeing the company's July shipment data, the bank is more confident that its mobile phone and car camera lens will usher in a sustained recovery in the third quarter. Shipment of handset camera modules remained weak in July, but appears to be recovering from a low since August.
Innovent Biologics Inc (1801 HK) shares rose 8.7% yesterday. In the news, Innovent announced that its recombinant anti-interleukin 23 (IL-23) p19 subunit antibody injection, picankibart, was tested in a multi-center, the randomised blind study was conducted on subjects with moderate-to-severe plaque psoriasis in China. The primary endpoint was achieved in a placebo-controlled Phase 2 clinical study. The results of the study showed that picankibart 50-200mg every 12 weeks or 8 weeks can significantly improve the skin lesions and the quality of life of subjects with moderate to severe plaque psoriasis, demonstrating the a significant curative effect.


Trading Dashboard Update: Cut loss on CapitaLand Investment (CLI SP) at S$3.88.