11 May 2022: LHN Ltd (LHN SP), Sinopharm Group Co., Ltd. (1099 HK)
Singapore Trading Ideas | Hong Kong Trading Ideas | Market Movers | Trading Dashboard

LHN Ltd (LHN SP): Positive profit guidance
BUY Entry – 0.325 Target – 0.355 Stop Loss – 0.310
LHN provides real estate management services through their expertise in space optimization. Under its Space Optimisation Business, the Group leases and manages a diverse portfolio of industrial, commercial and residential properties, which is complemented by its Facilities Management Business. The Group also provides logistics services under its Logistics Services Business.
Positive profit alert guidance. Yesterday, LHN announced that the Group expects to record a higher net profit before tax for 1H22 of no less than approximately S$34 million as compared to the six months ended 31 March 2021 of approximately S$18.3 million. The higher net profit before tax for 1H22 arises mainly from the Space Optimisation Business due to (i) gains from subleases; (ii) higher fair value gains on the Group's and joint ventures' investment properties; and (iii) increase in profit from the Group's co-living business under residential properties. LHN will be announcing its 1H22 results on 12 May 2022.
Recent acquisitions. On 29 April, the Group announced that it had completed the acquisition of its River Valley Property, which was valued at S$8.5mn as of 20 April 2022. The 4 residential properties acquired in FY21 and 1 residential property acquired in 1Q22 are expected to commence operations in FY22. These 5 properties will add a total of approximately 204 keys to LHN's Residential segment. In addition, full-year revenue contribution is expected from the 2 newly acquired JV properties under the Industrial segment.
Further easing on Singapore's borders to drive tourism. Singapore has reopened its borders to all fully vaccinated travellers, removing all existing vaccinated travel lanes (VTL) and unilateral opening arrangements from Apr 1. Travellers fully vaccinated against Covid-19 will no longer need to take any Covid-19 tests to enter Singapore from April 26.
Incoming expats. As Hong Kong battles a worsening Covid-19 outbreak and surge in deaths, some expatriates there who plan to leave the city are moving to Singapore. In the past two months, several immigration service firms based in Singapore and international schools like Dulwich College (Singapore) have seen an uptick in inquiries from expatriates living in Hong Kong wanting to make a transfer.
We currently have an OUTPERFORM recommendation on LHN, with a 12-month target price of S$0.44. Read the full report here.
(Source: Bloomberg)

Golden Energy and Resources (AUE SP): Hit a 52-week high
RE-ITERATE BUY Entry – 0.70 Target – 0.90 Stop Loss – 0.60
Disclaimer: KGI Securities (Singapore) was the placement agent for Golden Energy and Resources' S$86.9mn private placement that was completed on 7 March 2022.
Diversified resources play. GEAR is a diversified mining and natural resources investment company. Having its roots as one of Indonesia's largest coal miners, the group is on track to become the dominant metallurgical coal player in Australia with the acquisition of Mitsui Coal Pty Ltd (BMC) from BHP Group (BHP AU). GEAR will further diversify into base metals that will be utilised for clean energy uses such as copper, cobalt, zinc and nickel.
Transformational year. Golden Energy & Resources (GEAR) is on track to significantly expand its production capacity and profits with the acquisition of BHP Mitsui Coal Pty Ltd (BMC). The acquisition will cement GEAR, through its ASX-listed Stanmore subsidiary, as a major metallurgical coal (coking coal) provider in the region. Metallurgical coal is the key ingredient in the steel industry, whose demand is driven by China now and India in the future. The completion of the acquisition was announced last week.
Primary beneficiary of Russia coal ban. The European Union, UK and Japan announced plans to phase out imports of coal from Russia, leaving power utilities to source from other countries such as Indonesia and Australia. Russia is the world's third largest exporter of thermal coal, with the EU, UK, Japan and South Korea taking about 55% of those deliveries in 2020, according to data provided by BloombergNEF.
Technical TP of S$0.90; fundamental TP of S$1.29. While we have a Technical TP of S$0.90 based on short-term technical factors, we maintain our fundamentals-based TP of S$1.29. Our fundamental TP is based on the SOTP valuation of its majority stakes in Stanmore Resources (metallurgical coal), PT Golden Energy Mines (thermal coal) and Ravenswood Gold (gold). Stanmore will increasingly drive GEAR's valuations, which currently makes up 48% of GEAR's fair value, while GEMS drops to 42% of our fair value, down from 85% in our initiation report (25 Aug 2021). Read the full fundamentals-based report here.
SGX TSI FOB Australia Premium Coking Coal Futures – May 2022
(Source: Bloomberg)


Sinopharm Group Co., Ltd. (1099 HK): A defensive counter amidst sell-off
BUY Entry – 17.0 Target – 19.5 Stop Loss – 16.0
Sinopharm Group Co Ltd is a China-based company principally engaged in pharmaceutical and medical devices distribution business. The Company operates its business through four segments. Pharmaceutical Distribution segment is engaged in the distribution of pharmaceutical products to hospitals, other distributors, retail pharmacy stores and clinics. Medical Devices segment is engaged in the distribution of medical devices, as well as provides installation and maintenance services. Retail Pharmacy segment is engaged in the operation of chain pharmacy stores. Other Business segment is engaged in the distribution of laboratory supplies, manufacture and distribution of chemical reagents, production and sale of pharmaceutical products.
1Q22 earnings review. 1Q22 revenue grew by 6.86% YoY to RMB17.15bn. Net profit attributable to shareholders dropped by 23.25% YoY to RMB252.36mn. The decrease in profit was mainly attributable to the decline in the results of Sinopharm Accord's associates due to the impact of the Covid-19 pandemic, which resulted in a corresponding decrease in investment income of Sinopharm Accord. At the same time, due to the impact of the pandemic, the retail sector has seen a decline in store traffic, and the new stores opened in 2021 cost large initial investment, the benefits of which have not yet emerged, resulting in a decrease in the margin levels.
A defensive stock amidst market sell-off. The Hong Kong market has been hammered by both domestic crackdowns and unfavourable China-US tensions. Growth, value, and cyclical sectors, as well as other thematic stocks, have been sold off indiscriminately. However, this stock is relatively outperforming the rest as its business is largely immune to inflation and policy risks. The business driver is the distribution volume rather than profit margins. The growth in demand for medicines and medical devices is stable with low price sensitivity.
The updated market consensus of the EPS growth in FY22/23 is 0.83%/10.5% YoY respectively, which translates to 5.6x/5.0x forward PE. The current PER is 8.1x. The FY22F/23F dividend yield is 5.3%/5.8%. Bloomberg consensus average 12-month target price is HK$24.07.

(Source: Bloomberg)

Prada S.p.A. (1913 HK): Luxury goods are an alternative inflation hedge
RE-ITERATE BUY Entry – 43.5 Target – 50.0 Stop Loss – 40.0
Prada SpA is an Italy-based company engaged in the fashion industry. The Company is a parent of the Prada Group. The Company, along with its subsidiaries, is engaged in the design, production and distribution of leather goods, handbags, clothing, eyewear, fragrances, footwear and accessories. Prada SpA manufactures jackets, trousers, skirts, dresses, sweaters, blouses, as well as perfumes and watches, among others. The Company trades its products through several brands, such as Prada, Miu Miu, The Church and The Car Shoe. Prada SpA operates in approximately 70 countries through directly operated stores, franchise operated stores, a network of selected multi-brand stores and department stores. Prada Spa operates through numerous subsidiaries, including Artisans Shoes Srl, Angelo Marchesi Srl, Prada Far East BV, Tannerie Megisserie Hervy SAS and Prada SA, among others.
Strong US business buffered the downturn in Russia and China. According to the previous comments from the CEO in mid-April, the company's US business offset the impact of suspending operations in Russia and covid lockdowns in China. Russia accounts for 2% of group sales and 50% of shops in China closed in the first half of April.
FY21 results review. Net revenues jumped by 38.9% YoY to EUR3.37bn (EUR3.22bn in FY19). Gross profit jumped by 75.7% YoY to EUR2.55bn (EUR2.32bn in FY19). Net income jumped grew by 8.9% YoY to EUR299.25mn (EUR255.79mn in FY19). The growth was due mainly to the recovery in the Asia Pacific and the US markets.
Liquidity spill-over positively boosts the consumption of luxury goods. The Covid-19 pandemic triggered flooded liquidity. Not only did prices of traditional asset classes such as equities and properties soar, but also prices of virtual assets such as cryptocurrencies and non-fungible tokens skyrocketed. The demand for luxury goods saw a strong V-shape rebound. According to Bain & Co, the market grew by 29% at current exchange rates to hit EUR283bn, increasing the size of the market by 1% versus 2019 levels. It is expected to reach EUR360 to 380bn by 2025 with a sustained growth of 6-8% annually.
Updated market consensus of the EPS growth in FY22/23 is 38.6%/27.2% YoY respectively, which translates to 34.1x/26.7x forward PE. Current PER is 47.3x. Bloomberg consensus average 12-month target price is HK$57.19.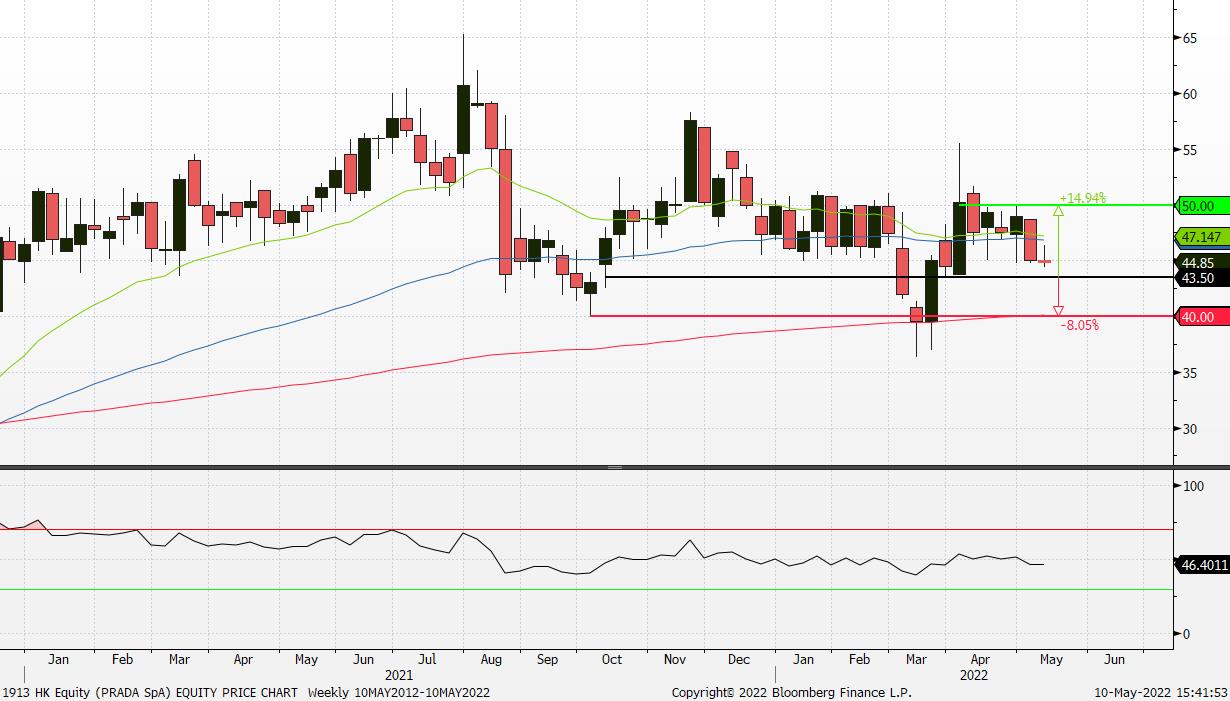 (Source: Bloomberg)




United States
Top Sector Gainers
Top Sector Losers
Vroom (VRM US) shares popped 32.4% after posting a narrower-than-expected quarterly loss and better-than-expected revenue. Vroom also announced that chief operating officer Thomas Shortt would become CEO.
Upstart (UPST US) shares of the AI lending platform plummeted 56.4% despite better-than-expected quarterly results. Upstart cut its full-year outlook, saying rising interest rates will hurt its loan volume.
Peloton (PTON US) shares tumbled 8.7% after the equipment maker disclosed it's piling up excess inventory and burning through cash in a disappointing earnings report. Peloton also issued a dim fiscal fourth-quarter sales outlook and expects an upcoming price hike may lose the company some subscribers.
Hyatt Hotels Corp (H US) and Hilton Worldwide Holdings Inc (HLT US) shares rose 6.3% and 3.4% respectively yesterday. Hyatt Hotels reported a first quarter adjusted net loss attributable to the company of $36 million, compared to an adjusted loss of $363 million a year ago. Total revenue increased to $1.28 billion from $438 million, prior year. Analysts on average had estimated $1.10 billion in revenue. "Our outlook remains very optimistic for the remainder of the year with system-wide RevPAR in April accelerating further from March," said Mark Hoplamazian, President and CEO of Hyatt Hotels Corp.
---
Singapore
Singtel Ltd (ST SP) shares rose 1.8% yesterday. The company announced on Monday that its results for the second half of the financial year ended 31 March 2022 will be posted on 27 May 2022, before trading hours.
Rex International Holding Ltd (REXI SP) and RH Petrogas Ltd (RHP SP) shares lost 7.6% and 7% respectively yesterday. Saudi Arabian oil company Saudi Aramco said Sunday that it reduced oil prices of all types of crude for Europe, Asia, Europe and the Mediterranean for June. The biggest cuts were seen in the Mediterranean. U.S. prices were unchanged. Meanwhile, the market was reminded of China's fragile economy to start the week, after data showed exports rose just 3.9% on year in April, after a blistering 14.7% gain in March. The slowdown came as COVID lockdowns hit supply chains and closed factories, adding to worries about growth in the world's No. 2 economy.
Golden Agri-Resources Ltd (GGR SP) and Bumitama Agri Ltd (BAL SP) shares lost 6.6% and 3.3% respectively yesterday. The latest Malaysian Palm Oil Board report showed that palm oil inventories jumped to a five-month peak of 1.64 million tonnes. Production grew 3.6% from March to 1.46 million tonnes, the highest since November, while exports tumbled 17.7% to 1.05 million tonnes. In addition, Malaysia is considering cutting its export tax on palm oil and plans to slow the implementation of its biodiesel mandate to help meet global demand amid an edible oil shortage, its commodities minister told Reuters on Tuesday (May 10).

Hong Kong
Top Sector Gainers
Top Sector Losers
Yihai International Holding Ltd (1579 HK) Shares rose 5.7% yesterday. There was no company-specific news. Previously, Goldman Sachs lowered the CAGR of China's food and beverage industry to 8% from 11% as the new wave of the covid outbreak and the uncertainties of the macroeconomy impacted the outlook.
China Resources Pharmaceutical Group Ltd (3320 HK) Shares rose 5.4% yesterday. The company announced that China Resources Double-Crane Pharmaceutical Co., Ltd. a non-wholly-owned subsidiary indirectly owned as to 59.99% by the Company, has recently entered into a strategic cooperation agreement with Henan Genuine Biotech Co., Ltd. for a term of ten years. Both companies will cooperate in various areas and segments, including research and development manufacturing, distribution and other areas directly related to distribution of pharmaceutical products.
GDS Holdings Ltd (9698 HK) Shares fell 10.9% yesterday. There was no company-specific news. The technology sector plunged following the overnight sell-off in the US market.
Hua Hong Semiconductor Ltd (1347 HK) Share fell 12.7% and closed near the 52-week low yesterday. There was no company-specific news. There was press reporting that The U.S. Department of Commerce was weighing a ban on American companies selling advanced chipmaking equipment to Chinese firms.
Zai Lab Ltd (9688 HK) Shares fell 19.4% and closed near the 52-week low yesterday. The company will be announcing its 1Q22 results on 11th May before the Hong Kong market opens. The sell-off could be due to the downgrades by institutes. Market analysts hold a bearish view of the company's outlook due to the uncertainties of regulations and the increase in R&D expenses.


Trading Dashboard Update: No additions or deletions to trading dashboard.