11 March 2022: UOB (UOB SP), Xinte Energy Co Ltd (1799 HK)
Singapore Trading Ideas | Hong Kong Trading Ideas | Market Movers | Trading Dashboard
SINGAPORE
UOB (UOB SP): Going for yield
BUY Entry – 29.80 Target – 32.60 Stop Loss – 28.50
UOB is Singapore's third largest largest bank by total assets. As at the end of 2021, it had S$459bn in total assets and generated a net income of S$4.1bn. The bank has more than 500 offices across 19 countries and offers a range of commercial and personal banking products and services.
Market sell off but rate hikes are still coming. Shares of UOB lost almost 15% over the past two weeks after the broad-based selling due to Russia's attack on Ukraine. However, despite the geopolitical uncertainty, markets are still pricing in a 50bps rate hike by the Fed in the next FOMC meeting to be held in the third week of March.
Acceleration of 5 years target. On 14 Jan, UOB announced that it was going to acquire Citigroup's consumer businesses in Indonesia, Malaysia, Thailand and Vietnam for around S$4.9bn. According to UOB, the acquisition will double its existing retail customer base to about 5.3mn post acquisition, and accelerate UOB's customer base target five years ahead of time. Citigroup's consumer business in these four countries has a net asset value of about S$4bn as at end June 2021, a custom rbase of about 2.4mn and generated S$500mn income in 1H2021.
Attractive dividend yield and valuations. UOB currently trades at 1.2x FY2022F P/B, a 20% discount to DBS' 1.5x P/B. UOB offers a FY2022 and FY2023 dividend yield of 4.5% and 5.1% respectively.
Positive consensus estimates. There are currently 19 BUYS on UOB with a 12m average TP of S$36.09, implying a 20% upside from the last close price.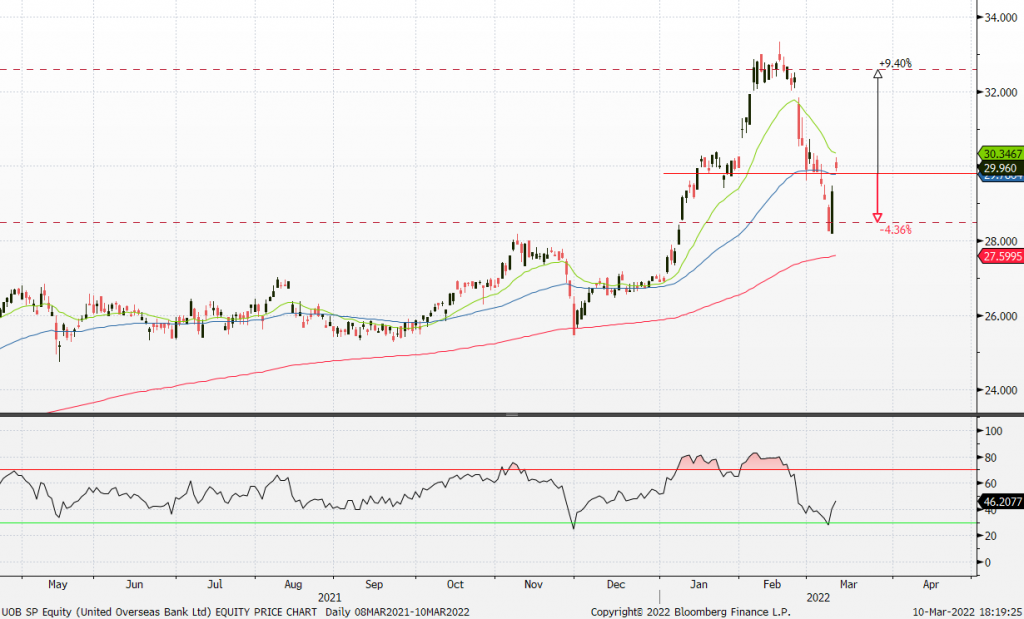 ---
Singtel (ST SP): Defence over offence
RE-ITERATE BUY Entry – 2.50 Target – 2.82 Stop Loss – 2.34
Singtel provides an extensive range of telecommunications and digital services to consumers and businesses across Asia, Australia, Africa and the US. It serves over 753 million mobile customers in 21 countries, including Singapore, Australia (via wholly-owned subsidiary Singtel Optus) and the emerging markets of India, Indonesia, the Philippines, Thailand and Africa.
Headwinds are easing. Singtel is forecasted to post mid-single digit EBITDA growth in FY2022, a turnaround from the 16% decline in the prior year financial period. Stabilising Singapore average revenue per user (ARPU) and higher Optus ARPU may drive EBITDA growth higher. Furthermore, dividends from associates, which make up more than 25% of operating cash flow, may finally be turning around, driven mainly by the easing of competition of associate Bharti Airtel.
Defence over offence. Risk of recession is rising due to the surge in oil prices, which will also be exacerbated by the US Federal Reserve hiking rates. Massive surges in oil prices have historically preceded recessions, as was the case in 2008, early 2000s and 1991. It is thus prudent to move to defence over offence in the current environment.
Consensus estimates. Consensus has an overall positive outlook on Singtel, with 16 BUYS / 2 HOLDS / 0 SELL, and a 12m TP of S$3.16 (+26% upside potential). EPS is forecasted to finally grow 303% and 20% in FY2022 (YE March) and FY2023. The stock offers a decent dividend yield of 3.9% for FY2022 and 4.9% for FY2023.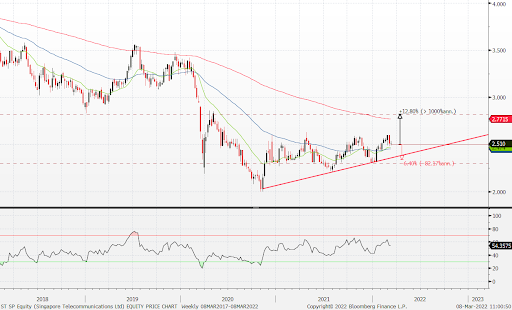 ---
HONG KONG
Xinte Energy Co., Ltd. (1799 HK): Substitution effect in play
BUY Entry – 16.5 Target – 18.5 Stop Loss – 15.5
Xinte Energy Co., Ltd. is an investment holding company principally engaged in the provision of solar energy and wind power solutions. The Company operates through seven segments. Polysilicon Production segment is engaged in the production and sales of polysilicon. Engineering and Construction Contracting (ECC) segment is engaged in the provision of ECC services for solar energy plants and wind power plants. Inverter Manufacturing segment is engaged in the manufacture of inverters. Sales of Electricity segment is engaged in the generation and sales of electricity. Photovoltaic (PV) Wafer and Module Manufacturing segment is engaged in the manufacture and sales of PV wafers and modules. Build-Own-Operate (BOO) segment is engaged in the building and operation of solar energy plants and wind power plants. Others segment is engaged in related trading businesses and the provision of design and logistics services.
High oil prices are tailwins for renewable energy. The Russia-Ukraine conflict results in unprecedented sanctions on Russia which is a main crude oil exporter. The unexpected widening supply gap of 4mn bbl/d boosted oil prices to 2014 highs. Europe and the US are rushing to secure alternative sources of supply and ramp up domestic oil output amidst the looming energy crisis. Meanwhile, the situation will also accelerate the deployment of renewable energy supply, especially solar. Photovoltaic sector is expected to revive after months of correction. The concerns over potential sanctions on China photovoltaic companies should be relieved as the US priorities reining in inflation by increasing energy supplies at the moment.
Positive FY21 earnings alert. Net profit attributable to shareholders of the company is expected to be no less than RMB5.0bn compared to RMB0.7bn in FY20. The increase in the Group's profit is mainly due to the increase in sales volume of polysilicon products, the significant increase in the sales price of polysilicon products, as well as the increase in the scale and power generation volume of the group's self-operated wind power and photovoltaic power plants.
Updated market consensus of the EPS growth in FY22/23 is 8.6%/-18.6% YoY respectively, which translates to 3.4x/4.2x forward PE. Current PER is 8.7x. FY22F/23F dividend yield is 5.1%/3.1%. Bloomberg consensus average 12-month target price is HK$21.2.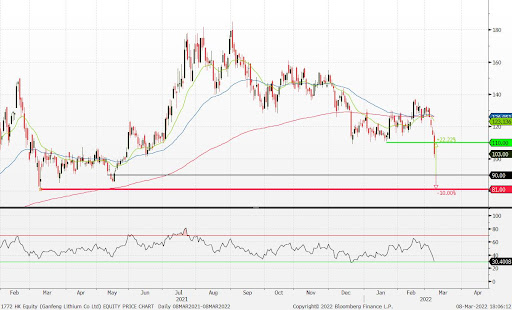 ---
Sinopharm Group Co., Ltd. (1099 HK): One of the few defensive plays
RE-ITERATE BUY Entry – 17.2 Target – 19.7 Stop Loss – 16.0
Sinopharm Group Co Ltd is a China-based company principally engaged in pharmaceutical and medical devices distribution business. The Company operates its business through four segments. Pharmaceutical Distribution segment is engaged in the distribution of pharmaceutical products to hospitals, other distributors, retail pharmacy stores and clinics. Medical Devices segment is engaged in the distribution of medical devices, as well as provides installation and maintenance services. Retail Pharmacy segment is engaged in the operation of chain pharmacy stores. Other Business segment is engaged in the distribution of laboratory supplies, manufacture and distribution of chemical reagents, production and sale of pharmaceutical products.
Concerns over an inflationary recession. Commodities prices have rallied to multi-year highs, and some even touching all-time highs. Crude oil (Brent) price topped at near US$140/bbl. Oil prices have surged by more than 50% YTD. Historically, recessions came right after oil prices soared by more than 50%. Meanwhile, basic metals and agricultural products witnessed short squeeze movements. Nickel futures jumped by more than 300% this week. Gold surpassed the US$2,000/oz psychological level. US Treasuries 2 years-10 years spread has narrowed to near 20bps, the lowest since March 2020 when the COVID-19 outbreak shocked the market. Dollar index climbed to near 100, implying funds are leaving emerging markets. The probability of a potential inflationary recession in the near term are high as the above mentioned indicators have already shown red flags.
A defensive stock amidst market sell-off. The Hong Kong market has been hammered by both domestic crackdowns and unfavourable external macro conditions. Growth, value, and cyclical sectors, as well as other thematic stocks, have been sold off indiscriminately. However, this stock is relatively outperforming the rest as its business is largely immune to inflation and policy risks. The business driver is the distribution volume rather than profit margins. The growth in demand for medicines and medical devices is stable with low price sensitivity.
The updated market consensus of the EPS growth in FY22/23 is 10.7%/11.2% YoY respectively, which translates to 5.0x/4.5x forward PE. The current PER is 7.5x. The FY22F/23F dividend yield is 6.0%/5.9%. Bloomberg consensus average 12-month target price is HK$24.14.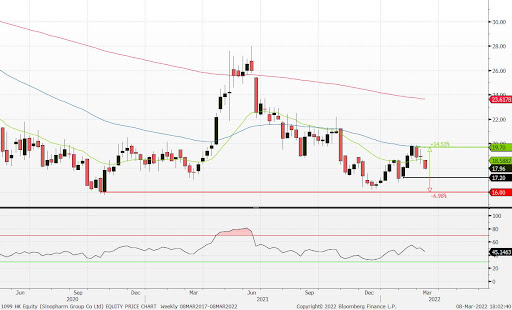 ---
MARKET MOVERS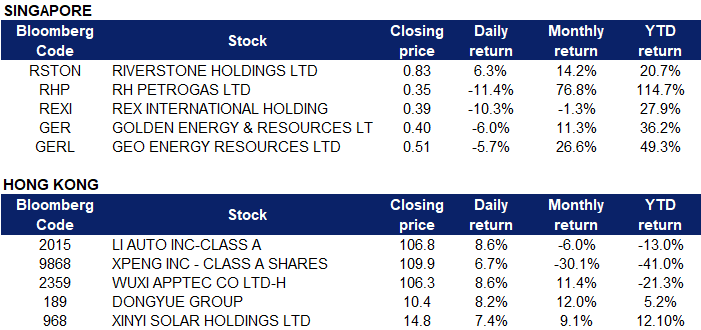 ---
United States
Top Sector Gainers
Top Sector Losers
Crowdstrike Holdings Inc (CRWD US) gained 12.5%, after it disclosed strong quarterly profit and revenue in its earnings report yesterday. The company reported revenue of $431 million for the fiscal fourth quarter ended in January, outpacing Wall Street's consensus forecast of $410.9 million. On an adjusted basis, the company earned 30 cents a share, also notably ahead of Street estimates. CrowdStrike also has an upbeat forecast for the 2023 fiscal year, saying it will pursue market share as cybersecurity concerns rise.
Baker Hughes Co (BKR US) and Halliburton Company (HAL US) rose 8.7% and 8.9% respectively yesterday, boosted by demand for greater energy production after the U.S. banned Russian oil. The number of oil rigs working dropped to 250 last year, from 1,077 in 2018, according to industry data from Baker Hughes.
Amazon.com Inc (AMZN US) shares jumped 5.4% after the company said its board of directors has approved a 20-for-1 stock split, telling investors on Wednesday that they'll receive 20 shares for each share they currently own. The board also approved a $10 billion share buyback program. The 20-for-1 split could put the company in contention for inclusion in the Dow Jones Industrial Average.
Asana Inc (ASAN US) shares plunged 22.1% yesterday, despite better-than-expected results for the company's fourth-quarter. For the fiscal fourth quarter ended Jan. 31, the company reported revenue of $111.9 million, up 64% from a year ago. That was above the company's guidance range of $104.5 million to $105.5 million and Wall Street's estimate of $105.2 million.The firm also announced a narrower-than-expected loss for its most recent quarter, as well as revenue that exceeded analysts' estimates. However, the story for investors Wednesday is that the company is planning to ratchet up investment in the business, a bet on growth that will boost losses in the near-term.
---
Singapore
Riverstone Holdings Ltd (RSTON SP) shares gained 6.3% yesterday. Recently, RHB upgraded Riverstone to "neutral" from "sell" and raised its target price to S$0.74 from S$0.65, while noting that the glove maker's current valuation is fair. Riverstone is trading at 16 times the brokerage's estimates for FY2023 earnings, in line with its historical average and pre-pandemic 5-year mean, RHB said in a research note. Meanwhile, DBS Group Research has lowered its target price on the counter to S$0.97 from S$1.20, after cutting its FY2022 and FY2023 earnings forecast by 31 per cent and 16 per cent respectively.
RH Petrogas Ltd (RHP SP) and Rex International Holding Ltd (REXI SP) shares plunged 11.4% and 8.1% respectively yesterday, as both WTI and Brent crude futures retreated from its highs since 2008. WTI crude futures traded around $110 per barrel on Thursday after falling 12% in the previous session for its biggest drop since November, as the UAE called on OPEC+ to boost production faster to ease turmoil in the energy markets but lately tempered the message by saying the country is committed to OPEC plans. Oil prices were also pressured as investors looked optimistically toward a possible de-escalation of the Russia-Ukraine war, with the foreign ministers from both countries set to meet in Turkey later today.
Golden Energy Resources Ltd (GER SP) and Geo Energy Resources Ltd (GERL SP) shares lost 6% and 5.7% respectively yesterday. Newcastle coal futures consolidated around $400 per tonne in the second trading week of March, just 10 dollars shy of its record peak as mounting sanctions on Russia for invading Ukraine led to an international energy crunch and exacerbated concerns over the commodity's supply. The US announced a ban on imports of Russian oil, a move that threatened supply chains and heaped further inflationary pressure on economies worldwide.
---
Hong Kong
Top Sector Gainers
Top Sector Losers
Li Auto (2015 HK) and Xpeng Inc (9868 HK) shares rose 8.6% and 6.7% respectively yesterday. Recently, a number of car companies released their production and sales data for February 2022. Xpeng delivered 6,225 vehicles in February, an increase of 180% year-on-year, while BYD sold 88,000 new energy vehicles in February, an increase of 753% year-on-year. Ping An Securities pointed out that on the whole, the year-on-year data presented a strong growth trend, even though the month-on-month data experienced a seasonal correction due to the holiday season.
WuXi AppTec Co Ltd (2359 HK) shares rose 8.6% yesterday, after CICC released a research report maintaining an "Outperform" rating on the company, and the target price was raised by 8.3% to HK$130. Taking into account the continued strong demand for its main business, the net profit forecast for 2022/23 was raised by 22.1%/16.6% to 8.117 billion yuan/9.667 billion yuan.
Dongyue Group Ltd (189 HK) shares rose 8.2% yesterday. UBS released a research report giving a "buy" rating on the company, with a target price of HK$14. After the improvement of Dongyue;s income structure, The stock price is 6x forecasted 2022 PE ratio, lower than the industry average of 13x to 18x, and the company is considered to be undervalued. According to the report, the market has ignored the potential improvement of its revenue structure, and it is estimated that the net profit contribution of PVDF (polyvinylidene fluoride) business will increase to more than 50% in 2022 and beyond. The bank expects fuel cell energy vehicle (FCEV) installations to drive PEM (proton exchange membrane) sales, implying a compound annual growth rate of 75% in 2021-30.
Xinyi Solar (968 HK) shares rose 7.4% yesterday. Guotai Junan issued a research report maintaining Xinyi Solar's ​​"buy" rating and adjusted the target price to HK$17.6. The new target price is equivalent to 29.6x/25x/22.1x 2022-24 P/E ratio or 4.7x/4.3x/3.9x 2022-24 P/B. The bank said that Xinyi Solar is expected to add about 20,000 tons/day of photovoltaic glass capacity and 2.23 GW of installed photovoltaic power plant capacity between 2022 and 24.
---
Trading Dashboard
Trading Dashboard Update: Remove ThaiBev (THBEV SP) at S$0.68 and Jiutian Chemical (JIUC SP) at S$0.085.
(Click to enlarge image)
---