KGI DAILY TRADING IDEAS – 10 September 2021
Singapore Trading Ideas | Hong Kong Trading Ideas | Market Movers | Trading Dashboard
SINGAPORE
International Cement Group Ltd (ICG SP): Traditional sector play – Cement and Aluminium
BUY Entry – SGD 0.028 Target –0.044 Stop Loss – 0.025
International Cement Group Ltd., together with its subsidiaries, primarily engages in the production, sale, and distribution of cement in Singapore, Malaysia, Australia, Tajikistan, Afghanistan, Uzbekistan, and internationally. It is also involved in the manufacture and marketing of aluminum extrusions, aluminum panels, and associated architectural aluminum products used for the construction industry.
The company is backed by strong financials and potential growth through acquisitions. Furthermore, being a traditional sector play, the company is relatively safer compared to other stocks amidst a potentially weaker market in the months ahead.
Strong 1H21 financials. Revenue rose 35% YoY to S$85mn in 1H21, on the back of a 36% surge in revenue from the group's cement segment. Net profit jumped by 66.5% to S$18.7mn, while PATMI more than doubled to S$13.0mn, mainly due to favourable foreign currency translation differences. Gross profit margin improved by 4ppts to 44%, contributed by the higher profit margin from Alacem Plant as it benefitted from lower costs in raw materials in Kazakhstan.
Inorganic growth via cement segment. The group's main revenue driver is from the cement segment, which contributes approximately 94% to 95% of total revenue. On 9 April 2021, Sharcem LLP, a newly incorporated 60% subsidiary of the group, entered into a sales and purchase agreement with Kazakhccement LLP and Development Bank of Kazakhstan to acquire cement-related assets located in Jarminsky district in East Kazakhstan. The plant has an annual production capacity of 1mn metric tonnes and is expected to be completed by end September. Upon completion, the group's combined annual cement production capacity in Central Asia will increase from 3mn metric tonnes to 4mn metric tonnes.
Aluminium segment. Even though aluminium is a small contributor to the group's revenue, approximately making up only about 5% to 6%, there is potential for growth in the short to long-term as Singapore's construction industry recovers from Covid-19. Singapore's construction industry is forecasted to recover by 30% in 2021, after contracting by 35.9% in 2020. The industry is projected to continue to expand in 2022, registering real growth of 8.1%, and then expand by 3.3% over the remainder of the forecast period (2023-2025). Aluminium prices have rallied since mid-2020, with prices rising above US$2,740 a tonne in September, the highest since May 2011, which could also provide a catalyst to the group's revenue from the aluminium segment.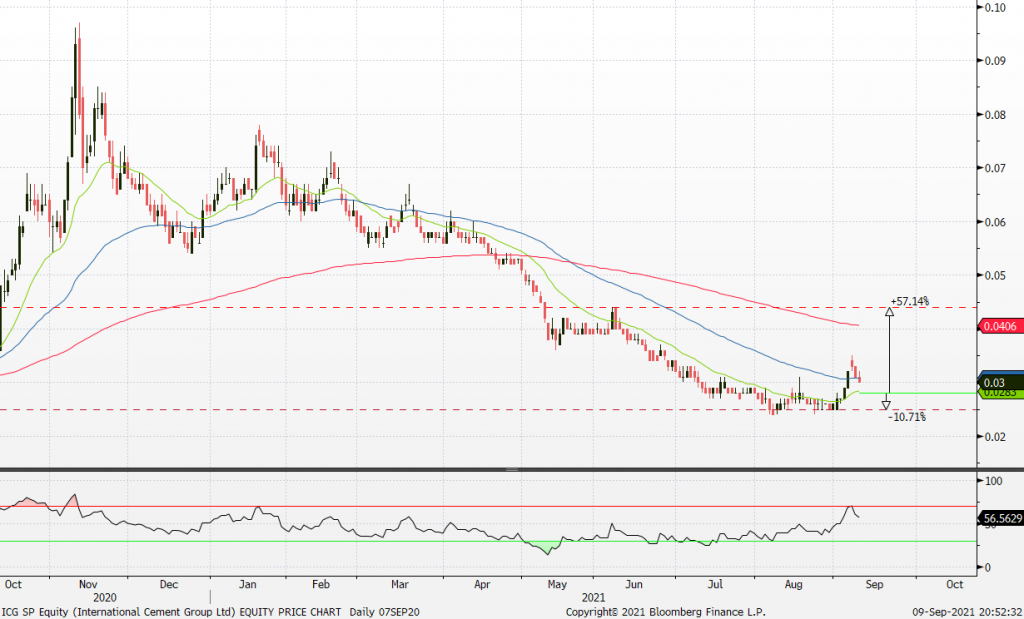 ---
ISDN (ISDN SP): Accelerating the pace of industrial automation
RE-ITERATE BUY Entry – 0.65 Target –0.85 Stop Loss – 0.58
ISDN is a leading provider of industrial automation solutions throughout Asia. The company has more than 10,000 customers, and 74 offices spanning key Asian growth markets, and has a 35-year history of innovating alongside the growing technology needs of its customers. Today, ISDN's solutions power advanced industrial sectors including semiconductors, Industry 4.0 manufacturing, medical devices, aerospace, and clean energy. The group generates around 68% of sales from China.
Record revenue and profits in 1H2021. ISDN 1H2021 rose 30% YoY to S$217mn while net profit surged 51% YoY to S$19mn. This was on the back of better gross profit margins which rose 2.1% points to 26.8%.
Growing productivity. ISDN has continued its strategic buildout by expanding its solutions portfolio to include industrial internet-of-things (IoT) connectivity, deepening advanced engineering, growing industrial systems projects, and advancing software and cloud solutions. Covid-19 and geopolitical tensions have reduced global labour mobility and increased employee health risk, leading to an acceleration in labour automation for the group's customer base.
Riding on semiconductor wave. ISDN is set to benefit further from its semiconductor segment, where the group's solutions power global semiconductor capital equipment and production.
Fundamental OUTPERFORM and TP to S$0.85. ISDN currently trades at only 6x forward EV/EBITDA, a significant discount to its international peers who are trading at around 10x EV/EBITDA.

---
HONG KONG
Chinasoft International Limited (354 HK): Immune to crackdown and selldown
Buy Entry – 12.8 Target – 14.5 Stop Loss – 11.8
Chinasoft International Limited is a Hong Kong-based investment holding company principally engaged in the provision of information technology (IT)-related services. The company operates through two segments. Technical Professional Services segment is engaged in the development and provision of solutions, emerging services and IT outsourcing services for banks and other financial institutions, telecommunication carriers and other multinational companies, including the sales of products. Internet IT Services segment is engaged in the development and provision of solutions and IT outsourcing services for government, tobacco industry and other small companies and training businesses.
1H21 revenue jumped by 37.7% YoY to RMB8.3bn, and net profit attributable to the owner of the company jumped by 29% YoY to RMB517.7mn. The growth was mainly driven by the rapid growth of cloud intelligence business and the steady growth of the core large customer businesses.
The recent prevailing crack-down on the technology industry has created panic among investors. However, the software sector, which is the subsector of the larger technology industry, was also mistakenly sold off. The regulations announced are mainly toward Internet and platform companies.
Chinasoft's businesses, meanwhile, are supportive of both traditional industries and new economy sectors. More importantly, it is one of the key themes that China's government is promoting – which is the domestic operating system (OS). Huawei has been developing the Harmony OS, the most promising domestic OS in China. Chinasoft is also engaged in OS development as Huawei is its largest client. 
Among all the big tech companies, Huawei is under national protection rather than under a regulatory crackdown. Therefore, Huawei-themed companies are another safe haven for investors to look for growth opportunities.    
The updated market consensus of the estimated net profit growth in FY21/22/23 is 13.2%/28.1%/17.7% respectively, which translates to 25.3x/19.8x/25.5x forward PE. The current PE is 27.5x. Bloomberg consensus average 12-month target price is HK$17.6.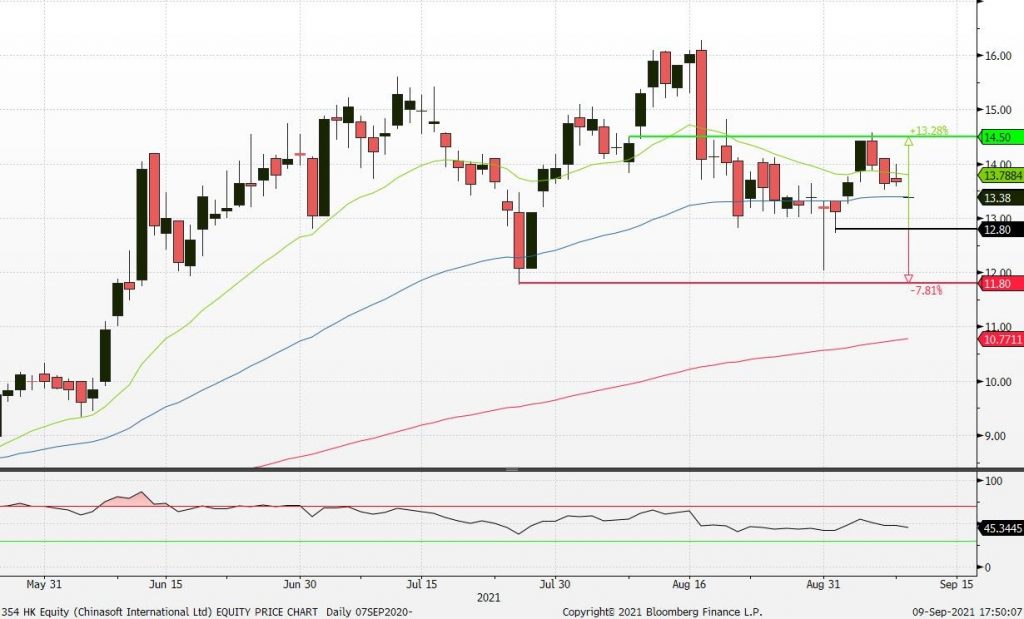 ---
PC Partner Group Limited (1263 HK): Video games and crypto
BUY Entry – 8.4 Target – 10 Stop Loss – 7.8
PC Partner Group Limited is an investment holding company principally engaged in the electronics and personal computer (PC) parts and accessories businesses. Its main business includes the design, development and manufacturing of video graphics cards for desktop PCs, the provision of electronics manufacturing services, as well as the manufacturing and trading of other PC related product components. The Company is also engaged in the provision of technical support services through its subsidiaries. Its primary products are video gr
aphics cards, motherboards and mini-PCs. Its primary brands include ZOTAC, Inno3D and Manli. Its businesses are mainly conducted in Mainland China, Hong Kong, Macau, Korea and the United States of America.
Strong financial performance. Previously, the company announced 1H21 interim results. Revenue jumped by 108.1% YoY to HK$6.8bn. Gross profit jumped by 526.6% YoY to HK$1.9bn. GPM jumped from 9% in 1H20 to 27.2% in 1H21. Net profit attributable shareholders jumped by 2840.7% YoY to HK$932.2mn. The stellar result was due to the strong demand for video graphics cards.
Demand drivers. The stock is an indirect beneficiary of the upsurge in demand for graphic cards which was mainly driven by cryptocurrency mining and video gaming. Currently, Bitcoin and Etherum have resumed their uptrend move and could retest the all-time highs by the end of the year. The consistent fund inflows into the cryptocurrency market will incentivise miners to expand their mining capacities, which will result in more demands for graphics cards and related mining processor cards.
The company's valuation is attractive. The stock is currently trading at 3.4x PE. The company declared an interim dividend of HK$0.84 per share.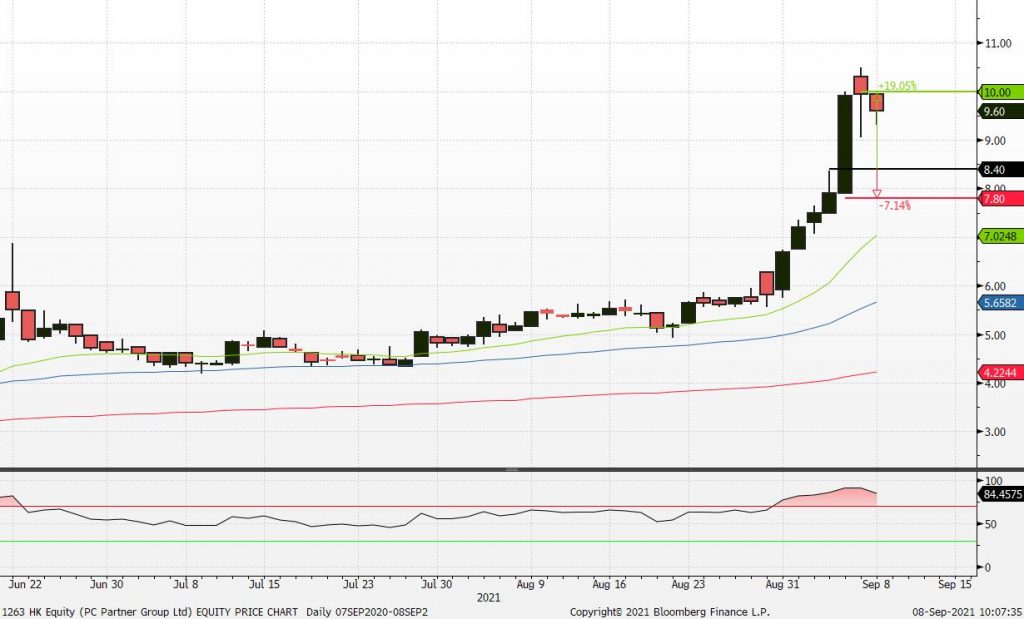 ---
Market Movers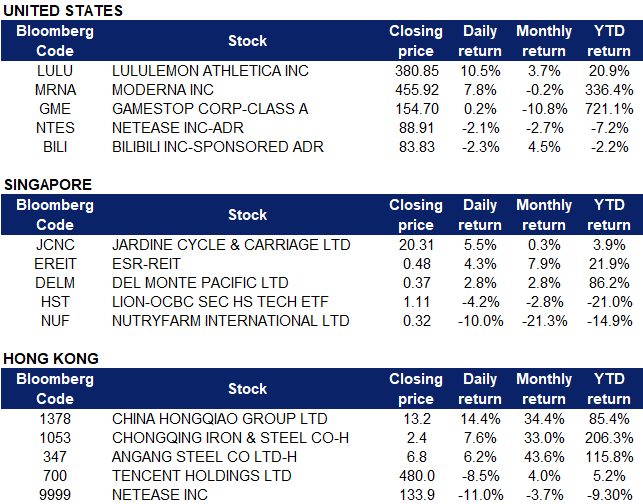 United States
Lululemon Athletica (LULU US) soared to a new high on Thursday, closing 10.5% at $420.71 after the athletic apparel retailer released sparkling fiscal Q2 results, and management boosted its full-year outlook for bothe revenue and earnings. The company's net revenue surged 61% YOY to $1.5 billion, and sales at its company-operated stores rose 142% to $695.1 million, making a rebound from its lows when COVID-10 related store closures weighed heavily on its results. Management now expects the company to generate net revenue of $6.19 billion to $6.29 billion, and adjusted earnings per share to $7.48 in fiscal 2021.
Moderna (MRNA US) rose 7.8% on Thursday after the company announced it is developing a single-dose vaccine, known as mRNA-1073, that includes boosters against both COVID-19 and seasonal flu. Moderna is also evaluating four development candidates against coronavirus variants, including Delta, with three already in clinical trials.
Gamestop (GME US) shares plunged as much as 9% on Thursday before closing 0.19% higher in the green and recovering at $199.18 after the company reported second quarter results. Although the company announced a wider-than-expected net loss, Gamestop's stock swung rapidly on Thursday. The retailer was light on providing an outlook for the upcoming quarters and details on its e-commerce transformation, which disappointed Wall Street analysts. The meme stock, which is still largely favored by Reddit traders, is still up over 900% this year.
Chinese stocks fell on Thursday after reports suggested that government officials continued to apply pressure on gaming companies with rules and regulations. NetEase (NTES US) and Bilibili (BILI US) fell 5.5% and 7.2% respectively in premarket trading. A report by the South China Morning Post said that China threatened to slow down approvals for all new online games. Officials previously called online gaming "spiritual opium".
---
Singapore
Jardine Cycle & Carriage Ltd (JCNC SP) Shares rose by 5.5% yesterday, gaining a total of approximately 5.9% over the last 4 trading days. Shares likely rose due to a technical rebound as RSI fell to slightly below 30 last Friday. In addition, Jardine C&C, which has one of the largest Mercedes-Benz dealership networks in Malaysia, could likely benefit from Mercedes-Benz EQB launch, an electric SUV, which competes against Tesla Model Y.
ESR Reit Ltd (EREIT SP) Units rose by 4.3% yesterday as RHB Group Research Analyst, Vijay Natarajan, maintained his BUY call for ESR REIT, with a higher TP of S$0.54, up from S$0.48 previously. Natarajan sees further upside for ESR-REIT's unit price on the back of stable DPU growth from improving operating metrics, accretion from recent acquisitions and asset enhancements, as well as continued narrowing of the valuation gap to large-cap peers. Read the full article published by The Edge here. According to Bloomberg consensus, ESR REIT currently has 7 BUYS, 2 HOLDS and 0 SELLS, with an average TP of S$0.50, implying a 4.2% upside as of yesterday's closing price of S$0.48.
Del Monte Pacific Ltd (DELM SP) Shares rose by 2.8% yesterday after Del Monte announced positive 1Q22 results. The group generated sales of US$462.1mn, up 12% versus the prior year period on higher sales in the USA and international markets. In addition, the group achieved a net profit of US$18.3mn in the first quarter, a marked turnaround from the US$3.2mn loss in the prior year's same quarter. Read the full details of the company's results here.
Lion-OCBC Hang Seng Tech ETF S$ (HST SP) ETF prices fell by 4.2% yesterday. Prior to the decline in prices, Chinese stocks enjoyed a price rally last week as regulatory concerns subsided. However Beijing summoned Tencent, NetEase and others yesterday and froze the approval for new online game titles. The concerns over the revival of new regulatory policies led to a sell-off of Chinese stocks, with HSI tumbling 2.3%, the biggest drag in more than six weeks as tech giants paced losses.
Nutryfarm International (NUTRY SP) Shares slumped by 10% yesterday and closed at a 3-month low as SGX issued a notice of compliance on Wednesday, requesting the company to appoint a suitable independent reviewer to investigate two issues: a significant refundable deposit of HK$91.4mn (S$15.8mn) for the proposed acquisition of tech company First Linkage, and the significant advances of 26.8mn yuan (S$5.6mn) made to Chengdu Meili Tianyuan Agriculture Co.
Trading dashboard: Add ISDN (ISDN SP) at S$0.65, remove Riverstone (RSTON SP) at S$1.17
---
Hong Kong
China Hongqiao Group Ltd (1378 HK) Shares closed at the highest since May. LME aluminium futures hit a new high of US$2,800/tonne.
Chongqing Iron & Steel Co. Ltd. (1053 HK), Angang Steel Co. Ltd. (347 HK) Steel sector jumped as iron ore prices continued to fall. As of 9th September, the iron ore China (62% Fe Fines) index was trading at RMB805.5/tonne. Meanwhile, steel prices continue to edge up. As of 9th September, the domestic hot rolled steel prices closed at RMB5,795/tonne.
Tencent Holdings Ltd (700 HK), NetEase Inc (9999 HK) Chinese gaming giants Tencent Holdings and NetEase were called in to meet with Chinese authorities on Wednesday to discuss how they will implement Beijing's new restrictions on video gaming for minors, as the government seeks to avoid lax enforcement and workarounds by savvy teenage netizens. Chinese regulators have temporarily suspended approval for all new online games in the country, dealing a fresh blow to the video gaming businesses of industry giants Tencent Holdings and NetEase, as Beijing steps up measures to tackle gaming addiction among young people.
Trading dashboard: Add Nexteer Automotive (1316 HK) at HK$8.4
---
Trading Dashboard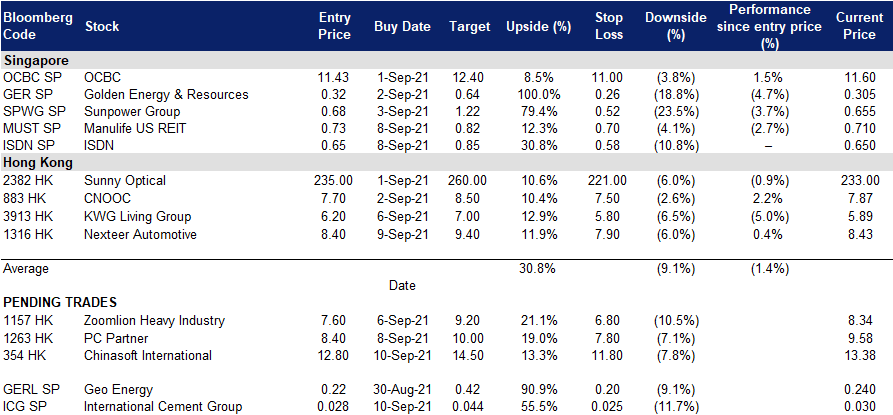 ---

---
Related Posts: