10 Nov 2021: Sunpower Group (SPWG SP), PC Partner Group (1263 HK)
Singapore Trading Ideas | Hong Kong Trading Ideas | Market Movers | Trading Dashboard
IPO WATCH
Rivian Automotive (RIVN US)
Company overview: Rivian Automotive manufactures premium electric SUVs, vans, and pickup trucks. ​
Biggest IPO since 2014: The company revised its share price range from US$57 to US$62 to US$72 to US$74 last Friday and at its new proposed deal size, could be worth up to US$65bn. Rivian would surpass Uber's 2019 offering to be the biggest IPO since Alibaba in 2014.​
Strong backing: Amazon and Ford hold approximately 20% and 12% stake in Rivian respectively . The company is developing commercial last-mile delivery vans for Amazon and plans to have 10,000 vans on the road by 2022 and 100,000 by 2030. It also recently began production on its hotly anticipated electric pickup, the R1T. Rivian disclosed last week that it has delivered 156 R1Ts as of end October and plans to deliver 1,000 R1Ts by the end of the year.
| | | | | | |
| --- | --- | --- | --- | --- | --- |
| Valuations​ | P/E​ | Price/Sales​ | Price/Book​ | T12M EPS​ | 1Y Revenue Growth Rate​ |
| Tesla (TSLA)​ | 393.4​ | 25.4​ | 45.35​ | 3.11​ | 28.3%​ |
| Lucid (LU)​ | N/A​ | N/A​ | 5.44​ | -24.73​ | N/A​ |
| Lordstown Motors (RIDE)​ | N/A​ | N/A​ | 1.65​ | -1.93​ | N/A​ |
| | | |
| --- | --- | --- |
| Price Range​ | Diluted Market Cap ​ | Key Bookrunners​ |
| US$72 to US$74​ | ~US$54.6bn​ | Morgan Stanley, Goldman Sachs, JP Morgan​ |
​
---
SINGAPORE
Sunpower Group (SPWG SP): Buy the dip
BUY Entry – 0.50 Target –1.22 Stop Loss – 0.46
Sunpower invests, develops and operates centralised steam, heat and electricity generation plants. The group is strongly positioned to capitalise on the enormous market opportunities in the environmental protection sector in China and build a valuable portfolio of assets that generates attractive investment returns, as well as recurring, long-term and high-quality income and cash flows based on typically 30-year concession agreements.
Profit guidance for 3Q. Shares of Sunpower dropped by as much as 20% from October levels after the company issued a profit guidance for 3Q results. The group expects net profit for 3Q to be negatively impacted by the recent rise in commodity prices and power rationing occurring in China. Rising commodity prices have pushed up the group's feedstock costs, leading to cost pressures on its production operations of its green investment projects. Meanwhile, power rationing resulted in downstream customers reducing their steam consumption.
Cost pressures abating in 4Q. The Chinese government early this month intervened heavily in the coal market after prices surged to a record in October. So far, the intervention has been very effective. Benchmark coal futures on the Zhengzhou Commodity Exchange have dropped more than 50% from the peak reached in mid October (see chart below). This should be a positive development for companies like Sunpower.
We currently have an OUTPERFORM recommendation with a target price of $$1.22. Read our full report here.
Zhengzhou Thermal Coal Futures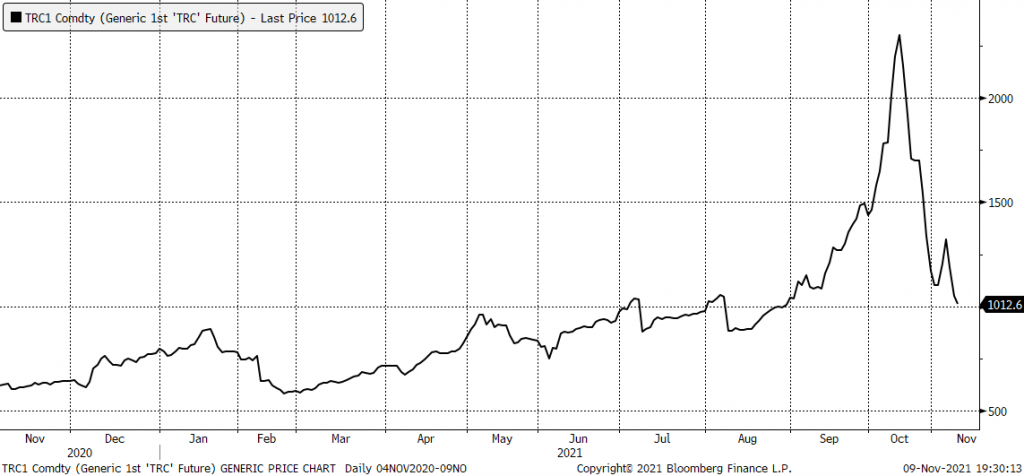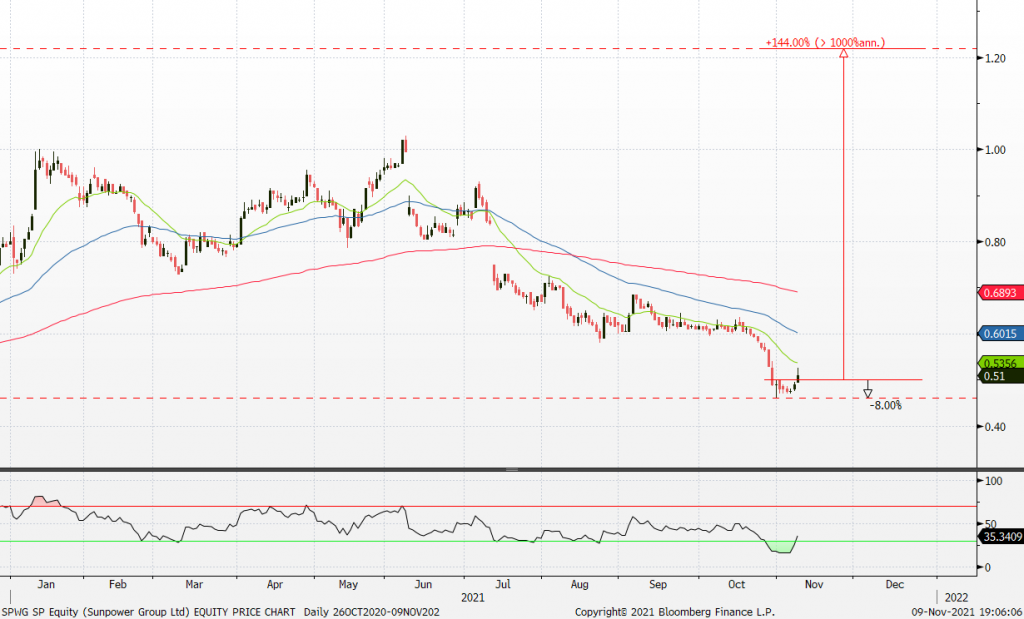 ---
Singtel (ST SP): Banking on digital
REITERATE BUY Entry – 2.50 Target –2.80 Stop Loss – 2.40
Singtel provides an extensive range of telecommunications and digital services to consumers and businesses across Asia, Australia, Africa and the US. It serves over 753 million mobile customers in 21 countries, including Singapore, Australia (via wholly-owned subsidiary Singtel Optus) and the emerging markets of India, Indonesia, the Philippines, Thailand and Africa.
Five years of underperformance. Shares of Singtel have lost almost 50% from their 10-year peak of S$4.57 that they traded at in April 2015. The underperformance was due to the sequential underlying earnings decline over the past four years, mainly because of the drag from Bharti Airtel, its Indian associate.
Improving outlook. Consensus anticipates an improving outlook for Bharti as the Indian wireless industry becomes a quasi-duopoly, which should drive revenue and earnings growth going forward. Meanwhile, its 100%-owned Australian subsidiary, Optus, is seeing a better competitive environment as operators remove discounts and are offering less bonus data.
Banking on digital. In the next 12-24 months, a key driver will be Singtel's digital banking plans together with its partner, Grab Holdings. The Singtel-Grab consortium will allow it to take deposits and offer banking services to retail and corporate customers. For now, we think Singtel's share price has not factored in contribution from the digital bank business, and will likely be a positive boost to its shares when visibility emerges.
Consensus estimates. Consensus has an overall positive outlook on Singtel, with 17 BUYS / 2 HOLDS / 0 SELL, and a 12m TP of S$2.97 (+17% upside potential). EPS is forecasted to finally grow 31% and 18% for FY2022 (YE March) and FY2023. The stock offers a decent dividend yield of 4.0% for FY2022 and 4.7% for FY2023.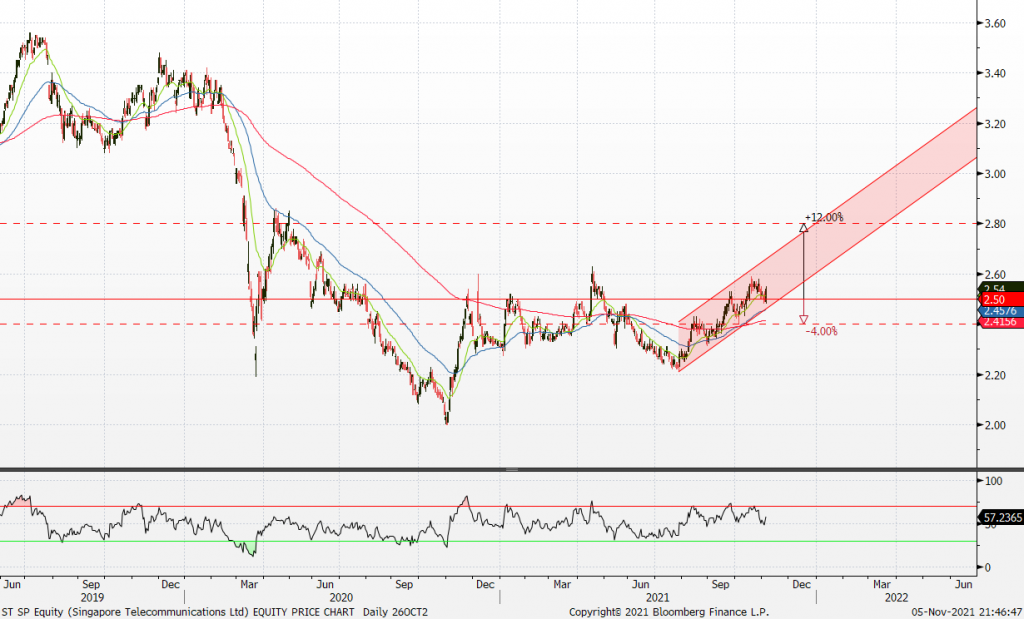 ---
HONG KONG
PC Partner Group Limited (1263 HK): A metaverse-themed stock
BUY Entry – 12.5 Target – 15 Stop Loss – 11
PC Partner Group Limited is an investment holding company principally engaged in the electronics and personal computer (PC) parts and accessories businesses. Its main business includes the design, development and manufacturing of video graphics cards for desktop PCs, the provision of electronics manufacturing services, as well as the manufacturing and trading of other PC related product components. The Company is also engaged in the provision of technical support services through its subsidiaries. Its primary products are video graphics cards, motherboards and mini-PCs. Its primary brands include ZOTAC, Inno3D and Manli. Its businesses are mainly conducted in Mainland China, Hong Kong, Macau, Korea and the United States of America.
Expecting 3Q21 to reach a new record. Prices of graphic cards continued to hike. The price hikes of RTX 3080 or lower, GTX 10 series, and RX 6000 series range from 3% to 7% in September. AMD (AMD US) announced the 3Q21 results. Its Computing and Graphics segment revenue jumped by 44% YoY or 7% QoQ to US$2.4bn. In 1H21, PC Partner's graphic card revenue grew by 140.8% YoY to HK$6.0bn. The group's gross profit margin increased to 27.2% from 9% during the same period. It is expected that PC Partner Group's 3Q21 results will be stellar.
Metaverse theme on hype. Facebook (FB US) recently changed its name to META, announcing the metaverse is core development for the next decade. Previously, Nvida (NVDA US) also announced plans to develop the metaverse area. In the foreseeable future, the demand for graphic cards will have exponential growth. PC Partner can be viewed as one of the few metaverse-themed stocks listed in Hong Kong. AMD announced its next-gen Zen 4-based EPYC "Genoa" CPUs at its Accelerated Data Center event, as well as the world's first MCM-based "Aldebaran" GPU that will power AMD's new Instinct MI250X and MI250 accelerators. Meanwhile, they also announced that they have secured Meta, the company formerly known as Facebook, as a new customer. Meta will be using AMD EPYC CPUs inside of its data centres.
Cryptocurrencies on the bull run. Another driver for sales growth is the positive uptrend of the crypto market. Bitcoin has surpassed US$60,000. Ethereum also climbed back to the record high. With higher crypto prices, mining activities will accelerate globally, pushing higher demand for graphic cards.
The company's valuation is attractive. The stock is currently trading at 3.4x PE.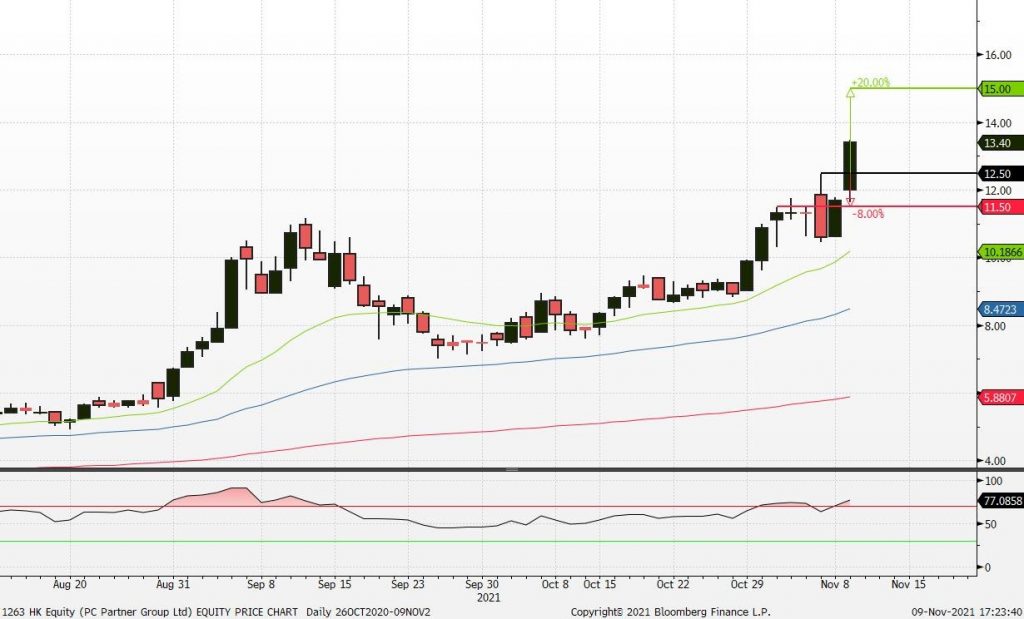 ---
CNOOC Limited (883 HK): Good news to pump for another round
REITERATE Buy Entry – 8.05 Target – 9.05 Stop Loss – 7.7
CNOOC Limited is a Hong Kong-based investment holding company principally engaged in the exploration, production and trading of oil and gas. Its businesses include conventional oil and gas businesses, shale oil and gas businesses, oil sands businesses and other unconventional oil and gas businesses. The company mainly operates businesses through three segments. The Exploration and Production segment is engaged in the exploration, development and production of crude oil, natural gas and other petroleum products. The Trading segment is engaged in the trading of crude oil, natural gas and other petroleum products. The company mainly operates businesses in China, Canada, the United Kingdom, Nigeria, Indonesia and Brazil, among others.
3Q21 financial results update. The unaudited oil and gas sales revenue reached approximately RMB58.03bn for 3Q21, representing an increase of 63.3% YoY, mainly due to combined effects of the increase in international oil and gas prices, and the increased oil and gas sales volume. During the quarter, the average realised oil price increased by 63.6% YoY to US$70.38 per barrel. The company's average realised gas price increased by 21.0% YoY to US$7.08 per thousand cubic feet.
3Q21 operating results update. The company achieved a total net production of 144.1 million barrels of oil equivalent ("BOE") for the 3Q21, representing an increase of 9.9% YoY. Production from China increased by 13.0% YoY to 100.mn BOE, mainly attributable to production growth from the commencement of new projects including Caofeidian 6-4 oilfield, Luda 21-2 oilfield and the production growth from onshore unconventional gas fields. Overseas production increased by 3.2% YoY to 43.9mn BOE.
Upbeat outlook of oil price. The bullish view of oil prices remains intact as the reopening of borders and recovery of transportation continue. Last Friday, Pfizer (PFE US) announced that its Covid-19 pill reduced hospitalizations and deaths in high-risk patients by 89%, a result that has the potential to upend how the disease caused by the coronavirus is treated and alter the course of the pandemic. The news boosted the confidence in further economic recovery and resumption of travelling. Accordingly, the demand for oil will improve.
Updated market consensus of the estimated net profit growth in FY21/22/23 are 214.1%/5.6%/-1.1% respectively, which translates to 4.2x/4.0x/4.0x forward PE. The current PE is 6.2x. The FY21F/22F/23F dividend yield is expected to be 9.9%/10.5%/10.4% respectively. Bloomberg consensus average 12-month target price is HK$12.21.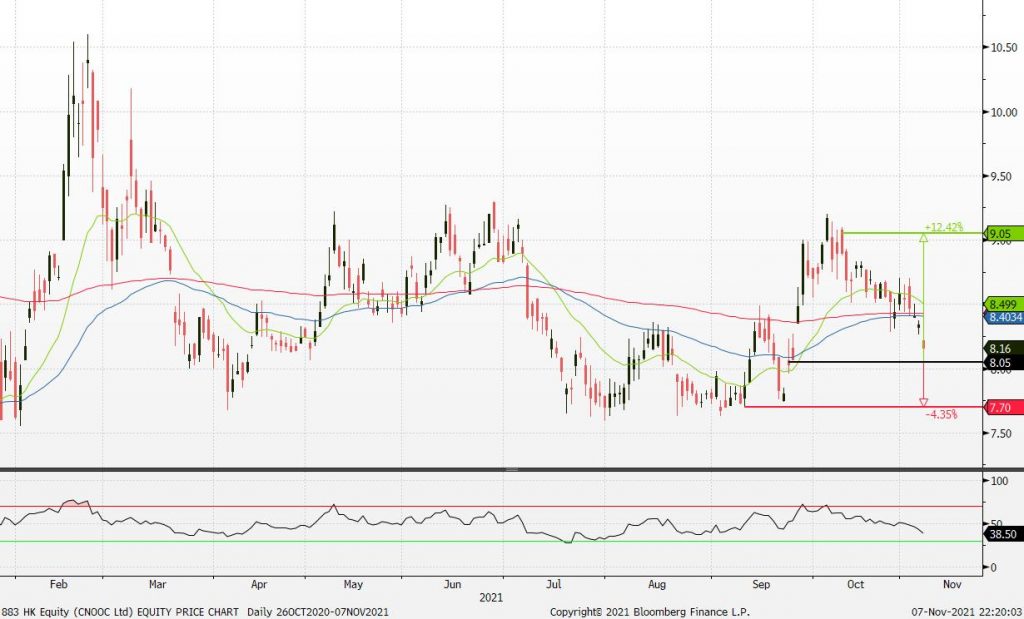 ---
Market Movers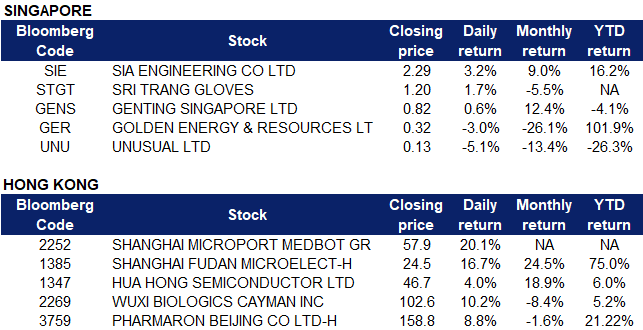 ---
United States
Top Sector Gainers
Top Sector Losers
Coinbase (COIN US) shares plummeted more than 13% in post-market trading after the company reported quarterly revenue of $1.31 billion, missing analyst expectations of $1.57 billion. The largest cryptocurrency exchange said that monthly transacting users fell from the previous quarter, and trading volume decreased from $462 million to $327 billion. The stock initially rose 2% in the premarket after bitcoin prices hit an all time high, rallying above $68,000 at one point; ethereum also set a new record above the $4,800 level. Coinbase said in the report that bitcoin accounted for 19% of trading volume, and ethereum accounted for 22%. The remaining 59% came from other crypto assets.
Tesla (TSLA US) shares closed nearly 12% lower, extending its losses for a second day after Elon Musk launched a Twitter poll on Sunday saying "Much is made lately of unrealized gains being a means of tax avoidance, so I propose selling 10% of my Tesla stock. Do you support this?". Musk also pledged to abide by the results of the poll, which received about 3.5 million replies, with almost 58% of the responses voting for "Yes". The drop is on pace to be the largest of the year for the stock, and comes after a fall of nearly 5% on Monday, disrupting a generally upward trend for the year. It was also reported that current and former board members including board chair Robyn Denholm, Elon Musk's brother Kimbal Musk, Ira Ehrenpreis and Antonio Gracias have also offloaded hundreds of millions of dollars worth of Tesla shares since 28 October.
Paypal (PYPL US) shares lost 10.5% on Tuesday after reporting a disappointing revenue forecast for next year in its third quarter results. The company posted revenue at $6.18 billion; analysts were expecting $6.23 billion. Earnings per share was at $1.11 compared to analyst estimates of $1.07. Revenue guidance for the year was revised down to 18%, putting it in the range of $25.3 billion to $25.4 billion. Analysts had expected $25.78 billion. Paypal also announced that it was teaming up with Amazon (AMZN US) to let customers in the U.S. pay with its mobile payment service Venmo at checkout, starting checkout, which drove the stock to climb initially in extended trading before taking a sharp turn down. Amazon shares closed 2.5% higher.
Palantir (PLTR US) shares fell as much as 10% after reporting its third quarter earnings, the biggest intraday drop for the company since February. The company, best known for its tech that helped locate Osama bin Laden reported earnings per share of $0.04 on revenue of $392 million, compared to analyst expectations of $0.04 and $385 million respectively. Palantir said it expects revenue for the fourth quarter to come in at $418 million, beating current estimates of $402 million. The operating margin in the period that ends in December will be 22%, the company said in a statement Tuesday. Analysts were expecting 24%, according to an average of estimates compiled by Bloomberg.
---
Singapore
SIA Engineering (SIE SP) shares jumped 4.8% yesterday. Singapore and Malaysia's Prime Ministers announced on Monday that travellers would be able to fly quarantine-free between Changi Airport and Kuala Lumpur International Airport (KLIA) from 29 November. DBS Group Research wrote in a report that SIE would likely gain from the implementation of more vaccinated travel lanes (VTLs), as traffic at Changi Airport, the main base for SIE's line maintenance operations, would be boosted. Additionally, SIE posted a net profit of $10.5 million for Q2 FY2022, bring H1 FY2022 earnings to $25 million.
Sri Trang Gloves Thailand (STGT SP) shares jumped 1.7% on Tuesday, after the company posted its third quarter results with a net profit of 4.53 billion baht or S$185.2 million, a 3% increase YOY on higher revenue. The company attributed the YOY growth in revenue to increase in average selling prices (ASP). Additionally, the company's board of directors has approved the payment of interim dividends at 1.25 baht per share to shareholders. The ex-dividend date will be 19 – 22 November, and dividends will be paid on Dec 7.
Genting Singapore (GENS SP) shares gained as much as 1.9% on Tuesday morning, riding on the upbeat sentiment towards travel-themed stocks. Previously, Pfizer (PFE US) released positive data on its antiviral oral COVID-19 pill. Additionally, the United States also ended its 20 months of restrictions on international travel, opening its borders to foreign visitors who are fully vaccinated against COVID-19. Genting posted its quarterly business overview yesterday, after market close.
Shares of Golden Energy and Resources (GER SP) lost another 1.5% on Tuesday. The company previously announced its plans to buy BHP Group's 80% stake in a joint venture with Mitsui & Co for US$1.2 billion, through its 75.3%-owned subsidiary, Stanmore Resources. Stanmore will pay US$1.1 billion on completion of the sale and an additional US$100 million six months after that. The companies also said that there is a potential for up to US$150 million in a price-linked earnout, payable in 2024. BHP will continue to operate BMC until completion and work with Stanmore during the ownership transition.
UnUsUaL Limited (UNU SP) shares slipped 5.2% after the company announced its half yearly results. The company narrowed its net loss by 54.1% to $1.6 million despite its revenue declining 60.8% from the year before. The decrease in revenue was largely attributed to lower promotion revenue, due to a 67% decrease in the number of completed projects. Unusual said that the group is taking a careful and measured approach to roll out live events in Singapore as the government had estimated that it would take between 3 and 6 months to get to a "new normal" of living with COVID-19 in October.
Trading Dashboard Update: Add Bumitama Agri (BAL SP) at S$0.55. Remove Frencken (FRKN SP) at S$2.24.
---
Hong Kong
Shanghai MicroPort MedBot Group Co Ltd (2252 HK). Shares gained 20.1% yesterday., extending its rally for 3 consecutive days. The company is a subsidiary of MicroPort Scientific Corporation (853 HK) and was recently listed on 2 November. It was reported that the company is actively carrying out strategic cooperation on a global scale, establishing partnerships with many top international surgical robot companies and accelerating the deployment of R&D centers in many overseas countries and regions such as Singapore. Surgical robots have high clinical value, which can effectively improve the accuracy and stability of surgery, shorten the recovery period of patients after surgery, and reduce the occurrence of complications. According to Frost & Sullivan's report, the global surgical robot market has increased from USD 3bn in 2015 to USD 8.3bn in 2020, and may reach USD 33.6bn in 2026.
Shanghai Fudan Microelectronics Company (1385 HK), Hua Hong Semiconductor Ltd (1347 HK). Semicon shares rose collectively yesterday. Shanghai Fudan's shares rose 16.7% while Hua Hong's shares rose 4%. Yesterday, Cinda Securities released a research report with a BUY rating on Hua Hong. In the report, Cinda Securities is expecting revenue of US$ 14.98/20.24/23.5bn in 2021-23, and a net profit attributable to the parent of US$ 1.87/2.3 /298mn. The bank commented that Hua Hong's 8-inch price increase and product structure optimization would continuously improve profitability. In addition, the 12-inch production capacity continues to climb, which is the core driving force for the company's growth. According to Bloomberg consensus, the company currently has a rating of 20 BUYS, 7 HOLDS and 1 SELL, with a 12M TP of HK$54.82, representing an upside potential of 17.5% as of yesterday's closing price. The overall positive sentiment on the semicon industry was also boosted by US-listed semicon stocks such as Nvidia and AMD which have reached all-time highs.
WuXi Biologics (Cayman) Inc (2269 HK), Pharmaron Beijing Co Ltd (3759 HK). Pharma stocks rose collectively yesterday. WuXi Biologics' shares rose 10.2% while Pharmaron Beijing's shares rose 8.8%. Yesterday, Credit Suisse released a research report maintaining an OUTPERFORM rating on WuXi Biologics with a TP of HK$151. In the report, Credit Suisse commented that the CXO sector has undergone significant adjustments recently due to market influences. The company's stock price fluctuations are believed to be mainly affected by short-term market pessimism. However, the bank still believes that the prospects of the CXO industry are sound and that the company's fundamentals are stable, ranking Wuxi Biologics as one of the top choices in the industry. According to Bloomberg consensus, the company currently has a rating of 34 BUYS, 1 HOLD and 0 SELL, with a 12M TP of HK$157.46, representing an upside potential of 53.5% as of yesterday's closing price.
---
Trading Dashboard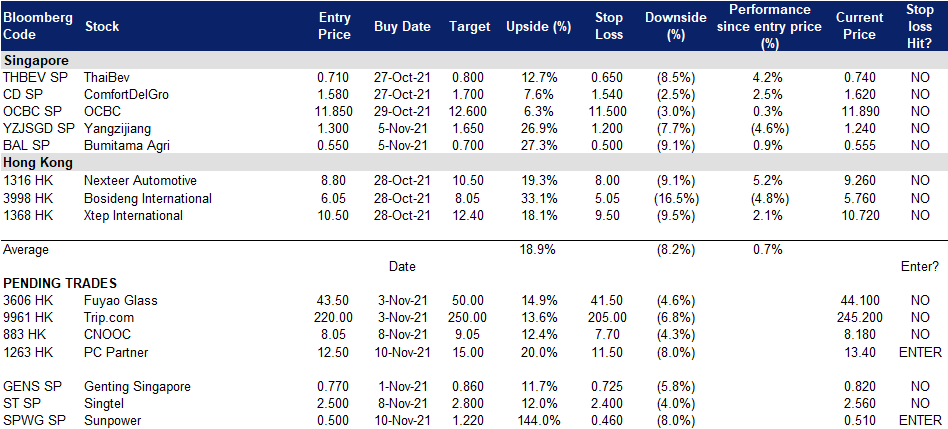 ---

---
Related Posts: