10 June 2022: Rex International Holding Ltd (REXI SP), China Oilfield Services Limited (2883 HK)
Singapore Trading Ideas | Hong Kong Trading Ideas | Market Movers | Trading Dashboard

Rex International Holding Ltd (REXI SP): Upbeat Chinese trade data
Rex International Holding Limited operates as an independent oil exploration and production company. It operates through Oil and Gas, and Non-Oil and Gas segments. The company offers Rex Virtual Drilling, a liquid hydrocarbon indicator, which uses seismic data to search for oil. The company is involved in the oil and gas exploration and production activities with a focus in Oman and Norway.
Recovery in China's demand for oil. China, the world's top crude oil buyer, imported 45.83 million tonnes last month, data from the General Administration of Customs showed on Thursday, equivalent to 10.79 million barrels per day (bpd). That compares to 10.5 million bpd in April and to a 2021 average of 10.3 million bpd. Meanwhile, China's May exports jumped 16.9% from a year earlier as easing COVID curbs allowed some factories to restart, the fastest growth since January this year and more than double analysts' expectations.
Supply remains tight. Iran removing two International Atomic Energy Agency surveillance cameras at a uranium enrichment facility raised tensions with the United States and other countries negotiating with Iran over its nuclear program, and will likely keep sanctions in place and Iranian oil out of the global market for longer. Efforts by the Organization of the Petroleum Exporting Countries and their allies, including Russia, a group known as OPEC+, to boost output are "not encouraging", United Arab Emirates' Energy Minister Suhail al-Mazrouei said, noting the group was currently 2.6 million bpd short of its target.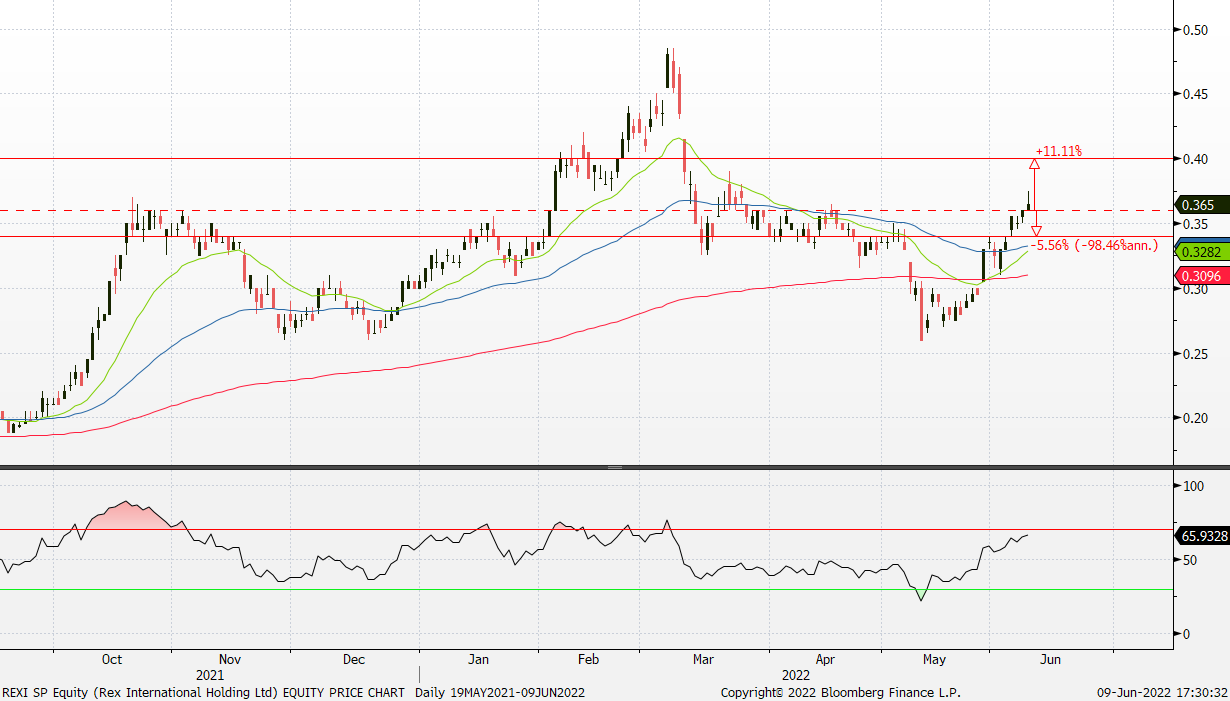 (Source: Bloomberg)

Yangzijiang Shipbuilding Holdings Ltd (YZJSGD SP): Easing of Shanghai's lockdown measures
Yangzijiang is China's largest private shipbuilder. The Group produces a range of commercial vessels, including mini bulk carriers, bulk carriers, multi-purpose cargo vessels, containerships, chemical tankers, offshore supply vessels, rescue and salvage vessels and lifting vessels. Yangzijiang has been at the forefront of shipbuilding in China.
Reopening of Shanghai's port to spur shipping activities. China's shipping industry is bracing for an uptick in demand and freight costs as manufacturing activity in Shanghai roars back to life following the end of a two-month lockdown. Although it was operational during the citywide lockdown, capacity was largely restrained because of the reduced availability of goods. Congestion at the port of Shanghai is also steadily normalising, though the level remains high for this time of the year, according to data from VesselsValue, a shipping data provider.
Recovery of export and import activities. Official and private surveys showed China's factory activity contracted at a slower pace in May as COVID-19 curbs in major manufacturing hubs eased, with a gauge on export orders improving. Exports in May likely grew 8.0% from a year earlier, accelerating from a 3.9% expansion in April, according to a median forecast in a Reuters poll of 28 economists. Official data showed the average daily container throughput at the Port of Shanghai rose 7% in May from a month earlier.
A record year for orderbook. In 2021, the group secured record order wins for 124 vessels with a total contract value of US$7.41 billion. The group has focused on building containerships and clean energy vessels which typically demand higher margins given their higher value-add over dry bulkers and tankers. As at the end of 2021, Yangzijiang had an orderbook of US$8.5bn for 157 vessels, with containerships accounting for >US$7bn or 83% of total existing contract value.
Positive consensus estimates. Currently, Yangzijiang Shipbuilding has a consensus rating of 7 BUYS, 1 HOLD and 0 SELL, with a 12M TP of S$4.63. The company is currently trading at 5.69x/5.10x/5.15x P/E to its FY22/23/24 EPS.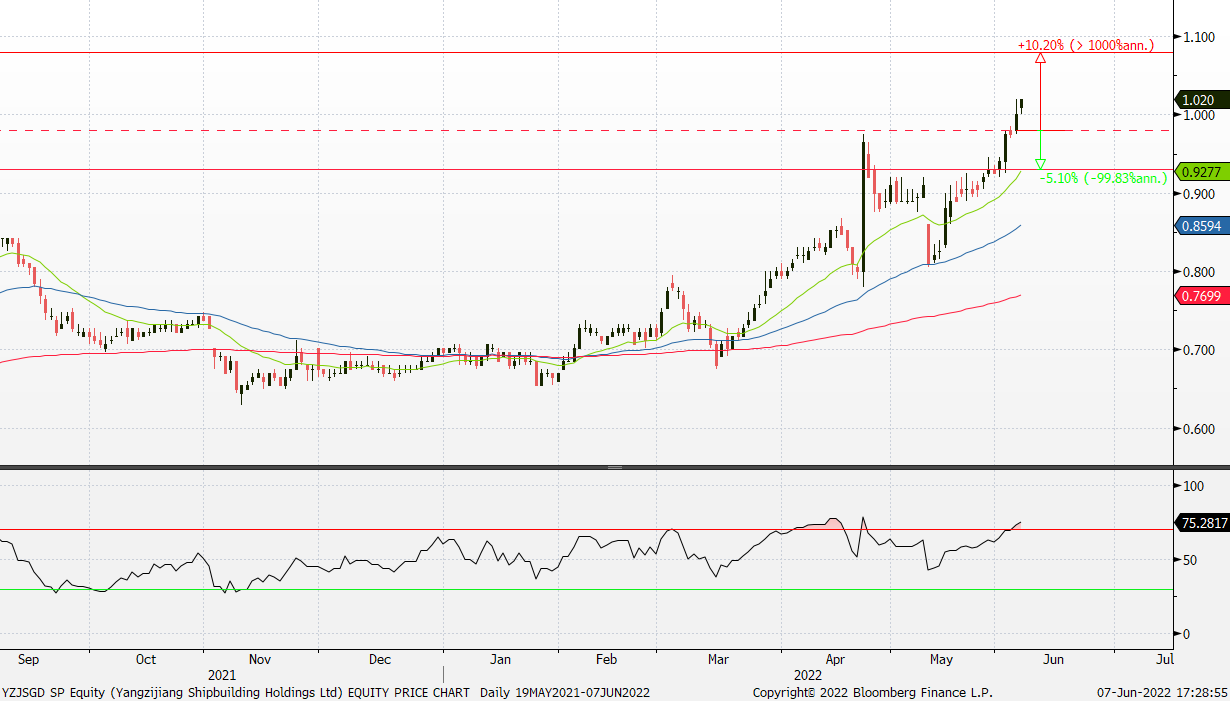 (Source: Bloomberg)


China Oilfield Services Limited (2883 HK): Hit a 52-week high
Buy Entry – 9.5 Target – 10.9 Stop Loss – 8.8
China Oilfield Services Limited is a comprehensive oilfield service provider. The Company mainly operates through four business segments. The Drilling Services segment is mainly engaged in the provision of oilfield drilling services. The Oil Field Technical Services segment is mainly engaged in the provision of oilfield technical services, including the logging, drilling fluids and directional drilling services. The Geophysical and Engineering Exploration Services segment is mainly engaged in the provision of seismic prospecting and engineering exploration services. The Marine Support Services segment is engaged in the transportation of supplies, including the delivery of crude oil, as well as refined oil and gas products. The Company mainly operates its businesses in domestic and overseas markets.
Oil to hit a new high this year. With the ease of COVID lockdown measures in China's major cities, the domestic economic and production activities gradually normalise. Accordingly, the demand for petroleum in China will recover. Previously, Saudi Arabia raised the July official selling price (OSP) for its flagship Arab light crude to Asia by $2.10 from June to a $6.50 premium, the highest since May, when prices hit all-time highs due to worries of disruption in supplies from Russia. The price increase followed a decision last week by the OPEC+ to boost output for July and August by 648,000 bbls/day. Goldman Sachs economists have predicted oil prices will surge to $140 a barrel this summer, with a drop in Russian production and a gradual recovery in Chinese demand adding to the pressure on already low supplies.
1Q22 results review. Gross revenue grew by 15.2% YoY to RMB6.8bn. Gross profit grew by 10.8% YoY to RMB733.7mn. Net profit attributable to shareholders of the company jumped by 67.7% YoY RMB303.8mn. Net profit excluding non-recurring gain and loss attributable to shareholders of the company jumped by 76.5% YoY to RMB266.7mn.
Key operations highlights
Mean reversion of capex. During 2020/21, the global integrated oil companies trimmed the capex of the exploration and production substantially. According to Bloomberg, the capex of oilfield services and equipment is expected to jump by 40% YoY to US$5.1bn in 2022. The performance of the exploration sector still lags behind the production sector currently, but it will catch up eventually.
Updated market consensus of the EPS growth in FY22/23 is 852.7%/22.1% YoY respectively, which translates to 13.4x/11.0x forward PE. The current PER is 92.3x. Bloomberg consensus average 12-month target price is HK$10.98.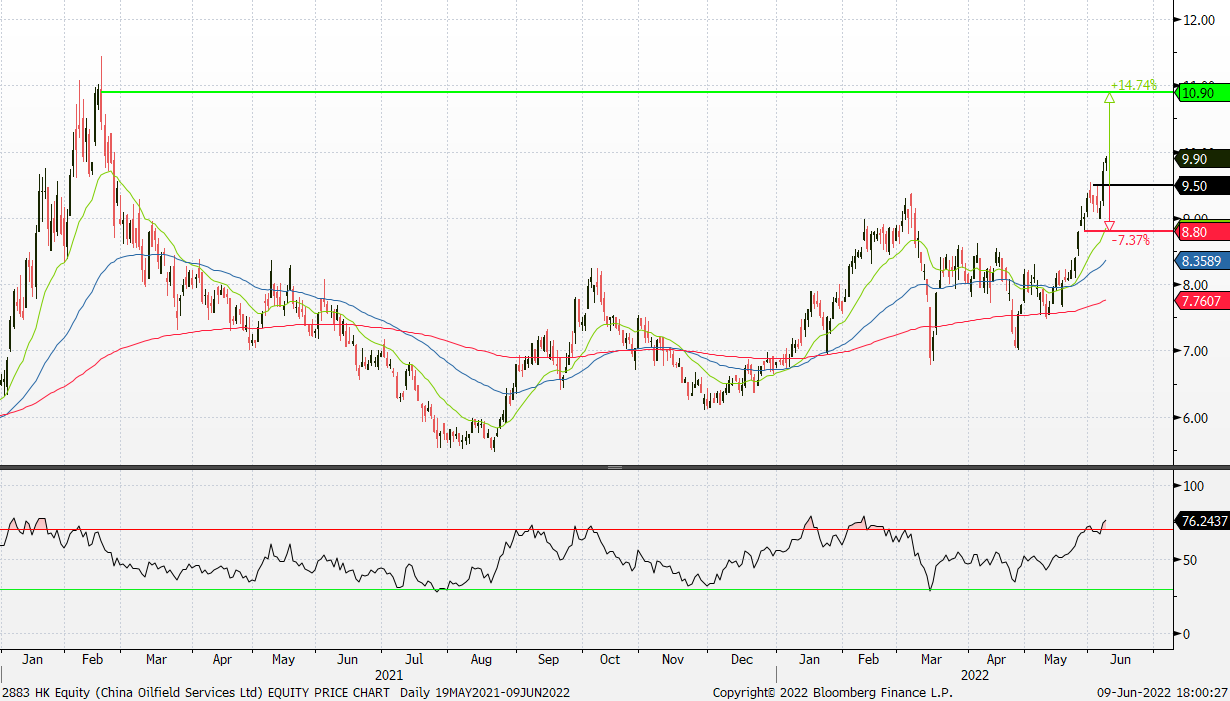 (Source: Bloomberg)

Ganfeng Lithium Co Ltd (1772 HK): To break out of the consolidation
RE-ITERATE Buy Entry – 100 Target – 115 Stop Loss – 93
GANFENG LITHIUM CO., LTD. is a China-based company principally engaged in the research, development, production and sales of deeply processed lithium products. The Company's main products include lithium compounds, lithium metal and lithium batteries. The Company's products are mainly used in electrical vehicles, chemicals and pharmaceuticals. The Company distributes its products in the domestic market and to overseas markets.
A large lithium mining project commenced operation. The company and its subsidiary Litio Minera Argentina kicked off this week the construction phase of their Mariana lithium project, located in Argentina's northwestern Salta province. Based on a feasibility study completed in 2019, the Mariana project has a measured and indicated resource of 4,410,000 tonnes of lithium carbonate equivalent and an inferred resource of 786,000 tonnes of LCE. Once fully operational, total production should reach 20,000 tons of lithium chloride per year.
Stellar 1Q22 results. Operating income jumped by 233.9% YoY to RMB5.4bn. Net profit attributable to shareholders of the listed company jumped by 640.4% YoY to RMB3.5bn. Net profit attributable to shareholders of the listed company after deduction of non-recurring gains and losses jumped by 956.4% YoY to RMB3.1bn.
Lithium carbonate prices remained at high levels. Lithium carbonate prices in China were at 486,500 yuan/tonne in early June, rising from the three-month lows of 457,700 that held through May amid a rebound in demand projections as strict Covid lockdowns in Shanghai were relaxed. The recent fiscal stimulus for the automobile sector was expected to boost EV sales, propelling demand for lithium and related EV battery raw materials.
The updated market consensus of the EPS growth in FY22/23 is 133.9%/7.8% YoY, respectively, translating to 10.1×/9.4x forward PE. The current PER is 15.2x. Bloomberg consensus average 12-month target price is HK$159.6.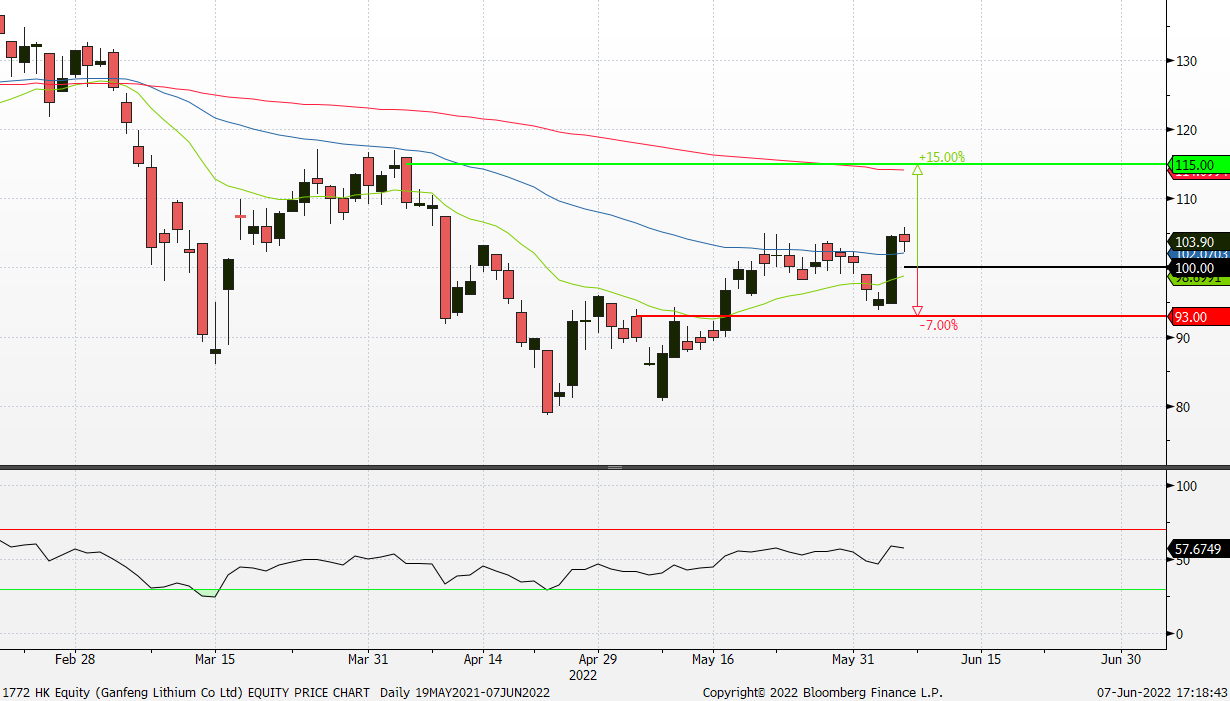 (Source: Bloomberg)





United States
Top Sector Gainers
Top Sector Losers
Ollie's Bargain Outlet Holdings Inc (OLLI US) stock jumped 4.3% on an upgrade from RBC Capital Markets to outperform from sector perform following Ollie's recent quarterly report.
Novavax Inc (NVAX US) shares tumbled 17.2% on news that the FDA could postpone a decision on Novavax's Covid-19 vaccine. The FDA needs to evaluate changes to the drugmaker's manufacturing process, a spokesperson told CNBC.
Skillsoft Corp (SKIL US) stock plummeted 19.2% after the learning platform posted quarterly results. The company reported a smaller loss than analysts anticipated but posted revenue that fell below analysts' expectations.
Alibaba Group Holding Ltd (BABA US) shares dropped 8.1% yesterday after its financial affiliate Ant Group said there were currently no plans to revive a public listing. The China Securities Regulatory Commission said it had not conducted "evaluation and research work" regarding the potential Ant Group IPO.
Nio Inc (NIO US) shares fell 7.7% following the Chinese electric vehicle maker's recent quarterly earnings report. The company struggled during China's Covid-19 lockdowns and is facing a margin squeeze unlikely to begin recovering until the third quarter, said CEO William Bin Li during an earnings call.
---
Singapore
Dyna-Mac Holdings Ltd (DMHL SP), RH Petrogas Ltd (RHP SP) and Rex International Ltd (REXI SP) shares rose 6.1%, 1.8% and 1.4% respectively yesterday. WTI crude futures held around $122 per barrel on Thursday after settling 2.3% higher in the previous session, amid signs of further market tightness in US crude inventories. Crude stocks at the Cushing hub dropped to the lowest since early March, while gasoline inventories are at the lowest seasonal level in eight years, EIA data showed. Fuel consumption is rising even as retail gasoline prices approach a record $5 per gallon, with the four-week average for motor fuel demand rising to 9 million barrels a day for the first time this year following the Memorial Day weekend. Oil prices have been pushed higher this year as economies recovered from the pandemic, while Russia's invasion of Ukraine disrupted trade flows and caused further tightening. China's ongoing reopening after recent lockdowns also added to the buying pressure.
Sembcorp Industries Ltd (SCI SP) shares rose 1.4% yesterday. Sembcorp Industries, through its wholly-owned subsidiary Sembcorp Energy (Shanghai) Holding Co. Ltd, has completed the acquisition of a 98% interest in a portfolio of operational wind and solar photovoltaic (PV) assets from CGN Capital Partners Infrastructure Fund III and its affiliates. Including this 658MW portfolio, Sembcorp's gross renewables capacity in operation and under development globally now stands at 6.8GW. This brings the Group more than halfway to its target of 10GW of gross installed renewables capacity by 2025, one of the key goals within Sembcorp's brown to green transformation strategy.
Bumitama Agri Ltd (BAL SP) shares lost 2.6% yesterday. Indonesia has launched an export acceleration scheme aimed at shipping at least 1 million tonnes of crude palm oil and derivatives following a recent export ban, according to a trade ministry regulation made public on Thursday (Jun 9). The regulation is effective immediately and the acceleration scheme applies until Jul 31. If a larger shipment quota is required, the quota can exceed the 1 million limit, said the regulation, which was signed on Jun 7.

Hong Kong
Top Sector Gainers
Top Sector Losers
New Oriental Education & Technology Group Inc (9901 HK) Shares jumped 10.0% and closed at a four-month high. Previously, the company established an educational product sales platform. According to the founder, the company had set up a "New Oriental Live-Streaming" team. Different from the "Oriental Selection" which focuses on agricultural products, the new channel is dedicated to promoting its education products and those related to education, such as books, smart hardware and software learning devices, in addition to study-related stationery.
Everbright Securities Company Limited (6178 HK) Shares rose 7.3% and closed at a three-month high yesterday. There was no company-specific news. The brokerage sector jumped as the valuation of the sector is low, attracting some fund inflows.
Greentown China Holdings Limited (3900 HK) Shares rose 7.02% yesterday. Previously, the company announced its May operational data. The company sold 3,580 units of self-investment projects with a saleable area of approximately 460,000 sqm in May 2022. Monthly sales reached approximately RMB11.9bn, with an approximate average selling price of RMB25,823 per sqm. From January to May 2022, Greentown Group recorded a saleable area of 2,370,000 sqm, with a contracted sales amounting to approximately RMB58.8bn; of which approximately RMB31.3bn was attributable to the Greentown Group. As at 31 May 2022, in addition to contracted sales, Greentown Group recorded subscription sales of RMB5.4bn, of which approximately RMB2.9bn was attributable to Greentown Group.
COSCO SHIPPING Holdings Co., Ltd (1919 HK) Shares fell 7.7% yesterday. Orient Overseas International Ltd (316 HK) Shares fell 11.4% yesterday. The shipping sector saw a big correction as the Baltic Dry Index dropped to a one-month low. Retail sales in the US have slowed down, causing inventory to pile up. Investors expect the demand for shipping from East Asia to the US West Coast to fall in the near term.

Trading Dashboard Update: No additions/deletions of stocks.