10 January 2022: UOB (UOB SP), Aluminum Corporation of China (2600 HK)
Singapore Trading Ideas | Hong Kong Trading Ideas | Market Movers | Trading Dashboard
SINGAPORE
UOB (UOB SP): Houston, we have liftoff
BUY Entry – 27.90 Target – 30.00 Stop Loss – 27.00
UOB is Singapore's third largest largest bank by total assets. As at the end of 2020, it had S$431bn in total assets and generated a net income of S$2.92bn. The bank has more than 500 offices across 19 countries and offers a range of commercial and personal banking products and services.
Rates liftoff. Markets are increasingly pricing in a March rate hike in the US after the improvement in unemployment rate last week. US 10-year yields rose to a high of 1.80% last week to reach pre-pandemic levels. In a step further, economists as surveyed by Bloomberg are now penciling in the prospect that the US Fed may even start balance sheet contraction in the second half of the year.
Positive consensus forecasts. UOB is currently trading at 1.1x FY2021F P/B and offers a 4.2% to 5.2% forecasted dividend yield for FY2021-23. EPS is forecasted to grow at an average of 21% per annum over the next three years. The street is overall bullish on the stock, with 18 BUYS and 2 HOLDS, and no SELL rating. The 12m average target price is S$31.46, implying a 11% upside potential from the last close price. We expect positive fourth quarter results due on the first week of Feb to lead to an upward rerating among banking stocks overall.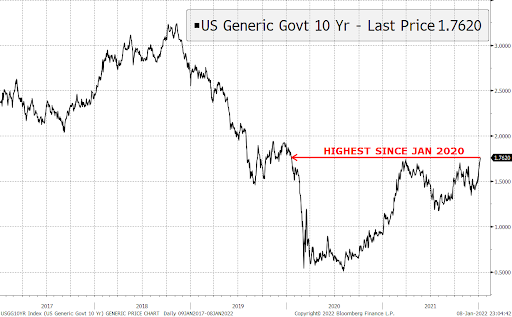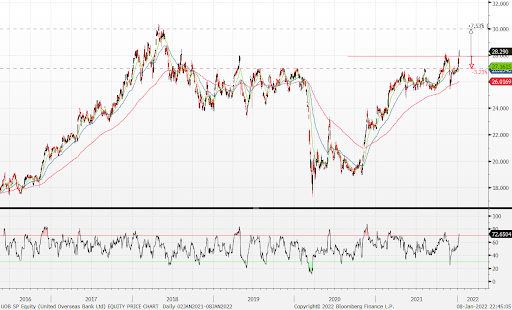 ---
First Resources (FR SP): Palm oil prices are near all-time highs again
RE-ITERATE BUY Entry – 1.60 Target – 1.80 Stop Loss – 1.55
Established in 1992 and listed on the SGX since 2007, First Resources is one of the leading palm oil producers in the region, managing over 200,000 hectares of oil palm plantations across the Riau, East Kalimantan and West Kalimantan provinces of Indonesia. The group's core business activities include cultivating oil palms, harvesting, and milling them into crude palm oil (CPO) and palm kernel (PK). In addition, the group through its refinery, fractionation, biodiesel and kernel crushing plants, processes its CPO and PK production into higher value palm-based products such as biodiesel, refined, bleached and deodorised (RBD) olein and RBD stearin, palm kernel oil and palm kernel expeller.
Palm oil prices are back to all-time highs. Palm oil futures greeted the new year by surging to near all-time highs, triggered by concerns that heavy rain across seven states in Malaysia may slow down palm oil production. The Southern Peninsular Palm Oil Millers Association said it expects an 8.5% MoM decline in palm oil output from the Peninsular Malaysian region in December.
4Q2021 earnings is the key catalyst. Given stronger palm oil prices and the absence of hedging on the company's part, we think 4Q results may surprise on the upside. The company is scheduled to report its full year results on 25 February 2022.
Room to outperform consensus view. After the 20% rally in share price over the past year, analysts have turned more cautious. There are still 5 BUYS and 4 HOLDS as of 6 Jan 2022, but a shade lower than the 7 BUYS in the same period last year. However, against the cautious consensus backdrop, we think the company has more room to outperform when it reports its full year results.
Palm Oil Futures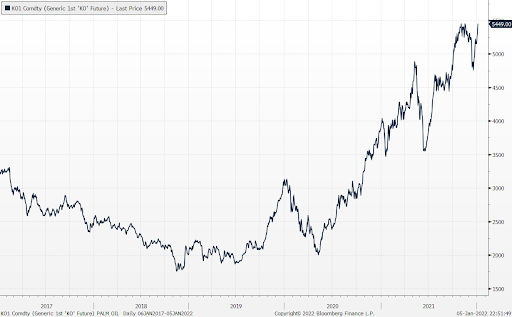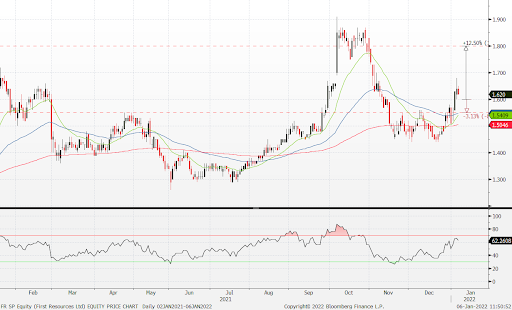 ---
HONG KONG
Aluminum Corporation of China (2600 HK): Stock price lagging futures price
Buy Entry – 4.25 Target – 5.00 Stop Loss –3.95
Aluminum Corp of China Ltd is a China-based company principally engaged in the production and sales of alumina, primary aluminum and aluminum alloy products. The Company operates businesses through five segments. The Alumina segment is engaged in the production and sales of alumina, fine alumina and aluminum ore. The Primary Aluminum segment is engaged in the production and sales of primary aluminum, carbon products, aluminum alloys and other electrolytic aluminum products. The Energy segment is mainly engaged in coal mining, thermal power generation, wind power generation, photovoltaic power generation and new energy equipment manufacturing. The Trading segment mainly provides alumina, primary aluminum, aluminum processed products and other non-ferrous metal products and coal and other raw materials, auxiliary materials trading and logistics services. The Headquarters and Other Operating segment is engaged in other research and development of aluminum business and other activities.
Aluminium futures jumped to a two-month high. LME aluminium futures closed at US$2,904.25/tonne on the first week of 2022, up 3.5% WoW, and highest since 25th October 2021. On one hand, China started to build inventories seasonally at the start of the year; on the other hand, Indonesia suddently initiated a coal export ban, which raised concerns of the regional aluminium production in Asia as electricity supply could be impacted. Meanwhile, the elevated power prices in Europe due to rising gas prices propelled aluminium futures prices upward.
Monetary policy: China loosening vs US tightening. It is uncommon for the largest and second largest economies to be out of sync in terms of monetary policies. PBOC has lowered the RRR and LPR, while the US is discussing an earlier date to tapering and to enter the rate hike cycle. It will be a mixed signal for commodities. However, supply chain issues remain due to the surge in omicron infections. Hence, hard commodities prices will stay afloat in the near term.
The updated market consensus of the EPS growth in FY22/23 is 18.1%/13.4% YoY respectively, which translates to 8.7x/8.7x forward PE. Current PER is 11.3x. Bloomberg consensus average 12-month target price is HK$6.47.
LME Aluminium price trend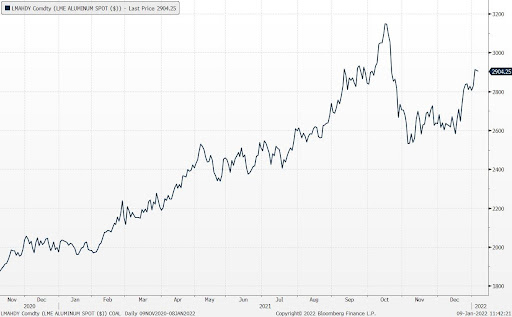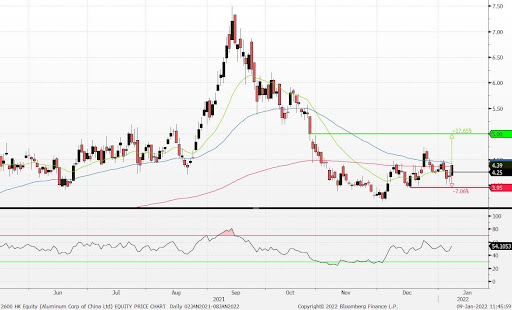 ---
Nexteer Automotive Group Ltd (1316 HK): Proxy trade of Ford and General Motors
RE-ITERATE Buy Entry – 9.4 Target – 10.6 Stop Loss – 8.8
Nexteer Automotive Group Limited is an investment holding company. The Company through its subsidiaries are primarily engaged in the design and manufacture of steering and driveline systems, advanced driver assistance systems (ADAS) and automated driving (AD) and components for automobile manufacturers and other automotive-related companies. Its operations are in the United States of America (USA), Mexico, Poland and the People's Republic of China (China). The principal markets for the Company's products are North America, Europe, South America, China and India. The Company has approximately 27 manufacturing plants, one global technical center, over two regional technical centers, one software service center and approximately 13 customer service centers. Its subsidiaries include Nexteer US Holding I LLC, Rhodes I LLC, Steering Solutions IP Holding Corporation, Chongqing Nexteer Steering Systems Co., Ltd., CNXMotion, LLC and Dongfeng Nexteer Steering Systems (Wuhan) Co., Ltd.
Ford Motor (F US) reached a 20-year high. The demand for the EV version of the Ford F150 pickup truck, F150 Lightning, is so strong that the company had to stop reservations. The preorder of this pickup model had reached 200,000 units. The CEO mentioned they were pushing full production capacity at 70,000 or 80,000 units for the Lightning. The other auto giant General Motor (GM US) also planned to invest more than US$3 billion to make electric vehicles in its home state of Michigan. North America is the main revenue contribution for Nexteer, accounting for more than 60% of the total annual revenue over the past 5 years. General Motors and Ford are two of the key customers of Nexteer. GM's EV pickup truck, the electric Chevrolet Silverado, features all of Nexteer's product lines, including the HO REPS, Ball Spline Axle Halfshaft and steering column. Ford's F150 Lightning utilises Nexteer's REPS system with 10-FIT High Availability technology, as well as the power steering column.
Nexteer's price performance mimicking Ford's and GM's movements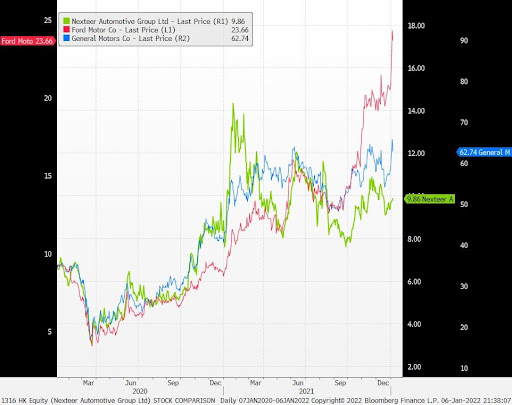 Updated market consensus of the EPS growth in FY22/23 are 52.2%/20.2% YoY respectively, which translates to 11.1x/9.3x forward PE. Current PER is 16.0x. Bloomberg consensus average 12-month target price is HK$12.64.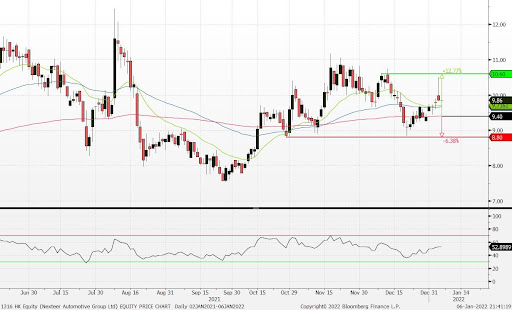 ---
MARKET MOVERS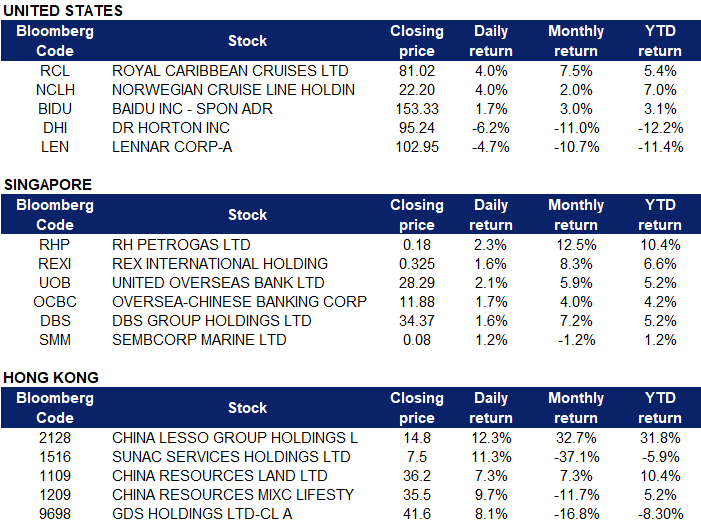 ---
United States
Top Sector Gainers
Top Sector Losers
Cruise stocks, Royal Caribbean Cruises Ltd (RCL US) and Norwegian Cruise Line Holdings Ltd (NCLH US) both gained 4% on Friday after Stifel analyst Steven Wieczynski declared 2022 was going to be the "Year of the Cruise!". Given that cruises "massively underperformed" versus other reopening stocks last year, Wieczynski likes the setup for cruise stocks as top choices for investors playing the continued reopening in 2022. While he believes the ongoing omicron surge may cause some delays or noise around getting back to full speed, cruise lines should get back to somewhat normal operations through 2022 and eventually approach cash flow breakeven, he says. Specifically, Wieczynski named Royal Caribbean as his top pick for the year.
Baidu Inc (BIDU US) extended its gains last Friday and shares rose 1.7%. The Chinese search engine and artificial intelligence firm said on Thursday that the electric vehicle being developed by its carmaking arm, Jidu Automotive, will have level 4 autonomous driving capability, which means these cars do not require human interaction in most circumstances. The as yet unnamed model will be unveiled at the Beijing car show in April. Analysts said that Baidu's announcement was meant to signal to Chinese drivers that its vehicles will probably be the most advanced among all smart cars on the mainland next year.
Homebuilding shares DR Horton Inc (DHI US) and Lennar Corp (LEN US) declined 6.2% and 4.2% on Friday, as the continued rise in Treasury yields and mortgage rates weighed heavily on the home-builders sector. The yield on the 10-year Treasury note, which is used to calculate mortgage rates, rose 4.0 basis points to a 2-year high of 1.773%. The fear is that higher rates could make homes less affordable.
---
Singapore
RH Petrogas (RHP SP) and Rex International Holdings Ltd (REXI SP) shares gained 2.3% and 1.6% respectively yesterday, in tandem with rising Crude and Brent oil prices. WTI crude futures hovered near $80 per barrel on Friday while Brent crude futures held above $82 per barrel, both heading towards their third weekly advance, as the market tightened due to a civil unrest in Kazakhstan and supply outages in Libya. The supply disruptions came as OPEC+ kept its existing policy of modest monthly output increases, citing a mild and short-lived impact on fuel demand from the omicron variant. Meanwhile, US crude stockpiles fell lower than expected while gasoline and distillate inventories rose, raising concerns about fuel demand among investors.
Bank stocks, United Overseas Bank Ltd (UOB SP), Oversea-Chinese Banking Corp Ltd (OCBC SP) and DBS Group Holdings Ltd (DBS SP) rose collectively on Friday, likely due to a spillover effect from the US, after the Fed's FOMC meeting minutes were released last week. The Fed, now expected by traders to raise interest rates in March and begin reducing its asset holdings soon afterward, will provide the dollar with an edge over other major currencies. Financial markets are now pricing in at least three US rate hikes this year. Additionally on Thursday, UOB Kay Hian Research analyst Jonathan Koh, recommends OVERWEIGHT on the Singapore banking sector, citing that interest rates would be on an upcycle after quantitative easing (QE) tapering is completed by March 2022. Koh is recommending BUY on both DBS with a target price of S$40.28, and OCBC with a target price of S$16.12, with a 2023 dividend yield of 4.5% and 4.8% respectively.
Sembcorp Marine Ltd (SMM SP) shares rose 1.2% on Friday, after the company announced that it has completed its first floating production unit newbuild – the Vito Regional Production Facility for Shell Offshore Inc. The successful delivery further demonstrates the Group's Tuas Boulevard Yard value proposition as a one-stop production facility capable of fabricating, assembling and installing larger and heavier integrated structures which help fulfil business objectives of safety, quality, time and cost.
---
Hong Kong
Top Sector Gainers
Top Sector Losers
China Lesso Group Holdings Ltd (2128 HK) shares gained 12.3% on Friday. Zhongtai Securities stated that leading pipe material companies are actively engaged in municipal administration and hydropower business, with expectations that approximately 20% of municipal business income will contribute to the revenue of these companies. In addition, the price of building materials and raw materials have fallen, expecting to ease cost pressure on enterprises. According to Bloomberg consensus estimates, China Lesso Group Holdings currently has a rating of 13 BUYS, 0 HOLD and 0 SELL, with a 12M target price of HK$23.93.
Sunac Services Holdings Ltd (1516 HK), China Resources Land (1109 HK). Property sector shares rose collectively on Friday. Shares rose 11.3% and 7.3% respectively. China called on banks to boost real estate lending in the first quarter and eased a key debt restriction for developers, a sign that the authorities are becoming increasingly concerned about the industry's liquidity crisis. At the same time, borrowing by major property firms used to fund mergers and acquisitions will no longer be counted towards the "three red lines" metrics that limit debt. Regulators are dialling back the intensity of a multi-year crackdown on the nation's real estate sector as they try to engineer a soft landing after years of debt-fuelled expansion.
China Resources Mixc Lifestyle Srvcs Ltd (1209 HK) shares rose 9.7% on Friday. The company previously announced that it plans to acquire Yuzhou Property for RMB1.06bn. Haitong Securities believes that the acquisition will broaden the company's project layout in Fujian, Anhui, Zhejiang and other regions, thereby increasing the company's competitiveness. Considering the company's leading position in the industry coupled with strong shareholder background, Haitong Securities issued an OUTPERFORM rating on the company, with a reasonable range of HK$35.84-39.61 per share.
GDS Holdings Ltd (9698 HK) shares rose 8.1% on Friday. The company recently announced its upcoming business plans which align with China's carbon neutrality policy moving forward. Yi Bin, Vice President of GDS Technology and Chief Architect of Smart DC, said: "Focusing on the core business segments of green and low-carbon, agile delivery and intelligent operation, we have built the first Turbo, D-Pre and X-BP series of products. The first-generation Smart DC creates the ultimate experience for customers in using new technologies to build zero-carbon DC, prefabricated digital construction delivery, and full-stack intelligent management."
---
Trading Dashboard
Trading Dashboard Update: Add Xtep International (1368 HK) at HK$11.28. Cut iFast Corp (IFAST SP) at S$7.86.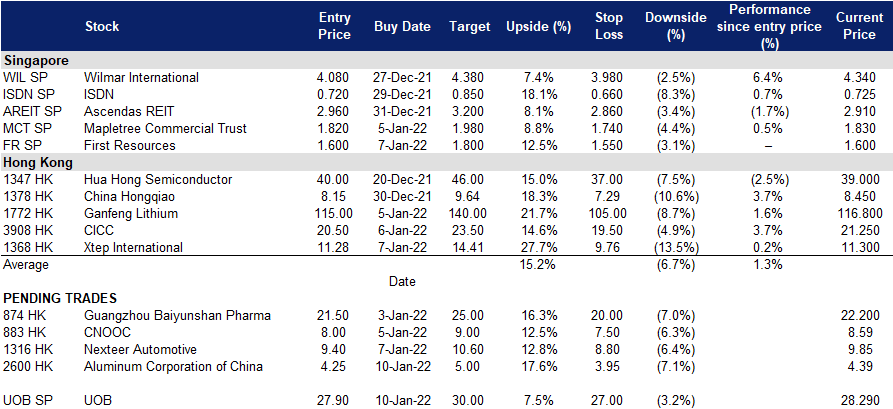 (Click to enlarge image)
---