KGI DAILY TRADING IDEAS – 1 September 2021
Singapore Trading Ideas | Hong Kong Trading Ideas | Market Movers | Trading Dashboard
SINGAPORE
OCBC (OCBC SP): Technical support at $11.38
BUY Entry – 11.43 Target –12.40 Stop Loss – 11.00
OCBC is Singapore's longest established bank, formed in 1932 from the merger of three local banks. It is now the second largest financial services group in Southeast Asia by assets and one of the world's most highly-rated banks, with Aa1 by Moody's and AA- by both Fitch and S&P. Assets under management (AUM) at its private banking subsidiary, Bank of Singapore, grew 11% YoY to US$125bn (S$169bn) as at 30 June 2021.
Recovery from the pandemic. OCBC's 1H2021 net profit surged 86% YoY and 23% HoH to S$2.7bn, driven by a 29% increase in non-interest income and substantially lower allowances. 1H2021 ROE rose to 10.8% from 6.1% in the prior year period. Given the stronger performance, the bank's interim dividend was reinstated back to 25 Sing cents, up from 15.9 Sing cents in the prior year, and back to where it was pre-Covid.
Technical support. Shares of OCBC have dropped almost 10% from its recent peak and are now supported by the critical 200 day simple moving average. RSI also dropped to just slightly above 30 yesterday. The selling pressure on OCBC can be attributed to the reduction of the banks weighting in the MSCI. OCBC's weight in the index will decline from 16.43% (before 31 Aug 2021), to 15.16% after August 2021, and down to 13.83% in November 2021 and 11.76% in February 2022.
Positive consensus estimates. There are 17 BUYS and 5 HOLDS with an average TP of S$13.92, implying a total return of 22%. OCBC currently trades at 1.01x forward P/B, an almost 40% discount to DBS, while offering a decent 4-5% forward dividend yield.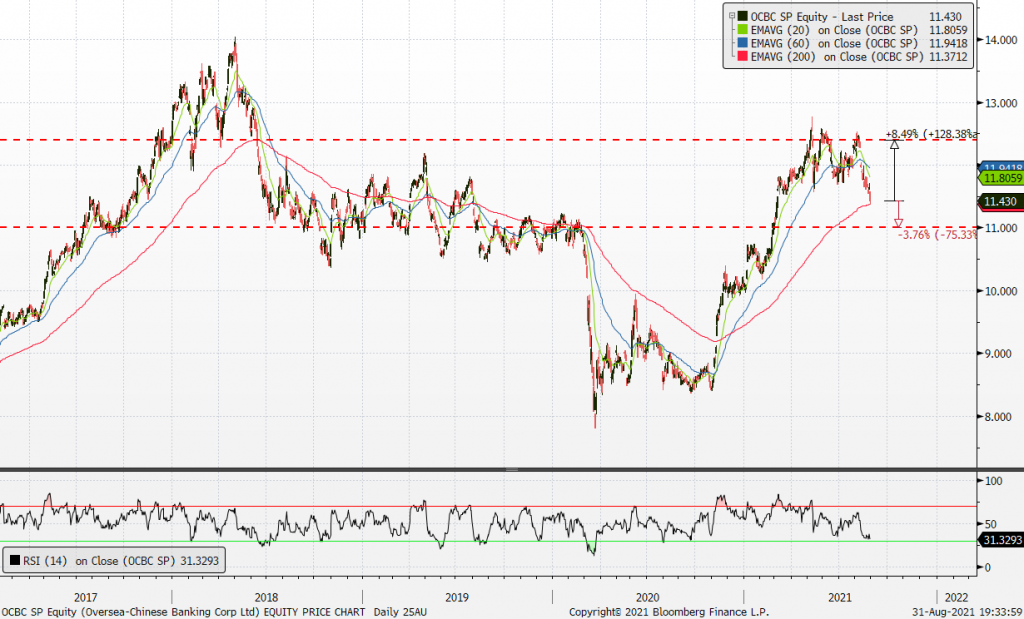 ---
Geo Energy (GERL SP): Cash generating machine
BUY Entry – 0.22 Target – 0.42 Stop Loss – 0.20
Geo Energy is one of Indonesia's leading coal producers. The company has four mining concessions located in South and East Kalimantan. Geo Energy's two key mines have a total estimated coal reserve of 84 million tonnes, based on a Joint Reserves Committee (JORC) Compliant report issued in December 2020.
Record year. Geo Energy is set to have a record year ahead as coal prices remain resilient. ICI 4 prices (4,200 kcal) are at more than 10-year highs. While we expect coal prices to soften in 2H2021, dynamics favour coal miners given the buoyant demand from India and China. On the other side of the equation, there's less risk of an oversupply-related correction for coal markets as ESG pressure has pushed capital toward clean energy (e.g., solar, electric vehicles, wind farms), thus limiting rapid coal supply growth.
Cash generating machine. We estimate Geo Energy will generate around US$247mn (S$333mn) of free cash flows in 2021 and 2022, more than its current market cap of S$330mn. Our estimates are based on US$58/US$50 coal prices and 10.5mn/11.0mn tonnes of coal production in 2021 and 2022, respectively. Our 10.5mn tonnes production assumption is 12.5% below the group's application to increase production to 12.0mn tonnes in 2021. Meanwhile, Current ICI4 future prices are trading well above US$70/tonne. Even when accounting for the domestic market obligation, (25% of production volume) and where prices can be as much as 46% discount to export prices, our assumption of US$60 and US$50 per tonne for 2021 and 2022 is reasonable.
Upgrade to Outperform and raise TP. We upgrade Geo Energy to Outperform and raise our TP to S$0.42. Our fair value is based on DFC with a conservative set of assumptions: 1) 13.5% discount rate, 2) six-year mine life up to 2026, and 3) no terminal value. The strong cash flows over the next two years will provide the group options to diversify via acquisitions. The group currently trades at an average 2.8x P/E for 2021-2023F and offers an above-industry dividend yield of 8.7%, 5.8% and 4.6% for 2021-2023F, based on a conservative 30% payout ratio.
Read our full report here.
ICI 4 (4,200 GAR) Indonesian Coal Index (Argus/Coalindo)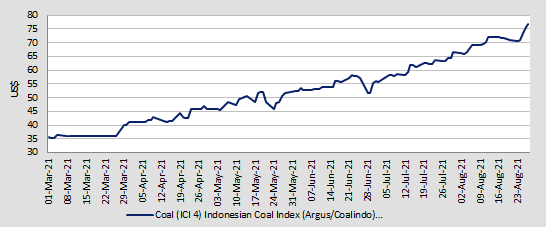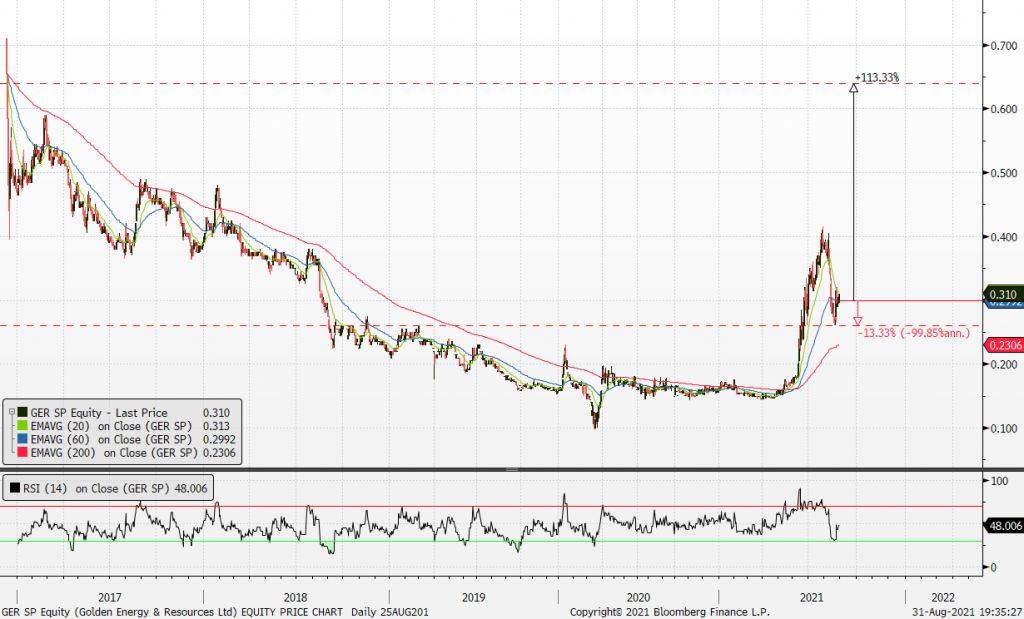 ---
HONG KONG
Sunny Optical Technology (Group) Co. Ltd (2382HK): Riding on a new iPhone hype
BUY Entry – 235 Target – 260 Stop Loss – 221
Sunny Optical Technology (Group) Company Limited is an investment holding company principally engaged in the design, research and development, manufacture and sale of optical and optical related products and scientific instruments. The Company operates its business through three segments: Optical Components, Optoelectronic Products and Optical Instruments. Through its subsidiaries, the Company is also engaged in the research and development of infrared technologies. The Company distributes its products in domestic market and to overseas market.
Previously, the company announced 1H21 interim results. Revenue increased by 5.1% YoY to RMB19.8bn. Gross profit jumped by 34.5% YoY to RMB4.9bn. GPM increased 5.4ppts to 24.9% during the period. Net profit jumped by 52.4% YoY to RMB2.7bn, and NPM was 13.6%.
The company is an Apple-themed stock as it is one of the suppliers to Apple. The upcoming catalyst is Apple's autumn new product launch on 14th September. On Monday, Apple broke a record high, implying investors are looking forward to the release of the iPhone 13. The positive sentiment could help Sunny Optical break new highs soon.
The updated market consensus of the estimated net profit growth in FY21 and FY22 is 21.2.0% and 23.6% respectively, which translates to 36.6x and 29.6x forward PE. The current PE is 36.7x. Bloomberg consensus average 12-month target price is HK$244.52.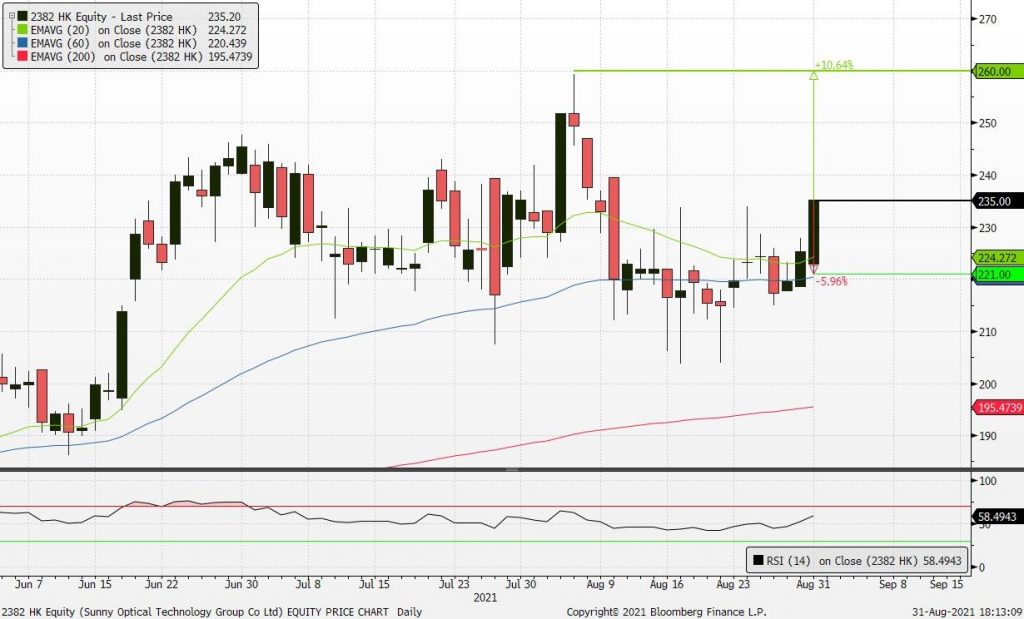 ---
CNOOC Limited (883 HK): A dirt cheap stock at 6x PE and 10% dividend yield
BUY Entry – 7.7 Target – 8.5 Stop Loss – 7.5
CNOOC Limited is a Hong Kong-based investment holding company principally engaged in the exploration, production and trading of oil and gas. Its businesses include conventional oil and gas businesses, shale oil and gas businesses, oil sands businesses and other unconventional oil and gas businesses. The company mainly operates businesses through three segments. The Exploration and Production segment is engaged in the exploration, development and production of crude oil, natural gas and other petroleum products. The Trading segment is engaged in the trading of crude oil, natural gas and other petroleum products. The company mainly operates businesses in China, Canada, the United Kingdom, Nigeria, Indonesia and Brazil, among others.
Stellar results. Previously, the company announced 1H21 results. Revenue jumped by 47.8% YoY to RMB 110.2bn. Net profit attributable to the shareholders of the company jumped by 221% YoY to RMB 33.3bn. The company declared an interim dividend of HK$0.3 per share.
International oil price rebound. As of 27th August, WTI closed at US$68.65/bbl, representing a 10.86% weekly gain, and Brent closed at US$72.56/bbl, representing a 11.7% weekly gain. The main driver of the recovery was due to the weakening US dollar (Dollar Index dropped by 0.83% last week) as Powell kept a dovish view at the Jackson Hole Symposium.
The new wave of COVID-19 outbreak in China is under control. The recent oil price correction was partly due to concerns over the delta variant outbreak in China, which could result in weaker demand for petroleum. However, after China adopted draconian measures to control the outbreak, the new wave has been contained. The recovery in oil demand is expected to resume for the rest of 2021.
Updated market consensus of the estimated net profit growth in FY21 and FY22 are 195.3% and 4.8% respectively, which translates to 4.3x and 4.1x forward PE. The current PE is 6.0x. The FY21F/22F dividend yield is expected to be 10.3% and 10.7% respectively. Bloomberg consensus average 12-month target price is HK$11.89.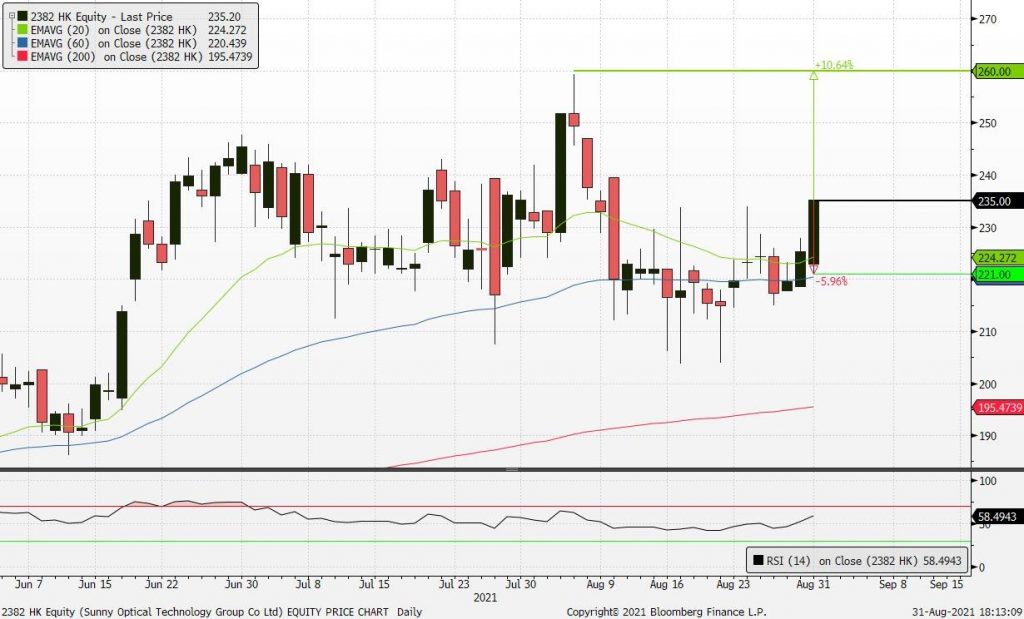 ---
Market Movers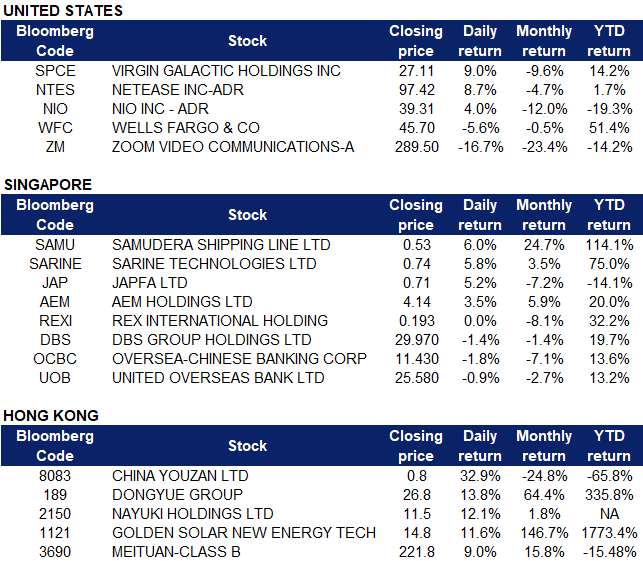 United States
Virgin Galactic (SPCE US) shares surged on Tuesday, closing 8.96% up at $27.11 after Jefferies Financials analyst Greg Konrad placed a buy rating and $33 target price on the stock. Konrad cited consumer interest in space as well as a "recovering economy that is experiencing rapid GDP growth and wealth" which could potentially drive a bigger market for the company. Konrad's consumer survey of 233 millionaires showed that 37% of them wanted to travel to space, with 29% of them willing to spend over 5% of their wealth to do so.
NetEase (NTES) shares soared 8.7% on Tuesday, closing at $97.42 after the Chinese gaming firm said that less than 1% of its gaming revenue comes from minors. This comes a day after China implemented new rules forbidding users under the age of 18 from playing online games for more than three hours a week to curb gaming addiction. The company also released second quarter results earlier in the day that beat analyst estimates. NetEase has confirmed its plans to release the game Harry Potter: Magic Awakened on 9 September.
Nio (NIO US) stocks climbed 3.99% after British sports car maker Lotus announced on Tuesday at an online press conference that they plan to launch four new electric models in the next five years. Lotus also revealed that it got backup from Nio, which invested an undisclosed amount through its investment business, Nio Capital. Lotus's electric car division together with Nio will also "explore collaboration in areas including high-end intelligent EVs."
Wells Fargo (WFC US) saw its stock drop 5.6% after regulators warned the bank that new sanctions may be imposed. The Office of the Comptroller of the Currency (OCC) and the Consumer Financial Protection Bureau (CFPB) have expressed that they are not satisfied with the pace of Wells Fargo's efforts to improve its governance and risk controls. According to Bloomberg, he bank has sought more time to resolve the issues raised by the consent orders.
Zoom Video Communications (ZM US) shares plunged 16.69% to $289.50 after the company released second quarter fiscal 2022 results. Despite beating analyst estimates for revenue and earnings investors seemed to appear disappointed that customer growth is slowing, with businesses and offices reopening and schools reverting to in-person learning.
---
Singapore
Rex International (REXI SP) Singapore's only profitable oil and gas explorer and producer announced yesterday that it was awarded two Production Sharing Contracts (PSCs) by Petroliam Nasional Berhad (PETRONAS), Malaysia's national oil corporation. The two PSCs are related to the development and production of the Rhu-Ara and Diwangsa Clusters located in offshore Peninsular Malaysia. These previously discovered fields have a total estimated recoverables of 23.4 MMstb. The participating interests of Rex and Duta Marine Sdn Bhd (DMSB) are 95% and 5% respectively with Rex being the operator of the PSCs. We currently have an Outperform recommendation and a TP of S$0.33. Read our 18th August report here.
Singapore banks (DBS, UOB, OCBC) All three banks fell between 1-2% yesterday after MSCI Singapore Index's rebalancing. The three local banks will see the biggest weighting decline in the index in order to make room for SEA (SE US). As of yesterday's close, DBS weighting in the index will drop to 20.62% from 22.23% previously, OCBC will drop to 15.16% from 16.43% previously, and UOB will drop to 11.59% from 12.56% previously. There will be two more rebalancings in November 2021 and February 2022 which will see a further reduction in the banks' weighting in the index. SE's weighting increased to 9.66% from 31 August 2021, and will increase to 17.61% in November 2021, and finally to 29.95% by February 2022.
Samudera Shipping (SAMU SP) Shares rose by 6% yesterday, after total gains of 23.5% over the last 5 trading days, and closed at its previous high since April 2006. The rise in share price was likely lifted by record high trans-pacific liner rates ahead of the seasonal peak season. The Drewry Hong Kong-Los Angeles container-rate benchmark rose 2.6% sequentially to a record of US$7,961 per 40-foot container in the week ended Aug 25. Current rates are 164% above their five-year average, driven by supply chain dislocations and port congestion in both China and the US.
Sarine Technologies Limited (SARINE SP) Shares rose by 5.8% yesterday, even though there was no company specific news. Investors are likely buying in due to high diamond prices. Diamond price index have been consolidating around US$130 over the month, a 5-year high. In addition, Sarine announced stellar 1H21 results, as revenue increased by 61% to US$36mn and net profit increased to US$12.6mn, 10.5x of 1H20's net profit of US$12mn.
Japfa Limited (JAP SP) Shares rebounded by 5.2% yesterday to close at 71 Sing cents after technically forming a double bottom at 67.5 Sing cents. Shares have been on a downtrend since May, losing as much as 30% from the YTD's high. The company announced 2 days ago that it's subsidiary, AustAsia had entered into two separate agreements with Genki Forest and Honest Dairy to establish partnerships aimed at growing the Group into the largest independent raw milk producer in China. Both Genki Forest and Honest Dairy are growing food and beverage Chinese companies and existing customers of AustAsia, with strong potential for future growth. These transactions allow AustAsia to team up with strategic Chinese premium downstream players as shareholders. Read here for the full announcement.
AEM Holdings Limited (AEM SP) Shares rose by 3.5% yesterday, after total gains of 5.4% over the last 7 trading days. The rally in share price could be due to investors buying ahead of the company's dividend payout of 2.6 Sing Cents per share. Ex-dividend date is expected to be on 9 September and payout date on 24 September. In addition, the company announced last Thursday that SGX-ST has granted its approval for the listing and quotation of the subscription shares to be issued at S$3.8477 for each subscription share. Yesterday, AEM also announced that it was selected to be the System Level Test (SLT) Solution supplier for one of the industry's leading memory integrated device manufacturers. Read here for the full announcement.
---
Hong Kong
China Youzan Ltd (8083 HK) The company submitted an updated application to the Hong Kong Stock Exchange to propose Youzan Technology, a subsidiary which is 51.9% owned by China Youzan, to be listed on the mainboard. Meanwhile, the company proposed to take private and delist from the GEM board.
Dongyue Group Ltd (189HK) The company announced 1H21 interim results. Revenue jumped by 37% YoY to RMB6.5bn. Profit for the period attributable to owners of the company grew by 49.3% YoY to RMB603mn. The Group aims to increase the production capacity of PVDF to 55,000 tons and auxiliary raw material R142b to 100,000 tons by 2025 through new construction and technological transformation. Credit Suisse upgraded the TP to HK$30 from HK$ 17.5 and maintained an OVERWEIGHT rating. PVDF prices started to rise in June, and hence, the bank believed the selling price tailwinds will be reflected in the profitability in 2H21.
Nayuki Holdings Ltd (2150 HK) F&B sector jumped. Shares closed at a one-month high after Anxin Securities initiated coverage with a BUY rating and a TP of HK$12.5. Previously, the company announced 1H21 interim results. Revenue increased by 80.2% YoY to RMB1,179.5mn. Adjusted net profit/(loss) turned from a loss of RMB63.5 million in 1H20 to RMB48.2mn in 1H21. Store-level operating profit of RMB385.2mn for Nayuki teahouses, representing an increase of 497.2% YoY. The store-level operating profit margin of Nayuki teahouses was 19.2% in 1H21, representing an overall increase of 7 and 3 ppts compared to the full year of 2020 and 2019 respectively.
Golden Solar New Energy Technology Holdings Limited (1121 HK) The company announced 1H21 interim results. Revenue increased by 235.5% YoY to RMB161.8mn. Loss for the period attributable to owners of the company narrowed by 66.4% YoY to RMB603mn. Tianfeng Securities initiated coverage with a BUY rating and a TP of HK$31.16. It is expected its HJT technology will be the next generation development in the solar battery.
Meituan (3690 HK) Shares closed at a one-month high. The company announced 1H21 interim results. Revenue increased by 77% YoY to RMB43.8bn. The adjusted net loss during the period was RMB6.1bn compared to an adjusted net profit of RMB2.5bn in 1H20. Morgan Stanley lowered the TP to HK$300 from HK$360 but maintained an OVERWEIGHT rating. The new outbreak COVID-19 is expected to impact its business in 3Q21.
Trading dashboard: Add Chinasoft International (354 HK) at HK$12.5. SINOPEC (386 HK) took profits at HK$3.79.
---
Trading Dashboard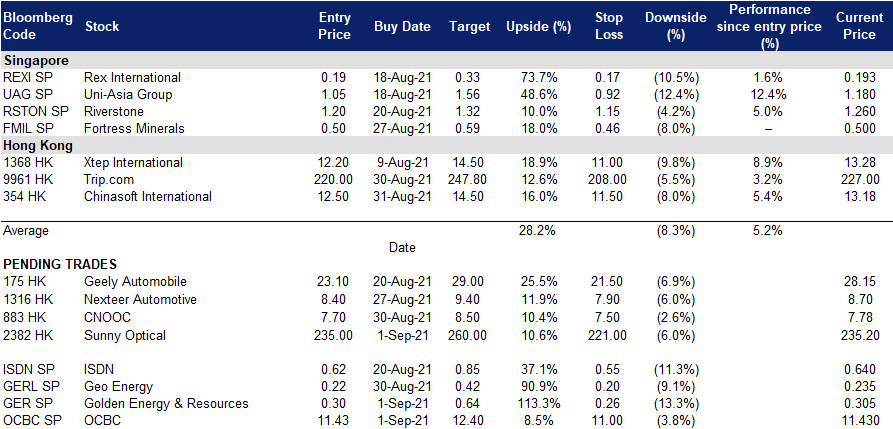 ---

---
Related Posts: