KGI DAILY TRADING IDEAS – 1 October 2021
Singapore Trading Ideas | Hong Kong Trading Ideas | Market Movers | Trading Dashboard
IPO Watch
Abbisko Cayman Limited (2256 HK)
IPO Info:
| | |
| --- | --- |
| Industry Sector | Pharmaceutical |
| Issue Price (HK$) | 12.16 to 12.46 |
| Total Share Offer Size (HK$ Mn) | 1,753.6 |
| Sponsor | Morgan Stanley, J.P. Morgan, and CICC |
| Dealing of Shares | 13 October 2021 |
About Abbisko
Abbisko Cayman Limited is a clinical-stage biopharmaceutical company dedicated to the discovery and development of innovative and differentiated small molecule oncology therapies. Since its inception in 2016, it has strategically designed and developed a pipeline of 14 candidates focused on oncology, including five candidates at clinical stage. Their product candidates are primarily small molecules that focus on small molecule precision oncology and small molecule immuno-oncology therapeutic areas. The company has two Core Product Candidates, ABSK011 and ABSK091, and 12 other pipeline product candidates.

ABSK011 developed in-house is a potent and highly selective small molecule inhibitor of fibroblast growth factor receptor 4 (FGFR4);
ABSK091, licensed from AZ, and previously known as AZD4547, is a molecularly targeted product candidate and a highly potent and selective inhibitor of FGFR subtypes 1, 2 and 3.
The Core Product Candidates are primarily being developed for hepatocellular carcinoma (HCC), urothelial cancer (UC) and gastric cancer (GC) at the current stage.
The company currently has no product approved for commercial sale and has not generated any revenue from product sales. It has incurred operating losses during the track record period. Loss before tax was RMB133.9mn/706.6mn/123.5mn in FY19/20/3M21. Substantially, all of the losses come from research and development expenses and administrative expenses.
Key risks factors

Fierce competition from existing products and product candidates under development in the entire oncology market, in particular in the FGFR inhibitor market, in addition to approved oncology therapy options.
Business and financial prospects depend substantially on the success of their clinical stage and pre-clinical stage drug candidates. If the company is unable to successfully complete their clinical development, obtain relevant regulatory approvals or achieve their commercialization, or if it experiences significant delays in any of the foregoing, its business, results of operations and financial condition may be adversely affected.
Its rights to develop and commercialize some of their drug candidates are subject to the terms and conditions of licenses granted to them by others.
It relies on third parties to supply active pharmaceutical ingredients (APIs) and/or manufacture its drug products when approved, and its business could be harmed if those third parties fail to provide them with sufficient quantities of the APIs or the drug product or fail to do so at acceptable quality levels or prices.
All material aspects of the research, development, manufacturing and commercialization of pharmaceutical products are heavily regulated and the approval process is usually lengthy, costly and inherently unpredictable. Any failure to comply with existing or future regulations and industry standards or any adverse actions by the drug-approval authorities against them could negatively impact their reputation and business, financial condition, results of operations and prospects.

11 cornerstone investors have subscribed HK$990mn worth of shares which account for 56.6% to 58% of the offering. Well-known strategic investors include Qiming Venture, GIC, Temasek, Blackrock and Carlyle.
---
SINGAPORE
Wilmar (WIL SP): Palm oil prices to the moon
BUY Entry – 4.20 Target –4.85 Stop Loss – 4.03
Among the big boys. Wilmar is ranked among the largest listed companies by market cap (S$27bn market cap as of 30 Sep) on SGX. The company's business activities include oil palm cultivation, oilseed crushing, edible oils refining, sugar milling and refining, manufacturing of consumer products, specialty fats, oleochemicals, biodiesel and fertilisers as well as flour and rice milling.
Negatives priced in. Shares of Wimar have declined almost 30% from the 5-year peak of S$5.57 reached in February 2021. This rally and subsequent decline was driven by the IPO of its China subsidiary, Yihai Kerry Arawana (YKA), on the ChiNext board of the Shenzhen Stock Exchange. There was further selling pressure over the past month after the planned IPO of Wilmar's JV with Adani Group of India was placed on hold amid probes by the Indian regulators.
Upside catalyst from robust palm oil prices. Palm oil prices ended the quarter near record highs amid concerns over tight vegetable oil supplies while demand has remained strong. Futures for December delivery rose 3% yesterday, and have gained 28% in 3Q2021 as other edible oil and oilseed prices gained, including soybean oil, canola and rapeseed. Adding salt to the wound, there's growing concerns that the power crunch in China will impact production of soybean oil, thus driving demand for palm oil.
Bullish consensus forecast. There are 13 BUYS / 1 HOLD / 0 SELL and an average 12m TP of S$6.00 (+43% upside potential). Wilmar currently trades at 12x and 11x FY2021 and FY2021 P/E, driven by 6-8% EPS growth in the next two years. Dividend yield is a decent 3-4%.
Crude Palm Oil Futures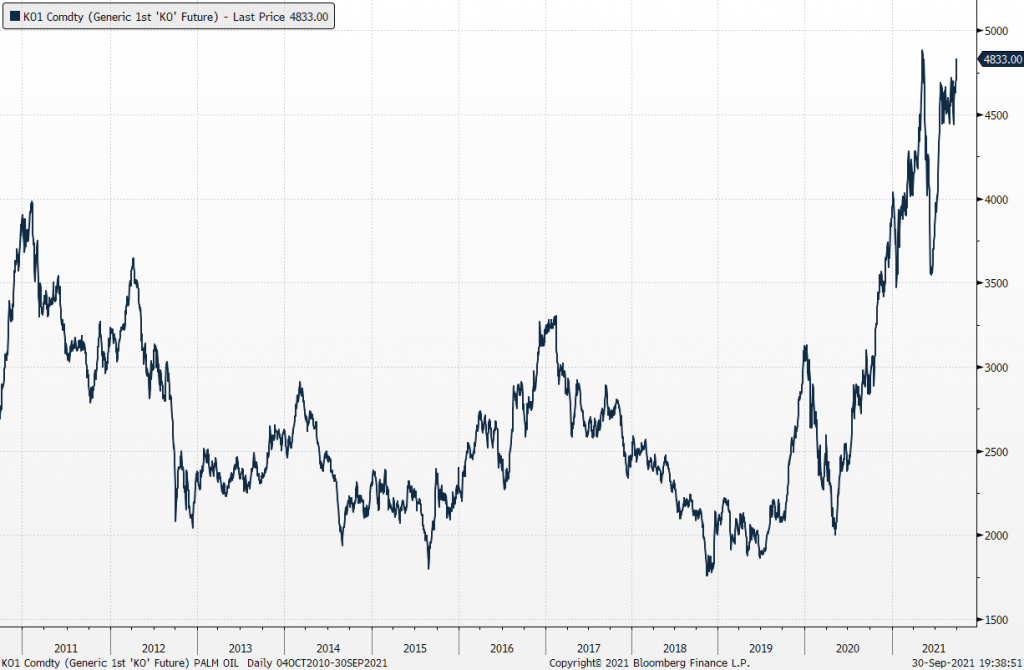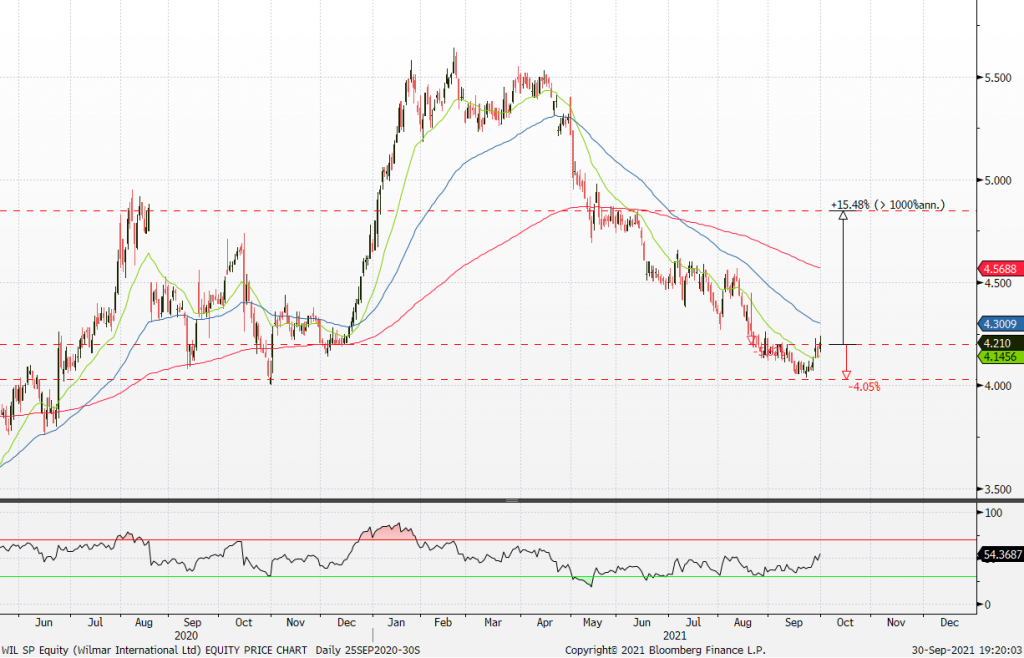 ---
LHN (LHN SP): Optimise, advertise, monetise
BUY Entry – 0.335 Target –0.49 Stop Loss – 0.30
LHN is a real estate management service group which specialises in space optimisation. The company also provides facilities management and logistics services, which complements its space optimisation business.
Strong top and bottom line. Revenue increased 20.8% YoY to S$134mn in FY20, while net profit surged 183.0% YoY to S$24mn. The jump in net profit was mainly due to better gross margins of 47.4%, which was almost double from the prior year. Strong bottom-line was supported by Job Support Scheme (JSS) and rental rebates of S$4.7mn, as well as an investment gain in subleases of S$6.9mn. Eliminating one-off gains, core PATMI for FY20 stood at S$11.3mn, an increase of 40.9% from FY19.
Catalysts. A solid FY22 revenue growth is expected from the space optimization business, given that 4 residential properties are expected to commence operations. Revenue and earnings drivers include reopening of borders and positive momentum of co-living trends. Meanwhile, the facilities management segment is expected to grow in tandem with the space optimization business, coupled with recurring dormitory management income. Finally, the logistics management segment is expected to grow in line with robust shipping activity.
Attractive valuations. We initiate LHN with an Outperform recommendation and a TP of S$0.49. Our TP is based on 6.0x P/E to its FY22F EPS of S$0.082.
Read the full initiation report here.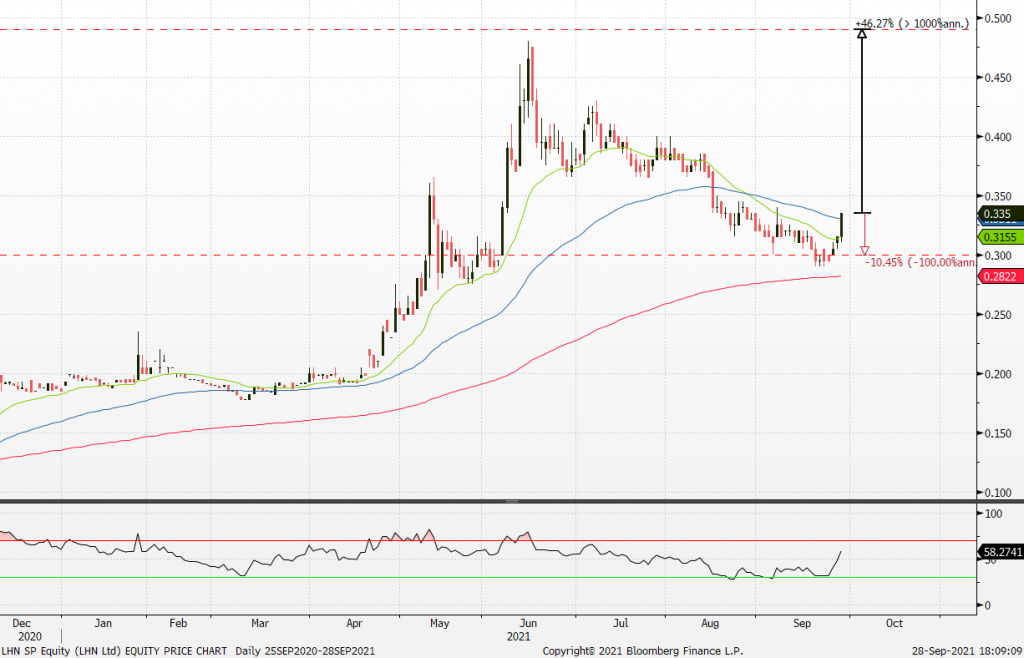 ---
HONG KONG
The Hong Kong market is closed today in observance of the National Day holiday. Trading resumes on Monday, 4 October 2021.
---
Market Movers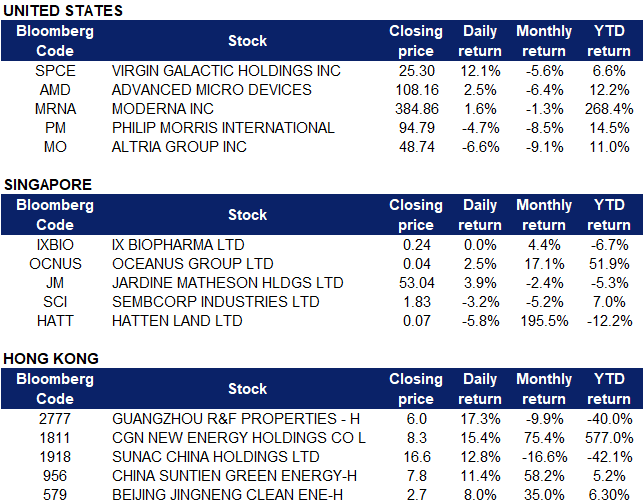 United States
Virgin Galactic (SPCE US) shares soared 12.15% after the Federal Aviation Administration concluded the probe of a 11 July flight "mishap", and accepted corrective actions proposed by the company. The company's stock has been down almost 50% since the incident, where the spacecraft veered off its flight path for less than two minutes, putting it outside of air traffic control clearance during the time period.
Advanced Micro Devices (AMD US) shares traded 2.54% higher after the company announced that Google Cloud is expanding its use of AMD EPYC processors with the preview of N2D Virtual Machines powered by AMD EPYC 7003 Series processors. The company said in its press release that utilizing the performance capabilities of the latest generation of EPYC processors, the N2D VMs, according to Google Cloud, delivers on average, over 30% better price-performance across a variety of workloads.
Moderna (MRNA US) shares rose 1.57% on Thursday after it announced a new company facility, the Moderna Science Center. The company described the Moderna Science Center as "a purpose-built space to support the Company's next chapter of discovery," as it continues its research of mRNA-based products. Additionally, the Los Angeles city council is considering a vaccination mandate for customers who wish to patronize a wide range of businesses, and show proof of vaccination for entry.
Shares of tobacco companies Philip Morris International (PM US) and Altria (MO US) fell 4.72% and 6.61% respectively after the U.S. International Trade Commission (USITC) ordered the two companies to stop the import and sales of the Iqos tobacco device, citing that the cigarette alternative infringed two of R.J. Reynolds' patents. Philip Morris told CNBC it plans to appeal the trade agency's decision, while Altria said the two companies are working together on contingency plans.
---
Singapore
IX Biopharma (IXBIO SP) shares climbed as much as 2.1% before closing flat after the company announced that it had entered into an agreement with China Resources Pharmaceutical Commercial Group yesterday for the licensing, supplying and distribution of Wafesil (a sublingual sildenafil wafer that treats male erectile dysfunction) in China. This would be the first deal between both companies following a strategic cooperation framework agreement announced earlier in April 2021.
Oceanus Group (OCNUS SP) rose another 2.5%, adding to its 20.59% gains on Wednesday after it announced its exit from SGX's watch list since being put on it nearly six years ago in December 2015. SGX's financial exit criteria say that firms may exit the watch list if they record consolidated pre-tax profit for the most recently completed financial year, and post an average daily market capitalization of at least S$40 million over the last six months. The Group has consistently achieved profitability since the second quarter ending 30 June 2020, and in its latest financials for the half-year period ending 30 June 2021, Oceanus hit a record-high turnover and net profit. The Group's total revenue surged 553% to S$52.5 million, from S$8.0 million in the corresponding period. Net profit rose significantly by 597% to S$5.0 million, up from S$0.7 million in 1H 2020.
Jardine Matheson (JM SP) shares rose 3.94% after the group announced that it was proposing a share buyback plan, where US$250 million will be returned to its shareholders by 30 June 2022. The company said in a bourse filing that "the purpose of the Buyback is to reduce the capital of the Company," and that the "buyback is in line with Jardine Matheson Group's previously announced capital allocation policy."
Sembcorp Industries (SCI SP) saw its shares decline 3.17% after the company launched a $675 million sustainability-linked bond on Wednesday, anchored by an investment of $150 million from the International Finance Corporation. The ten and a half year Singapore dollar bonds were issued at a coupon rate of 2.66% under the group's $3 billion Multicurrency Debt Issuance Programme.
Hatten Land (HATT SP) shares declined 5.80% yesterday, likely on profit-taking after Wednesday's gain of 13.11%. The company previously announced that it has signed a definitive agreement with Frontier Digital Asset Management to share proceeds from jointly operating 1,000 cryptocurrency mining rigs.
Trading Dashboard: Add Yangzijiang Shipbuilding (YZJSGD SP) at S$1.36. Remove Singtel (ST SP) at S$2.46
---
Hong Kong
Guangzhou R&F Properties Co Ltd (2777 HK). Shares jumped 17.3% yesterday as R&F Properties issued an announcement stating that the company and its major shareholders had entered into a joint venture company arrangement agreement, injecting a maximum of RMB 10.4bn in capital into the JV. R&F Properties or its wholly-owned subsidiaries would have a 51% stake in the JV, while the major shareholders or their wholly-owned companies would hold 49%. This move will help R&F Group to achieve the goal of reducing its debt ahead of schedule and achieve a more complete and healthy financial structure.
CGN New Energy Holdings Co Ltd (1811 HK). Shares rose 15.4% yesterday as China is starting to explore using nuclear reactors to generate electricity to address its power shortage issues. Fusion technology, also known as "artificial sun", can provide an endless supply of clean energy by simulating the nuclear fusion process of the sun. China could produce electricity from a proposed "artificial sun" in a decade if the project wins final approval from the government, according to one of the lead scientists.
Sunac China Holdings Ltd (1918 HK) Shares rose 12.8% yesterday after the company released a statement denying rumours that it had officially sought "policy assistance" from the government for its "significant" liquidity challenges. Sunac had come under intense market pressure after a widely circulated letter from its local office to the Shaoxing municipal government in Zhejiang province warned that the developer was having liquidity issues and requested for assistance. The company said that the letter was a draft and was not actually submitted to the city's government. In addition, the People's Bank of China had also pledged to support liquidity in the property sector, which also contributed to investors regaining confidence in the company.
China Suntien Green Energy Corp Ltd (956 HK), Beijing Jingneng Clean Energy Co Ltd (579 HK) Shares rose 11.4% and 8% respectively yesterday. China is suffering from its worst power crunch in several years, and at least 20 out of 31 provincial jurisdictions have implemented electricity-rationing measures. Households have been left without power during peak usage periods, traffic lights have failed in some cities, and the industrial and manufacturing sectors have been crippled by strict operating restrictions. As the power crunch intensifies, the National Development and Reform Commission (NDRC), said on Wednesday that it would take multiple measures to strengthen the adjustment of supply and demand. Lin Boqiang, a professor of energy policy at Xiamen University, said the NDRC should either raise electricity prices or encourage coal mines to boost output in the near term, to address the worsening problem. Investors are likely buying clean energy related stocks in anticipation that electricity prices are allowed to be raised.
---
Trading Dashboard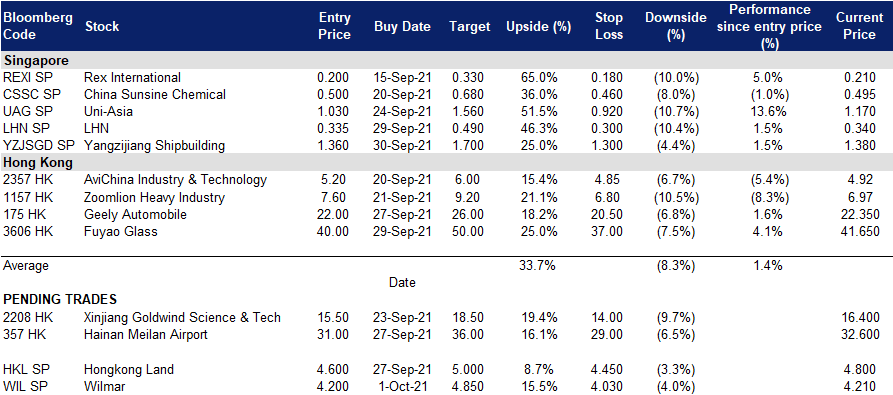 ---

---
Related Posts: