KGI DAILY TRADING IDEAS – 1 November 2021
Singapore Trading Ideas | Hong Kong Trading Ideas | Market Movers | Trading Dashboard
SINGAPORE
Genting Singapore (GENS SP): Reopening play #2
BUY Entry – 0.77 Target – 0.86 Stop Loss – 0.72
Genting Singapore is best known for its award-winning flagship project Resorts World Sentosa, one of the largest fully integrated destination resorts in South East Asia. Genting Singapore is one of the constituent stocks of the FTSE Straits Times Index.
Singapore reopening. On 9 October, Singapore announced that it will launch 8 Vaccinated Travel Lanes (VTLs) with countries in Europe and North America. However, it is likely it will still take at least 6-12 months for the positive impact to flow through to Singapore's tourism and MICE industry.
The journey of a thousand miles begins with a single step . The announcement of the VTLs is a positive first step. Shares of Genting Singapore surged almost 5% after the announcement of the VTLs. We believe further news of reopenings would provide a much needed re-rating of Genting Singapore's share price.
Consensus estimates. Consensus estimates are not very high for the company, hence the potential for an upside rerating upon the announcement of positive news. There are currently 9 BUYS vs 10 HOLDS and 1 SELL rating. The 12m average TP of S$0.91 still implies a 18% potential upside. Earnings are expected to recover to around 70% of pre-pandemic levels next year.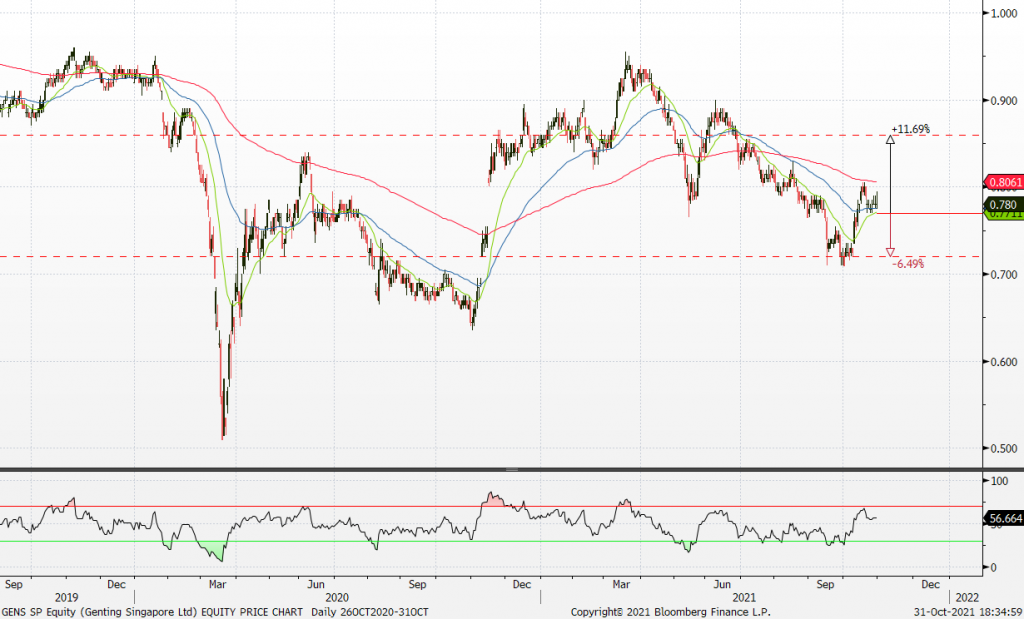 ---
OCBC (OCBC SP): Rates liftoff and earnings this week
REITERATE BUY Entry – 11.85 Target –12.60 Stop Loss – 11.50
OCBC is Singapore's longest established bank, formed in 1932 from the merger of three local banks. It is now the second largest financial services group in Southeast Asia by assets and one of the world's most highly-rated banks, with Aa1 by Moody's and AA- by both Fitch and S&P. Assets under management (AUM) at its private banking subsidiary, Bank of Singapore, grew 11% YoY to US$125bn (S$169bn) as at 30 June 2021.
3Q2021 earnings ahead. The three local banks are due to report their 3Q earnings this week, with OCBC on tap to be the first among them to report before the market opens on Wednesday (3 Nov). As a recap, the three local banks reported a very good set of 1H numbers. OCBC's 1H2021 net profit surged 86% YoY and 23% HoH to S$2.7bn. 1H2021 ROE rose to 10.8% from 6.1% in the prior year period. Given the stronger performance, the bank's interim dividend was reinstated back to 25 Sing cents, up from 15.9 Sing cents in the prior year, and back to where it was pre-Covid.
Rising rates. There are growing expectations that major central banks will raise rates much earlier in order to fight growing inflationary pressure. According to Bloomberg's World Interest Rate Probabilities function, sentiment among investors has shifted such that markets now expect the US Fed to start lifting rates by as early as March 2022. It is also likely that the Fed will announce the start of tapering its massive asset purchase programme. We also believe that global economic growth will start to re-accelerate in the second half of 2022 once supply chain issues are resolved, lending to further loan growth momentum for the banks.
Positive consensus estimates. There are 17 BUYS and 5 HOLDS with an average TP of S$13.88, implying a total return of 17%. OCBC currently trades at 1.04x forward P/B, an almost 40% discount to DBS, while offering a decent 4-5% forward dividend yield.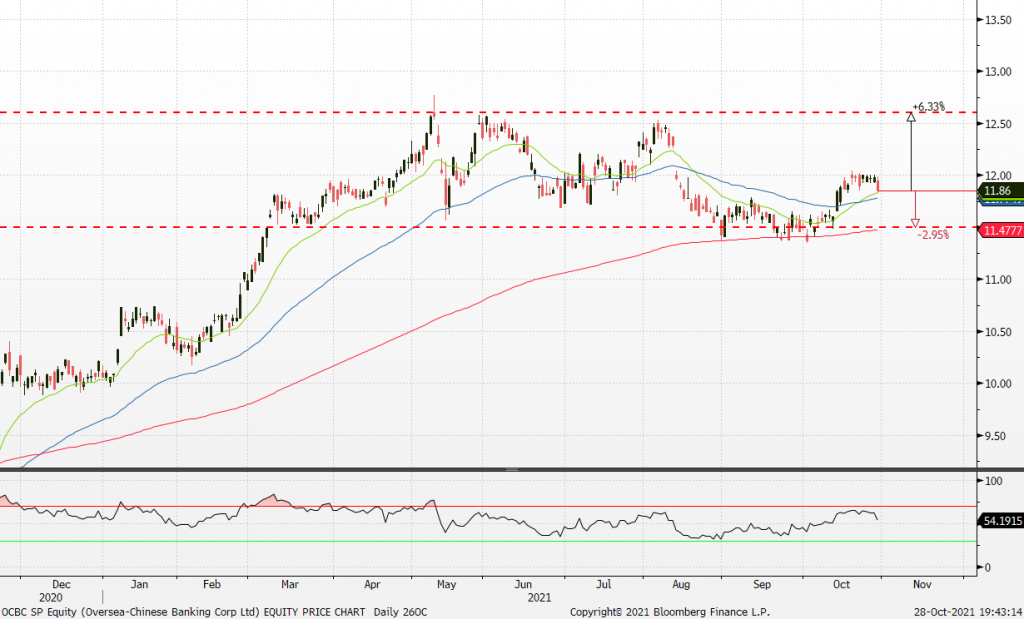 ---
HONG KONG
PC Partner Group Limited (1263 HK): A metaverse-themed stock
BUY Entry – 9.3 Target – 11 Stop Loss – 8.5
PC Partner Group Limited is an investment holding company principally engaged in the electronics and personal computer (PC) parts and accessories businesses. Its main business includes the design, development and manufacturing of video graphics cards for desktop PCs, the provision of electronics manufacturing services, as well as the manufacturing and trading of other PC related product components. The Company is also engaged in the provision of technical support services through its subsidiaries. Its primary products are video graphics cards, motherboards and mini-PCs. Its primary brands include ZOTAC, Inno3D and Manli. Its businesses are mainly conducted in Mainland China, Hong Kong, Macau, Korea and the United States of America.
Expecting 3Q21 to reach a new record. Prices of graphic cards continued to hike. The price hikes of RTX 3080 or lower, GTX 10 series, and RX 6000 series range from 3% to 7% in September. AMD (AMD US) last week announced the 3Q21 results. Its Computing and Graphics segment revenue jumped by 44% YoY or 7% QoQ to US$2.4bn. In 1H21, PC Partner's graphic card revenue grew by 140.8% YoY to HK$6.0bn. The group's gross profit margin increased to 27.2% from 9% during the same period. It is expected that PC Partner Group's 3Q21 results will be stellar.
Metaverse theme on hype. Facebook (FB US) recently changed its name to META, announcing the metaverse is core development for the next decade. Previously, Nvida (NVDA US) also announced plans to develop the metaverse area. In the foreseeable future, the demand for graphic cards will have an exponential growth. PC Partner can be viewed as one of the few metaverse-themed stocks listed in Hong Kong.
Cryptocurrencies on the bull run. Another driver for the sales growth is the positive uptrend of the crypto market. Bitcoin has surpassed US$60,000. Ethereum also climbed back to the record high. With higher crypto prices, mining activities will accelerate globally, pushing higher demand for graphic cards.
The company's valuation is attractive. The stock is currently trading at 3.4x PE.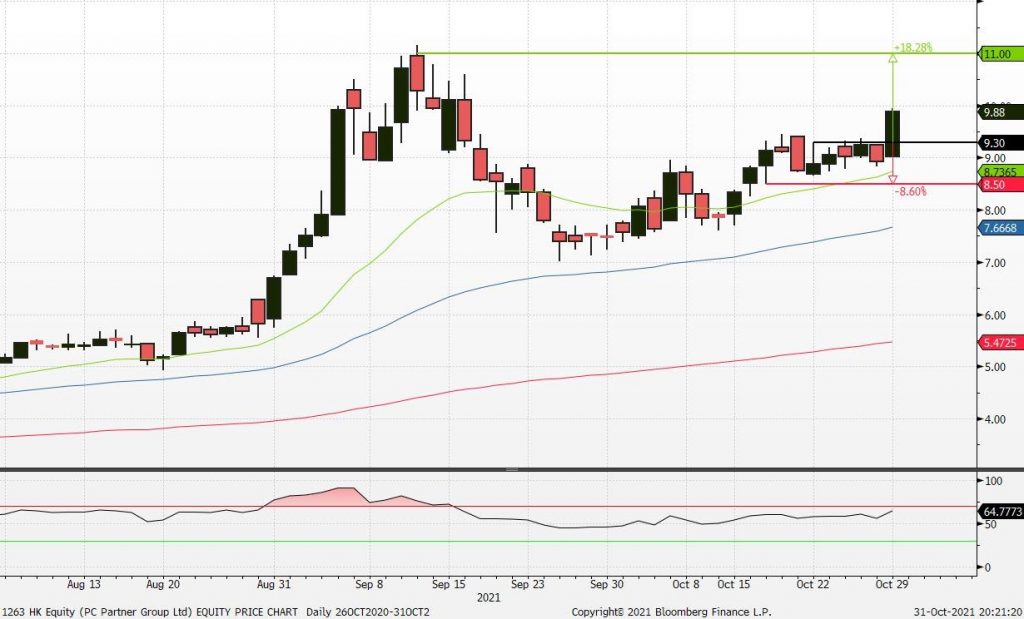 ---
China Southern Airlines Company Limited (1055 HK): Slow but steady price uptrend
REITERATE Buy Entry – 4.5 Target – 5.0 Stop Loss – 4.3
China Southern Airlines Company Limited is principally engaged in the operation of civil aviation, including the provision of passenger, cargo, mail delivery and other extended transportation services. The Company operates through two business segments, including Airline Transportation segment and Other segment. Airline Transportation segment consists of passenger and cargo and mail operations. Other segment includes hotel and tour operation, ground services, cargo handling and other miscellaneous services. The Company also provides services of general aviation and aircraft maintenance.
Move on to post-COVID era. With more than 50% of the population vaccinated in major economies, and potential oral medicine of COVID treatment, countries are expected to fully open their borders in 2022. China has been insisting on a "zero infection" policy and adopting the most draconian quarantine measures on visitors. However, it has to normalise international travelling eventually when other countries open borders and adapt to coexist with the COVID virus. After all, isolation deters economic recovery and growth. The second largest economy with the largest population in the world cannot afford to maintain the absolute zero COVID patient at the price of reduction in travelling for a long term. The normalisation of travelling will be one of the main themes next year.
High oil prices are another headwind but could correct for a while. The rally of oil price is expected to extend further. However, this is a secondary negative impact given that the air passenger volume is much lower compared to pre-COVID levels. The rally of oil prices is sharp and speedy. Hence, there could be some correction as oil is now becoming a crowded trade.
Updated market consensus expects loss per share to narrow to RMB0.33 in FY21 from RMB0.77 in FY20, and eventually to turn profitable with an EPS of RMB0.176/0.267 in FY22/23. Bloomberg consensus average 12-month target price is HK$5.61.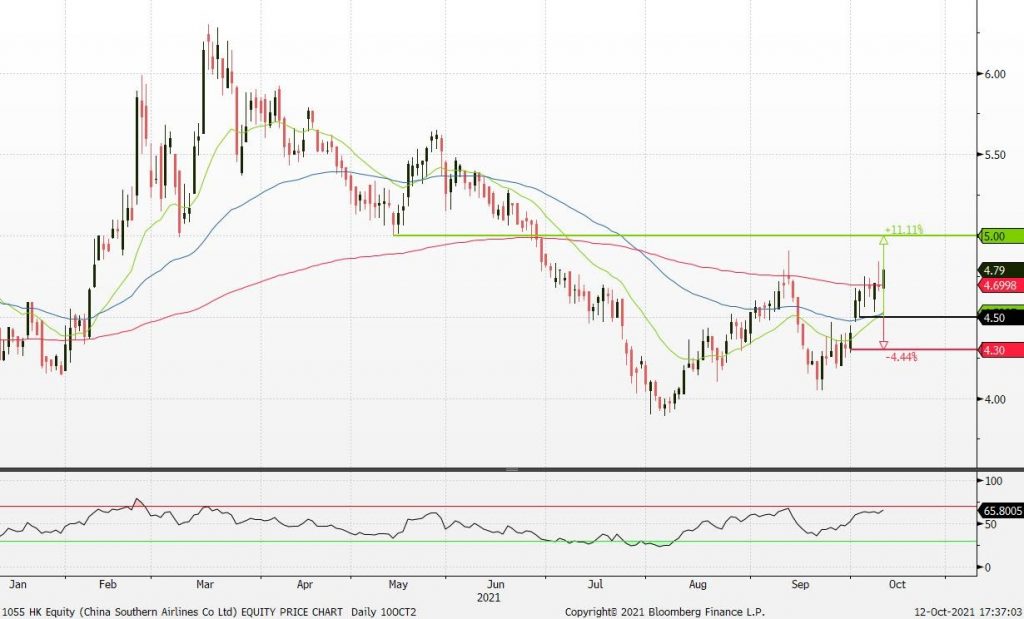 ---
Market Movers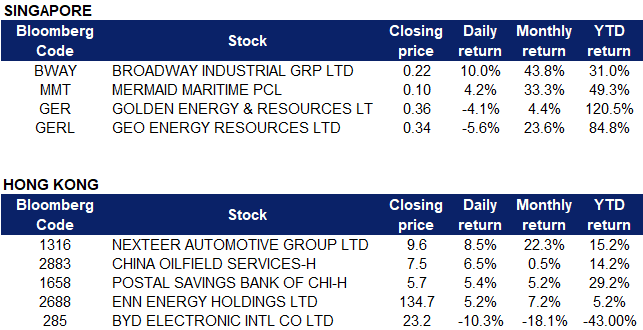 United States
United States Steel (X US) shares soared 12.87% on Friday after the company announced better than expected third quarter results. Quarterly adjusted earnings came in at $5.36 per share, beating estimates of $4.85 per share. The company reported quarterly revenue of $5.96 billion, which beat the estimate of $5.79 billion. Additionally, the company announced a new $300 million stock repurchase program and a $0.05-per-share quarterly dividend, which was raised from its previous nominal $0.01-per-share level.
Lucid Group (LCID US) shares rose another 4.26%, after the company announced on Thursday that first customer deliveries of its $169,000 Air Dream Edition sedan would begin on 30 October. The stock made its biggest intraday move on Thursday, surging as much as 47%, hitting as much as $39.78 per share, its highest since the company went public through a SPAC deal in July. Lucid has scheduled its first earnings report and call for investors since going public for 15 November.
Microsoft (MSFT US) shares rose 2.24% on Friday, overtaking Apple as the world's most valuable public company. Apple's market capitalization now stands at $2.48 trillion after its shares dropped on Friday, while Microsoft ended Friday trading with a market capitalization of $2.49 trillion. Microsoft's stock has surged 49% this year, with pandemic-induced demand for its cloud-based services driving sales.
Apple (AAPL US) shares fell as much as 3.3% in premarket trading on Friday before recovering slightly to close 1.82% lower at $149.80. The company's fourth-quarter revenue of $83.36 billion fell short of expectations, a first for Apple since May 2017. Apple CEO Tim Cook attributed this to larger than expected supply constraints. 
Shares of Amazon (AMZN US) slid 4.5% in premarket trading on Friday before closing 2.15% lower at $3,372.43. The e-commerce giant reported third quarter results, with earnings per share at $6.12, missing estimates of $8.92, and sales of $110.8 billion compared to estimates of $111.6 billion. Amazon cited supply chain issues and labour shortages for the results. Amazon now forecasts that sales growth will slow even further in Q4, to a range from $130 billion to $140 billion, well below the $142 billion forecast.
---
Singapore
Broadway Industrial (BWAY SP) shares surged 10% on Friday to close at the highest since Feb 2017. Seagate Technology (STX US) previously reported a better-than-expected 1QFY22 performance, and guided for a stronger quarter ahead. Broadway is a major supplier of actuator arms to the hard disk sector. Broadway also bought back another 0.5mn shares last week.
Mermaid Maritime (MMT SP) shares rose 4.2% after the company signed a letter of intent to purchase an offshore construction vessel from Swiber Holdings Limited. We have a Buy recommendation on Mermaid Maritime with a TP of S$0.12.
Uni-Asia Group Ltd (UAG SP) shares fell 4.1% on Friday due to profit taking. Shares on Thursday climbed 4.29% after UOB Kay Hian initiated on the company with a Buy call and a target price of $2.34. The brokerage believes that freight rates will "stay elevated" through 2022, attributed to a strong demand for various commodities, as well as the recent spike in dry-bulk freight rates to a supply squeeze as vessels stay longer in ports. The brokerage said that current valuations for Uni-Asia are "attractive" at 4.8 times 2021 and 4.2 times 2022 price-to-earnings ratios, as well as a 2022 dividend yield of 4.3 per cent.
Geo Energy (GERL SP); Golden Energy & Resources (GER SP) shares of the Indonesian coal miners fell 4-6% on Friday and more than 12-16% Week-on-Week after China's thermal coal prices extended their decline after gov't official said there's further room for prices to fall. Prices of China's most active thermal coal contract on Zhengzhou Commodity Exchange have declined almost 50% since hitting a record on 19 Oct.
Keppel Reit (KREIT SP) units rose 2.73% on Friday. The company previously reported in its Q3 business update that its distributable income from operations for the first nine months of 2021 rose 20.8% YOY to $159.9 million. The manager cited contributions from the Victoria Police Centre in Melbourne, Pinnacle Office Park in Sydney and Keppel Bay Tower in Singapore for the rise. It also added that the Reit's "quality portfolio" has remained resilient during the Covid-19 pandemic as a result of accelerated vaccinations and further reopenings.
Trading Dashboard: Add OCBC (OCBC SP) at S$11.85. Remove Silverlake Axis (SILV SP) at S$0.32.
---
Hong Kong
Nexteer Automotive Group Ltd (1316 HK). Shares gained 8.5% on Friday, as major customer Ford (F US) raised production capacity. Driven by strong growth in North American car sales, Ford performed better than expected in the third quarter, attributable to its recently transformed product portfolio, including new products such as the Mustang Mach-E, Bronco series, and the redesigned F-150 pickup truck. In addition, for the upcoming F-150 Lightning pure electric pickup truck, Ford decided to double its annual planned production to 80,000 units. According to Nexteer's mid-year report, the company would include Ford Mustang Bronco and other products in its new production projects this year. Nexteer also said that the F-150 electric pickup truck will also be officially put into production early next year.
China Oilfield Services Ltd (2883 HK). Shares gained 6.5% on Friday, after the company announced its 3Q results and UBS maintained its BUY rating on the company, even though lowering its target price from HK$12 to HK$11.2. According to the report, the company's 3Q profit performance continued to achieve YoY and QoQ growth, even though the pace of growth was slower than the bank and market's expectations. In addition, the company's major customer CNOOC Ltd (883 HK) increased its capital expenditure growth rate in the third quarter to 13.8% and is expected to accelerate in the second half of the year to 24%, that is, assuming CNOOC achieves a strong fourth quarter. UBS believes that the global oilfield services industry is in the early stages of a multi-year upcycle. According to Bloomberg consensus, China Oilfield Services currently has a rating of 19 BUYS, 3 HOLDS and 0 SELL, with a 12M TP of HK$9.89.
Postal Savings Bank of China Co Ltd (1658 HK). Shares rose 5.4% on Friday, after the company announced its 3Q results and Credit Suisse maintained its OUTPERFORM rating on the company and raised its target price from HK$7 to HK$7.4. According to the report, the company's quarterly performance was better than expected. The net profit for the first three quarters increased 22.1% YoY, and the two-year compound growth rate was 9%. Net profit was driven by the increase in revenue growth, mainly from net interest income and fee income, while net interest yield was stable. According to Bloomberg consensus, Postal Savings Bank currently has a rating of 32 BUYS, 2 HOLDS and 0 SELL, with a 12M TP of HK$7.02.
ENN Energy Holdings Ltd (2688 HK). Shares rose 5.2% on Friday, after JP Morgan released a research report reiterating its OVERWEIGHT rating on ENN Energy with a target price of HK$150. According to the report, the company's retail natural gas sales increased by 15% in the third quarter, and new installations increased by 19%. Taking into account the restrictions on electricity and the high price of liquefied natural gas, the management lowered its annual sales growth guideline from 20% to 18%-20%, and the profit margin guideline from 56 cents to 53-54 cents. However, the bank believes that the slowdown in natural gas retail growth is only temporary, and some provinces have begun to relax power restrictions. It believes that the market's excessive concerns about its profit margin and sales growth have led to recent weakness in stock prices, providing an attractive opportunity to enter the market. According to Bloomberg consensus, ENN Energy currently has a rating of 18 BUYS, 9 HOLDS and 3 SELLS, with a 12M TP of HK$154.41.
BYD Electronic International Co Ltd (285 HK). Shares declined 10.3% on Friday, after the company announced disappointing 3Q results and Credit Suisse lowering its target price from HK$35.5 to HK$24.6. Net profit for the first three quarters was RMB2.157bn, a YoY decrease of 50.25%, while revenue was RMB65.935bn, an increase of 27.99% YoY. The company attributed this to the lack of chips and weak demand caused by China's power supply control. Credit Suisse lowered its earnings estimates for FY 2021-23 by 16%/8%/5%, mainly due to the decline in revenue/gross profit. However, the bank believes that the third quarter results are the bottom of the year and according to its forecast, most of China's major Apple/Android suppliers will continue to increase their revenue by 20-35% in the fourth quarter. According to Bloomberg consensus, BYD Electronic currently has a rating of 22 BUYS, 2 HOLDS and 0 SELL, with a 12M TP of HK$45.91.
Trading Dashboard: Ping An Insurance (2318 HK) cut loss at HK$57.7. China Molybdenum (3993 HK) cut loss at HK$4.95. Add Nexteer Automotive (1316 HK) at HK$8.8. Add Bosideng International (3998 HK) at HK$6.05. Add Xtep International (1368 HK) at HK$10.5.
---
Trading Dashboard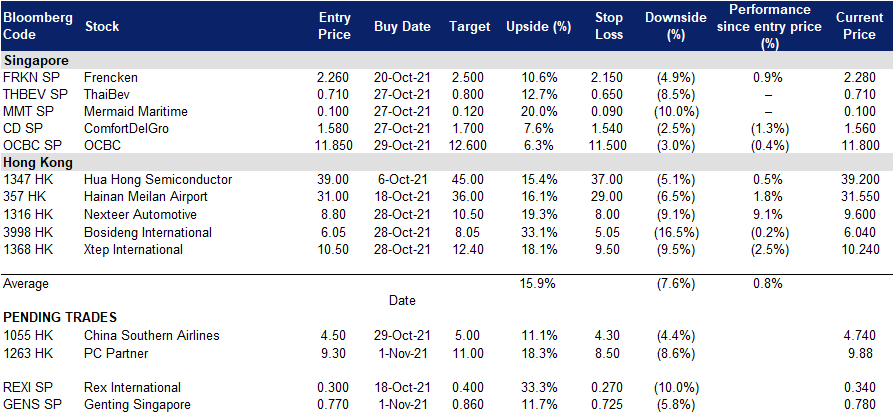 ---

---
Related Posts: