1 Dec 2021: Singtel (ST SP), PC Partner Group Limited (1263 HK)
Singapore Trading Ideas | Hong Kong Trading Ideas | Market Movers | Trading Dashboard
SINGAPORE
Singtel (ST SP): Oversold and entering accumulation zone
BUY Entry – 2.36 Target –2.80 Stop Loss – 2.20
Singtel provides an extensive range of telecommunications and digital services to consumers and businesses across Asia, Australia, Africa and the US. It serves over 753 million mobile customers in 21 countries, including Singapore, Australia (via wholly-owned subsidiary Singtel Optus) and the emerging markets of India, Indonesia, the Philippines, Thailand and Africa.
Oversold. Shares of Singtel have lost around 10% from their 1-year high of S$2.63, driven partly by the broad-based selling due to the new Covid variant – Omicron. RSI of 26 indicates oversold conditions, while shares are now within the 1-year accumulation band (see graph below).
Improving outlook. Consensus anticipates an improving outlook for Bharti as the Indian wireless industry becomes a quasi-duopoly, which should drive revenue and earnings growth going forward. Meanwhile, its 100%-owned Australian subsidiary, Optus, is seeing a better competitive environment as operators remove discounts and are offering less bonus data.
Banking on digital. In the next 12-24 months, a key driver will be Singtel's digital banking plans together with its partner, Grab Holdings. The Singtel-Grab consortium will allow it to take deposits and offer banking services to retail and corporate customers. For now, we think Singtel's share price has not factored in contribution from the digital bank business, and will likely be a positive boost to its shares when visibility emerges.
Consensus estimates. Consensus has an overall positive outlook on Singtel, with 17 BUYS / 2 HOLDS / 0 SELL, and a 12m TP of S$3.08 (+31% upside potential). EPS is forecasted to finally grow 31% and 18% for FY2022 (YE March) and FY2023. The stock offers a decent dividend yield of 4.3% for FY2022 and 5.1% for FY2023.
---
ISDN (ISDN SP): Cyber Monday sale
REITERATE BUY Entry – 0.69 Target –0.85 Stop Loss – 0.62
ISDN is a leading provider of industrial automation solutions throughout Asia. The company has more than 10,000 customers, and 74 offices spanning key Asian growth markets, and has a 35-year history of innovating alongside the growing technology needs of its customers. Today, ISDN's solutions power advanced industrial sectors including semiconductors, Industry 4.0 manufacturing, medical devices, aerospace, and clean energy. The group generates around 68% of sales from China.
Cyber Monday sale. Shares of ISDN have lost almost 12% from the recent 1 month peak of S$0.785 due to the broad-based sell-off last week over concerns on the new Covid-19 variant. However, we see this as an opportunity to buy quality stocks who are trading at attractive valuations, such as ISDN.
Record revenue and profits in 1H2021. ISDN 1H2021 rose 30% YoY to S$217mn while net profit surged 51% YoY to S$19mn. This was on the back of better gross profit margins which rose 2.1% points to 26.8%.
Growing productivity. ISDN has continued its strategic buildout by expanding its solutions portfolio to include industrial internet-of-things (IoT) connectivity, deepening advanced engineering, growing industrial systems projects, and advancing software and cloud solutions. Covid-19 and geopolitical tensions have reduced global labour mobility and increased employee health risk, leading to an acceleration in labour automation for the group's customer base.
Fundamental OUTPERFORM and TP to S$0.85. ISDN currently trades at only 6x forward EV/EBITDA, a significant discount to its international peers who are trading at around 10x EV/EBITDA.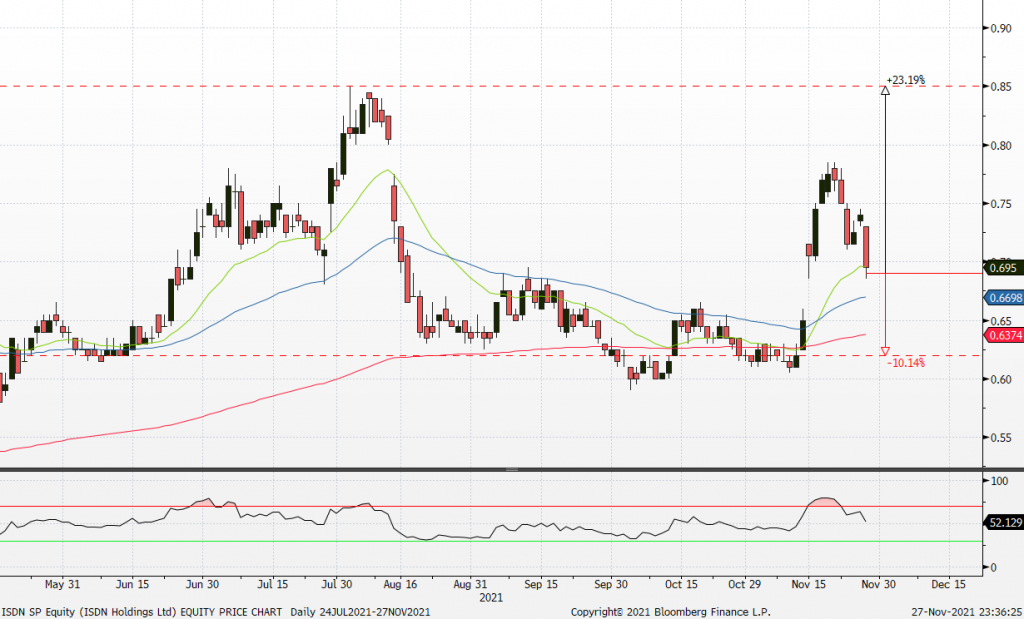 ---
HONG KONG
PC Partner Group Limited (1263 HK): Ride on the trend
Buy Entry – 15 Target – 20 Stop Loss – 12.5
PC Partner Group Limited is an investment holding company principally engaged in the electronics and personal computer (PC) parts and accessories businesses. Its main business includes the design, development and manufacturing of video graphics cards for desktop PCs, the provision of electronics manufacturing services, as well as the manufacturing and trading of other PC related product components. The Company is also engaged in the provision of technical support services through its subsidiaries. Its primary products are video graphics cards, motherboards and mini-PCs. Its primary brands include ZOTAC, Inno3D and Manli. Its businesses are mainly conducted in Mainland China, Hong Kong, Macau, Korea and the US.
Expecting 3Q21 to reach a new record. Prices of graphic cards continue to rise. The price hikes of RTX 3080 or lower, GTX 10 series, and RX 6000 series range from 3% to 7% in September. AMD (AMD US) announced its 3Q21 results. Its Computing and Graphics segment revenue jumped by 44% YoY or 7% QoQ to US$2.4bn. In 1H21, PC Partner's graphic card revenue grew by 140.8% YoY to HK$6.0bn. The group's gross profit margin increased to 27.2% from 9% during the same period. It is expected that PC Partner Group's 3Q21 results will be stellar.
Metaverse theme hype. Facebook (FB US) recently changed its name to META, announcing the metaverse as its core development for the next decade. Previously, Nvidia (NVDA US) also announced plans to develop the metaverse area. In the foreseeable future, the demand for graphic cards will have exponential growth. PC Partner can be viewed as one of the few metaverse-themed stocks listed in Hong Kong. AMD announced its next-gen Zen 4-based EPYC "Genoa" CPUs at its Accelerated Data Center event, as well as the world's first MCM-based "Aldebaran" GPU that will power AMD's new Instinct MI250X and MI250 accelerators. Meanwhile, they also announced that they have secured Meta, the company formerly known as Facebook, as a new customer. Meta will be using AMD EPYC CPUs inside of its data centres.
Cryptocurrencies on the long-term bull trend. Another driver for sales growth is the positive uptrend of the crypto market. Both Bitcoin and Ethereum remained at a healthy uptrend. An increasing number of institutions have accepted cryptocurrencies as one part of their asset allocations. With higher crypto prices, mining activities remain buoyant globally, pushing higher demand for graphic cards.
The company's valuation is attractive. The stock is currently trading at only 5.8x PE.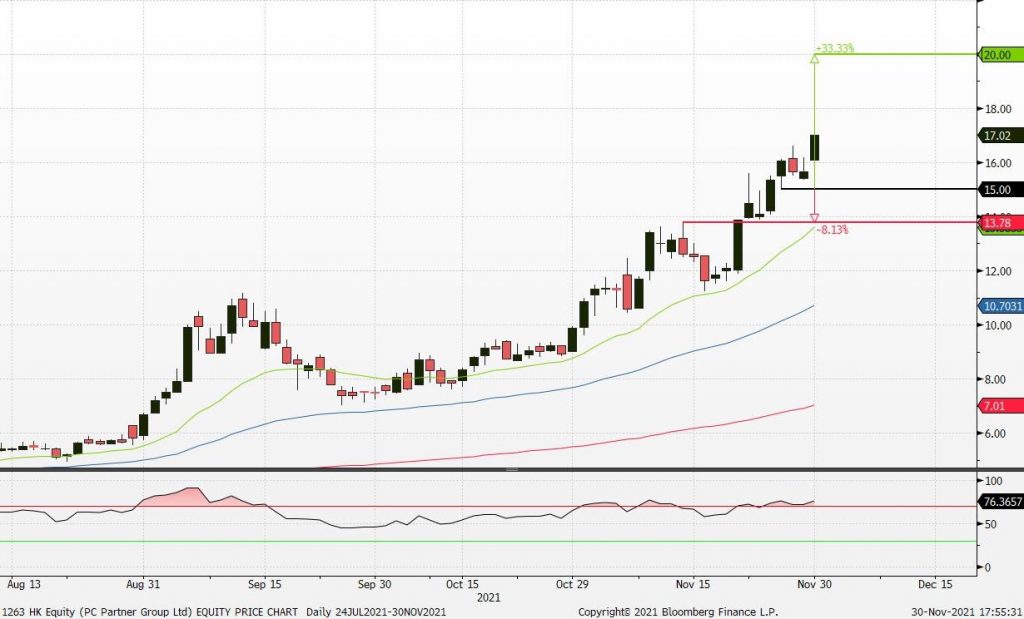 ---
Xinjiang Goldwind Science & Tech Co Ltd (2208 HK): upswing between tailwind and headwind
Reiterate Buy Entry – 16.8 Target – 18.8 Stop Loss – 15.8
Xinjiang Goldwind Science & Tech Co Ltd is a China-based company, principally engaged in the manufacture and distribution of wind turbine generator sets and spare parts. The company is also engaged in the provision of wind power services, as well as the investment and development of wind farms. The company distributes its products within domestic and overseas markets.
3Q21 financial results updates. 3Q21 Operating income dropped by 9.4% YoY to RMB15.6bn. Net profits attributable to shareholders of the company jumped by 45.6% YoY to RMB1.2bn.
3Q21 operating results updates. In 9M21, the external sales volume of the company were 6,347.5MW. As at 3Q21, the group's external contract orders were 13,344.5MW. The group had 1,746.4MW unsigned contract orders.The group's total external order was 15,090.7MW, including 1,874.8MW overseas orders. In addition, the Group's internal order totaled 1,336.5MW.
Utilities sector is a relative safe haven during market turmoil. New Covid variant Omicron shocked the global market during the Thanksgiving holiday. At the moment, lot of uncertainties regarding the impacts could slow down the global economic recovery. Meanwhile, inflation concerns will come back once the yields resume uptrend. One of the certain themes for global market is carbon neutrality. Xinjiang Goldwind is one of the few wind power-themed stocks that have solid fundamentals and upbeat outlook for the next few years.
Updated market consensus of the EPS growths in FY21/22/23 are 43.0%/5.0%/12.3% YoY respectively, which translates to 14.7x/14.0x/12.5x forward PE. Current PER is 17.5x. Bloomberg consensus average 12-month target price is HK$19.99.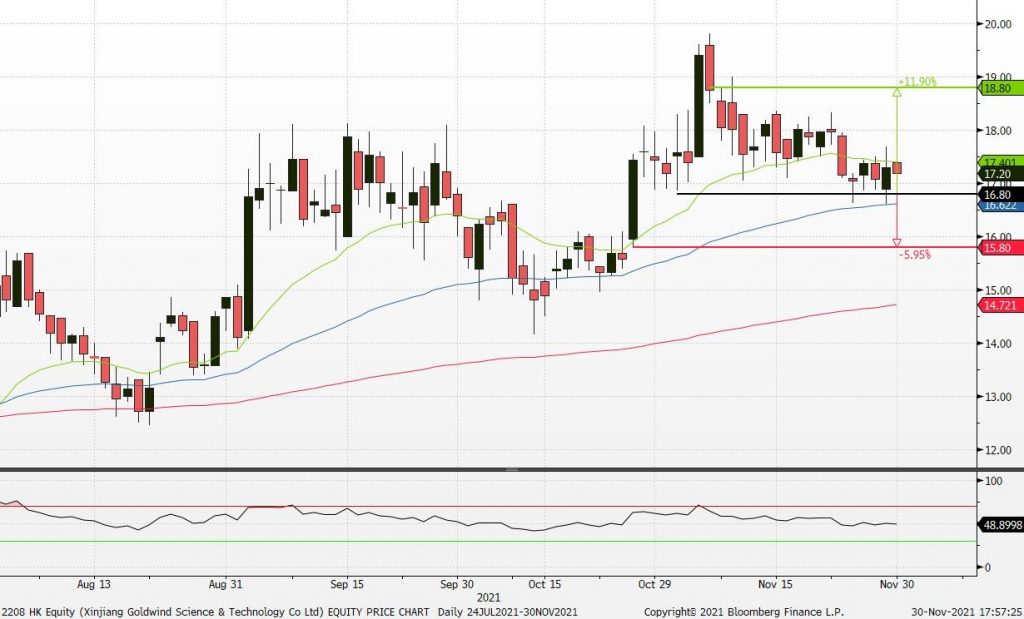 ---
Market Movers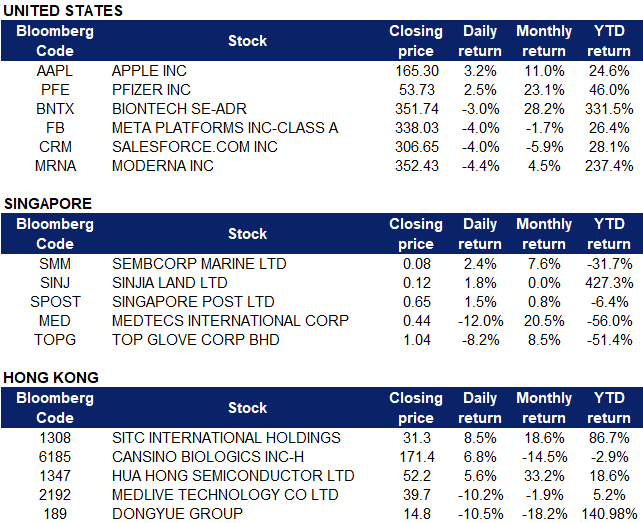 ---
United States
Federal Reserve Chair Jerome Powell yesterday suggested that the central bank could pull back on stimulus measures sooner than it forecasted. Analysts had previously expected the Fed to adopt a more supportive stance toward the economy after health officials detected a worrisome new coronavirus strain that threatens to derail the market's recovery.
Investors reacted by selling off many stocks. The Dow Jones Industrial Average, S&P 500, and Nasdaq Composite, in turn, all fell more than 1.5% on the day.
Top Sector Gainers
NA
Top Sector Losers
Salesforce (CRM US) shares dropped more than 6% in after hours trading yesterday after the company issued fourth quarter guidance below expectations. Salesforce said earnings per share for the December quarter would be between 72 and 73 cents, lower than analyst expectations of 81 cents. The company however, reported better-than-expected earnings and revenue for the last quarter at $1.27 per share vs $0.92 estimates, and $6.86 billion vs $6.8 billion expected respectively.
Apple (AAPL US) shares climbed 3.2% despite a sharp fall in the major market indices yesterday. The stock closed at an all time high of $165.30. The stock's gains came on the same day Fed Chair Jerome Powell indicated the Federal Reserve would talk about the possibility of accelerating its tapering program at its next FOMC meeting in a move to combat inflation. Powell also indicated that it's time to "retire" the word 'transitory' when talking about inflation. All 11 sectors of the S&P 500 were in the red yesterday amid the broader sell-off, with Information Technology stocks, helped by Apple's performance, losing the least.
Shares of Meta Platforms (FB US) lost 3.5% on Tuesday after Reuters reported that Britain's Competition and Markets Authority (CMA) has ordered the company to divest itself of the popular GIF website Giphy, arguing that "requiring Facebook to sell Giphy [protects] millions of social media users and [promotes] competition and innovation in digital advertising." Meta disagrees with this assessment, and is planning to appeal the CMA's decision.
Shares of vaccine makers Moderna (MRNA US) and BioNTech (BNTX) lost 4.4% and 3% respectively, while Pfizer (PFE US) shares gained 2.5%. Moderna CEO Stephane Bancel told the Financial Times that he expects existing vaccines to be less effective against the new omicron variant. Oxford University said there is no evidence yet that current vaccines will not protect against severe disease from omicron.
---
Singapore
Sembcorp Marine Ltd (SMM SP) shares gained 2.4% yesterday after the company announced that it would be appointing Mr Patrick Daniel as an additional member to the executive committee. Daniel, a veteran journalist, was appointed as interim CEO for SPH Media Trust in May. SPH Media Trust is a company limited by guarantee that was formed after Singapore Press Holdings (SPH) hived off its media business.
Sinjia Land Ltd (SINJ SP) shares gained 1.8% yesterday. The company announced yesterday that BINEX Singapore had increased their issued and paid-up capital of S$7.50 to S$1,000,007.50, comprising 10,000,525,000 fully paid-up ordinary shares. There will also be no share consolidation upon the completion of the Proposed Acquisition.
Singapore Post Ltd (SPOST SP) shares gained 1.5% yesterday. The company announced that it has completed Tranche Two and the Proposed Option Shares Acquisition yesterday, for a total consideration of approximately A$28.8mn (S$28.5mn) and A$81.5mn (S$80.7mn) respectively. Singpost also announced the intended use of the net proceeds: 1) Under its business of eCommerce logistics, it is for purposes such as investments, mergers and acquisitions and the upgrade of the SingPost Group's operations and information technology systems relating to the eCommerce logistics business, 2) The general working capital of the SingPost Group, which was largely used to repay the working capital funding for SingPost Centre Retail Mall construction.
Medtecs International Corp Ltd (MED SP), Top Glove (TOPG SP) shares declined 12% and 8.2% respectively, retreating from their price rally over the last 2 trading days. Medtecs and Top Glove shares gained a total of 72.6% and 42.4% over last Friday and Monday. Shares likely declined on profit-taking.
Trading Dashboard: Cut loss on OxPay Financial (OPFL SP) at S$0.26
---
Hong Kong
Top Sector Gainers
Top Sector Losers
SITC International Holdings Co Ltd (1308 HK). The shipping sector continued to recover. Shares closed at a 2-month high. Concerns over the deterioration of supply chain issues resulting from further lockdowns could potentially support shipping rates or push them higher.
Cansino Biologics Inc (6185 HK). Vaccine stocks edged up. The company has started research on a vaccine targeting omicron, the Global Times reported on Monday, adding the company can come up with a new vaccine "in the shortest time" if needed.
Hua Hong Semiconductor Ltd (1347 HK) shares closed at a 3-month high. There was no company-specific news. The Omicron variant could further intensify the chip shortage as lockdowns resumed. United Microelectronics Corporation, a Taiwan wafer foundry, had announced a price hike for long-term contract renewal previously.
Medlive Technology Co Ltd (2192 HK). There was no company-specific news. Previously, it announced that its stock will be included in the Hang Seng Composite Index, effectively on 6th December. The Hang Seng Index dropped to a 52-week low.
Dongyue Group Ltd (189 HK). There was no company-specific news. According to Choice data, as of 29th November, the number of shares holdings through the China-Hong Kong connection fell to 537.5mn from 720.03mn on 27th September.
Trading Dashboard: Take profit on Xtep International (1368 HK) at HK$10.56. Cut loss on BYD Electronic (285 HK) at HK$29. Cut loss on Bosideng International (3998 HK) at HK$5.48.
---
Trading Dashboard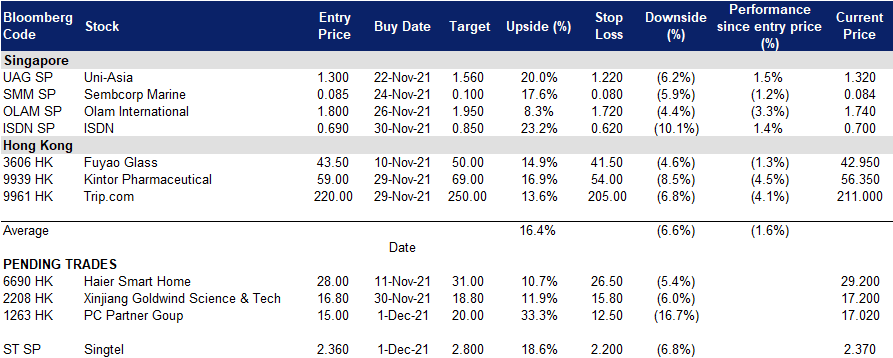 (Click to enlarge image)
---

---
Related Posts: