9 September 2022: RH Petrogas Limited (RHP SP), TRIP.COM (9961 HK)
Singapore Trading Ideas | Hong Kong Trading Ideas | Market Movers | Trading Dashboard
RH Petrogas Limited (RHP SP): Expecting second leg-up of oil prices in 3Q22
BUY Entry 0.195 – Target – 0.225 Stop Loss – 0.180
RH Petrogas Limited is an independent upstream oil and gas company headquartered in Singapore and listed on the mainboard of the Singapore Stock Exchange. It operates across the full range of upstream activities covering the exploration, development and production of oil and gas resources. Geographically, RHP is focused on the Asia region with existing assets in Indonesia and Malaysia.
OPEC+ output cut. Officials of OPEC and its major allies agreed on Monday to modestly cut oil production by 100,000 barrels a day, rolling back the increase they approved a month ago.
1H22 earnings review. 1H22 revenue jumped by 43.5% YoY to US$56.7mn. Gross profit jumped by 48.3% YoY to US$28.2mn. Net profit attributable to the owners of the company jumped by 78.3% to US$12.4mn.
Cheap valuation. Currently, shares are trading at 5.0x PE based on its FY21 EPS. The average 5-year historical PER is 5.7x.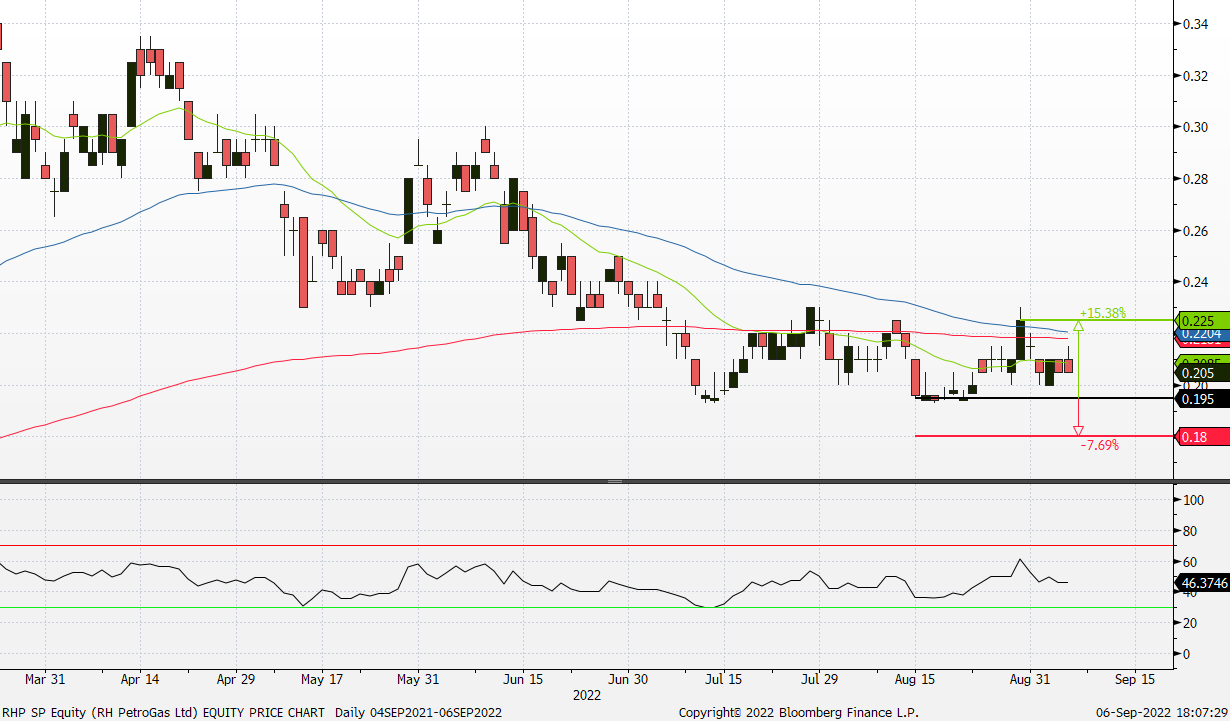 (Source: Bloomberg)

Keppel Corp Ltd (KEP SP): Back to more than 4 years high
RE-ITERATE BUY Entry 7.2 – Target – 7.8 Stop Loss – 6.9
Keppel Corporation is a Singaporean conglomerate headquartered in Keppel Bay Tower, HarbourFront. The company consists of several affiliated businesses that specialises in offshore & marine, property, infrastructure and asset management businesses.
Share buyback notice. Keppel released a share buy back notice on 31 August 2022. They purchased a total of 809,000 shares for a total of S$5.85mn, paying between S$7.16 to S$7.24 per share, to be held as treasury shares.
Develop Singapore's first hydrogen-ready power plant. The plant will be constructed on Jurong Island, with construction to be undertaken by a consortium comprising Mitsubishi Power Asia Pacific and Jurong Engineering. The plant will be owned by Keppel Sakra Cogen (KSC), presently a wholly-owned indirect subsidiary of Keppel Infrastructure. It is intended that Keppel Asia Infrastructure Fund LP (KAIF) and Keppel Energy will hold 70% and 30% equity interests in KSC respectively. The Keppel Sakra Cogen Plant, which is expected to be completed in the first half of 2026, will be designed to operate on fuels with 30% hydrogen content with the capability of shifting to run entirely on hydrogen, although it will initially run on natural gas as its primary fuel. The advanced combined cycle gas turbine (CCGT) power plant will also be able to produce steam for use in industrial processes for the energy and chemicals customers on Jurong Island.
1H22 earnings review. Net profit rose 66% YOY to S$498 million in 1H2022. Keppel announced an interim dividend 15 SG cents per share. Revenue in 1H22 was S$3,356 million as compared to 1H21 S$2,888 million.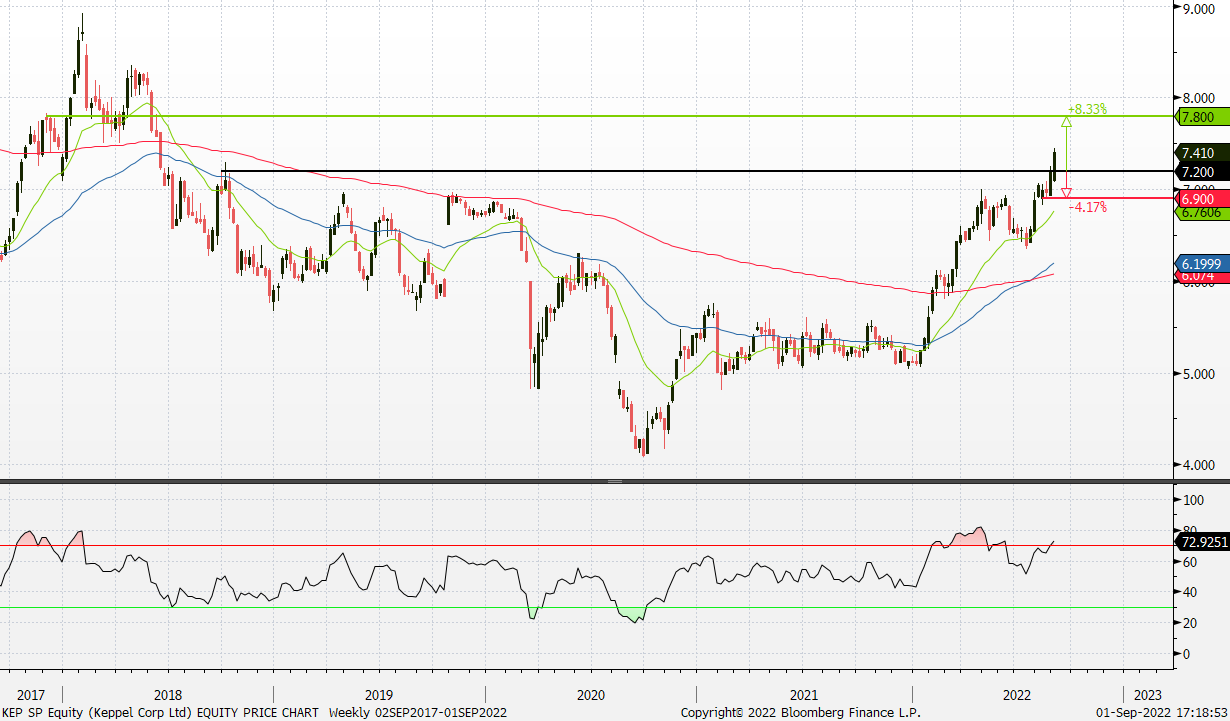 TRIP.COM (9961 HK): A Mid-autumn festival holiday-themed trade
Buy Entry – 190 Target – 210 Stop Loss – 180
Trip.com Group Limited, formerly Ctrip.com International, Ltd., is a travel service provider in China that provides accommodation booking, transportation ticketing, package tours and corporate travel management. The company aggregates hotel and transportation information to help leisure and business travellers make reservations. The company helps leisure travellers book travel packages and guided tours and helps corporate clients manage their travel needs. The company also offers a range of travel-related services to meet the different booking and travel needs of leisure and business travellers, including visitor reviews, attraction tickets, travel-related financial services, car services, travel insurance services and passport services. The company also offers package tours for independent leisure travellers, including tour groups, semi-tour groups and private groups, as well as package tours that require different transportation arrangements (such as cruise, buses or self-driving).
Mid-autumn Festival holiday bookings surged. As of 30th August, according to the company's 2022 Mid-autumn festival and autumn holiday booking statistics report, the overal bookings for the upcoming Mid-autumn festival holiday surged by 137% compared to the previous Dragon Boat Festival holiday. This year's Mid-Autumn Festival local travel, peripheral travel, long-distance travel orders accounted for 23%, 24%, 53%, long-distance travel compared with the same period this year Dragon Boat Festival accounted for nearly 30% of the increase. Mid-Autumn Festival is expected to become the best short holiday for this year's tourism market recovery.
1Q22 earnings review. Revenue remained flat at RMB4.1bn. Gross profit dropped by 1% YoY to RMB3.0bn. GPM fell 0.8ppt to 74%. Net loss narrowed to RMB149mn compared to RMB676mn during the same period last year.
Updated market consensus of the EPS in FY22/23 is US$0.253/US$1.096 respectively, which translates to 101.0x/23.3x forward PE. Bloomberg consensus average 12-month target price is HK$253.04.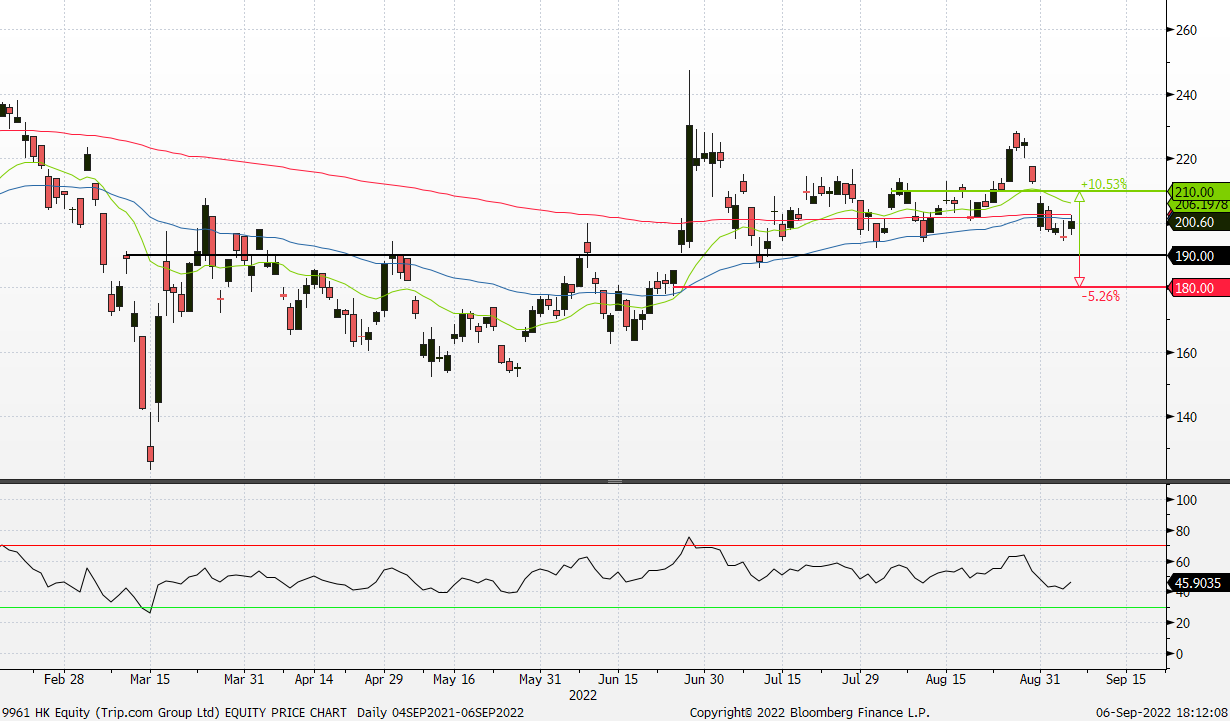 (Source: Bloomberg)
Fuyao Glass Industry Group Co Ltd (3606 HK): Geographical diversification and product mix boosted profitability
RE-ITERATE Buy Entry – 37.0 Target – 40.6 Stop Loss – 35.2
Fuyao Glass Industry Group Co Ltd is a China-based company, principally engaged in the manufacture and distribution of float glasses and automobile glasses. The company's products portfolio consist of automobile glasses, such as coating glasses and others, which are applied in passenger cars, buses, limousines and others, and float glasses. The company distributes its products within domestic markets and to overseas markets.
Record high 1H performance. 1H22 revenue grew by 11.79% YoY to a historical high of RMB12.9bn. Gross profit dropped by 5.8% YoY to RMB4.4bn. GMP fell by 6.4ppts to 36.2%. Profit attributable to owners of the company jumped by 34.6% YoY to a record high of RMB2.4bn. NPM grew by 3.2ppts to 18.6%.
Domestic and overseas business expansion. The company announced entering into a strategic cooperation agreement with the Zhengzhou municipal people's government. Under the agreement, the government will create favourable conditions for strategic cooperation, provide quality services, and make the planning land with an area of approximately 500 mu located at the industrial park of Zhengzhou South Railway Station Hub for the company to serve its needs for future business development. Meanwhile, the company announced to plan to invest US$650mn in the US plants. US$350mn will be used for the establishment of float glass production lines and four solar panel glass processing lines, and the rest funding will be used for the establishment of coated glass production lines.
Updated market consensus of the EPS growth in FY22/23 is 30.8%/23.7% YoY respectively, which translates to 20.6x/16.7x forward PE. Current PER is 23.1x. Bloomberg consensus average 12-month target price is HK$48.5.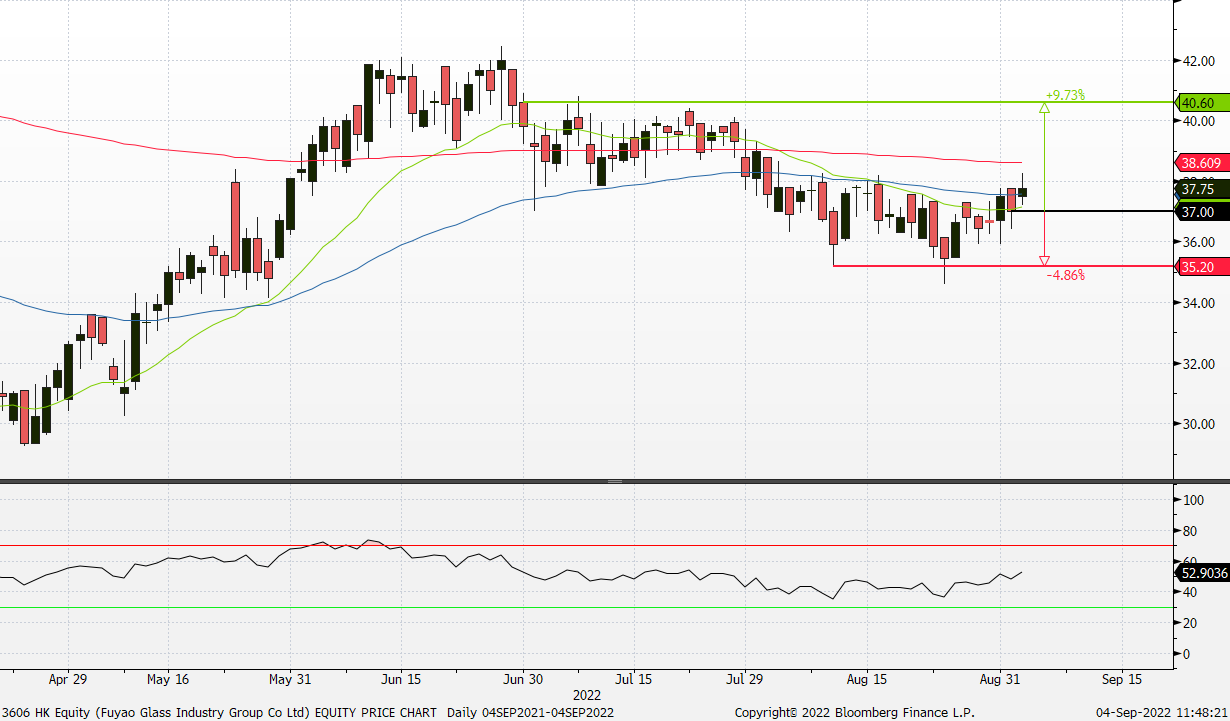 (Source: Bloomberg)



United States
Top Sector Gainers
Top Sector Losers
GameStop Corp (GME US) rose 7.4% after the company disclosed a new partnership with cryptocurrency exchange FTX in its quarterly update. GameStop plans to collaborate with FTX on e-commerce and online marketing initiatives. The increase in the stock price came even as GameStop reported a sales decline and widened losses for the most-recent quarter.
Rivian Automotive Inc (RIVN US) popped 10.9% after the electric-vehicle startup and Mercedes announced they were planning a joint venture to build electric commercial vans for both brands in Europe. Production for the vehicles will be done on a shared assembly line to reduce costs and will begin in a few years.
Asana Inc (ASAN US) surged 24.8% after the work management-focused software company beat analysts' earnings and revenue estimates for the previous quarter. Asana posted a smaller-than-expected loss of 34 cents per share. Revenue came in at $134.9 million, compared to estimates of $127.2 million, according to Refinitiv. The company's third-quarter revenue guidance was slightly ahead of estimates.
Regeneron Pharmaceuticals Inc (REGN US) stock rallied 18.8% after the pharmaceutical stock posted positive results from a trial for a potential eye drug.
Snap Inc (SNAP US) jumped 9.3% after the Verge reported that CEO Evan Spiegel broke down a turnaround plan in an internal memo. Spiegel said the company aims to grow Snapchat's user base by 30% to 450 million by the end of next year. He also said he expects to increase revenue to $6 billion in 2023. Snap recently laid off 20% of its workforce. 

Singapore
Golden Energy & Resources Ltd (GER SP) and Geo Energy Resources Ltd (GERL SP) fell 1.3% and 2.5% respectively yesterday. China's megacity Chengdu, the capital of Sichuan province, was scheduled to lift its lockdown on Wednesday. Instead, policymakers extended the order without providing a tentative exit date. Australian trade data for July, released earlier today, highlighted the sprawling impact of a China muzzled by strict government intervention. Australia's trade surplus fell to A$8.7 billion from A$17.1 billion in June. China is its largest export market, with coal, iron ore and other commodities making up a significant chunk of that trade. Chinese trade data for August was released earlier this week, which showed slowing exports—a concerning signal for markets because the Asian country serves as the largest exporter of goods. A global tightening in monetary policy is throttling the demand for goods, coal likely included.
Rex International Holding Ltd (REXI SP) fell 3.8% yesterday. Crude oil prices are slightly higher in Asia-Pacific trading but remain sharply lower following overnight losses. Traders are also watching lockdowns in China as a growing threat to oil demand. Chinese trade data for August was released earlier this week, which showed slowing exports—a concerning signal for markets because the Asian country serves as the largest exporter of goods. A global tightening in monetary policy is throttling the demand for goods, crude oil likely included. The European Central Bank (ECB) is expected to hike its benchmark rate by 75 bps tonight.
AEM Holdings Ltd (AEM SP) fell 1.6% yesterday. AEM Holdings suffered a recent IT breach that resulted in unauthorised access to its network, the company disclosed in a Monday (Sep 5) bourse filing. It did not elaborate when the breach occurred. The breach is not expected to have a material adverse impact on AEM's earnings per share for FY2022 ending December.
Samudera Shipping Line Ltd (SAMU SP) shares fell 2.8%. China's exports and imports lost momentum in August with growth significantly missing forecasts as surging inflation crippled overseas demand and fresh COVID curbs and heatwaves disrupted output, reviving downside risks for the shaky economy. Outbound shipments have outperformed other economic drivers this year but now face growing challenges as rising interest rates, inflation and geopolitical tensions pummel external demand. "It seems the export softness arrived earlier than expected, as recent shipping data suggests that demand from the U.S. and EU has already slowed as shipping prices have been falling significantly," said Zhou Hao, chief economist at Guotai Junan International.

Hong Kong
Top Sector Gainers
Top Sector Losers
Shanghai Fudan Microelectronics Group Co Ltd (1385 HK) rose 7.1% yesterday. The company said that the first automotive-grade MCU has completed the AEC-Q100 assessment and entered the market. The product performance and quality have been widely recognized by customers, and the company is actively promoting it. Currently, billion-gate FPGA products are under development, and the plan is to achieve tape-out this year, with the company's R&D department stepping up its efforts. Everbright, Zhongtai and other institutions stated in their performance review reports that the company, is one of the leading manufacturers in the domestic FPGA field, has been in the stage of increasing the volume in the past two years, and the downstream orders have been full and the performance has increased significantly, and the net profit forecast for 2022/2023/2024 has been raised.
Vinda International Holdings Ltd (3331 HK) fell 12.1% yesterday. In the pre-market, the shares recorded a total of 10 million shares in two lots, which was a 10.7% discount from yesterday's closing price. Earlier, Macquarie said in its interim performance review report that due to rising costs, Vinda's net profit forecasts for 2022 and 2023 were lowered by 8.9% and 14.3% respectively, and the target price was correspondingly lowered to HK$29, maintaining "outperform" rating.
Country Garden Holdings Co Ltd (2007 HK) fell 6.8% yesterday. On September 7, the All-China Federation of Industry and Commerce released the 2022 China Top 500 Private Enterprises Report. Country Garden Holdings Co., Ltd. ranked 7th on the list. The report analysis pointed out that in 2021, the development of the country's private enterprises will face multiple pressures, but it will still maintain recovery and development.
Shanghai Fosun Pharmaceutical Group Co Ltd (2196 HK) fell 6.6% yesterday. According to the latest equity disclosure information of the Stock Exchange, on September 2, 2022, Fosun Pharma was reduced by BlackRock Inc by 1.7635 million shares. After the reduction, BlackRock Inc's latest position was 26.237 million shares, and the holding ratio fell to 4.75%.
Innovent Biologics Inc (1801 HK) fell 6.2% yesterday. Deutsche Bank released a research report saying that it maintained the "buy" rating of Innovent Bio, and lowered its revenue forecast for this year and next by 20.2% and 21% to reflect that the growth in the first half of the year was slower than expected, target price down from HK$56 to HK$41.


Trading Dashboard Update: No stocks additions/deletions.