9 May 2022: Golden Energy and Resources (AUE SP), Prada S.p.A. (1913 HK)
Singapore Trading Ideas | Hong Kong Trading Ideas | Market Movers | Trading Dashboard

Golden Energy and Resources (AUE SP): Hit a 52-week high
BUY Entry – 0.70 Target – 0.90 Stop Loss – 0.60
Disclaimer: KGI Securities (Singapore) was the placement agent for Golden Energy and Resources' S$86.9mn private placement that was completed on 7 March 2022.
Diversified resources play. GEAR is a diversified mining and natural resources investment company. Having its roots as one of Indonesia's largest coal miners, the group is on track to become the dominant metallurgical coal player in Australia with the acquisition of Mitsui Coal Pty Ltd (BMC) from BHP Group (BHP AU). GEAR will further diversify into base metals that will be utilised for clean energy uses such as copper, cobalt, zinc and nickel.
Transformational year. Golden Energy & Resources (GEAR) is on track to significantly expand its production capacity and profits with the acquisition of BHP Mitsui Coal Pty Ltd (BMC). The acquisition will cement GEAR, through its ASX-listed Stanmore subsidiary, as a major metallurgical coal (coking coal) provider in the region. Metallurgical coal is the key ingredient in the steel industry, whose demand is driven by China now and India in the future. The completion of the acquisition was announced last week.
Primary beneficiary of Russia coal ban. The European Union, UK and Japan announced plans to phase out imports of coal from Russia, leaving power utilities to source from other countries such as Indonesia and Australia. Russia is the world's third largest exporter of thermal coal, with the EU, UK, Japan and South Korea taking about 55% of those deliveries in 2020, according to data provided by BloombergNEF.
Technical TP of S$0.90; fundamental TP of S$1.29. While we have a Technical TP of S$0.90 based on short-term technical factors, we maintain our fundamentals-based TP of S$1.29. Our fundamental TP is based on the SOTP valuation of its majority stakes in Stanmore Resources (metallurgical coal), PT Golden Energy Mines (thermal coal) and Ravenswood Gold (gold). Stanmore will increasingly drive GEAR's valuations, which currently makes up 48% of GEAR's fair value, while GEMS drops to 42% of our fair value, down from 85% in our initiation report (25 Aug 2021). Read the full fundamentals-based report here.
SGX TSI FOB Australia Premium Coking Coal Futures – May 2022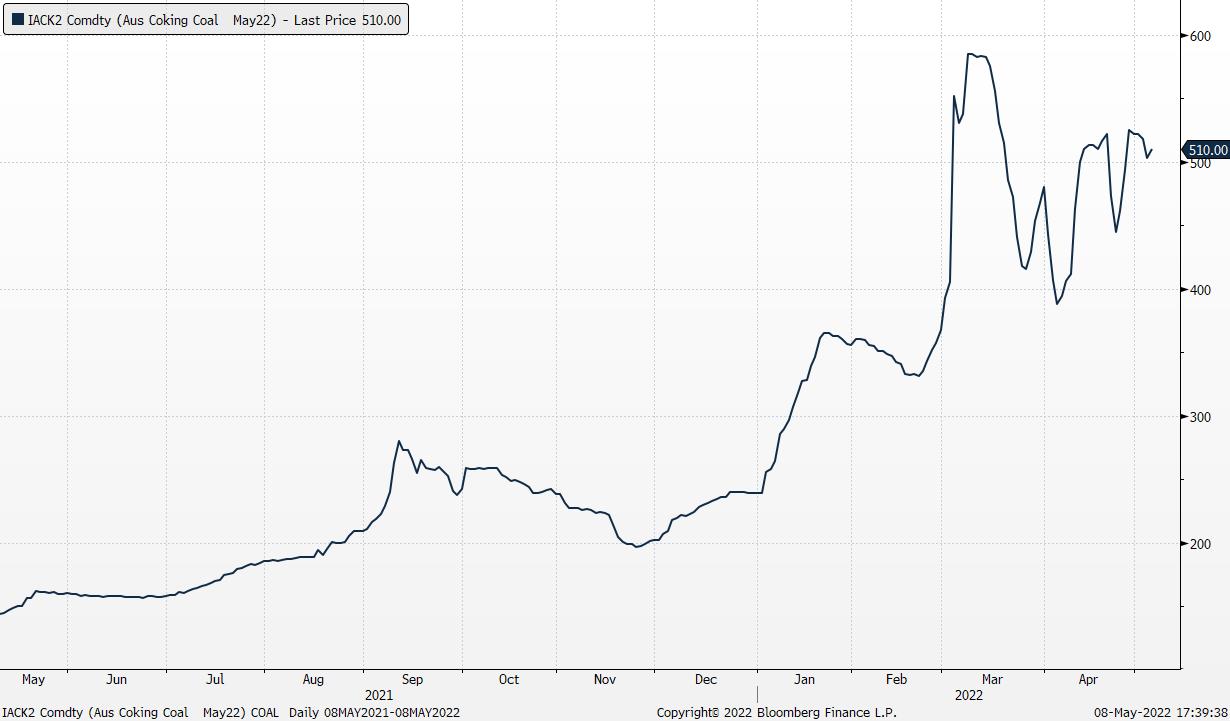 (Source: Bloomberg)

Jiutian Chemical Group Limited (C8R SP): Net cash accounts for 89% of the market cap
RE-ITERATE BUY Entry – 0.095 Target – 0.105 Stop Loss – 0.090
Jiutian is the second largest Dimethylformamide (DMF) producer in China, with a total annual capacity of 150,000 tons of DMF and methylamine (MA). Both these chemicals are important ingredients in industries as diverse as consumer goods, petrochemicals, electronics, pharmaceuticals and fertilisers. In addition, it now produces chemicals for fast growing sectors such as batteries that are used in electric vehicles.
Strong 1Q22 results despite a surge in COVID cases. 1Q22 revenue jumped by 76% YoY to RMB772mn. Net profit jumped by 123% YoY to RMB201mn. The sales volumes could be less than last year during the same period as China started to adopt certain restriction measures to contain COVID-19 spreads in March, affecting logistics. However, the average DMF prices ranged from RMB15,000/tonne to RMB16,000/tonne in 1Q22 compared to RMB9,000/tonne to RMB11,000/tonne in 1Q21. The cash and cash equivalents arrived at a record high of RMB1.02bn. Meanwhile, the company proposed an interim dividend of 0.75 SG cents (A dividend yield of 7.7% as of the closing price of S$0.097).
China Dimethylformamide (Industrial Grade) Monthly Average Price (RMB/tonne)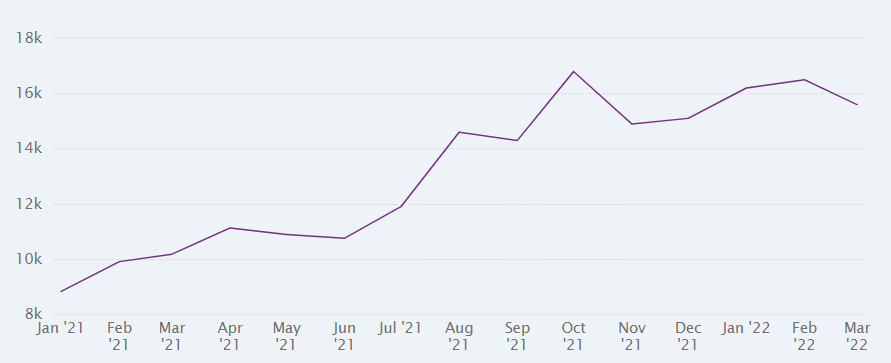 Source: CEIC
Upbeat near term outlook. Although China could ease its zero-COVID policies, it will continue to adopt draconian measures to avoid another wave of outbreaks. The current supply and demand dynamics will remain status quote as there is no substantial ramp-up in the domestic DMF capacity. The price correction of DMF in April was due mainly to the lockdowns of major cities and the ensuing decline in demand. The production and sales volumes fell correspondingly as well. The latest DMF average price is quoted at RMB12,800/tonne. We believe the downside is limited given raw material prices stay afloat.
Consensus estimates are positive. We have a fundamental TP of S$0.14 dated back on 17th May 2021. The consensus average TP excluding ours is $0.17. Currently, shares are trading at 2.9x FY2021 P/E (including one-off impairment).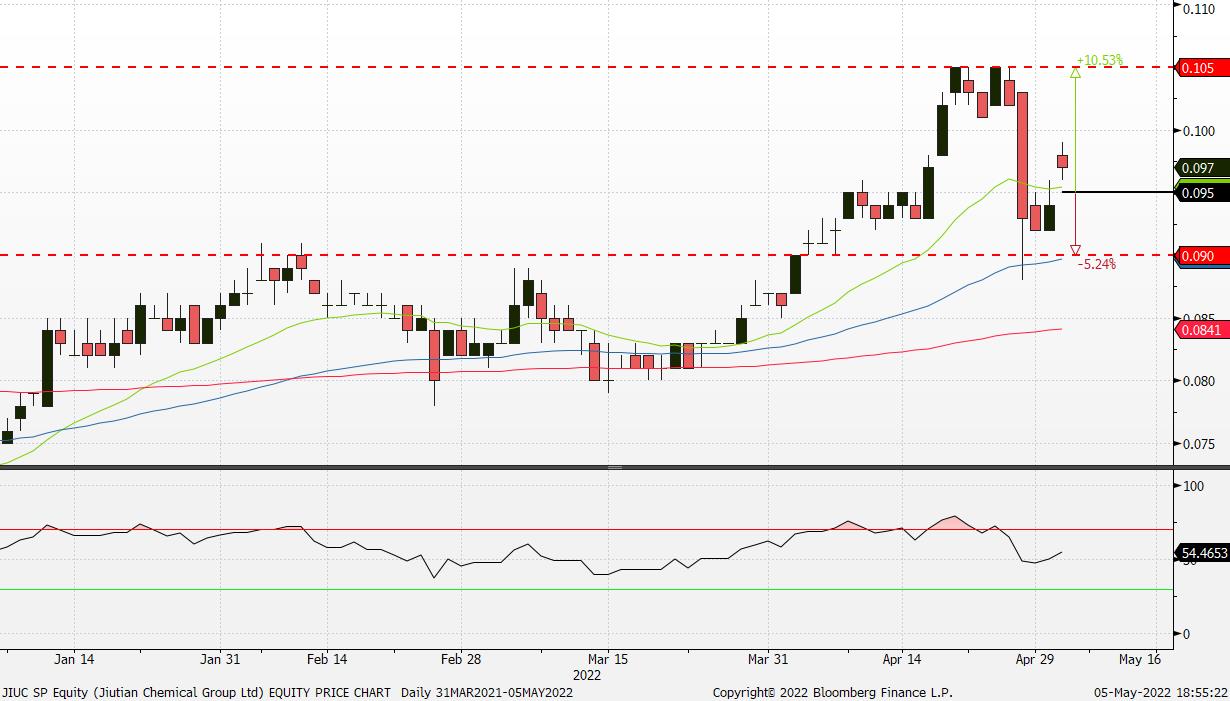 (Source: Bloomberg)


Prada S.p.A. (1913 HK): Luxury goods are an alternative inflation hedge
BUY Entry – 43.5 Target – 50.0 Stop Loss – 40.0
Prada SpA is an Italy-based company engaged in the fashion industry. The Company is a parent of the Prada Group. The Company, along with its subsidiaries, is engaged in the design, production and distribution of leather goods, handbags, clothing, eyewear, fragrances, footwear and accessories. Prada SpA manufactures jackets, trousers, skirts, dresses, sweaters, blouses, as well as perfumes and watches, among others. The Company trades its products through several brands, such as Prada, Miu Miu, The Church and The Car Shoe. Prada SpA operates in approximately 70 countries through directly operated stores, franchise operated stores, a network of selected multi-brand stores and department stores. Prada Spa operates through numerous subsidiaries, including Artisans Shoes Srl, Angelo Marchesi Srl, Prada Far East BV, Tannerie Megisserie Hervy SAS and Prada SA, among others.
Strong US business buffered the downturn in Russia and China. According to the previous comments from the CEO in mid-April, the company's US business offset the impact of suspending operations in Russia and covid lockdowns in China. Russia accounts for 2% of group sales and 50% of shops in China closed in the first half of April.
FY21 results review. Net revenues jumped by 38.9% YoY to EUR3.37bn (EUR3.22bn in FY19). Gross profit jumped by 75.7% YoY to EUR2.55bn (EUR2.32bn in FY19). Net income jumped grew by 8.9% YoY to EUR299.25mn (EUR255.79mn in FY19). The growth was due mainly to the recovery in the Asia Pacific and the US markets.
Liquidity spill-over positively boosts consumption of luxury goods. The Covid-19 pandemic triggered flooded liquidity. Not only did prices of traditional asset classes such as equities and properties soar, but also prices of virtual assets such cryptocurrencies and non-fungible tokens skyrocketed. The demand for luxury goods saw a strong V-shape rebound. According to Bain & Co, the market grew by 29% at current exchange rates to hit EUR283bn, increasing the size of the market by 1% versus 2019 levels. It is expected to reach EUR360 to 380bn by 2025 with a sustained growth of 6-8% annually.
Updated market consensus of the EPS growth in FY22/23 are 38.6%/27.2% YoY respectively, which translates to 34.1x/26.7x forward PE. Current PER is 47.3x. Bloomberg consensus average 12-month target price is HK$57.19.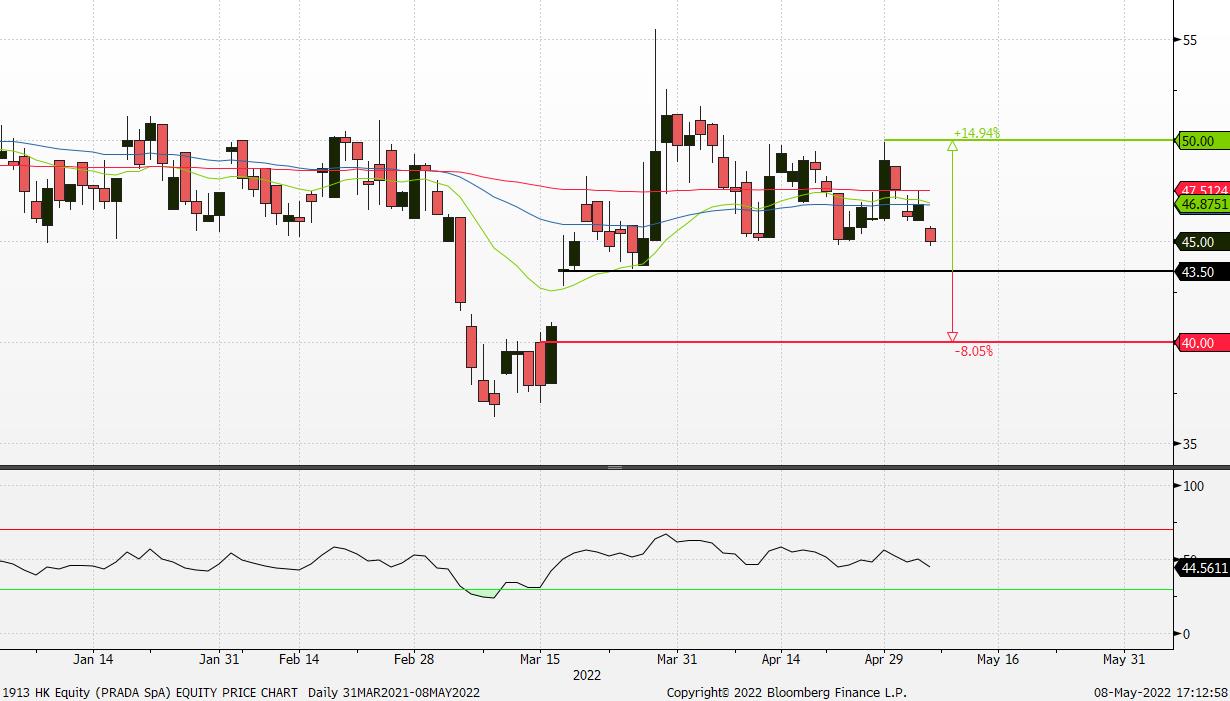 (Source: Bloomberg)

CNOOC Limited (883 HK): Renewed concerns on oil supplies
RE-ITERATE BUY Entry 10.62 – Target – 12.08 Stop Loss – 9.98
CNOOC Limited is a Hong Kong-based investment holding company principally engaged in the exploration, production and trading of oil and gas. Its businesses include conventional oil and gas businesses, shale oil and gas businesses, oil sands businesses and other unconventional oil and gas businesses. The company mainly operates businesses through three segments. The Exploration and Production segment is engaged in the exploration, development and production of crude oil, natural gas and other petroleum products. The Trading segment is engaged in the trading of crude oil, natural gas and other petroleum products. The company mainly operates businesses in China, Canada, the United Kingdom, Nigeria, Indonesia and Brazil, among others.
Russian oil sanction plans. Oil prices extended gains on Thursday on supply concerns as the European Union proposal laid out plans for new sanctions against Russia, including an embargo on crude in six months, offsetting concerns over weaker Chinese demand. The sanctions proposal, which was announced by European Commission President Ursula von der Leyen and needs unanimous backing by the 27 EU countries to take effect, includes phasing out supplies of Russian crude in six months and refined products by the end of 2022.
Record high dividend yield. CNOOC has proposed to pay HK$1.18 per share in a special dividend payout to A- and H-share investors, totalling an almost HK$56 billion dividend windfall after bumper earnings. The windfall follows the firm's decision in January to pay out at least 40% of its annual profits from 2022 to 2024 as dividends or at least HK$0.70 per share. The firm also reiterated its decision to implement share buy-backs this year. Earnings jumped 132% YoY in 1Q22 to RMB 34.3bn as crude oil prices surged during the period.
Valuation and consensus estimates. CNOOC has a consensus rating of 25 BUYS, 1 HOLD and 0 SELL, and a 12 month target price of HIK$15.42. CNOOC is currently trading at 3.77x/4.13x/4.39x FY22F/FY23F/FY24F P/E.
WTI Crude Oil Prices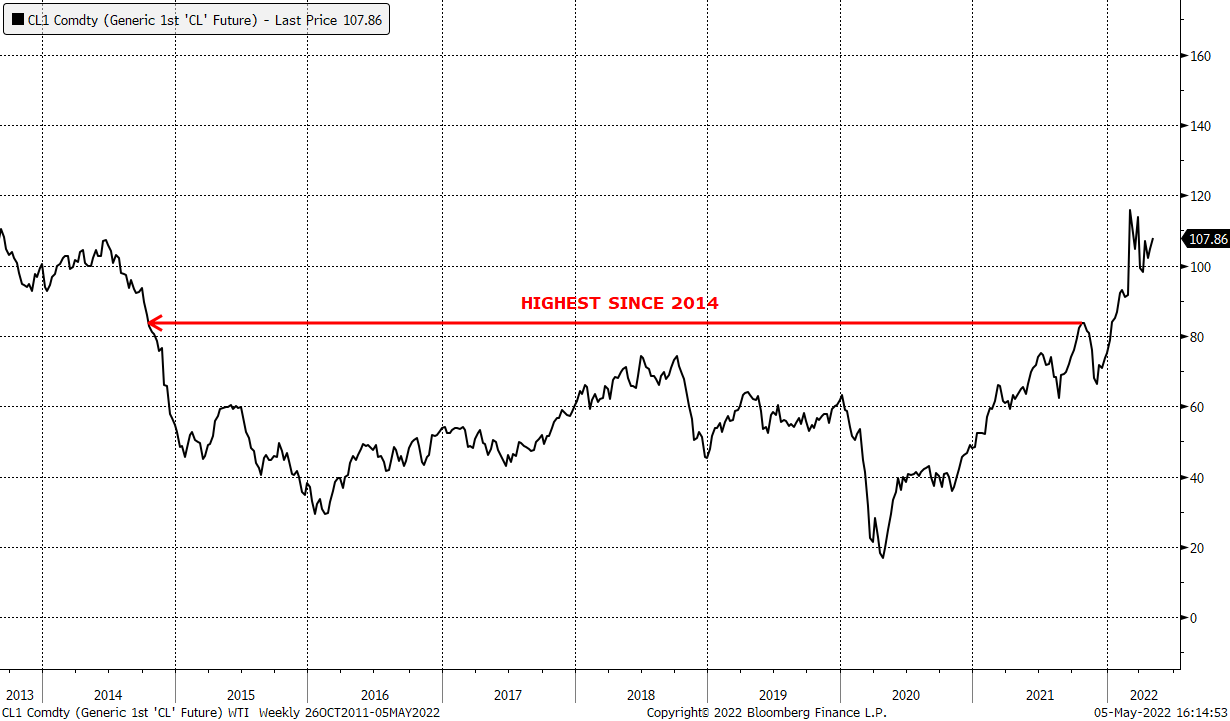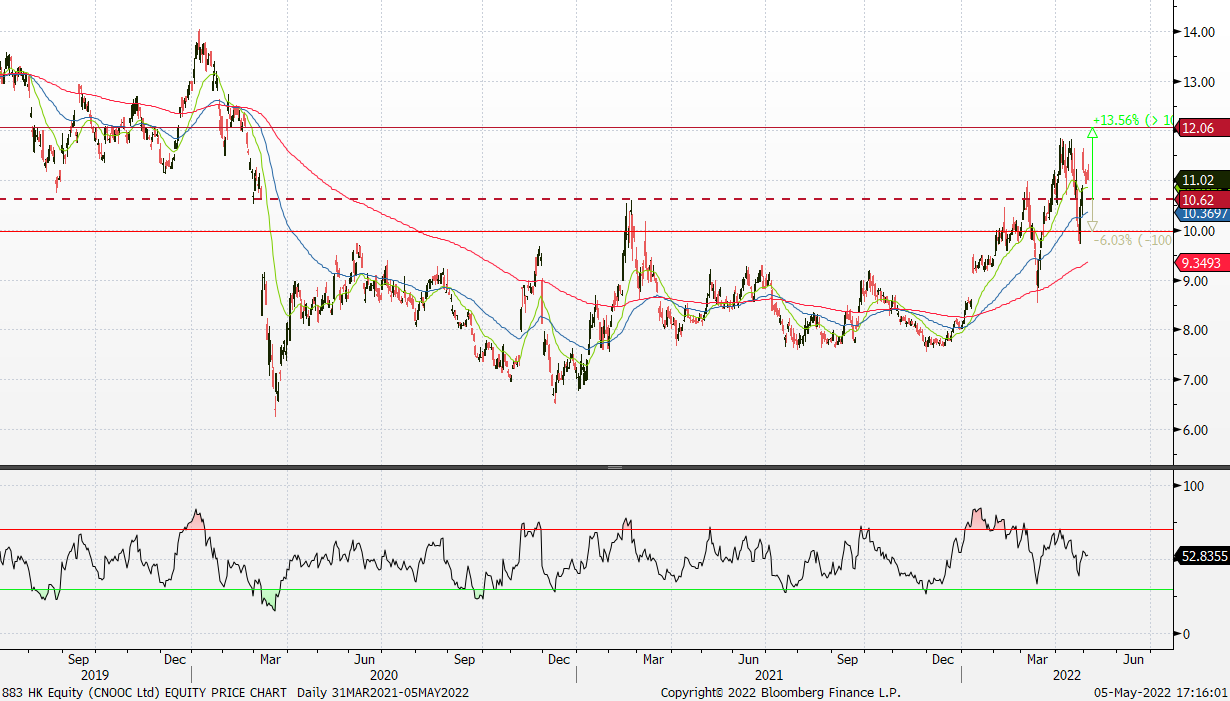 (Source: Bloomberg)





United States
Top Sector Gainers
Top Sector Losers
NRG Energy Inc (NRG US) shares jumped 9.8% after the company released its latest quarterly figures. NRG Energy reported a quarterly profit of $7.17 per share on revenue of $7.9 billion. However, it wasn't clear if those numbers were comparable with FactSet estimates.
Cigna Corp (CI US) shares jumped 5.9% after the insurance company's quarterly earnings beat expectations. Cigna reported earnings of $6.01 per share, compared with a $5.18 forecasted by analysts surveyed by Refinitiv. The insurance company reported revenue of $44.1 billion, compared to consensus estimates of $43.4 billion. Cigna reported growth in its pharmacy benefits management business.
Peloton Interactive Inc (PTON US) shares dropped 7.7% after The Wall Street Journal reported the at-home fitness company is looking for potential investors to take a minority stake in it in the realm of 15% to 20%. The company has struggled with post-pandemic demand on top of brand issues, supply chain challenges and a change in CEO. It will report quarterly results next week.
DraftKings Holdings Inc (DKNG US) shares dropped 8.9%, giving back a gain from earlier in the day. DraftKings reported a loss of $1.10 per share on revenues of $417 million. Analysts surveyed by Refinitiv were expecting a loss of $1.15 per share on revenues of $412 million. DraftKings also raised its full-year revenue guidance in its quarterly report.
Under Armour Inc (UA US) shares fell 25.9% after Under Armour reported an unexpected loss and shared revenue that fell below analyst estimates, as it attempts to overcome global supply chain problems. Under Armour also issued a disappointing outlook for 2023 fiscal year.
---
Singapore
Dyna-Mac Holdings Ltd (DMHL SP) shares rose 4.8% on Friday. On Wednesday (May 4), the company said it obtained a firm contract with a provisional sum of S$180 million from a long-time repeat customer. The new order win brings the company's net order book to-date to a record high of S$641.1 million, with deliveries stretching into 2024, mainboard-listed Dyna-Mac said in a bourse filing.
Golden Energy and Resources Ltd (GER SP) and Geo Energy Resources Ltd (GERL SP) shares rose 4% and 1% respectively on Friday. Newcastle coal futures, the benchmark for top consuming region Asia, consolidated above the $350-per-tonne mark and more than doubled in value since 2022, supported by continued robust demand against a tightening market backdrop. Along with increasing demand for power generation with a resumption in economic activity after the coronavirus-induced slump, soaring natural gas prices in Europe and Asia in late 2021 boosted coal consumption. On top of that, Russia's invasion of Ukraine and the unprecedented economic sanctions, including the EU's ban on coal imports from Russia, have thrown the global energy market into chaos.
Yanzijiang Financial Holding Ltd (YZJFH SP) shares rose 2.1% on Friday. The YZJFH board said that it has applied for its shares to be included under the CPFIS and "it is envisaged that the outcome of the application will be known by the end of next week". "Subject to and upon approval of the application, shareholders will be able to use their CPF funds to purchase shares traded on the Mainboard," the board said in its announcement, adding that it "regrets any inconvenience caused to the shareholders by the pending application".
First Resources Ltd (FR SP) shares lost 5% on Friday. Malaysian palm oil futures tumbled below the MYR 6,500-per-tonne level and were heading for their worst week since early March as signs of rising inventories and weak export demand from Malaysia prompted some profit-taking after a massive rally that drove prices to a record closing level in late April. Cargo surveyors' data showed that Malaysia's palm oil inventories likely rose to their highest since January at the end of April, with production expected to grow 4.9% to a five-month high of 1.48 million tonnes, while exports likely fell 5.6% to 1.2 million tonnes.
Hong Kong
Top Sector Gainers
Top Sector Losers
Aluminum Corporation of China Limited (2600 HK) Shares fell 8.88% near a 52-week low last Friday after the company was added to the US SEC list for possible delisting. Previously, BlackRock reduced holdings by 16.16mn shares at the average price of HK$3.57.
Sihuan Pharmaceutical Holdings Group Ltd (460 HK) Shares fell 9.48% and closed near a 52-week low last Friday. There was no company-specific news. The biotechnology sector plunged following the overnight US market plummet.
Country Garden Services Holdings Co Ltd (6098 HK) Shares fell 9.94% last Friday. There was no company-specific news. The property management sector continued to weaken. China's authority reiterated its zero-covid policy amid rising covid cases in multiple cities. The expectation of a turnaround in the real estate sector faded again.
China Resources Beer Holdings Co Ltd (291 HK) Shares fell 10.31% and closed near a 52-week low last Friday. The brewery sector plunged due to the reiteration of the zero-covid policy. China's authority vowed to insist on the most draconian measures to fight covid.
NIO Inc (9866 HK) Shares fell 11.47% last Friday. The company announced that it was planning a secondary share listing in Singapore. Previously, the company was included in the US SEC list of possible delisting.


Trading Dashboard Update: Cut loss on Aztech Global (AZTECH SP) at S$0.90, Capitaland Integrated Commercial Trust REIT (CICT SP) at S$2.24, Samsonite International (1910 HK) at HK$16.0, and Tsingtao Brewery (168 HK) at HK$59.30. Add Jiutian Chemical Group (JIUC SP) at S$0.095.