8 June 2022: Yangzijiang Shipbuilding Holdings Ltd (YZJSGD SP), Ganfeng Lithium Co Ltd (1772 HK)
Singapore Trading Ideas | Hong Kong Trading Ideas | Market Movers | Trading Dashboard

Yangzijiang Shipbuilding Holdings Ltd (YZJSGD SP): Easing of Shanghai's lockdown measures
Yangzijiang is China's largest private shipbuilder. The Group produces a range of commercial vessels, including mini bulk carriers, bulk carriers, multi-purpose cargo vessels, containerships, chemical tankers, offshore supply vessels, rescue and salvage vessels and lifting vessels. Yangzijiang has been at the forefront of shipbuilding in China.
Reopening of Shanghai's port to spur shipping activities. China's shipping industry is bracing for an uptick in demand and freight costs as manufacturing activity in Shanghai roars back to life following the end of a two-month lockdown. Although it was operational during the citywide lockdown, capacity was largely restrained because of the reduced availability of goods. Congestion at the port of Shanghai is also steadily normalising, though the level remains high for this time of the year, according to data from VesselsValue, a shipping data provider.
Recovery of export and import activities. Official and private surveys showed China's factory activity contracted at a slower pace in May as COVID-19 curbs in major manufacturing hubs eased, with a gauge on export orders improving. Exports in May likely grew 8.0% from a year earlier, accelerating from a 3.9% expansion in April, according to a median forecast in a Reuters poll of 28 economists. Official data showed the average daily container throughput at the Port of Shanghai rose 7% in May from a month earlier.
A record year for orderbook. In 2021, the group secured record order wins for 124 vessels with a total contract value of US$7.41 billion. The group has focused on building containerships and clean energy vessels which typically demand higher margins given their higher value-add over dry bulkers and tankers. As at the end of 2021, Yangzijiang had an orderbook of US$8.5bn for 157 vessels, with containerships accounting for >US$7bn or 83% of total existing contract value.
Positive consensus estimates. Currently, Yangzijiang Shipbuilding has a consensus rating of 7 BUYS, 1 HOLD and 0 SELL, with a 12M TP of S$4.63. The company is currently trading at 5.69x/5.10x/5.15x P/E to its FY22/23/24 EPS.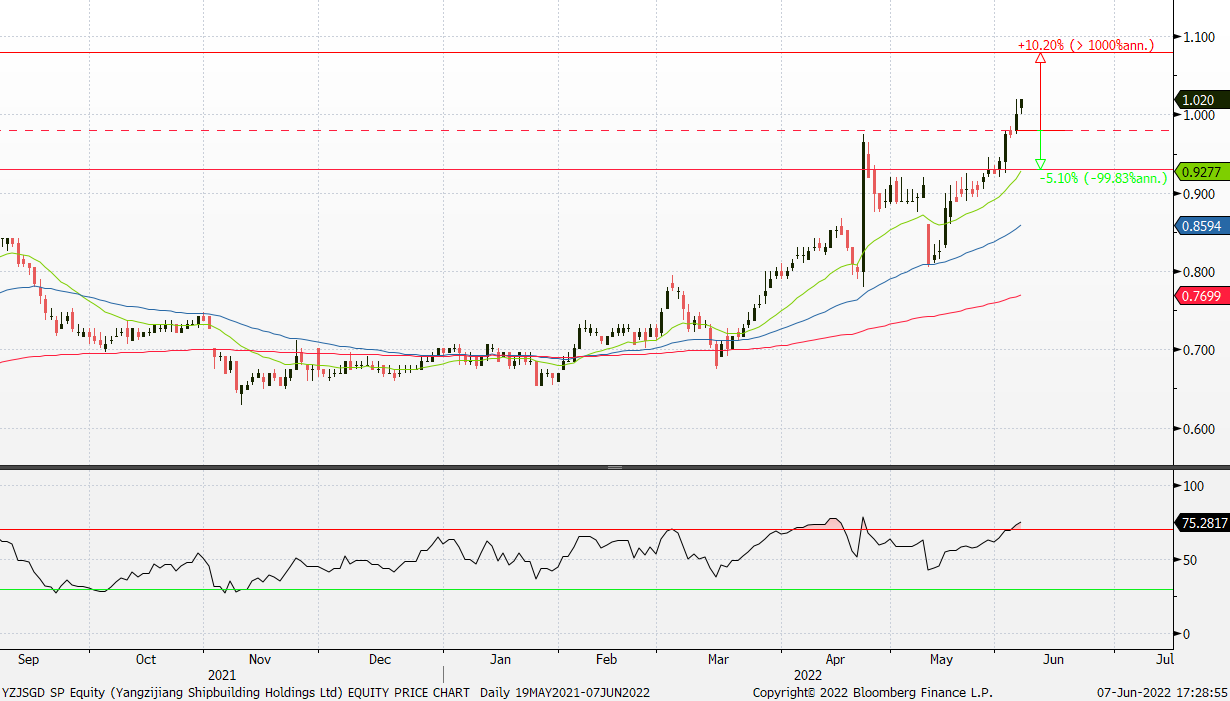 (Source: Bloomberg)

Hongkong Land Holdings Limited (HKL SP): Hong Kong's reopening on track
Hongkong Land Holdings Limited operates as a property investment, development, and management company. The Company owns and manages prime offices and luxury retail properties in Asian gateway cities, principally in Hong Kong and Singapore. Hongkong Land serves customers in Asia.
Surge in arrivals to Hong Kong. Almost 9,000 mainland Chinese entered the city by plane last month, compared with just over 6,000 from March 2020 through April this year, according to the latest official immigration data. Hong Kong has lifted flight bans for quite a number of countries, reduced quarantine days requirement for vaccinated residents, and increased the supply of quarantine hotels in April and May. Last Wednesday, the city further loosened measures around Covid-19 testing in a bid to boost visitors.
Retail sales unexpectedly rebound. According to the Census and Statistics Department, Sales value rose 11.7% YoY in April, compared to a 13.8% plunge YoY in March. In April, sales volume increased 8.1% YoY, beating the 10.8% decline YoY forecast by economists.
Positive consensus estimates. Hongkong Land currently has a positive consensus estimate of 7 BUYS, 4 HOLDS and 2 SELLS, with a 12M TP of US$6.00. The updated market consensus of the EPS growth in FY22/23 is 1.2%/5.8% YoY, respectively, translating to 12.3×/11.6x forward PE. FY22F/23F dividend yield is 4.3%/4.3% respectively.
Hong Kong Passenger Traffic: China Mainland Visitors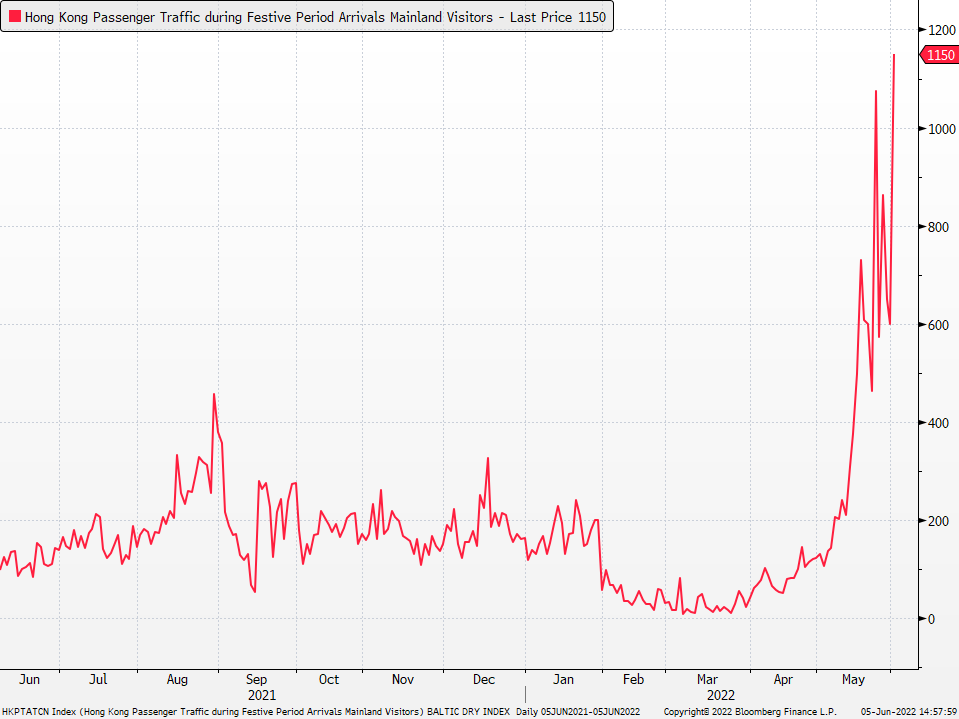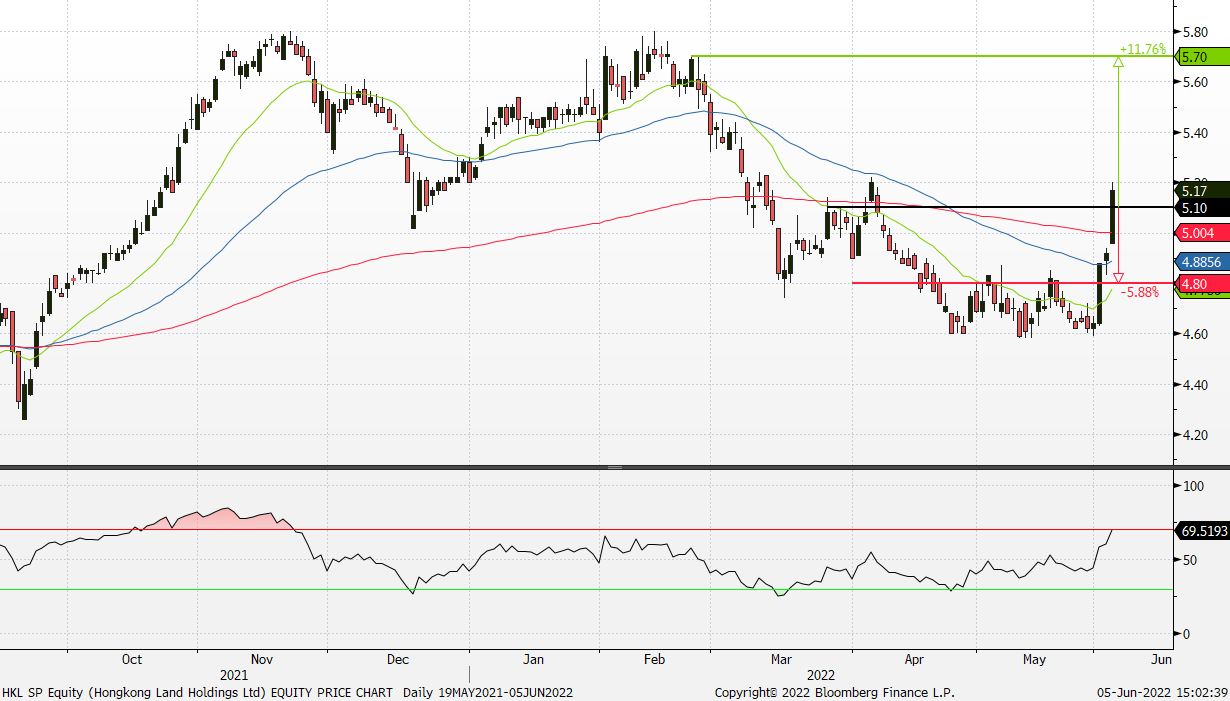 (Source: Bloomberg)


Ganfeng Lithium Co Ltd (1772 HK): To break out of the consolidation
Buy Entry – 100 Target – 115 Stop Loss – 93
GANFENG LITHIUM CO., LTD. is a China-based company principally engaged in the research, development, production and sales of deeply processed lithium products. The Company's main products include lithium compounds, lithium metal and lithium batteries. The Company's products are mainly used in electrical vehicles, chemicals and pharmaceuticals. The Company distributes its products in the domestic market and to overseas markets.
A large lithium mining project commenced operation. The company and its subsidiary Litio Minera Argentina kicked off this week the construction phase of their Mariana lithium project, located in Argentina's northwestern Salta province. Based on a feasibility study completed in 2019, the Mariana project has a measured and indicated resource of 4,410,000 tonnes of lithium carbonate equivalent and an inferred resource of 786,000 tonnes of LCE. Once fully operational, total production should reach 20,000 tons of lithium chloride per year.
Stellar 1Q22 results. Operating income jumped by 233.9% YoY to RMB5.4bn. Net profit attributable to shareholders of the listed company jumped by 640.4% YoY to RMB3.5bn. Net profit attributable to shareholders of the listed company after deduction of non-recurring gains and losses jumped by 956.4% YoY to RMB3.1bn.
Lithium carbonate prices remained at high levels. Lithium carbonate prices in China were at 486,500 yuan/tonne in early June, rising from the three-month lows of 457,700 that held through May amid a rebound in demand projections as strict Covid lockdowns in Shanghai were relaxed. The recent fiscal stimulus for the automobile sector was expected to boost EV sales, propelling demand for lithium and related EV battery raw materials.
The updated market consensus of the EPS growth in FY22/23 is 133.9%/7.8% YoY, respectively, translating to 10.1×/9.4x forward PE. The current PER is 15.2x. Bloomberg consensus average 12-month target price is HK$159.6.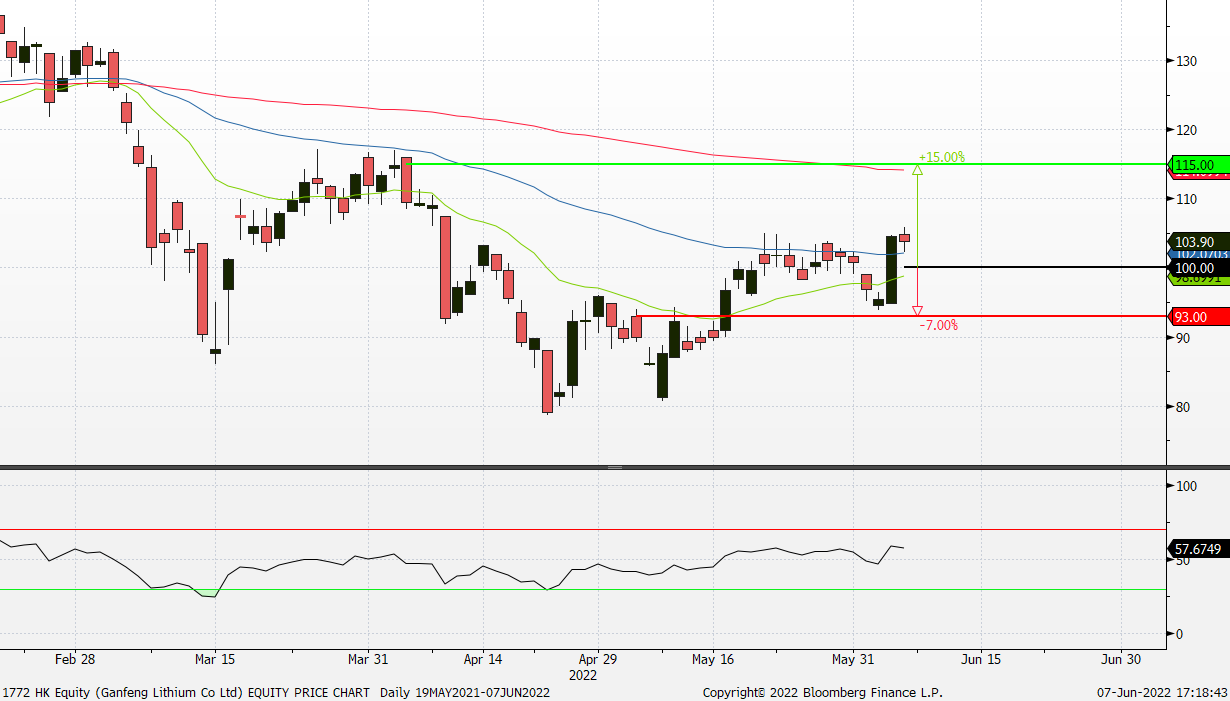 (Source: Bloomberg)
Global X China Elec Vehicle & Battery ETF (2845 HK): A big tailwind catalyst for the automobile sector
RE-ITERATE Buy Entry – 138 Target – 150 Stop Loss – 132
The investment objective of the Fund is to provide investment results that, before fees and expenses, closely correspond to the performance of the Solactive China Electric Vehicle and Battery Index. The Manager will primarily use a full replication strategy through investing directly in constituent stocks of the Index in substantially the same weightings in which they are included in the Index.
Slash purchase tax for small-engine cars by half. China's Ministry of Finance said in a statement that it will reduce the purchase tax for cars priced at RMB 300,000 and below, and with 2.0-liter engines or smaller to 5% from the previous 10%. The move will come into effect from June 1 through the end of 2022. It is expected that the tax reduction could boost automobile sales by 2mn units in 2022. Previously, the authorities discussed with automakers about extending subsidies for EVs that were set to expire in 2022. There is no purchase tax for EVs this year, but the government could lower the planned purchase tax from 10% to 5% in 2023.
Exposure to China's EVs and related market leaders. The ETF's main components include the domestic largest EV maker, BYD (002594 CH), the global largest domestic EV battery maker, Contemporary Amperex Technology (300750 CH), and the domestic largest lithium miner, Ganfeng Lithium (002460 CH).
Resumption of a technical uptrend. Shares have broken out of the downward channel and resumed the uptrend. Yesterday, the stock closed near an intraday high and closed above the 50dMA with an increase in volume.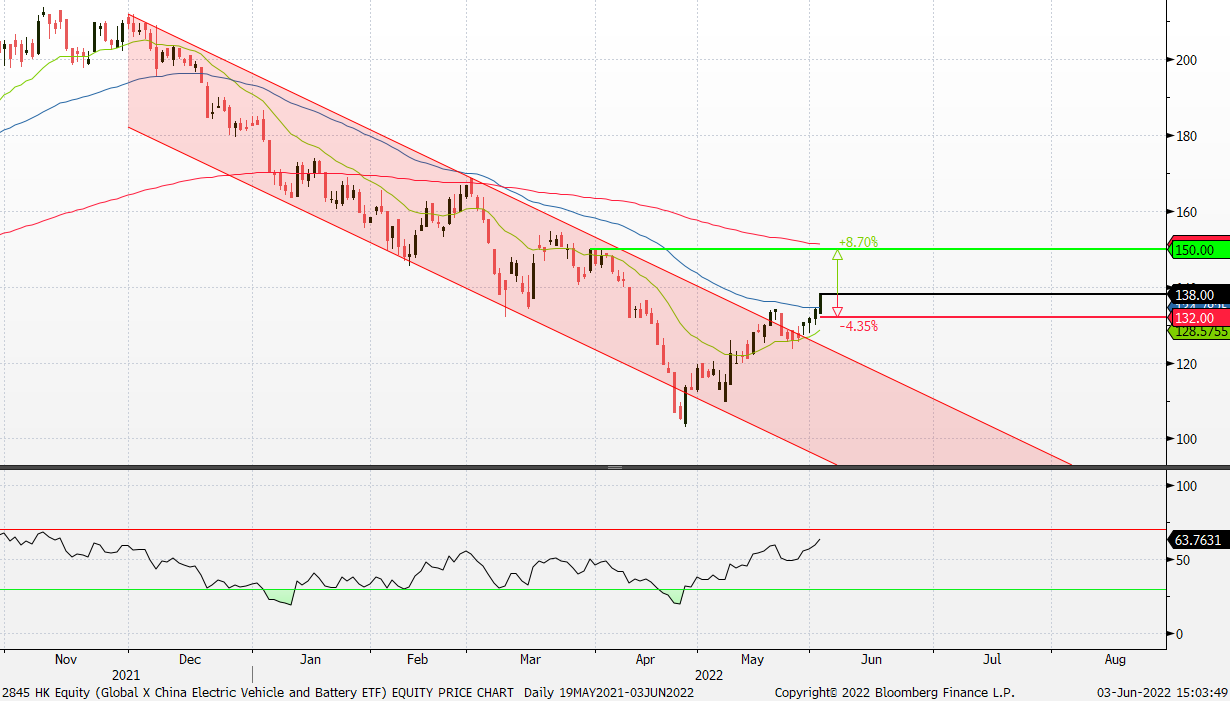 (Source: Bloomberg)



Singapore
Golden Agri-Resources Ltd (GGR SP) shares rose 1.7% yesterday. Malaysian palm oil futures extended gains to above MRY 6,400 per tonne in early June, trading not far from a record high of 7268 hit on March 9th as consumption is outpacing supply. The production outlook in Malaysia continues to deteriorate amid a labour crunch while Indonesia has so far re-entered the export market only slowly with export volumes allowed significantly low.
Marco Polo Marine Ltd (MPM SP) shares lost 2.9% yesterday, likely on profit-taking. RHB Group Research analyst Jarick Seet has maintained his "buy" call on Marco Polo Marine (MPM), with an unchanged target price of 4 cents as the company is on track for turnaround and better performance. In his June 3 note, Seet says MPM's 1HFY2022 utilisation rate has recovered to pre-pandemic levels and rises YoY, driven by strong demand from both the oil and gas (O&G) and offshore wind farm sectors. RHB expects utilisation rates to pick up to 70%-80% from the current 60% by the end of the year. Fellow shipping peer, Mermaid Maritime Plc (MMT SP) shares lost 5.7% yesterday, also likely due to profit-taking as shares have rallied the past few days on news of Shanghai and Beijing's reopening.
RH Petrogas Ltd (RHP SP) and Rex International Holding Ltd (REXI SP) shares lost 3.5% and 1.4% respectively yesterday, likely on profit-taking as both WTI and Brent crude oil prices are approaching their previous highs in March 2022. Oil prices have rebounded recently, as easing Covid restrictions in China is expected to boost demand for oil in the coming weeks, while OPEC+ failed to convince markets that it could help ease tight global supplies.Beijing and Shanghai have been relaxing curbs after a prolonged lockdown, with traffic bans being lifted and restaurants opened for dine-in service in most parts of Beijing from Monday. Last week, OPEC+ decided to increase output in July and August by 648,000 barrels per day or 50% more than previously planned. However, many members have little room to ramp up output, including Russia, which faces western sanctions.

Hong Kong
Top Sector Gainers
Top Sector Losers
Guangzhou Baiyunshan Pharmaceutical Holdings Co Ltd (874 HK) Shares rose 8.75% yesterday. There was no company-specific news. Sinolink Securities believed the consumption attributions of the Chinese traditional medicine sector are improving and expected the sales volume to increase in 2H22.
Alibaba Health Information Technology Limited (241 HK) Shares rose 7.44% yesterday after the company establish a strategic partnership with another healthcare platform, Huiyi Tianxia, to explore Internet+ products for diabetes patience. Daiwa Securities slashed TP to HK$4.2 from HK$15 and downgraded the rating to HOLD from BUY as the brokerage firm believed the outlook of the third party healthcare platform remains soft due to regulations and lockdowns.
Yancoal Australia Ltd (3668 HK) Shares rose 7.12% yesterday after the company updated that Yankuang Energy Group Company Limited would acquire further Yancoal ordinary shares by means of an acquisition structure to be determined by Yankuang Energy.
COSCO SHIPPING Energy Transportation Co., Ltd (1138 HK) Shares rose 6.06% and closed at a 52-week high yesterday. There was no company-specific news. Sinolink Securities believed that the demand for crude oil would continue to recover. OECD commercial crude oil inventory dropped to a 5-year low. The restocking of inventory would drive the demand for tankers, accordingly.
Cansino Biologics Inc (6185 HK) Shares rose 5.8% yesterday. There was no company-specific news. JPMorgan increased its holdings by 1.1mn shares with an average price of HK$79. Accordingly, JPMorgan's total holdings increased from 11.69% to 12.52%.


Trading Dashboard Update: No additions/deletions of stocks.