08 July 2022: Yangzijiang Shipbuilding (YZJSGD SP), China Longyuan Power Group Corp Ltd (916 HK)
Singapore Trading Ideas | Hong Kong Trading Ideas | Market Movers | Trading Dashboard

Yangzijiang Shipbuilding (YZJSGD SP): Grows YTD order wins to US$990m
BUY Entry 0.915 – Target – 1.03 Stop Loss – 0.845
Yangzijiang (YZJ) produces a range of commercial vessels, including mini bulk carriers, bulk carriers, multi-purpose cargo vessels, containerships, chemical tankers, offshore supply vessels, rescue and salvage vessels and lifting vessels. It operates two shipyards, with the older yard located in Jiangyin city. The yard spans about 800 m of deep-water coastline and covers an area of about 200,000 sqm (excluding the coastal area). YZJ's newer yard is located in Jingjiang city. The yard has 1,940 m of deep-water coastline, production area of 1,508,857 sqm, a drydock that can accommodate two 100,000 dwt vessels and two half 100,000 dwt vessels at one time.
Chinese yards working round the clock to meet rising global orders. Chinese state media reported that industry analysts are expecting the Chinese shipbuilding sector to reclaim its top position in 2H22 as shipbuilders there ramp up to meet demand. According to Clarksons Research, 5M22 global new ship orders stood at 16.25m compensated gross tons, with China attaining a global market share of 44.1%. As port congestion in the US and Europe persists, as well as the geopolitical situation in Europe, global demand for new ships will grow, offering a large market for both China and South Korea.
Secures additional orders for green vessels. YZJ announced that it clinched orders for four 8,000 TEU LNG dual-fuel containerships by repeat customer PIL and will be progressively delivered in 2025. The vessels will be equipped with a membrane containment tank system that was co-developed in-house, and demonstrates its focus on moving up the value chain to more complex LNG vessels. The orders bring total new orders secured YTD to USD990m for 16 vessels. As at writing, YZJ has a total order book value of US$8.15bn for 137 vessels, which is expected to keep its yard facilities at a healthy utilisation rate till mid-2025.
Undemanding valuations with an expected surge in DPS. The Street is fairly bullish on YZJ's prospects with 7 BUY, and only 1 HOLD ratings, and an average 12M TP of S$1.41. The street expects FY22F EPS to decline 27.5% YoY after a strong FY21. Thereafter, YZJ is expected to grow its FY23F EPS by 17.9% YoY. Notwithstanding, the street is expecting FY22F DPS to surge 5.9x to S$0.053/share and FY23F DPS to grow at a more steady 11.3% YoY to S$0.059/share. YZJ is currently trading at an undemanding 6.3x and 5.4x FY22F/23F P/E and 5.8%/6.4% FY22F/23F dividend yield respectively.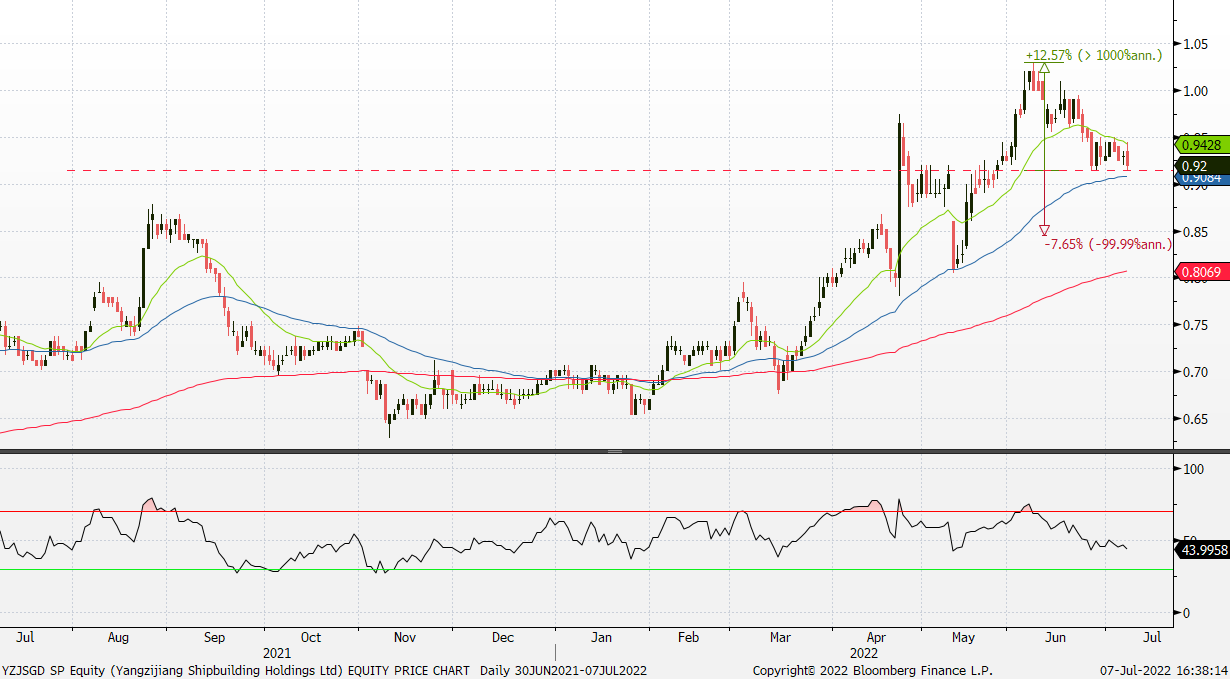 (Source: Bloomberg)
Sheng Siong Group (SSG SP): High inflation expectations to provide second tailwind
RE-ITERATE BUY Entry 1.55 – Target – 1.65 Stop Loss – 1.50
SSG operates the Sheng Siong groceries chain. Its stores are primarily located in retail locations in the heartlands of Singapore, and designed to provide customers with both "wet and dry" shopping options, including a wide assortment of live, fresh and chilled produce, such as seafood, meat and vegetables, in addition to processed, packaged and/or preserved food products as well as general merchandise such as toiletries and essential household products. The Group has also developed a selection of house brands to offer customers quality alternatives to national brands at substantial savings. To support its retail operations, the Group also has an extensive distribution network, food-processing facilities, and warehousing facilities.
Retail sales show turnaround for supermarkets. May 2022 retail sales for supermarkets & hypermarkets marked a turnaround with 0.6% MoM (April: -6.3%) growth. On YoY basis however, retail sales for the industry fell 10.3% (May 2021: +5.1%) mainly due to higher demand for groceries in the prior period as more people stayed home during the Phase 2 (Heightened Alert) period.
Inflation expectations to channel demand to house brands. SSG recently added more than 800 house brand items to price comparison app, Price Kaki. SSG has 23 house brand labels including Tasty Bites, Heritage Farm and Happy Family, spanning across seven product categories – groceries, frozen, dried food, seafood, meat, fruits and vegetables. It was also shared that its house brands are affordably priced at savings of approximately 5%-20% compared to other products. Given rising inflation expectations, we reckon that Singapore's large middle class will more likely than not shift their grocery spending towards cheaper alternatives. This is mainly so as other sources of inflation such as petrol prices, mortgage servicing are difficult to mitigate.
FY22F results to taper off after record FY21. The Street is fairly mixed on SSG's prospects with 3 BUY, 3 HOLD, and 2 SELL ratings, and an average 12M TP of S$1.65. The street is expecting FY22F EPS to decline 10.2% YoY after a record FY21. Thereafter, SSG is expected to grow its FY23F EPS by 5.1% YoY. While FY22F DPS is expected to fall to S$0.057/share from FY21's S$0.062/share, FY23F DPS should resume growth to S$0.058/share (+1.8% YoY). SSG is currently trading at 19.8x and 18.8x FY22F/23F P/E and 3.7%/3.7% FY22F/23F dividend yield respectively.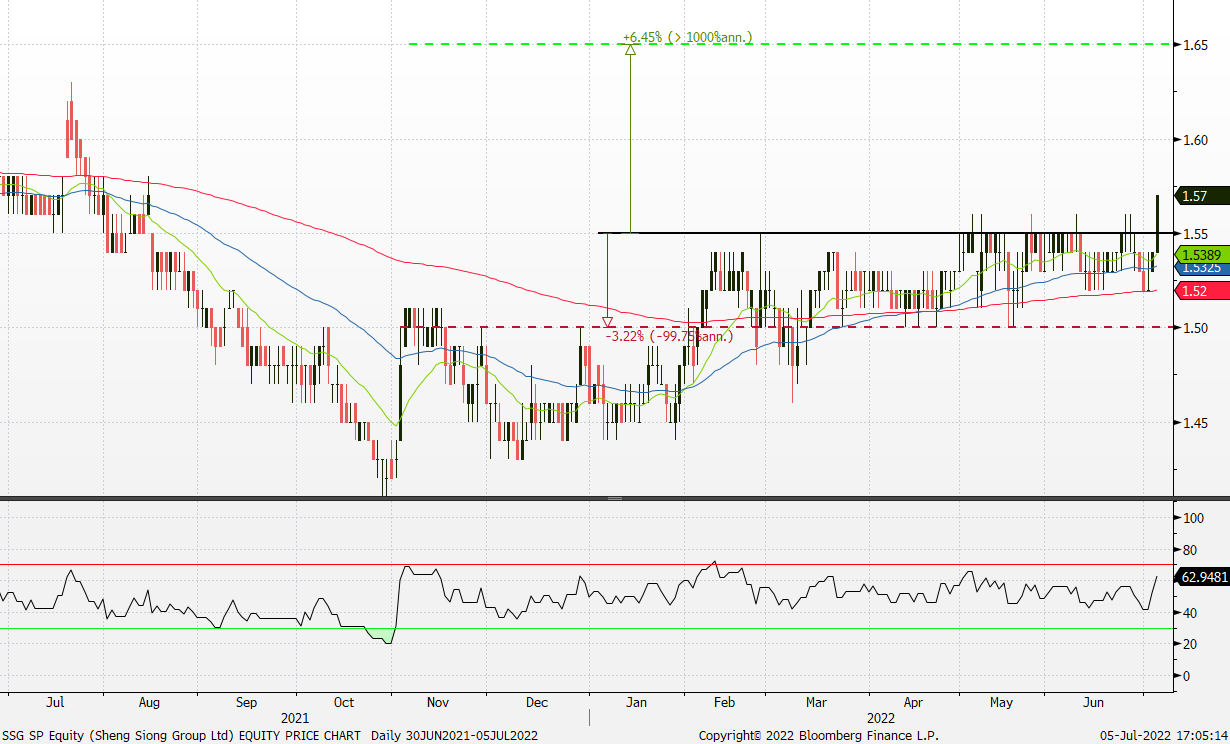 (Source: Bloomberg)


China Longyuan Power Group Corp Ltd (916 HK): A lagging wind power play
Buy Entry – 15.2 Target – 17.0 Stop Loss – 14.5
China Longyuan Power Group Corp Ltd is a China-based company mainly engaged in power sales business. The company operates three segments. Wind Power segment constructs, manages and operates wind power plants and produces electricity and sells it to grid companies. Coal Power segment constructs, manages and operates coal-fired power plants and produces electricity and sells it to power grid companies. All Others segment is mainly engaged in manufacturing and selling power generation equipment, providing consulting services, providing maintenance and training services to wind power enterprises and other renewable energy power generation and sales.
Growth of Wind power remained upbeat. According to the National Energy Administration, the total national installed capacity grew by 7.9% YoY to 2,420 GW in May, out of which, wind power installed capacity grew by 17.6% YoY to 340 GW. In 5M22, wind power installed capacity jumped by 39.1% YoY to 10.8 GW.
Favourable policy support. In June 2022, the National Development and Reform Commission and other nine administrations co-issued the 14-Five-Year plan of renewable energy development. China targets renewables to supply 33% of national power consumption by 2025, and for non-hydro renewables to contribute 18%; the two consumption quota targets are 4.3 ppts and 3.6 ppts higher than 2021 levels, respectively. Wind power generation will double by 2025. Meanwhile, the Ministry of Finance announced the subsidies for renewable energy projects, and of which wind power and solar projects were allocated RMB1.47bn RMB1.25bn respectively.
Operation updates in May. The power generation on a consolidated basis grew by 5.06% YoY to 6,003.6 GWh. Wind power generation increased by 5.42% YoY, coal power generation decreased by 8.75% YoY and other renewable energy power generation increased by 124.50% YoY. In 5M22, total power generation grew by 7.71% YoY to 30,821.4 GWh. Wind power generation increased by 8.02%YoY, coal power generation decreased by 0.01% YoY, and other renewable energy power increased by 81.09% YoY.
The updated market consensus of the EPS growth in FY22/23 is 19.1%/18.6% YoY respectively, which translates to 14.6x/12.3x forward PE. The current PER is 17.3x. Bloomberg consensus average 12-month target price is HK$22.37.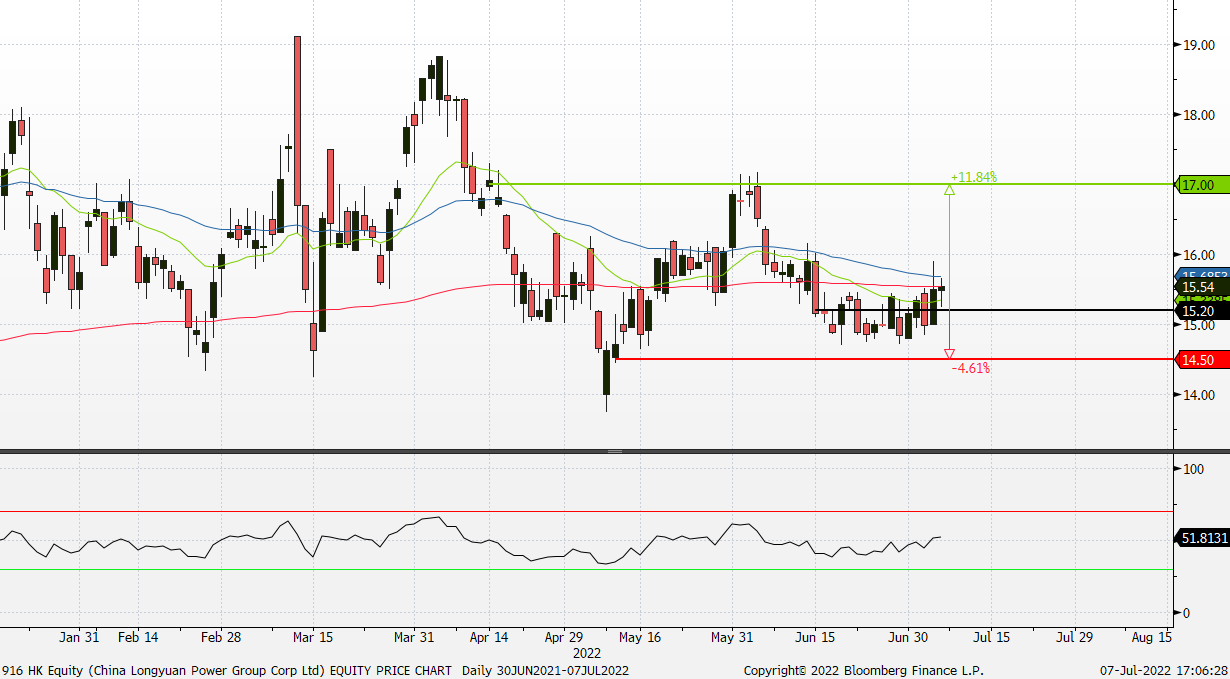 (Source: Bloomberg)

Hainan Meilan International Airport Co Ltd (357 HK): More upbeat tailwinds in this summer
RE-ITERATE Buy Entry – 22.0 Target – 25.5 Stop Loss – 20.2
Hainan Meilan International Airport Company Limited, formerly Regal International Airport Group Company Limited, is a Hong Kong-based investment holding company principally engaged in aviation and related businesses. The Company operates through aeronautical businesses and non-aeronautical businesses. Its aeronautical businesses include the provision of terminal facilities, ground handling services and passenger services. Its non-aeronautical businesses include the leasing of commercial and retail spaces at Meilan Airport, airport-related businesses franchising, advertising spaces leasing, car parking businesses, cargo handling and the sales of consumable goods.
Major stimulus package to boost offshore duty-free sales. On 14th June, Hainan province's Department of Commerce issued an action plan on promoting the island's offshore duty-free sales to enhance its role as a magnet for overseas consumer spending. The action plan proposed various high-quality expos, events and festivals — such as the China International Consumer Goods Expo (also called the Hainan Expo) and the Hainan International Tourism Island Carnival. In addition, the plan specified that the island will hold no less than 10 large-scale duty-free shopping promotion activities this year, with provincial-level funding of no less than RMB 20 million (about USD 3 million) to be raised and distributed in the form of vouchers which can be redeemed against duty-free purchases across the island.
Duty-Free Shopping Festival kick started. On 28th June, The first Hainan International Offshore Duty-Free Shopping Festival was launched in Sanya. The international tourism island sets to hold more than 50 promotional events during the half-year festival period to boost the recovery of duty-free shopping.
The updated market consensus of the EPS growth in FY22/23 is -69.7%/171.2% YoY, respectively, translating to 40.1×/14.8x forward PE. The current PER is 12.2x. Bloomberg consensus average 12-month target price is HK$21.88.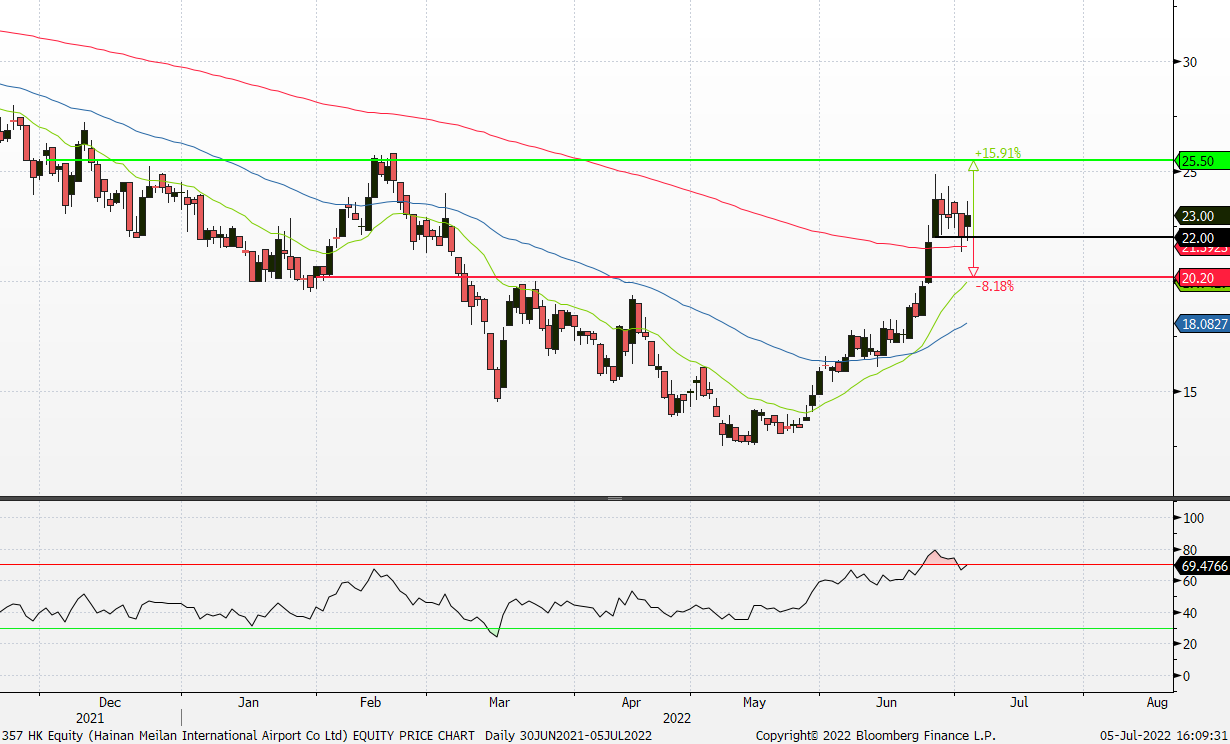 United States
Top Sector Gainers
Top Sector Losers
GameStop Corp (GME US) shares jumped 15.1% after the company said a 4-for-1 stock split was approved by its board. A stock split theoretically makes the stock more affordable for investors, but it doesn't change the fundamentals of the company.
Virgin Galactic Holdings Inc (SPCE US) climbed 12.1% after it announced a partnership with Boeing subsidiary Aurora Flight Sciences to build additional aircraft "motherships" to support its coming spacecraft fleet. Shares of Boeing Co (BA US) rose 2.7%.
Bed Bath & Beyond Inc (BBBY US) shares jumped 21.7% following the disclosure of several insider purchases, including interim CEO Sue Gove's purchase of 50,000 shares. Board members Harriet Edelman and Jeff Kirwan each bought 10,000 shares.
Oil stocks were the leaders in the S&P 500 Thursday after prices jumped back over $100 after sliding alongside other commodities. APA Corp (APA US) jumped 7.8%. Marathon Oil Corp (MRO US), Schlumberger NV (SLB US) and Diamondback Energy Inc (FANG US) all rose more than 5%.
Samsung gave chipmakers' shares a boost after the company offered "better than feared" revenue guidance for the second quarter. On Semiconductor Corp (ON US) jumped 9.2%. Marvell Technology Inc (MRVL US) rose 6.5%, while Advanced Micro Devices Inc (AMD US) and Qualcomm Inc (QCOM US) gained more than 5%.

Singapore
Rex International Holding Ltd (REXI SP) and RH Petrogas Ltd (RHP SP) shares fell 5.9% and 2.2% respectively yesterday. Oil prices regained some footing on Thursday after steep losses in the previous two sessions, as investors returned their focus to tight supplies even as fears of a global recession persisted. Traders are watching for possible oil supply disruptions at the Caspian Pipeline Consortium, which has been told by a Russian court to suspend activity for 30 days. Exports at CPC, which handles about 1 percent of global oil supplies, were still flowing as of Wednesday morning. In addition, investors are awaiting U.S. government data due on Thursday that will shed light on the state of domestic oil and fuel inventories.
NIO Inc (NIO SP) shares fell 1.9% yesterday. NIO stock price failed to benefit from the recent recovery seen in the broader Wall Street indices, as investors assess the latest positions churning by several institutional investors, which have recently bought and sold shares of NIO. Besides, the FOMC June meeting's minutes came in hawkish, as it revealed central bankers' growing anxiety over inflation and plans to adopt a restrictive policy stance in order to control inflation.
Top Glove Corp Bhd (TOPG SP) shares rose 5.0% yesterday. Natural rubber futures consolidated around the JPY 260-per-kilogram mark, moving away from an over two-month peak of JPY 270 amid lingering concerns of a global recession after the US and several European countries hiked interest rates to rein in sky-high inflation. On top of that, recovering rubber supply from major producing countries like Thailand and Vietnam has kept a lid on prices.
Wilmar International Ltd (WIL SP) shares rose 3.2% yesterday. India's palm oil imports in July are set to jump to the highest in 10 months because of a hefty correction in prices and as Indonesia allows more exports of the tropical oil, four dealers told Reuters. Higher purchases by India, the world's biggest importer of vegetable oils, may add support for Malaysian palm oil prices, which are trading near a one-year low. "Palm oil imports even in August and September would remain robust if prices remain around the current level," the New-Delhi based dealer said.
Hong Kong
Top Sector Gainers
Top Sector Losers
Guangzhou Automobile Group Co Ltd (2238 HK) shares rose 7.2% yesterday. The latest production and sales report shows that the company's sales recovered in June exceeding expectations, and Q2 outperformed the industry. Huachuang said that policies and the launch of new models are expected to boost sales in the second half of the year, and raised the company's 2022-2024 net profit expectations attributable to the parent.
China Power International Development Ltd (2380 HK) shares continued to soar 6.9% yesterday. On July 4, China Power announced that it intends to acquire the unlisted renewable energy assets – CLP New Energy and CLP International New Energy of its parent company, State Power Investment Corporation, through a combination of cash and equity, with a total transaction price of RMB 7.45 billion. Brokerages commented that they continue to be optimistic about the company's new energy transformation, and raised its target price and maintain a "buy" rating.
Geely Automobile Holdings Ltd (0175 HK) shares rose 6.7% yesterday. On July 5, "Maple Leaf 60S EV launch" took place at Geely's Chengdu Plant. The sedan launched by Ruilan Auto, a joint venture company of Geely group, is the brand's first smart battery-swapping car, with the ability to "recharge and swap", providing a 30-minute DC fast charging mode and a 60-second ultra-fast non-inductive battery swapping mode. It has more advantages in terms of battery replacement safety and efficiency.
Great Wall Motor Co Ltd (2333 HK) shares rose 6.4% yesterday. Morgan Stanley released a research report maintaining its "overweight" rating and expects 100,000 to 110,000 vehicles to be sold in June, compared to the earlier prediction of 120,000 vehicles. This drop in expectations is mainly due to inventory replenishment concerns. As supply improves, the company expects production volume to gradually increase and it has noticed a 20-30% increase in inflow of customers, with the overall number of orders remaining stable.
China State Construction International Holdings Ltd (3311 HK) shares rose 6.0% yesterday. Citigroup released a research report saying that China State Construction International's management maintained its 2022 estimates of 15% growth in orders, double-digit earnings growth and a 30% dividend payout ratio. With an increased demand for modular integration construction and the issuance of more special bonds in the second to third quarters, orders are expected to exceed the 2022 target. Additionally, the company's backlog of orders ensured earnings, and with its closed-loop management, the epidemic did not have a material impact on the performance of the first half of the year.


Trading Dashboard Update: No additions/deletions of stocks.