08 August 2022: Q&M Dental Group (QNM SP), Hua Hong Semiconductor Ltd (1347 HK)
Singapore Trading Ideas | Hong Kong Trading Ideas | Market Movers | Trading Dashboard
Q&M Dental Group (QNM SP): A recovery trade in the midst of a ongoing volatility
BUY Entry 0.475 – Target – 0.550 Stop Loss – 0.440
Q&M Dental (QNM) is a private dental healthcare group with 36 dental clinics and a mobile dental clinic with 105 dentists, nine oral health therapists and 302 dental surgery assistants. QNM has treated more than 300,000 patients island-wide from December 2005 and provides dental healthcare services including general dental treatment, endodontics, orthodontics, periodontics, prosthodontics, paedodontics, oral surgery, dental implants and aesthetic dentistry. QNM has a dental laboratory which fabricates dental prosthesis such as crowns, bridges, dentures and retainers.
Lifting of pandemic restrictions to see resumption of strong revenue growth. Recall QNM's 1Q22 revenue saw a 5% YoY gain due mainly to higher revenue from medical laboratory and dental equipment & supplies (+80% YoY). Revenue from dental & medical clinics saw a marginal 2% YoY decline, which should reverse in 2Q22 after the lifting of pandemic restrictions in April. After a slow clinic opening in FY22F, we should see management kick network expansion into second gear. This should also help to grow revenue inorganically.
Acumen listing on NASDAQ to unlock shareholder value. Additionally, the proposed listing of its 51%-owned Acumen Diagnostics on the NASDAQ could help unlock shareholder value. Announced in January 2022, QNM has since brought in the services of UOBKH to further its listing plans. The laboratory currently operates clinical labs that process PCR tests for Covid-19 and the proposed listing would help it enhance its corporate profile as it seeks to expand its business.
FY22F earnings to moderate after stellar FY21 The Street currently has 5/0/0 BUY/HOLD/SELL ratings and an average TP of S$0.72. Based on consensus estimates, FY22F revenue/net profit should moderate by 3.9%/2.6% YoY to S$197.7m/S$29.7m after a record year in FY21. QNM is then expected to recover in FY23F, with revenue/net profit jumping 12.1%/19.2% YoY. In line with the weaker FY22F earnings, DPS should fall to 2.2¢ (FY21: 6¢), implying a still fairly attractive yield of 4.6%. At current prices, QNM would trade at 15.8x forward P/E, in-line with its 2-year average of 15.9x but far below other healthcare plays of 21.7x.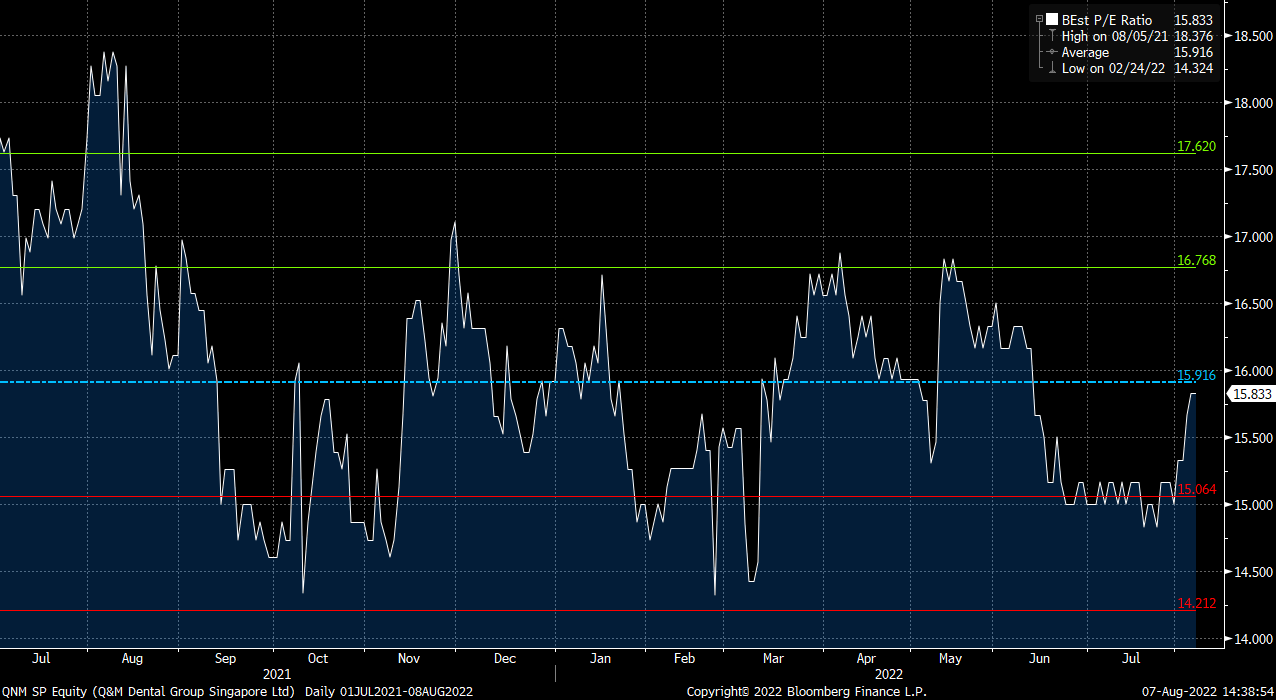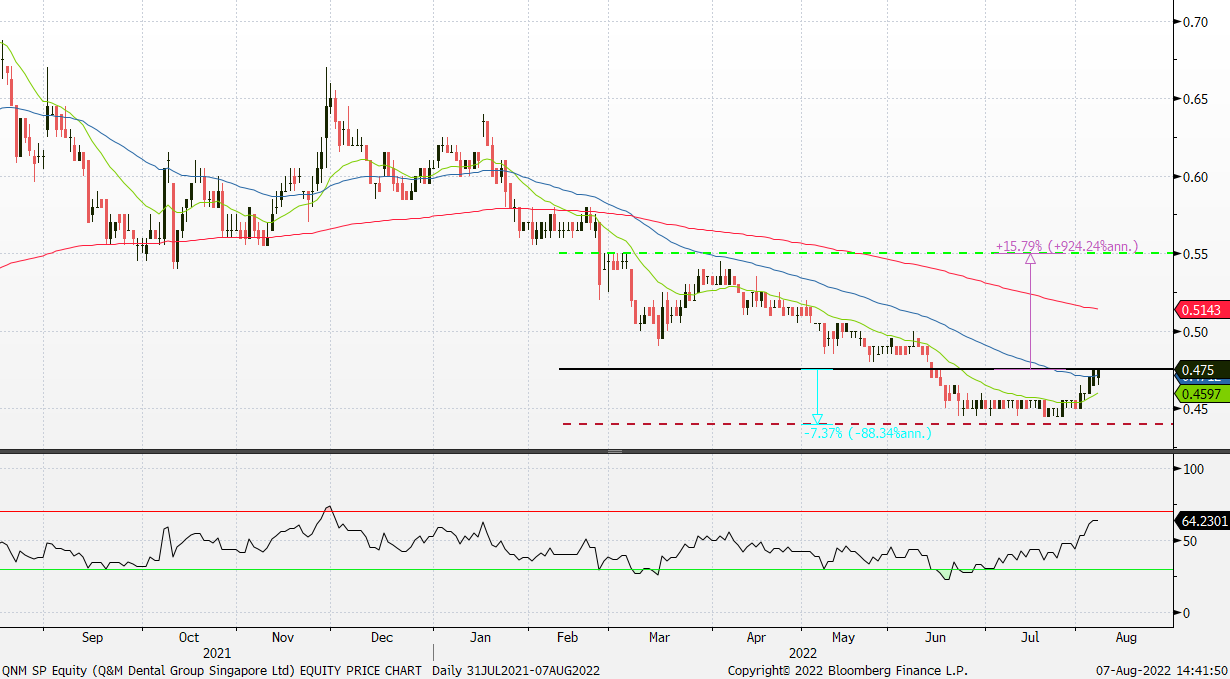 (Source: Bloomberg)

CapitaLand Invest (CLI SP): Real estate dealmaking in Singapore still strong
RE-ITERATE BUY Entry 4.02 – Target – 4.30 Stop Loss – 3.88
After a successful demerger from the development business of CapitaLand, CapitaLand Investment (CLI SP) was listed on SGX-ST on 20 September 2021. CLI is a global real estate investment manager with a strong Asia foothold. Its real estate funds under management ("FUM") is held via its managed listed funds and unlisted funds across the Asia-Pacific, Europe and United States of America. CLI's FUM is well-diversified across asset classes, namely, integrated developments, retail, office, lodging and new economy sectors such as business parks, industrial, logistics and data centres. Its business model comprises two key segments, namely, fee income-related business and real estate investments.
Capital remains committed to Asia Pacific real estate markets. According to JLL, Singapore and Hong Kong remained the only markets to register growth in real estate transaction volume, while most other markets such as China (due to Covid) and Japan fell. Singapore registered about US$9.3bn (+81% YoY) in investments on big ticket office and mixed-use transactions. With the Mercatus deal expected to be transacted in excess of S$4bn, there continues to be substantial deal flow for real estate investment managers like CLI to take advantage of. Nonetheless, JLL notes that while capital may be committed to the region, deployments may be more selective as investors look for long-term or strategic advantages.
Recent Oakwood acquisition to bolster CLI's hospitality arm. Recall CLI's Ascott proposed the acquisition of Mapletree Investment's Oakwood Worldwide in early July. The acquisition, which is expected to be completed by 3Q22 will add 81 properties and 15,000 keys to Ascott's portfolio. The opportunistic deal comes at a time when the hospitality market is seeing an upturn in light of revenge travel. Post-acquisition, Ascott's portfolio would cover over 150,000 keys across 900 properties.
FY22F PATMI expected to be slightly weaker. The Street currently has 16/1/0 BUY/HOLD/SELL ratings and an average TP of S$4.30. Based on consensus estimates, FY22F revenue should grow 6.5% YoY to S$2.44bn, although EBITDA is expected to slide 17.6% YoY to S$2.03bn on a paring of growth in its real estate investment segment. Nonetheless, FY22F DPS should grow to 12.6¢ (FY21: 12¢), implying a yield of 3.1%. At current prices, CLI would trade at 16.9x forward EV/EBITDA, below its post-listing average of 17.1x. CLI is due to announce 1H22 results on 11 August before market opens.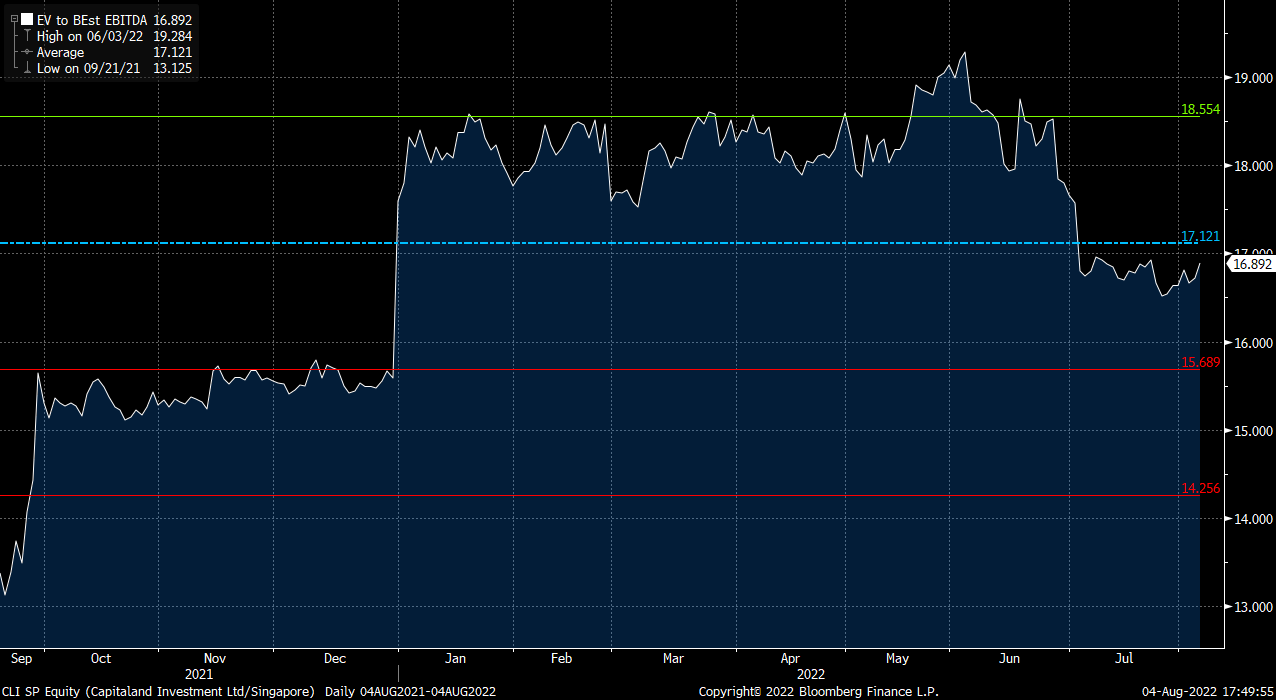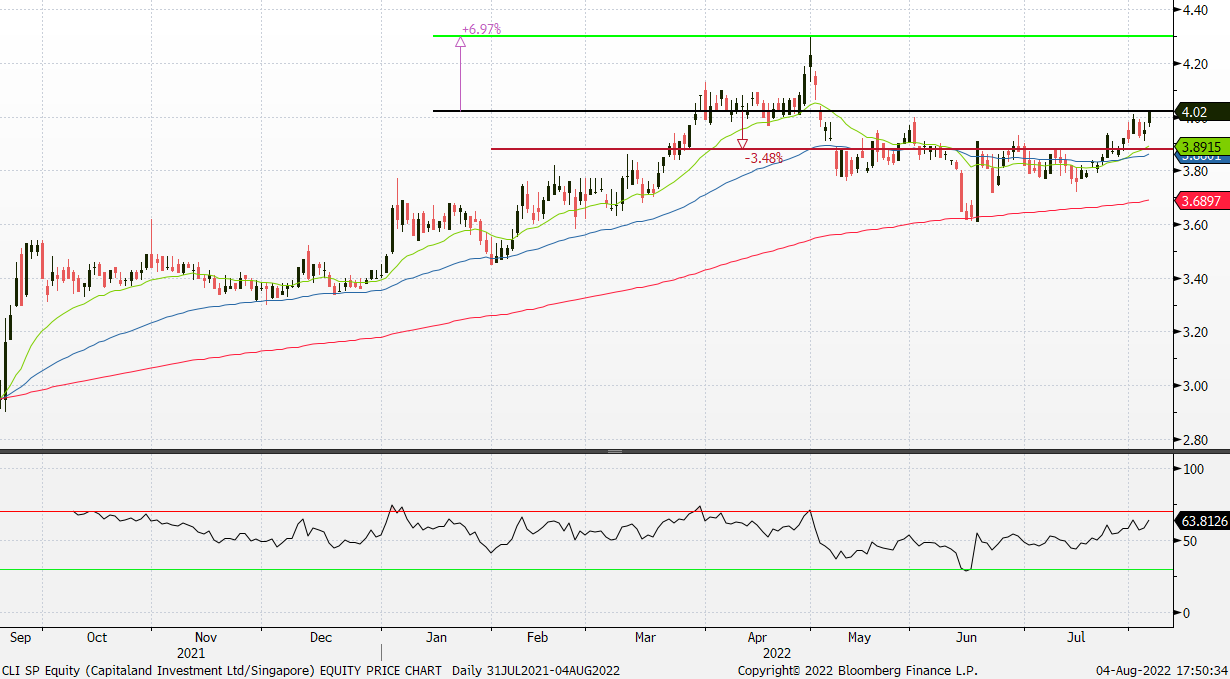 (Source: Bloomberg)


Hua Hong Semiconductor Ltd (1347 HK): Tailwinds to boost the bottom-out
BUY Entry – 26 Target – 30 Stop Loss – 24
Hua Hong Semiconductor Ltd is an investment holding company engaged in production and sales of semiconductor wafers. The Company produces 200mm and 300mm-wafers. Its products are applied in general microcontroller (MCU), Type-C interface chips, image stabilization chips, touch control chips, and smart meter controller chips. The products also serve Internet of Things (IoT), new energy vehicles, artificial intelligence and other markets. The Company operates its businesses through its subsidiaries.
Semiconductor confrontation reignites. There were two key recent events attracting investors to relook at the semiconductor sector. last week as House of Representatives Speaker Nancy Pelosi's visit to Taiwan heightened tensions between China and the US, driving patriotic bets on a sector Beijing sees as key to its rivalry with Washington. Meanwhile, the US has passed the Chips and Science Act which includes more than US$52bn for U.S. companies producing computer chips, as well as billions more in tax credits to encourage investment in chip manufacturing. It also provides tens of billions of dollars to fund scientific research and development and to spur the innovation and development of other US technologies. It is expected that China will accelerate semiconductor localization moving forward.
Someone's loss is another's gain. Infineon has reportedly discovered a serious defect in its insulated gate bipolar transistor (IGBT) chips produced between early April and early June 2022 and discarded all of them. Hyundai Motor Co. may suffer a disruption in the production of its electric vehicle IONIQ 5 due to a problem with chips supplied by Germany's Infineon Technologies. The auto chip shortage issues last year caught China's attention, and accordingly, several companies ramped up the capacity of IGBT. China is expected to gradually gain more market shares.
The updated market consensus of the EPS growth in FY22/23 is 59.3%/3.4%% YoY, respectively, translating to 13.5×/13.1x forward PE. The current PER is 16.2x. Bloomberg consensus average 12-month target price is HK$38.92.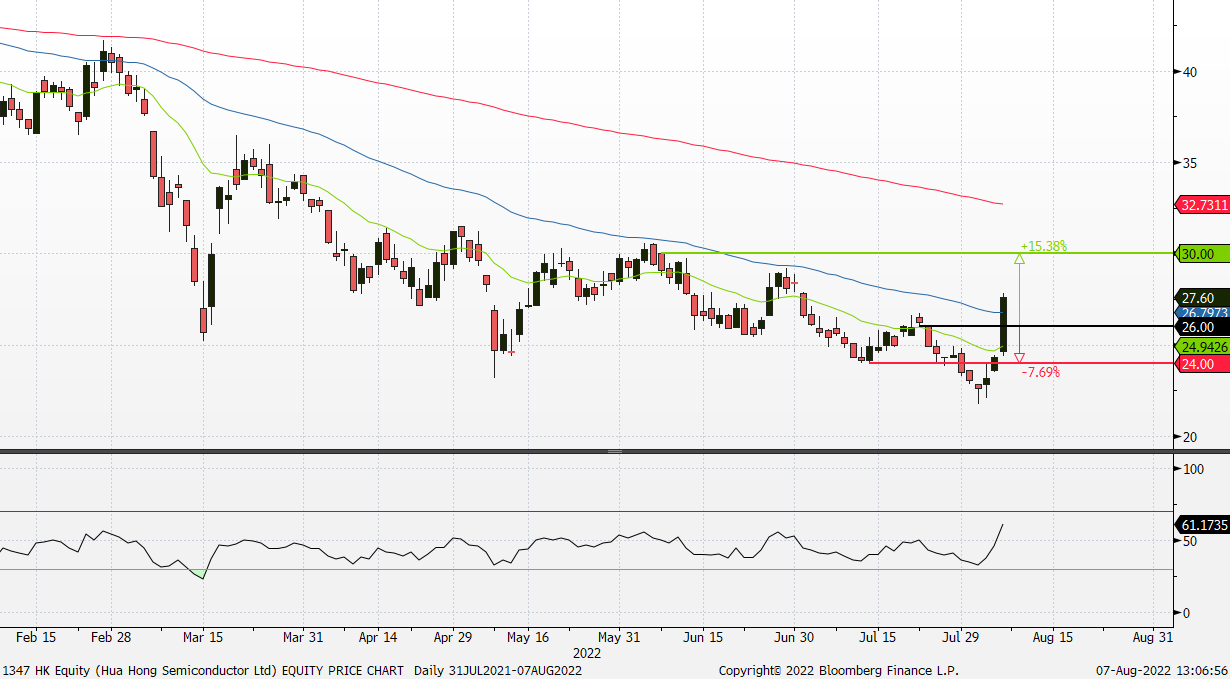 (Source: Bloomberg)

AviChina Industry & Technology Co Ltd (2357 HK): Tailwinds from fear sentiment and homemade jet
RE-ITERATE BUY Entry – 4.0 Target – 4.6 Stop Loss – 3.7
AviChina Industry & Technology Company Limited is principally engaged in the research, development, manufacture and sale of civil aviation products. The Company operates its business through two segments. The Aviation Entire Aircraft segment is engaged in the manufacture, assembly, sales and servicing of helicopters, trainers and other aircraft. The Aviation Parts and Components segment is engaged in the manufacture and sale of aviation parts and components.
Military drill surrounding Taiwan from 4th to 7th August. China launched unprecedented live-fire military drills in six areas that ring Taiwan on Thursday, a day after the US House of Representatives Speaker Nancy Pelosi visited the self-ruled island that Beijing regards as its sovereign territory. The tension escalates even though there is not expected to trigger a war between China mainland and Taiwan. The arms race between China and the US will accelerate in the next couple of years. The military and defence sector is expected to embrace ongoing positive catalysts that China will increase the national defence budget.
C919 jet completed tests, waiting to commence commercial operation. The manufacturer of the C919, Commercial Aircraft Corp of China, announced on Monday that the aircraft model completed all of its test flights. Earlier, six C919 prototypes had been undergoing intensive test flights in different weather conditions at the company's testing bases in places like Yanliang, Shaanxi province, and Dongying, Shandong province. The C919 has entered the final stage before getting the three certificates required to operate commercial flights. C919 has 158 to 168 seats and a range of 4,075 to 5,555 kilometers. Its competitors include the single-aisle B737 of Boeing and the A320 of Airbus.
The updated market consensus of the EPS growth in FY22/23 is 19.9%/18.5%% YoY, respectively, translating to 9.8×/8.3x forward PE. The current PER is 11.6x. Bloomberg consensus average 12-month target price is HK$7.75.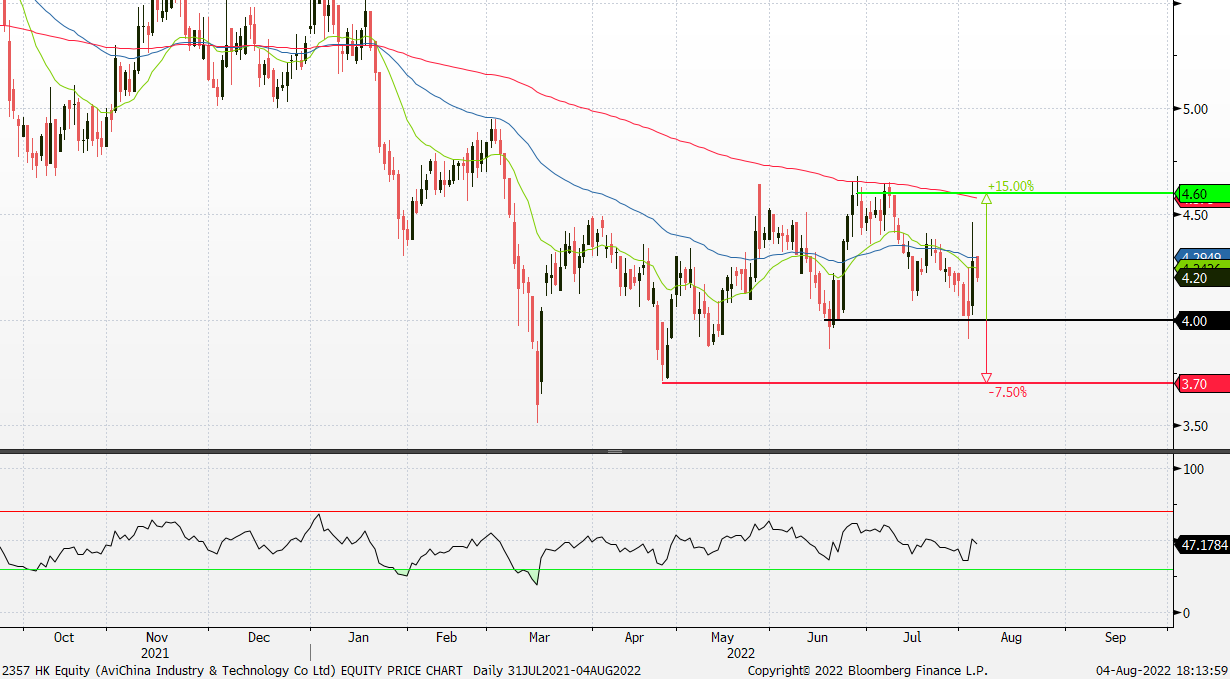 (Source: Bloomberg)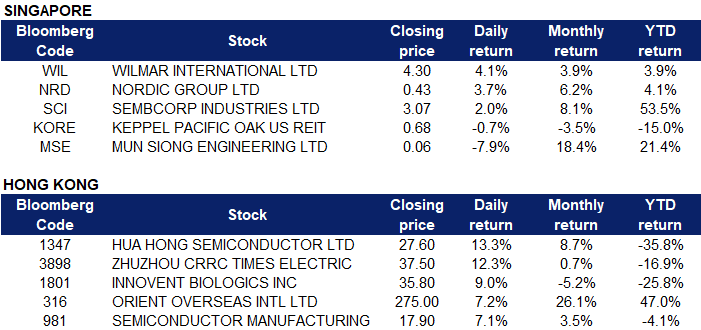 United States
Top Sector Gainers
Top Sector Losers
Cloudflare Inc (NET US) Shares soared 21% postmarket after the company announced its 2Q22 results and raised FY22 revenue guidance. Revenue in 2Q22 jumped 53.9% YoY to US$234.5mn, driven by strength in large customers and a record number of large customer additions (at 212). Large customers now represent 60% of NET's revenue, and the total number of large customers now stands at 1,749. The company expects 2022 revenue of US$968mn-US$972mn (consensus estimate of US$958.7mn). Its prior outlook was US$955mn-US$959mn.The company maintained its outlook for FY22 adj. EPS at US$0.03-US$0.04 and expects to achieve positive free cash flow in 2H22.
Carvana Co (CVNA US) Shares soared 40.07% last Friday after the company announced its 2Q22 results. 2Q22 revenue grew by 16.2% YoY to US$3.88bn, missing estimates by US$110mn. 2Q22 GAAP EPS was -US$2.35, missing estimates by US$0.47. Gross profit per unit (GPU) fell US$1,752 from the prior year quarter to $3,368 due to a myriad of impacts that included a $51 impact from a compensation gift to CEO Ernie Garcia III and staff reductions in May. The company maintained its full-year outlook that anticipates significant reduction in debt and expenses as well as the achievement of over US$4,000 total GPU and significant positive EBITDA in FY23.
Lyft Inc (LYFT US) Shares jumped 16.62% last Friday after the company announced its 2Q22 results which topped expectations. In 2Q22, the company earned an adjusted 13 cents per share on US$990.7mn in revenue, aided by a recovery in active riders. Lyft ended the period with 19.86mn active riders. It generated an average revenue per active rider of US$49.89, slightly topping estimates. The company also generated US$79.1mn in adjusted EBITDA during the period, the highest in the company's history.
Tesla Inc (TSLA US) Shares fell 6.63% last Firday. The months-long rally took a pause last Friday as the stock retreated following seven sessions of gains after the electric-vehicle maker's shareholders approved a three-for-one stock split on Thursday. The split aimed at attracting an even larger number of retail investors, who have been piling into the stock, will bring Tesla's shares down to the $300 range.
Twilio Inc (TWLO US) Shares fell 13.51% last Friday after the communications software company forecasted a weaker than expected 3Q22, overshadowing its 2Q22 results. Revenue jumped by 41% YoY to US$943.35mn, beating estimates by US$22.38mn. 2Q22 Non-GAAP ESP was -US$0.11, beating estimates by US0.09. There were more than 275,000 Active Customer Accounts as of 2Q22, compared to 240,000 as of 2Q21. Twilio expects to lose on an adjusted basis between 37 and 43 cents per share. Sales are forecast to be between US$965-975mn, compared to estimates of $979.32M.

Singapore
Wilmar (WIL SP) gained 4.1% after it reported a 55.1% jump in 1H22 net profit to US$1.2bn, on the back of improved performance across all key business segments and higher contributions from associates and joint ventures. Management has proposed an interim dividend of S$0.06 per share for 1H22, up from S$0.05 per share in 1H21, the highest interim dividend since listing, and the proposed dividend will be payable on Aug 24. 1H22 revenue grew 22.3% YoY to US$36.1bn in line with higher commodity prices. This was also supported by improvement in sales volume of food products and feed and industrial products.
Nordic (NRD SP) jumped 3.7% after it posted 1H22 earnings of $11.6m, up 49% YoY on revenue of $79.8m (+62% YoY), as it fulfilled more contracts in service and maintenance. NRD plans to pay an interim dividend of 1.162 cents per share, versus 0.98 cents per share paid for 1H21. NRD won new contracts of S$170.6m in 1H22, bringing its total order book to S$232.7m. The orders are to be fulfilled over the coming three years. Of the new orders, S$90.1m came from Starburst, which builds and maintains shooting ranges. Citing a survey from the Singapore Economic Development Board, NRD notes that the strong performance highlights the marine and offshore engineering sector is seeing better sentiment along with higher energy prices. The precision engineering sector, which it serves as well, is also seeing higher production levels, which is in contrast to the wider manufacturing sector.
Sembcorp Industries (SCI SP) gained 2% after announcing that 1H22 profit surged nearly 11 times and also forecast a stronger FY22, as the utilities company reaped the benefits of higher energy prices at home and in India. The Conventional Energy segment, which made up 86% of total revenue last year, swung to a profit of S$397m in the first half from a loss last year, further aided by realised gains from favourable gas hedges entered in 2021 in Singapore. SCI expects strong underlying earnings from the energy segment in the second half if market conditions remain steady, but flagged risks to its performance from global inflationary concerns. The segment, through which Sembcorp owns and invests in energy assets across Asia, has seen business boom as power prices around the world soared on supply worries following major oil producer Russia's invasion of Ukraine. The bumper performance also helped the company hike its interim dividend to S$0.04/share from S$0.02/share last year.
Keppel Pacific Oak REIT (KORE SP), and PRIME US REIT (PRIME SP) declined 4.9%/ 2.7% on the weaker USD and the dollar slipped against most major currencies on Thursday (Aug 4) as the positive impact of hawkish Federal Reserve (Fed) comments faded and investors waited for more signs on the data front to confirm that more large rate hikes to curb inflation were coming. The Bank of England (BOE) was widely expected to raise interest rates by the most since 1995, with sterling rising before the rate decision.
Mun Siong Engineering (MSE SP) slumped 7.9% after it reported 1H22 flat revenue of S$30.6m but losses, which expanded to S$1.4m (1H21: S$0.6m). Management attributed the weakness to the absence of higher dollar project value from its Taiwan operations. Earnings were further hit by provisions for monetary penalties claimed by its Taiwanese business party in relation to allegations of bribery there.
Hong Kong
Top Sector Gainers
Top Sector Losers
Hua Hong Semiconductor Ltd (1347 HK) Shares jumped 13.35% last Friday. Zhuzhou CRRC Times Electric Co Ltd (3898 HK) Shares jumped 12.28% last Friday. Semiconductor Manufacturing International Corporation (981 HK) Shares rose 7.06% last Friday. Semiconductor sector jumped by the most in two years last week as House of Representatives Speaker Nancy Pelosi's visit to Taiwan heightened tensions with the US, driving patriotic bets on a sector Beijing sees as key to its rivalry with Washington. On the other hand, Infineon has reportedly discovered a serious defect in its insulated gate bipolar transistor (IGBT) chips produced between early April and early June 2022 and discarded all of them.
Orient Overseas (International) Limited (316 HK) Shares rose 7.17% last Friday. There was no company-specific news. According to statistics released by China Ports and Harbors Association, container volume at eight major Chinese ports increased 6.1% YoY in mid-July. The rate of growth was fairly consistent with the 5.9% volumes increase seen in early July. Export container volume grew 7.3% while the domestic volume increased 2.3% in mid-July. Among which, the port of Dalian posted a growth rate of 30.3%.
Innovent Biologics Inc (1801 HK) Shares rose 8.98% last Friday after the company announced its 2Q22 product revenue update and the strategic multi-program collaboration and license agreement. In 2Q22, the company has generated product revenue of over RMB1,000mn, mainly attributable to the expansion of commercial portfolio and ramp-up of commercial products. However, market demands and product sales in certain metropolitan cities have been partially restricted by the COVID-19 outbreaks and governments' control measure in the second quarter, resulting in further impact on products' growth rates. Meanwhile, the company entered into the Strategic Multi-Program Collaboration and License Agreement with Sanofi's group to establish a strategic collaboration for the clinical development and commercialization of two high-potential oncology medicines, namely SAR408701 (Tusamitamab Ravtansine; anti-CEACAM5 antibody-drug conjugate) and SAR444245 (non-alpha IL-2), including in combination with the Company's PD-1 inhibitor TYVYT® (sintilimab injection), in China, with the aim to accelerate the development and market access of innovative therapies for cancer patients in China.


Trading Dashboard Update: Cut loss on Yangzijiang Shipbuilding (YZJSGD SP) at S$0.925. Add CapitaLand Investment (CLI SP) at S$4.02.