08 April 2022: Capitaland Integrated Commercial Trust (CICT SP), BYD Company Limited (1211 HK)
Singapore Trading Ideas | Hong Kong Trading Ideas | Market Movers | Trading Dashboard
SINGAPORE
Capitaland Integrated Commercial Trust (CICT SP): A reopening play amidst an inflationary environment
BUY Entry – 2.19 Target – 2.35 Stop Loss – 2.14
CapitaLand Integrated Commercial Trust (CICT) is the first and largest real estate investment trust (REIT) listed on Singapore Exchange Securities Trading Limited (SGX-ST). CICT owns and invests in quality income-producing assets primarily used for commercial (including retail and/ or office) purposes, located predominantly in Singapore.
A strong set of FY21 financials. CICT recorded gross revenue of S$1.3bn and distributable income of S$687.4mn in FY2021, an increase of 75.1% and 83% YoY respectively. DPU stood at 10.4 SG Cents in FY21, up 19.7% YoY from 8.69 SG Cents. As of 31 December 2021, CICT's aggregate leverage was 37.2%, well below MAS' regulatory limit of 45% to 50%. The average cost of debt was stable at 2.3% per annum.
Reopening play. The Singapore government announced on 25 March 2022 that all vaccinated travellers can enter Singapore without quarantine from the first of April. Travellers will no longer be required to take only designated flights to enter Singapore quarantine-free, and will not have to take the antigen rapid test (ART) within 24 hours of arrival. This latest round of easing will make travelling as seamless as it was before the pandemic. Out of CICT's Retail REIT portfolio, Clarke Quay's occupancy was the lowest at 73.5% as of 31 December 2021. The recent easing of regulations which includes alcohol after 1030pm and the upcoming reopening of all nightlife activities, such as clubs and discos starting 19 April is expected to boost the laggard retail mall. As for CICT's Office REIT portfolio, the occupancy rate is currently at 91.5% and further upside is driven by the relaxation to 75% of workers being able to return to office, compared to 50% previously.
Inflationary hedge. Out of CICT's total borrowings of S$8.6bn as of 31 December 2021, 83% are on fixed interest rates, which is able to shield the impact of upcoming interest rate hikes. In addition, because rents and property value tend to increase amidst the increase in overall prices, the REITs whose properties are able to capitalise on that can provide an inflation hedge.
Recent acquisitions. On Friday (Mar 25), CICT and CapitaLand Open End Real Estate Fund (Coref) announced that they had entered into an agreement to acquire 79 Robinson Road with a respective 70% and 30% ownership.
Positive consensus estimates. Currently, CICT has a consensus rating of 17 BUYS, 3 HOLDS and 0 SELL, and a 12M TP of S$2.44.The FY22F/23F dividend yield is 5.1%/5.3%.
Capitaland Integrated Commercial Trust (CICT SP) (Source: Bloomberg)
---
Singtel (ST SP): In favour of defensive assets
RE-ITERATE BUY Entry – 2.64 Target – 2.83 Stop Loss – 2.52
Singtel provides an extensive range of telecommunications and digital services to consumers and businesses across Asia, Australia, Africa and the US. It serves over 753 million mobile customers in 21 countries, including Singapore, Australia (via wholly-owned subsidiary Singtel Optus) and the emerging markets of India, Indonesia, the Philippines, Thailand and Africa.
Headwinds are easing. Singtel is forecasted to post mid-single digit EBITDA growth in FY2022, a turnaround from the 16% decline in the prior year financial period. Stabilising Singapore average revenue per user (ARPU) and higher Optus ARPU may drive EBITDA growth higher. Furthermore, dividends from associates, which make up more than 25% of operating cash flow, may finally be turning around, driven mainly by the easing of competition of associate Bharti Airtel.
Defence over offence. The risk of recession is rising due to the surge in oil prices, which will also be exacerbated by the US Federal Reserve hiking rates by 50bps in May and in June. Massive surges in oil prices have historically preceded recessions, as was the case in 2008, early 2000s and 1991. It is thus prudent to move to defence over offence in the current environment.
Positive street view and decent dividend yield. Consensus has an overall positive outlook on Singtel, with 16 BUYS / 2 HOLDS / 0 SELL, and a 12m TP of S$3.15 (+19% upside potential). EPS is forecasted to grow 28% and 21% in FY2022 (YE March) and FY2023. The stock offers a decent dividend yield of 3.7% for FY2022 and 4.6% for FY2023.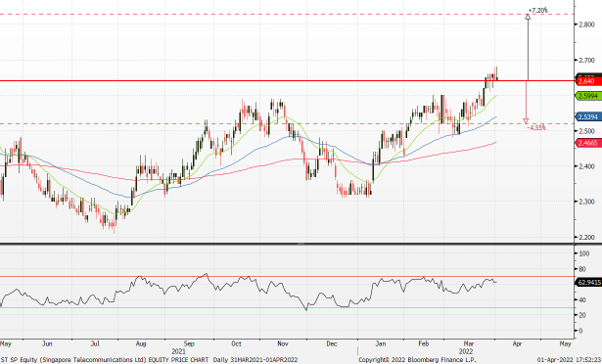 ---
HONG KONG
BYD Company Limited (1211 HK): All-in EV businesses
RE-ITERATE BUY Entry 237 – Target – 270 Stop Loss – 220
BYD COMPANY LIMITED is a China-based company principally engaged in the manufacture and sales of transportation equipment. The Company is also engaged in the manufacture and sales of electronic parts and components and electronic devices for daily use. The Company's products include rechargeable batteries and photovoltaic products, mobile phone parts and assembly, and automobiles and related products. The Company mainly conducts its businesses in China, the United States and Europe.
First combustion engine car maker to go full EV production. The company announced that as of last month it stopped making combustion engine vehicles and only produced electric and hybrid vehicles. Moving forward, BYD will be the domestic largest pure EV company. The implication is that the valuation for the company will be elevated as the combustion engine car segment will no longer drag the company.
March production and sales volume. As the 1Q22 production and sales volume shows below, the company's strategic move to go pure electric and hybrid vehicle production is in line with the mainstream trend, especially with oil prices staying firmly at above US$100/bbl.


Updated market consensus of the EPS growth in FY22/23 is 145.8%/51.1% YoY respectively, which translates to 75.3×/49.9x forward PE. Current PER is 187.1x. Bloomberg consensus average 12-month target price is HK$329.48.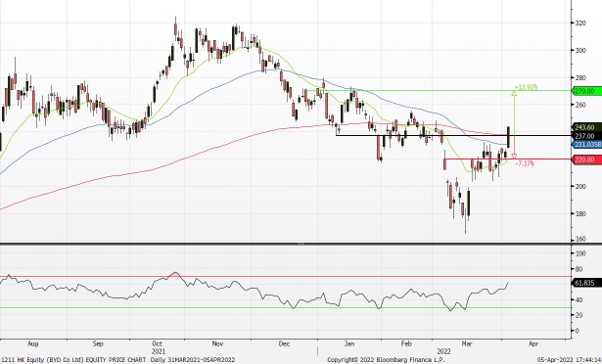 ---
Ping An Insurance (Group) Company of China, Ltd. (2318 HK): Expecting loosening policies soon
BUY Entry – 56.1 Target – 63.5 Stop Loss – 52.1
Ping An Insurance (Group) Company of China, Ltd. is a personal financial services provider. The Company provides insurance, banking, investment, and Internet finance products and services. The Company operates its businesses through four segments. The Insurance segment provides life insurance and property insurance, including term, whole-life, endowment, annuity, automobile and health insurance. The Banking segment is engaged in loan and intermediary businesses with corporate customers and retail business. The Assets management segment is engaged in security, trust and other assets management businesses, including investment, brokerage, trading and asset management services. The Internet Financing segment is engaged in the provision of Internet finance products and services.
Expecting monetary and fiscal stimulus soon. China's Caixin general manufacturing PMI dropped to a 25-month low of 48.1 in March, and the Caixin general services PMI also plunged to a 25-month low of 42.0. This was due mainly to the surge in widespread COVID infections and multiple cities lockdowns. Hence, 1Q22 GDP growth could be negative. The implication is that China's government will probably further lower key rates and propose a fiscal stimulus plan to avoid a recession in 2Q22. The real estate market is the pillar to uphold the economy. Some local governments have started to overturn the old restrictive rules to revive property sales. In the near term, we could see further relief in the domestic housing market.
A Proxy of a property developer fund. Given Ping An's large exposures to property developers, including equities and bonds, its share price performance closely relates to the HK-listed property developer sector price movements. Currently, the sentiment toward the sector started to turn positive.
The updated market consensus of the EPS growth in FY22/23 is 27.9%/15.2% YoY respectively, which translates to 6.3x/5.5x forward PE. The current PER is 8.1x. .The FY22F/23F dividend yield is 5.3%/5.8%. Bloomberg consensus average 12-month target price is HK$77.87.
Ping An Insurance (Group) Company of China, Ltd. (2318 HK) (Source: Bloomberg)
---
MARKET MOVERS

---
United States
Top Sector Gainers
Top Sector Losers
HP Inc (HPQ US) shares rose 16.8% yesterday. Berkshire Hathaway bought nearly 121 million shares, or about an 11% stake worth roughly $4.2 billion based on Wednesday's closing.
Lamb Weston Holdings Inc (LW US) shares rose 8% yesterday after the food processing company reported quarterly earnings. Lamb Weston showed profit of 73 cents per share, beating consensus estimates of 44 cents. It reported revenues of $955 million, compared to analyst estimates of $969 million.
Constellation Brands Inc (STZ US) shares rose 4.6% yesterday after the producer of beer, wine and spirits reported an earnings beat. Constellation saw earnings of $2.37 per share and revenues of $2.1 billion. Analysts expected earnings of $2.10 per share and revenues of $2.02 billion.
Ford Motor Co (F US) shares lost 2.8% yesterday after Barclays downgraded Ford to equal weight from overweight. The ongoing semiconductor shortage will keep Ford from rebounding after a rough start to 2022, Barclays said in a note to clients.
JD.com Inc (JD US) shares fell 5% yesterday after news that founder Richard Liu will step down from the CEO position Company President Xu Lei will take over as CEO.
---
Singapore
Sembcorp Marine Ltd (SMM SP) shares gained 4% yesterday. Last week, Sembmarine and Keppel Corporation said more time and deliberation were needed to advance the proposed combination of Keppel Offshore & Marine (Keppel O&M) and Sembmarine, although "significant progress" has been made. This came some 9 months after both parties first announced talks on potentially combining the entities. Both need to complete due diligence, reach a mutual agreement on the transaction terms and finalise definitive legal documentation.
Geo Energy Resources Ltd (GERL SP) shares rose 2.9% yesterday.Newcastle coal futures, the benchmark for top consuming region Asia, rebounded from their lowest level in a month to around $300 a tonne, buoyed by European Union plans for an embargo on Russian coal following mounting evidence of war crimes committed by its forces on the outskirts of Kyiv. The EU depends on Russia for around 45% of its coal imports.
Japfa Ltd (JAP SP) shares rose 1.5% yesterday. On March 29, the company announced plans to spin off its dairy operations in China for its own listing in Hong Kong. If the listing of AustAsia Investment Holdings (AIH) goes ahead, Japfa shareholders will get to enjoy a distribution in specie of AIH shares, which can potentially result in Japfa shareholders holding shares worth more than what they are trading at now.
RH Petrogas Ltd (RHP SP) and Rex International Holding Ltd (REXI SP) shares lost 3.3% and 2.9% respectively yesterday. After rising earlier in the session, WTI crude futures steadied around a 3-week low of $96 per barrel on Thursday, following a 5.6% drop in the previous session, as traders reassessed news that consuming nations will release a huge amount of oil from strategic reserves to offset supply lost from Russia. IEA member countries agreed to release 60 million barrels on top of a 180-million-barrel release announced by the US last week to help drive down prices in a tight market following Russia's invasion of Ukraine. Elsewhere, talks to revive the Iran nuclear deal which could increase Iranian crude exports appeared to have stalled.
---
Hong Kong
Top Sector Gainers
Top Sector Losers
Kintor Pharmaceutical Ltd (9939 HK) shares fell 24.8% yesterday, after surging 106.4% the day before. The company said its pill was highly effective in reducing the risk of hospitalisation or deaths related to Covid-19, raising the prospect of a first homegrown antiviral treatment. If results hold, the drug would become the first Covid-19 antiviral oral drug developed by a Chinese firm, adding to antiviral treatments available from Pfizer Inc. and Merck & Co Inc. China approved Pfizer's Paxlovid in February and has been using it to treat patients in the current outbreak as daily cases exceed 20,000 this week amid omicron's spread in Shanghai.
MicroPort Scientific Corporation (853 HK) shares fell 9.3% yesterday. Credit Suisse issued a research report saying that it maintained its "neutral" rating on MicroPort, however lowered the target price from HK$29.5 to HK$20. The bank raised its 2022/23 net loss forecast by 153%/228%, as the company's loss widened to $186 million in the second half of last year, mainly due to higher operating expenses.
Smoore International Holdings Ltd (6969 HK) shares fell 7.1% yesterday after the company announced its results. For the first quarter of 2022, the company's adjusted net profit was approximately RMB 553 million, a YoY decrease of 54.9%. Due to the stricter epidemic control measures adopted in some areas of Shenzhen, the production and operation of some of the Group's factories were impacted.
SJM Holdings Ltd (880 HK) and MGM China Holdings Ltd (2282 HK) shares fell 6.6% and 6% respectively yesterday. The Macau Gaming Inspection and Coordination Bureau announced that the gaming revenue in March 2022 was 3.672 billion patacas, a YoY decrease of 55.8%. Citi earlier forecasted that Macau's March gaming revenue would amount to 3.7 billion patacas. It is reported that the cumulative gaming revenue of Macau in the first three months was 17.774 billion patacas, down 24.8% YoY.
---
Trading Dashboard
Trading Dashboard Update:  Add SATS (SATS SP) at S$4.36.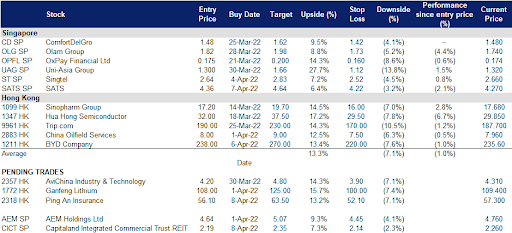 ---