7 September 2022: RH Petrogas Limited (RHP SP), TRIP.COM (9961 HK)
Singapore Trading Ideas | Hong Kong Trading Ideas | Market Movers | Trading Dashboard
RH Petrogas Limited (RHP SP): Expecting second leg-up of oil prices in 3Q22
BUY Entry 0.195 – Target – 0.225 Stop Loss – 0.180
RH Petrogas Limited is an independent upstream oil and gas company headquartered in Singapore and listed on the mainboard of the Singapore Stock Exchange. It operates across the full range of upstream activities covering the exploration, development and production of oil and gas resources. Geographically, RHP is focused on the Asia region with existing assets in Indonesia and Malaysia.
OPEC+ output cut. Officials of OPEC and its major allies agreed on Monday to modestly cut oil production by 100,000 barrels a day, rolling back the increase they approved a month ago.
1H22 earnings review. 1H22 revenue jumped by 43.5% YoY to US$56.7mn. Gross profit jumped by 48.3% YoY to US$28.2mn. Net profit attributable to the owners of the company jumped by 78.3% to US$12.4mn.
Cheap valuation. Currently, shares are trading at 5.0x PE based on its FY21 EPS. The average 5-year historical PER is 5.7x.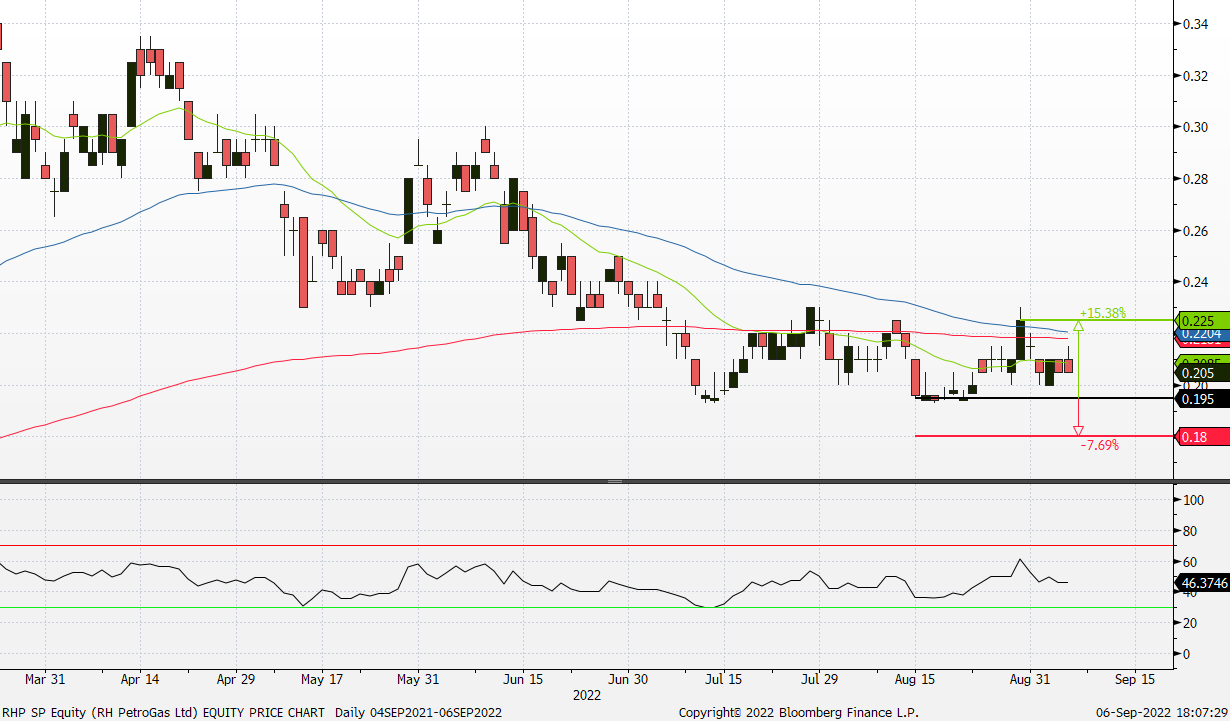 (Source: Bloomberg)

Keppel Corp Ltd (KEP SP): Back to more than 4 years high
RE-ITERATE BUY Entry 7.2 – Target – 7.8 Stop Loss – 6.9
Keppel Corporation is a Singaporean conglomerate headquartered in Keppel Bay Tower, HarbourFront. The company consists of several affiliated businesses that specialises in offshore & marine, property, infrastructure and asset management businesses.
Share buyback notice. Keppel released a share buy back notice on 31 August 2022. They purchased a total of 809,000 shares for a total of S$5.85mn, paying between S$7.16 to S$7.24 per share, to be held as treasury shares.
Develop Singapore's first hydrogen-ready power plant. The plant will be constructed on Jurong Island, with construction to be undertaken by a consortium comprising Mitsubishi Power Asia Pacific and Jurong Engineering. The plant will be owned by Keppel Sakra Cogen (KSC), presently a wholly-owned indirect subsidiary of Keppel Infrastructure. It is intended that Keppel Asia Infrastructure Fund LP (KAIF) and Keppel Energy will hold 70% and 30% equity interests in KSC respectively. The Keppel Sakra Cogen Plant, which is expected to be completed in the first half of 2026, will be designed to operate on fuels with 30% hydrogen content with the capability of shifting to run entirely on hydrogen, although it will initially run on natural gas as its primary fuel. The advanced combined cycle gas turbine (CCGT) power plant will also be able to produce steam for use in industrial processes for the energy and chemicals customers on Jurong Island.
1H22 earnings review. Net profit rose 66% YOY to S$498 million in 1H2022. Keppel announced an interim dividend 15 SG cents per share. Revenue in 1H22 was S$3,356 million as compared to 1H21 S$2,888 million.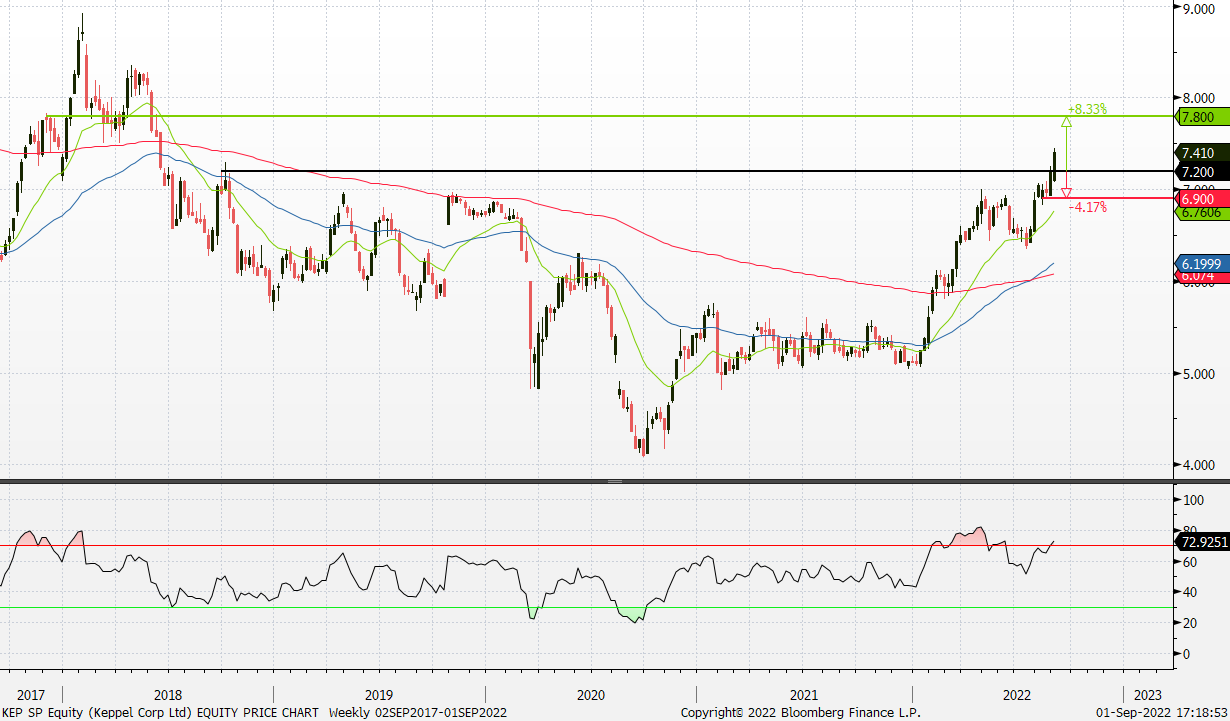 TRIP.COM (9961 HK): A Mid-autumn festival holiday-themed trade
Buy Entry – 190 Target – 210 Stop Loss – 180
Trip.com Group Limited, formerly Ctrip.com International, Ltd., is a travel service provider in China that provides accommodation booking, transportation ticketing, package tours and corporate travel management. The company aggregates hotel and transportation information to help leisure and business travellers make reservations. The company helps leisure travellers book travel packages and guided tours and helps corporate clients manage their travel needs. The company also offers a range of travel-related services to meet the different booking and travel needs of leisure and business travellers, including visitor reviews, attraction tickets, travel-related financial services, car services, travel insurance services and passport services. The company also offers package tours for independent leisure travellers, including tour groups, semi-tour groups and private groups, as well as package tours that require different transportation arrangements (such as cruise, buses or self-driving).
Mid-autumn Festival holiday bookings surged. As of 30th August, according to the company's 2022 Mid-autumn festival and autumn holiday booking statistics report, the overal bookings for the upcoming Mid-autumn festival holiday surged by 137% compared to the previous Dragon Boat Festival holiday. This year's Mid-Autumn Festival local travel, peripheral travel, long-distance travel orders accounted for 23%, 24%, 53%, long-distance travel compared with the same period this year Dragon Boat Festival accounted for nearly 30% of the increase. Mid-Autumn Festival is expected to become the best short holiday for this year's tourism market recovery.
1Q22 earnings review. Revenue remained flat at RMB4.1bn. Gross profit dropped by 1% YoY to RMB3.0bn. GPM fell 0.8ppt to 74%. Net loss narrowed to RMB149mn compared to RMB676mn during the same period last year.
Updated market consensus of the EPS in FY22/23 is US$0.253/US$1.096 respectively, which translates to 101.0x/23.3x forward PE. Bloomberg consensus average 12-month target price is HK$253.04.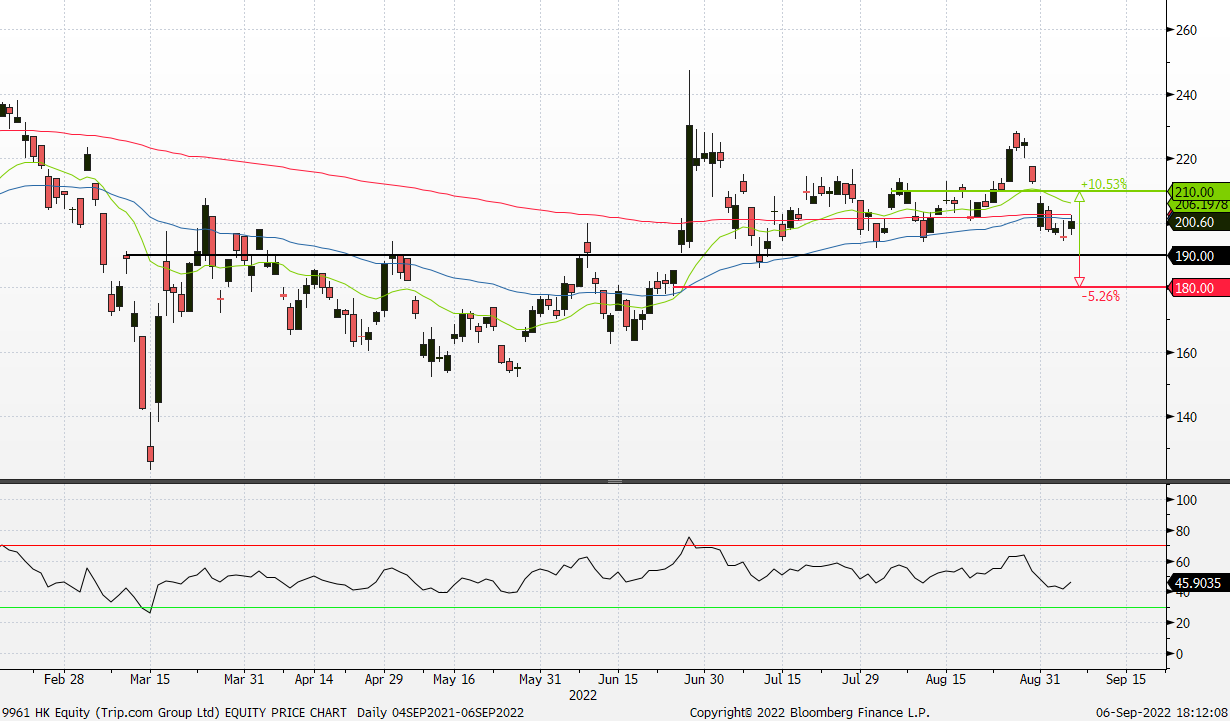 (Source: Bloomberg)
Fuyao Glass Industry Group Co Ltd (3606 HK): Geographical diversification and product mix boosted profitability
RE-ITERATE Buy Entry – 37.0 Target – 40.6 Stop Loss – 35.2
Fuyao Glass Industry Group Co Ltd is a China-based company, principally engaged in the manufacture and distribution of float glasses and automobile glasses. The company's products portfolio consist of automobile glasses, such as coating glasses and others, which are applied in passenger cars, buses, limousines and others, and float glasses. The company distributes its products within domestic markets and to overseas markets.
Record high 1H performance. 1H22 revenue grew by 11.79% YoY to a historical high of RMB12.9bn. Gross profit dropped by 5.8% YoY to RMB4.4bn. GMP fell by 6.4ppts to 36.2%. Profit attributable to owners of the company jumped by 34.6% YoY to a record high of RMB2.4bn. NPM grew by 3.2ppts to 18.6%.
Domestic and overseas business expansion. The company announced entering into a strategic cooperation agreement with the Zhengzhou municipal people's government. Under the agreement, the government will create favourable conditions for strategic cooperation, provide quality services, and make the planning land with an area of approximately 500 mu located at the industrial park of Zhengzhou South Railway Station Hub for the company to serve its needs for future business development. Meanwhile, the company announced to plan to invest US$650mn in the US plants. US$350mn will be used for the establishment of float glass production lines and four solar panel glass processing lines, and the rest funding will be used for the establishment of coated glass production lines.
Updated market consensus of the EPS growth in FY22/23 is 30.8%/23.7% YoY respectively, which translates to 20.6x/16.7x forward PE. Current PER is 23.1x. Bloomberg consensus average 12-month target price is HK$48.5.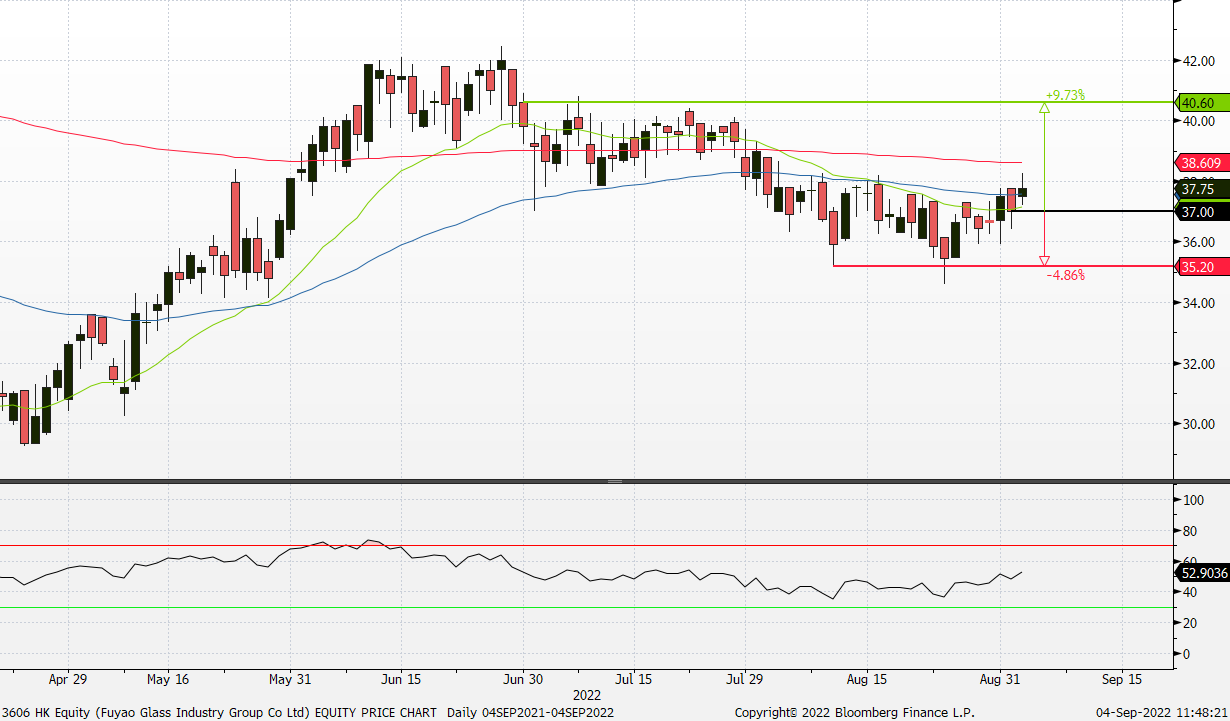 (Source: Bloomberg)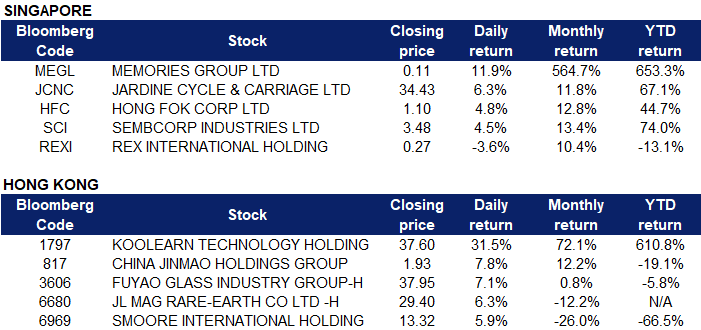 United States
Top Sector Gainers
Top Sector Losers
Illumina Inc (ILMN US) rose 2.5% after Illumina said it plans to appeal a decision by the European Commission prohibiting the company's acquisition of Grail. That decision follows last week's ruling by a U.S. Federal Trade Commission judge in favour of the deal.
Digital World Acquisition Corp (DWAC US), which agreed to merge with Donald Trump's social media company Trump Media & Technology Group, plunged 11.4%. The move came on the heels of a Reuters report that Digital World Acquisition failed to secure enough shareholder support for a one-year extension to close the deal.
Bed Bath & Beyond Inc (BBBY US) continued its losing streak, falling another 18.4%. On Tuesday, the home-goods retailer appointed its chief account officer as interim CFO after his predecessor, Gustavo Arnal, died by suicide Friday.
Alibaba Group Holding Ltd (BABA US) slid 3.6% after China announced new Covid restrictions in its southern tech hub of Shenzhen starting Monday, and Chengdu announced an extension of lockdown curbs. A total of 33 Chinese cities are under full or partial lockdown as the country sticks to is zero-Covid policy.
FedEx Corp (FDX US) slipped 2.2% after Citi downgraded FedEx to neutral from buy. The bank anticipates slower volume ahead for FedEx and cited macro headwinds and challenges in the freight industry among the reasons for the downgrade.

Singapore
Memories Group Ltd (MEGL SP) continued to rise 11.9% yesterday. The Company informed shareholders that they review proposals and opportunities to enhance Shareholders' value from time to time, including proposals which, if made, could lead to a possible general offer for all of the Shares. Shareholders should note however that while there are discussions relating to the foregoing, as at 30 August 2022, the Company has not been formally approached nor received any binding proposal(s) or entered into any binding agreement(s) in relation thereto.
Jardine Cycle & Carriage Ltd (JCNC SP) rose 6.3% yesterday. There was no company specific news. It had previously acquired 4,816,100 shares of CCB for approximately RM13.0 million (about US$2.9 million), increasing its shareholding in CCB from 89.994% to 94.77%. JC&C procured CCB to delist it from Bursa Securities.
Hong Fok Corp Ltd (HFC SP) rose 4.8% yesterday. On Aug 29, the company acquired 250,000 shares, for a consideration of S$257,797.86 between a range of S$1.02 to S$1.03 per share. After the purchase, Hong Fok Corp currently has 823,167,640 issued shares and holds 47,444,500 treasury shares.
Sembcorp Industries Ltd (SCI SP) shares jumped 4.5% to a 4.5-year high on Tuesday (Sep 6), after the group announced on Monday that it would sell its India-based coal power unit for 117 billion rupees (S$2.1 billion). The purchaser is the Tanweer Consortium led by Oman Investment Corporation S.A.O.C., the Ministry of Defence Pension Fund, Oman and Dar Investment SPC.
Rex International Holding Ltd (REXI SP) fell 3.6% yesterday. Oil steadied on Tuesday after a two-day rally as OPEC+'s decision to cut output in October was balanced by concern about a weak economic outlook and the prospect of more interest rate hikes. The Organization of Petroleum Exporting Countries and allies led by Russia, known as OPEC+, decided to cut output targets by 100,000 barrel per day after Saudi Arabia voiced concern about a slump in prices since June.

Hong Kong
Top Sector Gainers
Top Sector Losers
Koolearn Technology Holding Ltd (1797 HK) rose 31.5% yesterday. BOCOM International pointed out that Koolearn announced that its strategic focus will be shifted to the live broadcast e-commerce business under the brand of Oriental Selection. Although the popularity of its live broadcast room has dropped, it is on the high line as expected. In addition, the bank pointed out that its cash flow turned positive in June and achieved profitability: the repurchase rate and return rate of Oriental Selection were both better than the industry average, and the commission rate of consignment products was at a high level in the industry. The anchor team is trained internally, and the share ratio and marketing expenses remain low. The bank estimates that the annualised GMV of Koolearn's live broadcast e-commerce business is 8.4 billion to 16.8 billion yuan, the revenue range is 1.2 billion to 3.4 billion yuan, and the profit is 190 million to 670 million yuan.
China Jinmao Holdings Group Ltd (0817 HK) rose 7.8% yesterday. It recently held a conference to release its performance report for the first half of the year. In the face of the market environment of low volume and price, China Jinmao maintained a good momentum of steady development: a total contracted sales amount of 69.9 billion yuan was recorded , an increase of 4 in the sales rankings of the Kerui Research Institute in the first half of 2022. Ranked in the top 11 in the industry; at the performance meeting, China Jinmao disclosed that the accumulated payment in the first half of the year was 73.3 billion yuan, and the payment rate of 105% hit a record high; the average financing cost fell to 3.76%, a record low; half-year revenue was 28.745 billion and gross profit of 6.225 billion, up 1% and 8% year-on-year respectively. In addition, Jinmao continued to maintain the "Three Red Lines" all-green status, and the total land reserve increased to 77.43 million square metres, which can support the company's future development.
Fuyao Glass Industry Group Co Ltd (3606 HK) climbed 7.1% yesterday. In the first half of this year, the company achieved operating income of 12.904 billion yuan, a year-on-year increase of 11.79%; the net profit attributable to shareholders of the listed company was 2.382 billion yuan, a year-on-year increase of 34.63%; The net profit attributable to shareholders of the listed company after deducting non-recurring gains and losses was 2.310 billion yuan, a year-on-year increase of 39.03%. Basic earnings per share are 0.91 yuan per share. Lyon released a research report saying that it believes that the increase in the penetration rate of panoramic sunroof glass should promote the average selling price of automotive glass, increasing the net profit forecast for 2022-24 by 4%/22%/22%, and the target price from HK$33.4 to HK$40.8 , to reflect higher earnings forecasts.
JL Mag Rare-Earth Co Ltd (6680 HK) rose 6.3% yesterday. In the second half of the year, Suzaku Fund increased its holdings of JL Mag Rare-Earth several times, and its shareholding ratio increased from 7.41% to 14.02%. Guosen said that the company's 2022H1 unit profitability exceeded the previous judgement, and raised their profit forecast. It is estimated that the net profit attributable to the parent in 2022-2024 is 8.27/9.96/1.210 billion yuan (the original forecast value was 6.73/8.06/978 million yuan), and the "buy" rating is maintained.
Smoore International Holdings Ltd (6969 HK) rose 5.9% yesterday. The company announced that on September 5, 2022, Chen Zhiping, chairman of the board of directors, chief executive officer, executive director and controlling shareholder, purchased a total of 4.09 million shares of the company in the open market at an average price of approximately HK$12.20 per share through SMR & Alon Limited, a wholly-owned subsidiary of the company. Shares at a total consideration of HK$49,887,400, representing approximately 0.07% of the issued share capital of the Company as at the date of this announcement. On the same day, Xiong Shaoming, the company's executive director, purchased a total of 5.499 million shares of the company in the open market at an average price of approximately HK$12.57 per share through wholly-owned Andy Xiong Holding Limited, with a total consideration of HK$69.1421 million, accounting for the company's total share of As at the date of this announcement, the issued share capital is approximately 0.09%


Trading Dashboard Update: Cut loss on Keppel DC REIT (KDCREIT SP) at S$1.87. Take profit on China Oilfield Services (2883 HK) at HK$8.87.