6 May 2022: Jiutian Chemical Group Limited (C8R SP), CNOOC Limited (883 HK)
Singapore Trading Ideas | Hong Kong Trading Ideas | Market Movers | Trading Dashboard

Jiutian Chemical Group Limited (C8R SP): Net cash accounts for 89% of the market cap
BUY Entry – 0.095 Target – 0.105 Stop Loss – 0.090
Jiutian is the second largest Dimethylformamide (DMF) producer in China, with a total annual capacity of 150,000 tons of DMF and methylamine (MA). Both these chemicals are important ingredients in industries as diverse as consumer goods, petrochemicals, electronics, pharmaceuticals and fertilisers. In addition, it now produces chemicals for fast growing sectors such as batteries that are used in electric vehicles.
Strong 1Q22 results despite a surge in COVID cases. 1Q22 revenue jumped by 76% YoY to RMB772mn. Net profit jumped by 123% YoY to RMB201mn. The sales volumes could be less than last year during the same period as China started to adopt certain restriction measures to contain COVID-19 spreads in March, affecting logistics. However, the average DMF prices ranged from RMB15,000/tonne to RMB16,000/tonne in 1Q22 compared to RMB9,000/tonne to RMB11,000/tonne in 1Q21. The cash and cash equivalents arrived at a record high of RMB1.02bn. Meanwhile, the company proposed an interim dividend of 0.75 SG cents (A dividend yield of 7.7% as of the closing price of S$0.097).
China Dimethylformamide (Industrial Grade) Monthly Average Price (RMB/tonne)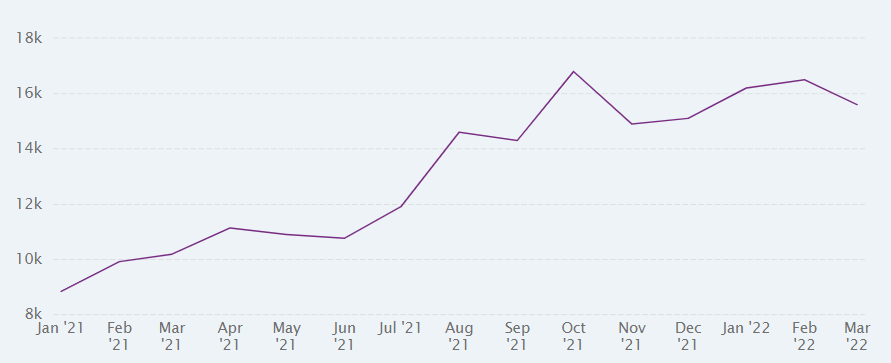 Source: CEIC
Upbeat near term outlook. Although China could ease its zero-COVID policies, it will continue to adopt draconian measures to avoid another wave of outbreaks. The current supply and demand dynamics will remain status quote as there is no substantial ramp-up in the domestic DMF capacity. The price correction of DMF in April was due mainly to the lockdowns of major cities and the ensuing decline in demand. The production and sales volumes fell correspondingly as well. The latest DMF average price is quoted at RMB12,800/tonne. We believe the downside is limited given raw material prices stay afloat.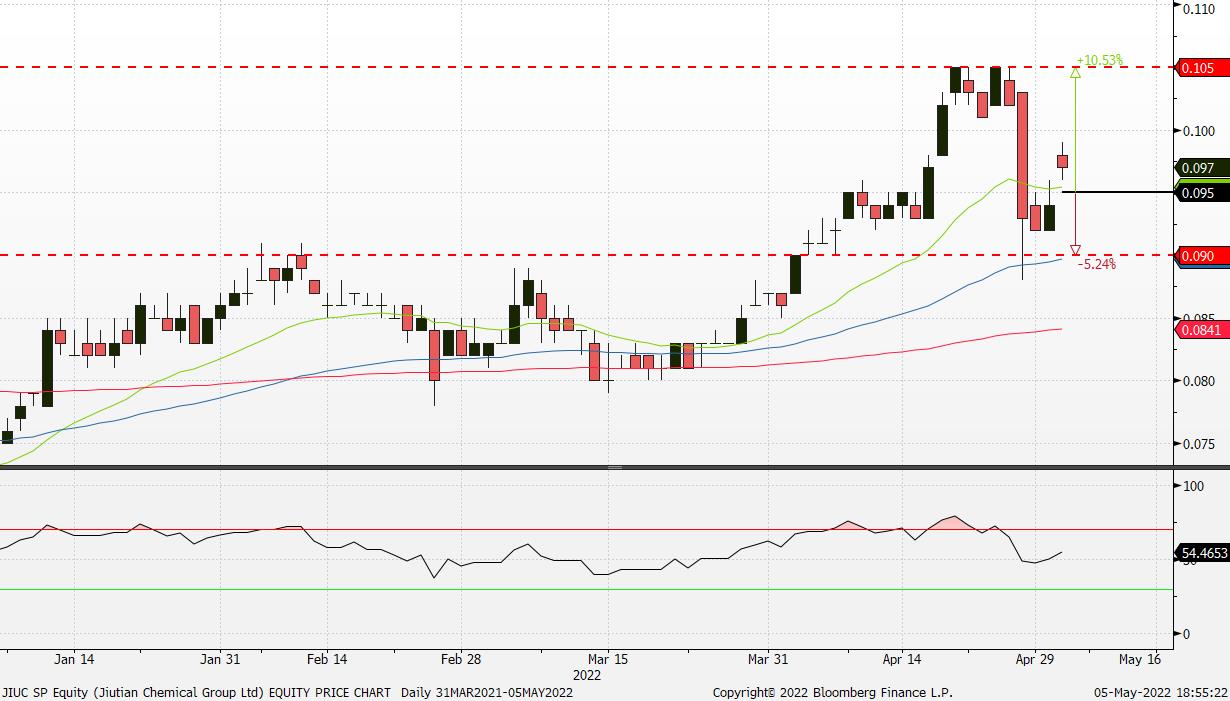 (Source: Bloomberg)

Samudera Shipping Line Ltd (S56 SP): Benefited amidst the wane-and-wax
RE-ITERATE BUY Entry – 0.97 Target – 1.10 Stop Loss – 0.90
Samudera Shipping Line Ltd. offers efficient and reliable container shipping services in the Middle East, Indian Sub-continent, South East Asia, Indo-China and the Far East markets.
Container freight rates remained high in April. The lock-down of Shanghai had been more than a month. However, covid cases in Shanghai have yet subsided. The halt of Shanghai port operations benefited other shipping routes, especially those in Southeast Asia (SEA). The freight rates from SEA to North America in April stabilised at the high grounds.
Southeast Asia to North America Container Rates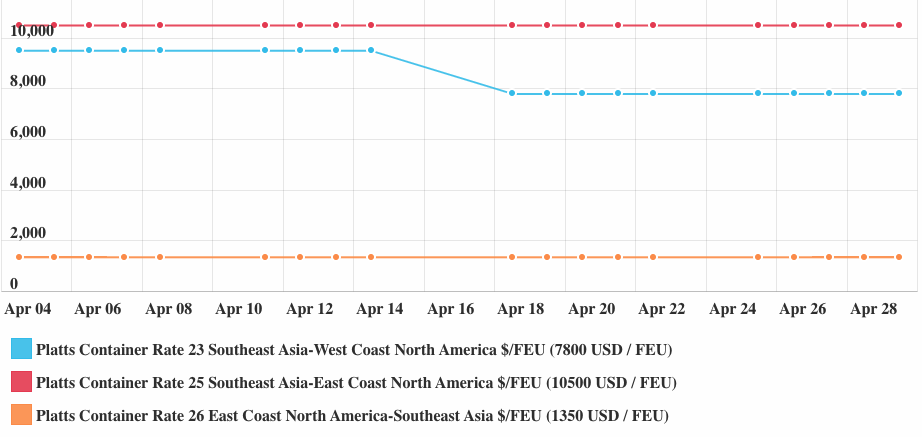 Source: S&P Global
Southeast Asia to North America Bunker Charges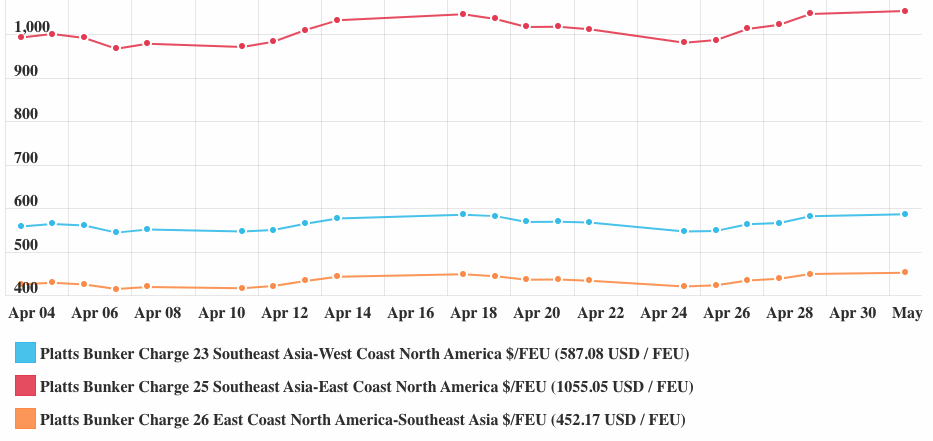 Source: S&P Global
FY21 results review. Revenue jumped by 51.5% YoY to US$527mn. Gross profit reached a record high of US$146.9mn compared to US$29.6mn in FY20. Net profit reached a record high of US$127.8mn compared to US$15.2mn in FY20. The company declared a special dividend of 12.75 SG cents (12.75% dividend yield as of the last closing price of S$1.0 last Friday) in February 2022.
Positive outlook in the near term to mid-term. The global supply chain has been disrupted during the COVID-19 period, and it will be redesigned and redeployed moving forward as multinational companies have suffered from the concentration and geopolitical risks. The Southeast region will be the sweet spot for the manufacturing base alternative to China. Accordingly, the shipping boom will last in the longer run.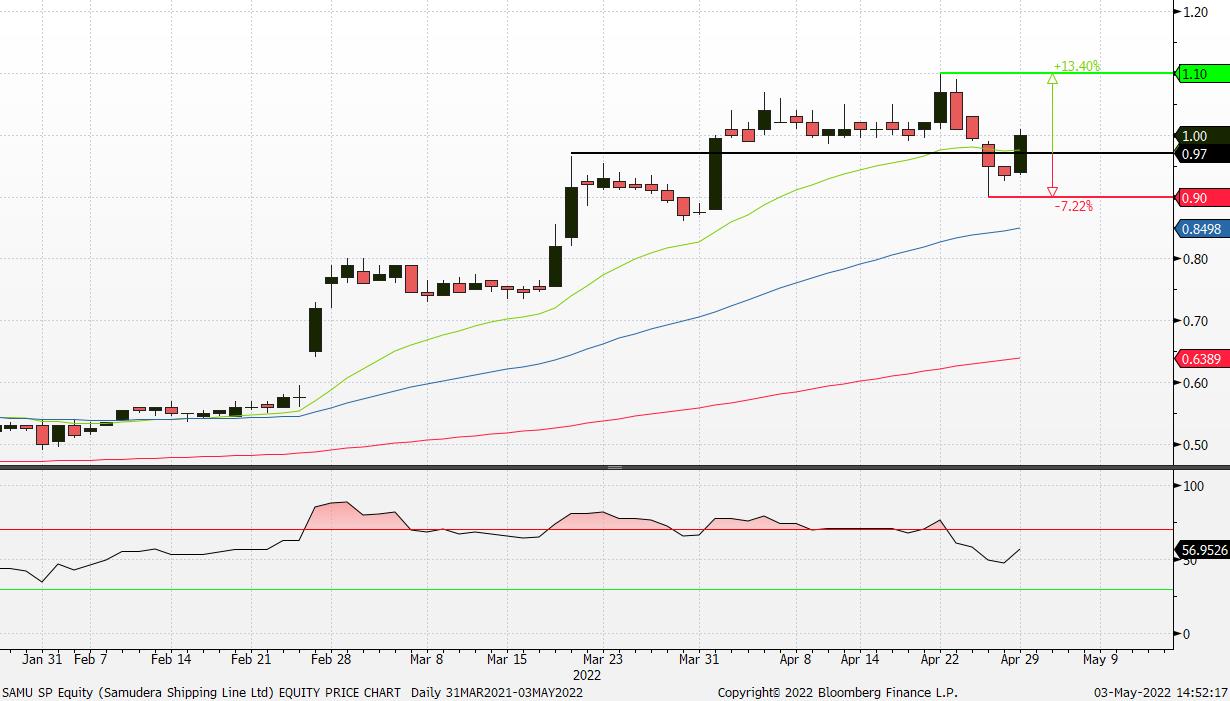 (Source: Bloomberg)


CNOOC Limited (883 HK): Renewed concerns on oil supplies
BUY Entry 10.62 – Target – 12.08 Stop Loss – 9.98
CNOOC Limited is a Hong Kong-based investment holding company principally engaged in the exploration, production and trading of oil and gas. Its businesses include conventional oil and gas businesses, shale oil and gas businesses, oil sands businesses and other unconventional oil and gas businesses. The company mainly operates businesses through three segments. The Exploration and Production segment is engaged in the exploration, development and production of crude oil, natural gas and other petroleum products. The Trading segment is engaged in the trading of crude oil, natural gas and other petroleum products. The company mainly operates businesses in China, Canada, the United Kingdom, Nigeria, Indonesia and Brazil, among others.
Russian oil sanction plans. Oil prices extended gains on Thursday on supply concerns as the European Union proposal laid out plans for new sanctions against Russia, including an embargo on crude in six months, offsetting concerns over weaker Chinese demand. The sanctions proposal, which was announced by European Commission President Ursula von der Leyen and needs unanimous backing by the 27 EU countries to take effect, includes phasing out supplies of Russian crude in six months and refined products by the end of 2022.
Record high dividend yield. CNOOC has proposed to pay HK$1.18 per share in a special dividend payout to A- and H-share investors, totalling an almost HK$56 billion dividend windfall after bumper earnings. The windfall follows the firm's decision in January to pay out at least 40% of its annual profits from 2022 to 2024 as dividends or at least HK$0.70 per share. The firm also reiterated its decision to implement share buy-backs this year. Earnings jumped 132% YoY in 1Q22 to RMB34.3bn as crude oil prices surged during the period.
Valuation and consensus estimates. CNOOC has a consensus rating of 25 BUYS, 1 HOLD and 0 SELL, and a 12 month target price of HIK$15.42. CNOOC is currently trading at 3.77x/4.13x/4.39x FY22F/FY23F/FY24F P/E.
WTI Crude Oil Prices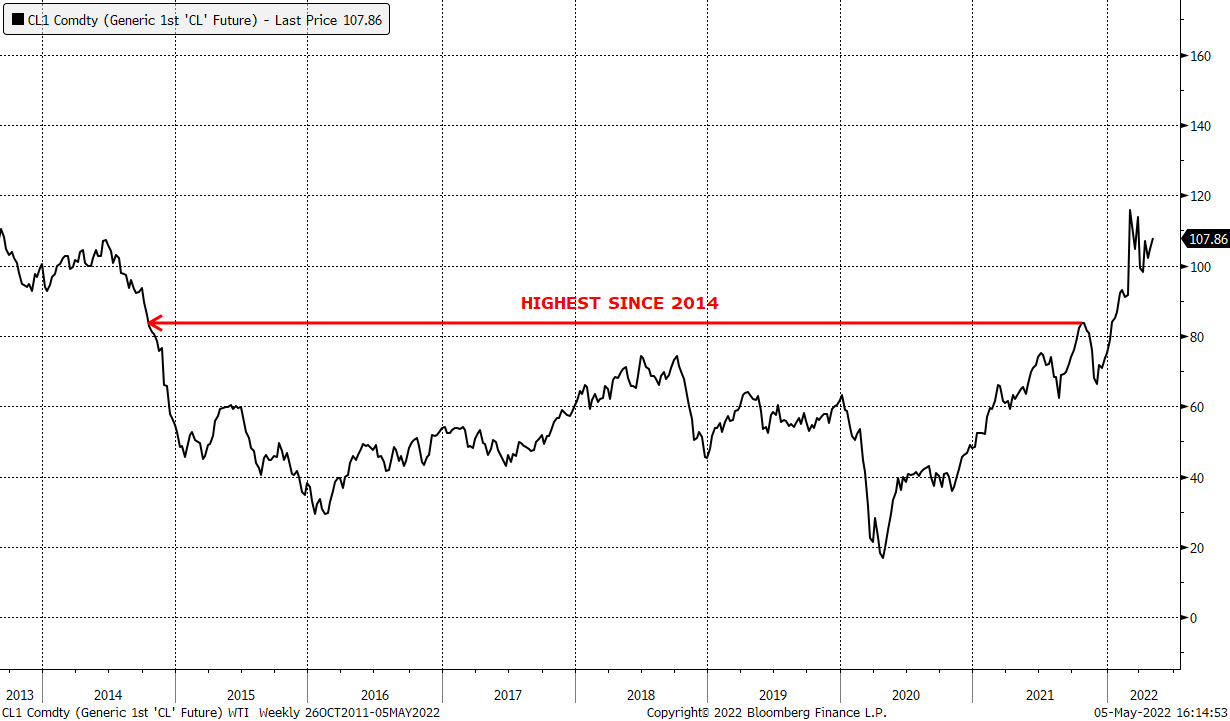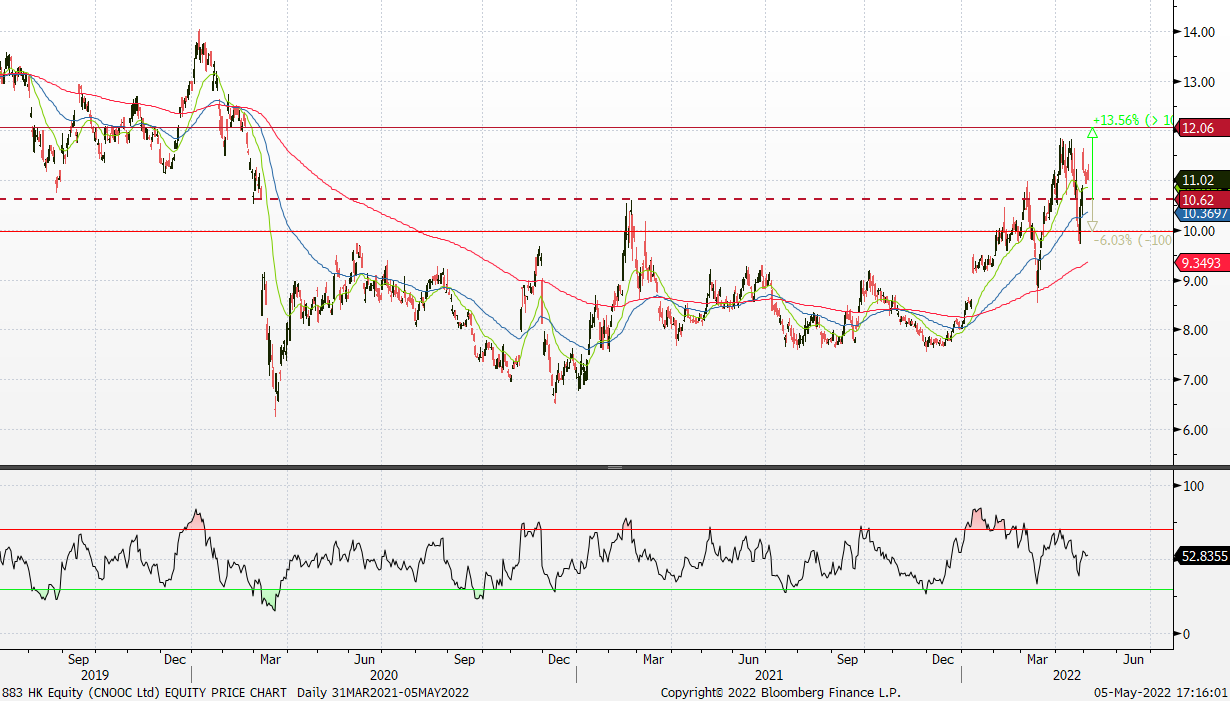 (Source: Bloomberg)

Tsingtao Brewery Company Limited (168 HK): Strong pricing power in the domestic beer industry
RE-ITERATE BUY Entry 63.40 – Target – 70.50 Stop Loss – 59.30
Tsingtao Brewery Company Limited, together with its subsidiaries, engages in the production, distribution, wholesale, and retail sale of beer products worldwide. The company sells its beer products primarily under the Tsingtaoand and Laoshan brand names. It also provides wealth management, and agency collection and payment services; and financing, construction, and logistics services, as well as technology promotion and application services.
Strong results amidst the pandemic. In the first quarter of 2022, Tsingtao Brewery's revenue was RMB9.2bn, a YoY increase of 3.1%, whereas net profit after tax was RMB1.1bn, a YoY increase of 10.2%. In addition, the gross profit margin increased by 1.30 ppts to 36.7%.
Higher selling prices to cushion inflationary cost pressures. Despite rising raw material costs such as malt and packaging materials, the strength of the domestic beer industry remains, and the adjustment in prices is expected to continue moving forward as companies continue to pass rising costs to customers. Other major Chinese beer companies, such as China Resources Beer Holdings Co Ltd (291 HK) have seen increases in average unit price and profit margins over the last 2 years.
Every cloud has a silver lining. Hong Kong reopened gyms, beauty parlours, theme parks and cinemas on Thursday for the first time in more than four months, as authorities relaxed some of the world's toughest Covid-19 curbs, which have weighed on people and businesses. Many restaurants were booked out for weeks ahead after the hours for dining out were extended until 10 p.m. from 6 p.m., while group sizes have been expanded to four from two.
Valuation and consensus estimates. Tsingtao Brewery has a consensus rating of 19 BUYS, 3 HOLDS and 1 SELL, and a 12 month target price of HK$83.38. Tsingtao Brewery currently trades at 24x FY22 P/E, significantly lower than the average P/E of 38x over the past 3 years and 30x P/E during the 2020 pandemic era.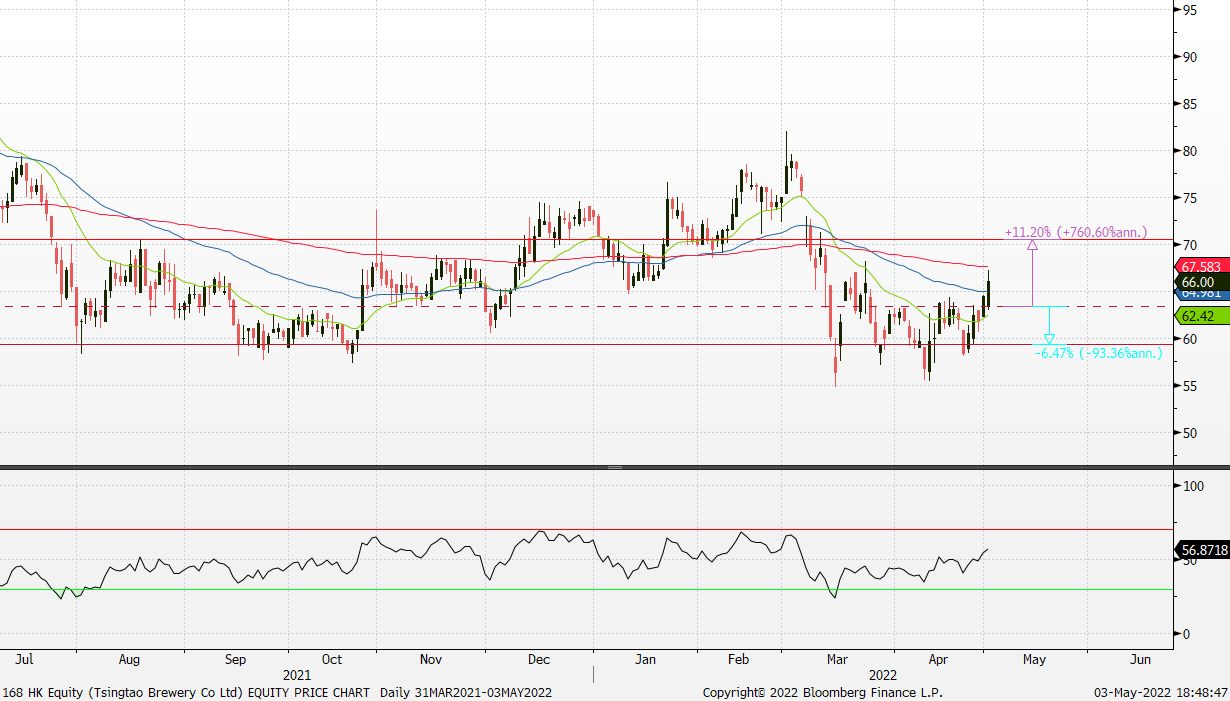 (Source: Bloomberg)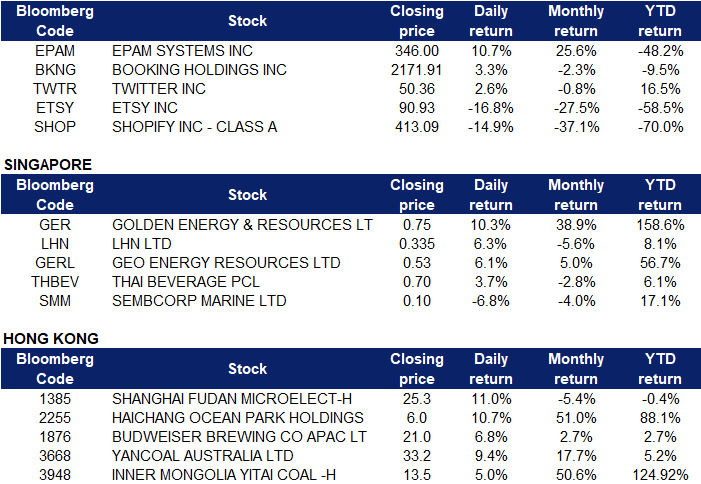 United States
EPAM Systems Inc (EPAM US) shares jumped 10.7% after the computer software company posted better-than-expected results for the previous quarter. EPAM reported $2.49 earnings per share on revenues of $1.17 billion. The company was forecasted to earn $1.79 per share on revenues of $1.06 billion, according to a consensus estimate from FactSet.
Booking Holdings Inc (BKNG US) shares jumped 3.3% after the company's quarterly results topped analyst expectations. The travel company also reported $27 billion in gross bookings for its most recent quarter, a record quarterly amount for Booking. The company also said it is preparing for a busy travel season in the summer.
Twitter Inc (TWTR US) shares gained 2.6% after CNBC's David Faber reported Elon Musk is expected to serve as temporary CEO of Twitter for a few months after he completes his $44 billion takeover of the social media platform. Regulatory filings published Thursday also showed Musk received another $7 billion from friends and investors to buy Twitter.
Etsy Inc (ETSY US) shares dropped 16.8% after the company released weaker-than-expected guidance for the current quarter amid a drop in disposable income for consumers. Etsy did report earnings that matched expectations and post better-than-expected revenue.
Shopify Inc (SHOP US) shares fell 14.9% after the company forecasted that revenue growth would be lower in the first half of the year, as it navigates tough pandemic-era comparisons. Shopify also reported adjusted quarterly earnings of 20 cents per share, well below the Refinitiv forecast of 64 cents per share.
---
Singapore
Golden Energy and Resources Ltd (AUE SP) Shares rose 10.3% yesterday and closed at a 52-week high. Geo Energy Resources Ltd (RE4 SP) shares rose 6.1% yesterday. There was no company-specifc news of both counters. Bloomberg reported that India is facing coal shortage, and the current heatwave triggers power outages. Although India ramps up coal production to record level, it will increase the coal import from Indonesia and Australia in the near term.
LHN Limited (41O SP) shares rose 6.3% yesterday after the company announced a positive profit guidance on 4th May. The group expected to record a higher net profit before tax for 1H2022 of no less than approximately S$34mn as compared to the six months ended 31 March 2021 of approximately S$18.3mn.
The higher net profit before tax for 1H2022 arises mainly from the Space Optimisation Business due to gains from subleases which were derived based on differences between the right-of-use asset derecognised and the net investment in sublease; higher fair value gains on the group's investment properties and joint ventures' investment properties; and increase in profit from the Group's co-living business under residential properties.
Thai Beverage Public Company Limited (Y92 SP) shares rose 3.7% yesterday. The company is resuming the proposed spin-off and listing of its brewery unit BeerCo on the Singapore Exchange, which it had deferred due to the Covid-19 pandemic. Its wholly-owned subsidiary International Beverage Holdings, which holds all the issued ordinary shares of BeerCo, will conduct a public offering of up to 20% of the total number of issued ordinary shares of BeerCo.
Sembcorp Marine Ltd (S51 SP) shares fell 6.8% yesterday. There was no company-specific news. The sell-down could be due to profit-taking movements.
---
Hong Kong
Top Sector Gainers
Top Sector Losers
Shanghai Fudan Microelectronics Group Co Ltd (1385 HK) shares rose 11% yesterday. From January 1, 2022 to March 31, 2022, the company achieved revenue of RMB 776 million, a YoY increase of 54.54%, while net profit was RMB 233 million, a YoY increase of 169.62%. Founder Securities believes that the proportion of FPGA and non-volatile memory business has increased, and the gross profit margin has increased significantly. In the future, as high-reliability products such as FPGA continue to increase in volume, the company's profitability will be further enhanced.
Haichang Ocean Park Holdings Ltd (2255 HK) shares rose 10.7% yesterday. Haichang Ocean Park announced that it has signed a strategic cooperation agreement with Sunny World. The two parties will start cooperation with the two ocean theme park projects that Sunny World plans to develop or manage in Vietnam. They also plan to develop cultural tourism formats and industries.
Budweiser Brewing Company APAC Ltd (1876 HK) shares rose 6.8% yesterday, after the company announced its first quarter results. The company's sales volume was 2.023 billion litres, a YoY decrease of 2.7%, while revenue was US$ 1.632 billion, a YoY increase of 1.5%. Profit was US$ 304 million, a YoY increase of 28.8%. The company's CEO Yang Ke said the recent impact of China's COVID-19 control measures was offset by South Korea's strong performance, allowing the company's profit margins to grow significantly.
Yancoal Australia Ltd (3668 HK) and Inner Mongolia Yitai Coal Company Ltd (3948 HK) shares rose 9.4% and 5% respectively yesterday. Newcastle coal futures, the benchmark for top consuming region Asia, consolidated above the $350-per-tonne mark and more than doubled in value since 2022, supported by continued robust demand against a tightening market backdrop. Along with increasing demand for power generation with a resumption in economic activity after the coronavirus-induced slump, soaring natural gas prices in Europe and Asia in late 2021 boosted coal consumption. On top of that, Russia's invasion of Ukraine and the unprecedented economic sanctions, including the EU's ban on coal imports from Russia, have thrown the global energy market into chaos.


Trading Dashboard Update: Enter Tsingtao Brewery (168 HK) at HK$63.40.