5 September 2022: Keppel Corp Ltd (KEP SP), Fuyao Glass Industry Group Co Ltd (3606 HK)
Singapore Trading Ideas | Hong Kong Trading Ideas | Market Movers | Trading Dashboard
Keppel Corp Ltd (KEP SP): Back to more than 4 years high
RE-ITERATE BUY Entry 7.2 – Target – 7.8 Stop Loss – 6.9
Keppel Corporation is a Singaporean conglomerate headquartered in Keppel Bay Tower, HarbourFront. The company consists of several affiliated businesses that specialises in offshore & marine, property, infrastructure and asset management businesses.
Share buyback notice. Keppel released a share buy back notice on 31 August 2022. They purchased a total of 809,000 shares for a total of S$5.85mn, paying between S$7.16 to S$7.24 per share, to be held as treasury shares.
Develop Singapore's first hydrogen-ready power plant. The plant will be constructed on Jurong Island, with construction to be undertaken by a consortium comprising Mitsubishi Power Asia Pacific and Jurong Engineering. The plant will be owned by Keppel Sakra Cogen (KSC), presently a wholly-owned indirect subsidiary of Keppel Infrastructure. It is intended that Keppel Asia Infrastructure Fund LP (KAIF) and Keppel Energy will hold 70% and 30% equity interests in KSC respectively. The Keppel Sakra Cogen Plant, which is expected to be completed in the first half of 2026, will be designed to operate on fuels with 30% hydrogen content with the capability of shifting to run entirely on hydrogen, although it will initially run on natural gas as its primary fuel. The advanced combined cycle gas turbine (CCGT) power plant will also be able to produce steam for use in industrial processes for the energy and chemicals customers on Jurong Island.
1H22 earnings review. Net profit rose 66% YOY to S$498 million in 1H2022. Keppel announced an interim dividend 15 SG cents per share. Revenue in 1H22 was S$3,356 million as compared to 1H21 S$2,888 million.
Updated market consensus of the EPS growth in FY22/23 is -13.5%/7.0% YoY respectively, which translates to 15.3x/14.3x forward PE. Current PER is 11.6x. Bloomberg consensus average 12-month target price is S$8.69.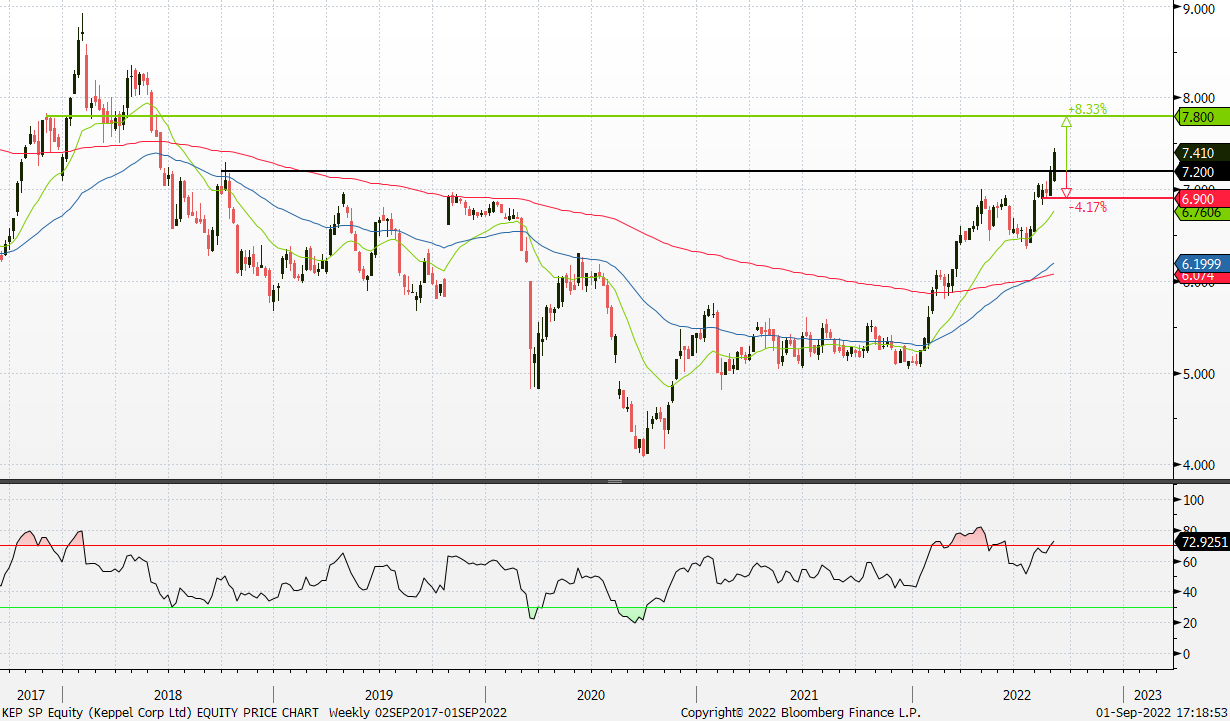 Yangzijiang Shipbuilding (YZJSGD SP): Solid fundamentals to buffer impacts from a volatile market
RE-ITERATE BUY Entry 0.95 – Target – 1.05 Stop Loss – 0.90
Yangzijiang (YZJ) produces a range of commercial vessels, including mini bulk carriers, bulk carriers, multi-purpose cargo vessels, containerships, chemical tankers, offshore supply vessels, rescue and salvage vessels and lifting vessels. It operates two shipyards, with the older yard located in Jiangyin city. The yard spans about 800 m of deep-water coastline and covers an area of about 200,000 sqm (excluding the coastal area). YZJ's newer yard is located in Jingjiang city. The yard has 1,940 m of deep-water coastline, production area of 1,508,857 sqm, a drydock that can accommodate two 100,000 dwt vessels and two half 100,000 dwt vessels at one time.
FY22 (YE June) earnings review. 4Q22 revenue grew by 14.8% YoY to S$22.0mn, and FY22 revenue grew by 11.8% YoY to S$82.5mn. 4Q22 gross profit grew by 9.6% YoY to S$11.3mn, and FY22 gross profit grew by S$44.0mn. 4Q22 Net profit grew by 22.7% to S$5.9mn. FY22 new profit grew by 9.7% YoY to S$19.8mn. The company proposed a final dividend of 6 SG cents and a special dividend of 2 SG cents.
Secures additional orders for green vessels. YZJ announced that it clinched orders for four 8,000 TEU LNG dual-fuel containerships by repeat customer PIL and will be progressively delivered in 2025. The vessels will be equipped with a membrane containment tank system that was co-developed in-house, and demonstrates its focus on moving up the value chain to more complex LNG vessels. The orders bring total new orders secured YTD to USD990m for 16 vessels. As at writing, YZJ has a total order book value of US$8.15bn for 137 vessels, which is expected to keep its yard facilities at a healthy utilisation rate till mid-2025.
Undemanding valuations with a decent DPS. The Street is fairly bullish on YZJ's prospects with 7 BUY, and only 1 HOLD ratings, and an average 12M TP of S$1.30. The street expects FY23F/24F EPS growths to be 11.9%/12.6%. YZJ is currently trading at an undemanding 6.5x and 5.8x FY23F/24F P/E and 5.2%/6.6% FY23F/24F dividend yield respectively.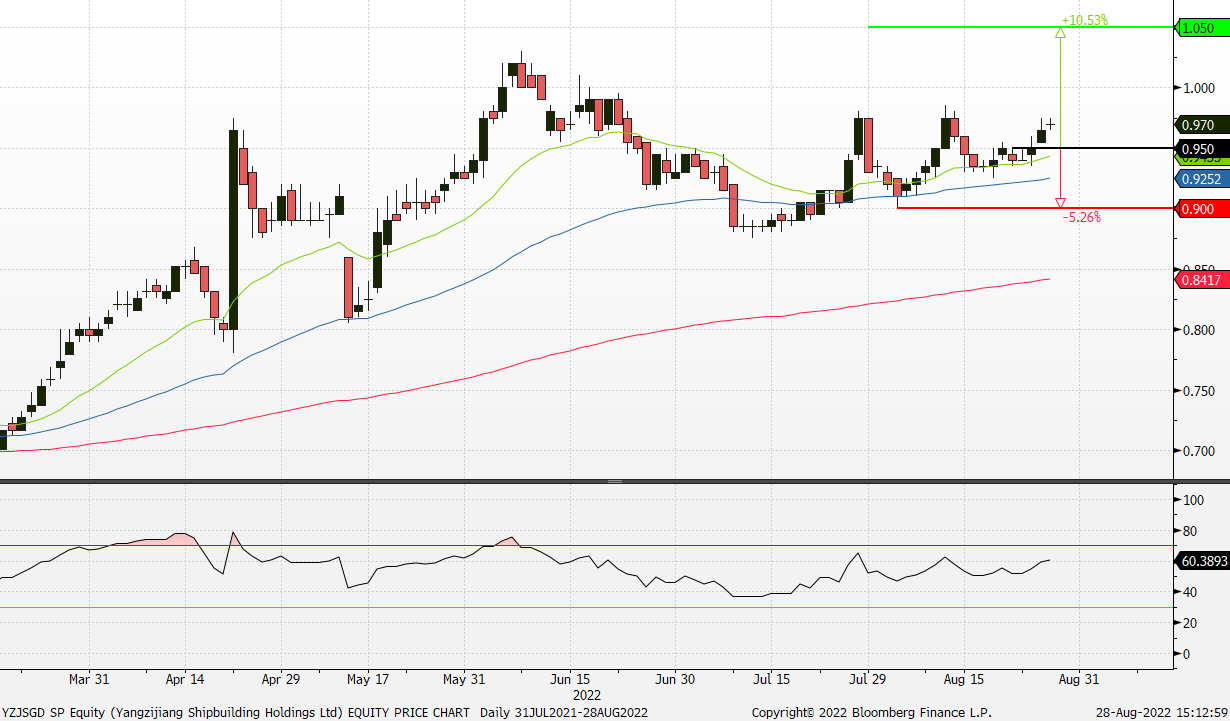 (Source: Bloomberg)


Fuyao Glass Industry Group Co Ltd (3606 HK): Geographical diversification and product mix boosted profitability
Buy Entry – 37.0 Target – 40.6 Stop Loss – 35.2
Fuyao Glass Industry Group Co Ltd is a China-based company, principally engaged in the manufacture and distribution of float glasses and automobile glasses. The company's products portfolio consist of automobile glasses, such as coating glasses and others, which are applied in passenger cars, buses, limousines and others, and float glasses. The company distributes its products within domestic markets and to overseas markets.
Record high 1H performance. 1H22 revenue grew by 11.79% YoY to a historical high of RMB12.9bn. Gross profit dropped by 5.8% YoY to RMB4.4bn. GMP fell by 6.4ppts to 36.2%. Profit attributable to owners of the company jumped by 34.6% YoY to a record high of RMB2.4bn. NPM grew by 3.2ppts to 18.6%.
Domestic and overseas business expansion. The company announced entering into a strategic cooperation agreement with the Zhengzhou municipal people's government. Under the agreement, the government will create favourable conditions for strategic cooperation, provide quality services, and make the planning land with an area of approximately 500 mu located at the industrial park of Zhengzhou South Railway Station Hub for the company to serve its needs for future business development. Meanwhile, the company announced to plan to invest US$650mn in the US plants. US$350mn will be used for the establishment of float glass production lines and four solar panel glass processing lines, and the rest funding will be used for the establishment of coated glass production lines.
Updated market consensus of the EPS growth in FY22/23 is 30.8%/23.7% YoY respectively, which translates to 20.6x/16.7x forward PE. Current PER is 23.1x. Bloomberg consensus average 12-month target price is HK$48.5.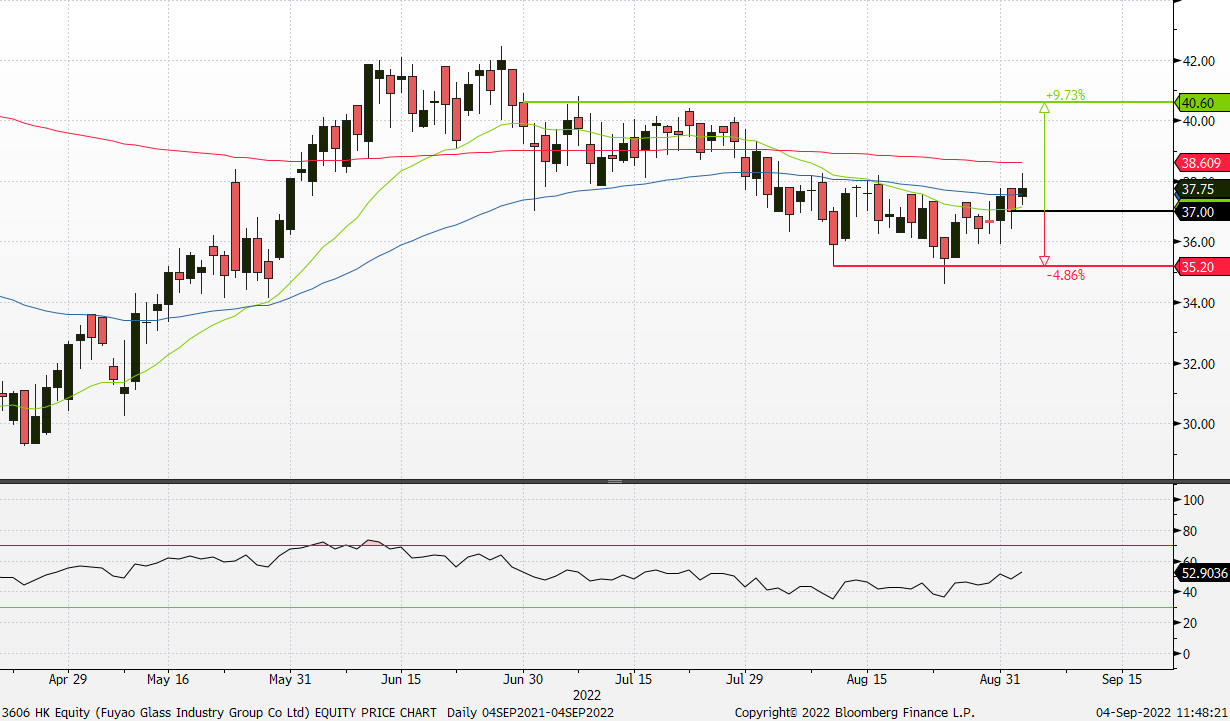 (Source: Bloomberg)
Samsonite International S.A. (1910 HK): Stock price back to pre-covid level
Buy Entry – 18.6 Target – 20.6 Stop Loss – 17.6
Samsonite International S.A. is a Hong Kong-based company principally engaged in the design, manufacture, sourcing and distribution of luggages, business and computer bags, outdoor and casual bags, travel accessories and slim protective cases for personal electronic devices. The Company operates its business through three segments. The Travel Bag segment is engaged in travel products with suitcases and carry-ons of three main categories, including hard-side, soft-side and hybrid luggages. The Casual Bags segment is engaged in daily use, including different types of backpacks, female and male shoulder bags and wheeled duffel bags. The Business Bags segment is engaged in business use, including rolling mobile office bags, briefcases and computer bags.
Air travel recovery is on track. According to IATA, the total demand for air travel in June 2022 (measured in revenue passenger kilometers or RPKs) was up 76.2% YoY. Global traffic is now at 70.8% of pre-Covid levels. June domestic air travel was up 5.2% YoY. Overall, June domestic traffic was 81.4% of June 2019. International RPKs rose 229.5% YoY in June. June 2022 international RPKs reached 65.0% of June 2019 levels.
1H22 results turned profitable. Revenue jumped by 58.9% YoY to US$1.2bn. Gross profit jumped by 74.3% YoY to US$707.4mn. GPM grew by 4.9ppts to 55.7%. Operating profit was US$159.9mn in 1H22 compared to US$86.4mn losses in 1H21. Profit attributable to the equity holders was US$56.3mn compared to US$142.5mn losses during the same period last year.
The updated market consensus of the EPS growth in FY22/23 is 1,222.2%/42.9% YoY, respectively, translating to 18.9×/13.2x forward PE. The current PER is 16.8x. Bloomberg consensus average 12-month target price is HK$25.17.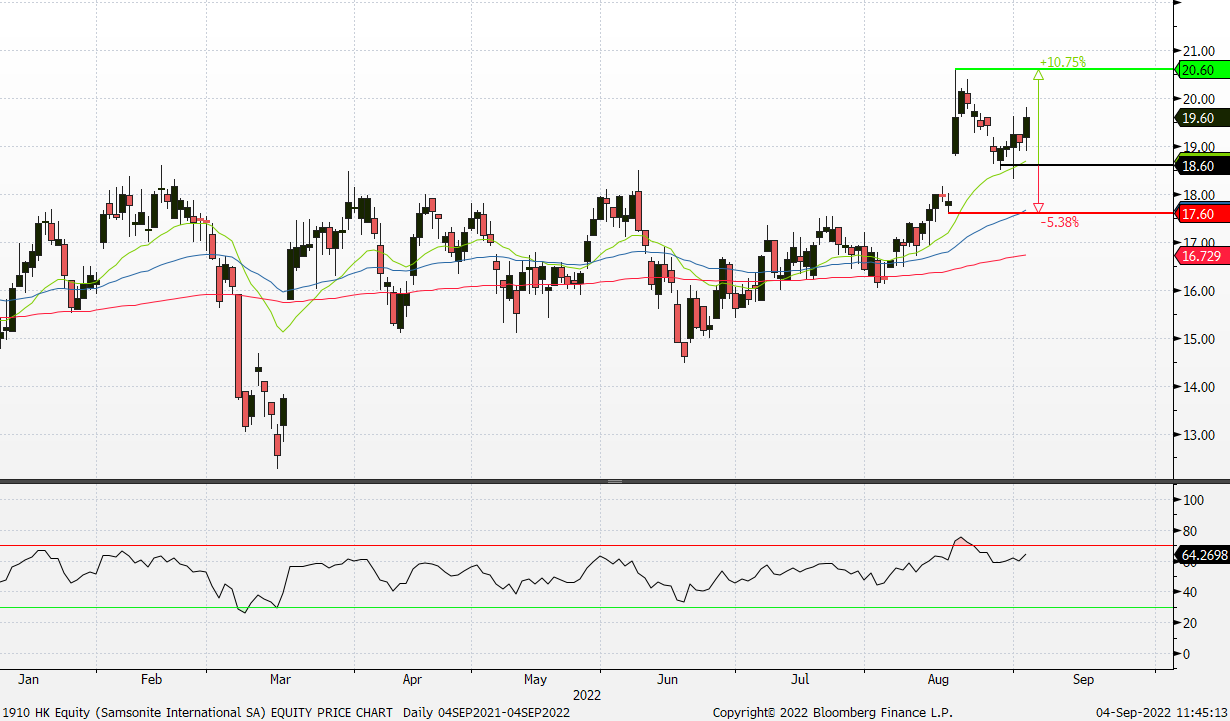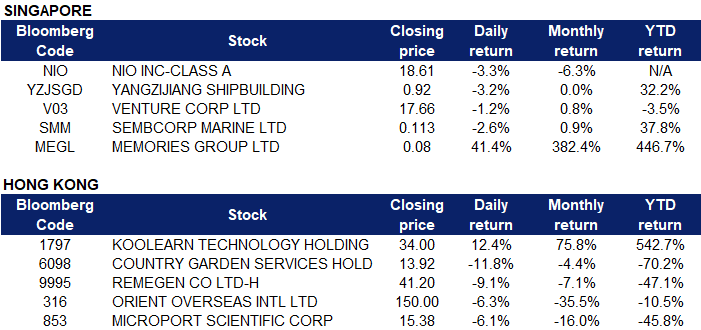 United States
Top Sector Gainers
Top Sector Losers
Okta Inc (OKTA US) rose 6.7%, recovering some of its steep losses from the previous day. Okta had cratered 33.7% Thursday after a slew of Wall Street downgrades, despite a top and bottom line beat in the recent quarter.
Kohl's Corp (KSS US) jumped 5.6% after a Reuters report that private equity firm Oak Street Real Estate Capital has made an offer to acquire as much as $2 billion of Kohl's property and have the retailer lease back its stores. Reuters cited people familiar with the matter.
Lululemon Athletica Inc (LULU US) surged 6.7% after Lululemon's earnings cruised past analyst estimates for the second quarter. The company reported $2.20 in adjusted earnings per share on $1.87 billion in revenue. Analysts surveyed by Refinitiv were expecting $1.87 in earnings per share and $1.77 billion of revenue. Comparable sales rose 23% year over year, and operating margin expanded to 21.5%. 
Beyond Meat Inc (BYND US) dropped 4.7% after investment firm Baillie Gifford reported a 6.61% stake in the company. That's down from the firm's 13.38% stake on December 31, 2021.
Broadcom Inc (AVGO US) advanced 1.7% after the chipmaker reported quarterly earnings and revenue that exceeded analyst forecasts and issued stronger-than-expected revenue guidance for the current quarter. The company's CEO, Hock Tan, also said it's expecting strong demand to continue this quarter.

Singapore
NIO Inc (NIO SP) shares fell 3.6% on Friday. Despite growth in its August delivery numbers, NIO shares fell alongside Li Auto and Xpeng as they reported sharp falls in August car deliveries. The Chinese economy is facing a number of challenges including a resurgence of Covid-19 that has seen major cities like Shanghai locked down. In the last few days Shenzhen, China's tech hub has enacted Covid restrictions and on Thursday, the mega city of Chengdu went into lockdown. While some cities may have opened up again, consumer sentiment remains fragile and uncertainty prevails as a result of China's "zero-Covid" policy. While some cities may have opened up again, consumer sentiment remains fragile and uncertainty prevails as a result of China's "zero-Covid" policy. These issues are filtering through to EV sales.
Yangzijiang Shipbuilding Holdings Ltd (YZJSGD SP) dropped 3.2% on Friday. Some districts of China's southern tech hub Shenzhen extended curbs on public activities, dining out and entertainment venues on Friday (Sep 2), but city officials stopped short of a full lockdown as they try to rein in rising COVID-19 cases. Restrictions in the central business district of Futian and Longhua, home to a major campus of Apple iPhone assembler Foxconn, have been extended until Sunday, while residents in several areas across the city were asked to work from home if possible. Most of Shenzhen's nearly 18 million residents are now under COVID-19 controls amid the city's most serious outbreak since spring. Curbing activities of tens of millions of people intensifies the challenges for China to cushion the economic impact of its "dynamic-zero" COVID-19 policy that has kept its borders mostly shut to international visitors, and made it an outlier as other countries learn to live with the coronavirus.
Venture Corp Ltd (V03 SP) fell 1.2% on Friday. The Board of Directors of Venture Corporation Limited announced on 30 August 2022, the Company issued and allotted an aggregate of 54,500 ordinary shares in the capital of the Company at the exercise price of S$16.510 each pursuant to the exercise of options granted under the Venture Corporation Executives' Share Option Scheme 2015. The above-mentioned new shares have been listed and quoted on the Singapore Exchange Securities Trading Limited on 1 September 2022.
Sembcorp Marine Ltd (SMM SP) dropped 2.6% on Friday. Sembcorp Marine recently uncovered a cybersecurity incident in which an unauthorised party accessed part of its IT network via third-party software products. Certain personally identifiable information relating to some of its incoming, existing and former employees, as well as non-critical information relating to its operations, were affected. The shipbuilding and repair yard group added that based on investigations and impact assessment to date the incident and related risks have been effectively addressed and business operations remain unaffected throughout. The cybersecurity incident is not expected to have any material impact on the consolidated net tangible assets or consolidated earnings per share of Sembcorp Marine for the current financial year.
Memories Group Ltd (MEGL SP) rose 41.4% on Friday. The Company wishes to inform shareholders of the Company that the Company constantly reviews proposals and opportunities to enhance Shareholders' value and may explore and engage in various discussions on such proposals and opportunities from time to time, including proposals which, if made, could lead to a possible general offer for all of the Shares. Shareholders should note however that while there are discussions relating to the foregoing, as at 30 August 2022, the Company has not been formally approached nor received any binding proposal(s) or entered into any binding agreement(s) in relation thereto.

Hong Kong
Top Sector Gainers
Top Sector Losers
Koolearn Technology Holding Ltd (1797 HK) rose 12.4% on Friday. Koolearn Technology announced that it closed a partnership with SF Logistics and JD Logistics, and plans to establish 20 self-operated product warehouses in five cities of Beijing, Guangzhou, Hangzhou, Zhengzhou and Chengdu to provide self-operated logistics service for the whole country. It was reported that Koolearn has launched an independent application with close to 200,000 cumulative downloads.
Country Garden Services Holdings Co Ltd (6098 HK) plummeted 11.8% on Friday. UBS released a report saying that after the mainland housing stocks announced their results for the first half of this year, investors were concerned about the cash flow of related companies more than their profit performance, while the cash held by Hong Kong-listed mainland housing stocks fell by an average of 19% on a half-year basis. The bank believes that the pace of shrinking the underlying stocks' balance sheets is too rapid.
RemeGen Co Ltd (9995 HK) lost 9.1% on Friday. The management committee recently granted a total of 68,000 award shares to Fang Yi according to the H share plan. On 1 September 2022, the closing price per share was HK$45.30 on the stock exchange, the total value of the 68,000 awarded shares amounted to HK$3,080,400. The shares were awarded to Ms Fang to recognise her past contributions to the development and growth of the Group, and aims to ensure her continued support and growth of the Group, crucial to the Group's future development and business expansion.
Orient Overseas International Ltd (0316 HK) fell 6.3% on Friday. According to media reports, the Shanghai Export Containerized Freight Index has dropped by more than 38% from its historical high recently, and the decline has continued to grow. The freight rate per TEU on the European line has dropped by more than 43%, and the freight rate per FEU on the American West Line has dropped by 36%, the freight rate of the US east line fell by 26%. It was reported that Maersk's container freight volume in the second quarter decreased by 7.4% year-on-year. The company had previously lowered this year's global container demand to a forecast range of -1% to 1%, and it is expected that the short-term performance of the United States will be better than that of Europe. According to the latest data from Xeneta, shipping volume has fallen 1.8% year-to-date so far this year, and if volumes are lower in the second half of the year, they are expected to drop by 2.7% for the full year.
Microport Scientific Corp (0853 HK) shares fell 6.1% on Friday. CICC released a research report saying that it maintained the "Outperform" rating of MicroPort, and lowered its 2022/23 net loss forecast attributable to the parent by US$0.24/055 million to US$310/290 million. The target price lowered by 5% to HK$23.4, a 42.9% upside from the current share price. The company's 1H22 revenue was US$405 million, an increase of 5.3% year-on-year, and a year-on-year increase of 10.1% after excluding the impact of exchange rates. The loss attributable to equity shareholders expanded to US$198 million year-on-year, which was lower than the bank and the market expected.


Trading Dashboard Update: Cut loss on Ganfeng Lithium (1772 HK) at HK$65.