05 August 2022: CapitaLand Invest (CLI SP), AviChina Industry & Technology Co Ltd (2357 HK)
Singapore Trading Ideas | Hong Kong Trading Ideas | Market Movers | Trading Dashboard
CapitaLand Invest (CLI SP): Real estate dealmaking in Singapore still strong
BUY Entry 4.02 – Target – 4.30 Stop Loss – 3.88
After a successful demerger from the development business of CapitaLand, CapitaLand Investment (CLI SP) was listed on SGX-ST on 20 September 2021. CLI is a global real estate investment manager with a strong Asia foothold. Its real estate funds under management ("FUM") is held via its managed listed funds and unlisted funds across the Asia-Pacific, Europe and United States of America. CLI's FUM is well-diversified across asset classes, namely, integrated developments, retail, office, lodging and new economy sectors such as business parks, industrial, logistics and data centres. Its business model comprises two key segments, namely, fee income-related business and real estate investments.
Capital remains committed to Asia Pacific real estate markets. According to JLL, Singapore and Hong Kong remained the only markets to register growth in real estate transaction volume, while most other markets such as China (due to Covid) and Japan fell. Singapore registered about US$9.3bn (+81% YoY) in investments on big ticket office and mixed-use transactions. With the Mercatus deal expected to be transacted in excess of S$4bn, there continues to be substantial deal flow for real estate investment managers like CLI to take advantage of. Nonetheless, JLL notes that while capital may be committed to the region, deployments may be more selective as investors look for long-term or strategic advantages.
Recent Oakwood acquisition to bolster CLI's hospitality arm. Recall CLI's Ascott proposed the acquisition of Mapletree Investment's Oakwood Worldwide in early July. The acquisition, which is expected to be completed by 3Q22 will add 81 properties and 15,000 keys to Ascott's portfolio. The opportunistic deal comes at a time when the hospitality market is seeing an upturn in light of revenge travel. Post-acquisition, Ascott's portfolio would cover over 150,000 keys across 900 properties.
FY22F PATMI expected to be slightly weaker. The Street currently has 16/1/0 BUY/HOLD/SELL ratings and an average TP of S$4.30. Based on consensus estimates, FY22F revenue should grow 6.5% YoY to S$2.44bn, although EBITDA is expected to slide 17.6% YoY to S$2.03bn on a paring of growth in its real estate investment segment. Nonetheless, FY22F DPS should grow to 12.6¢ (FY21: 12¢), implying a yield of 3.1%. At current prices, CLI would trade at 16.9x forward EV/EBITDA, below its post-listing average of 17.1x. CLI is due to announce 1H22 results on 11 August before market opens.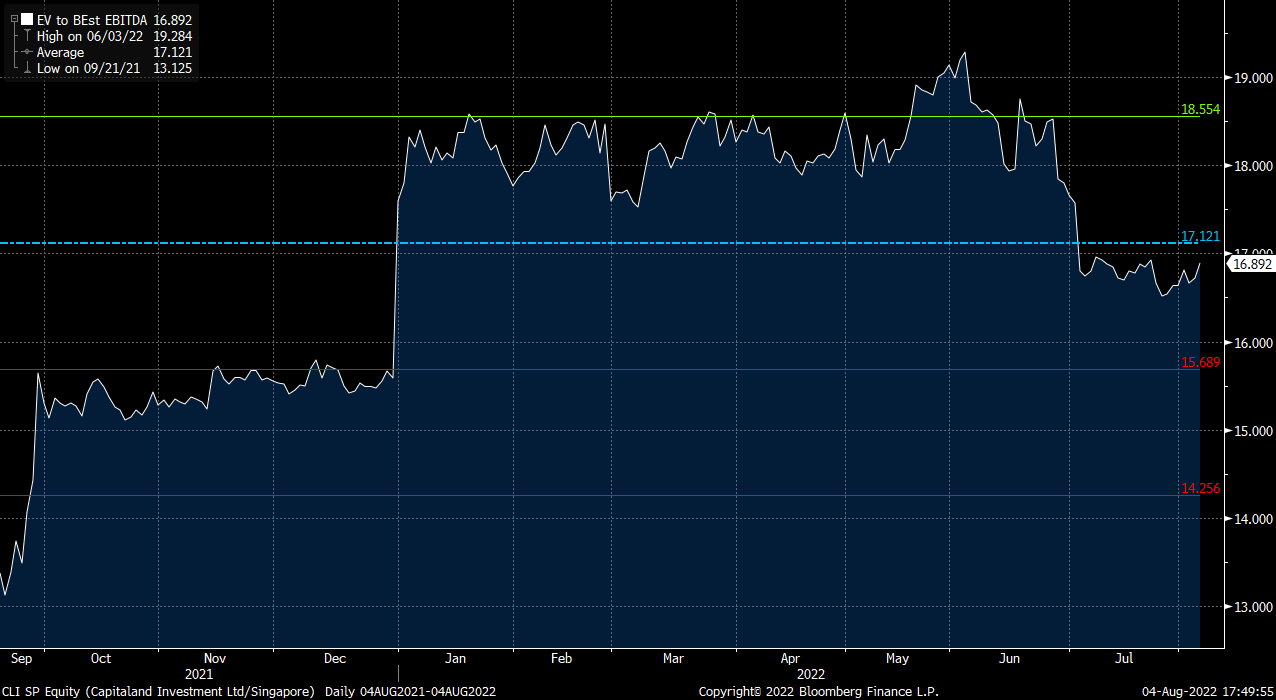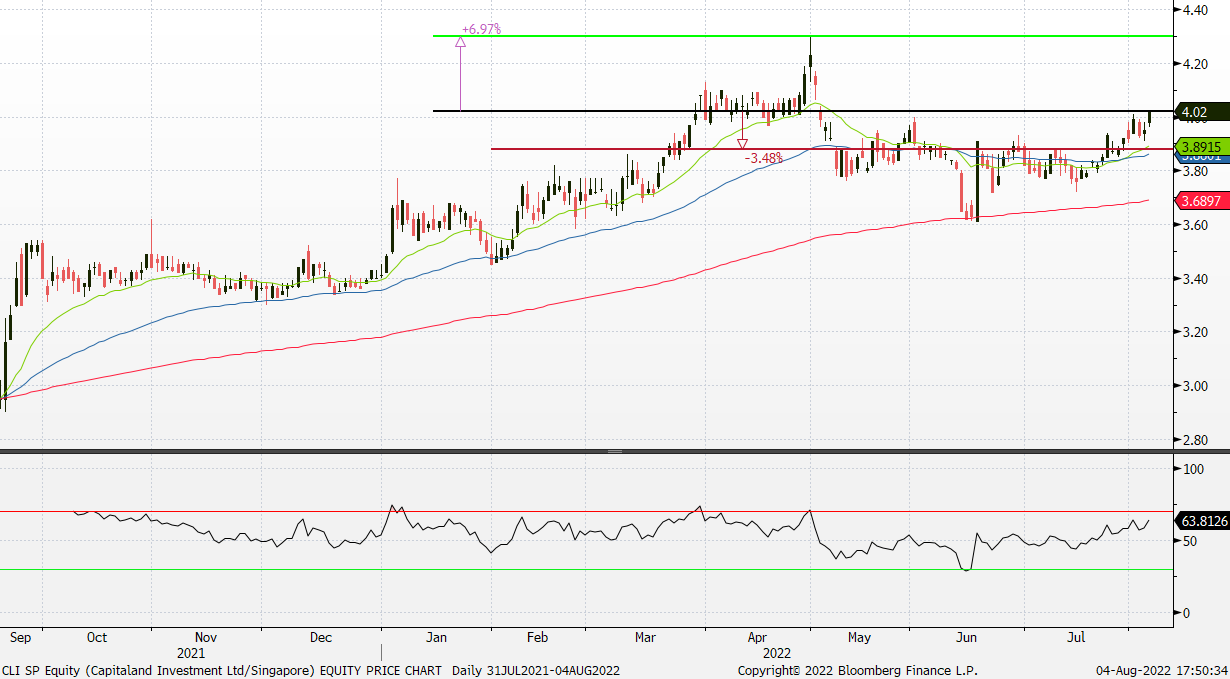 Venture Corporation (VMS SP): Bullish read-through from IQOS
RE-ITERATE BUY Entry 17.52 – Target – 18.50 Stop Loss – 17.00
Venture (VMS) is a global provider of technology services, products and solutions with established capabilities spanning marketing research, design and development, product and process engineering, design for manufacturability, supply chain management, as well as product refurbishment and technical support across a widely diversified range of high-mix, high-value and complex products. Venture has built know-how and intellectual property with expertise in several technology domains. VMS manages a portfolio of more than 5,000 products and solutions and continues to expand into new technology domains through its collaborations with customers and partners in selected ecosystems of interest.
Key customer, Philip Morris International reported "excellent 2Q22 IQOS performance". One of VMS's key clients, Philip Morris International (PMI US) reported better-than-expected 2Q22 earnings and increased its expected growth rate for earnings. During the quarter IQOS, a VMS-linked product, saw more than 1.1m pro forma user growth, which underpinned pro forma smoke-free net revenues growth of 10.3% YoY to US$4.3bn. PMI also saw continued success of its IQOS Iluma in Japan with strong acquisition and conversions.
After posting strong 1Q22, supply chain issues mitigated. Recall that VMS posted stronger-than-expected 1Q22 earnings of S$84m with six out of seven domains recording growth due to strong customer demand. Additionally, VMS also saw improved ability to overcome supply chain disruptions on several initiatives from its R&D labs. Management also highlighted that based on its customers' orders and forecasts, VMS anticipates a steady demand outlook across its various technology domains such as Lifestyle & Wellness, Life Science, Instrumentation, Test & Measurement Technology and Advanced Industrial domains. Recent new product launches have been well received by end-customers and have contributed to additional growth.
FY22F results to mark a YoY bounce. The Street currently has 11/2/0 BUY/HOLD/SELL ratings and an average TP of S$21.29. Based on consensus estimates, FY22F revenue/operating profit should jump 12.7%/15.4% YoY to S$3.5bn/S$407.5m respectively. The will in turn push FY22F EPS to 12.6% higher. In line with this, the street is expecting FY22F DPS to expand 3.1%YoY to 77.3¢ (FY21: 75¢) implying a fairly attractive yield of 4.4%. At current prices, VMS would trade at 14.6x forward P/E, more than 0.5sd away from its 2-year average of 15x. VMS is due to announce 1H22 results on 5 August after trading closes.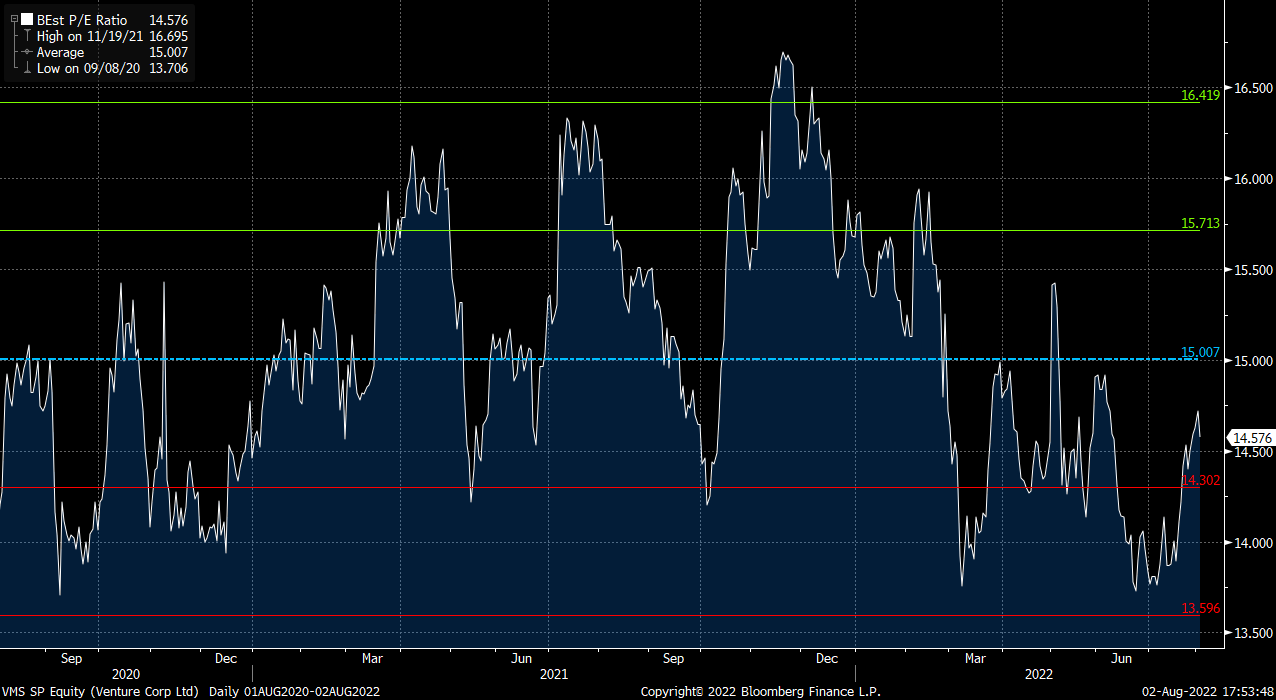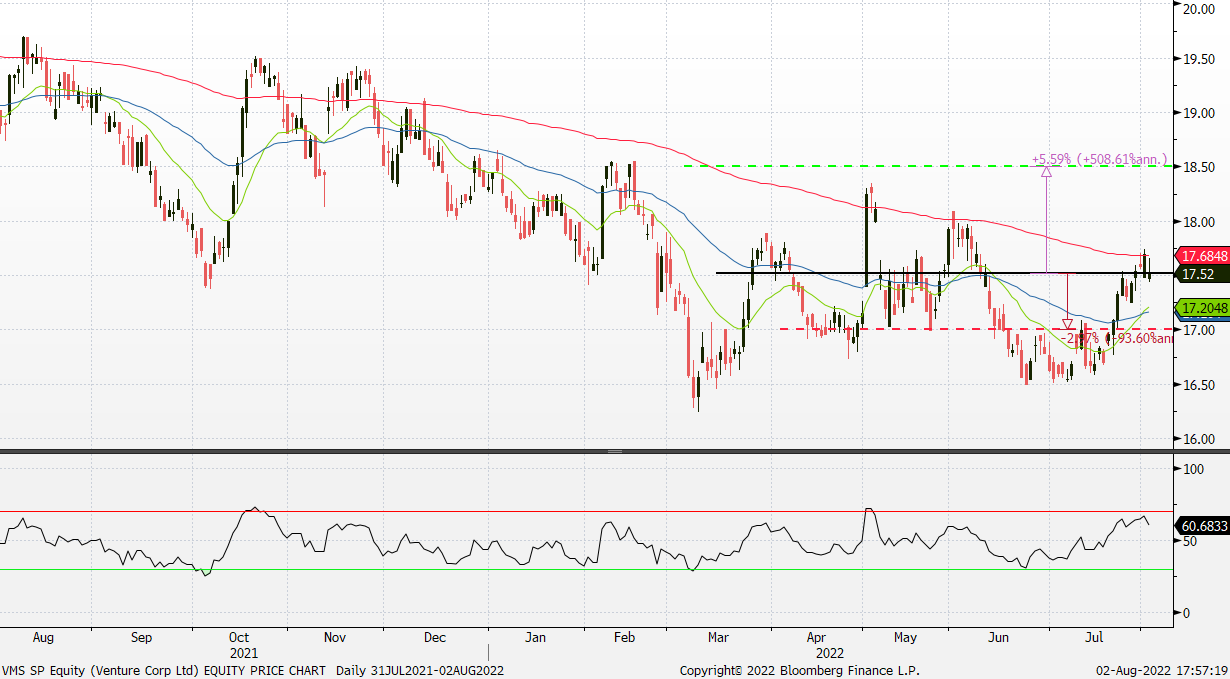 AviChina Industry & Technology Co Ltd (2357 HK): Tailwinds from fear sentiment and homemade jet
BUY Entry – 4.0 Target – 4.6 Stop Loss – 3.7
AviChina Industry & Technology Company Limited is principally engaged in the research, development, manufacture and sale of civil aviation products. The Company operates its business through two segments. The Aviation Entire Aircraft segment is engaged in the manufacture, assembly, sales and servicing of helicopters, trainers and other aircraft. The Aviation Parts and Components segment is engaged in the manufacture and sale of aviation parts and components.
Military drill surrounding Taiwan from 4th to 7th August. China launched unprecedented live-fire military drills in six areas that ring Taiwan on Thursday, a day after the US House of Representatives Speaker Nancy Pelosi visited the self-ruled island that Beijing regards as its sovereign territory. The tension escalates even though there is not expected to trigger a war between China mainland and Taiwan. The arms race between China and the US will accelerate in the next couple of years. The military and defence sector is expected to embrace ongoing positive catalysts that China will increase the national defence budget.
C919 jet completed tests, waiting to commence commercial operation. The manufacturer of the C919, Commercial Aircraft Corp of China, announced on Monday that the aircraft model completed all of its test flights. Earlier, six C919 prototypes had been undergoing intensive test flights in different weather conditions at the company's testing bases in places like Yanliang, Shaanxi province, and Dongying, Shandong province. The C919 has entered the final stage before getting the three certificates required to operate commercial flights. C919 has 158 to 168 seats and a range of 4,075 to 5,555 kilometers. Its competitors include the single-aisle B737 of Boeing and the A320 of Airbus.
The updated market consensus of the EPS growth in FY22/23 is 19.9%/18.5%% YoY, respectively, translating to 9.8×/8.3x forward PE. The current PER is 11.6x. Bloomberg consensus average 12-month target price is HK$7.75.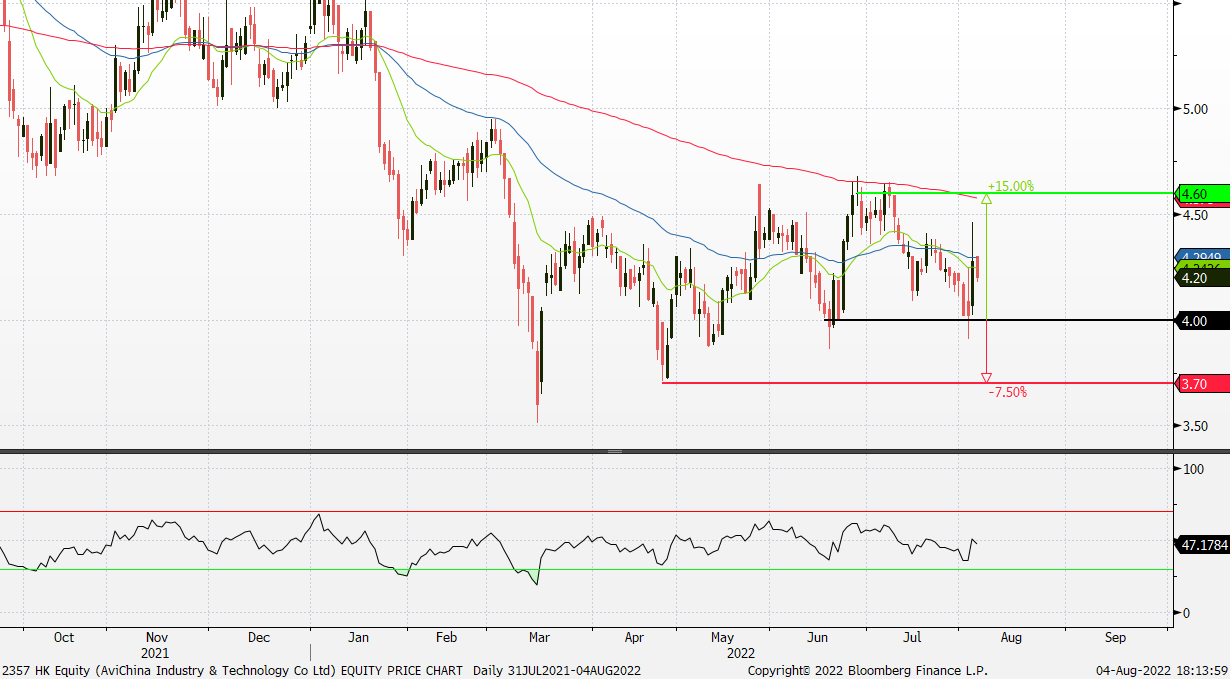 (Source: Bloomberg)

WH Group Ltd (288 HK): Expensive pork
RE-ITERATE Buy Entry – 5.55 Target – 6.20 Stop Loss – 5.25
WH Group Ltd is an investment holding company mainly engaged in the pork business. The Company operates its business through three segments. The Packaged Meats segment is engaged in the production, wholesale and retail of low temperature and high temperature meat products. The Pork segment is engaged in the slaughtering, wholesale and retail of fresh and frozen pork and hog farming businesses. The Others segment is engaged in the slaughtering and sales of poultry. The Segment is also engaged in the sales of ancillary products and services such as provision of logistics services, manufacturing of flavouring ingredients and natural casings, manufacture and sales of packaging materials, operating finance companies, property development companies, a chain of retail food stores, sales of biological pharmaceutical materials, trading of meat related products and others.
Live pig price surged in 2Q22. As of 20th July, the average live pig price arrived at RMB22.51/kg, up 35.2% MoM. The rise in pig prices occurred after the recent reopening of schools, factories, and restaurants, which caused an increase in pork consumption, coupled with a decrease in imports and slaughtering of pigs.
Pig price in China – Live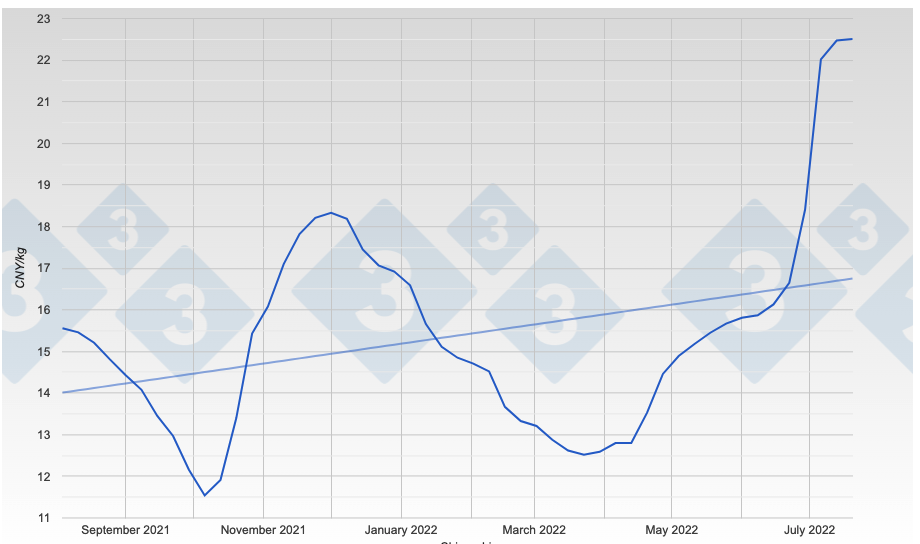 Source: Pig333.com
1Q22 results review. Total operating income dropped by 24.7% YoY to RMB13.8bn. Net profit dipped by 1.6% YoY to RMB1.5bn. The operating margin increased by 3.6ppts to 13.8%. Shuanghui Development's external sales volume of meat products increased by 1.8% YoY to 0.76mn metric tonnes. The company will be announcing the 1H22 interim results on 16th August.
The updated market consensus of the EPS growth in FY22/23 is 72.5%/6.1%% YoY, respectively, translating to 7.1×/6.7x forward PE. The current PER is 9.8x. FY22F/23F dividend yield is 6.1%/7.1% respective. Bloomberg consensus average 12-month target price is HK$7.93.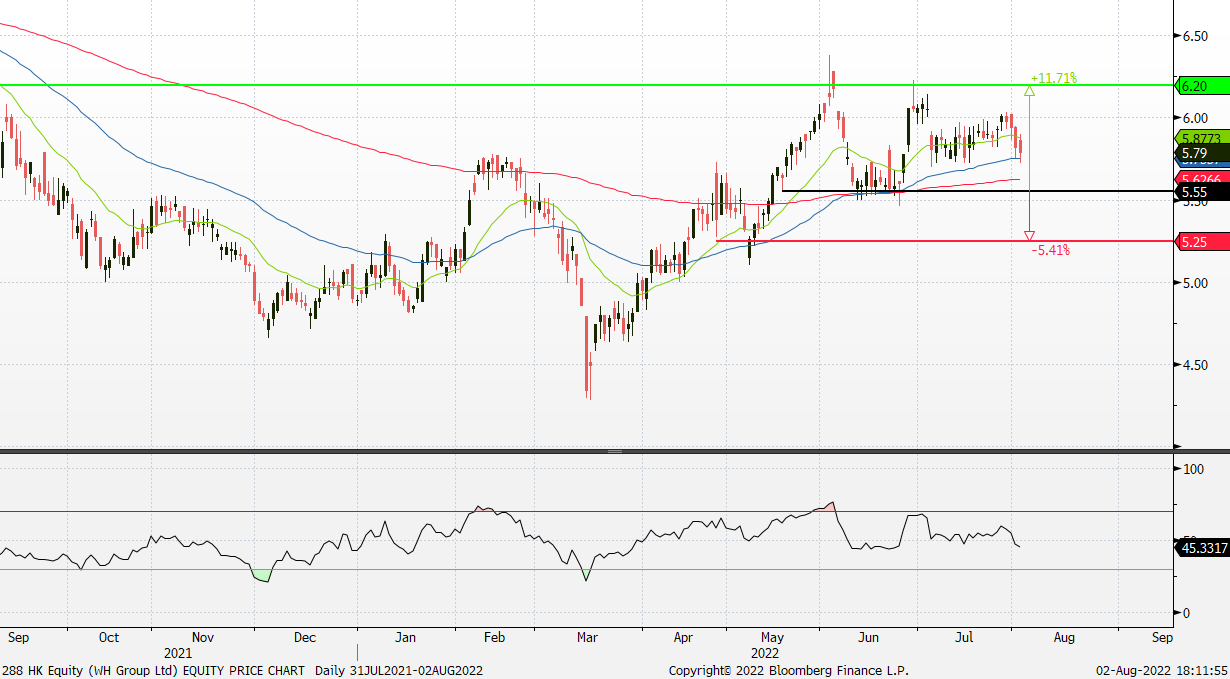 (Source: Bloomberg)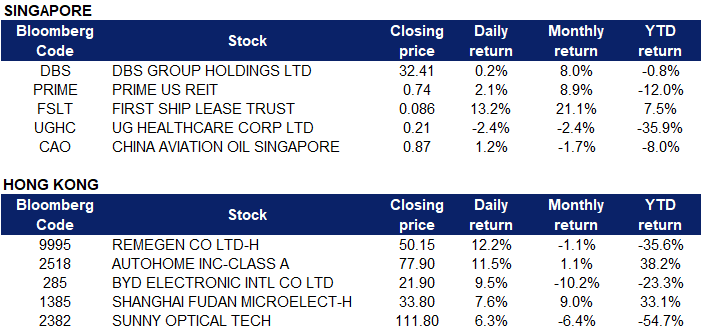 United States
Top Sector Gainers
Top Sector Losers
Cloudflare Inc (NET US) Shares soared 21% postmarket after the company announced its 2Q22 results and raised FY22 revenue guidance. Revenue in 2Q22 jumped 53.9% YoY to US$234.5mn, driven by strength in large customers and a record number of large customer additions (at 212). Large customers now represent 60% of NET's revenue, and the total number of large customers now stands at 1,749. The company expects 2022 revenue of US$968mn-US$972mn (consensus estimate of US$958.7mn). Its prior outlook was US$955mn-US$959mn.The company maintained its outlook for FY22 adj. EPS at US$0.03-US$0.04 and expects to achieve positive free cash flow in 2H22.
DoorDash Inc (DSAH US) Shares soared 13.45% postmarket after the company announced its 2Q22 results. 2Q22 revenue jumped by 29.8% YoY to US$1.61bn, beating estimates by US$90mn. 2Q22 GAAP EPS was -US$0.72, missing estimates by US$0.32. Total Orders grew by 23% YoY to 426mn, and Marketplace gross order volume grew by 25% YoY to US$13.1bn. The company anticipates marketplace gross order volume to grow modestly to a range of $13B to $13.5B in 3Q22 alongside adjusted EBITDA in a range of US$25mn to $75mn.
Lyft Inc (LYFT US) Shares rose 9.2% postmarket after the company announced its 2Q22 results which topped expectations. In 2Q22, the company earned an adjusted 13 cents per share on US$990.7mn in revenue, aided by a recovery in active riders. Lyft ended the period with 19.86mn active riders. It generated an average revenue per active rider of US$49.89, slightly topping estimates. The company also generated US$79.1mn in adjusted EBITDA during the period, the highest in the company's history.
Block Inc (SQ US) Shares fell 7.24% in Thursday after-hours trading as expectations for its Square ecosystem gross payment volume growth to moderate. For its Cash App, it's expecting YoY gross profit growth, though it doesn't provide a number range. The company expects its Square ecosystem gross payment volume to increase 18% YoY and 23% on a three-year compound annual growth rate in July. That compares with 29% YoY growth and 24% on three-year CAGR in April. 2Q22 total revenue was US$4.4bn, exceeding the US$4.33bn consensus, compared to US$3.96bn in 1Q22 and US$4.68bn in 2Q21. 2Q22 adjusted EPS was US$0.18 ( US$0.16 consensus) which was unchanged from the prior quarter and fell from US$0.49 in the year-ago quarter. 2Q22 gross payment volume of US$52.5bn grew from US$43.5bn in 1Q22 and from US$42.8bn in 2Q21.
Twilio Inc (TWLO US) Shares fell 7.08% in after-hours trading on Thursday after the communications software company forecasted a weaker than expected 3Q22, overshadowing its 2Q22 results. Revenue jumped by 41% YoY to US$943.35mn, beating estimates by US$22.38mn. 2Q22 Non-GAAP ESP was -US$0.11, beating estimates by US0.09. There were more than 275,000 Active Customer Accounts as of 2Q22, compared to 240,000 as of 2Q21. Twilio expects to lose on an adjusted basis between 37 and 43 cents per share. Sales are forecast to be between US$965-975mn, compared to estimates of $979.32M.
Singapore
DBS (DBS SP) eked out a meagre 0.3% gain despite reporting a better-than-expected 7% rise in 2Q22 net profit to S$1.82bn, fuelled by a 17% increase in net interest income amidst rising interest rates. 2Q22 NIMs gained 12bps QoQ to 1.58% as the impact of rate hikes was more fully felt. With NIMs hovering above 1.8%, DBS believes NIMs to gather strength and hit about 2% in 2H22. Notably, DBS announced that it would be making "judicious investments" on the technology front, as it expects cost-to-income ratio to come down, giving it more capacity to shore up its tech capabilities and talent pool. 1H22 DPS of S$0.72/share was in-line with the street's FY22F DPS forecast of S$1.48/share. DBS currently trades at 1.41x FY22F P/B, roughly in line with its 2-year average of 1.39x.
Prime US REIT (PRIME SP) gained 2.1% after posting a 5.7% YoY increase in 1H22 DPU to US$0.0352 (1H21: US$0.0333), translating to an annualised distribution yield of 9.6% at closing price. Pre-results, the street had forecasted FY22F DPU of US$0.07. Gross revenue rose 13.5% YoY to US$81.8m in 1H2222; net property income was up 9.7% YoY to US$50.8m. This was mainly attributable to 2 properties, Sorrento Towers in San Diego, California, and One Town Center in Boca Raton, Florida, which were acquired in July 2021. PRIME is currently trading at ~`sd way from its 2-year mean of 0.94x forward P/B.
First Ship Lease Trust (FSLT SP) surged 13.2% after it reported 2Q22 net profit of US$2.1m (+279% YoY). FSLT said that the strong net profit reflected the improved tanker markets in 2Q22 as well as the disposal of the Aframax crude oil tanker, which resulted in a gain of US$1.9m. The trust is recommending an interim DPU of US$0.016 (1H21: US$0.02). Management commented that freight rates and market values for relevant tanker sizes significantly improved as a consequence of cargo dislocations due to the Russia-Ukraine conflict and sanctions on Russia, resulting in shifts in trade patterns and higher ton-mile demand. FSLT is currently trading at 1.6x historical P/B, more than 1sd above its 2-year mean of 0.98x.
UG Healthcare (UGHC SP) slipped 2.4% after the Malaysian Rubber Glove Manufacturers Association lowered its projected global demand for rubber gloves this year to 399bn pieces, a nearly 12% drop from an earlier forecast of 452bn pieces. The country – the world's largest producer of rubber gloves and a powerhouse in the US$28bn global rubber glove industry – estimates it will produce about 240bn gloves in 2023. The latest forecast represents a slightly slower annual demand growth of between 10% and 12% in 2022 after more than 2 years of overwhelming demand for rubber gloves during the pandemic. Demand will likely return to a long-term growth trend of 12% to 15% in 2023 when the surplus in supply is sufficiently absorbed by the market
China Aviation Oil (CAO SP) gained 1.2% after reporting revenue of US$9.29bn for 1H22, up 6% YoY, due to higher oil prices. However, lower contributions from its associates and unfavourable forex movements led to lower earnings of US$19.6m, down 19.2% YoY. Management continues to remain confident about the longer term outlook for the global aviation industry buoyed by the continued easing of travel restrictions and strong pent-up demand for travel.

Hong Kong
Top Sector Gainers
Top Sector Losers
Remegen Co Ltd (9995 HK) Shares jumped 12.19% yesterday. Previously, the company announced some positive results of RC18, Telitacicept which can reduce relapses of neuromyelitis optica spectrum disorder. RC18 is a novel recombinant transmembrane activator and calcium modulator and cyclophilin ligand interactor fusion protein that operates by targeting and neutralizing B lymphocyte stimulator and a proliferating-inducing ligand.
Autohome Inc (2518 HK) Shares jumped 11.52% yesterday after the company announced its 2Q22 results. 2Q22 net revenues dropped by 10.6% YoY to RMB1,733mn (US$258.7mn). Net income attributable to ordinary shareholders plunged by 40.6% YoY to RMB423.4mn (US$63.2 million).
BYD Electronic (International) Co Ltd (285 HK) Shares rose 9.50% yesterday after the company announced that its wholly-owned subsidiary BYD Precision Manufacturing has obtained a tobacco production enterprise license issued by China's State Tobacco Monopoly Administration. BYD Electronics said that the company has completed the patent application of a full range of electronic atomization products and the construction of automatic production lines.
Shanghai Fudan Microelectronics Company (1385 HK) Shares rose 7.64% and closed at a 52-week high. There was no company-specific news. The semiconductor sector jumped as President Joe Biden is set to sign into law a bipartisan bill to invest billions of dollars in domestic semiconductor manufacturing and science research. China will accelerate the localization of chip manufacturing accordingly.
Sunny Optical Technology (Group) Co. Ltd (2382 HK) Shares rose 6.27% yesterday. There was no company-specific news. Hong Kong technology sector rebounded as Taiwan tension subsided.


Trading Dashboard Update: Cut loss on Fuyao Glass (3606 HK) at HK$36.8. Add Venture Corporation (VMS SP) at S$17.52.